---
As I've mentioned before, this trip was more about the destinations than anything else, so our main goal for hotels this time around was striking some semblance of value, while avoiding BYOS (bring your own sanitizer) properties. Given the overall focus of this blog on high-value points redemptions, I hadn't really planned on spending a ton of time on hotel reviews.
Perhaps more importantly, Tiffany and Ben are approximately 900% better at taking pictures of hotel rooms than anyone else I know – and I'm just not wired (yet) to take great shots of showers and dinner plates
Still, we don't spend a ton of time here covering mid-range independent hotels, and I figured some information is better than no information. So we decided on a compromise — provide a quick overview, and thumbs up/thumbs down on some of the smaller independent properties where we stayed.
Pictures are limited (sorry) but I tried my best to provide links/screen shots/descriptors wherever I could.
While technically a "hotel," these free-standing yurt-like homes had more of an AirBnB feel.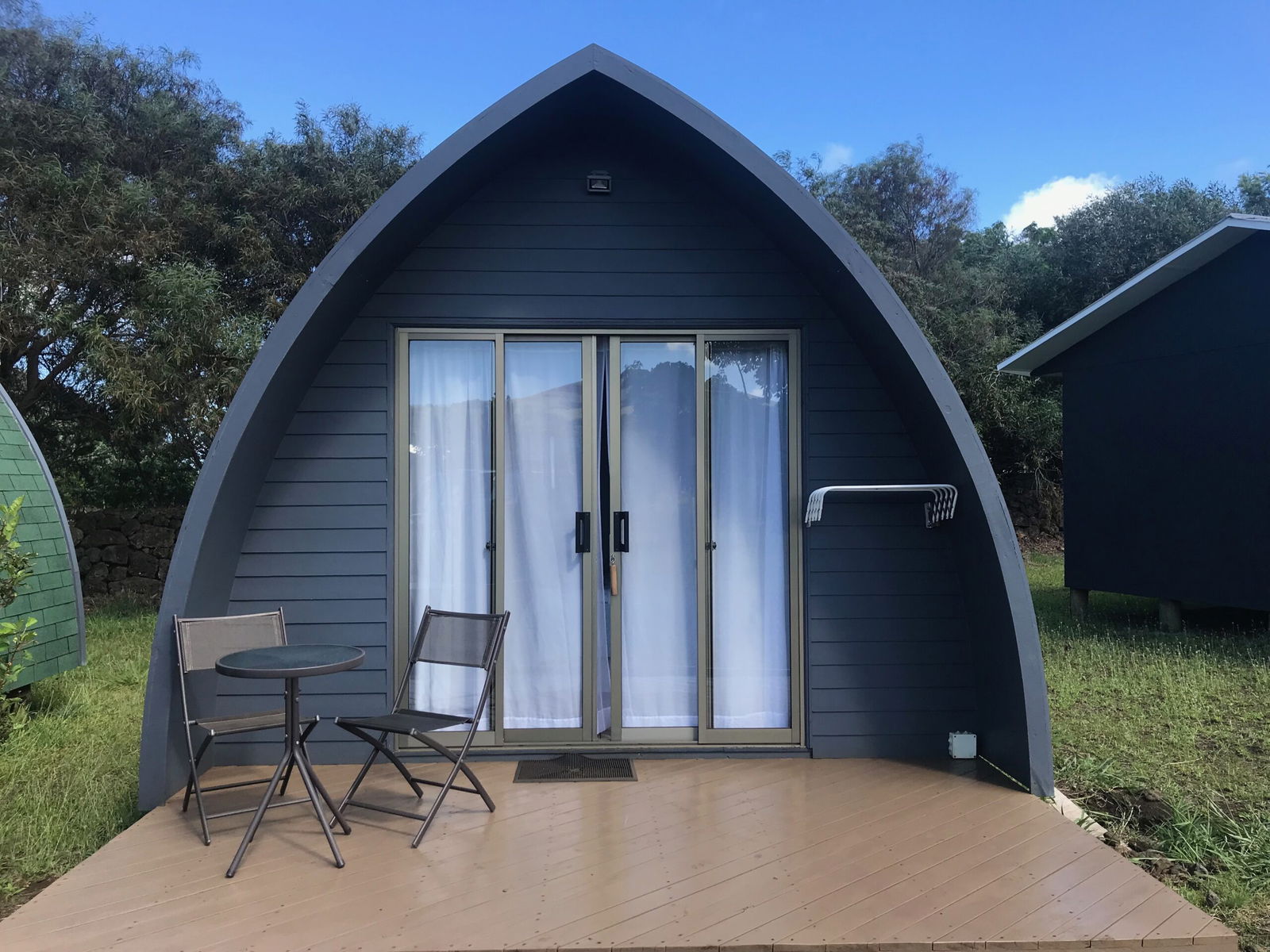 Pros:
I thought the setup was adorable, if a bit rustic on the inside. We were treated like family from the minute we arrived to the minute we left, with the owner, Jimena, giving us an impromptu guided tour of the town while they finished prepping our room.
The biggest pro, however, was the price – at $120/night, or an all-in price of $360 for three nights, over New Years', I can't imagine doing much better.
Also, there were dogs – which I suppose could be a con for some (agree to disagree). Personally, I was pretty delighted to be welcomed by this greeting committee every day: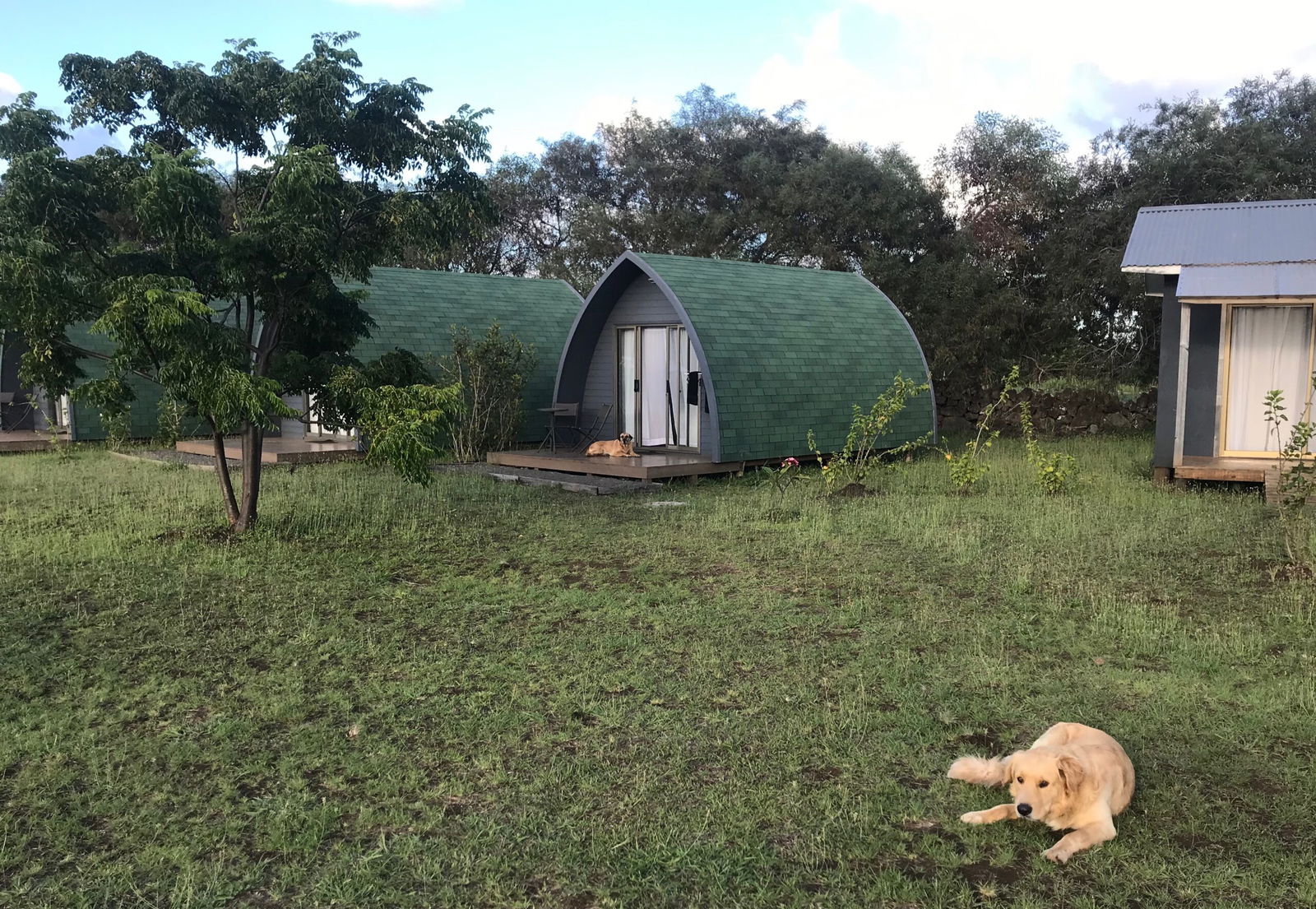 Cons:
The rooms were very basic, and didn't really cool down very well in the daytime. For the price point, I didn't expect anything more, but I think it's safe to say that the caliber is a few notches below what many of our readers are used to on here.
The other challenge here is that the property was a couple miles away from Hanga Roa, the main town, which pretty much means that you have to rent a car if you stay here. The road in is pretty rough, and while you'll likely be driving an SUV, some of the potholes might be bigger than your rental car.
Breakfast comes at an extra cost, but with tropical juices and empanadas available in abundance in town, we didn't give this a second thought (just be prepared to dine on Island Time).
Wifi is pretty much on the text message only plan, but that's true almost everywhere on Easter Island.
Would I stay there again?
For the price? Absolutely!
Quite frankly, I don't have much to say about this Punta Arenas airport hotel. We arrived after midnight, we were on the road by 6 AM, and I was horizontal for most of the hours in between. I'm pretty lax about taking hotel pictures even when I'm conscious, so apologies for the lack of photographic evidence.
So in lieu of that, I would totally post a link to their website. If they had one. Google does an okay job with pictures, but that's about as good as you're going to get.
Pros:
It was $77.35/night with tax, and it was less than five minutes from the airport. The lake across the street was pretty. Wifi was fine.
There was a small continental breakfast available in the morning with toast, jam, and coffee. My body doesn't really comprehend food before 6 AM, but it seemed reasonable for the price.
Cons:
It was rustic, sure, and the check-in process took longer than it would at a hotel with modern conveniences like credit card machines. This is perfectly understandable, although there's usually an inverse correlation between the hour of the night and my patience.
The biggest issue that I had was the lack of toiletries provided in the room. There were towels and sheets, but no shampoo, at least when we were there. I try to grab extras from hotels when I can – which often causes the outside pockets of my suitcase to resemble the travel section at CVS – so luckily I was covered.
All that to say that if your hair is more "lion's mane" than "chihuahua," I would plan accordingly.
Would I stay here again?
Sure – if I was just passing through for the night, and planning to take the bus directly from the airport the next morning.
After a couple of less-than-glamorous nights at Torres del Paine's Refugio Central, we were ready to get back to the modern conveniences of a proper hotel in Puerto Natales, located about two hours outside of the park. Natalino more than delivered on this front.
There weren't any direct waterfall views right in town, but there was a mini-waterfall on the stairwell leading from the lobby to the rooms, which of course I loved.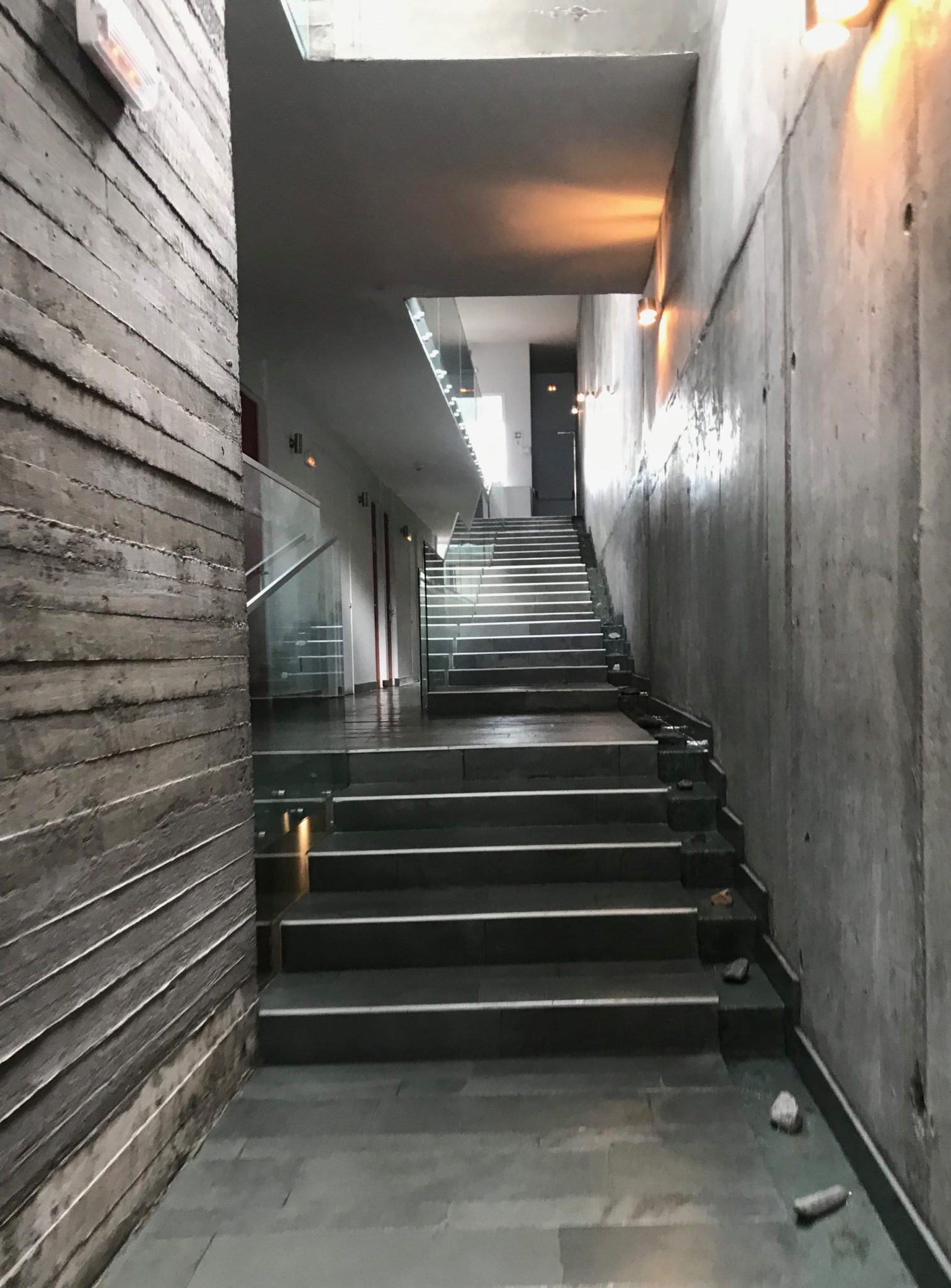 Pros:
The whole place had a modern feel with natural accents, and for $140/night, felt like a huge step up from anywhere else that we had stayed. While it was still a small hotel with a boutique feel, it did have a small restaurant and spa.
The location was less a block from the town square and three blocks from the water, which made everything really easy.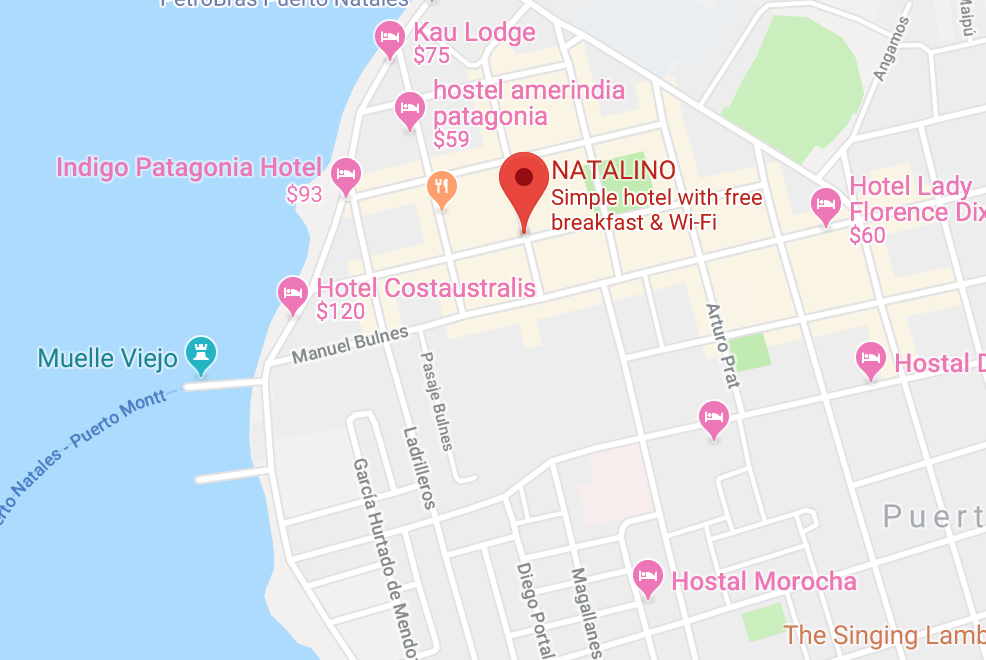 We did have about a 20-minute walk from the bus station to the hotel, which is either a good thing if you're tired of sitting, or a bad thing if you don't love dragging a rollaboard all over a new town. (My husband and I were in different camps on this matter.)
Most importantly, though, the price point was far less than anything located inside Torres del Paine – luxury hotel, bunk bed, or otherwise.
Cons:
Sadly, the bunk bed life wasn't entirely forgotten, as we ended up in a room with two twin beds. That said, our booking was at the last possible minute – I think we booked that afternoon in a last-second change of plans – so I can't fault the hotel for not having our preferred room available.
Would I stay here again?
One thousand percent yes. Given the two hour bus ride from Torres del Paine, I wouldn't necessarily use this as a home base if I could get something closer. That said, I did meet some people who chose to stay in Puerto Natales and use it as a home base to get into the park every day – and given how expensive hotels were, I can't really blame them.
More to the point – and much to our surprise – Puerto Natales is a destination in and of itself, with plenty of glaciers and waterfalls located within an easy half-day trip.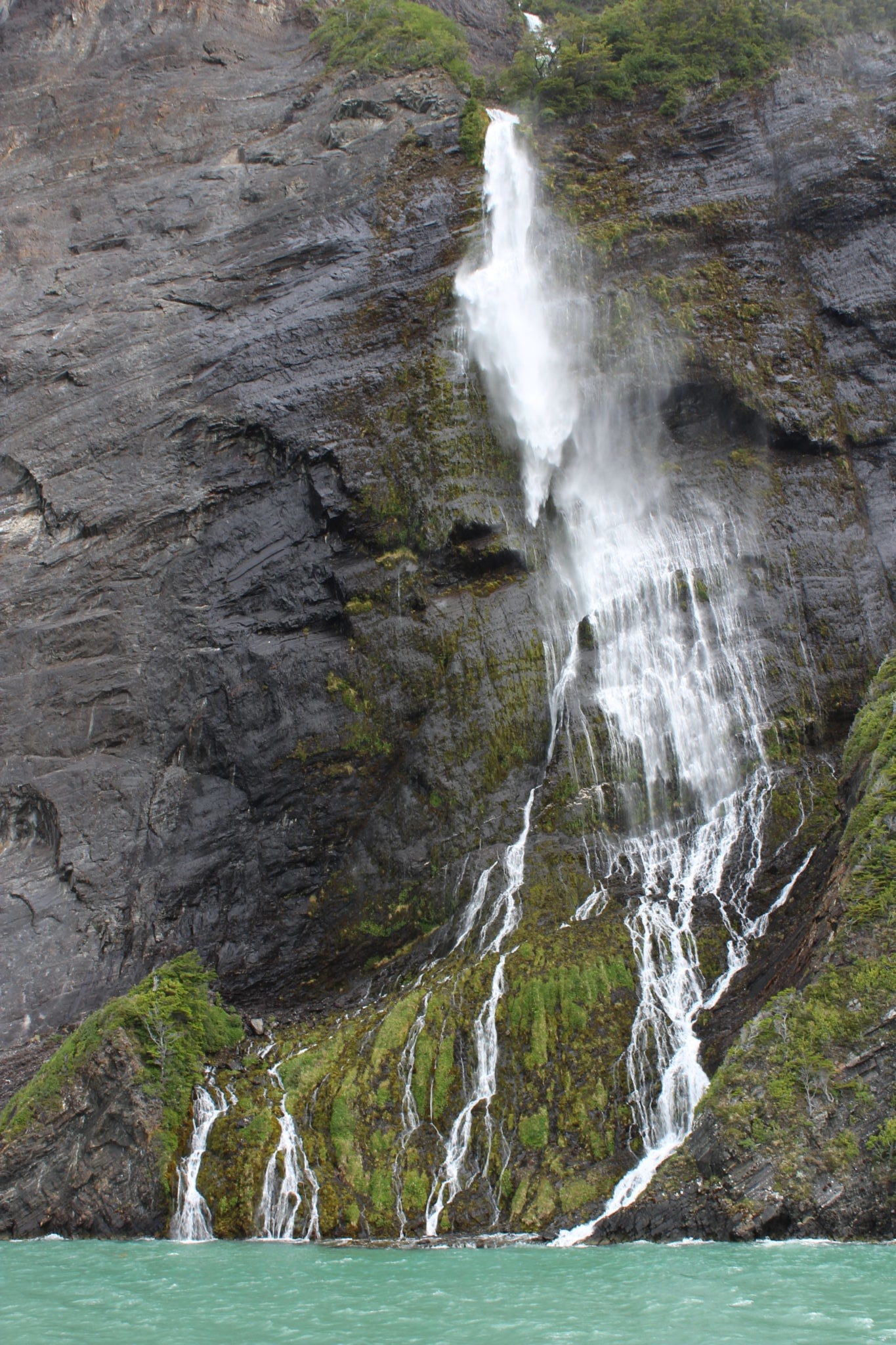 So while I wouldn't necessarily use this hotel as my Torres del Paine home base, I would happily stay here again if I was visiting Puerto Natales.
Final thoughts
At the end of the day, I'm still in the camp that you can't beat a high-value points-based hotel. But with far-flung destinations in small towns across the globe, that isn't always an option. So while I'm not quite ready to quit Marriott/Hilton/Hyatt yet, this trip was a swift reminder that there is plenty of value to be found outside of the points world, especially with a tempered budget and tempered expectations.
And if nothing else, I made far more furry friends than I would have within the confines of a five-star property.
What do you all think? Agree/disagree? What are your favorite mid-range properties?