---
Our quick trip to Santiago presented us with a little bit of a quandary: with only one full day to see the city, but two nights at our disposal, our goal was to maximize time, tourism value, and points all in one shot.
This was the only opportunity to stay at a points-based property on this trip, and with two short nights and a day that would be spent mostly out of the hotel, we couldn't quite justify the points premium on some of the higher-end properties in the city.
Lucky for us, Santiago offers no shortage of Marriott properties at all price levels, so we settled for the mid-range Courtyard Marriott Santiago Las Condes. With an all-in price of 35,000 Bonvoy points for two nights, and reviews promising a stellar location, this seemed to serve the purpose as well as any limited-service urban hotel that we could ask for.
And when you're rolling in at 1 AM after a full-day of travel, there's something to be said for checking into a hotel that is a known quantity. So — with all that said, let's take a look at how the Courtyard actually stacked up.
Courtyard Santiago Las Condes check-in experience
I actually hadn't even originally planned to do a hotel review here – with our short time and my slightly sleep-deprivation-altered state, the last thing I was thinking about upon arrival was taking pictures of the lobby and the elevator buttons. But all that changed when we checked in, where I was blown away by the level of service that we were presented with.
You do have to take an elevator up to the lobby of this hotel, which occupies floors seven through sixteen of this building on Santiago's Avenida Kennedy. We never found ourselves waiting long for this elevator, and naturally were the only ones checking in at this wee hour.
The gentleman who checked us in immediately recognized my husband's Platinum Premier status (now known as…Titanium), and while he couldn't offer us an upgrade, we were immediately offered a welcome gift of Moai-shaped chocolates.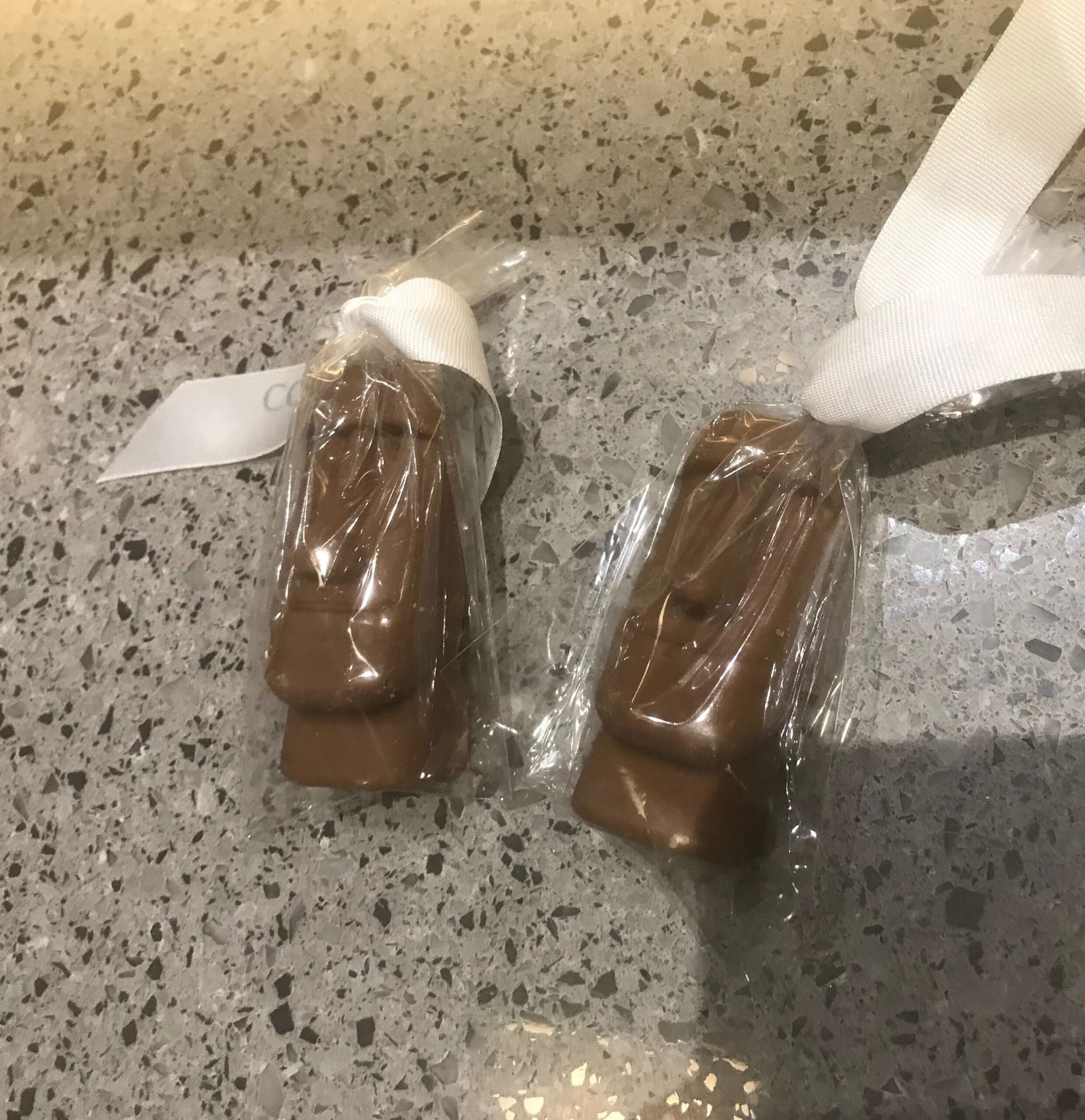 He continued by offering us the option to choose a card that would have an additional gift. Ours entitled us to choose an item from the pantry, so naturally we chose a Chilean beer, which prompted the phrase "well, if you choose a beer you get two!"
As if that wasn't enough, he grabbed a massive bottle of water and sent us off to our room (unfortunately, there was no bellhop to help with all of the new gifts we had acquired). Here is what the collateral damage ended up looking like: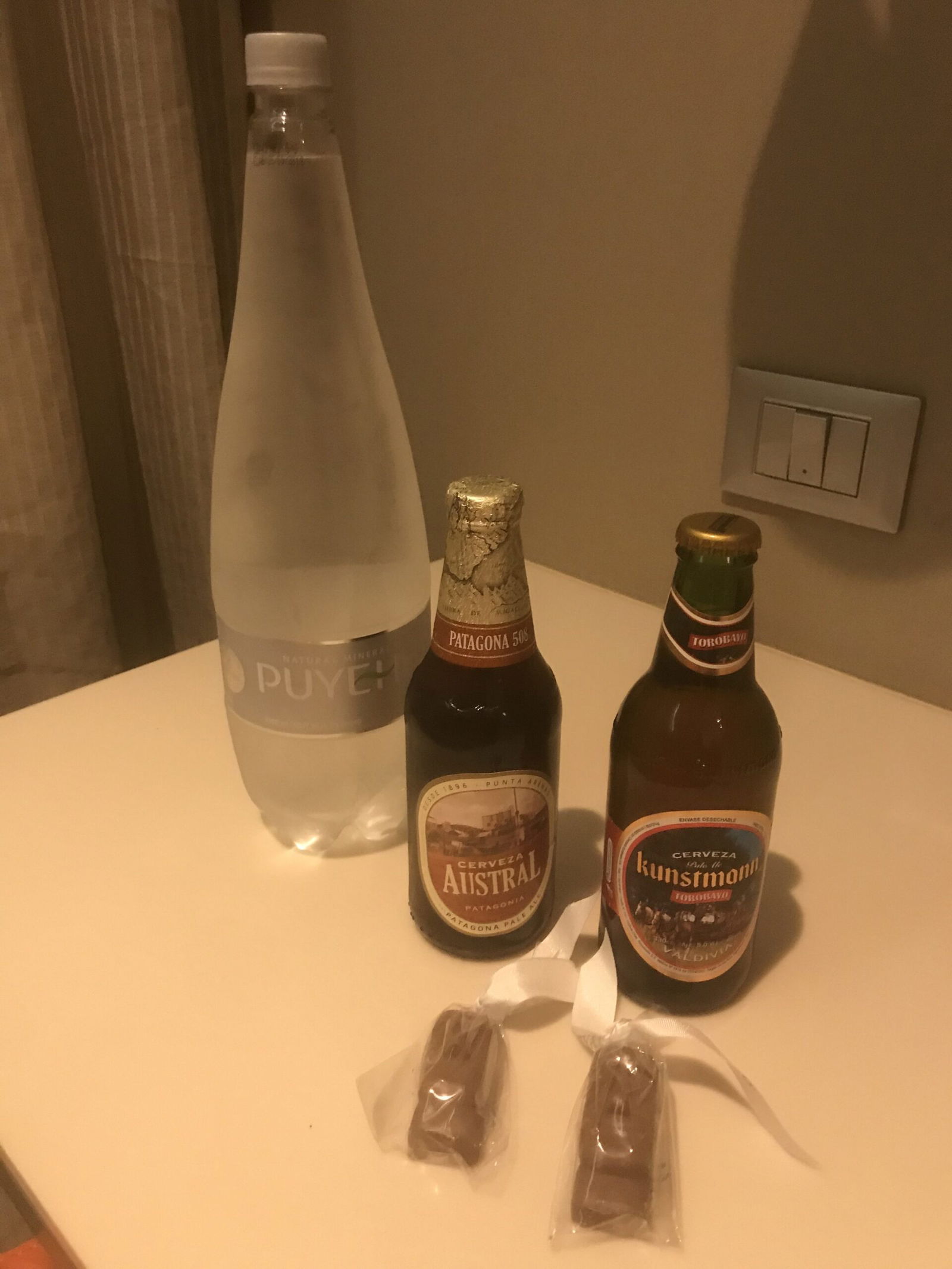 I'm not sure if he was feeling bored, generous, or both, but his efforts were definitely appreciated.
The hallways were nondescript but generally clean, which is all you can ask of a Category 3 property.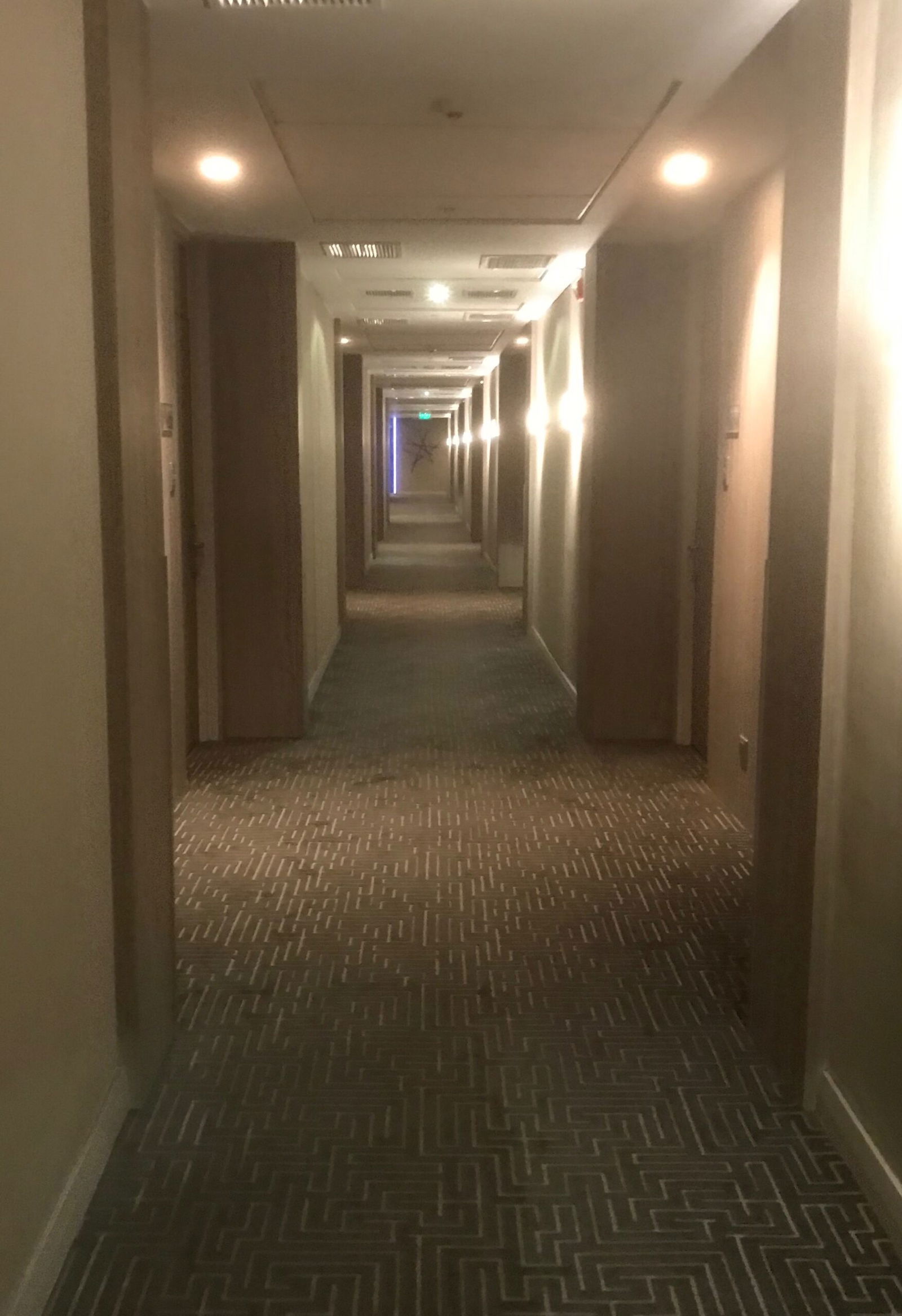 We probably could have done without the extra booze, given that there was an additional welcome amenity in our room, in the form of wine, mixed nuts, and a love note from the front desk team: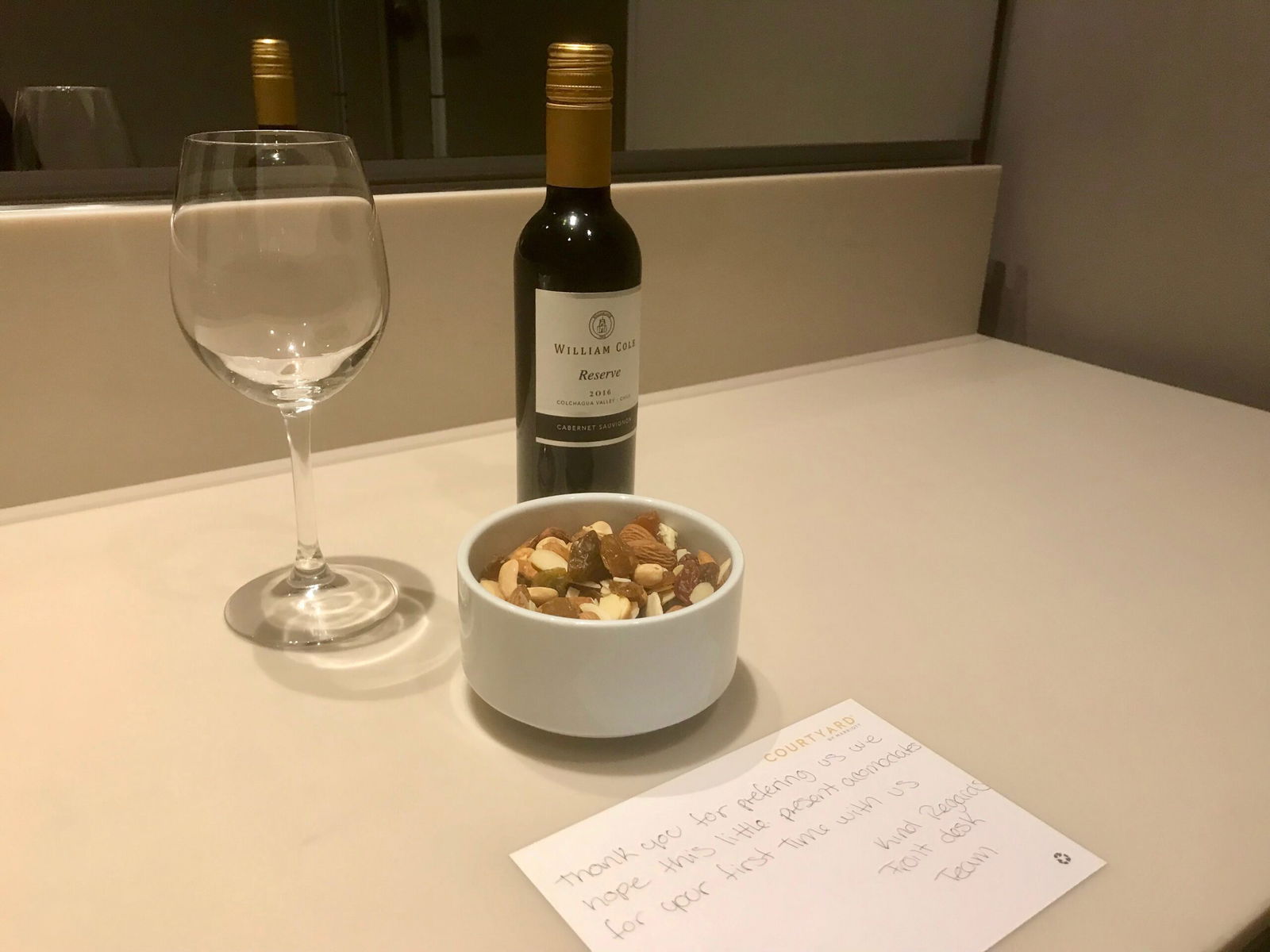 For those of you in need of a higher prescription, the note read, word-for-word as follows:
Thank you for prefering us we hope this little present acomodates for your first time with us

Kind Regards,

Front Desk Team
And they must have known how much free booze they were giving us, because waiting for us in the room was yet another bottle of water.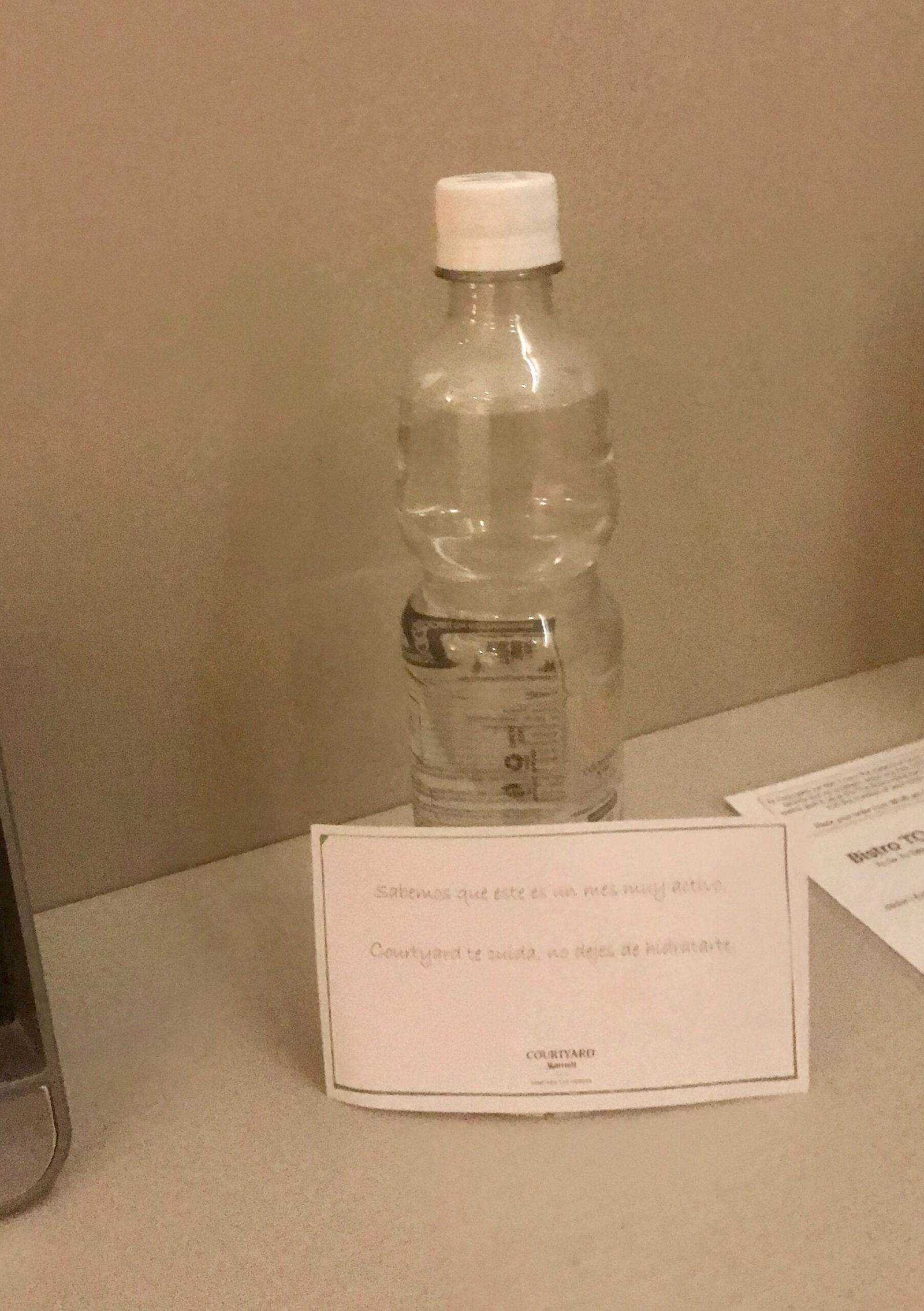 Two sips of beer later, after contemplating whether I should write a blog post then and there about how generous they were for a moderately-priced property, I was out like a light.
Courtyard Santiago Las Condes room
Speaking of light, I waited until I had some before taking some pictures of our room. As expected, the room was basic but utilitarian – nothing more, nothing less.
The bed was reasonably comfortable – not quite Westin or even Sheraton level, but good enough for a couple of nights. I do wish they had sprung for king size pillows, though – the postage stamps were dwarfed by the rest of the bed.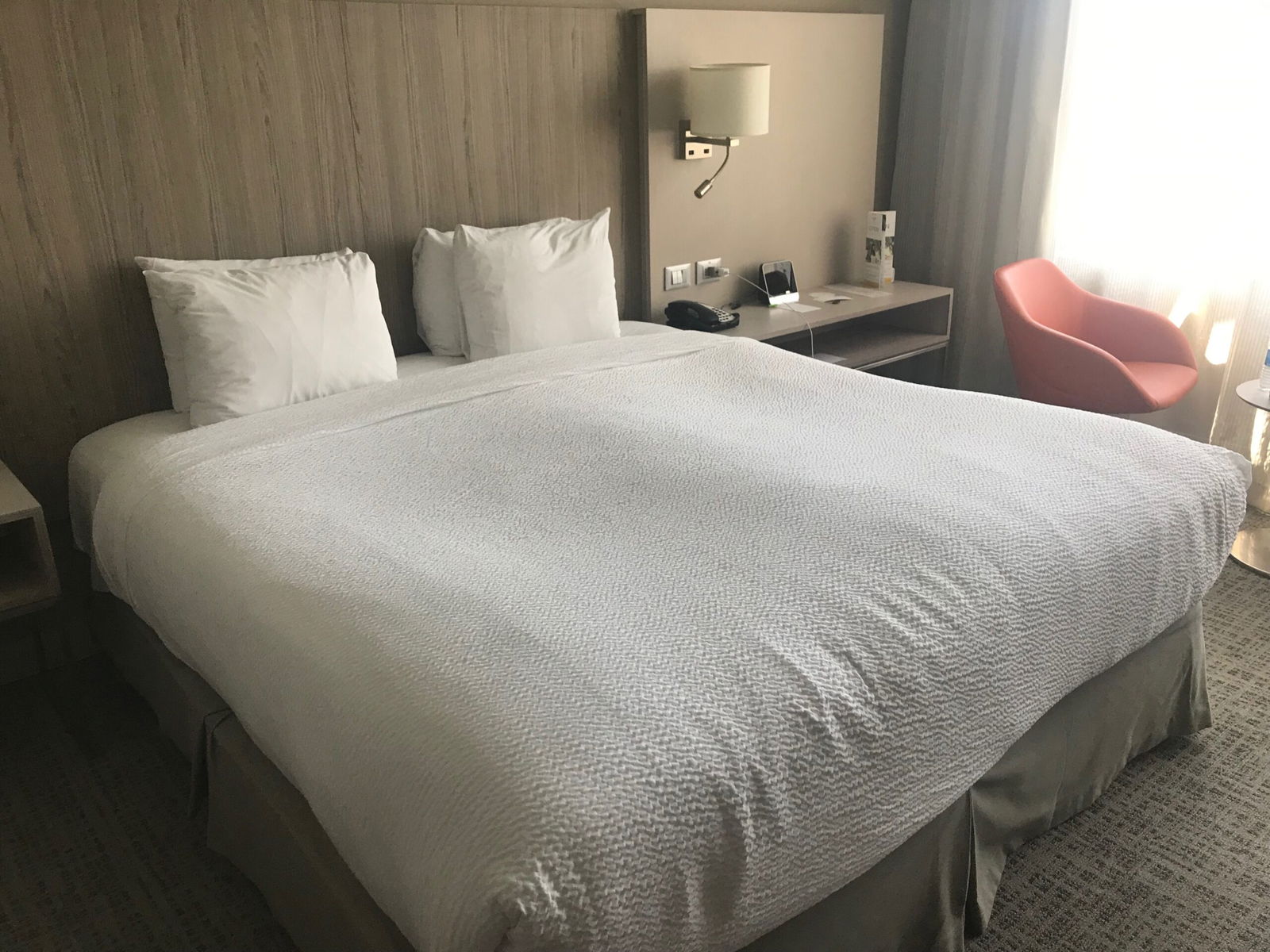 Across from the bed was a coffee machine, situated over a mini-fridge. While we ended up eating every meal out in our short time in Santiago, it was nice to have options.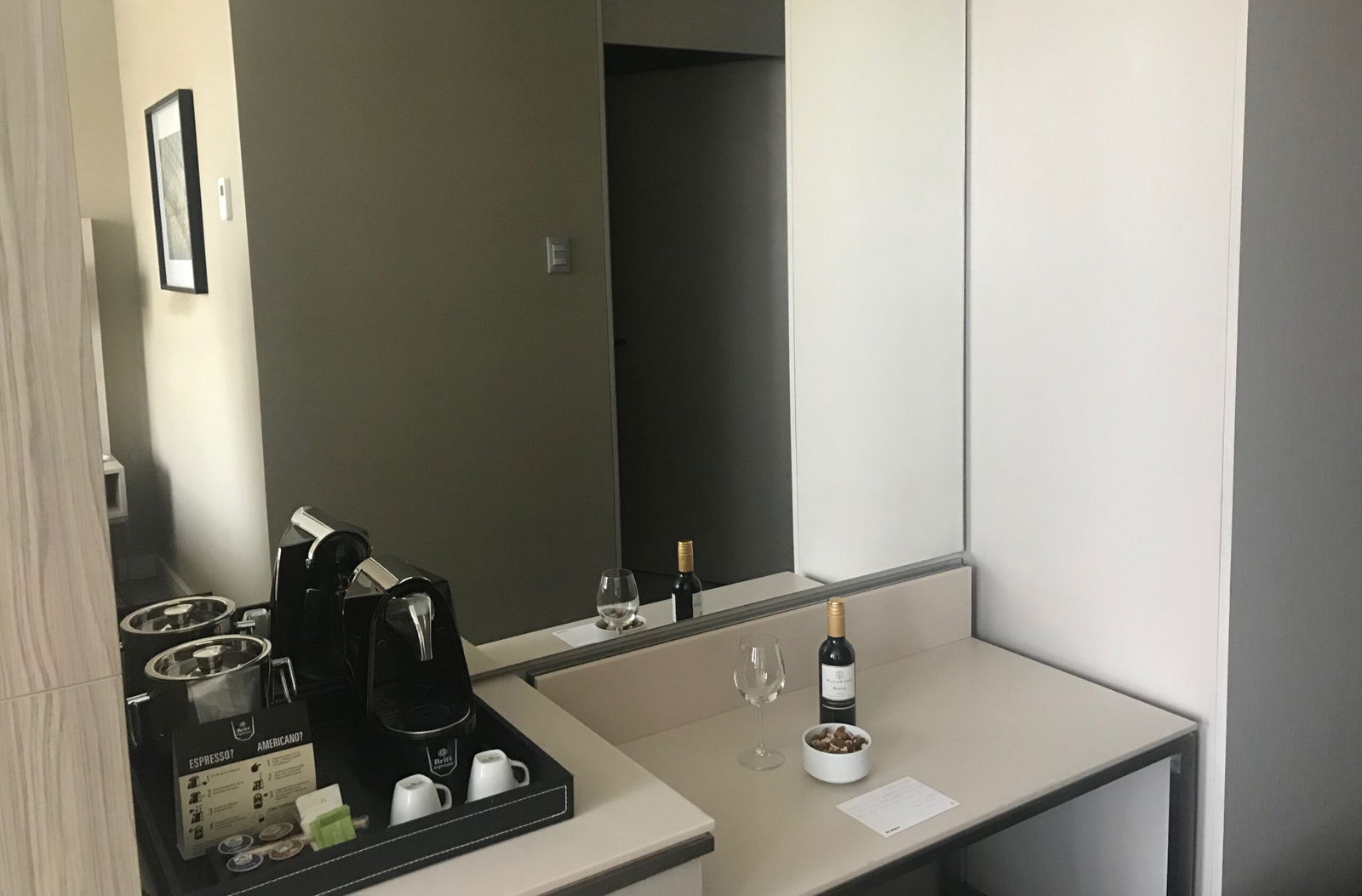 Rounding out the room were a TV and a small desk area.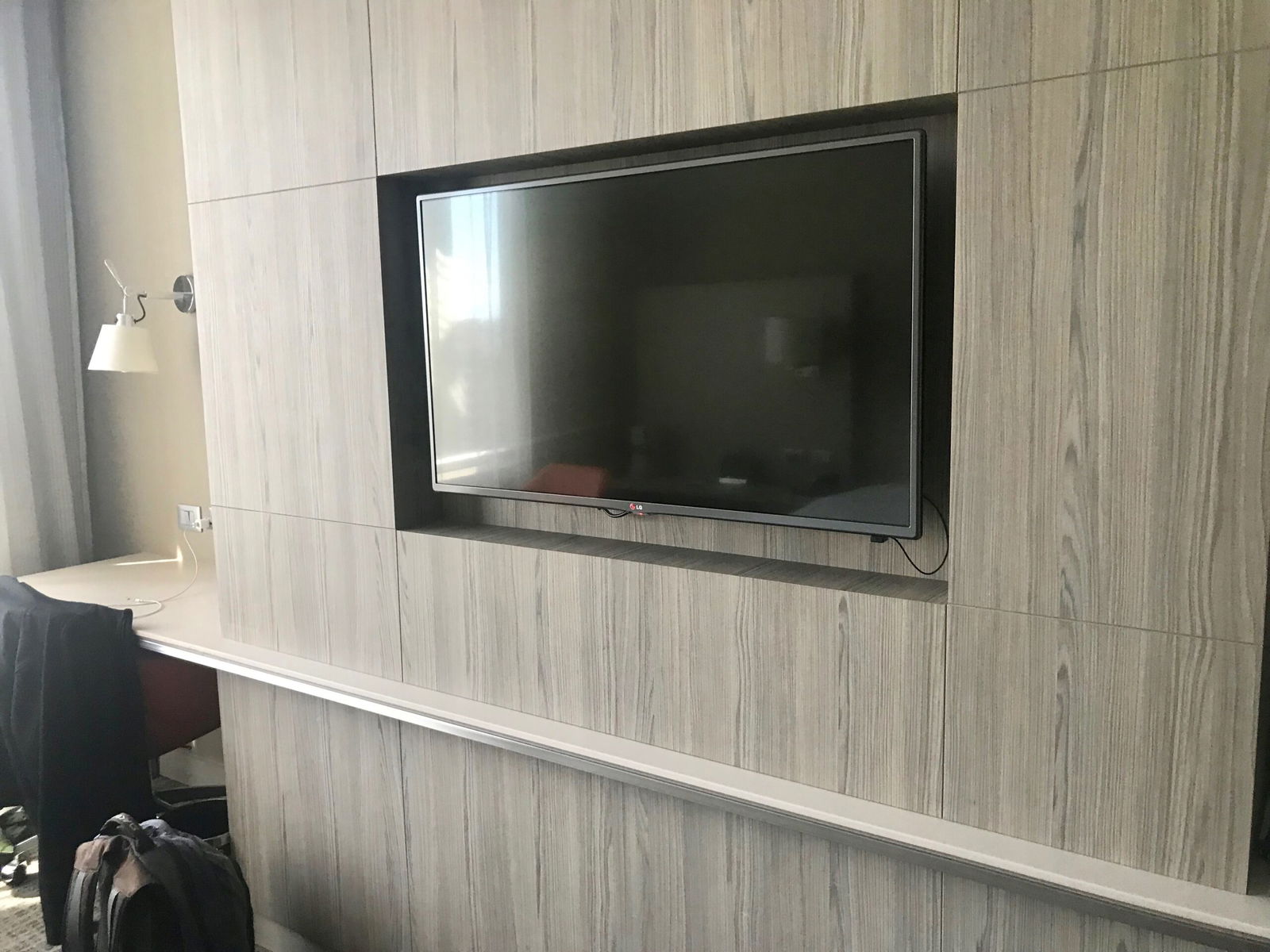 Much like the room, the bathroom was totally utilitarian, if nothing special. I did appreciate that the temperature controls on the shower were located out of the line of fire, to prevent unexpected ice baths or scalding: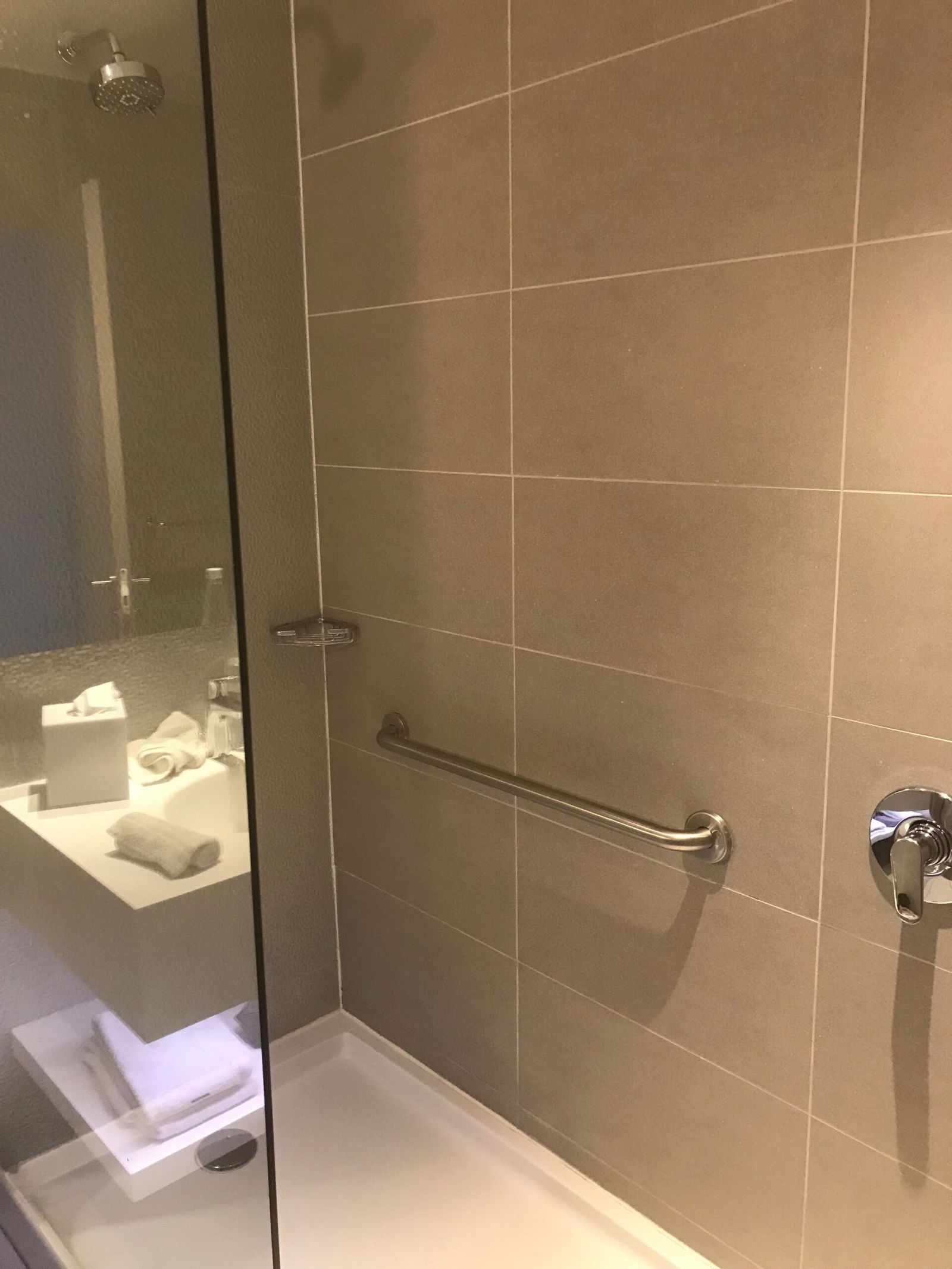 And like many hotels outside of the U.S., the toilet was located in its own separate room: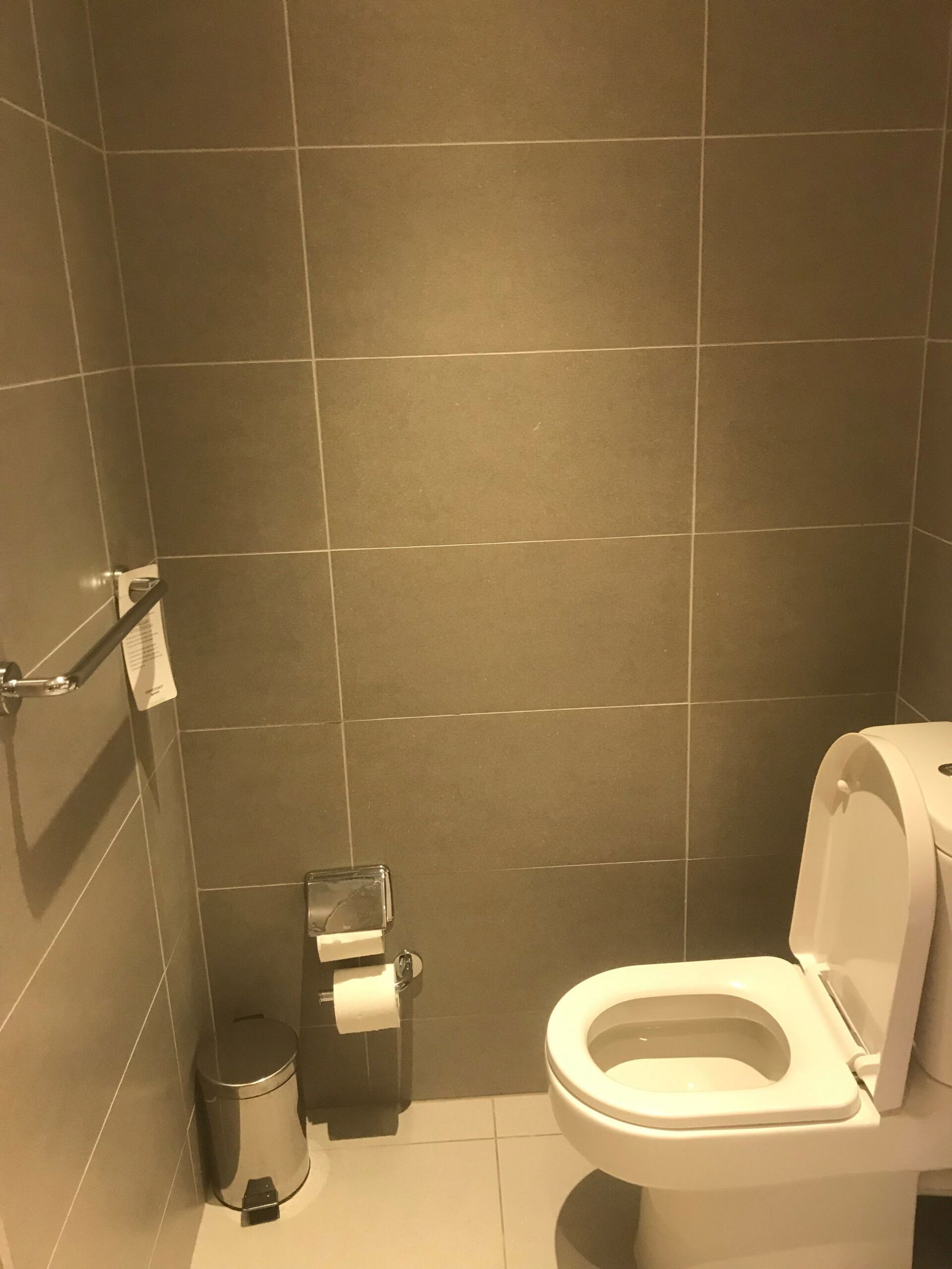 So while the 300 square feet of room didn't leave us much space to spread out, it more than did the trick as a clean place to crash. And with Courtyards, I don't expect much more.
Courtyard Santiago Las Condes amenities
Fortunately, if you do plan on spending an appreciable amount of time here, there is plenty of space to spread out outside of the guest rooms. The lobby, while under construction at night, is home to a nice-looking (if not particularly happening) restaurant: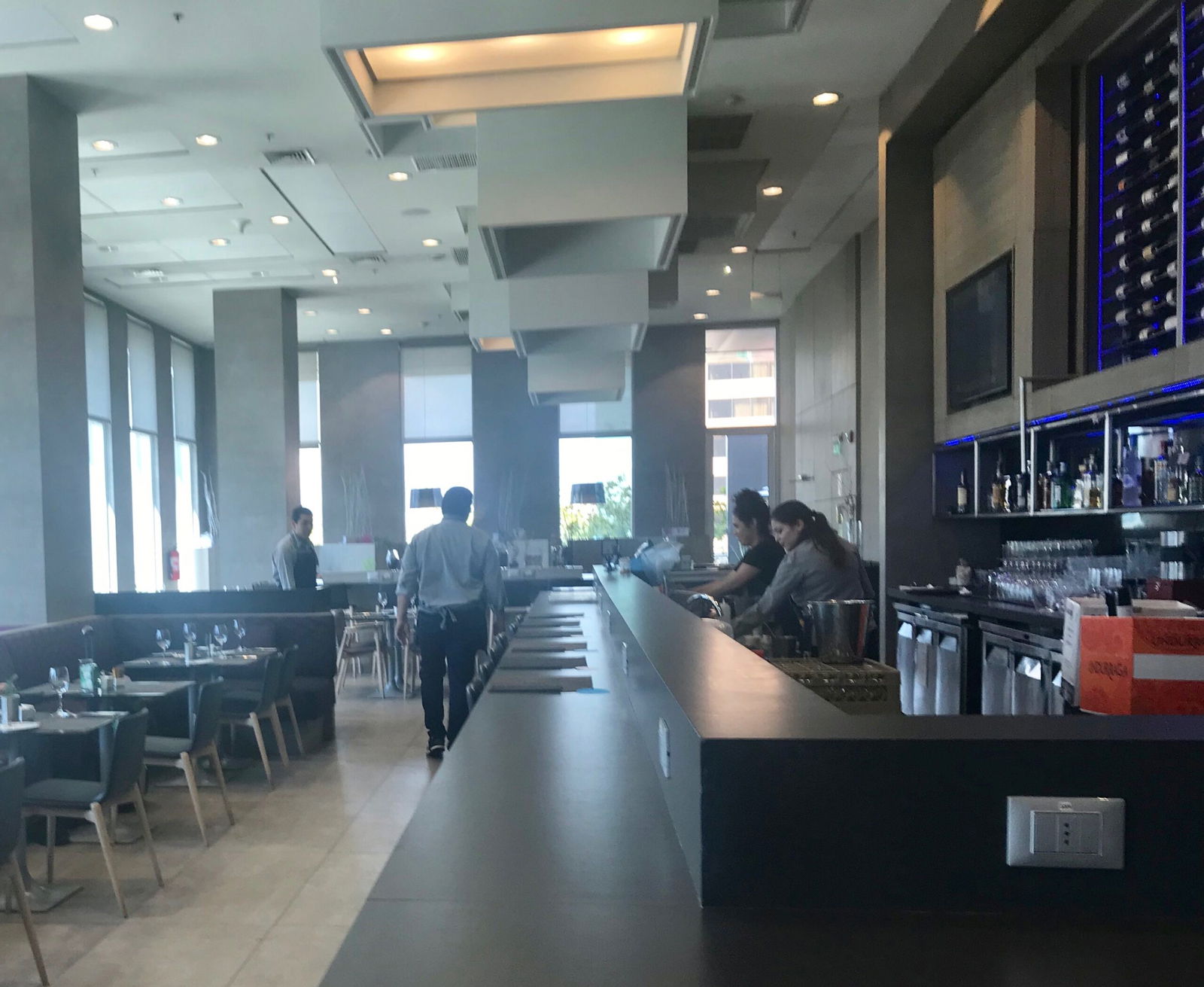 And offers ample seating areas: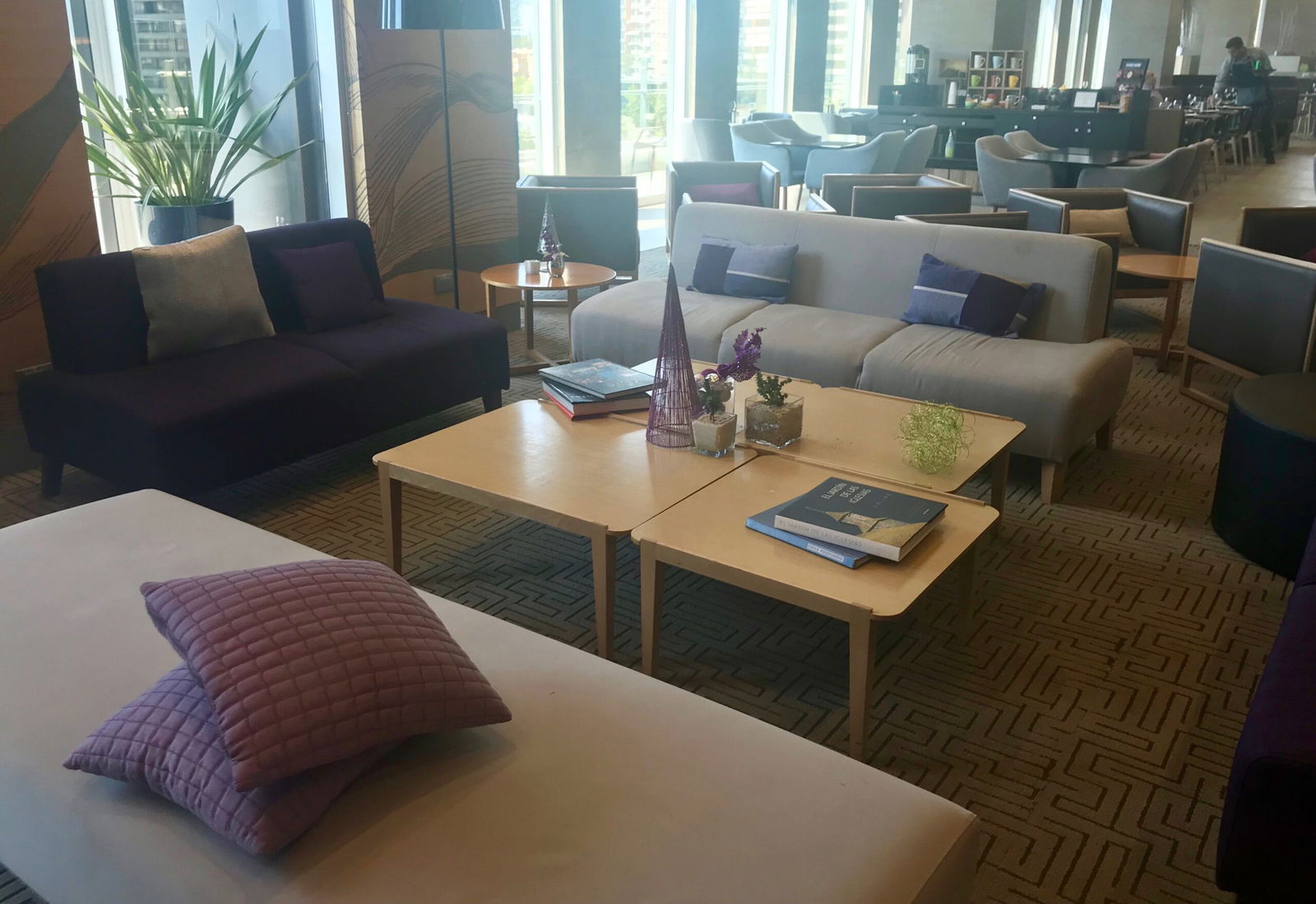 The seating continued onto the outdoor terrace, also located on the 7th floor: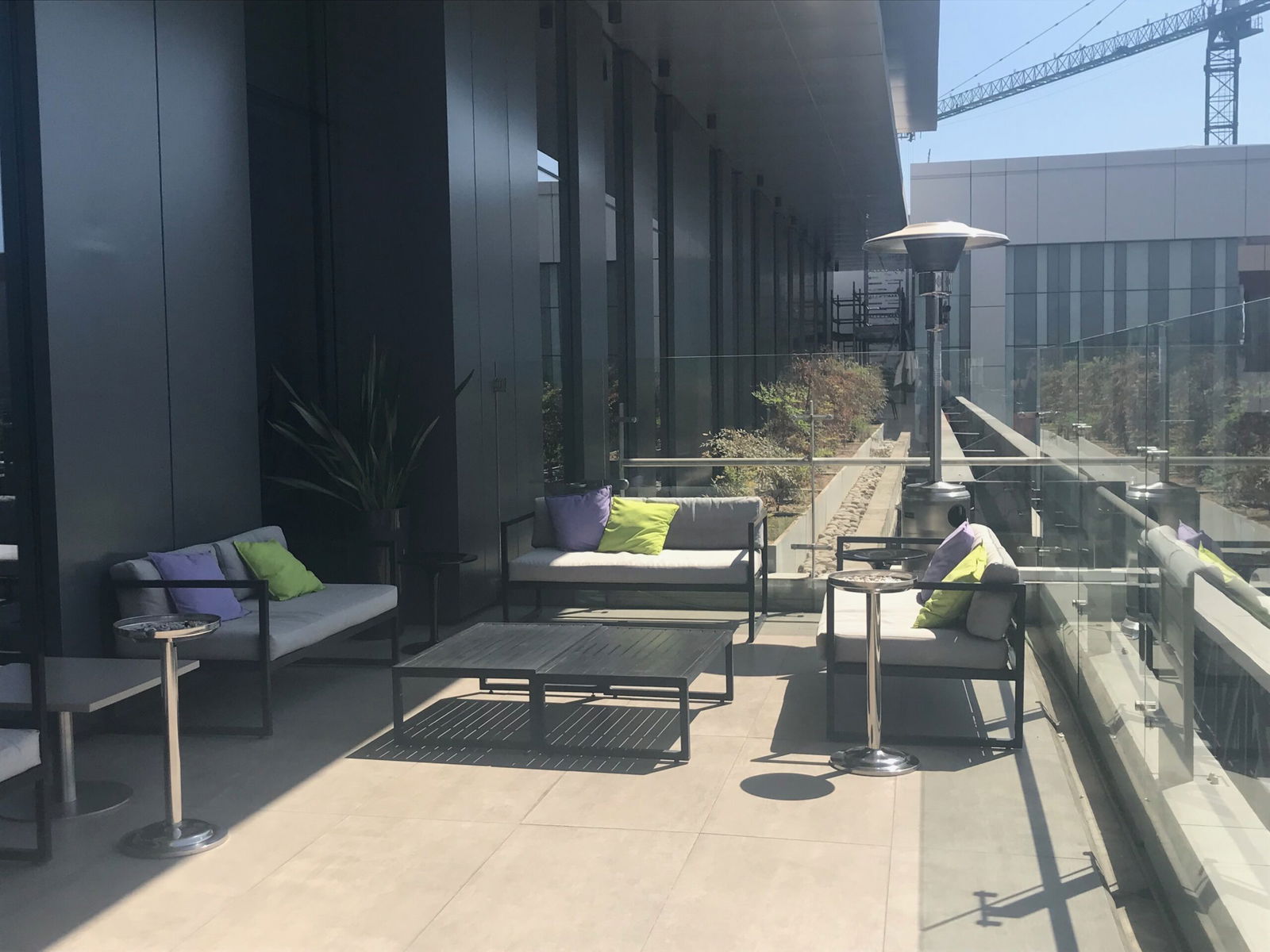 And if you don't like being around people (and enjoy really uncomfortable chairs), you can just sit on the very narrow part of the terrace and avoid all eye contact: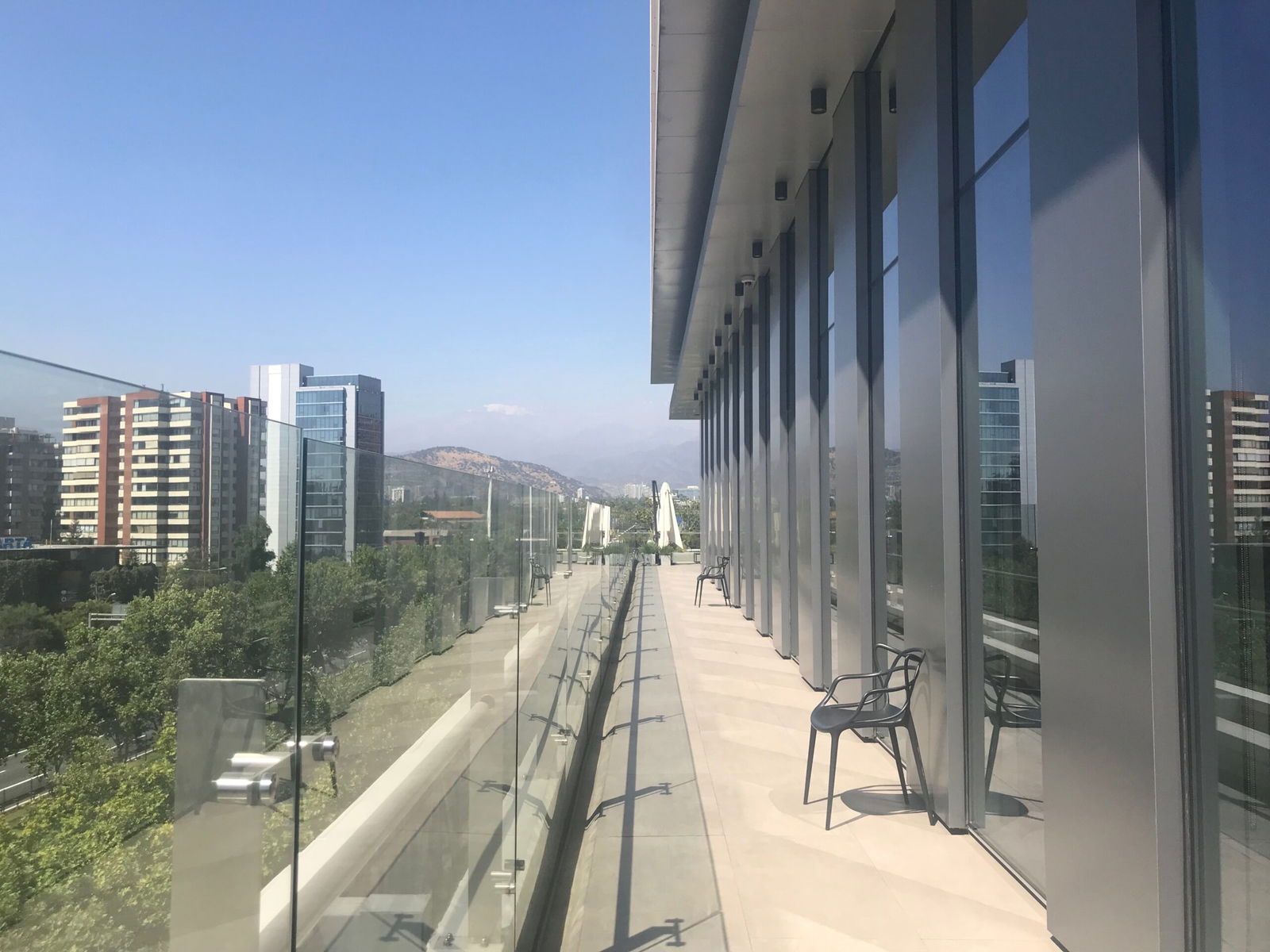 Meanwhile the fitness center, located on the top floor, offers stellar views to reward anyone who chooses to work out while traveling: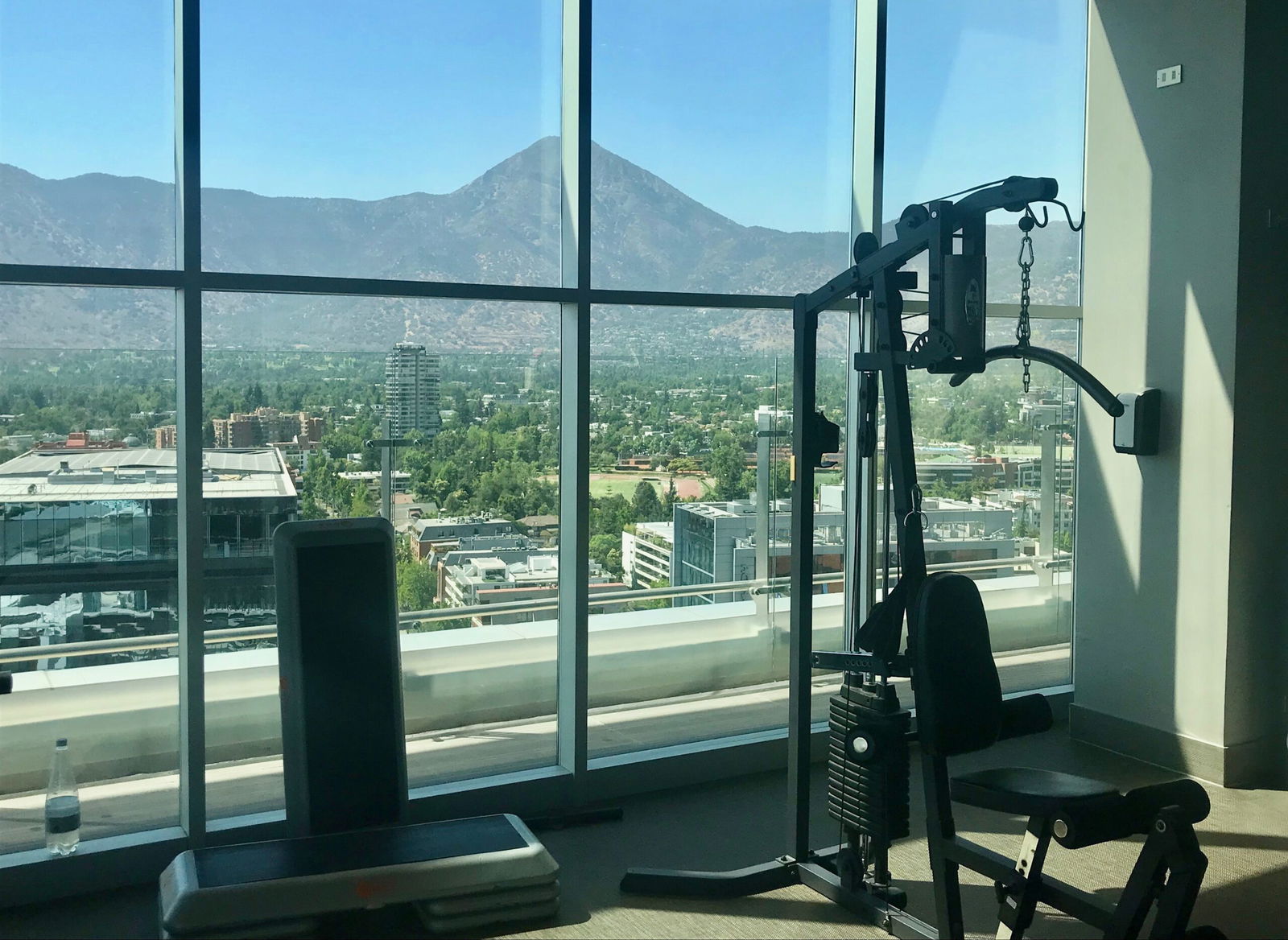 (I wasn't too excited to creep on the pour soul on the treadmill who was probably wondering why I was taking pictures of weight machines, but rest assured that the hotel offers cardio options as well.)
The piece de resistance, however, is the rooftop pool. While not quite as well-lit as the advertisements may indicate, the views were almost enough to convince me to swim laps. Almost.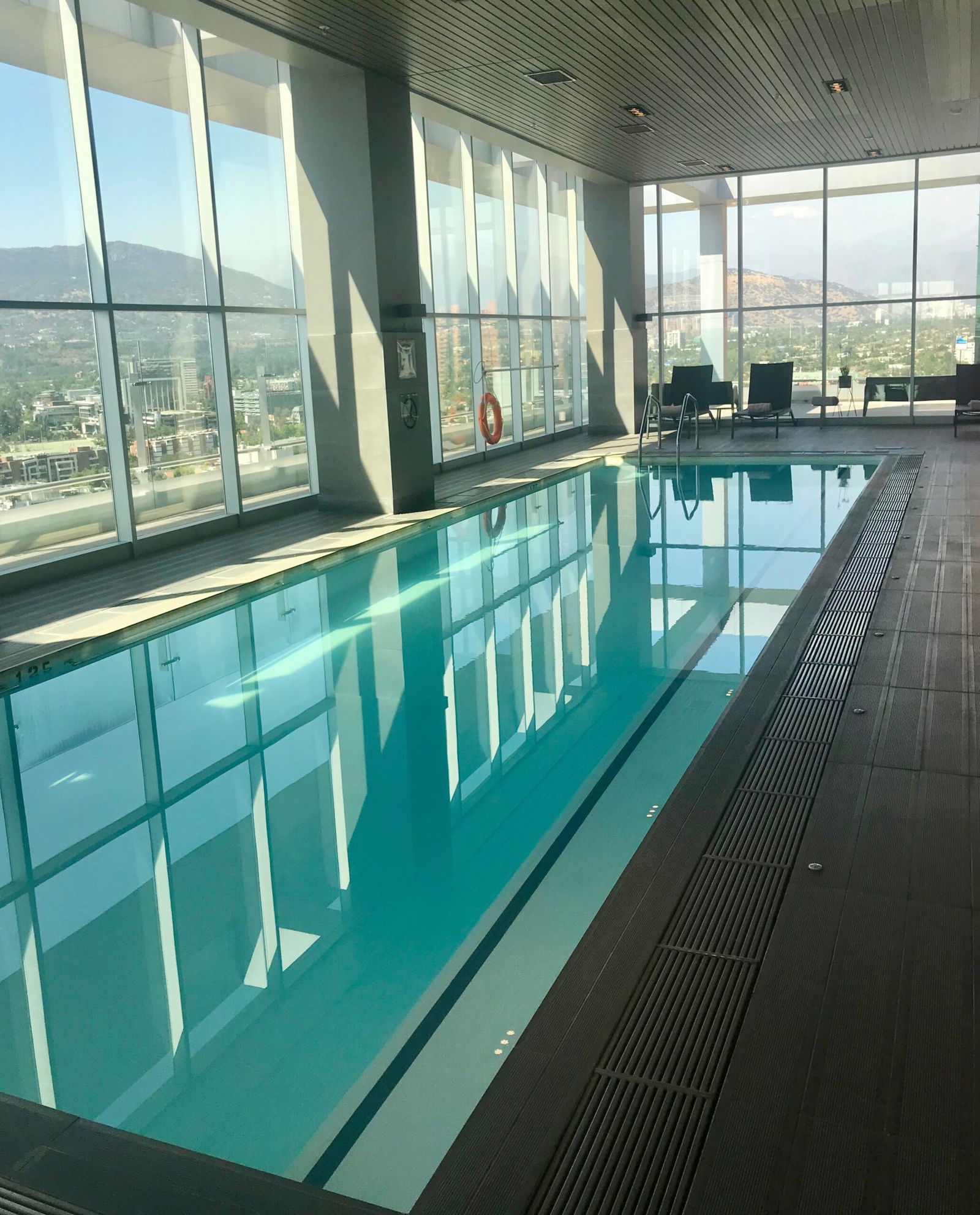 Now is as good a time as any to remind you that this is a Category 3 property.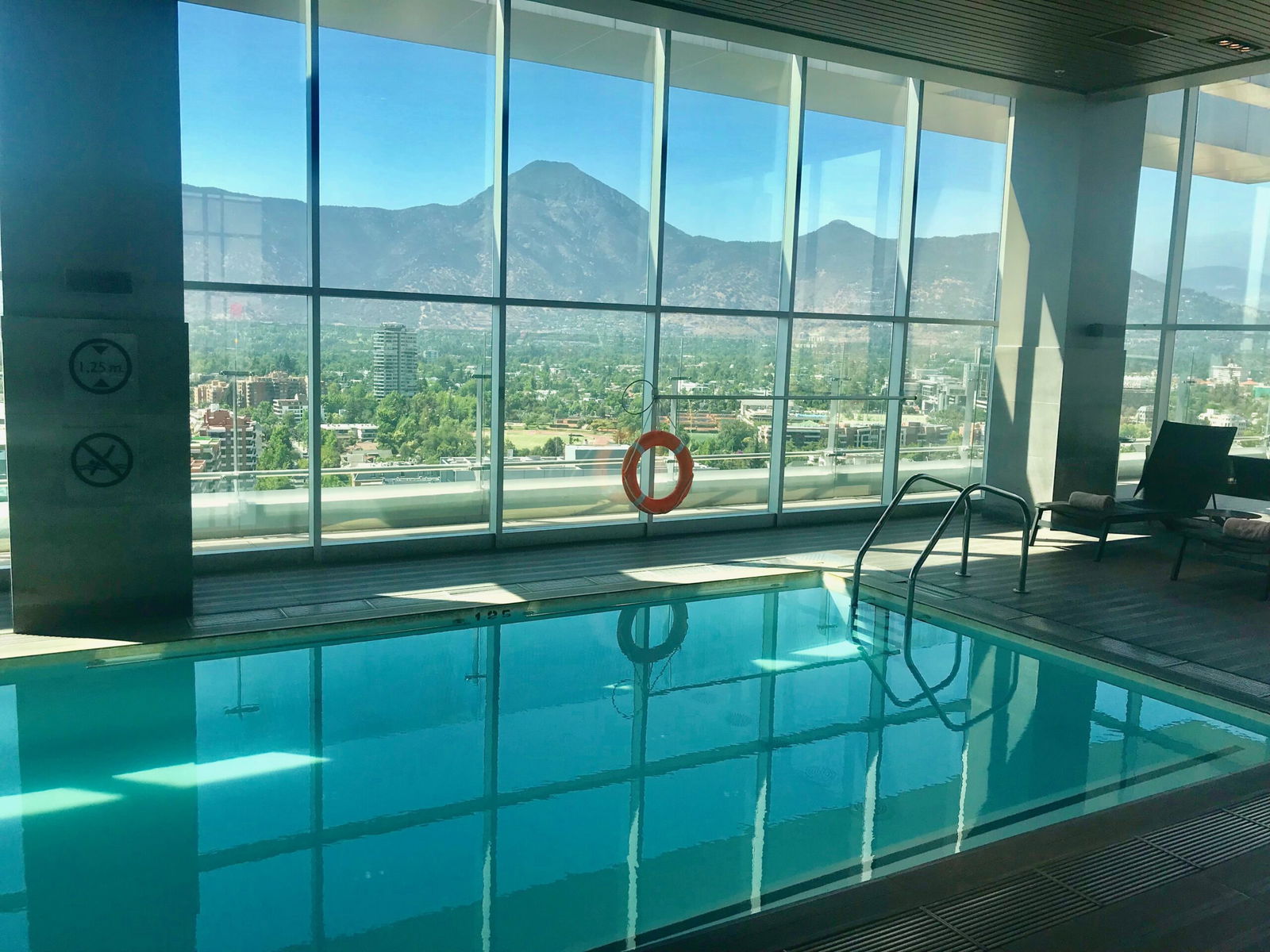 And if you'd rather soak up the views without breaking a sweat, you're also covered: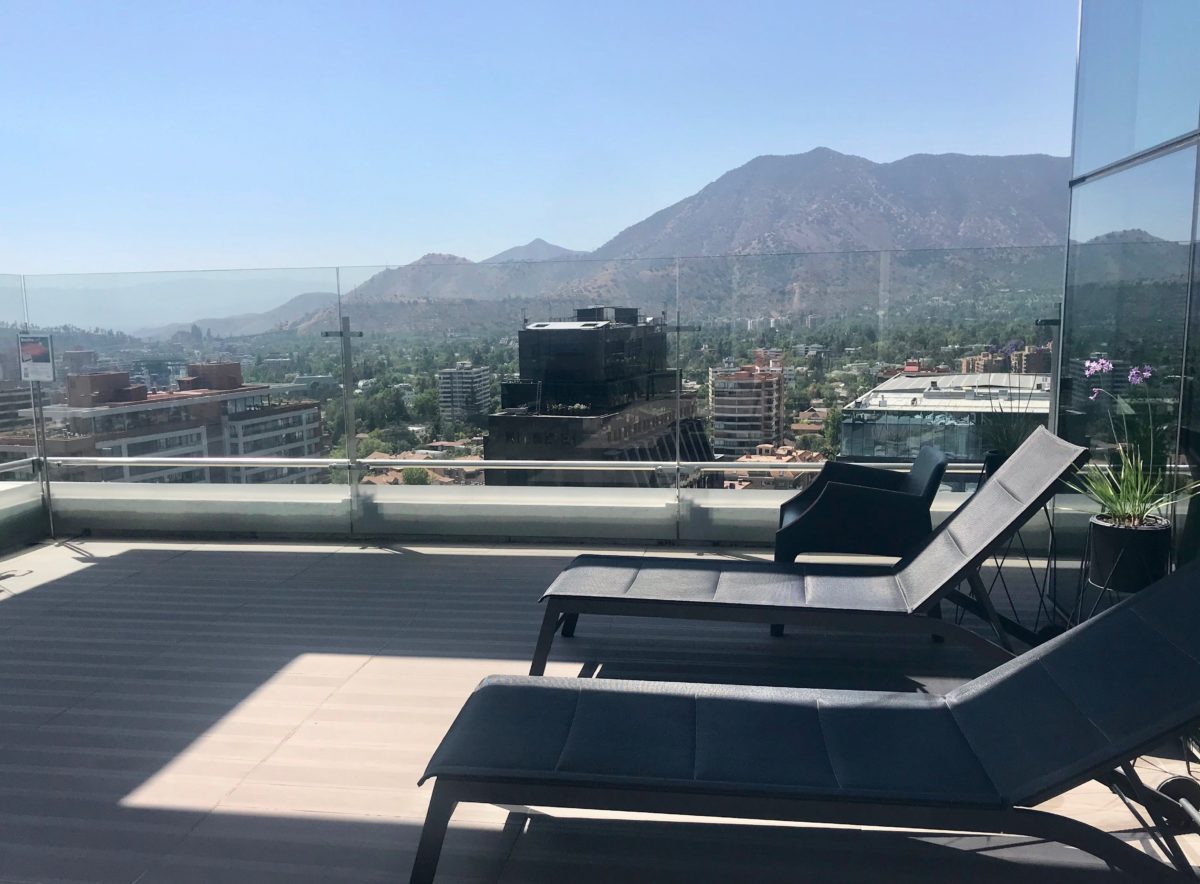 Although I'm not quite sure what those weird metal crane-like things are for.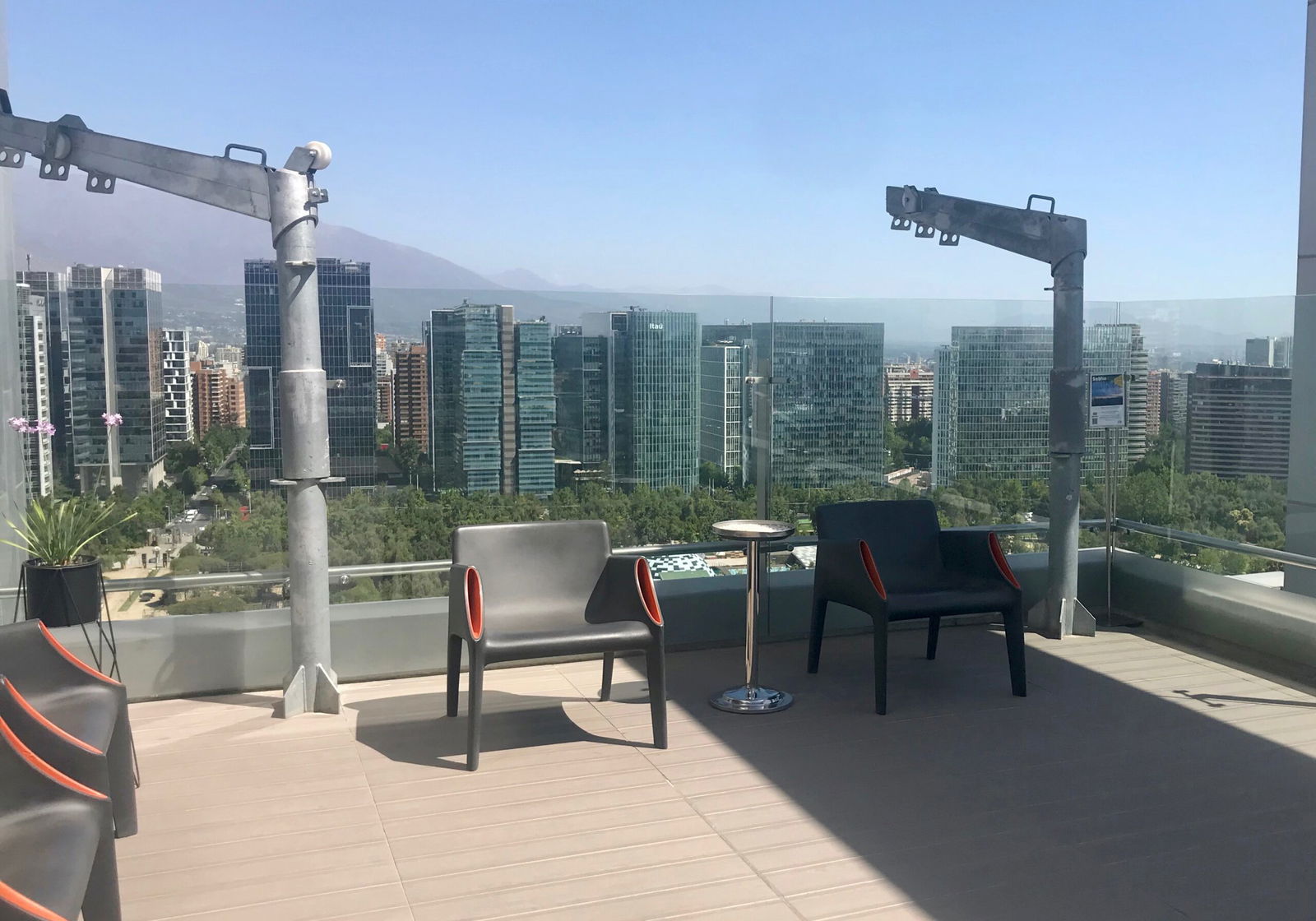 Rounding out the rooftop area is a game room, complete with foosball and a basketball shooting game: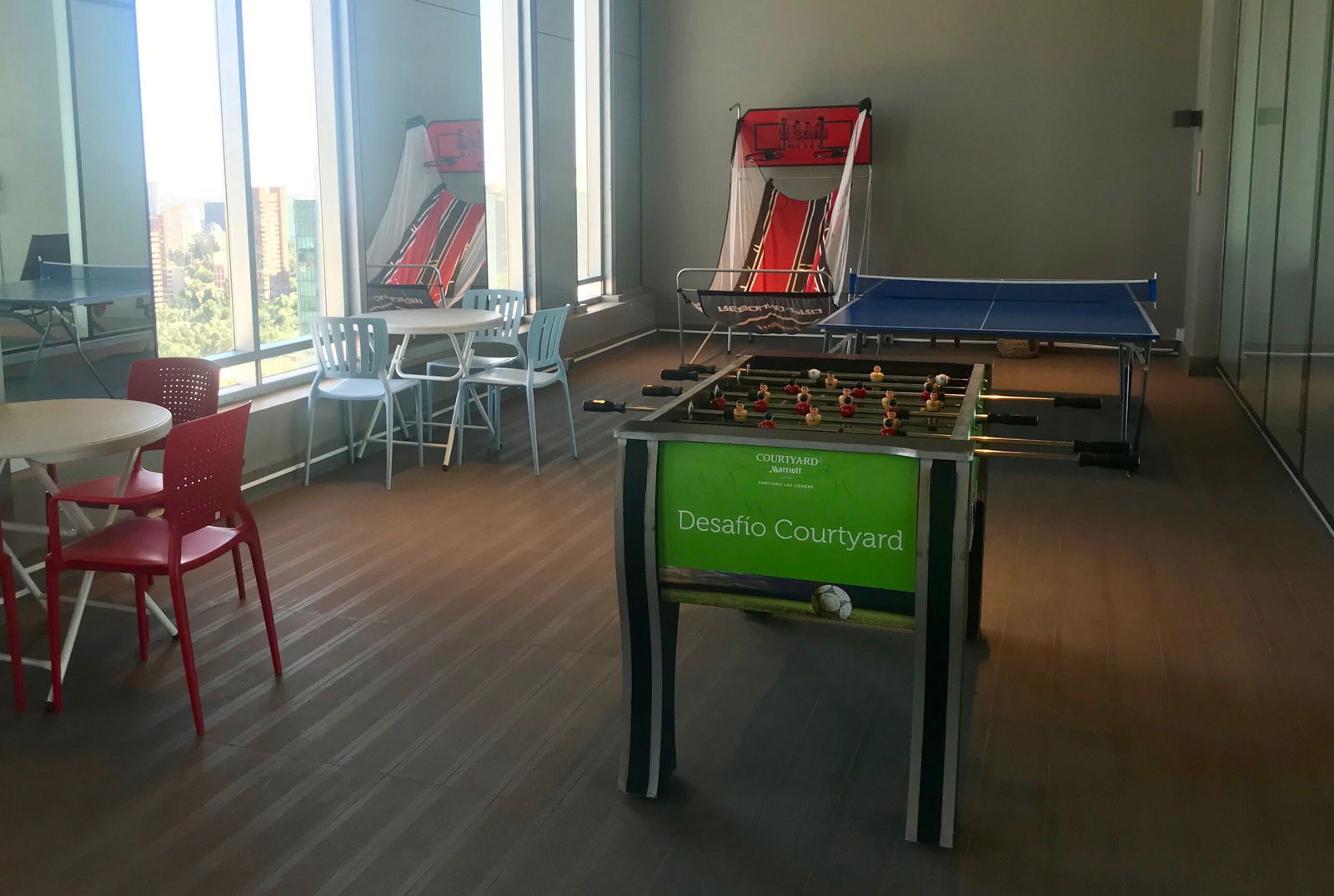 Side note: if you ever want an easy win at foosball, come find me.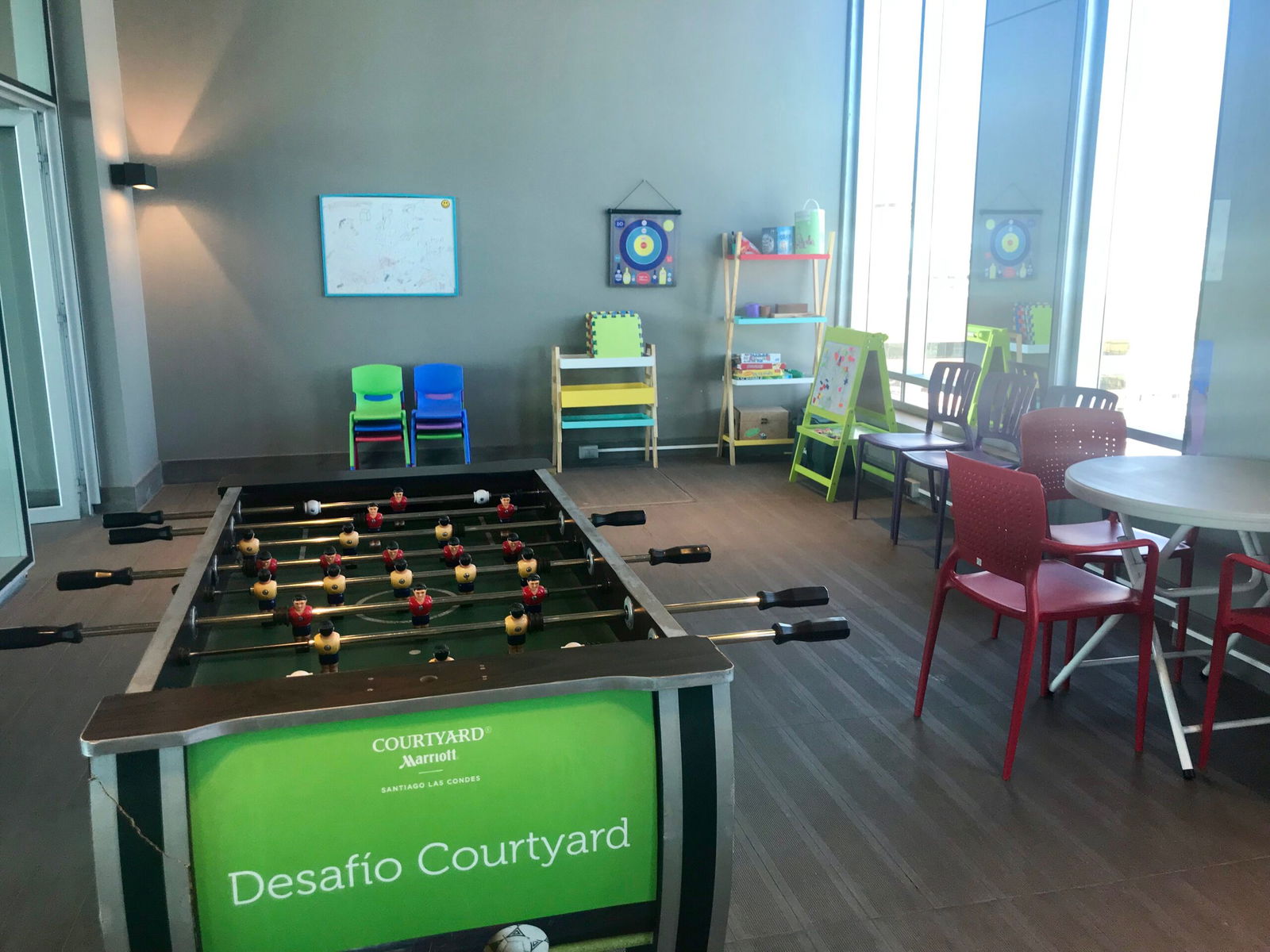 Courtyard Santiago Las Condes location
While I can't really find flaw with the hotel property itself, particularly given the price point, the neighborhood left something to be desired. Prior reviews had indicated the "great location" as one of the major selling points, and when you're doing a quick 36-hour city tour, this can often be the deciding factor.
And I guess the area's outstanding location reviews are due to the…shopping mall nearby? Abundance of green space and business centers? Proximity to the Marriott next door? Seriously – while the neighborhood felt safe and totally manageable, most of the attractions that we wanted to see required a cab ride, or a pretty hefty walk.
We spent most of the day walking around the incredibly popular San Cristobal hill, which is, by many accounts, the top tourist attraction in Santiago. It also happens to be quite the hike from the hotel: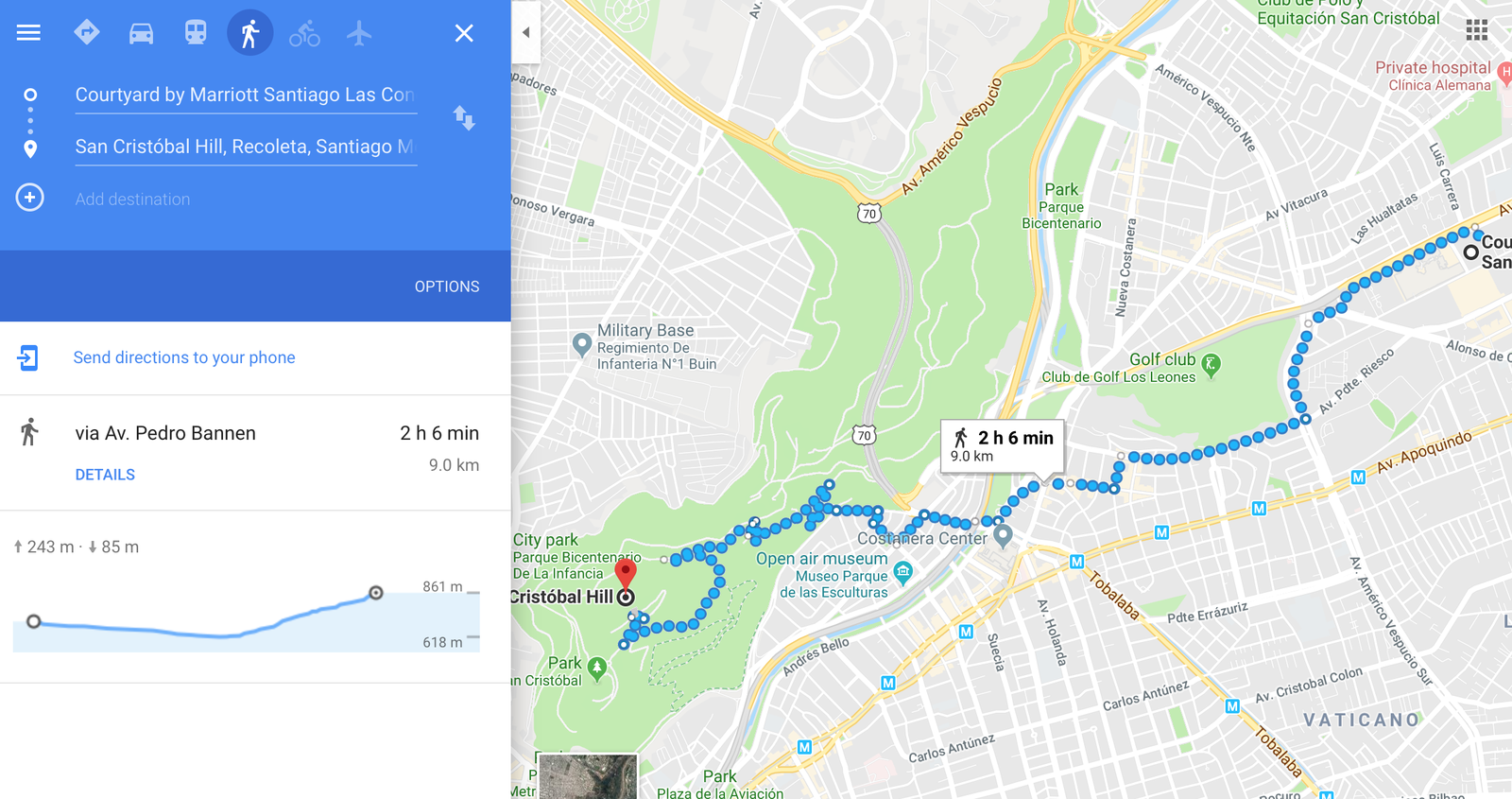 Luckily, I convinced my gazelle husband to take an Uber back when we were done (questionable in Chile, but that's a conversation for a different post).
Now, I'm sure some of you out there know Santiago far better than I do, so if I missed something here, seriously, let the comments fly. But to me, the neighborhood felt less like I was traveling, and more like I was getting ready for a meeting at a very nice corporate campus in Silicon Valley.
And while that's not necessarily a bad thing, it doesn't necessarily scream "vacation."
By contrast, when we went out later that evening, we ended up using the W hotel as our starting point – less for our love of W hotels, and more for its centralized location in the bustling El Golf neighborhood.
As a Category 5 hotel, I don't know that it would have been worth dropping double the points for a stay at the W, but with both the Sheraton Santiago and the Four Points Sheraton Santiago located a stones throw away, I would look at those options if I were to return.
Courtyard Santiago Las Condes bottom line
There's not much to fault with the property itself. With clean, perfectly functional rooms, nice amenities like a rooftop pool, and enough welcome gifts to keep us hydrated (and dehydrated) for the length of our stay, this limited-service Category 3 property doesn't owe us much.
But with such a short stay, and with so many visitors like us using Santiago as a launching point for destinations like Easter Island, Patagonia, and Valparaiso, I have a hard time advocating staying that far from the main tourist attractions. If I were touring Santiago again, I'd take a long, hard, look at some of the more centrally located properties before returning to this one.
That said, if all I'm looking for is a good night's sleep and a clean place to shower and get some work done, I would come back in a heartbeat. Especially with beer and chocolate on the line.
Have you stayed in Santiago? What's your favorite hotel?