---
After our remarkably unremarkable experience at Santiago Airport (SCL)'s Sky Club, we decided to upgrade our wait time by checking out the Salones VIP Pacific Club, a Priority Pass lounge located maybe a two-minute walk from the Sky Club, close to Gate 20A.
Our expectations were quite…tempered, and I really just wanted seating, electrical outlets, and decent Wi-Fi. If any of these benefits sound appealing, it may be worth looking into a credit card with lounge access.
Salones VIP Pacific club access
The lounge is located down one level from the main departures hall, and can be accessed either via stairs or elevator.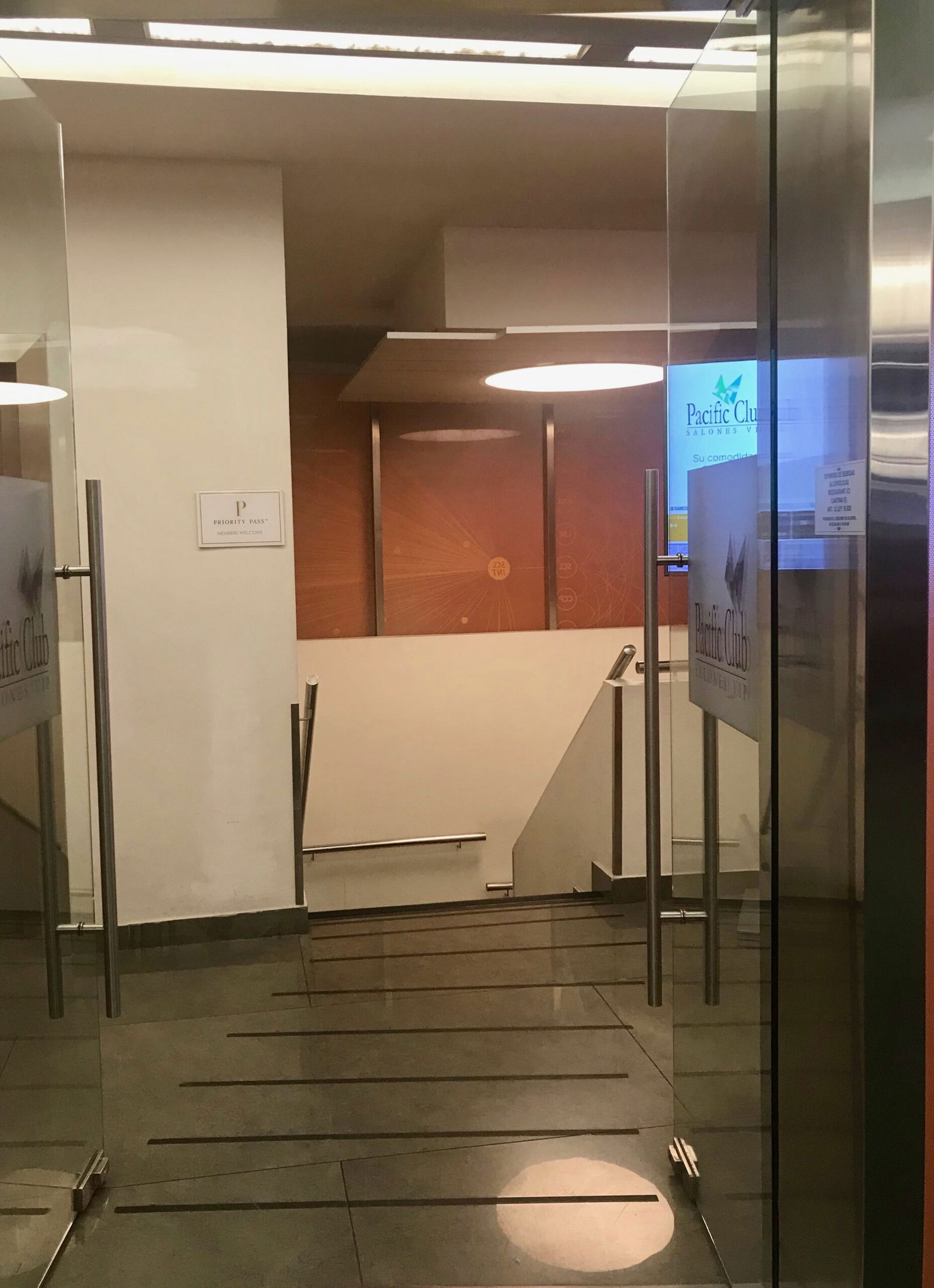 My husband and I both have American Express business platinum cards, which grants us Priority Pass Select membership. I was able to show my card and have him enter as a guest, which saved us about a minute at check-in (and probably saved the lounge employees more than a minute of headache, given the backup that was forming).
Salones VIP Pacific club seating
Once inside, the lounge was pretty much a doppelgänger of its domestic counterpart, which Ben reviewed last year. There was ample seating…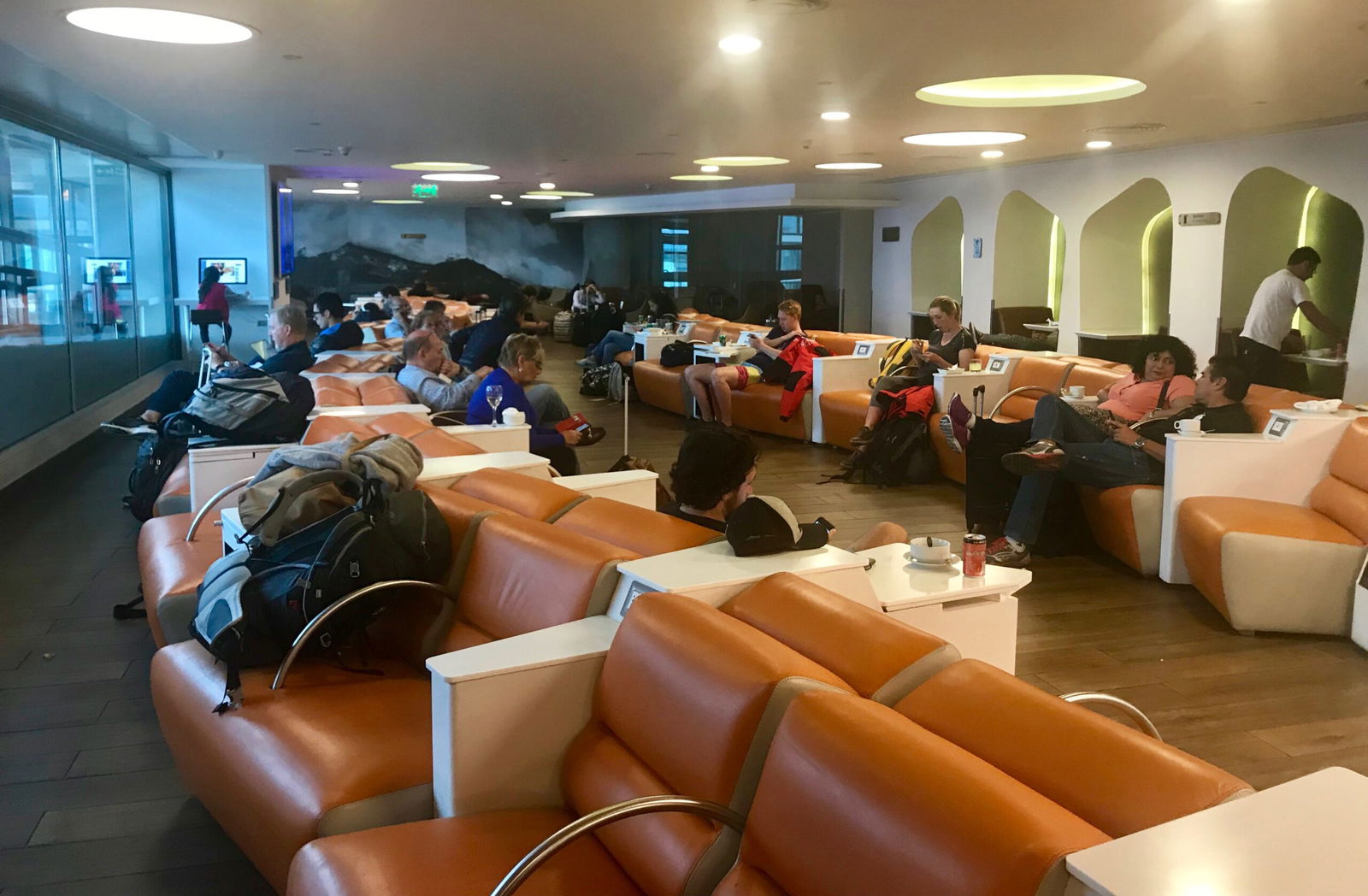 …with ample electric outlets, located between every other pair of seats.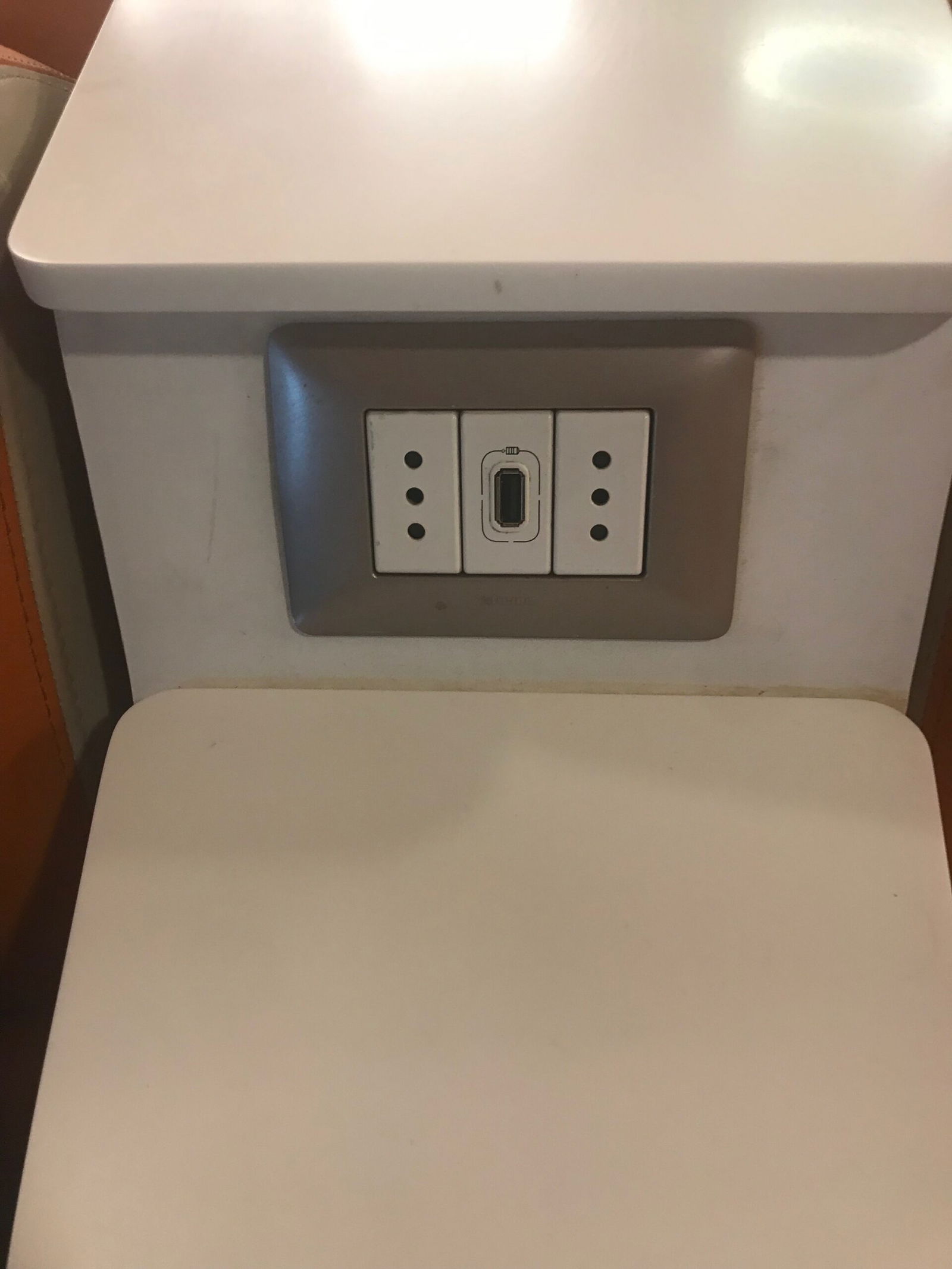 The color scheme drew its inspiration less from Crate and Barrel, and more from a Greyhound bus terminal – but I was there to sit in the seats, not to look at them, and they were reasonably comfortable.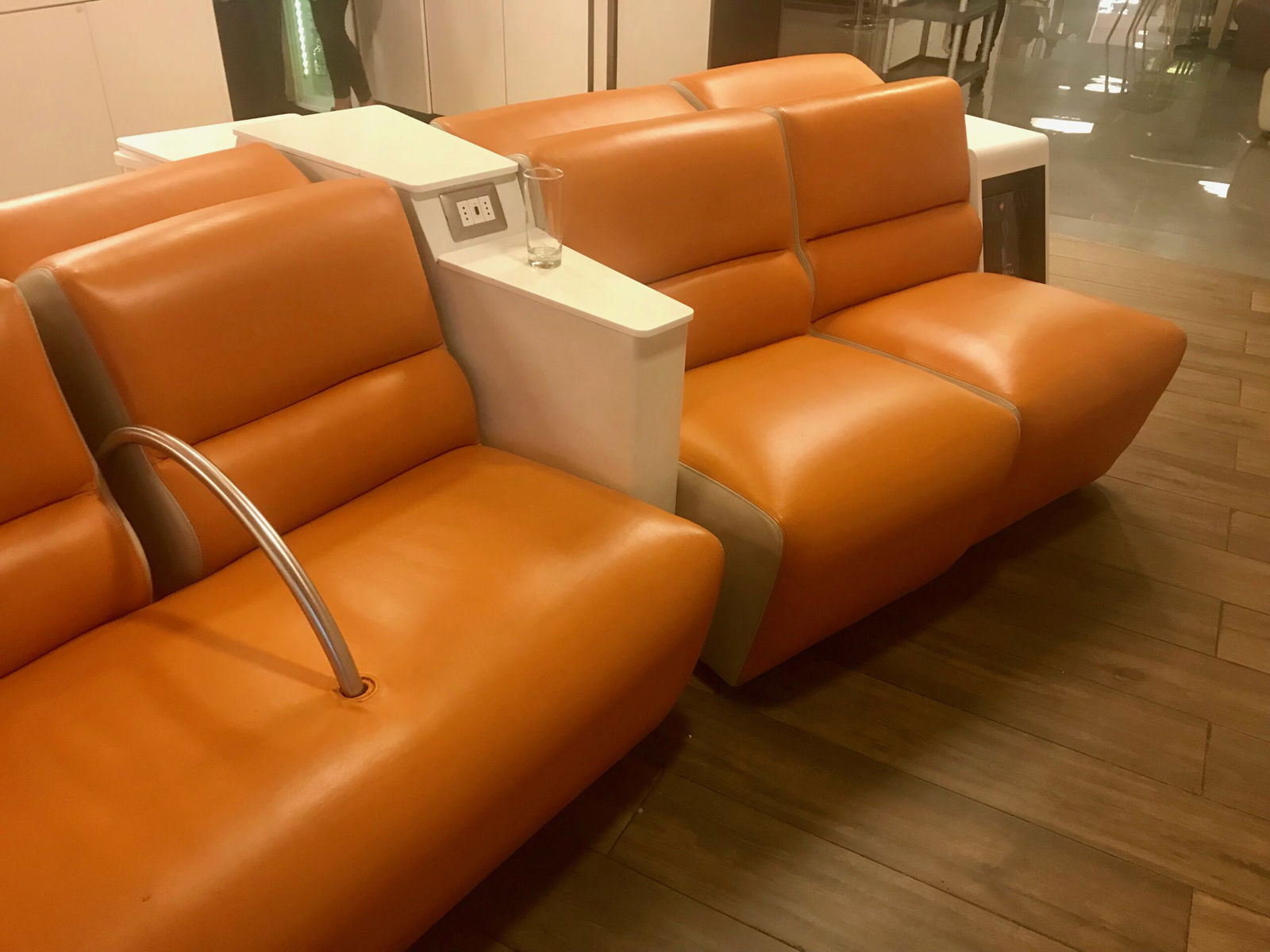 For those looking for a bit more privacy, there were some weird-looking wall cutouts with your standard fare "introvert seating." The lighting was a bit nauseating, but perhaps worth it for the privacy: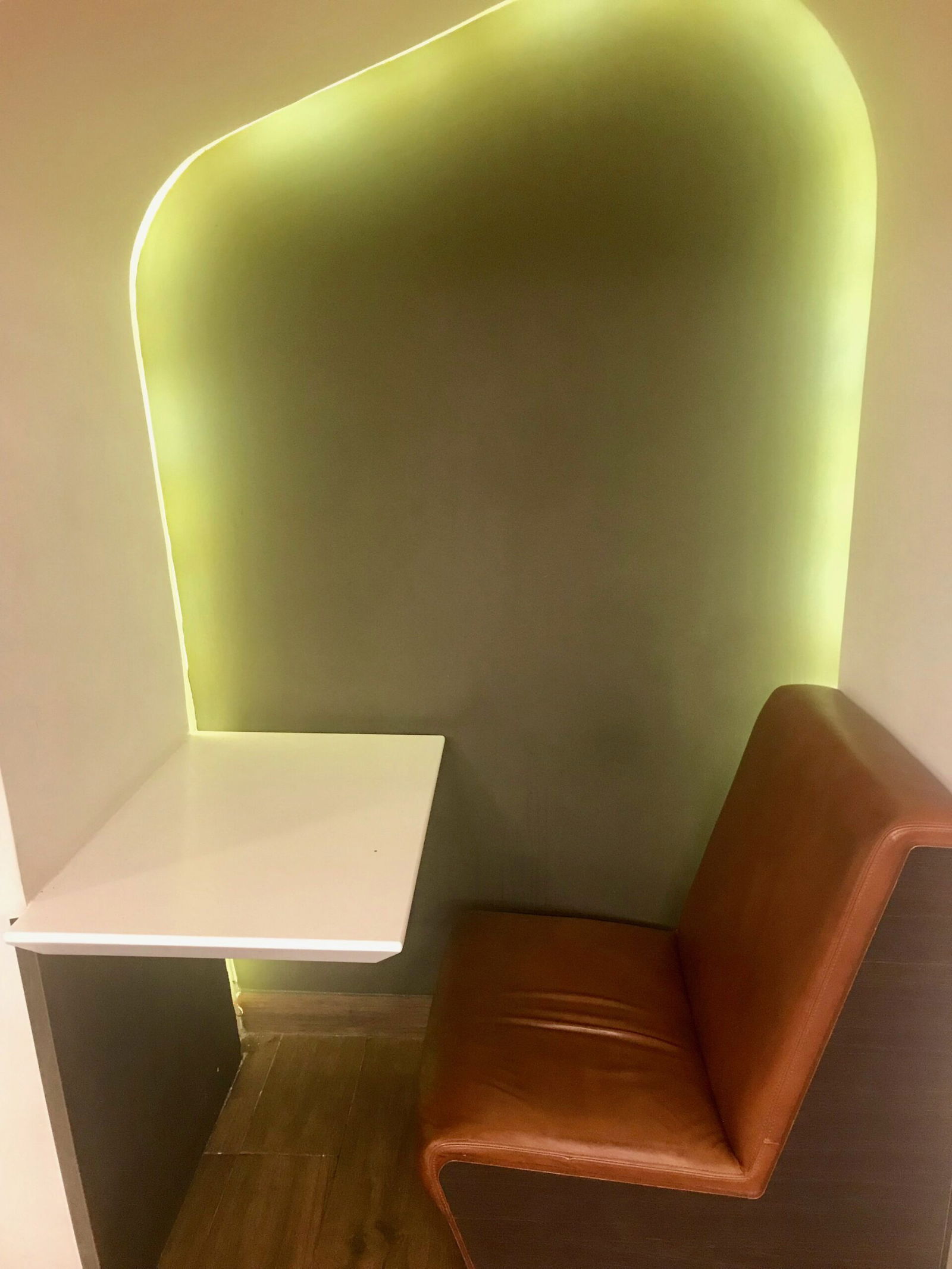 There was also a vague attempt at a sleeping area, which I appreciated. I often find myself wanting to power nap after a redeye, and struggle with the way that 99% of lounge seating is set up. Even something like an ottoman can make a huge difference.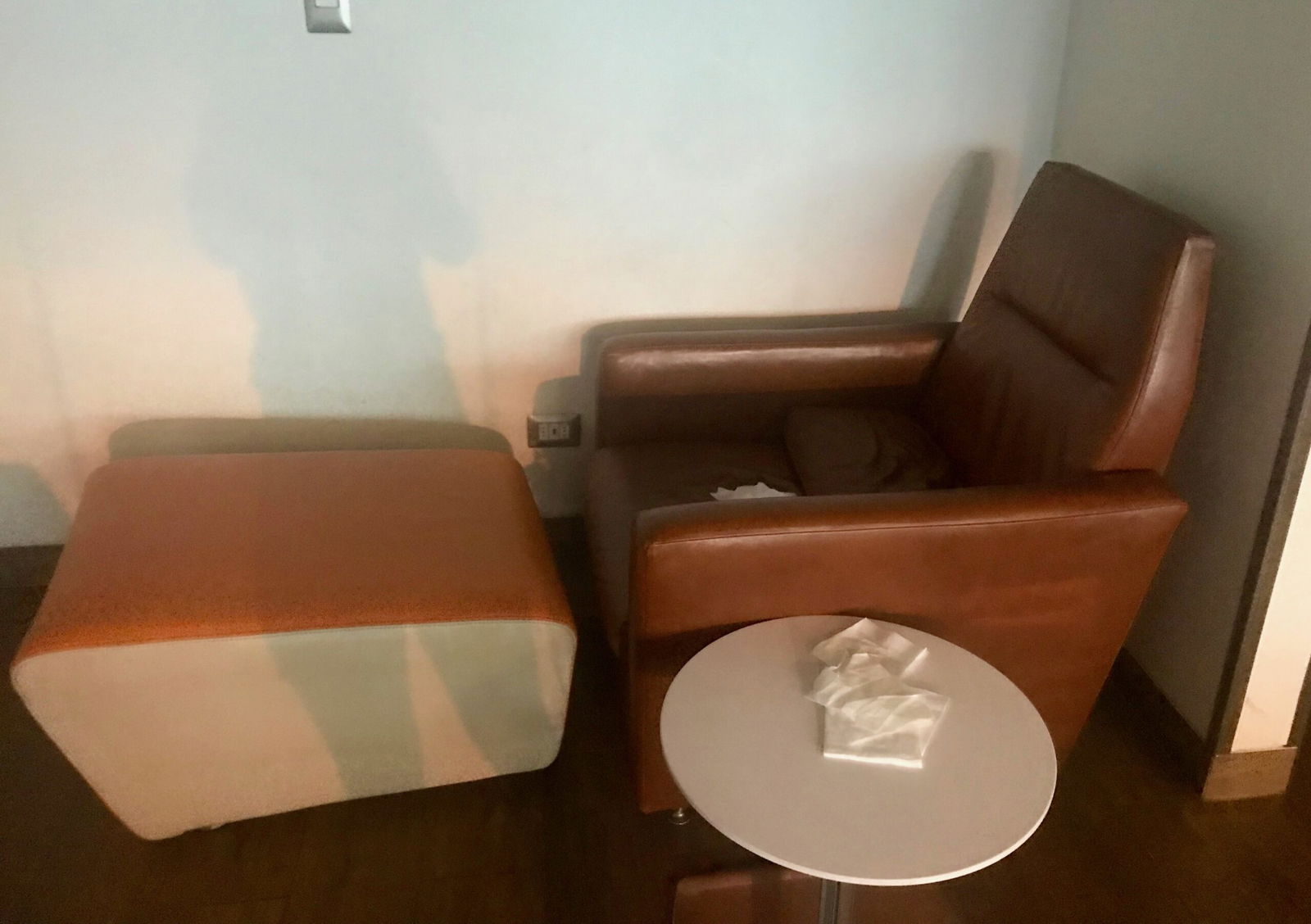 For those visitors looking for a more social seating arrangement (or to not risk falling asleep on their laptop keyboard) there were no shortage of other options: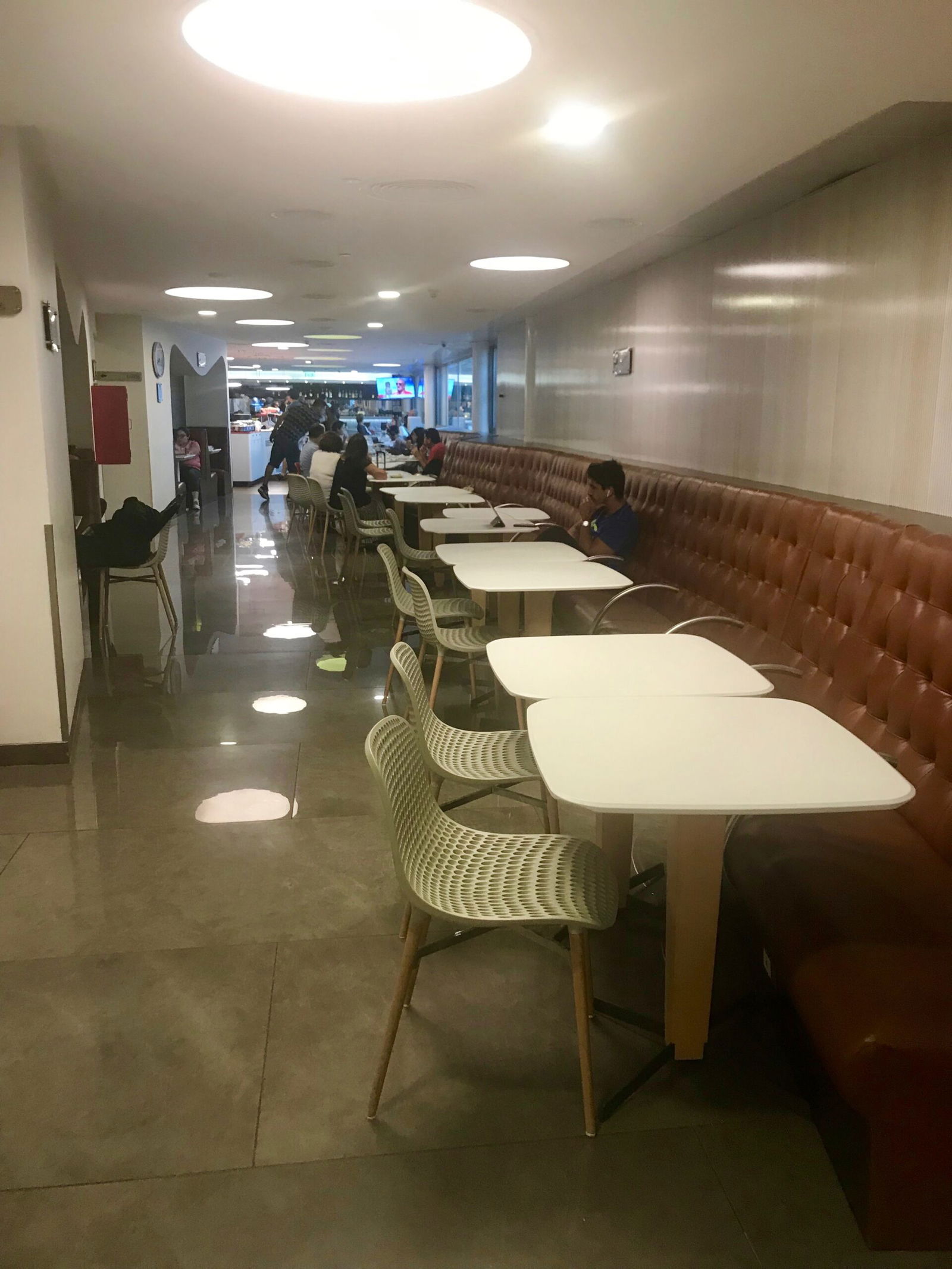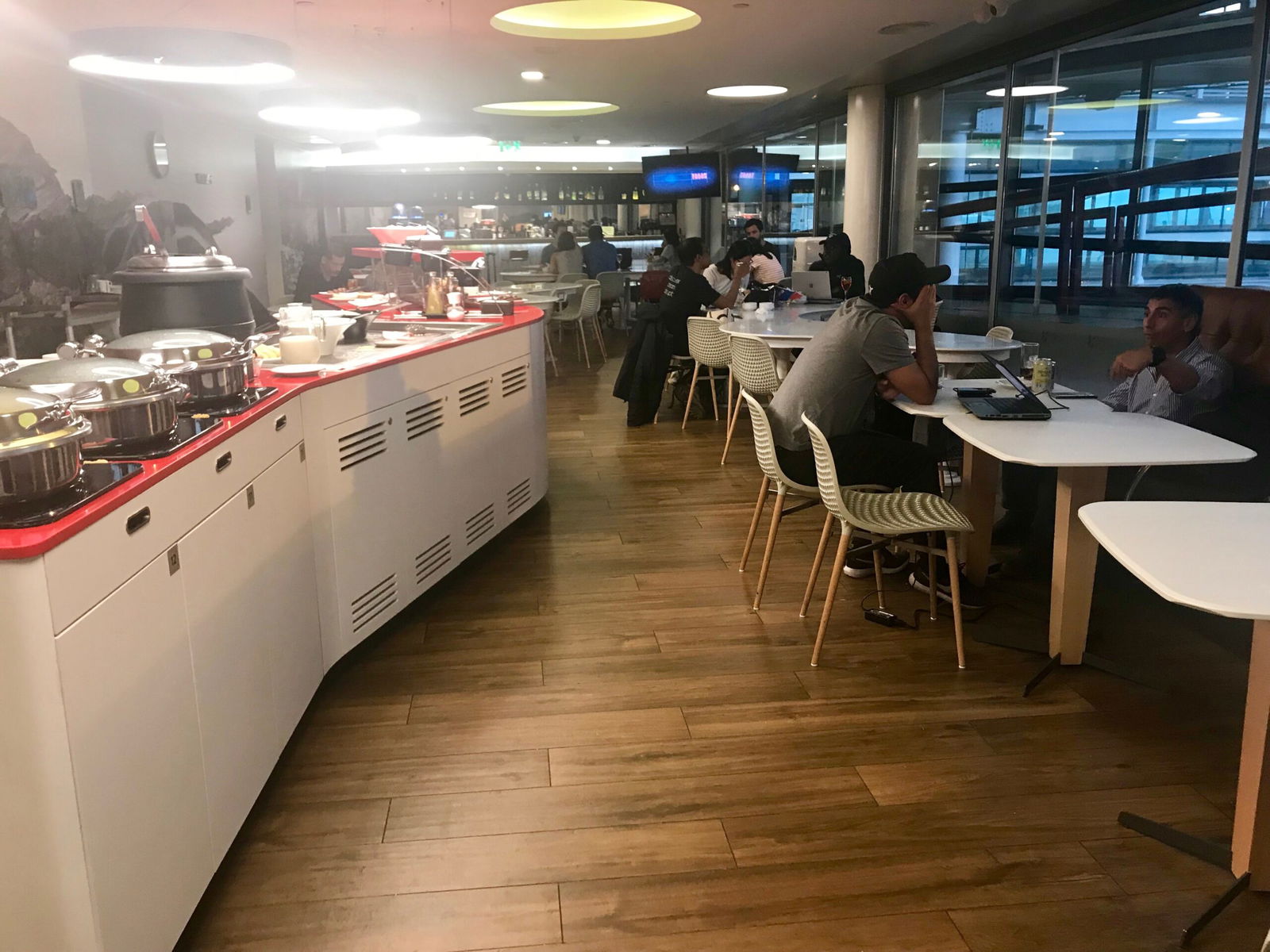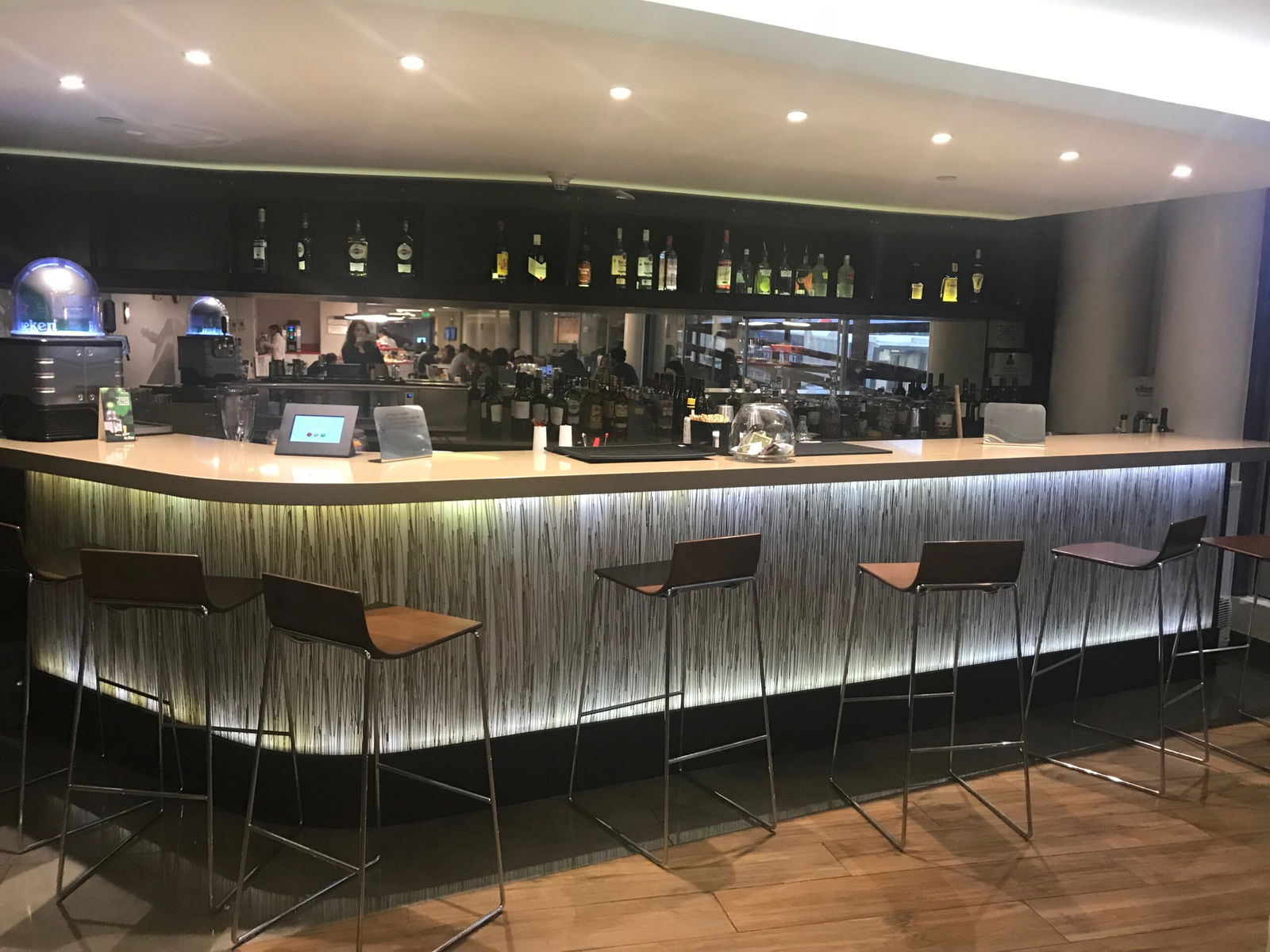 Although in all fairness, the bar looked more like this for most of the night: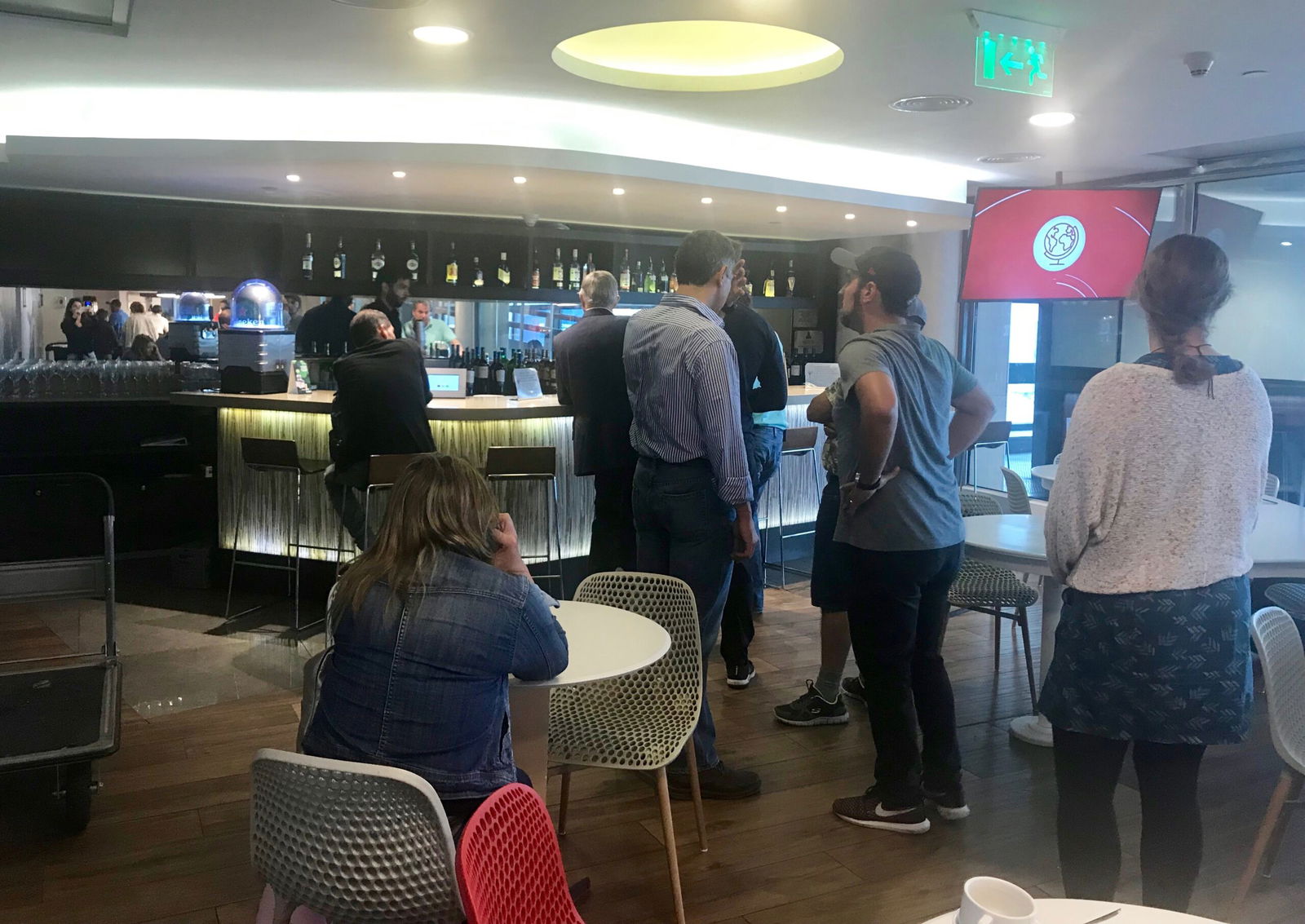 Salones VIP food and beverage
Speaking of food and drink, the lounge had an…interesting selection of snacks. There were a couple staples, including romaine lettuce and some sandwiches that looked like they came from a gas station cooler, but mostly it was lots of nuts.
Peanuts and donuts, specifically.
I'll let the pictures speak for themselves: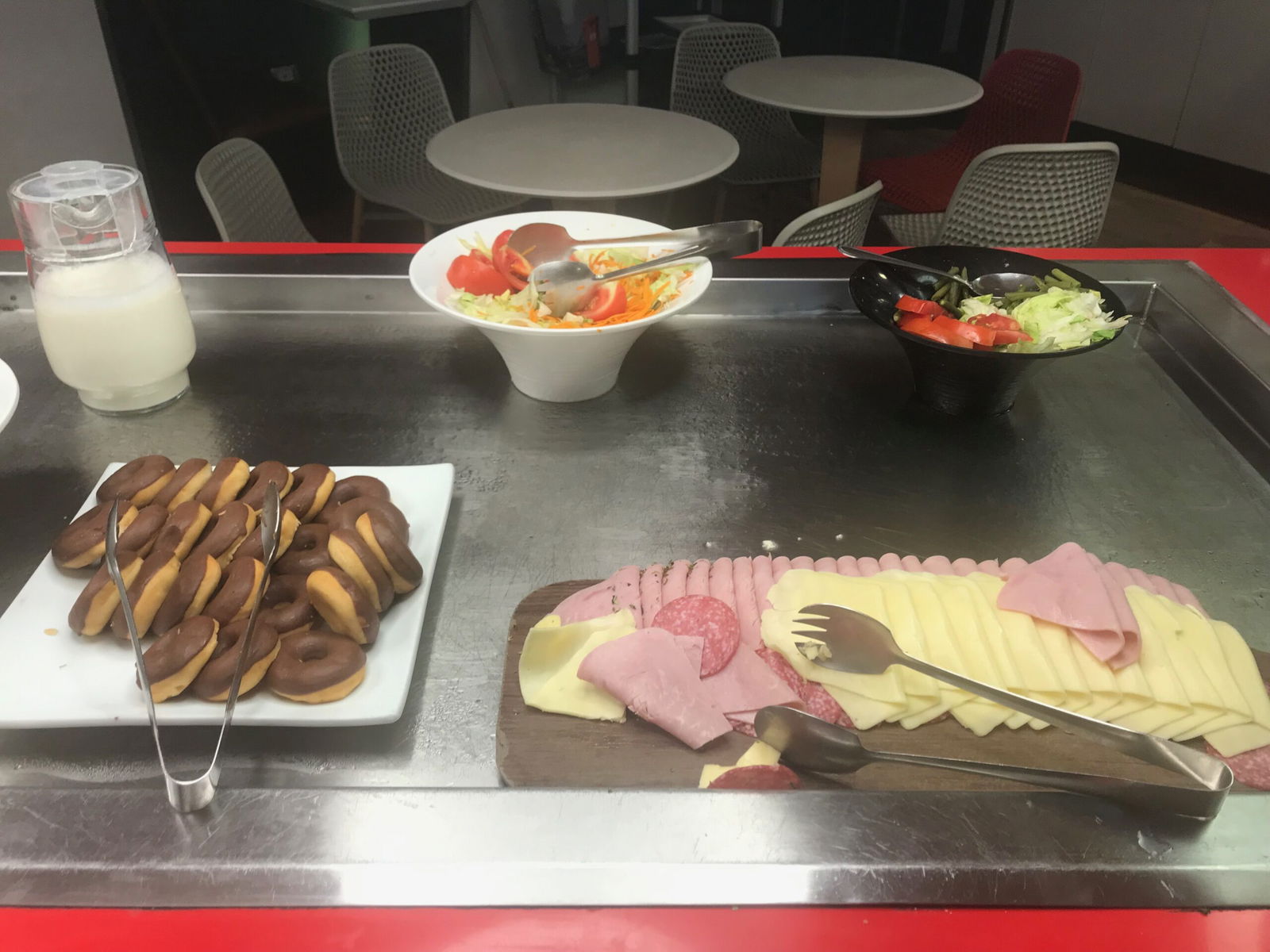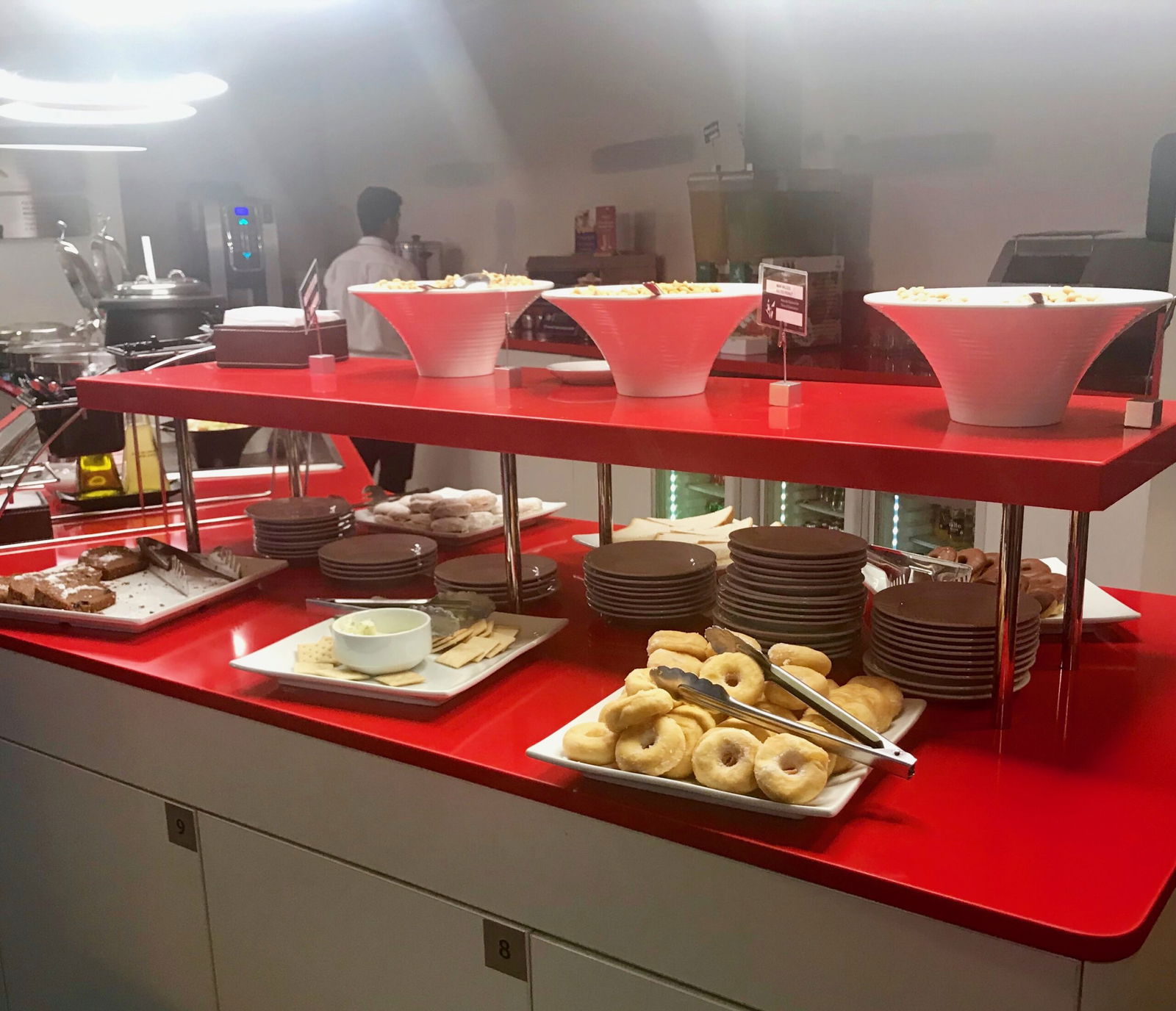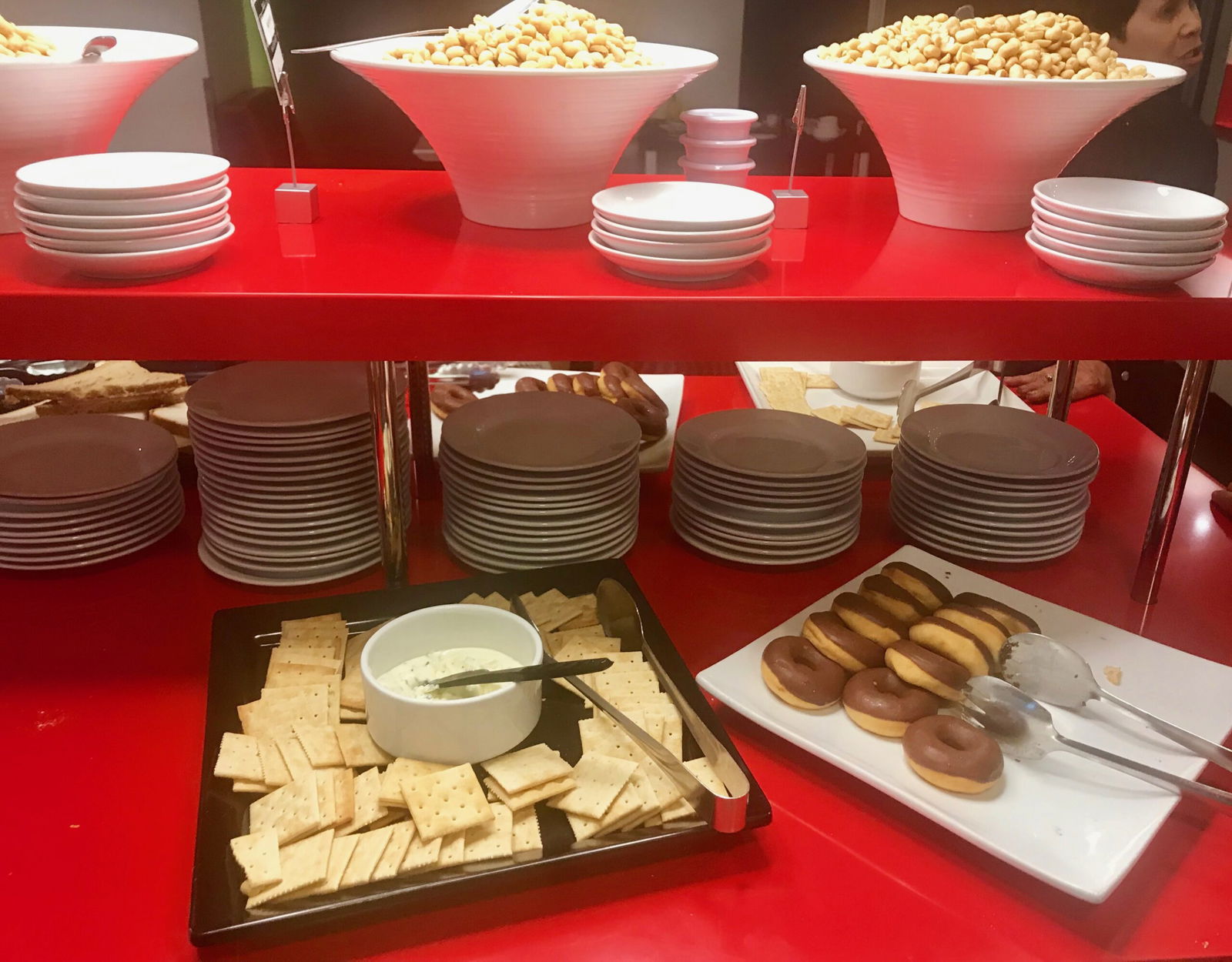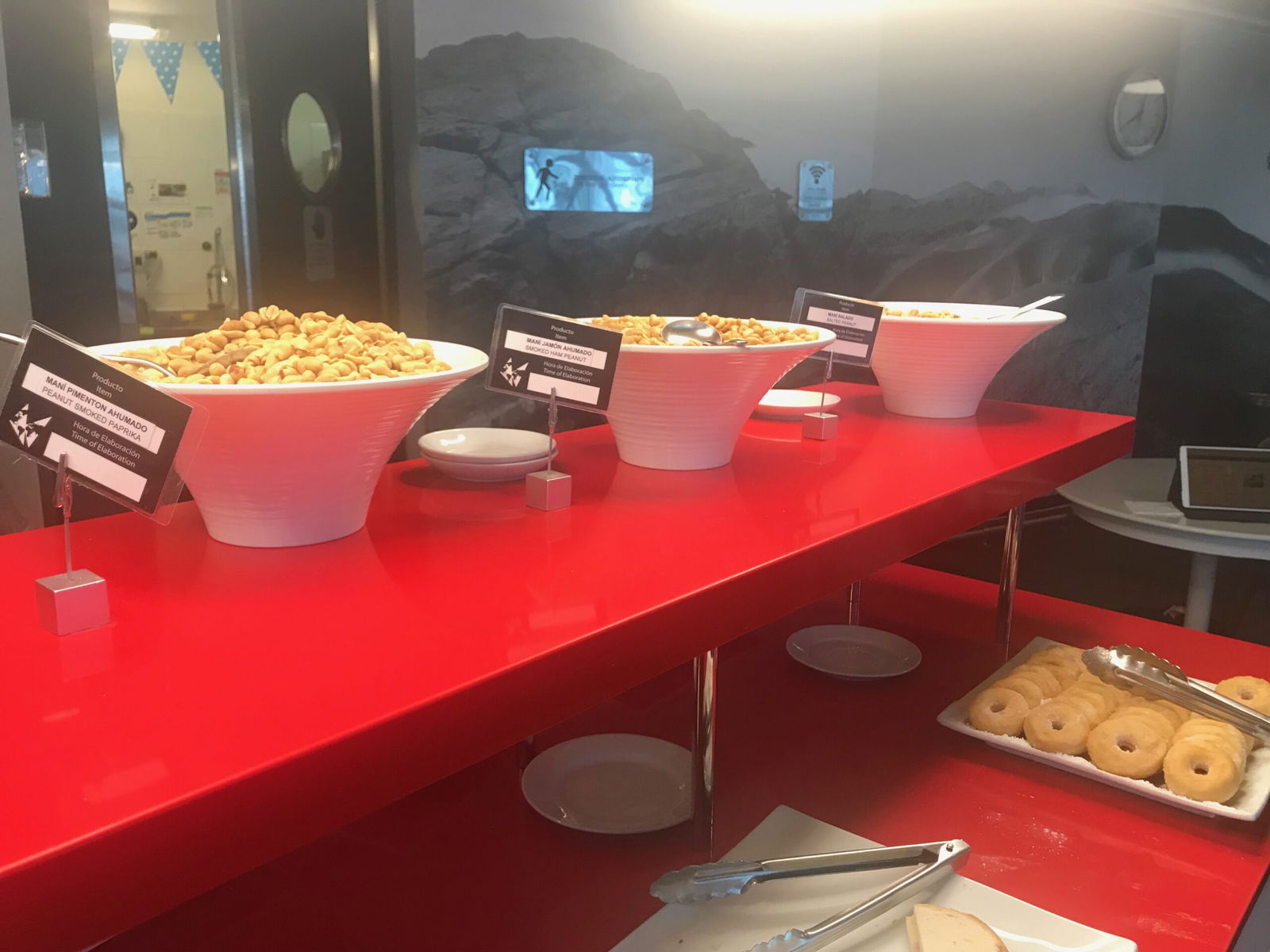 The beverages had slightly more diversity, with juice…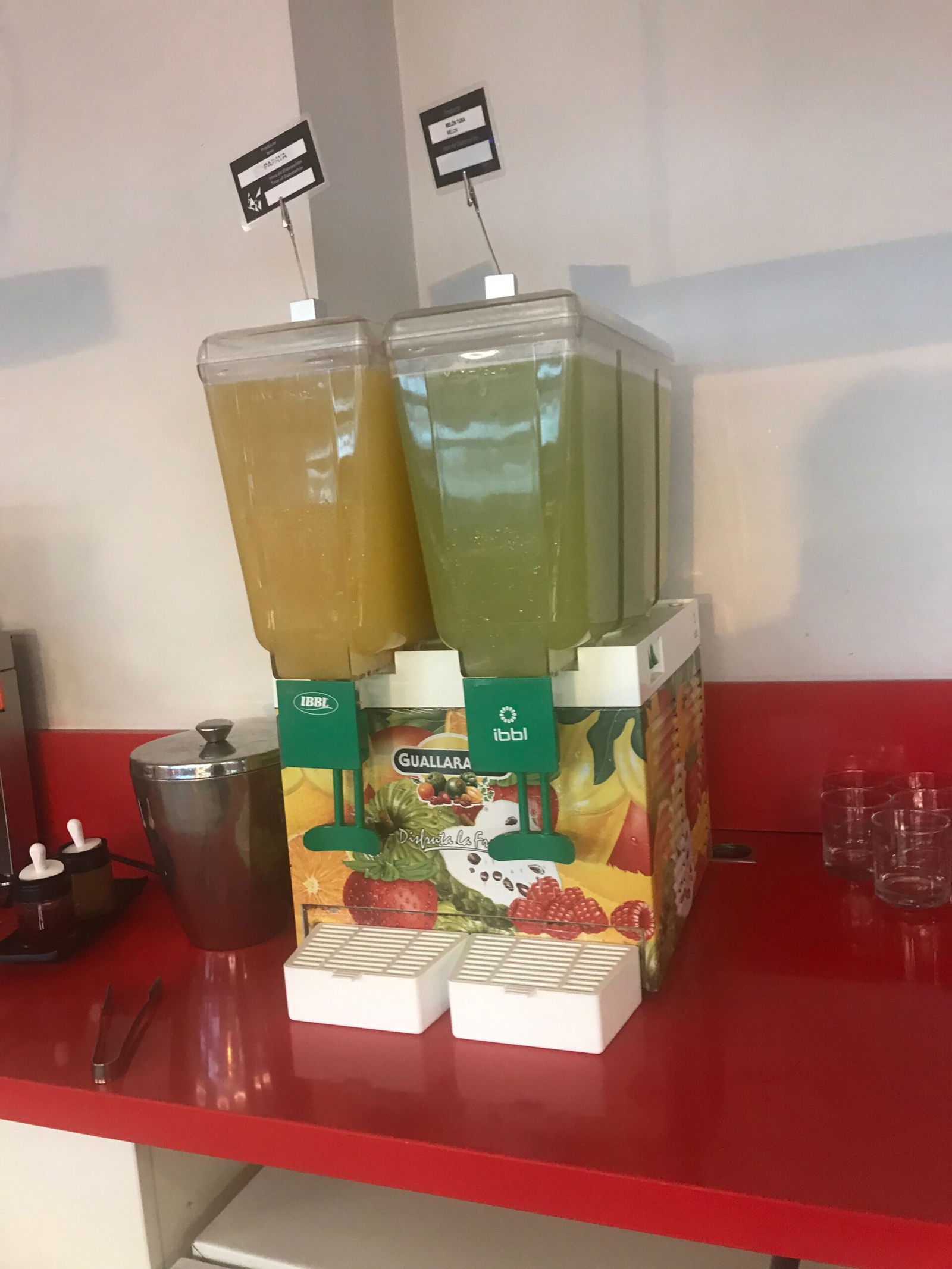 …your standard fare espresso machine: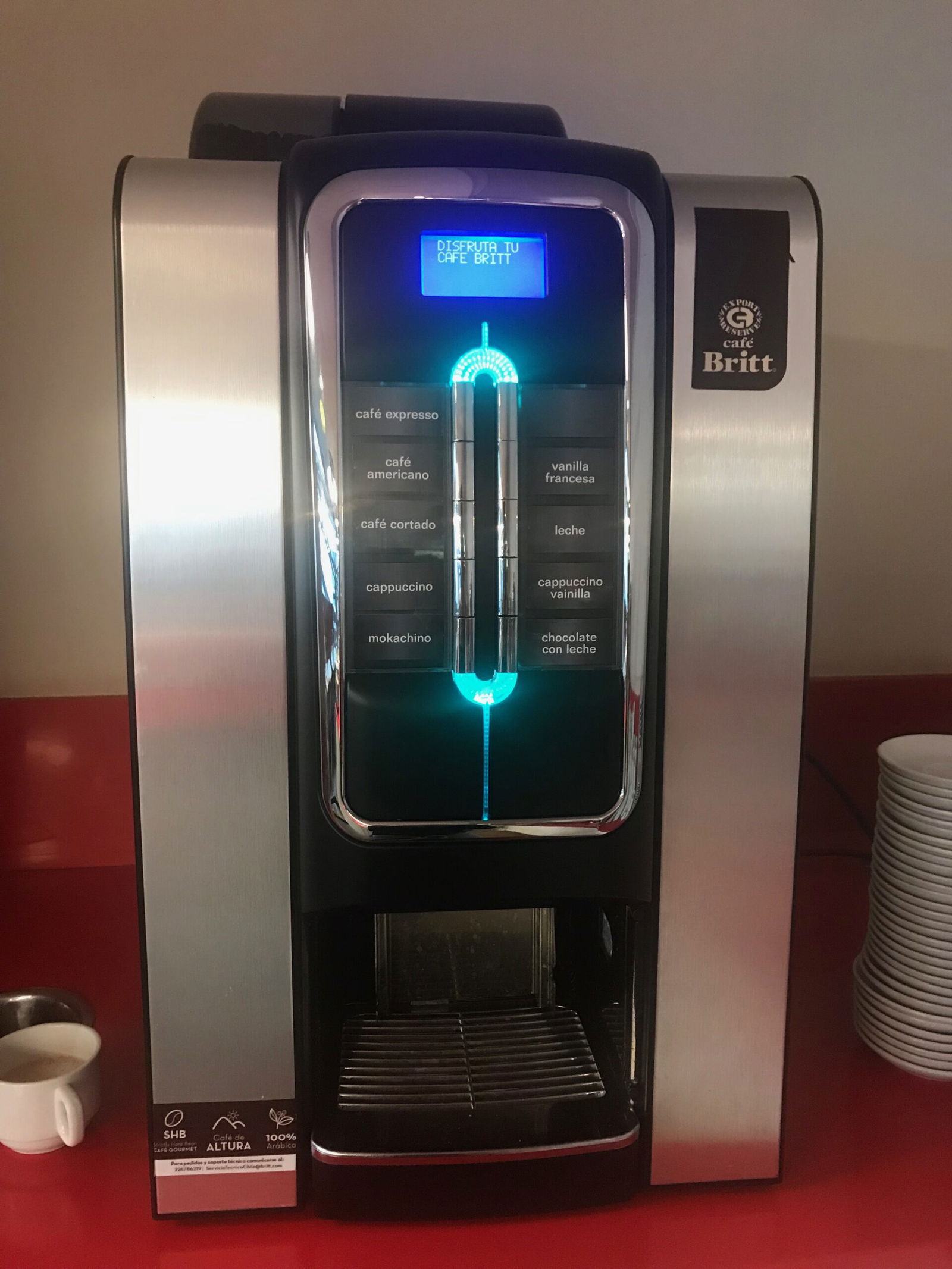 …and some Coca-Cola products that you really shouldn't bring outside of the lounge.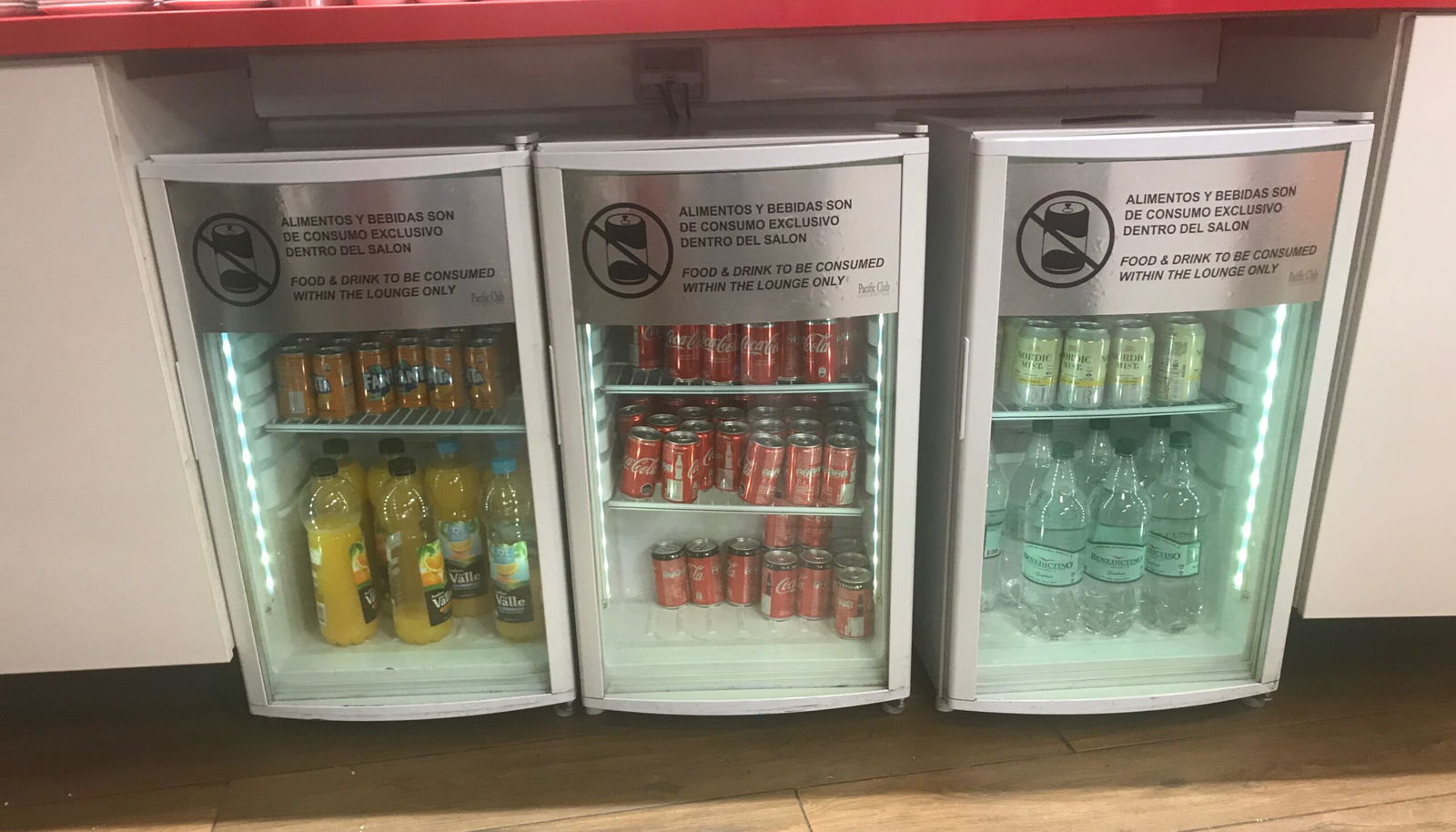 I had probably had a little too much fun at Last Hope Distillery the night before to warrant anything at the bar, but it is worth noting that, like many Priority Pass lounges, you're limited to three drinks during your stay. I'm not sure how heavily this is enforced, and I don't think too many of you are coming to Chile to get hammered at a Priority Pass lounge, but it is worth mentioning.
Other fun facts
The bathrooms were nice enough and had a fair amount of privacy, which exudes a more premium feeling than what you get in many U.S.-based lounges: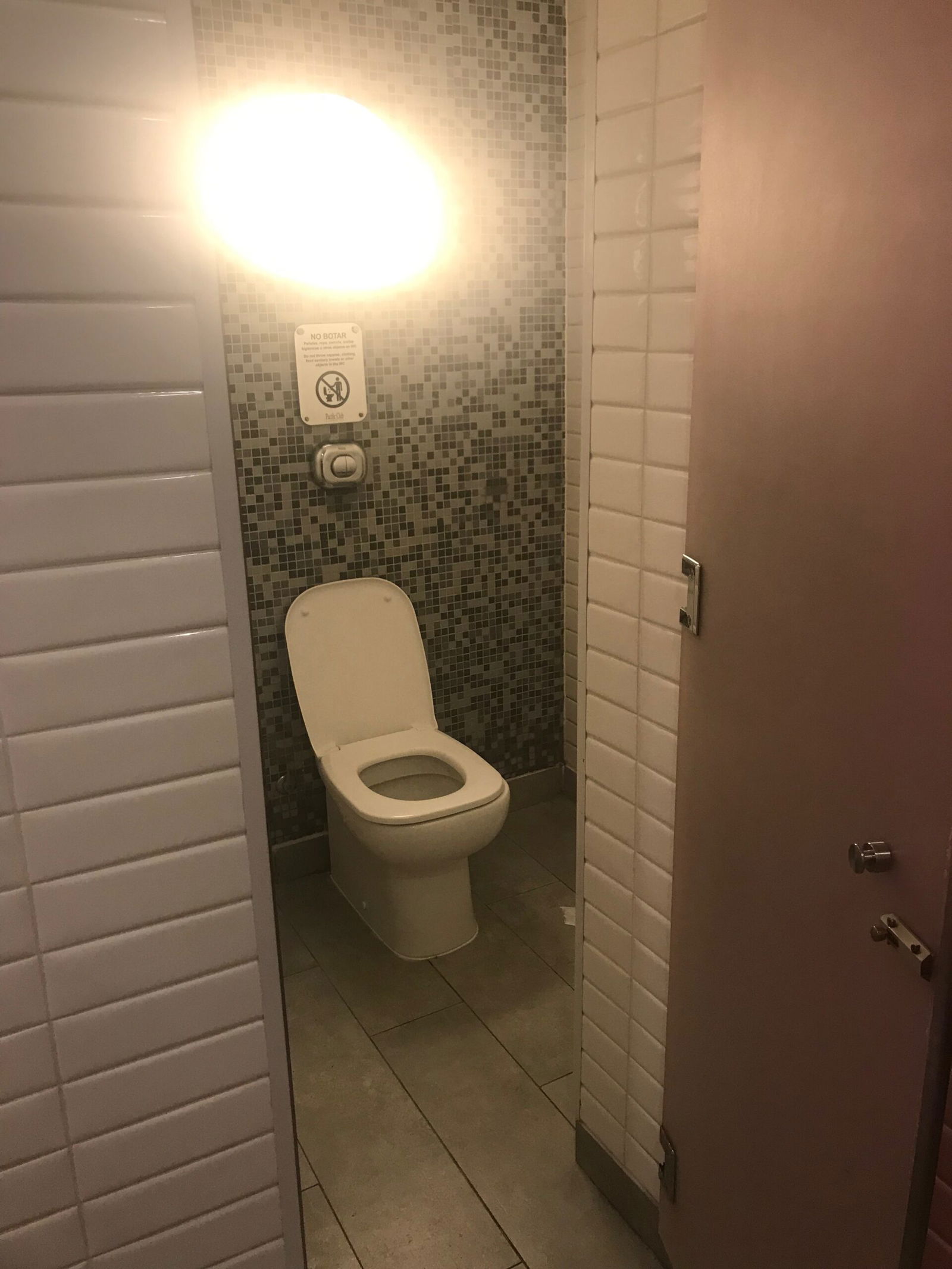 …and the no-touch sinks were a nice…touch: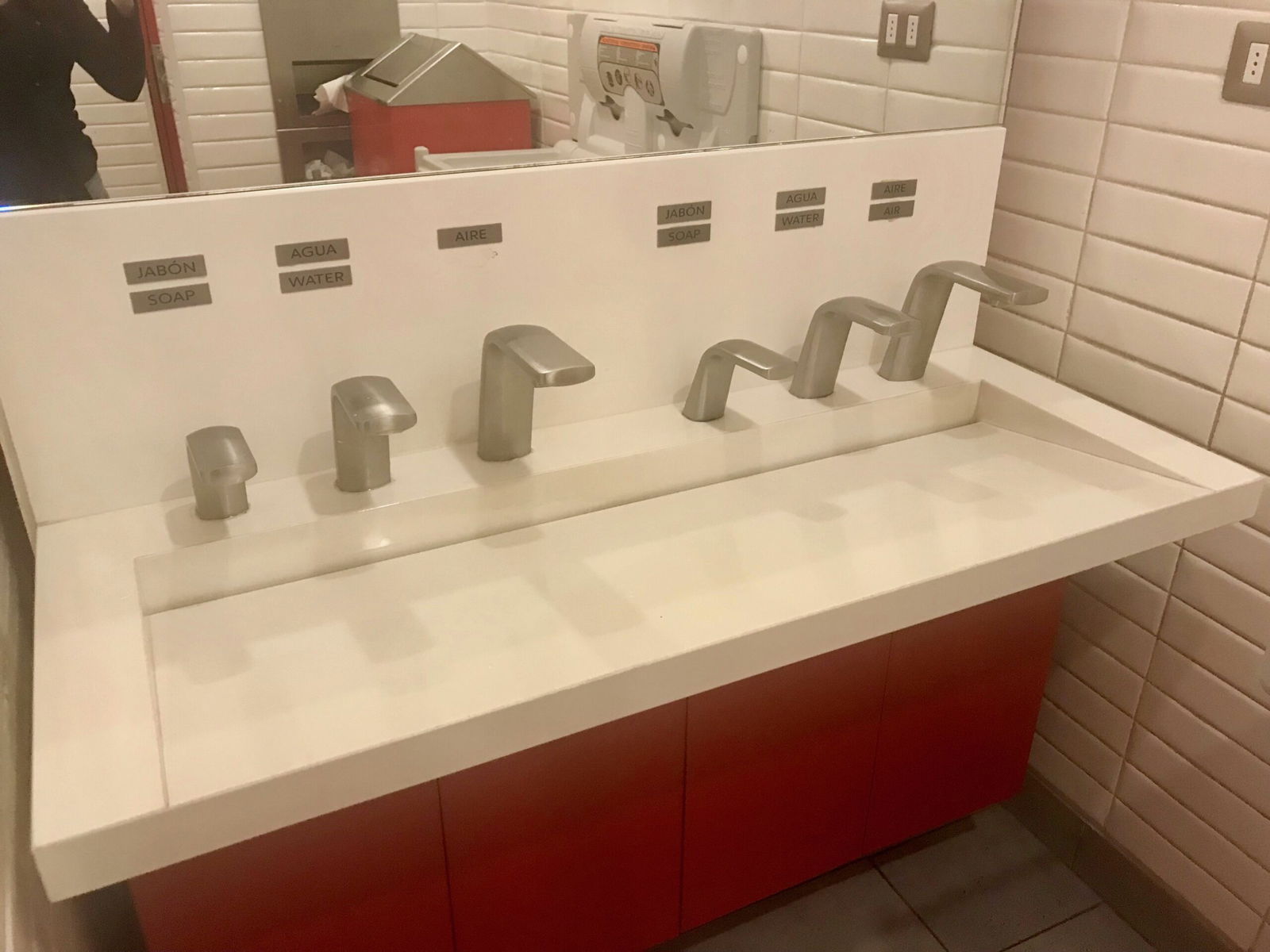 …which is probably good to know for anyone looking to wash their hands after visiting the children's play area: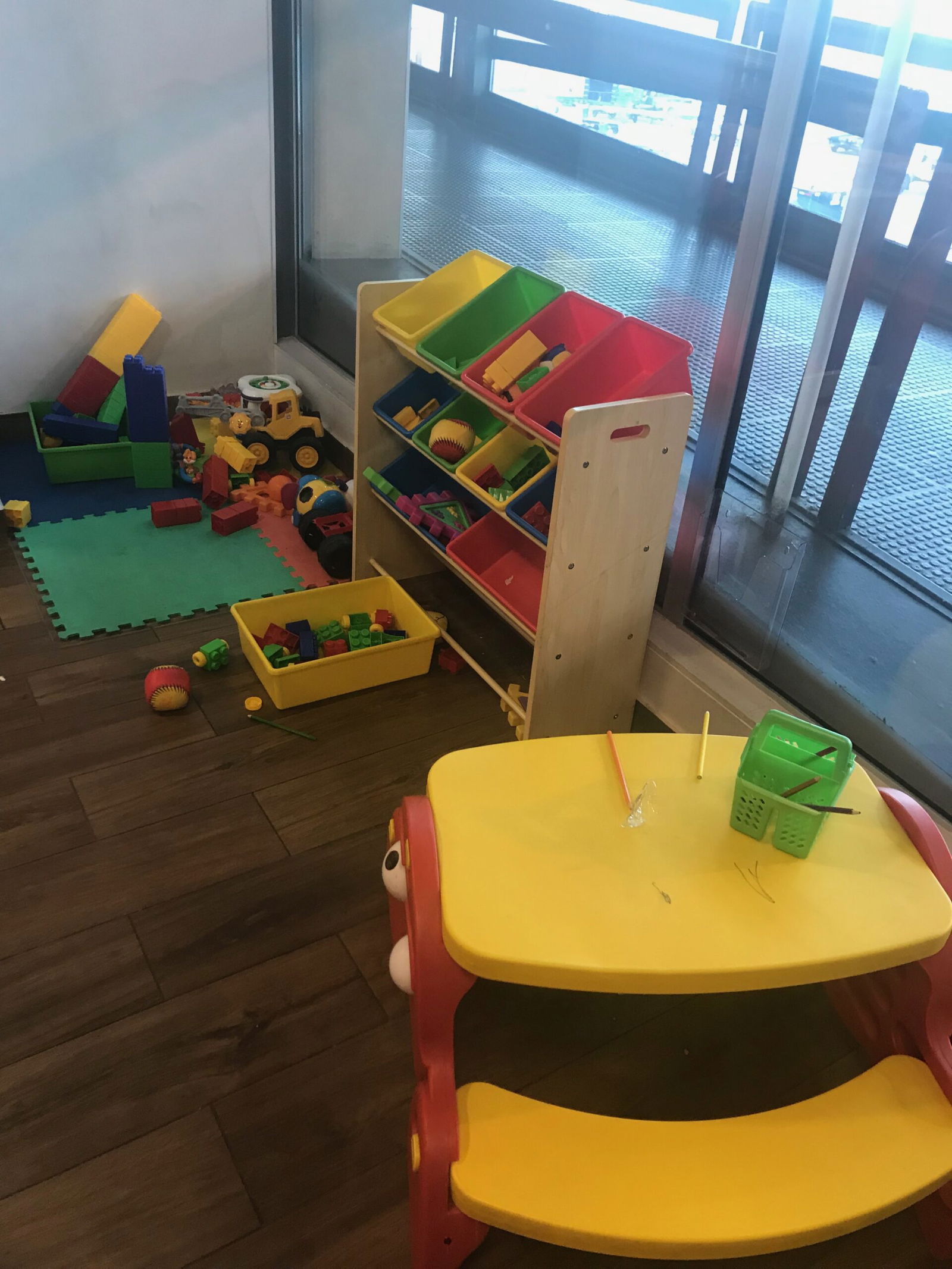 You're probably more likely to see me playing with legos than measuring Wi-Fi speeds (I don't even think I know what unit of measurement to use), but I can tell you that it was fast, easy to log into, and surely more secure than SCL's public Wi-Fi. And if it passes the Netflix and WordPress tests, that's good enough for me. 🙂
Finally, I appreciated that this signage was posted all over the lounge, and I probably would have taken one with me, had my power tools made it through security: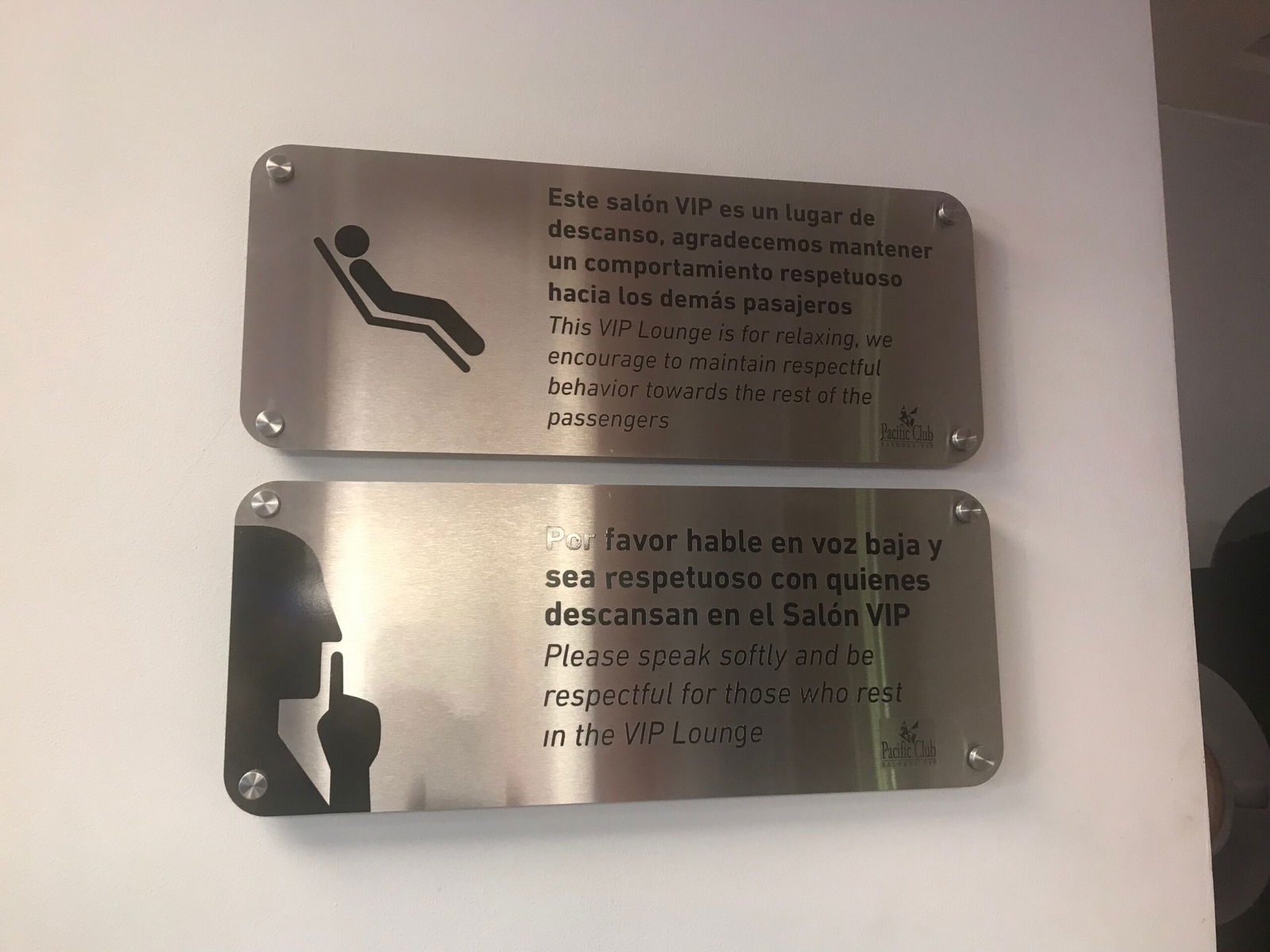 Did it make a difference? Not to the person two seats away from me who was FaceTiming without headphones. But I at least appreciated the gesture.
Bottom line
If you're coming here expecting massage chairs, free haircuts, or gourmet meals, you'll have to keep searching. But for basic necessities like seating, Wi-Fi, and plugs, it certainly meets expectations. And for a Priority Pass lounge, that's all I've really come to expect.
Most importantly, it sure as heck beats the neighboring Sky Club.