As we've known since early September, Singapore Airlines will be revealing the cabins that will be found on their newly delivered A380s in a couple of days, on November 2. This new A380 will be flying between Singapore and Sydney starting December 18, so we're two days from seeing mock-ups of these new cabins, and less than two months from seeing these new cabins in service.
Perhaps most exciting of all, Singapore Airlines will be revealing all new Suites Class and business class cabins. Singapore is known for being an innovator in the industry, so I'm indescribably excited to see what they've come up with, as I'm sure it will set a new industry standard.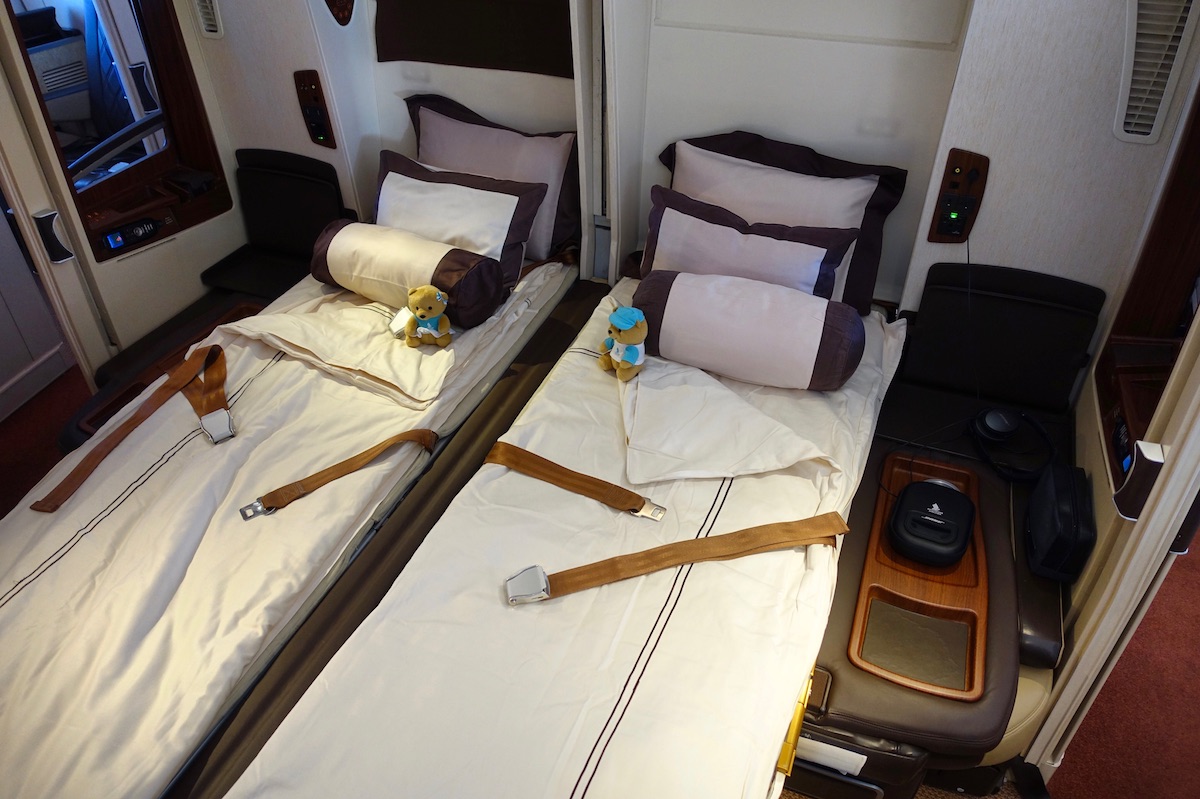 The current Singapore Suites "double bed"
With Singapore Airlines' media event revealing the new products just a couple of days away, I'm sure I'm not the only one who is surprised there haven't been any leaks. I'm sure that's Singapore Airlines' goal, but with the number of people involved in the project, I imagine this is a hard secret to keep.
That's especially true given that there are presumably now mock-ups of the new Singapore Airlines cabins in Singapore (for the media event happening in two days), meaning that more people have access to them.
Well, FlyerTalk member Jaffar shares what s/he claims are pictures of the new Suites Class mock-up. You can follow this link to see the two pictures of what's supposedly Singapore's new Suites Class.
Meanwhile SQTalk has pictures of what's supposedly the "double bed" option for those traveling together.
Ohmygosh.
That actually looks incredible. These are no longer first class suites, but quite literally private bedrooms on a plane. It looks almost like the Etihad Residence.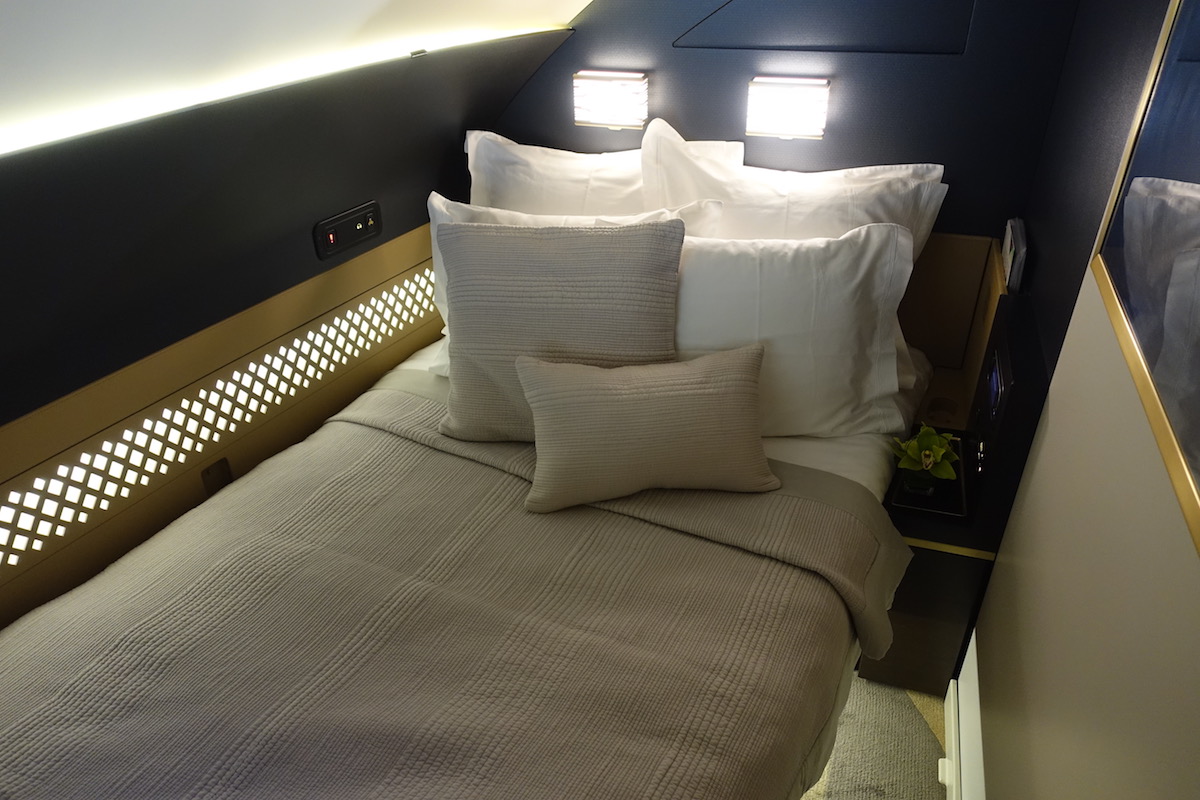 The Etihad Residence bedroom
While I don't have any inside knowledge as to whether or not this is actually the new Suites Class, I'd give it greater than 50% odds that this is it. It's clear that the pictures are of a mock-up (rather than an artist rendering), and on top of that, space-wise this sort of makes sense.
We know that Suites Class is going to be on the upper deck, and that Singapore Airlines will have six Suites Class seats in the same area where Etihad has nine First Class Apartments plus the Residence. So the cabin will be significantly more spacious, which is saying a lot.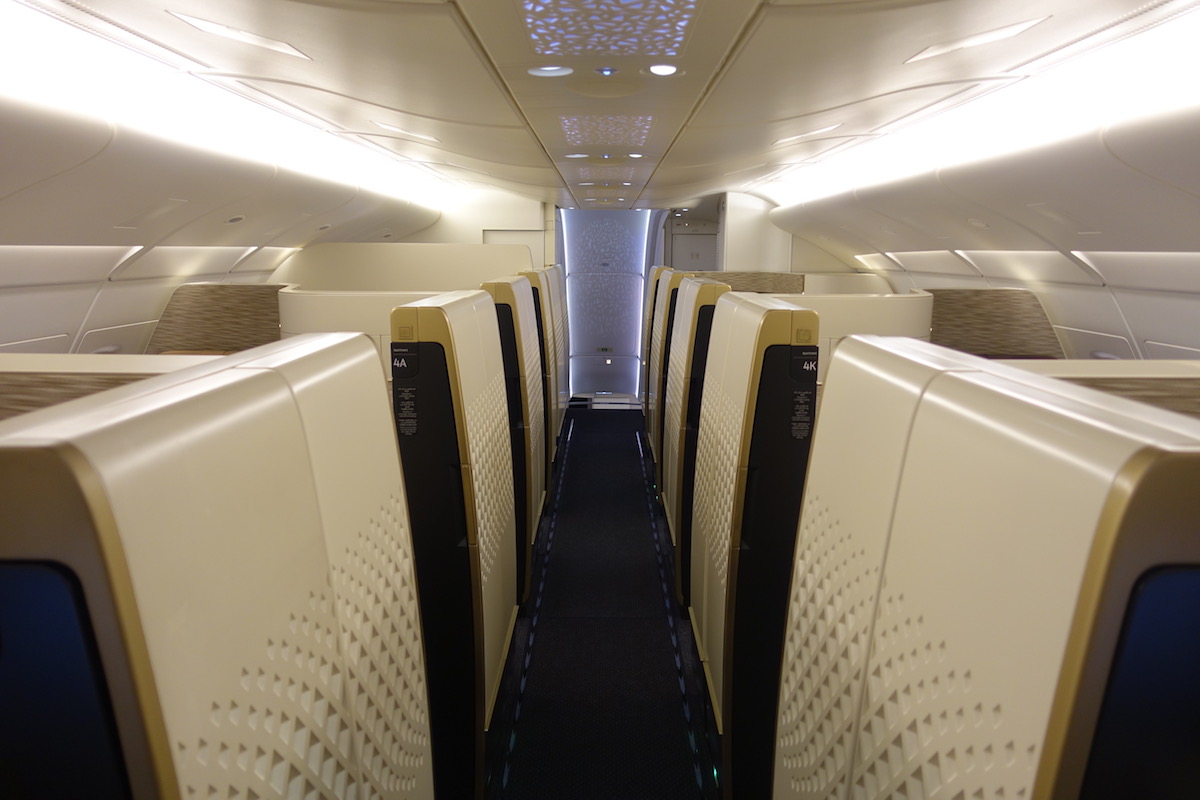 Etihad's A380 first class cabin, where Singapore's new Suites Class cabin will be
We'll have to wait another two days to know for sure, though my money is on this being the new Suites Class.
Do you think this is Singapore's new Suites Class product, and if so, what do you make of it?