In the coming months Singapore Airlines will begin to take delivery of five new Airbus A380 aircraft, which will feature new Suites Class, business class, premium economy, and economy cabins. Eventually their existing A380s should be retrofitted with these new cabins as well.
In early September we learned that Singapore Airlines will be revealing their new products on November 2, 2017, so we're just about a week away from getting all the details of what I suspect will be some of the world's new best first & business class cabins. The airline just teased the cabins on Instagram, though it's not revealing at all.
With that in mind, yesterday Singapore formally revealed the first route to get the new A380. Specifically, Singapore will fly the A380 daily between Singapore and Sydney on SQ221/232 as of December 18, 2017. It was quite easy to predict this in advance, and I made a speculative booking on the route a couple of months ago (though I'm traveling early next year).
The next route to get the refreshed Singapore A380
While it hasn't formally been announced — and therefore remains subject to change — we have reason to believe that we now know the next flight on which Singapore intends to operate the A380. Specifically, Singapore's new A380s will only have six seats in Suites Class (rather than the current 12), so Singapore seems to be already restricting how many seats they'll sell on flights that they intend to operate with the new planes.
So the best way to get a sense of what Singapore Airlines is thinking is to search for seven seats for sale in Suites Class — if the airline hasn't sold any seats in the cabin but isn't willing to sell seven seats, that means they expect the flight to be operated by the refreshed A380.
Well, using this system it's looking like Singapore's second route to feature the new A380 will be Singapore to London Heathrow as of March 1, 2018. Specifically, SQ322/305 seem to be the frequencies to get the new plane (for the London to Singapore sector the flight number for the A380 is SQ317 until March 24, and SQ305 as of March 25):
SQ322 Singapore to London departing 11:30PM arriving 5:55AM (+1 day)
SQ305 London to Singapore departing 9:25AM arriving 5:30AM (+1 day)
How do we know? Using ITA Matrix, let's take a look at SQ322 availability from Singapore to London starting on March 1 for seven passengers:
Notice how it's not available on Sundays, Wednesdays, and Fridays? In theory it's possible that a person is booked on every one of those flights, though it seems highly unlikely. It seems much more likely that Singapore plans to offer 3x weekly flights between Singapore and London using the refreshed A380 starting March 1, 2018.
Then as of May 1, 2018, it looks like the flights will feature the refreshed A380 every day, since no dates show seven first class seats for sale anymore.
However, there's one oddity here. While I believe SQ322 will get the new A380 3x weekly starting March 1 and daily starting May 1, the return flight is looking unusual. Specifically, SQ305 also looks like it has the new product on Sundays, Wednesdays, and Fridays. That doesn't make sense, since the plane leaves Singapore on those dates and lands the following morning, so the return with the new product would be on Mondays, Thursdays, and Saturdays.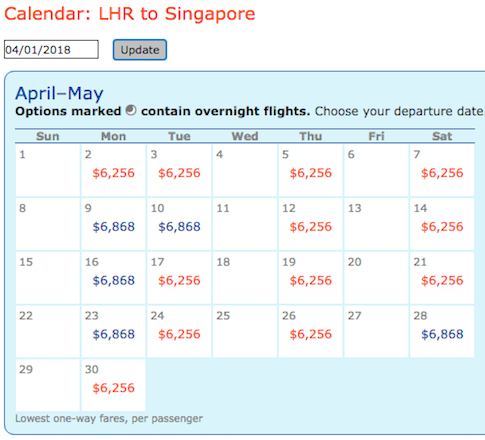 My guess is that someone programmed this wrong, though I suspect the dates are right for SQ322. That's because they've also zeroed out "A" (discounted first class) space for those flights, as you'd expect. They haven't done that for SQ305.
These flights have a good amount of business class award availability, though I'm not seeing much in Suites Class at the saver level.
Bottom line
While it hasn't been officially confirmed by the airline, it's sure looking like SQ322 from Singapore to London will be operated by a refreshed A380 3x weekly as of March 1, 2018, and daily as of May 1, 2018. This remains subject to change, but using this "trick" worked with guessing the first route to get the product, and the timeline of all this makes sense.
(Tip of the hat to OptionsCLE on FlyerTalk)