Back in November Singapore Airlines began making Suites Class available using KrisFlyer miles at the saver level. Previously this cabin was more or less off limits using miles, given that a roundtrip Suites Class ticket would set you back about a million miles. Back in November they began opening up saver space on a few routes, though within a week or so began opening up space on routes to the US, which weren't initially available.
Unfortunately up until recently they had only released one Suites Class saver award seat per flight, meaning you had to get creative if you wanted to snag two award seats. I had some suggestions for getting creative to secure two seats in this post.
Anyway, per this FlyerTalk thread, it appears as if Singapore Airlines has started releasing two saver Suites Class award seats per flight on select routes. Per the thread it seems like some flights between Singapore and London, Melbourne, Paris, Sydney, and Zurich have two saver Suites Class award seats.
For example, here are two flights between Singapore and London that have two saver Suites Class award seats: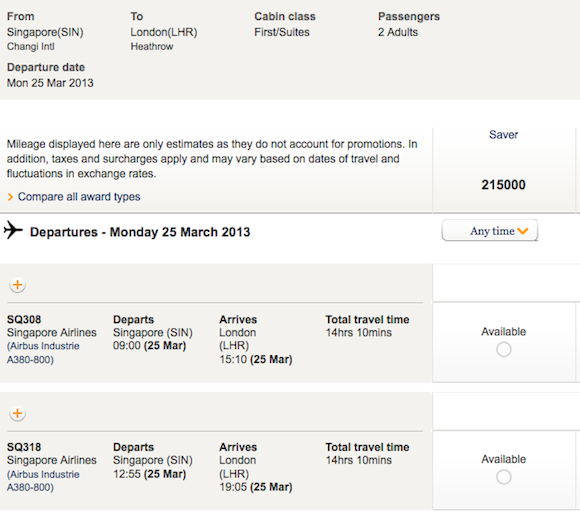 And here's a flight between Melbourne and Singapore with one saver Suites Class award seat: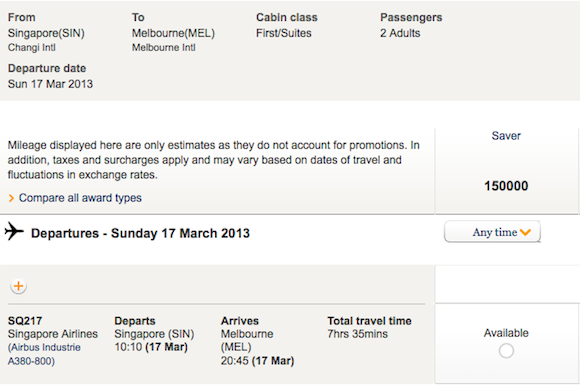 I'm fairly certain this is intentional on the part of Singapore, as they gradually ease up on their Suites Class capacity controls, given that the cabins are usually going out with several empty seats. I wouldn't be surprised to see more routes with multiple saver Suites Class award seats in the near future, and will monitor the situation.
This is great news for those of us with American Express Membership Rewards points and KrisFlyer miles!
(Tip of the hat to Nate)