The wait is finally over! As we've known since early September, today Singapore Airlines had a media launch event for their new A380.
As part of this, Singapore Airlines is unveiling new Suites, business, premium economy, and economy products. Over the past couple of days some leaks have surfaced of the new Suites product, so it's not quite as secret as Singapore Airlines might have hoped. As it turns out, everything we've seen up until now has been accurate.
In this post I specifically wanted to cover Singapore's new A380 Suites, and I'll have separate posts about their new business class. To start, here's the configuration for Singapore's new A380s:
And here's a short teaser video Singapore Airlines put out about their new Suites and business class:
First let's look at what Singapore Airlines says about the new Suites, and then I'll share my thoughts at the end:
Singapore's new A380 Suites details
There's no reason to skimp on the details here, given how long we've been waiting for this. Here's how Singapore Airlines describes their new Suites:
With six Suites tucked spaciously within the front cabin of the upper deck, customers will experience a sense of exclusivity and intimate privacy aboard the A380.

Behind its artistically-designed sliding door lies a personal oasis complete with lavish furnishing and finishes. Each Suite is furnished with a separate full-flat bed with adjustable recline and plush leather chair, enabling customers to lounge comfortably in the chair or rest in bed without the need to convert the bed from a sitting position. For couples travelling together, the beds in the first two Suites of each aisle can be converted to form a double bed. When not in use, the bed can be stowed completely, creating even more personal space within each Suite.

Each seat is upholstered by world-renowned Poltrona Frau in fine leather, and is fully adjustable using an electronic control side panel which can accommodate a variety of sitting and lounging positions. The swivel capability of the chair (between 135 and 270 degrees) with recline up to 45 degrees provides added flexibility for dining and relaxation.

Each Suite also has a 32-inch full HD monitor that can swivel for the different viewing angles in seat and bed modes, a full-sized personal wardrobe, customised handbag stowage compartment, amenity box lined with soft leather, specially designed carpet and a feature wall with mood lighting – all exquisitely crafted to give a touch of luxury and intimacy.

The exclusivity of the Suites cabin is further accentuated by its two stylishly-furnished lavatories, one of which has a sit-down vanity counter.

The new Suites were designed by Pierrejean Design Studio and manufactured by Zodiac Seats UK.
Singapore's new A380 Suites soft product
Beyond the seat itself, here's what you can expect in terms of the A380 Suites soft product:
Created for a distinguished few, each of Singapore Airlines' Suites will feature a plush mattress bedding, two pillows and a fluffy cotton duvet, complete with embroidery crafted by the French luxury brand, Lalique. Complemented with a stylish sleeper suit, slippers, eyeshades and socks, customers can lounge in comfort before drifting into peaceful sleep in their private cabin in the sky.

Suites customers on selected flights will receive an amenity kit with toiletries and perfumes or a unisex kit containing lifestyle items, specially designed and created under the co-brand partnership with Lalique. Each of the separate his-and-hers amenity kits will consist of a fragrance, lip balm and a specially designed pouch. In addition, the ladies' set includes a face moisturiser and hand cream while the men's set includes a body lotion and aftershave balm.

The unisex kit containing lifestyle items is designed as a collectible item, featuring a Lalique candle, scented soap, lip balm and body lotion. For a limited period only, the lifestyle kit will also include a miniature ornamental crystal fish from Lalique. The design of all three amenity kits will be refreshed regularly.

Suites customers can freshen up in the two stylishly-furnished lavatories with a special citrus-scented facial mist, body lotion and fragrance by Lalique.
Singapore's new A380 Suites pictures
Here's what the individual Suite will look like on the A380: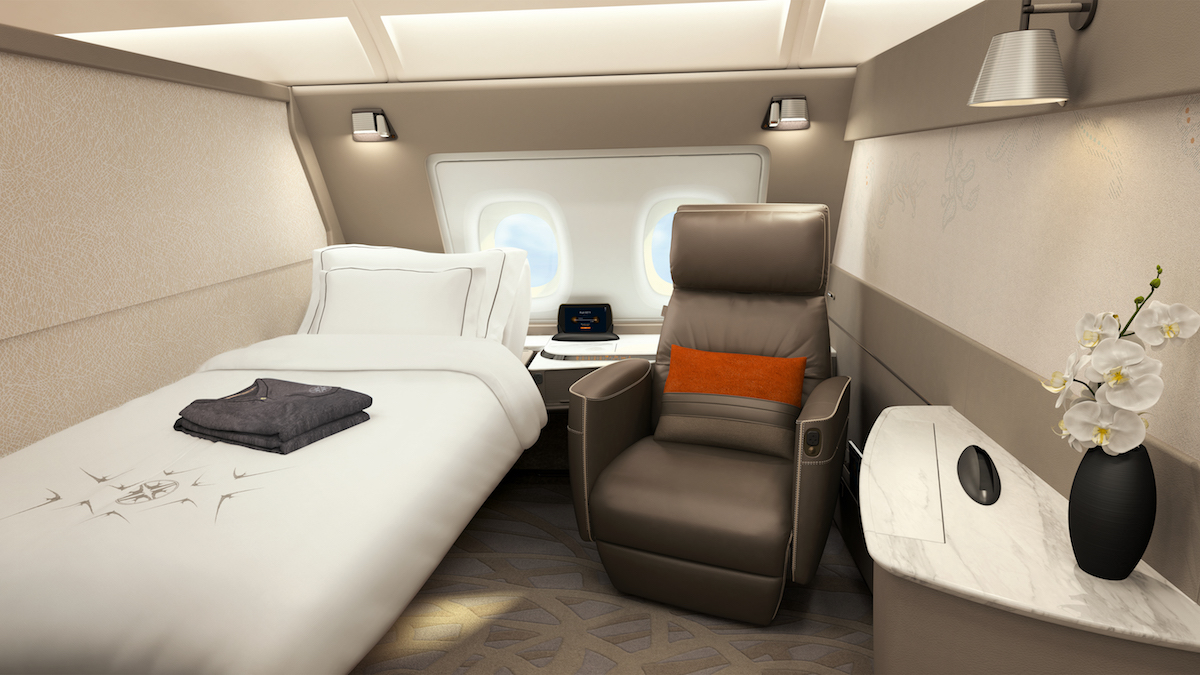 Meanwhile the first and second row of the cabin can be converted into a double bed, and here's what that looks like:
While Singapore won't be offering onboard showers, they will have two large lavatories at the front of the cabin. One of them will just be a pretty standard but spacious lavatory.
The other one will be much larger and will feature a vanity, etc.
Which routes will have Singapore's new A380 Suites?
The first planes to get these new Suites will be the five A380s that Singapore Airlines is taking delivery of over the next couple of years. The first route to get the Suites will be Singapore to Sydney on SQ221/232 as of December 18, 2017, and we have reason to believe that London Heathrow will be the next destination to get them.
On top of that, Singapore is reconfiguring their existing 14 A380s with this product, between late 2018 and 2020.
What do I make of the new Singapore Suites?
This might come as a surprise, but I'm a bit conflicted here. I'm impressed… I think… but maybe not quite as much as I was hoping to be?
First let me say that this product looks incredibly private, and in that regard it sets a new standard. The amount of personal space dedicated to each passenger is also unrivaled. The double beds look especially awesome. In many ways this product looks more like Etihad's Residence than a first class product.
But I do have a few concerns, or I guess areas where I was hoping they'd be a bit more creative. I understand you can't have everything, but if I'm looking at this correctly, it seems like you couldn't dine with the companion you're traveling with, since you'd be on totally opposite sides of the room. Without a second chair, or anything, there's not even an option to do so less comfortably. That seems a bit odd to me.
My next concern is about the bed. The bed can be folded away, and can even be adjusted to a non-flat position. That leads me to believe that the bed will simply have some sort of a mattress pad, rather than a hotel quality bed. My favorite part about the Etihad Residence was that the bed was actually as comfortable as you'd find on the ground.
I think one of the greatest areas for improvement with Singapore's current Suites product is that the bed is extremely hard. I'm not sure they're learning from that with the new product, based on the fact that they won't have a proper mattress. Singapore could have been the first airline to offer a real mattress in first class, but it looks like that won't be the case.
Furthermore, while each passenger has a lot of personal space, I can't help but wonder if there's not a more efficient way the space could have been used. As elegant as it is, doesn't the below picture from Singapore's new A380 website sort of remind you of a dentist's office rather than the world's best new first class product?
So let me be clear. My initial reaction here is "OMG THIS LOOKS AMAZING." And I truly think it will be amazing, and that I'll have a hard time controlling my excitement when I fly this for the first time.
But once I get over that, I do have some concerns about the execution of a few things. This is truly the most first world of all first world observations, but hey, that's largely what this blog is about.
What do you make of Singapore's new A380 Suites?