---
This is a review of a lounge that we didn't actually have access to, which is probably a first on this site. And that was all due to a language barrier and weird policy.
We arrived at Dushanbe Airport at 2:30PM for our 5:35PM flight to Dubai on Somon Air, Tajikistan's private airline. Dushanbe Airport has two terminals — the one on the left is clearly older (though still charming in a way), while the one on the right is modern and beautiful (it opened in 2014).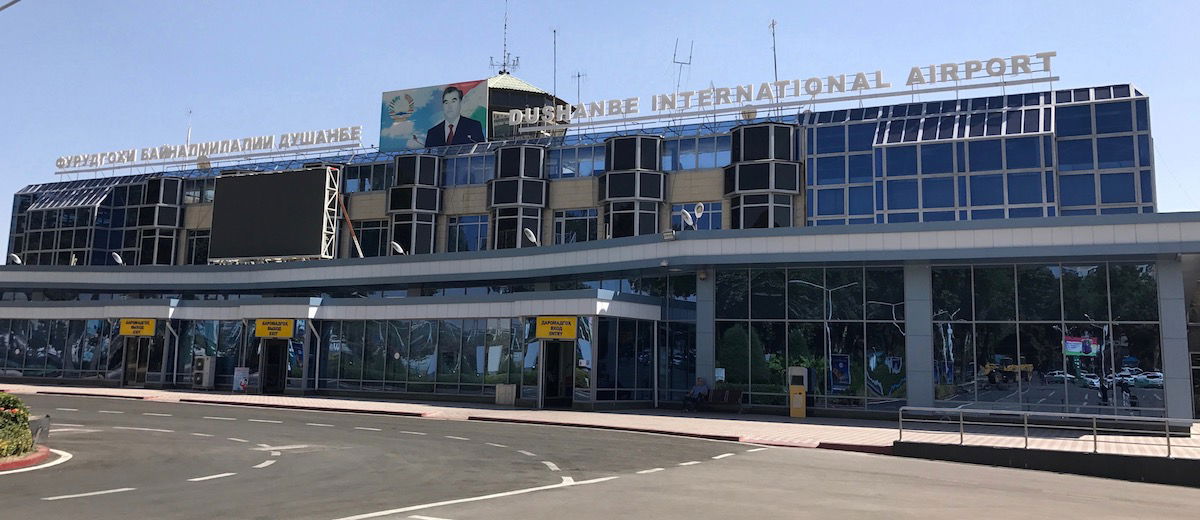 Dushanbe Airport terminal exterior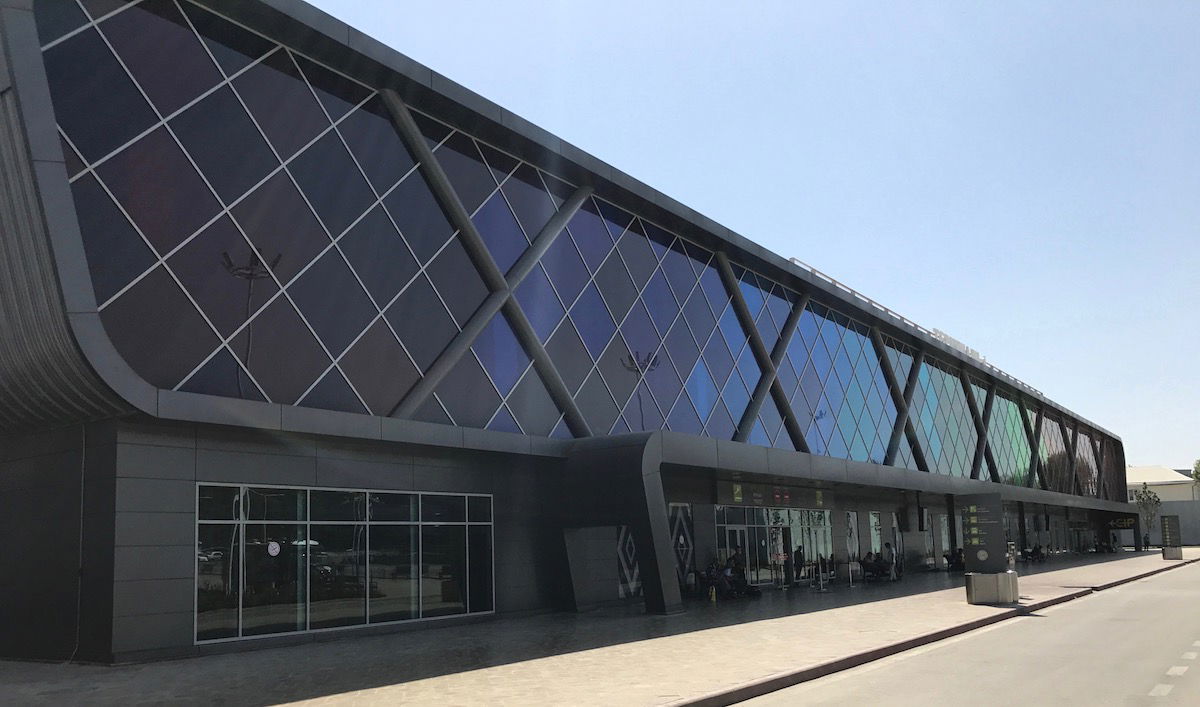 Dushanbe Airport terminal exterior
The airport was so quiet to the point that we were confused. Not that I was expecting this to be Dubai International, but it almost looked deserted. The strangest part was that no departure board listed our flight to Dubai. For a moment we wondered if we accidentally booked a flight on the wrong date, or something? Furthermore, we walked up to each door, and it wouldn't open. Eventually we made it to the last door, which did indeed open.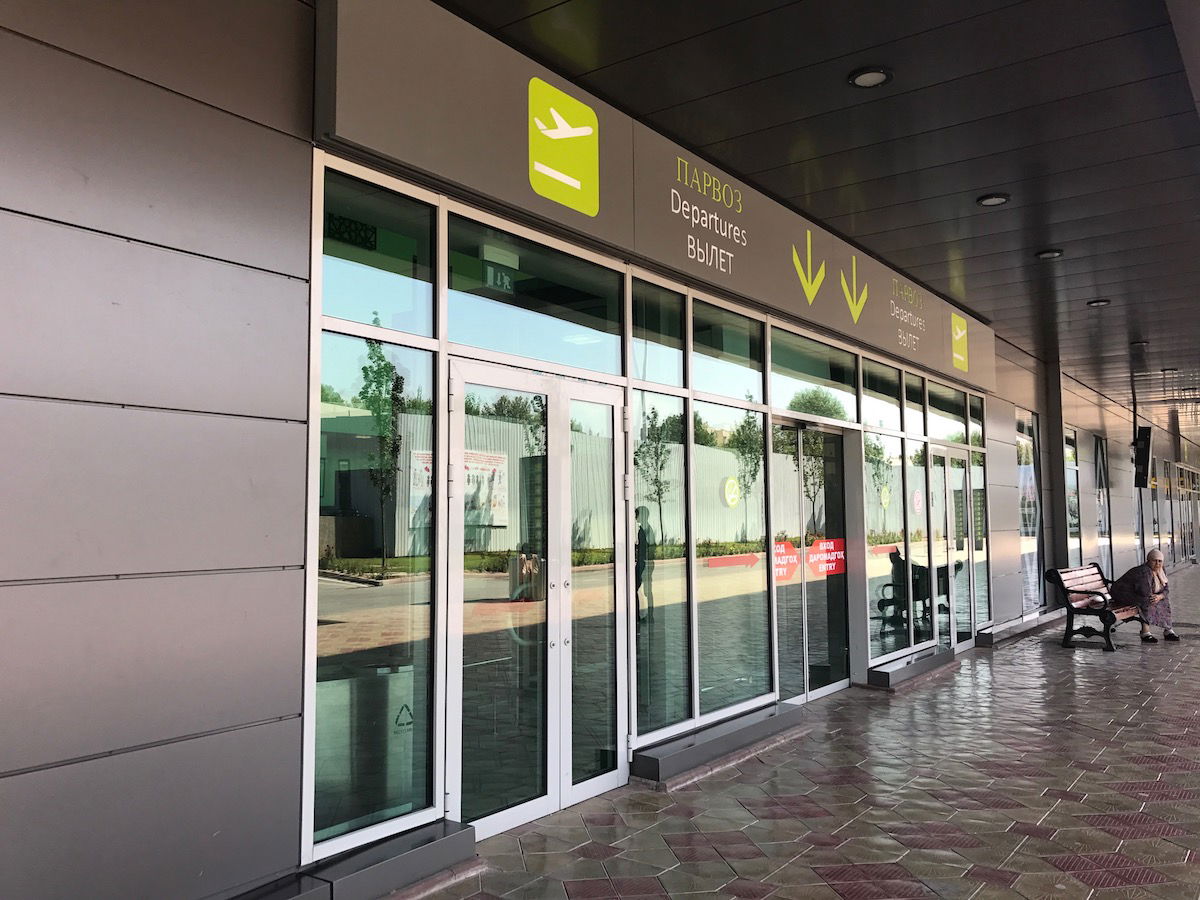 Dushanbe Airport terminal entrance
Inside the door was a security check. Then we found ourselves in the landside area of the airport, which was a bit busier. There were some people sitting around, a couple of shops, etc.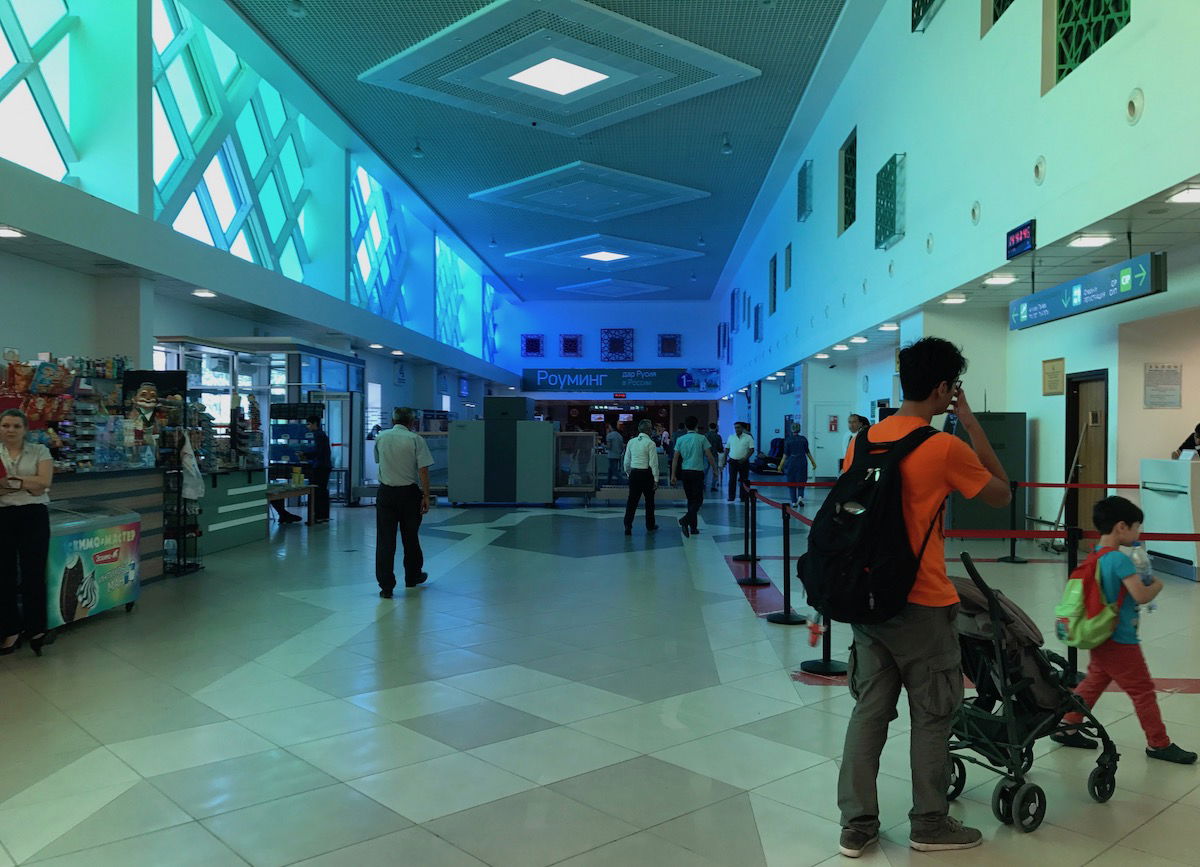 Dushanbe Airport terminal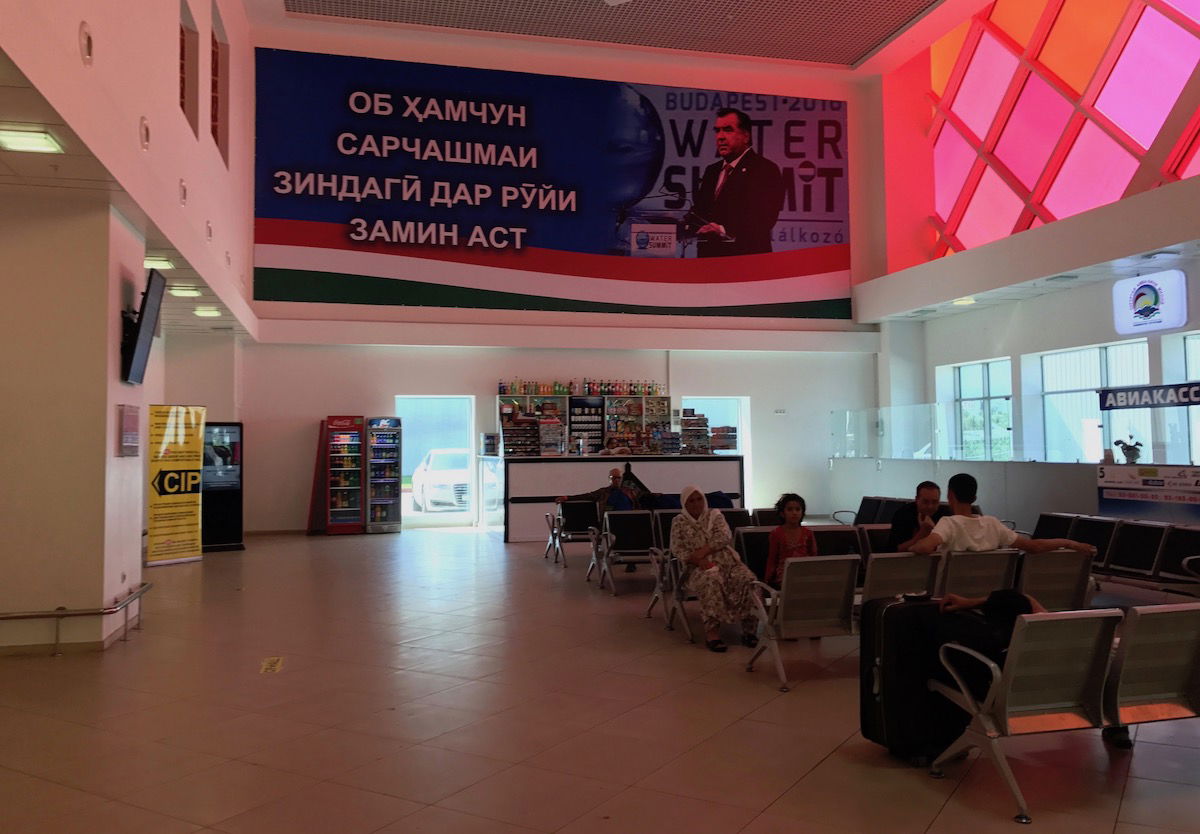 Dushanbe Airport terminal
We tried to walk towards the check-in area. There was a separate queuing system set up to enter this area, though there no one there. So we thought we could just walk through, at which point someone started yelling at us and told us to go back. I realize not everyone in the world speaks English, but I've never been to an airport where virtually no one spoke any English.
So we walked back and had a seat. At around 3PM an announcement was made in Tajik, at which point a lot of people got up. So we did as well, and at this point we went through a passport check. Then we were allowed into the check-in hall.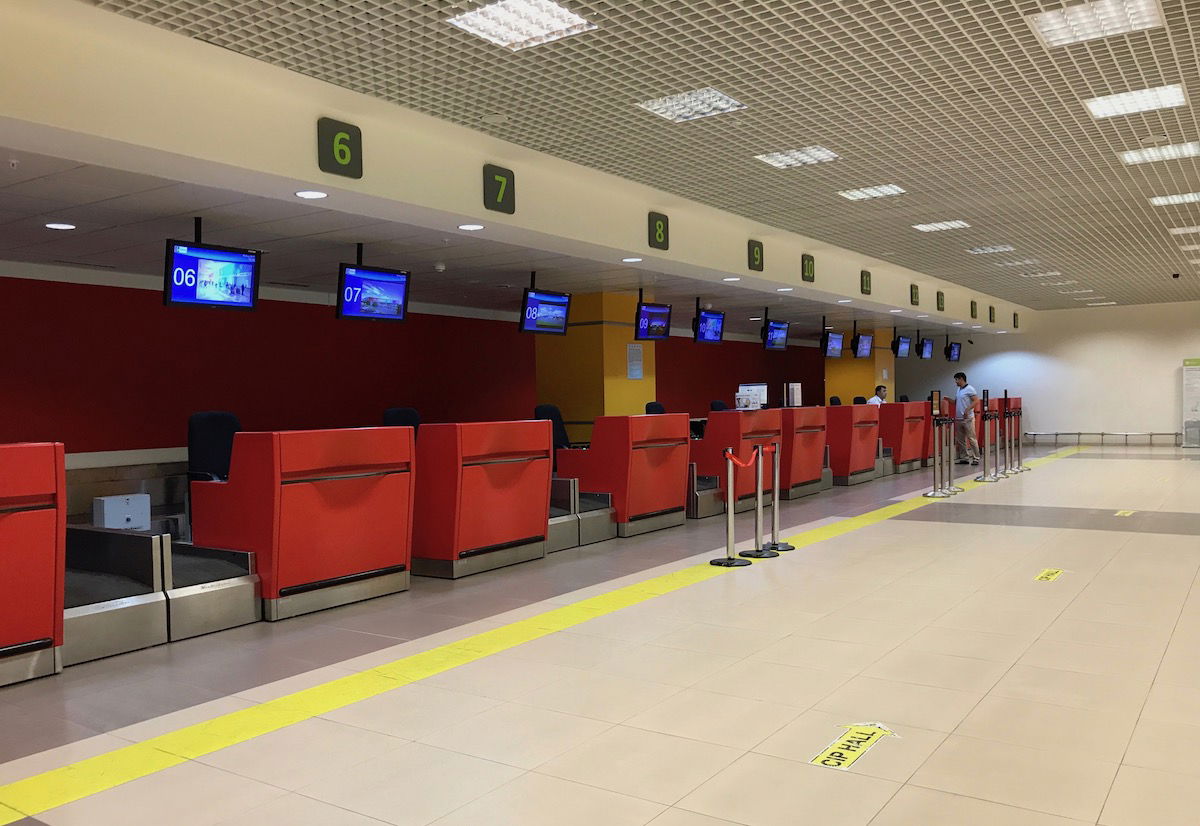 Dushanbe Airport check-in
There wasn't a separate business class counter, but rather there were just two Somon Air counters.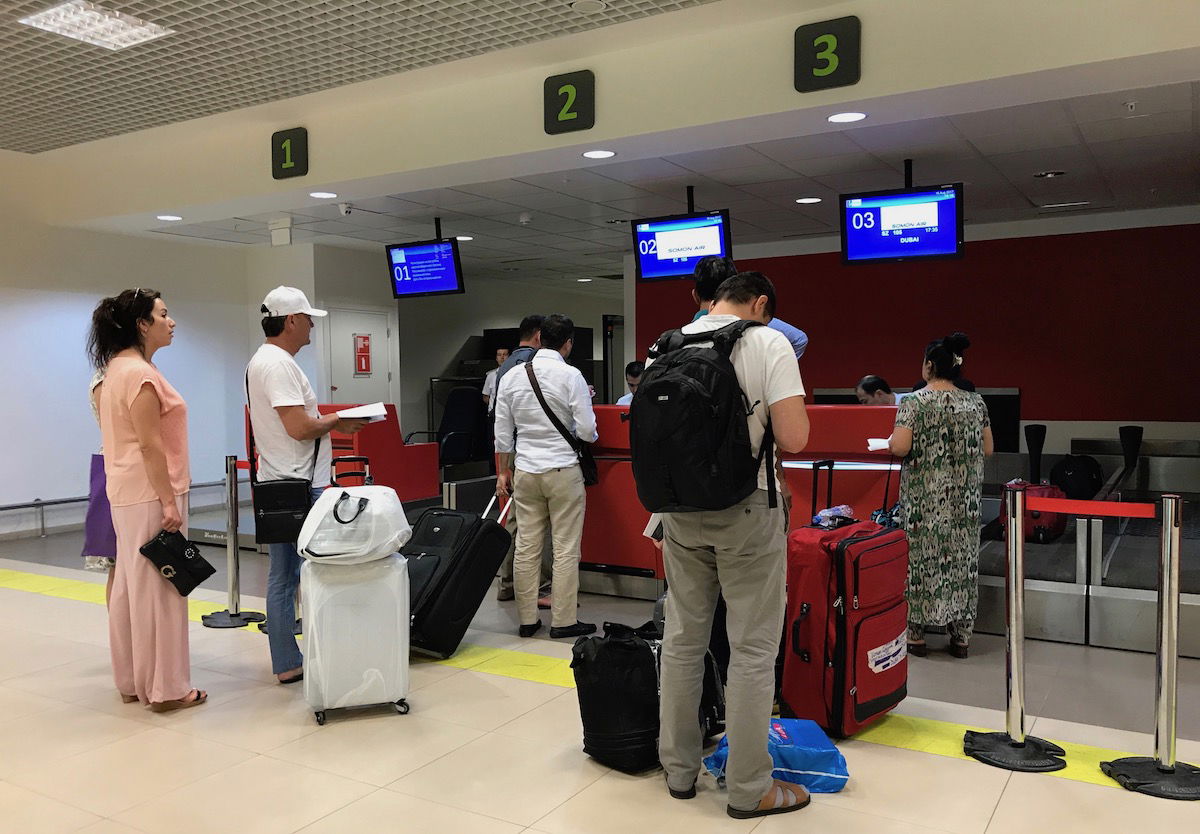 Dushanbe Airport check-in
Check-in was quick, though the only way we could communicate what seats we wanted was by writing them down, since the airport staff didn't speak any English. Soon enough we had our boarding passes in hand, and followed the signage towards passport control.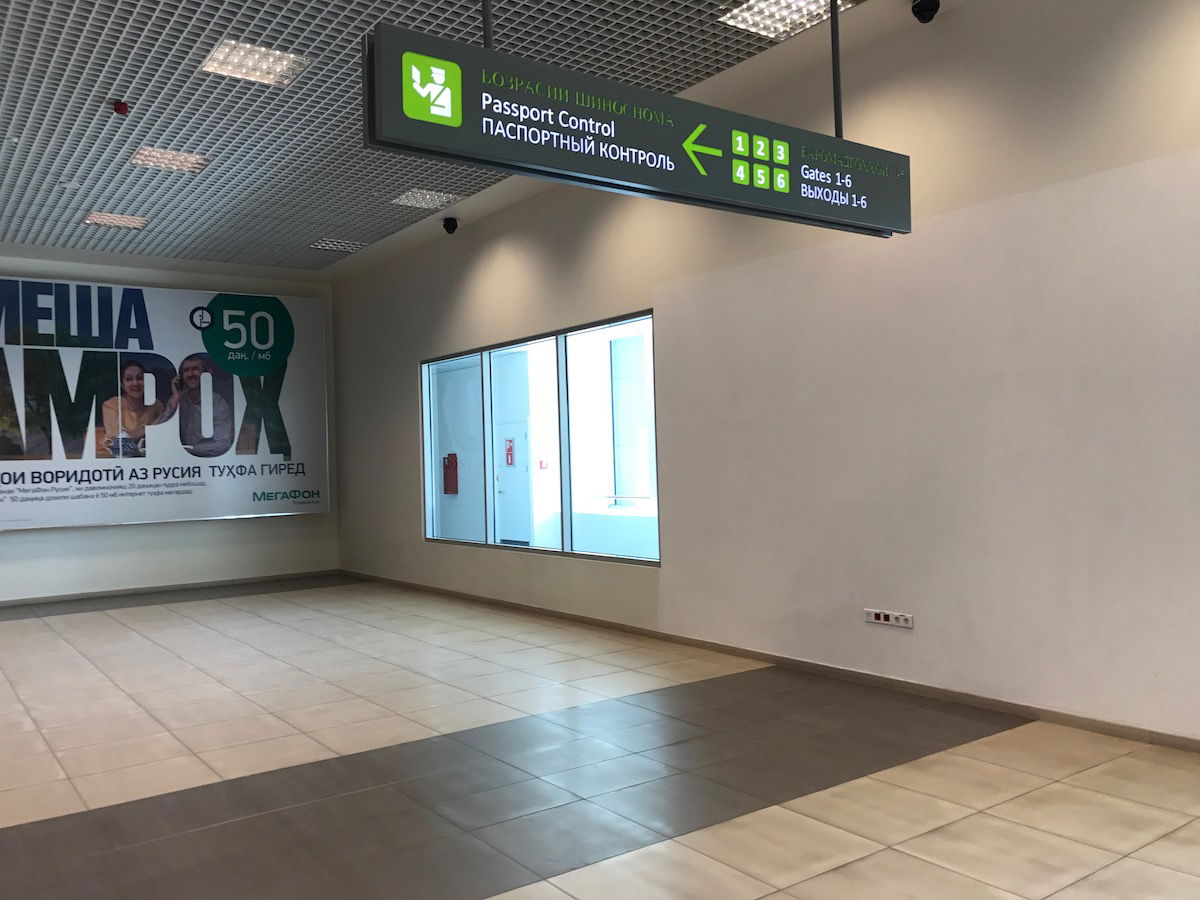 Dushanbe Airport passport control hall
We got up to a metal detector and x-ray machine, though there was no one there. We were told "wait," and that was it. After waiting for about 10 minutes, our bags were screened. Then came passport control. "My" officer didn't speak any English, but he clearly thought I was suspicious, as he spent over five minutes leafing through my passport without saying. Lastly there was a security check.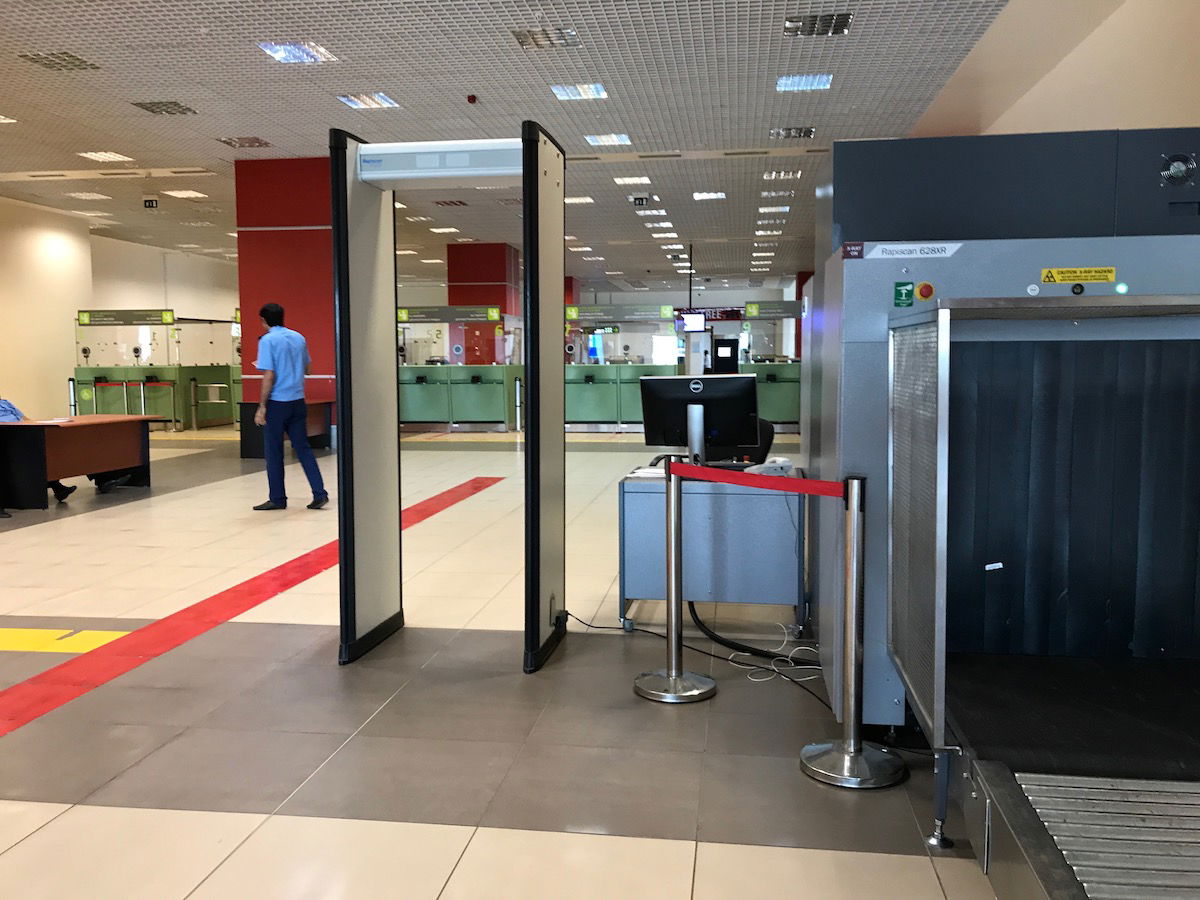 Dushanbe Airport immigration
What an experience.
The Dushanbe Airport terminal itself was quite nice. It wasn't especially luxurious, but it was modern and had fairly comfortable seating. Oh, and it was empty.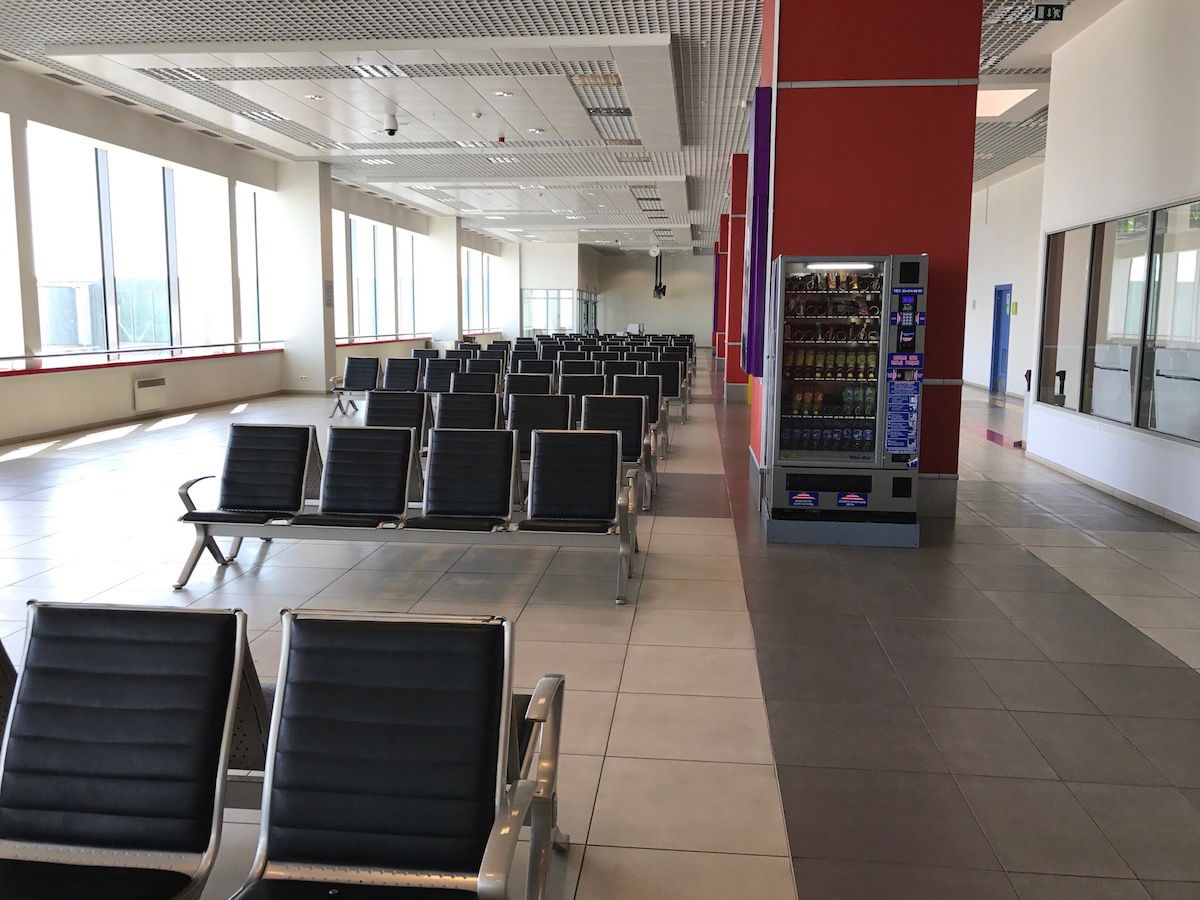 Dushanbe Airport terminal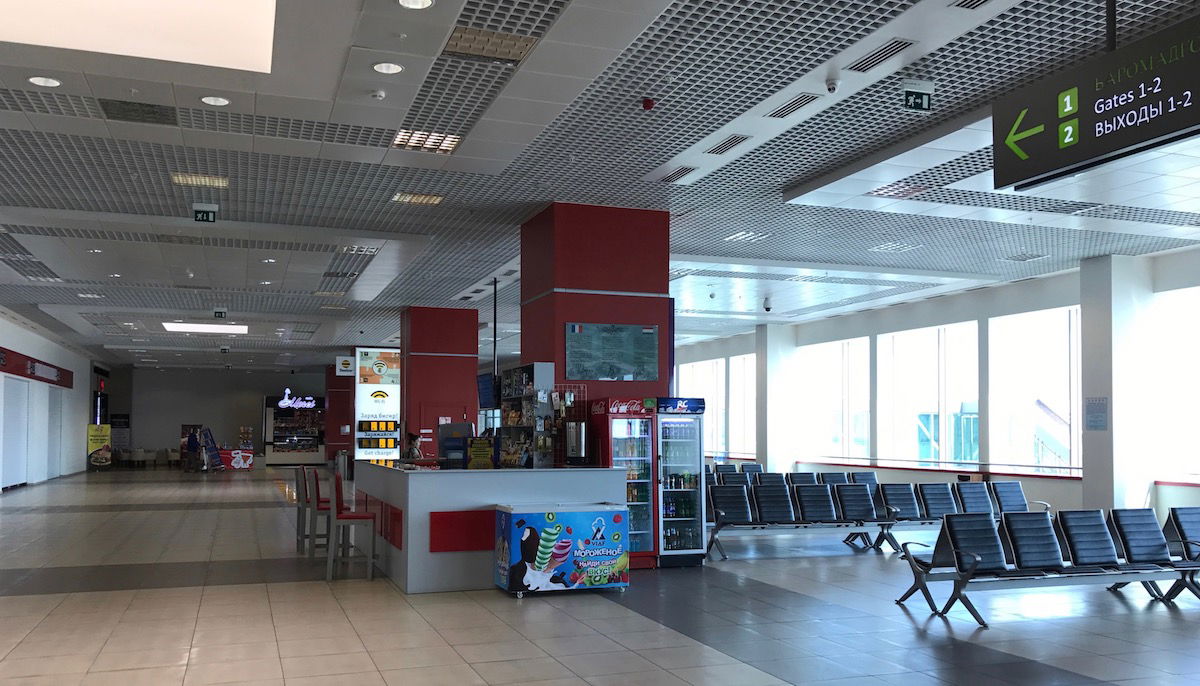 Dushanbe Airport terminal
Completely empty. When we arrived there wasn't a single person, and even the duty free shops were closed.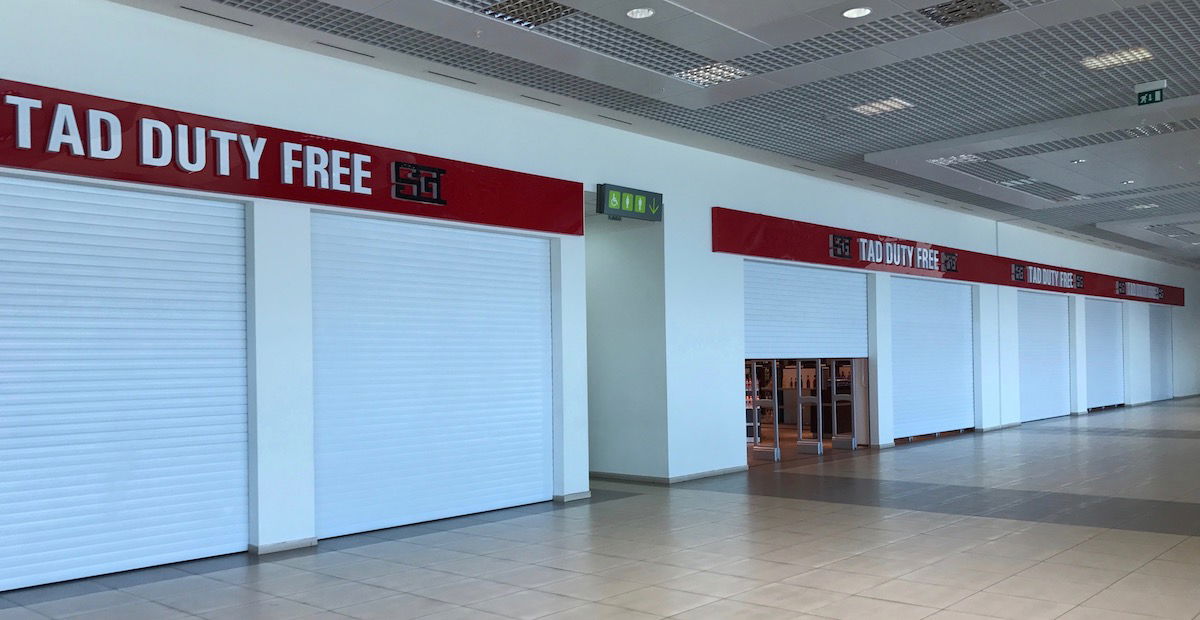 Bustling Dushanbe Airport
In the center area of the terminal was a small bar with drinks and snacks.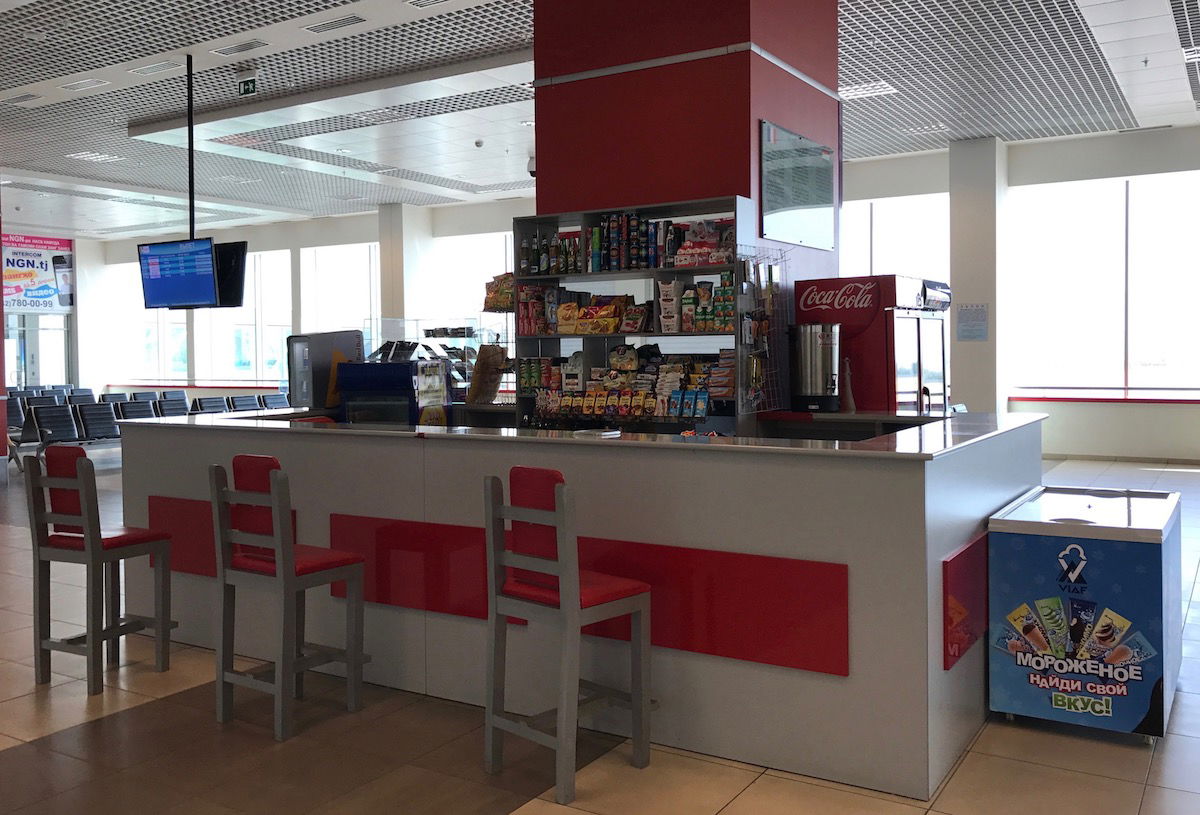 Dushanbe Airport bar
Then at the far left of the terminal was a restaurant.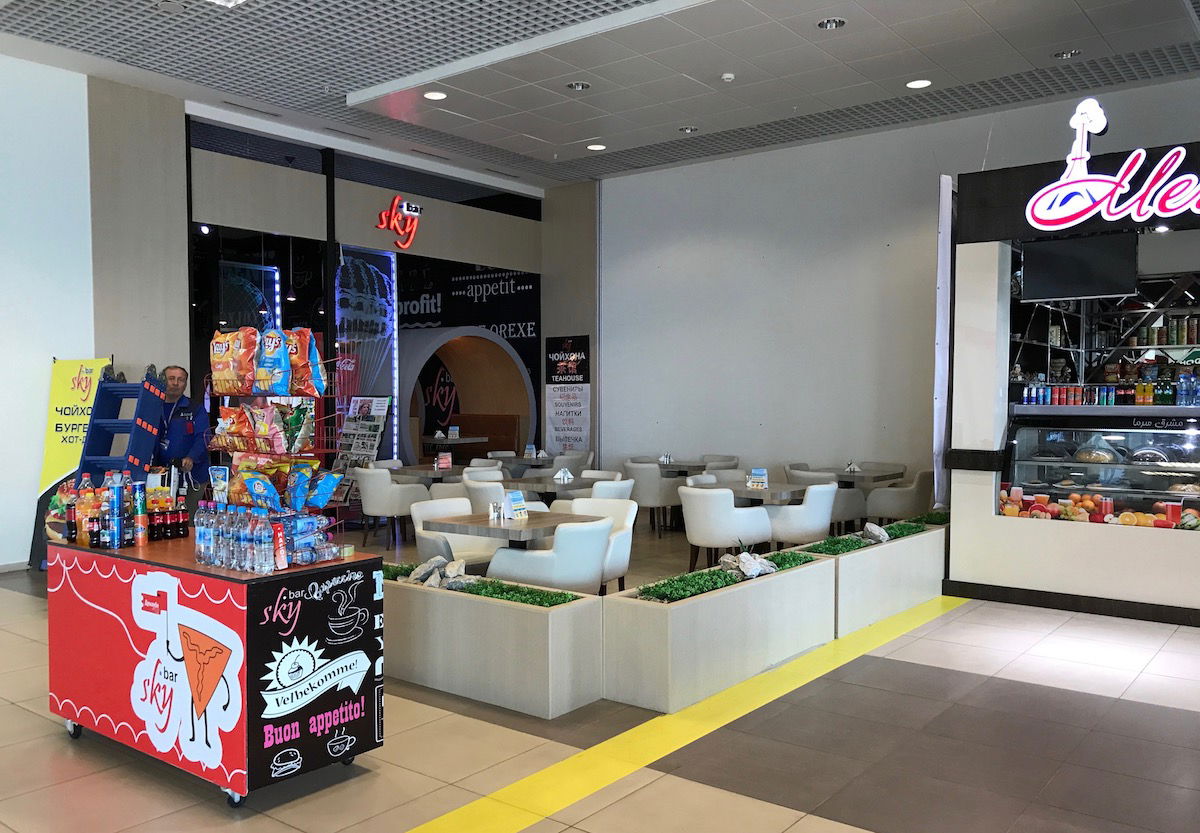 Dushanbe Airport restaurant
Gates 1-2 were to the left, and gates 3-6 were to the right.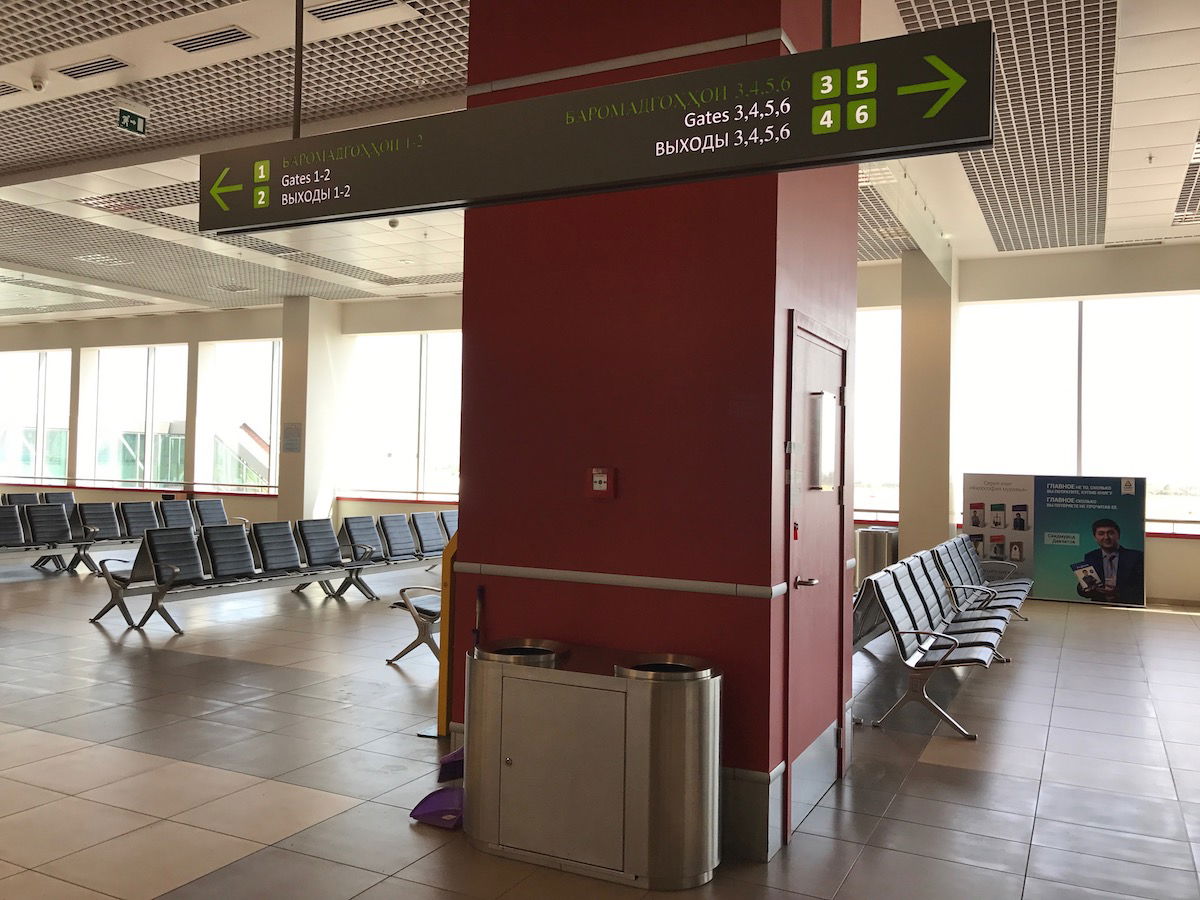 Dushanbe Airport terminal
In addition to the regular seating were a few massage chairs.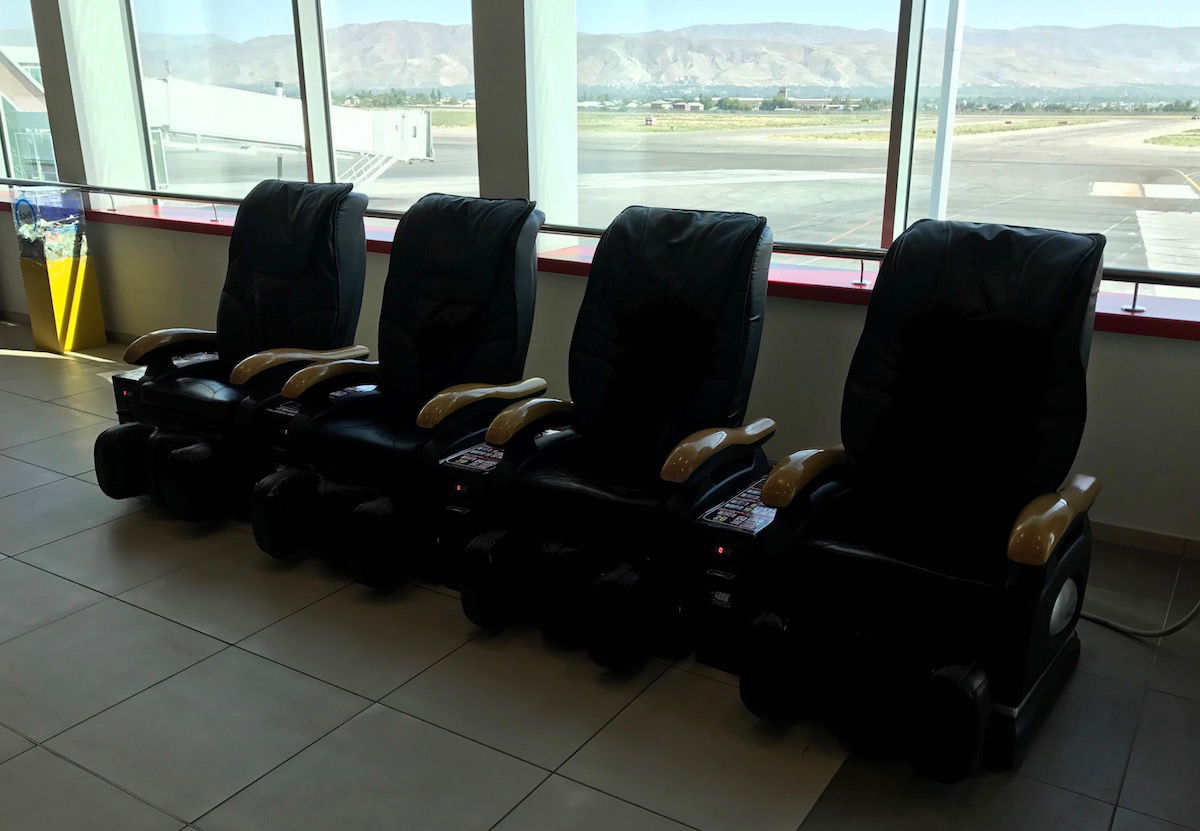 Dushanbe Airport massage chairs
There were a couple of bathrooms, which were in fairly good condition.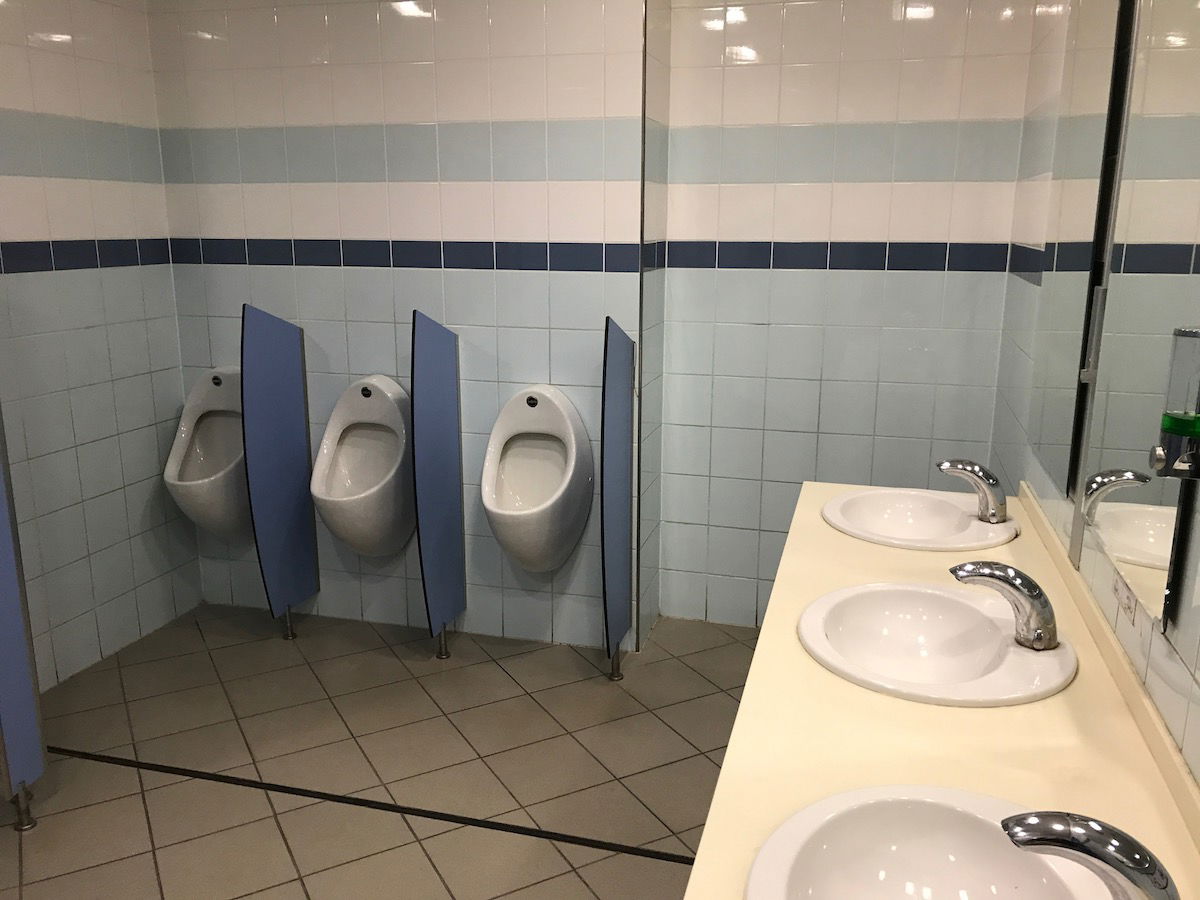 Dushanbe Airport bathroom
Our Somon Air 737 was parked at gate 6, at the far end of the terminal.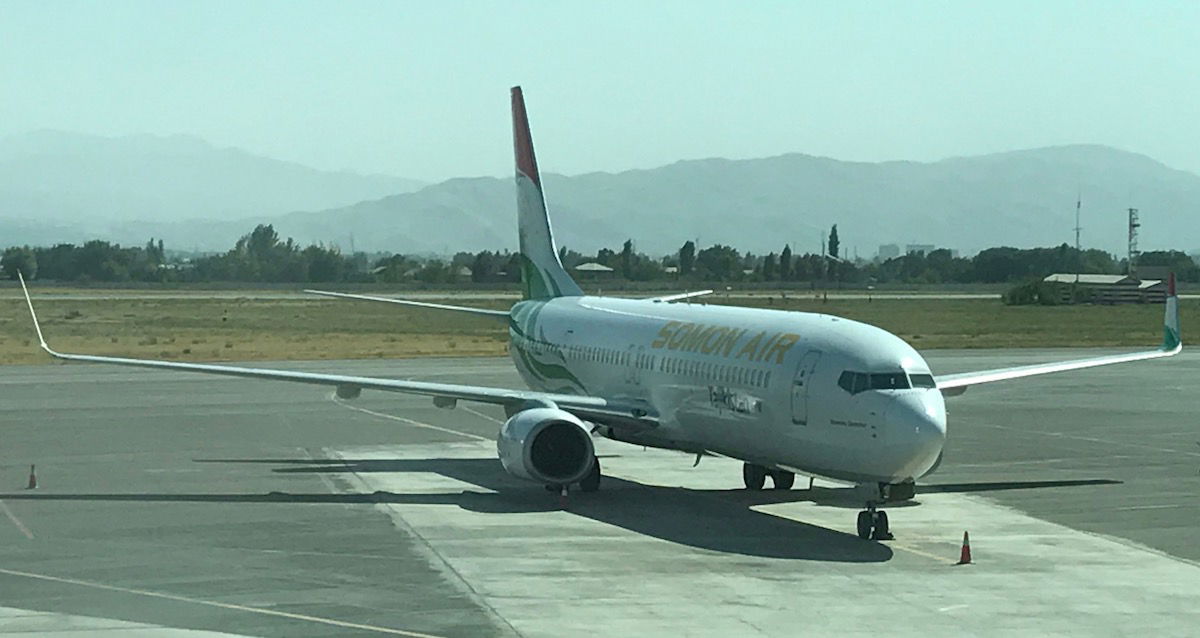 Somon Air 737 taking us to Dubai
Right next to the gate was the prayer room and a sign saying "CIP Lounge."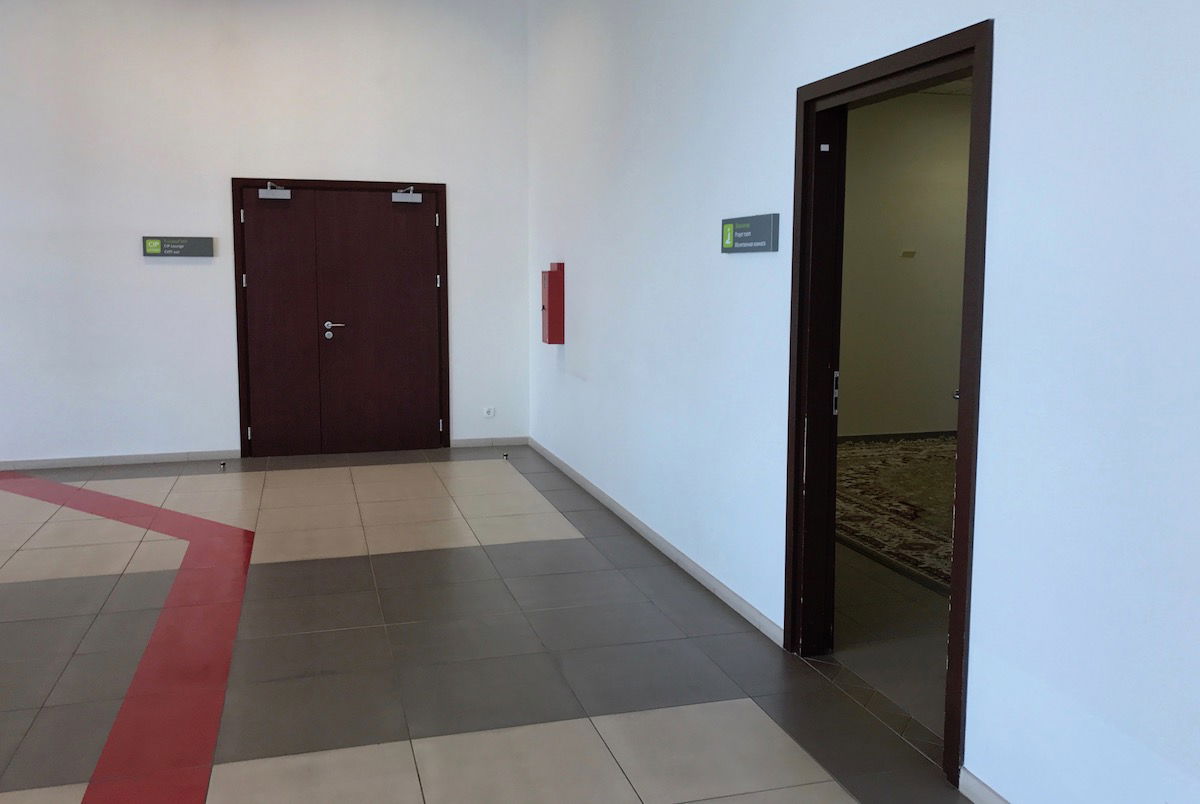 Dushanbe Airport lounge & prayer room
Perfect! We're flying an airline out of their hub airport in business class, so I assume we'll have access to that lounge, right? Well, there were a couple of problems. First of all, the door was locked. We kept knocking on the door, and no one answered.
Matthew stopped one of the security officers wandering the terminal to ask. While he didn't really speak English, he seemed to indicate that there was a separate entrance before immigration, based on how he was motioning. Hmmm. We waited a bit, and eventually asked someone else, who asked someone else, etc.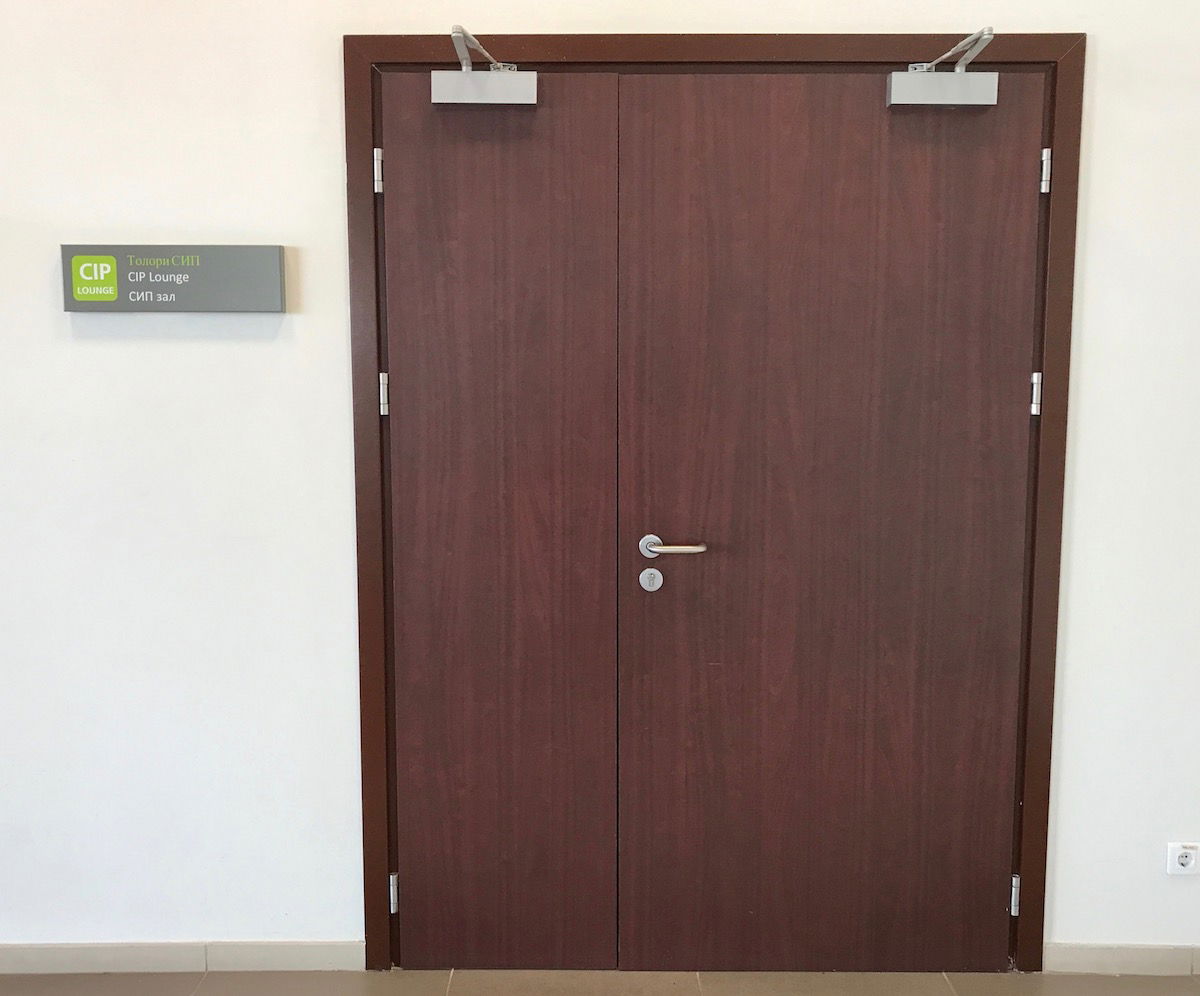 Dushanbe Airport lounge
Eventually the door opened, and we were told by a friendly person working there "30 dollars."
"But we are in business class, we don't get access to the lounge?"
The two people there kept talking to one another, and since they didn't speak much English, they briefly invited us in and told us to wait. This allowed us to snap some quick pictures of the lounge, which was reasonably nice, though not that much nicer than the gate area. It consisted of just one room with a bunch of red furniture, which was somewhat stylish but not especially comfortable.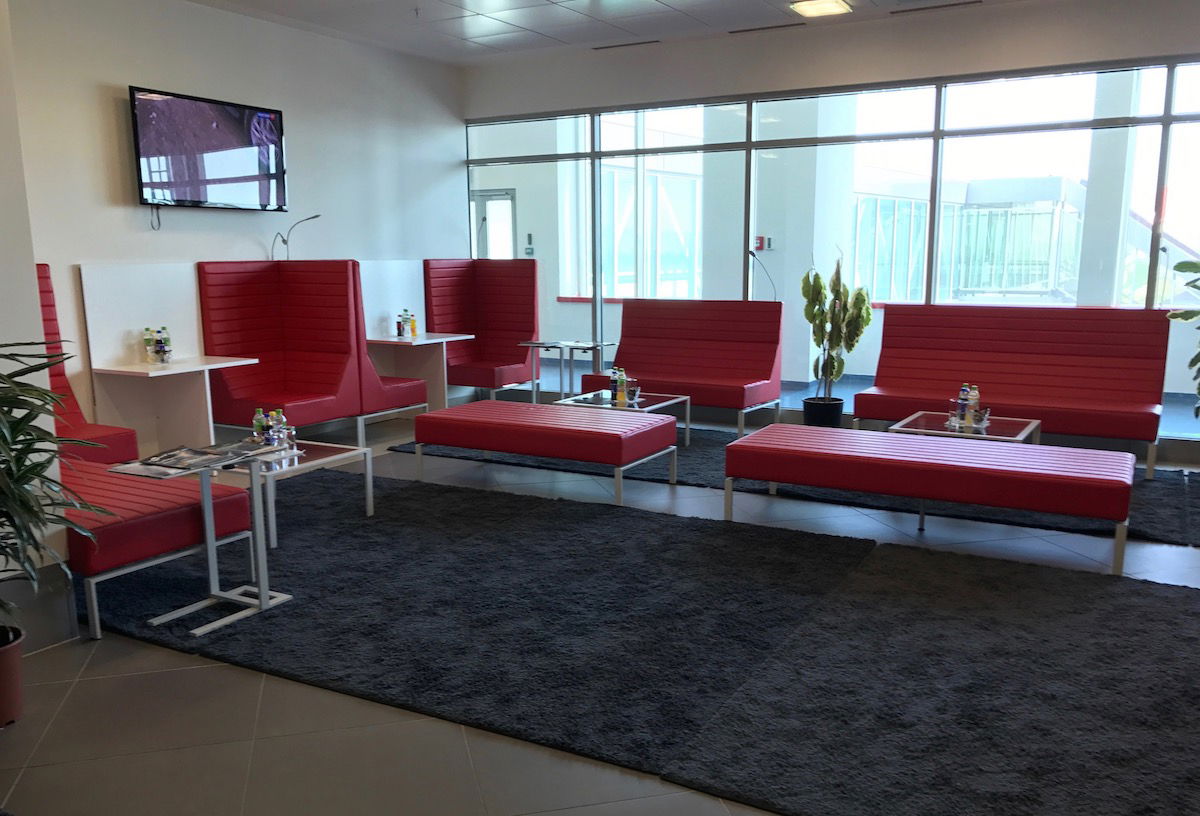 Dushanbe Airport lounge seating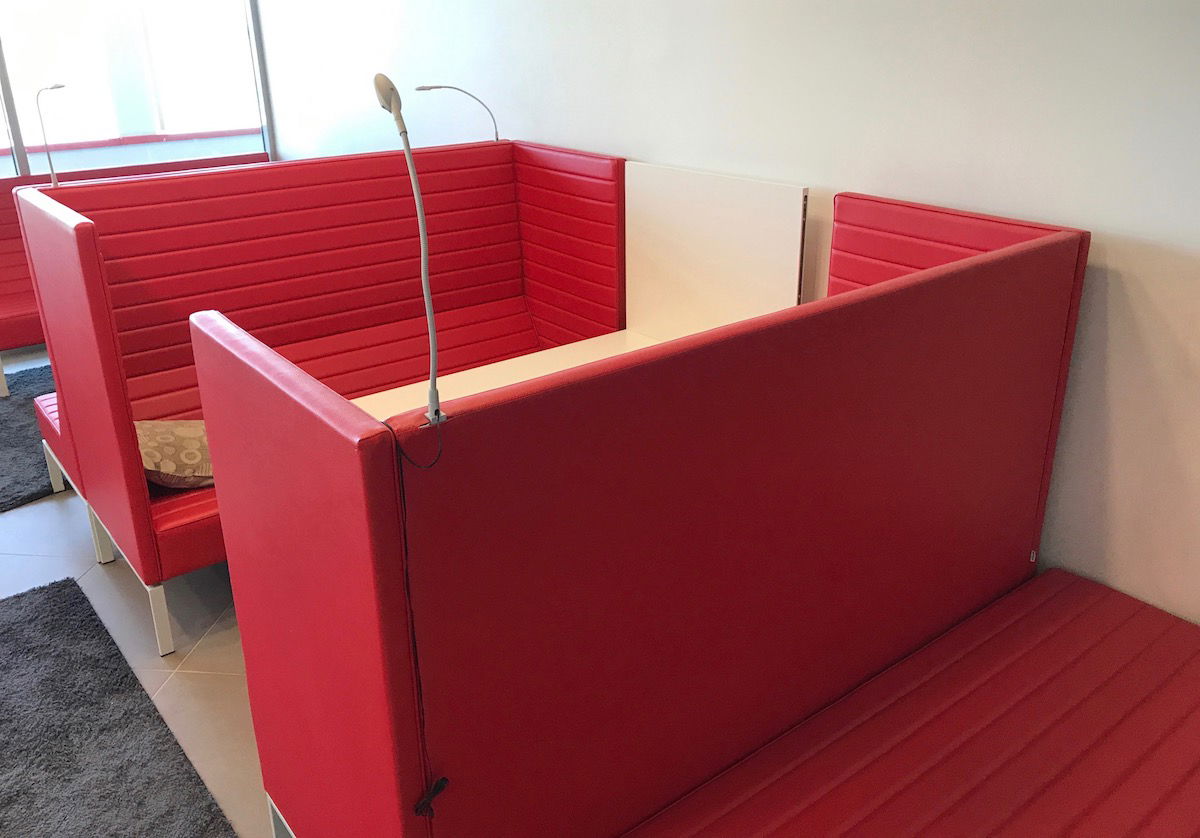 Dushanbe Airport lounge seating
On each table were three drinks and some candies.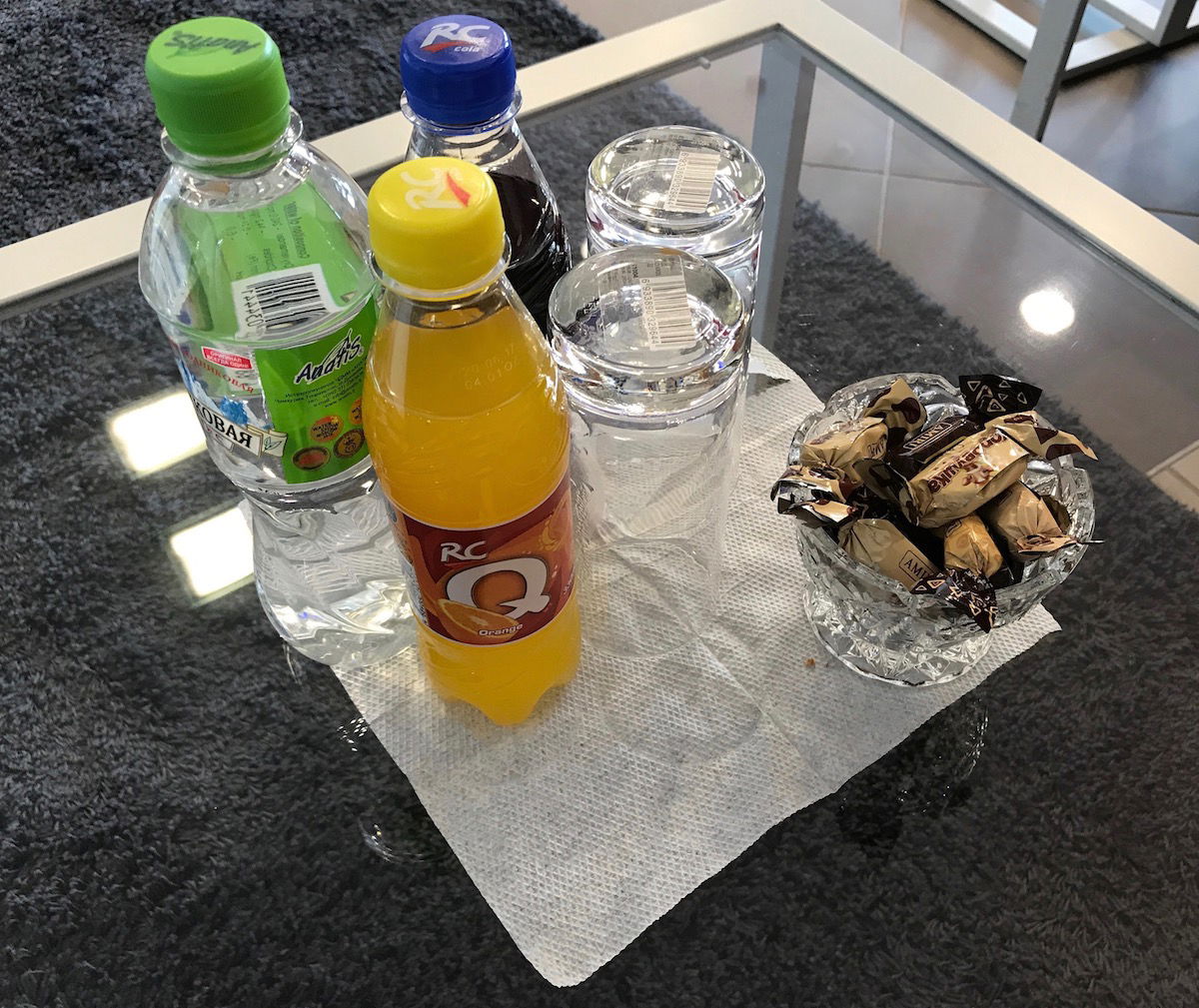 Dushanbe Airport lounge drinks & snacks
Then there was a small buffet with a cool map on the wall.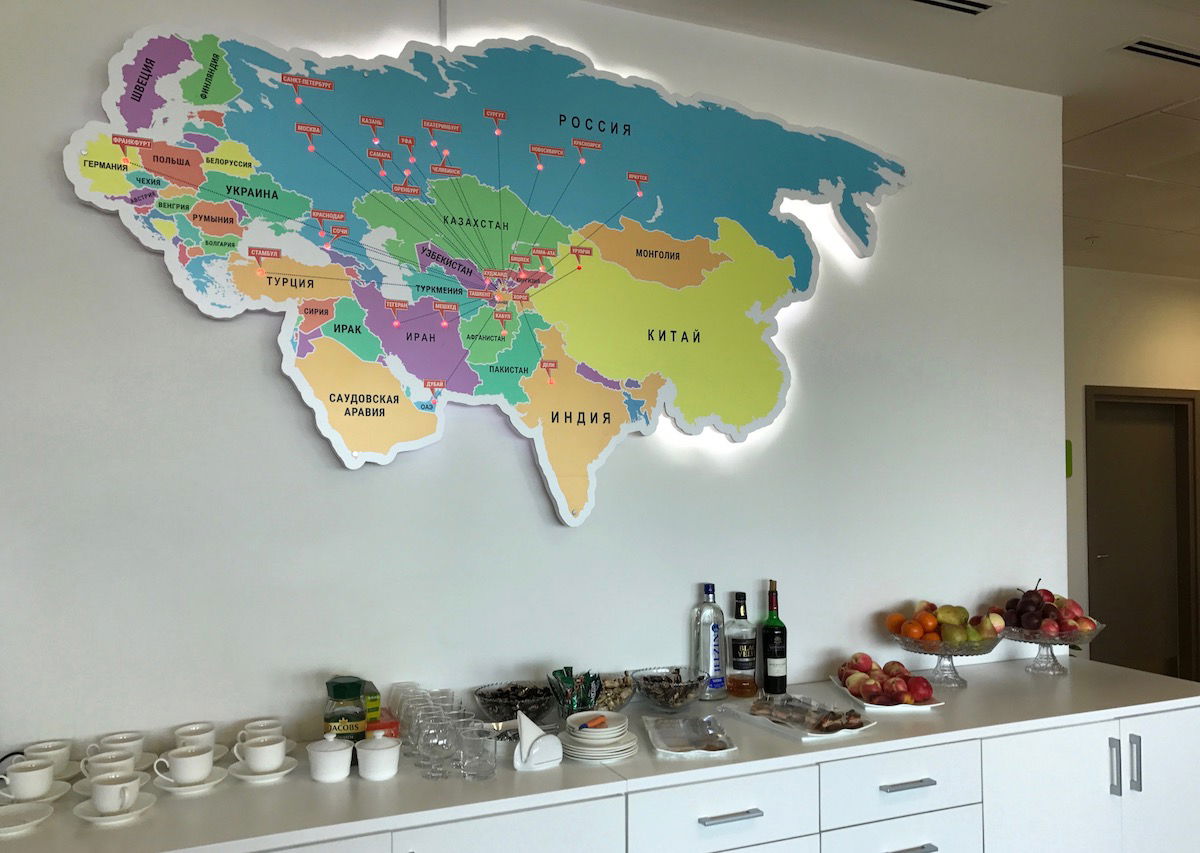 Dushanbe Airport lounge drinks & snacks
The buffet was tiny, and just had some whole fruit, three types of liquor, and packaged snacks.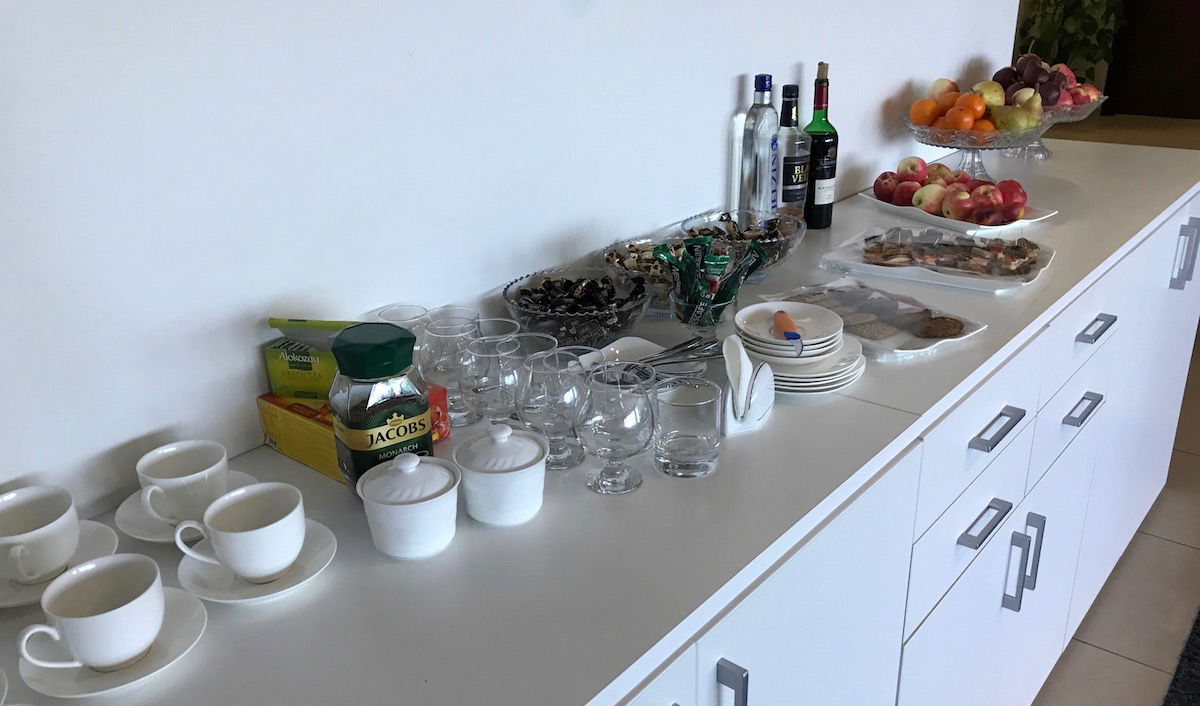 Dushanbe Airport lounge drinks & snacks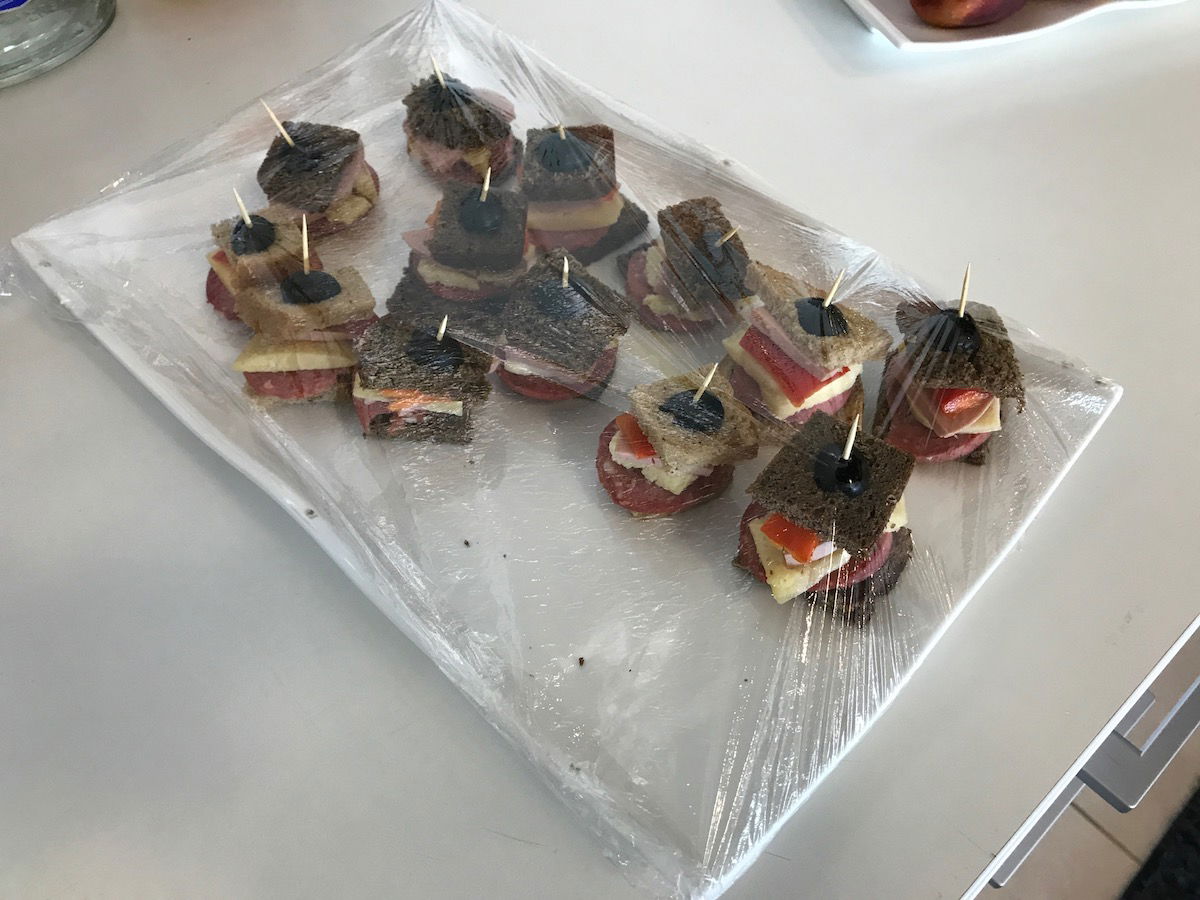 Dushanbe Airport lounge snacks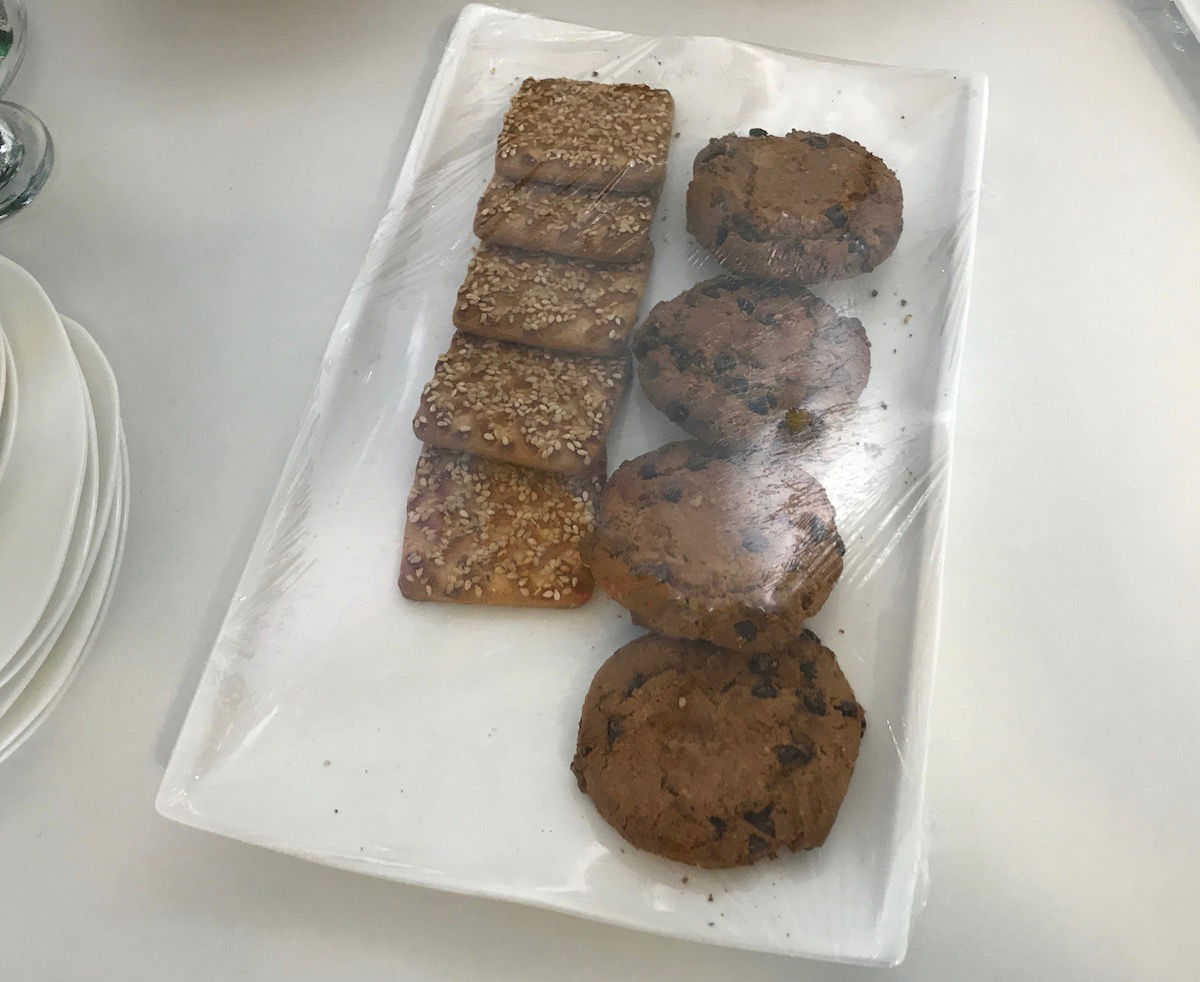 Dushanbe Airport lounge snacks
There was also a fridge with some drinks.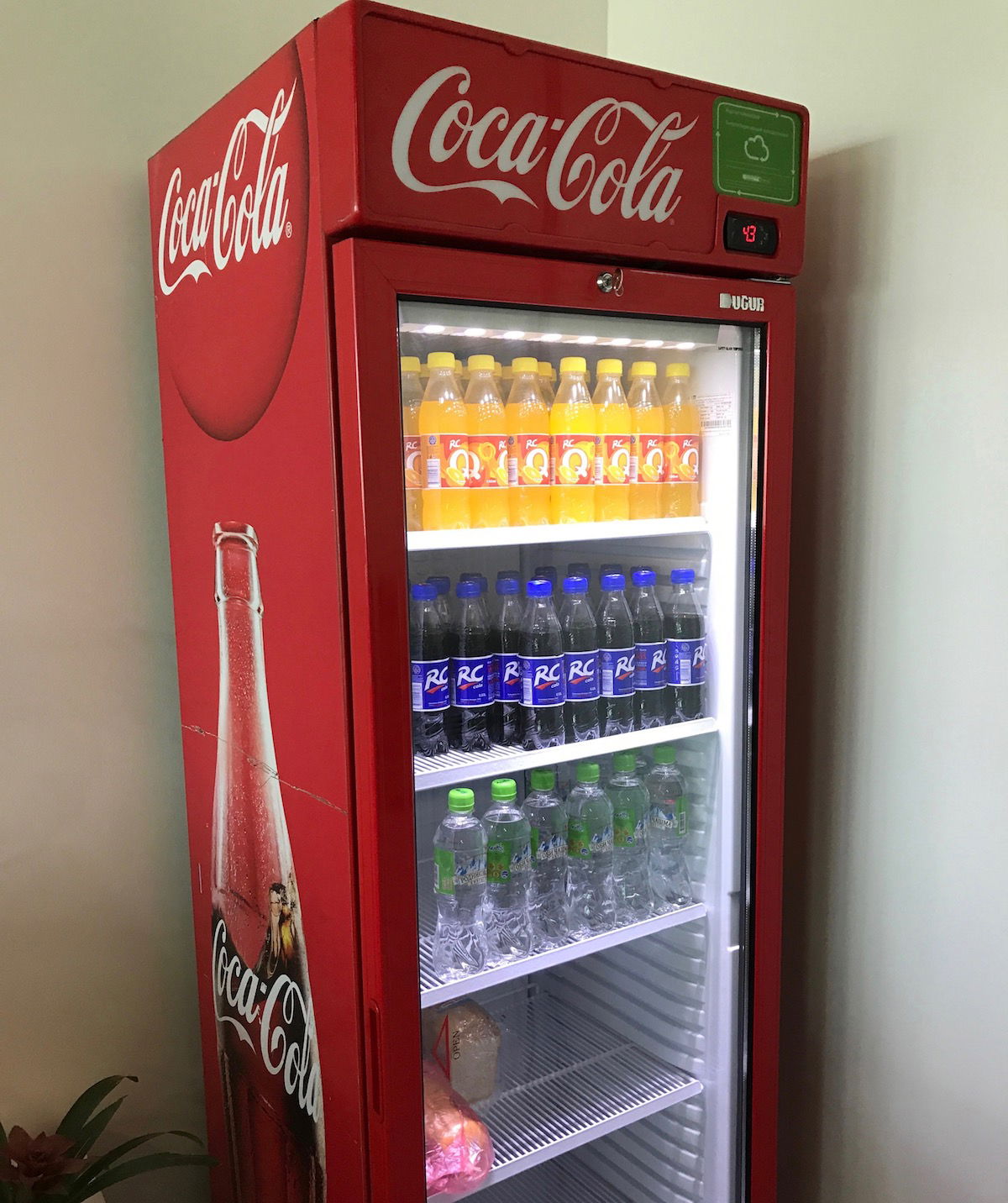 Dushanbe Airport lounge drinks
We were quick to snap pictures, and within a minute an older lady showed up, who seemed to be the boss. She said "30, no free." "Even if we are in business class?" "No free." At this point our flight was 20 minutes from boarding, so we left the lounge.
This is all rather puzzling to me. First of all, I'm surprised the lounge isn't part of Priority Pass. You'd think that would at least get them some business sometimes. Second of all, could Somon Air really not work out an agreement with the lounge for business class lounge access? It's pretty pathetic when an airline doesn't have a lounge at their hub airport. Presumably they could get it at a steep discount, since it didn't look like there were many takers at 30USD (which is a ton of money in Tajikistan). This would have been a great chance to put any of my credit cards with lounge access to good use!
So we headed back into the gate area. The airport had free Wi-Fi, though it was almost unusably slow. Like, it took at least a minute for a single webpage to load.
Boarding for our flight was scheduled for 5:05PM, though in reality boarding started at 5PM, and we were the first onboard.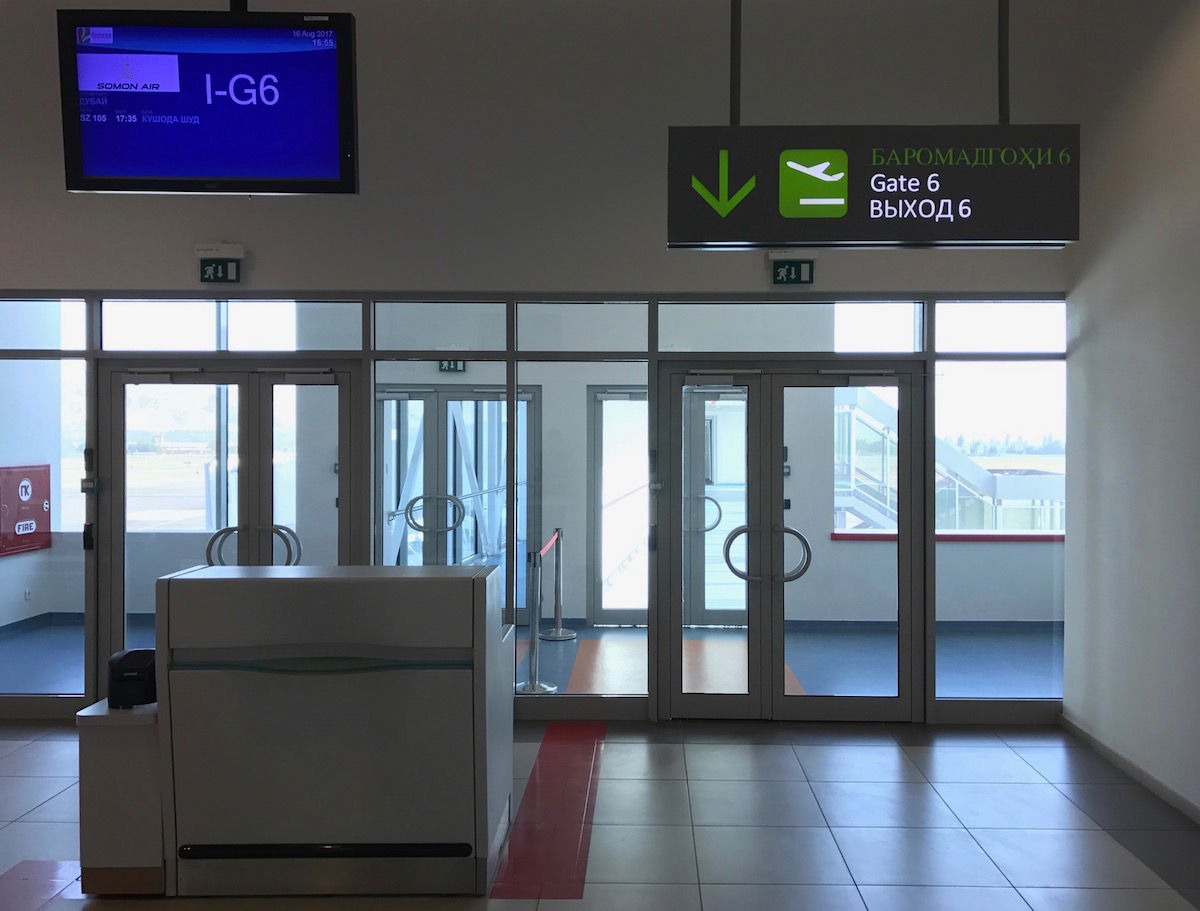 Somon Air departure gate Dushanbe Airport
Dushanbe Airport bottom line
This was an all around unusual airport experience. First of all we had to go through five different security and immigration checks, and at several of them we had to wait a substantial amount of time. The Dushanbe Airport terminal itself is quite nice. I wish the Wi-Fi worked better, but I found the airport itself to be pleasant. However, what confused me most was the lounge situation.
Dushanbe Airport has a lounge that no one seems to use. Why they don't let Priority Pass members or business class passengers on Somon Air into the lounge is beyond me. I wonder if the lounge has an agreement with other airlines flying to the lounge, like Turkish, flydubai, etc., and it's just that Somon Air is cheap.