Introduction: One "Stan" At A Time
Review: Wingtips Lounge New York JFK Airport
Review: Uzbekistan Airways Business Class 787 New York To Tashkent
Review: Hyatt Regency Tashkent, Uzbekistan
Review: Uzbekistan Airways Lounge Tashkent Airport
Review: Uzbekistan Airways Business Class A320 Tashkent To Dushanbe
Review: Hyatt Regency Dushanbe, Tajikistan
Review: Dushanbe Airport Lounge
Review: Somon Air Business Class 737 Dushanbe To Dubai
Review: Saudia First Suite 777 Dubai To Riyadh
Review: Saudia Business Class Lounge Riyadh Airport
Review: Saudia First Suite 777 Riyadh To Los Angeles
---
Saudia 41
Riyadh (RUH) – Los Angeles (LAX)
Saturday, August 19
Depart: 1:40AM
Arrive: 11:00AM
Duration: 19hr20min
Aircraft: Boeing 777-300ER
Seat: 3L (First Class)
I boarded through door L1, where I was greeted by Ayman, the friendly cabin manager. He pointed me towards seat 3L, the window seat in the last row of the cabin on the right.
While walking to my seat I noticed that seat 2H was broken. On my last flight there was also a broken suite, so it sure seems like there's some room for improvement when it comes to their cabin maintenance.

Broken Saudia 777 first class suite
Fortunately my suite was in pretty good condition, minus the mildly screwed up blinds.
Since the boarding was so slow to start (because others were going through security at the gate), I snapped a picture of the large business class cabin, which looked beautiful as well.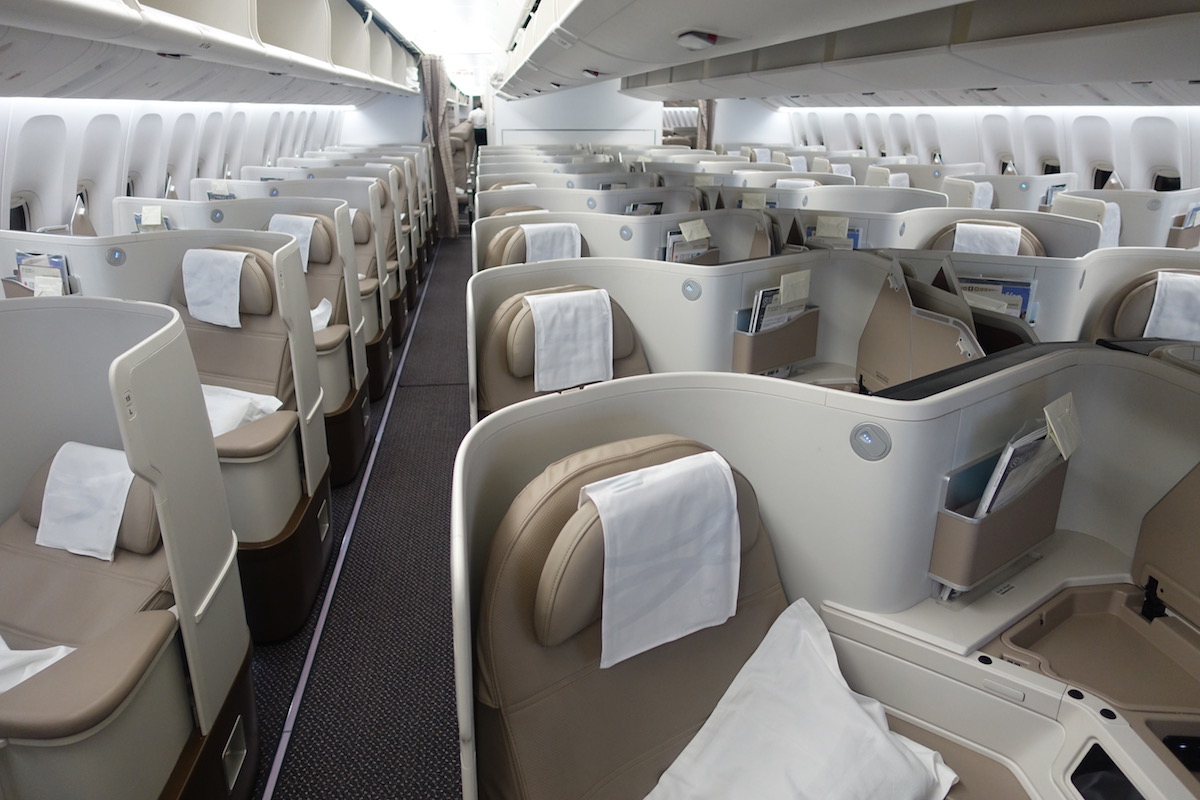 Saudia 777 business class cabin
I've reviewed Saudia's first class hard product in great detail before, so won't do so again this time around.
Minutes after settling in the two first class flight attendants came by my seat, including Kyle from the Philippines, and Mariana from Bosnia.
People flying from Riyadh to Jeddah on this flight were all continuing to Los Angeles, so this flight wasn't bookable just to Jeddah. You stay on the plane in Jeddah, though there's a crew change, and more passengers get on as well. That's why I found it a bit funny when Kyle said "we'll be taking care of you all the way to Jeddah." That was like 5% of my journey that day. 😉
Once settled in I was offered my choice of lemon juice or a date smoothie, and I chose the former this time.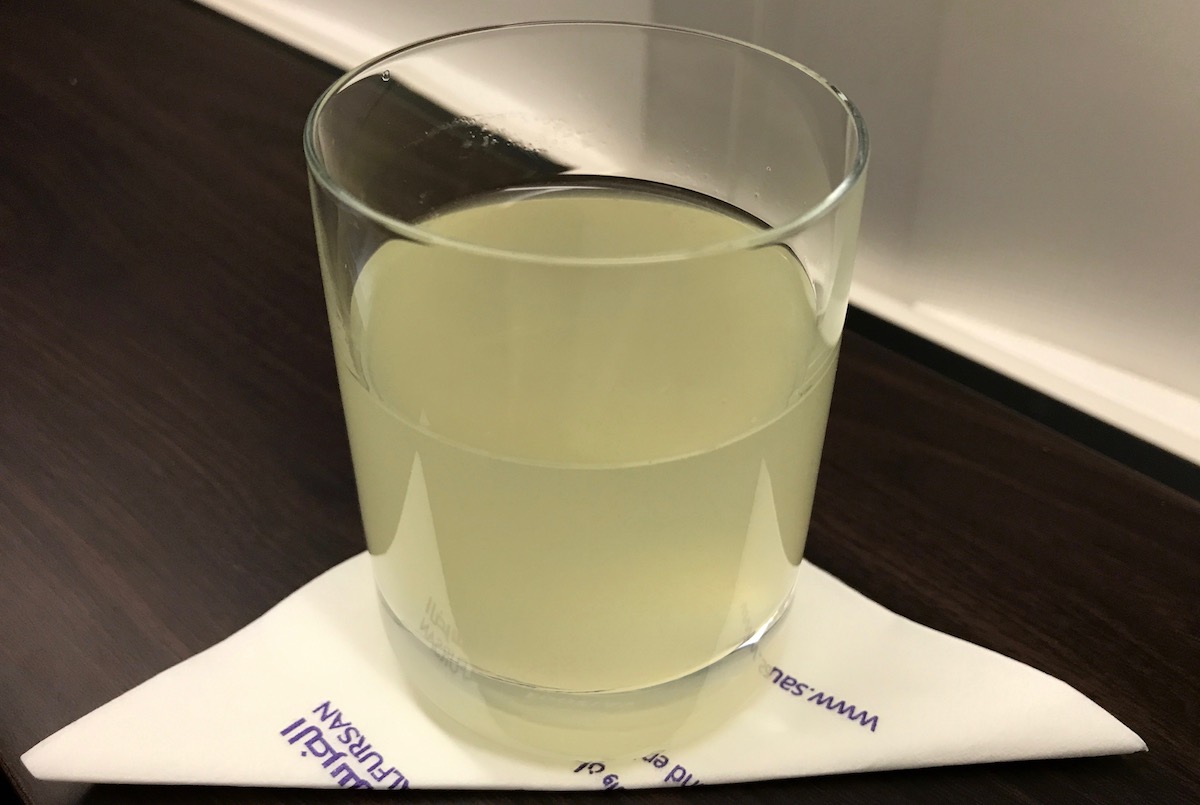 Saudia first class pre-departure drink
I was also offered my choice of a hot or cold towel.

Saudia first class pre-departure towel
Boarding was pretty efficient, as the plane was only about half full. In the end there were five passengers in first class, out of a total of 11 "operable" suites. Every (operable) seat ended up being taken to Los Angeles, so the other six passengers joined us in Jeddah.
The door was closed by 2:10AM, and a few minutes later we pushed back, at which point the safety video and prayer were screened.
We had a quick taxi to our departure runway, 33R, where we were airborne by 2:25AM.
Our flight time to Jeddah was scheduled to be 75 minutes, so it was about the same length as our flight time Dubai to Riyadh.
Even though this flight was the beginning of an ultra longhaul flight, the amenities on this sector are just the standard regional ones. Once the seatbelt sign was turned off, Ayman and Kyle came around with two rounds of Arabic coffee and dates.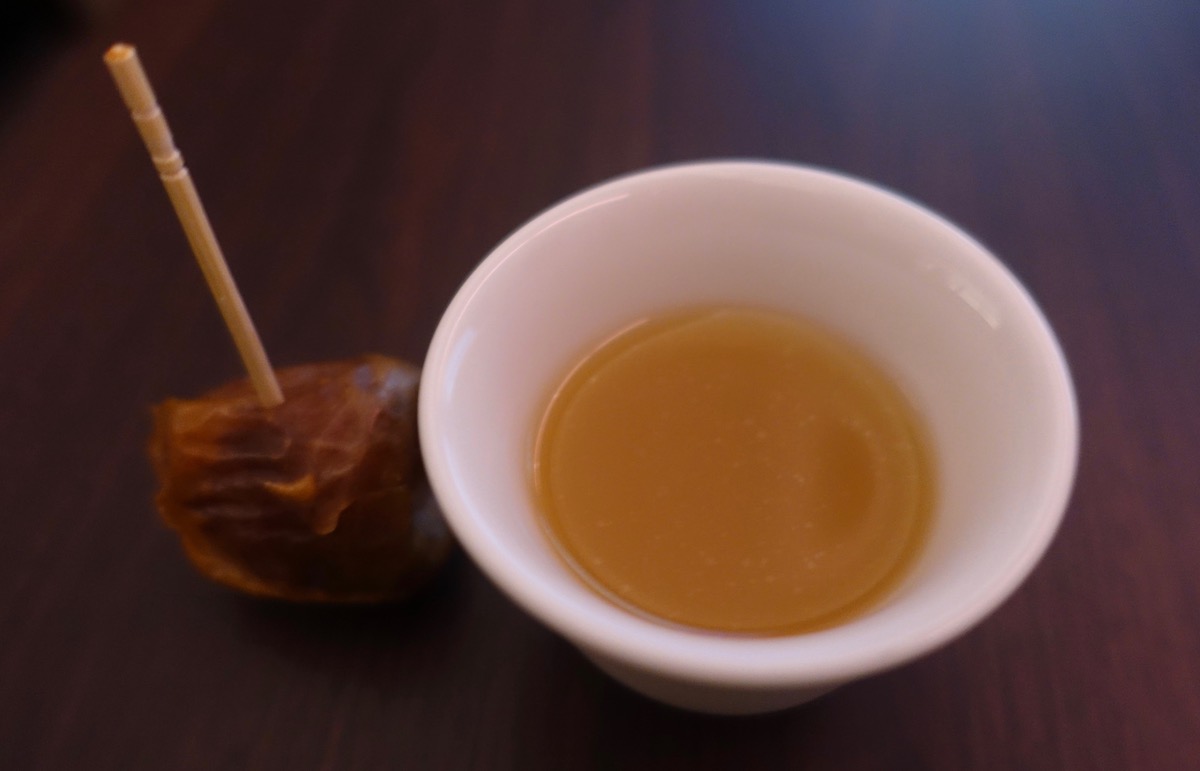 Saudia first class Arabic coffee & date
For the snack on this flight I had the choice between a "chicken sandwich" and "cheese and turkey." I chose the latter, all of which was served on a single tray. It included tomato and mozzarella, turkey, cake, a selection of bread, etc. It was quite good.
To drink I just had still water, and then afterwards had a cup of tea, as I didn't need any more coffee at this point.
The crew seemed well intentioned though really exhausted. I can't blame them, given how late it was.
By 3:10AM the seatbelt sign was turned on, and 30 minutes later we landed in Jeddah.
After we touched down it was a short five minute taxi to our arrival stand. As we taxied in, the flight attendants announced that there would be a crew change for the flight to Los Angeles, and requested that all passengers stay in their seats. The ground stop in Jeddah was supposed to be 90 minutes.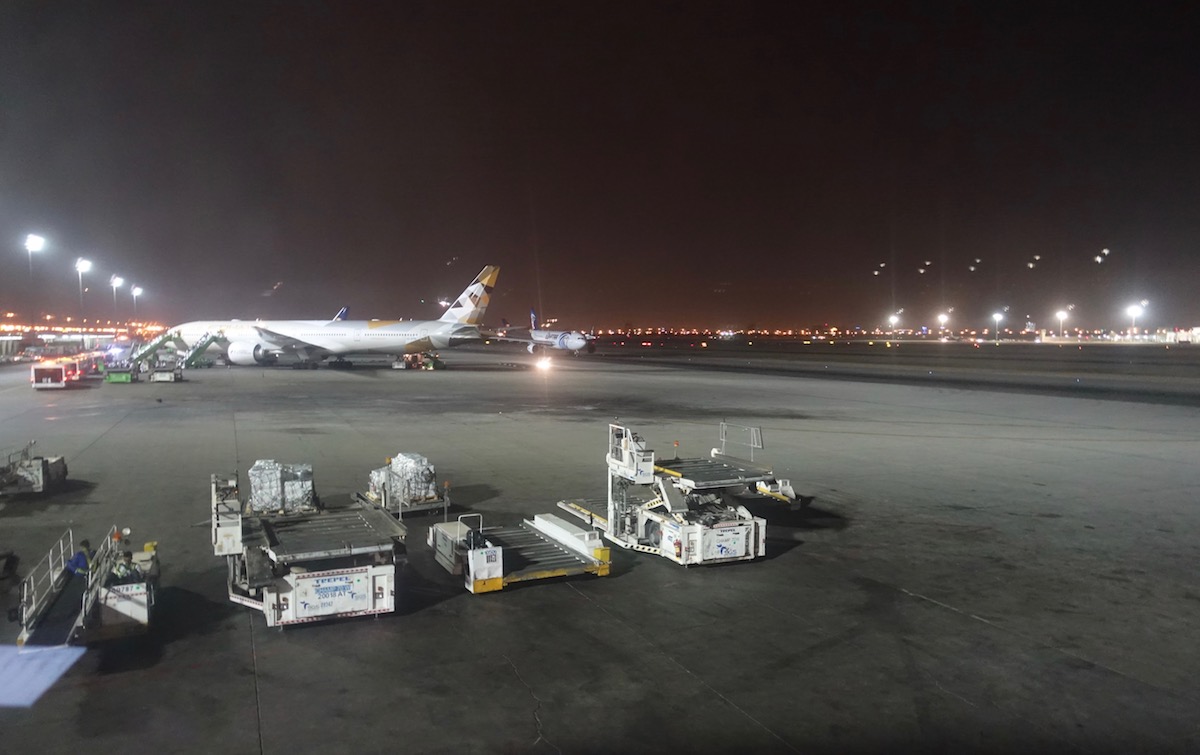 Arriving at our stand in Jeddah
For a while the old crew stayed on, and by 4AM the new crew boarded as well, along with a bunch of ground staff to clean the plane, etc. At one point there must have been close to 60 Saudia staff on the plane, between the old crew, new crew, and ground staff.
The crew was busy as there were a lot of moving parts, though the lovely Ashley took a couple of minutes to introduce herself. She was from the Philippines, and was the flight attendant who would primarily be taking care of me on the flight to Los Angeles.

The Saudia first class team to Los Angeles
I asked if I could have a pillow and blanket, which she quickly brought me.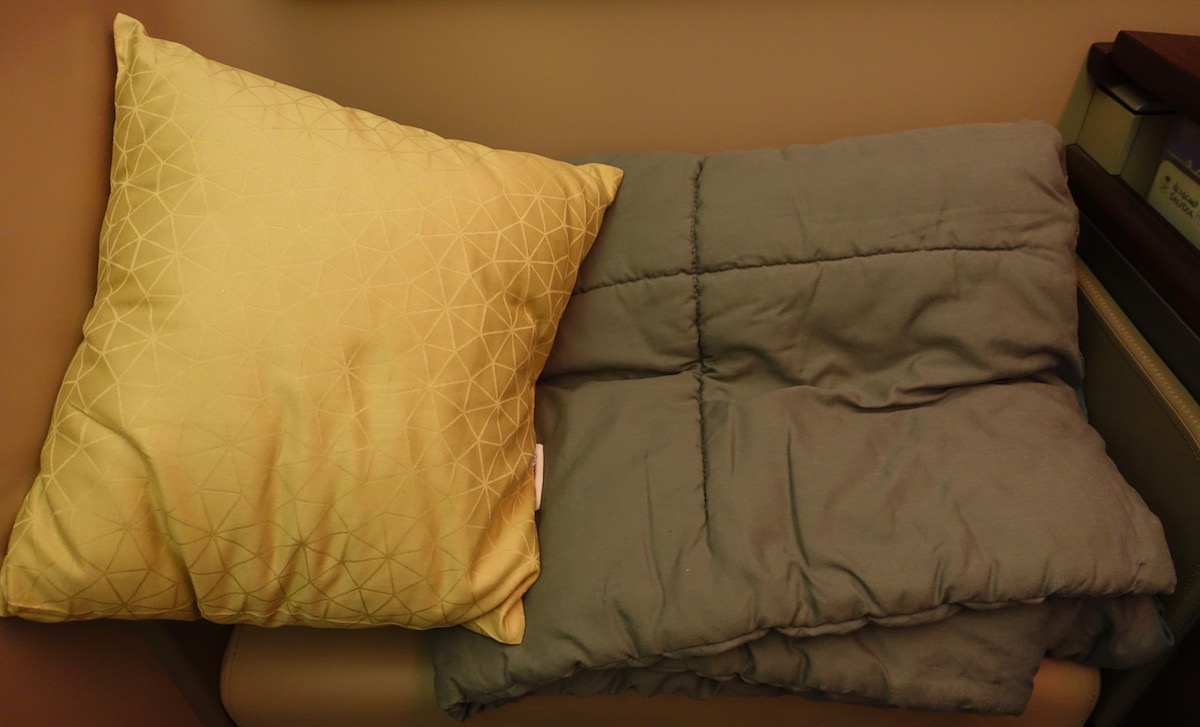 Saudia first class pillow & blanket
A few minutes later Ashley came around with warm towels and also offered drinks of choice. I gladly took a towel, though wasn't thirsty. I was just really, really exhausted. The "direct" flight from Riyadh to Los Angeles looks innocent enough when you see the schedule, though between the middle of the night departure and ground stop, this is an exhausting flight to take, even in first class.
Ramzi, the cabin manager, also came by to say hello, and wish me a nice flight to Los Angeles.
Then the Turkish chef, Rahmi, came by my seat. He was phenomenal, probably the best onboard chef I've had on any airline, between his attention to detail, enthusiasm, creativity, and work ethic.
While still on the ground he must have taken five minutes to go over the menu with me, and I couldn't believe the degree to which he encouraged me to customize everything. For every single dish he provided some creative suggestions for how the dish could be prepared, and asked how I wanted it.
At around 4:50AM I asked Ashley how much longer it would be till departure, since it was approaching our takeoff time.
"Do you want me to make the bed sir?"
"Aren't we leaving soon?"
"Mmmm, no sir, it may be a while."
"Oh, is there a delay?"
"You know, sir, the US security screening takes a while."
She made my bed, and also presented me with a bottle of Evian water as well as the "relax and sleep set."
On top of that, she also gave me the Porsche design amenity kit, pajamas, and folder containing the menu, seat pamphlet, and luggage tag (if you want to see what those look like, check out my New York to Riyadh review).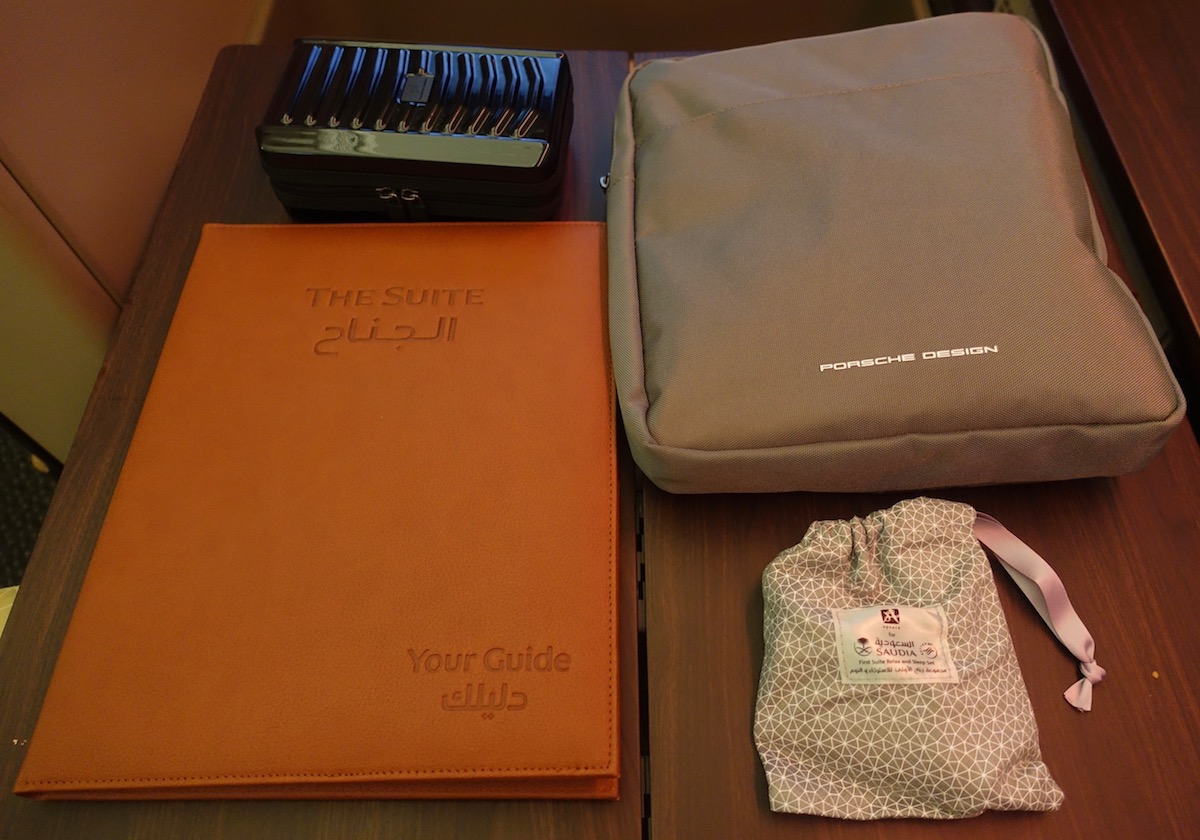 Saudia first class menu, amenity kit, and pajamas
To my surprise I got some really solid sleep, and woke up at 5:50AM, as we began our pushback. At this point 11 of the 12 first class seats were occupied, including a local family of four. There were several operational upgrades, and the only empty seat on the plane was the inoperable one in first class.
At that point the safety video and prayer were screened. We had a 10 minute taxi to the runway, and by 6AM were cleared for takeoff on runway 34L, right behind a Tunisair Airbus. I couldn't believe it was already light outside — the night flew by!
As you'd expect (given that this is the world's longest 777-300ER flight), we had a very long takeoff roll, which I watched on the nose camera.
We had a gradual climb out of Jeddah.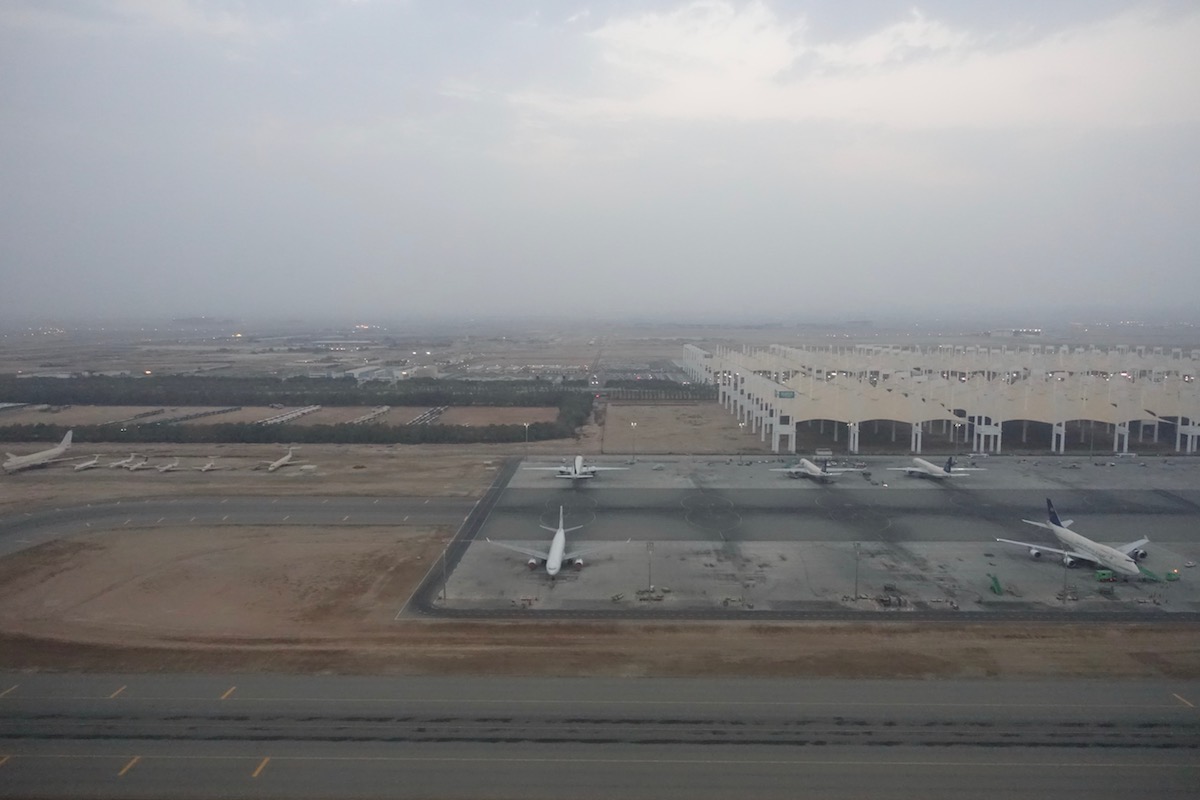 View after takeoff from Jeddah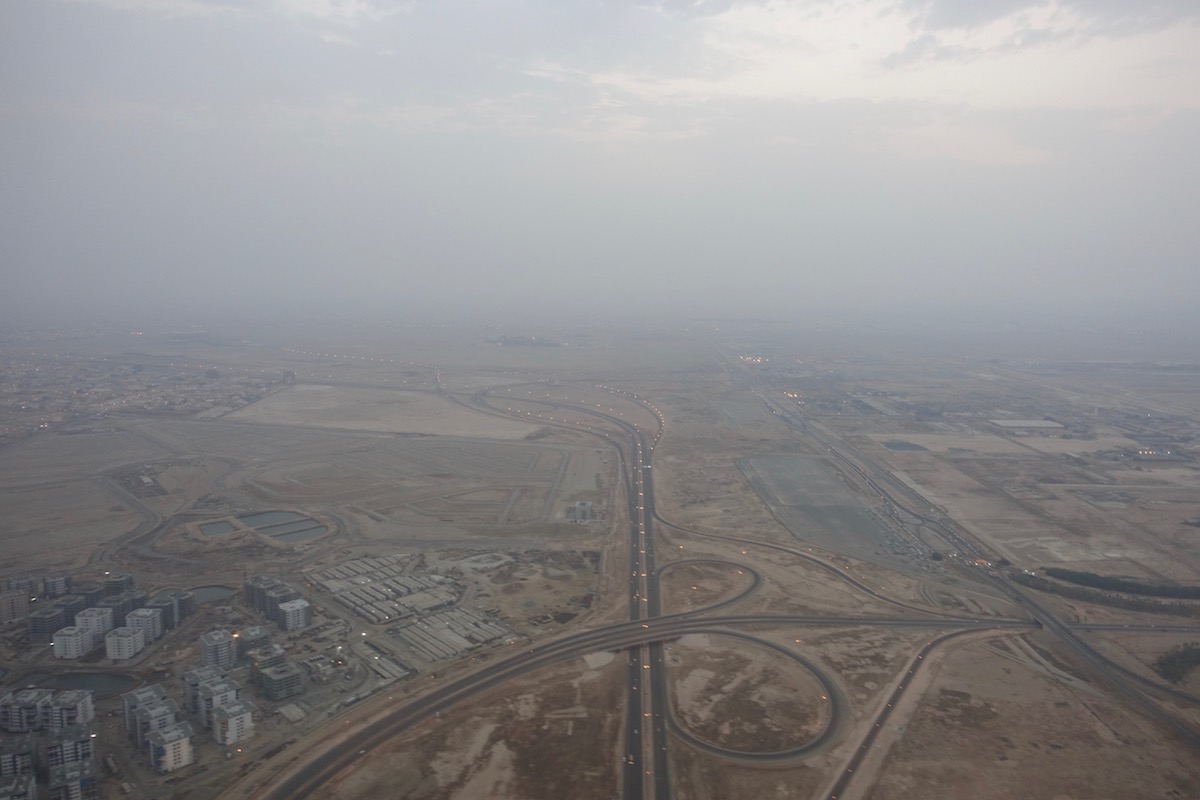 View after takeoff from Jeddah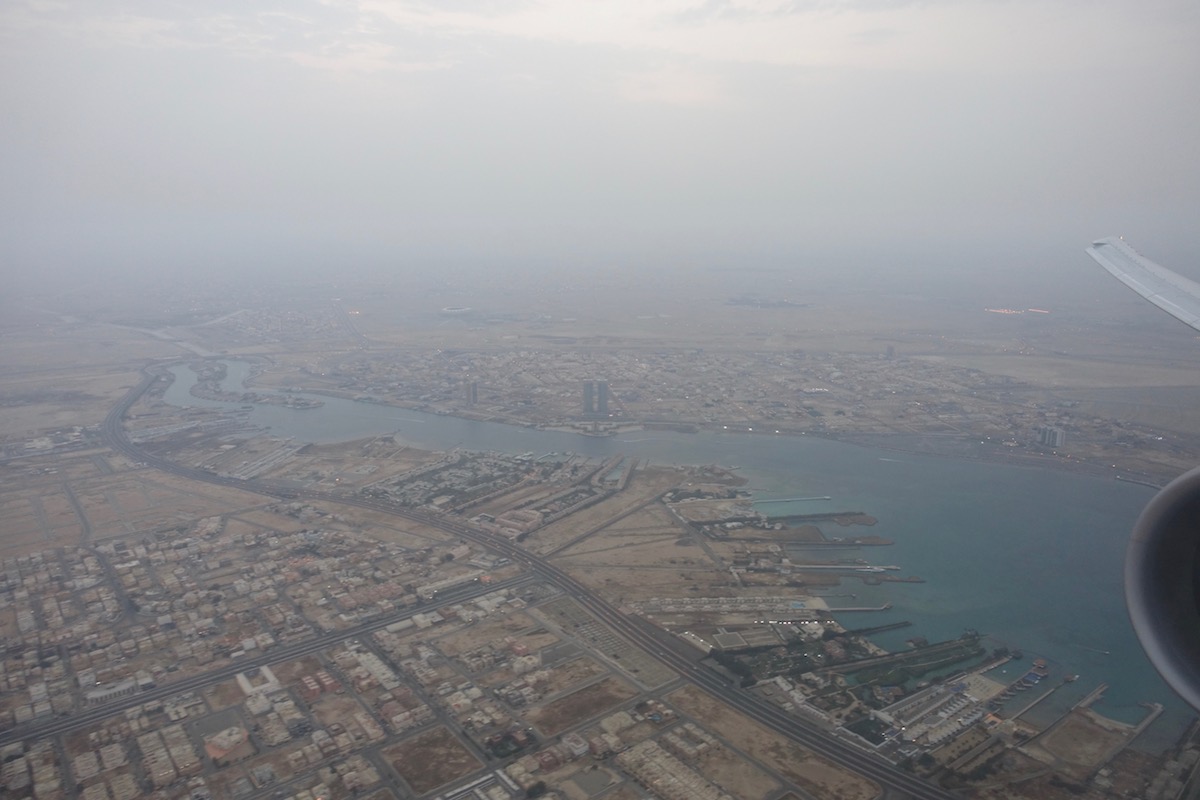 View after takeoff from Jeddah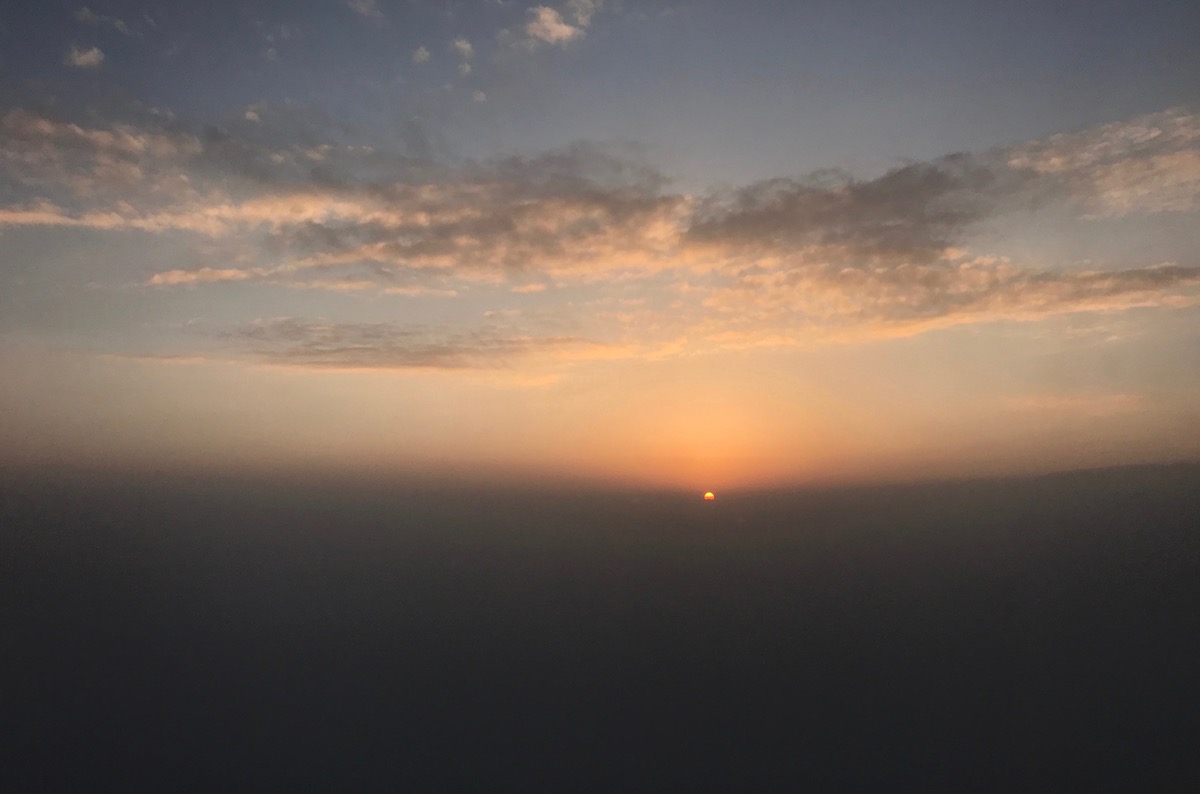 Sunrise enroute to Los Angeles
As we climbed out the crew turned on some bright mood lighting.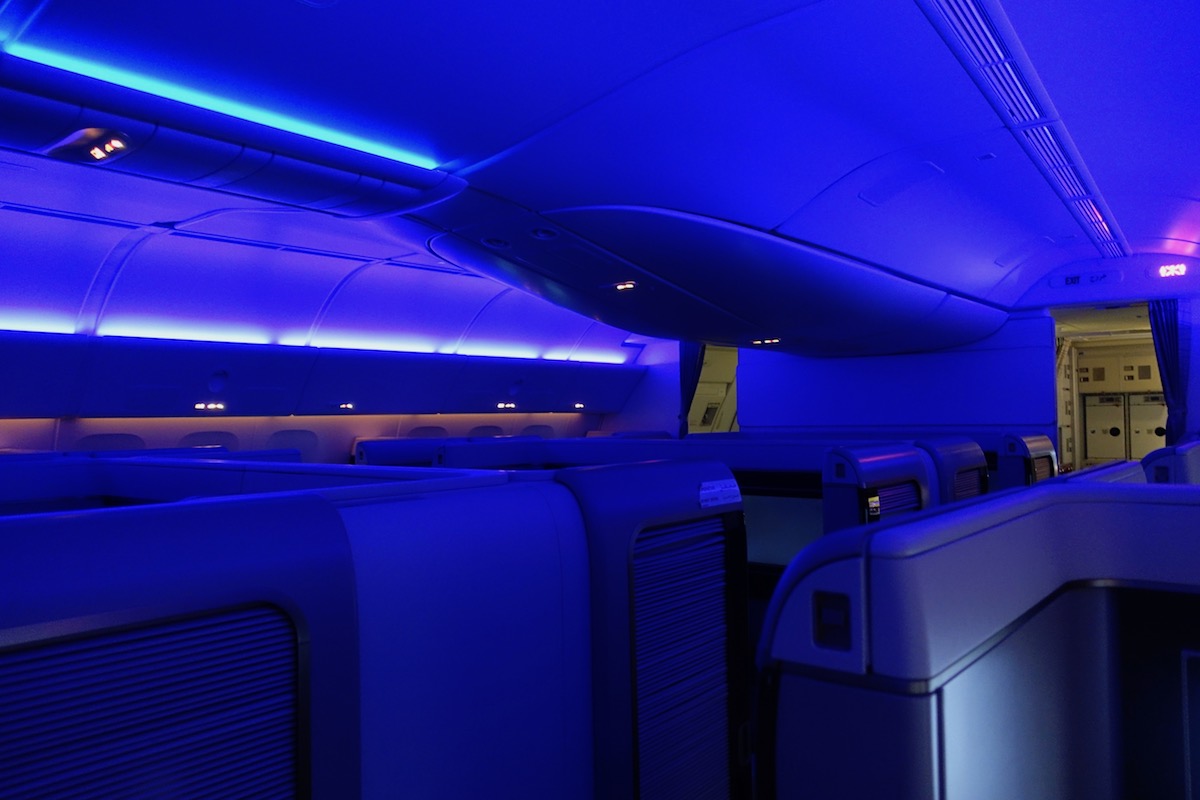 Mood lighting in Saudia first class
I checked out the airshow for our 15hr25min flight to Los Angeles.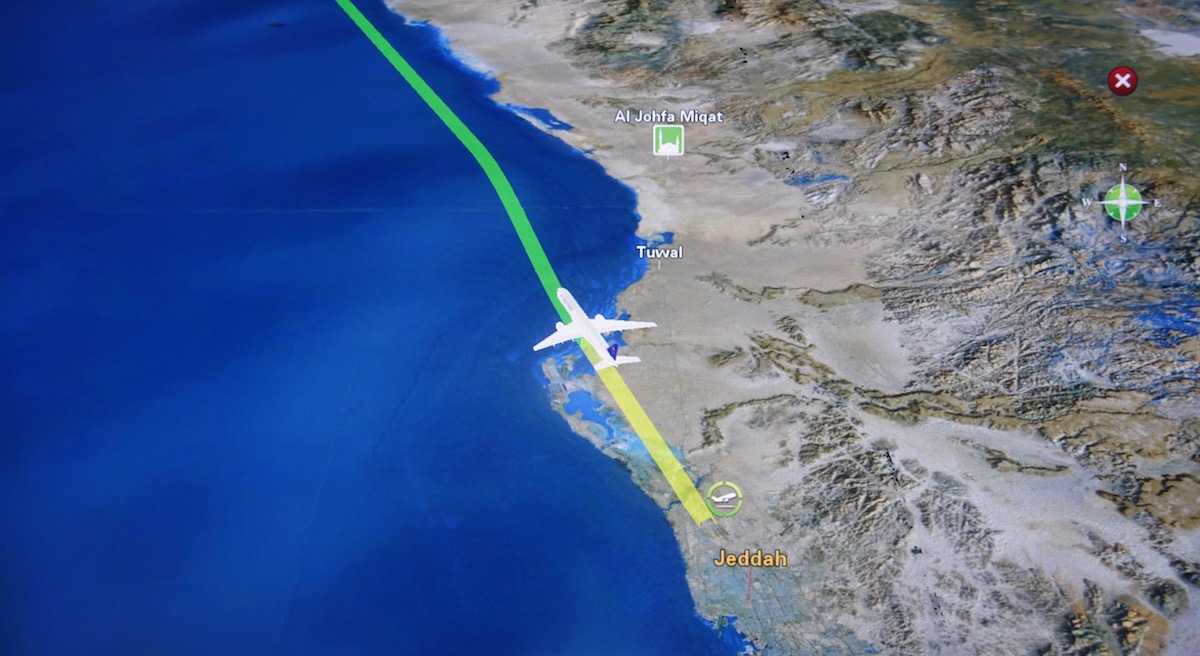 Airshow enroute to Los Angeles

Airshow enroute to Los Angeles
Once we passed through 10,000 feet I connected to the wifi. Saudia emails first class passengers free wifi codes just as boarding starts, which is a nice touch. First class passengers get 1GB of data, which is a ton (and they'd charge 200USD for it). The only issue is that Saudia has among the slowest wifi I've had on any airline, to the point that it's almost unusable. That's such a shame for an otherwise very well rounded product.
About 20 minutes after takeoff the crew came through the cabin with Arabic coffee, dates, and chocolate. The chocolate is an addition over what they offer on the short-haul flights within the Middle East.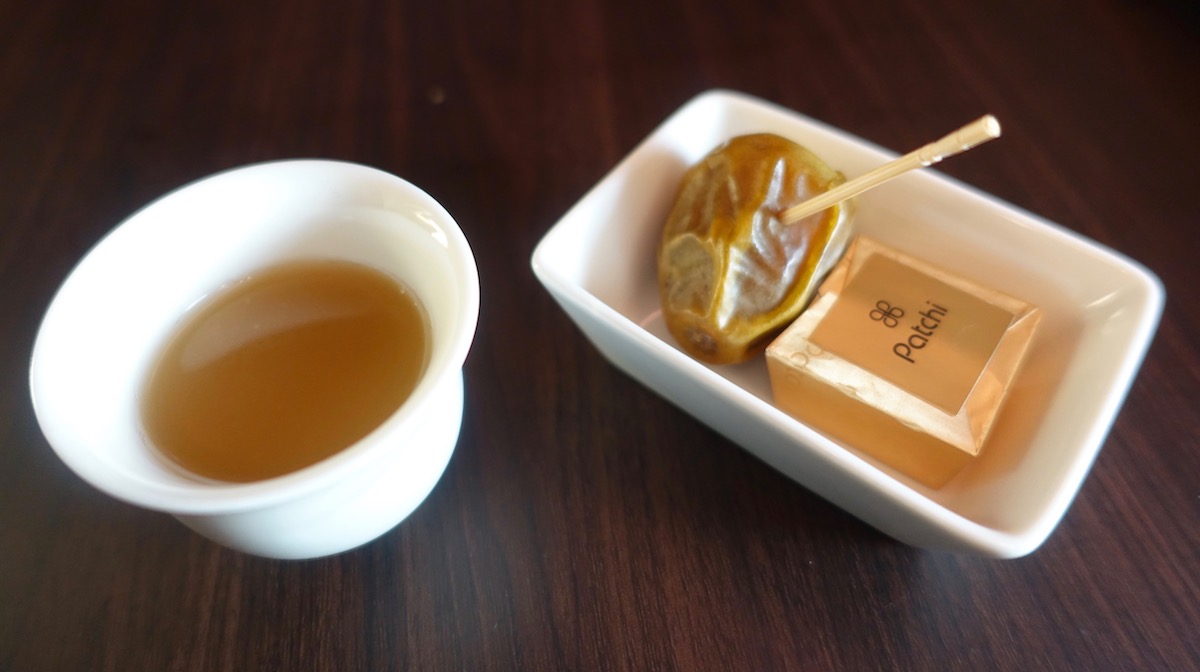 Saudia first class Arabic coffee, date, and chocolate
Originally I couldn't decide between continuing to sleep after takeoff and having breakfast, given that the service is on demand. In the end I decided to have breakfast after takeoff, in hopes of then sleeping for a long stretch of time.
The menu for the entire flight read as follows (as you can see, there's breakfast, dinner, and a snack menu):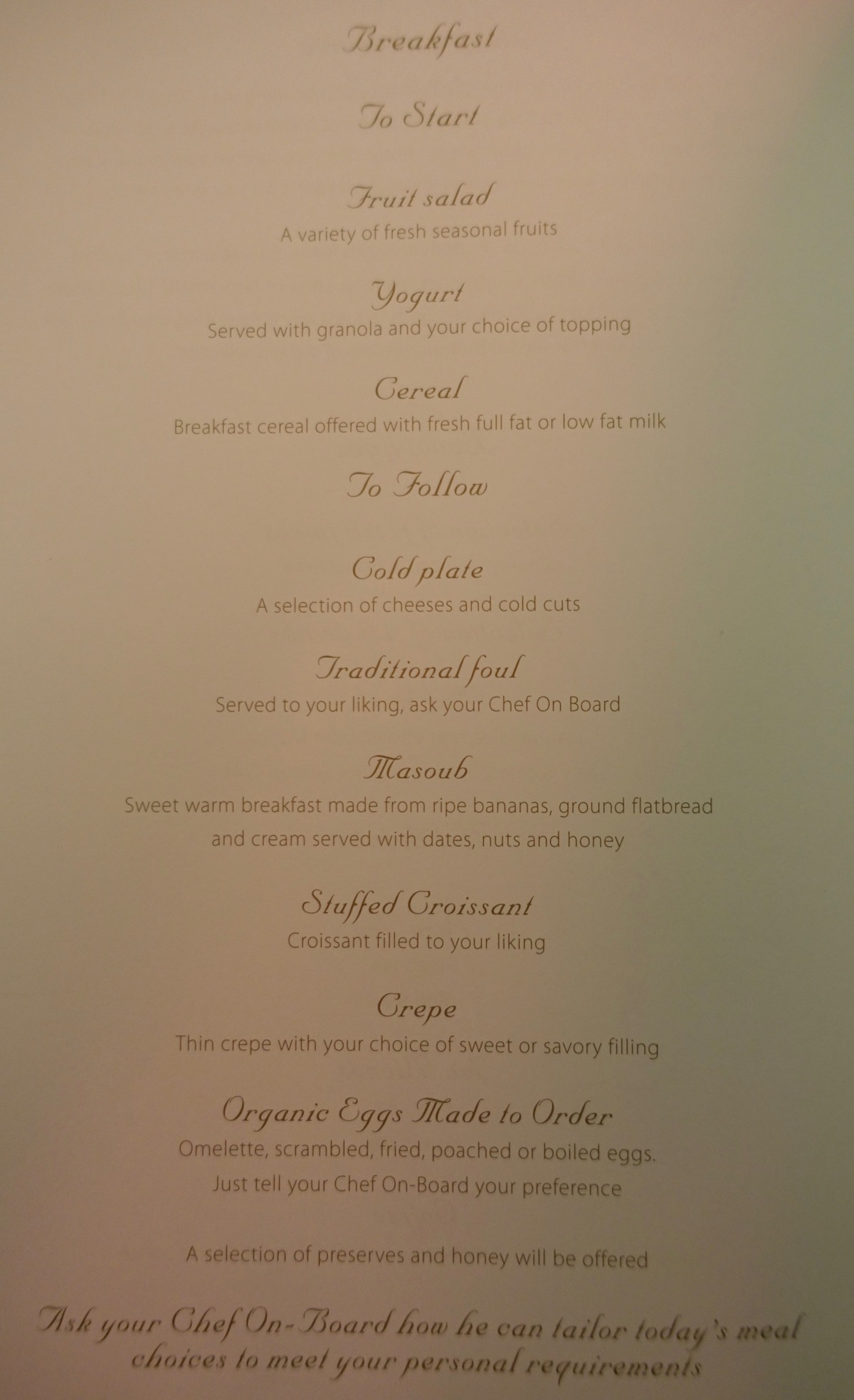 Ashley set my table, first by placing down a tablecloth, breadbasket, and silverware. Then she came out with a large bread selection (I chose a croissant and muffin). Then chef Rahmi brought out the starter I had ordered, consisting of fresh fruit and a peach yogurt parfait (I could customize what flavor I wanted). Yum yum!

Saudia first class breakfast — fruit salad and yogurt parfait
Next I had a crepe with chocolate sauce, per Rahmi's recommendation. It was really good.

Saudia first class breakfast — crepes
Then I had made to order eggs — I ordered well done scrambled eggs, and asked for them to be served with a small salad. It tasted every bit as good as it looked.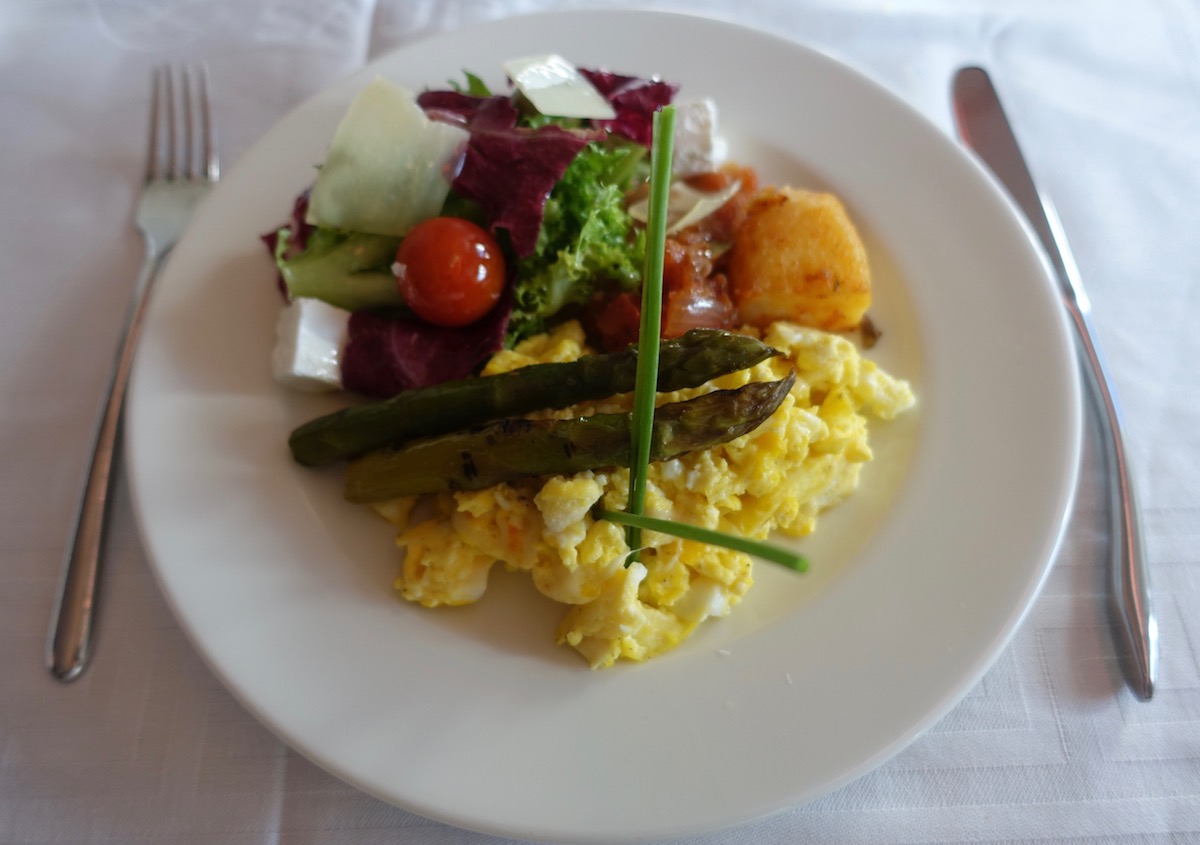 Saudia first class breakfast — eggs cooked to order
To drink I had still water, freshly squeezed orange juice (yes, it was actually freshly squeezed), and coffee.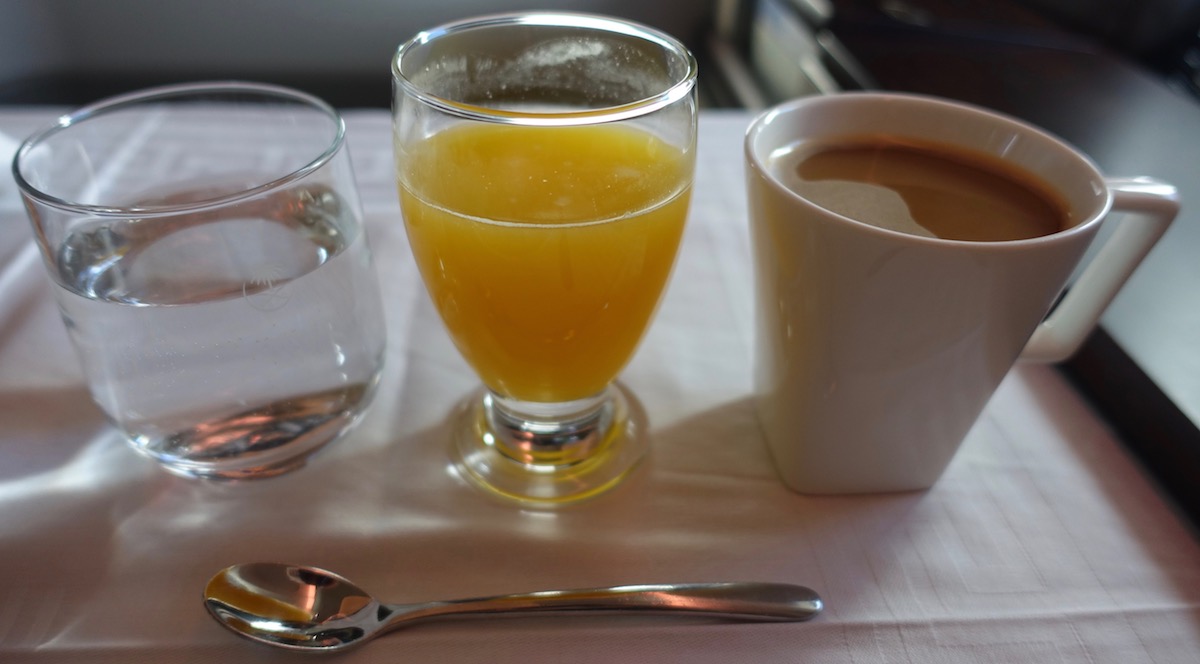 Saudia first class breakfast — water, juice, and coffee
What a phenomenal meal, between the excellent service from Ashley and the excellent preparation from Rahmi.
After breakfast Ashley refreshed my bed, while I visited one of the two lavatories behind the first class cabin, which are reasonably spacious.
I managed to get a bit over five hours of sleep, and by the time I woke up we were over Greenland.
The views over Greenland never get old!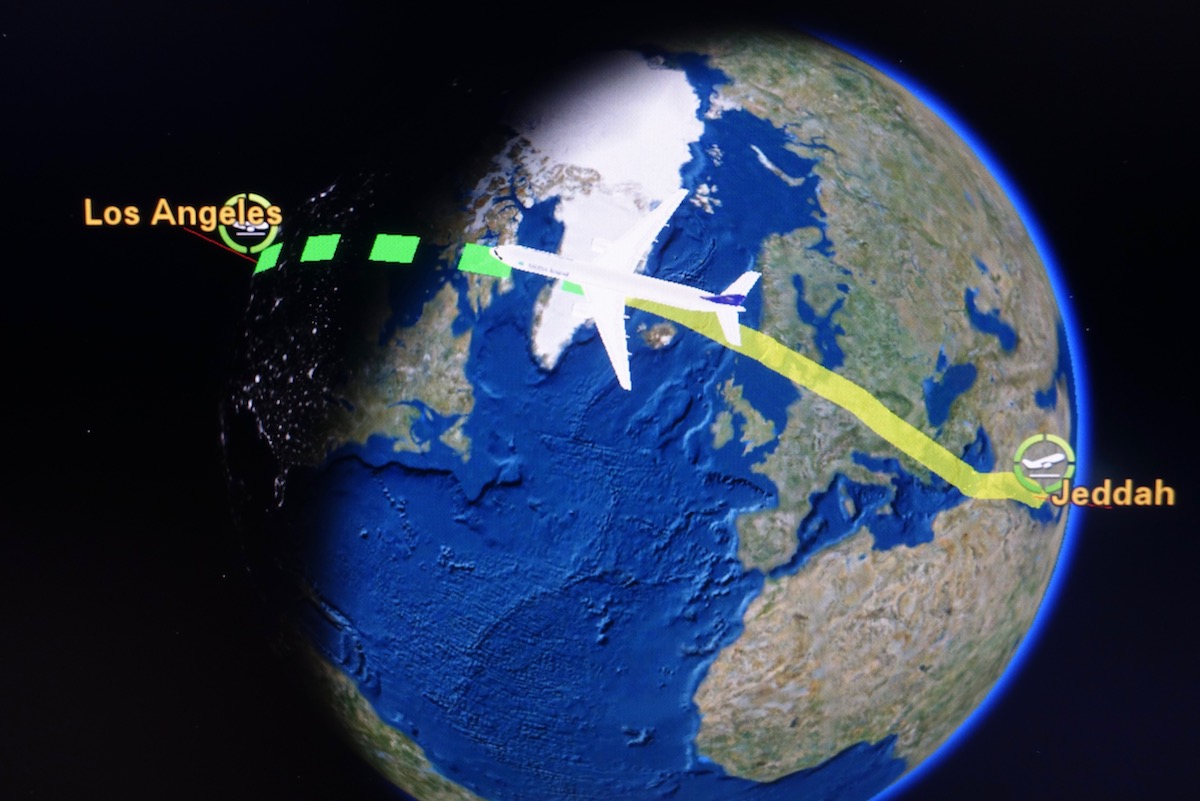 Airshow enroute to Los Angeles
At this point the crew had set up the bar behind first class, between the two lavatories. At the bar was bottled water, juice, fresh fruit, and packaged snacks.
i just grabbed a bottle of water and some mixed fruit juice.

Saudia first class water & mixed fruit juice
I worked for a bit, and about an hour later decided to order a snack. When I asked Ashley about ordering something, she called chef Rahmi, who went over the selection with me. Rahmi's ability to work with the ingredients available to him was impressive, as he proposed so many different options, ranging from salads to sandwiches to pizzas.
In the end I decided to order a pizza. Rahmi told me it would take about 20 minutes, but in the meantime he brought me canapés, consisting of cheese and chicken. Seriously, how damn impressive.
The pizza (really two mini pizzas) had tomatoes, olives, and mozzarella. While they weren't traditional pizzas, they were really good.
Rahmi asked if I wanted anything for dessert, so I ordered some ice cream. He had chocolate, vanilla, and strawberry to choose from, and I chose strawberry. Per his suggestion, I had some melted chocolate with it as well (#healthyliving).
I also ordered a coffee, which was served with some (unnecessary) sweets.
At this point there were about seven hours left in the flight, so I decided to get some work done. I had a bunch of picture editing to catch up on, so given the slow wifi speeds, I spent several hours doing that. Ashley kept checking on me to see if I needed anything. I couldn't believe how hardworking the crew was, as neither Ashley nor Rahmi rested the entire time I was awake.
I then decided to take a break and watch the movie "Table 19." Saudia heavily edits their movies, so even though this movie wasn't violent or sexual, it was edited to no end.
Before I knew it we were 2hr30min from landing, at which point the cabin lights were turned up for the dinner service.

Airshow enroute to Los Angeles
Service began with mixed nuts and a mango smoothie.

Saudia first class dinner — smoothie and mixed nuts
Rahmi took it upon himself to prepare canapés for the cabin, including some with caviar.

Saudia first class dinner — canapés
Around the same time my table was set, and I was offered a selection of bread from a large basket. I also ordered a mojito mocktail.

Saudia first class dinner — table setting

Saudia first class dinner — breadbasket
Course number one consisted of a flavorful roasted potato and leek soup. Yum.

Saudia first class dinner — roasted potato and leek soup
Next up was the caviar course, which was presented beautifully, and even came with a mother of pearl spoon.

Saudia first class dinner — caviar

Saudia first class dinner — caviar
Next up was the appetizer, consisting of smoked salmon and shrimp.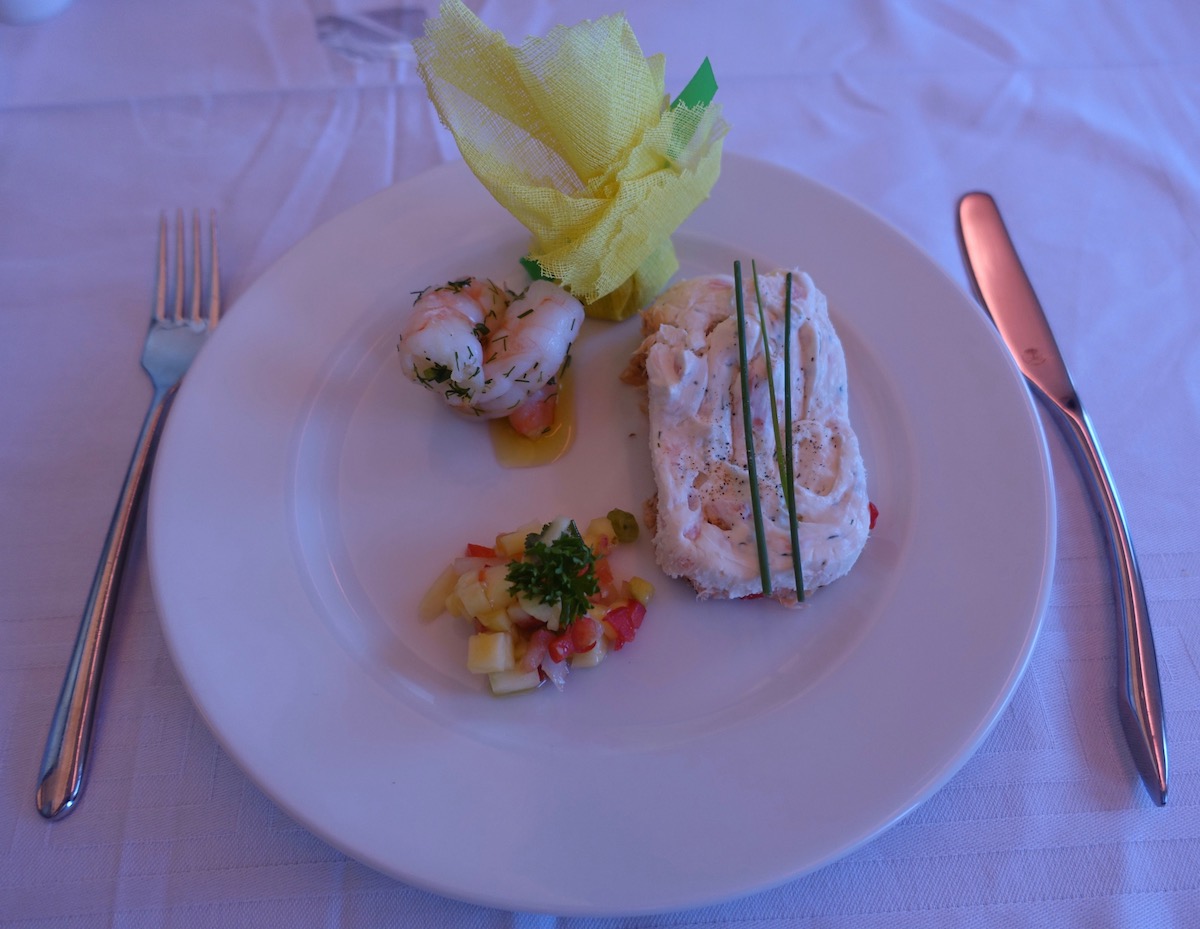 Saudia first class dinner — western appetizer
For the main course I ordered the lobster thermidor, which could be served with whatever side I wanted. I chose tagliatelle and vegetables. Again, yum.

Saudia first class dinner — lobster thermidor
And lastly came dessert, which was as tasty as it was beautiful.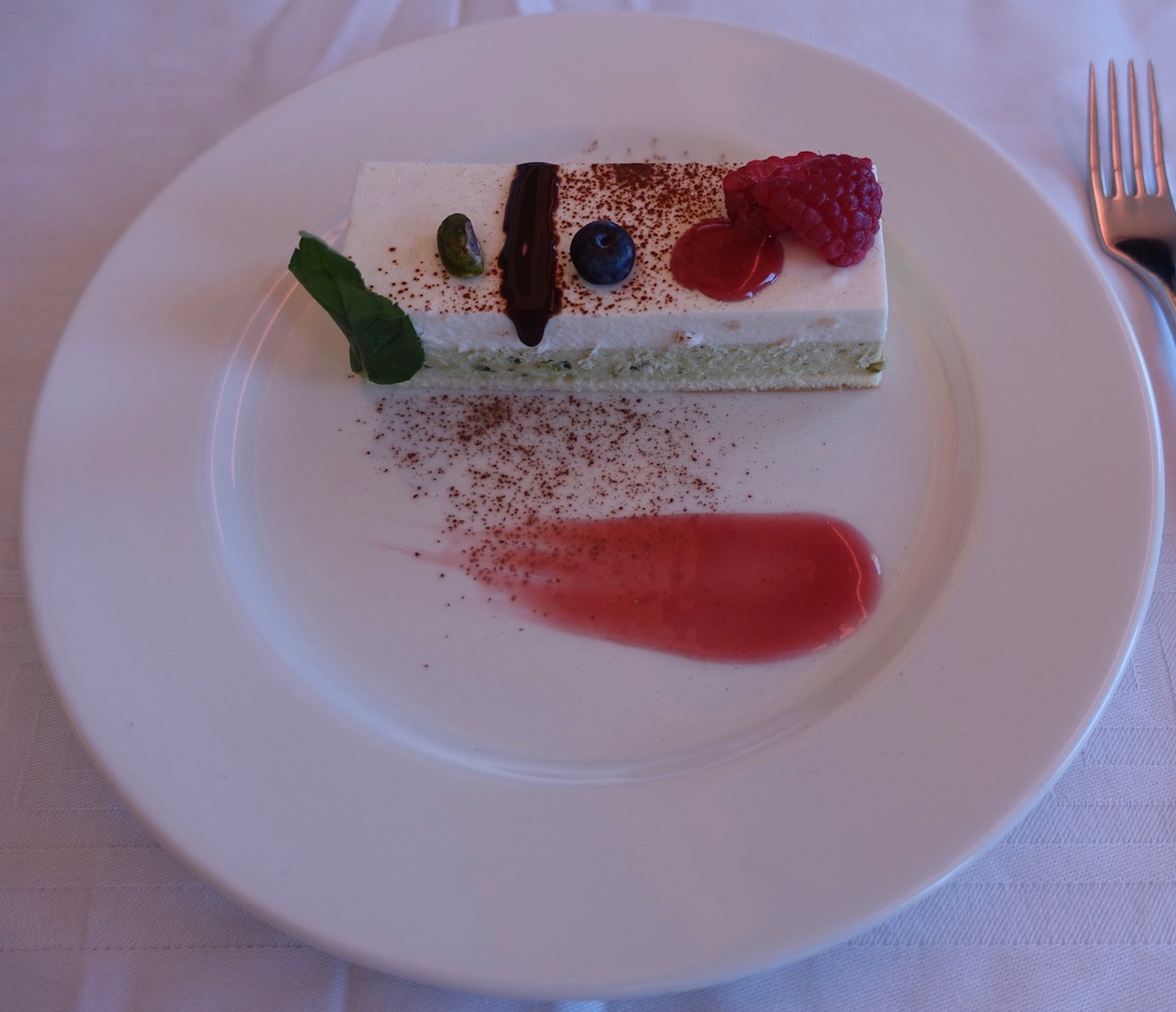 Saudia first class dinner — pistachio and cherry cake
I can't rave enough about the meal service on this flight — the crew and food were both unbeatable. Saudia is a dry airline, so the only potential downside is that you won't get to enjoy a good glass of wine with your meal.
I spent the rest of the flight working and enjoying the views.
At around 11AM PT we began our descent into Los Angeles. Around that time chef Rahmi came by to ask how the service on the flight was. A few minutes later the supervisor, Ramzi, came around as well. He was a nice guy, but also hands off, as I saw him maybe a few times during the flight.
As we descended a video was screened highlighting the arrivals process at LAX.
As we approached LAX we flew over the Pacific, then turned left, and then circled back around to land on the northernmost runway.
I watched our approach on the nose camera, and at 11:25AM we touched down on runway 24R. Interestingly I heard a lot of clapping from economy as we touched down.
We had about a 15 minute taxi on arrival, as we first had to cross the parallel runway and then had to taxi to the south side of the field, before finally approaching Tom Bradley International Terminal.
As we taxied in, we passed Asiana and Korean Air A380s.
We pulled into our gate about 40 minutes behind schedule. While it was a great flight, I was oh-so-happy to be on the ground.
Saudia First Suite bottom line
On one hand, this was a really, really, really long journey. I've never consecutively spent this much time on a plane. The length of the flight as such wasn't a huge issue, but between the middle of the night departure (with no sleep the prior day) and having to stay on the plane in Jeddah, it was an exhausting journey, even in first class.
Everything else about the journey impressed me, though. Ashley was kind, sincere, attentive, and polished. Chef Rahmi was creative, hardworking, genuinely nice, and eager to please. Together they were a winning team. Rahmi could teach the chefs I've had on some other airlines a lesson or two.
What an all around awesome flight. My only real complaint about the product is that the wifi is excruciatingly slow, which is a real shame.