In late 2019, South African Airways (SAA) entered business rescue, as the airline had been losing money for years (and that's not even accounting for the impacts of the pandemic). In 2020, the airline cut all flights and got rid of most of its aircraft. However, in 2021 the airline emerged from business rescue, though only as a shell of its former self.
Ever since, the airline has slowly been resuming its regional route network, with just a handful of planes. The South African flag carrier is now preparing to launch long haul flights. Will they be more sustainable this time around?
SAA will fly from Cape Town & Johannesburg to Sao Paulo
South African Airways has announced its first intercontinental route in years, which will be launching later this year. As of late 2023, SAA will fly from both Cape Town (CPT) and Johannesburg (JNB) to Sao Paulo (GRU). The airline will operate a total of four weekly flights to Brazil.
As of October 31, 2023, SAA will fly 2x weekly from Cape Town to Sao Paulo, with the following schedule on Tuesdays and Saturdays:
SA226 Cape Town to Sao Paulo departing 12:55PM arriving 4:35PM
SA227 Sao Paulo to Cape Town departing 6:05PM arriving 6:40AM (+1 day)
The 3,953-mile route is blocked at 8hr40min westbound and 7hr35min eastbound.
As of November 7, 2023, SAA will fly 2x weekly from Johannesburg to Sao Paulo, with the following schedule on Mondays and Thursdays:
SA222 Johannesburg to Sao Paulo departing 11:20AM arriving 4:15PM
SA223 Sao Paulo to Johannesburg departing 5:45PM arriving 7:45AM (+1 day)
The 4,631-mile route is blocked at 9hr55min westbound and 9hr eastbound.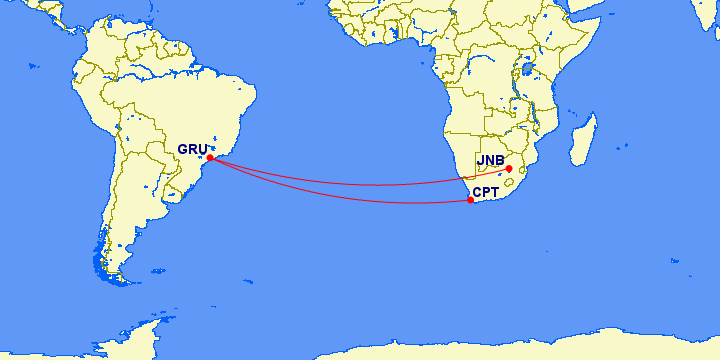 South African Airways will use an Airbus A340-300 for these routes. The airline has one of these planes, and it's an 18-year-old jet that has been flying for SAA since 2007. The plane features 253 seats, including 38 business class seats and 215 economy class seats.
Here's how SAA Interim CEO John Lamola describes this new route:
"We are overjoyed to announce São Paulo as our first international destination since the airline successfully emerged from an intensive Business Rescue process and Covid-19 lockdown. It also marks our return of our long-haul service out of Cape Town. The Teams at SAA are working hard behind the scenes to gear our operations for this much anticipated route launch to South America."

"Our decision to begin the relaunch of our long-haul service with São Paulo was taken based on a rigorous analysis of the viability of the route. Sustainability has been at the heart of SAA's approach since our restart."
This seems like a surprisingly smart route
South African Airways faces quite an uphill battle with resuming long haul flights. The airline has a much smaller route network than before, meaning the carrier will have to rely a lot more on point-to-point traffic, rather than connecting traffic.
That being said, this seems like a smart route for the airline to launch, and shows a clear focus on profits over prestige:
This is just about the shortest intercontinental route the airline could launch, so the economics will be a lot better than a Johannesburg to New York route, for example
It's nice to see SAA launching long haul flights out of Cape Town rather than just Johannesburg; I understand Johannesburg is the business center of South Africa, but there's huge tourist demand to Cape Town, including for many premium travelers
On service to Europe and North America, SAA faced so much competition, since you could just as easily fly a Gulf or European carrier; focusing on Southern South America is much smarter, since there's not nearly as much competition, as you won't fly from Sao Paulo to Dubai to Cape Town, for example
I wish SAA all the best with its resumed long haul service. I'm not sure twice weekly service in two markets with a gas guzzling plane and limited connectivity is a guaranteed recipe for success, but I'd say this is as good of a shot as the airline has.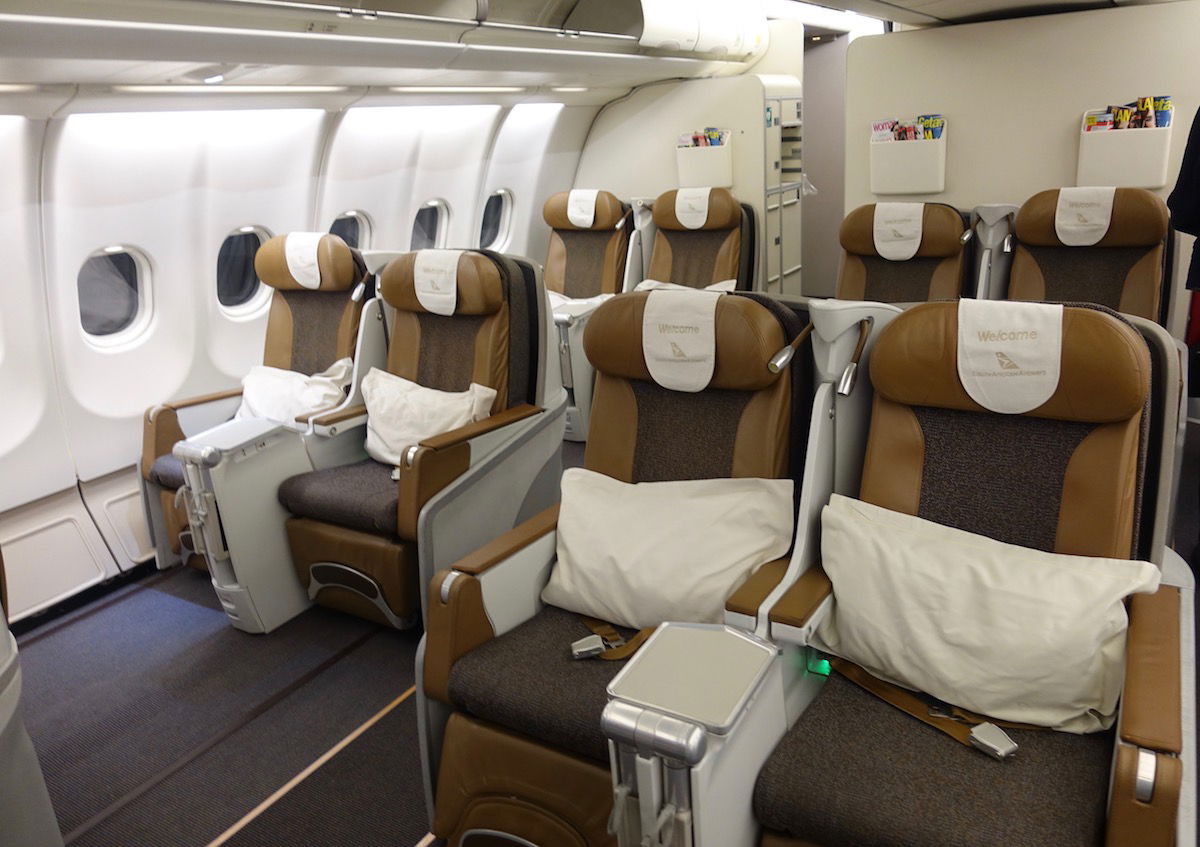 Bottom line
The "new" South African Airways is resuming intercontinental flights, as the airline will fly from both Cape Town and Johannesburg to Sao Paulo. This is an exciting milestone for the carrier, as it will be the first long haul service since the company emerged from business rescue.
I'm curious to see how this service performs, and am impressed by the clear discipline that went into picking this route.
What do you make of SAA resuming intercontinental flights?