---
Disclaimer: As I mentioned in the introduction post, British Airways comped me this flight. They asked for my honest feedback on the product, which is exactly what I'll provide. I wouldn't be doing anyone a favor by giving inaccurate remarks, since I hope my positive comments can reinforce what they are doing well and that my constructive criticism can convince them to improve in some areas.
While part of the lure of this flight is being able to check-in up until 15 minutes before departure, I decided to show up early to observe at what time other passengers actually show up (in other words, do most passengers take advantage of the benefit of being able to check-in up until close to departure, a huge time saver). So I got to London City Airport via the DLR at around 10:45AM. In fairness I thought the flight was actually at noon, but as it turned out it was at 12:30PM. Yeah, I'm so dumb that I didn't even look at the e-ticket before leaving InterContinental hotel. Oh well, no biggie.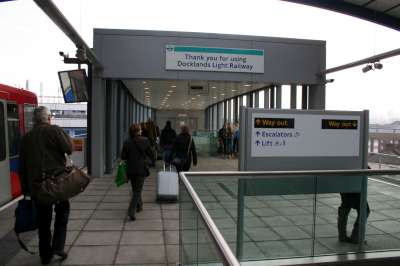 London City Airport DLR station
London City Airport is absolutely tiny. The check-in counters you see in the picture below are all the counters they have. There were a couple of dedicated "Club World London City" counters, where there was no wait.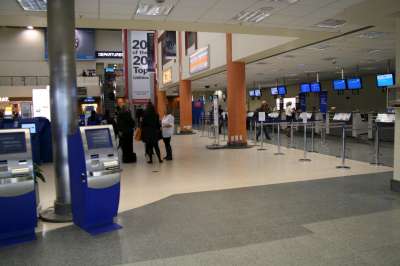 London City Airport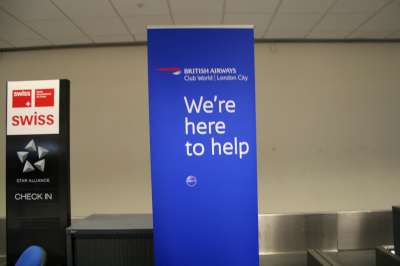 Club World London City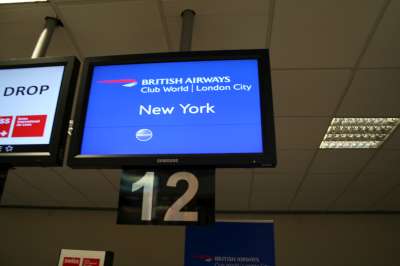 Ah, New York!
Check-in was speedy and the agent was friendly. I was originally assigned a seat in row six, but asked whether there were any rows that were unoccupied as of now. She said seats 4J and 4K were unoccupied, so I decided to go with 4K, hoping the seat next to me would stay open. The agent indicated that we would be departing from gate 24 and that the gate lounge opens at around 11:05AM.
Once I was checked in I proceeded up the escalator towards security. There were two queues — one for New York and one for everyone else. The service felt almost like the Lufthansa First Class Terminal in Frankfurt for a moment. I got up to the "New York" line, where my boarding pass was checked and I was greeted by a British Airways representative that tried to make small talk.
There was a full set of security personnel working the line, despite it being just me they were screening. The whole security process took maybe a minute, and couldn't have been friendlier or more efficient.
The airside terminal is quite interesting. It's filled with restaurants and shops and leather chairs in the center area, but that's about it. There's also free Wi-Fi throughout the terminal, which is great.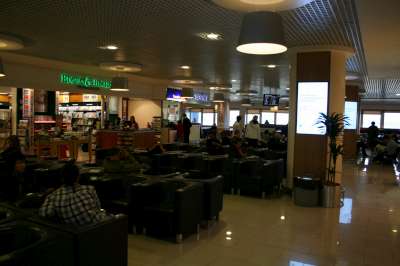 London City Airport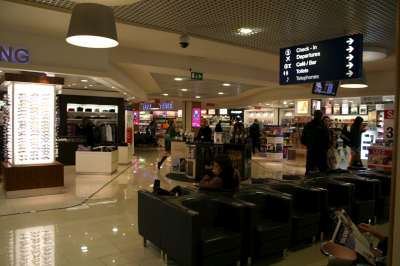 Shops
If you stay to the right of the terminal there's a hallway which leads to gates 21-24.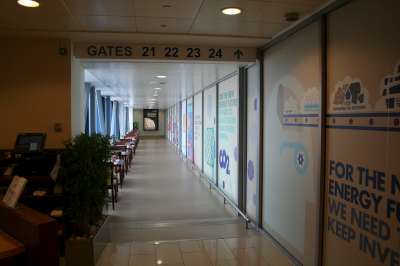 Off to gate 24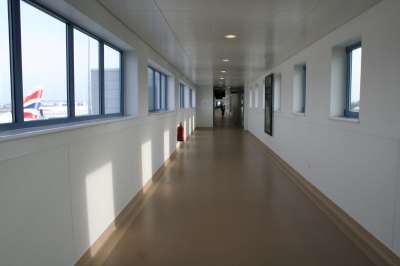 Hallway to gate 24…. notice the A318 out the window
Near gate 24 was a "Club World London City" sign and several agents standing around. I realized the lounge wasn't open yet, but they told me to come back in about ten minutes. I walked around a bit (although there's not much to do in the terminal), and mostly observed the two Club World London City A318's that were parked and ready for New York.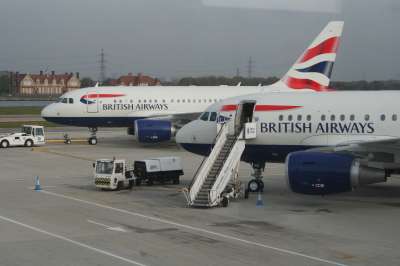 Speedbird 001 & Speedbird 003
As I stood near the window I saw our crew walking towards the plane. One of the flight attendants even snapped a picture of the plane, so you know it's a special flight! I've gotta give it to 'em, British Airways has some of the most sophisticated uniforms.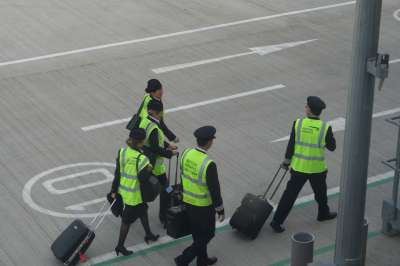 Our crew
After about ten minutes I went back to gate 24, and this time around there were different agents. They indicated the lounge only opened in 15 minutes, at around 11:30AM. Hmmm. The misinformation from the earlier agents is rather frustrating, especially since there's no other lounge option. I realize it's only a gate area, but I think it would be nice if they opened the gate area a bit earlier, since I wasn't the only passenger waiting.
After waiting until almost 11:30AM I went back to the gate. I didn't realize those were actually security "agents," as they closely inspected all my travel documents, gave me a full pat down, and meticulously searched my carry-on bags (as they did with everyone). I was then directed down the stairs to the gate lounge.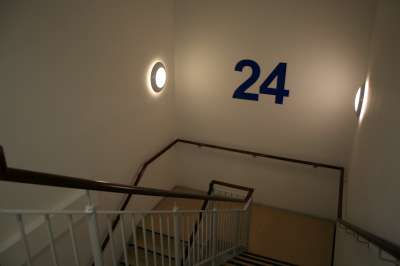 Gate 24
At the entrance to the gate lounge were two British Airways agent that checked my passport and scanned my boarding pass. The gate lounge is rather decent given that no one is spending more than half an hour there. There are exactly 32 seats (so it's a tight fit with a full flight) and there's a bar area with a limited selection of drinks and snacks.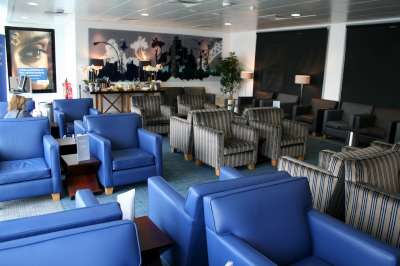 Lounge at gate 24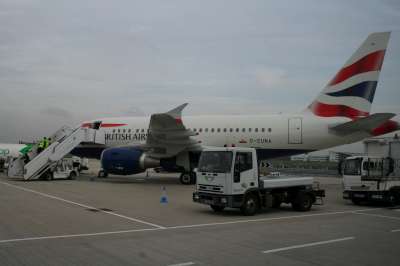 View of our bird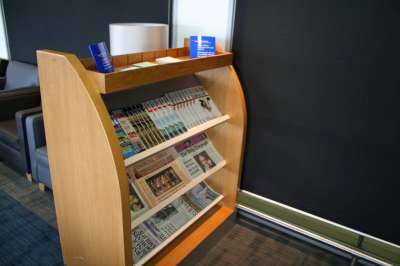 Variety of international newspapers and magazines
The snack selection consisted of cookies, chips, peanuts, fruit, etc., and the drinks were limited to champagne, red wine, juice, coffee, and water (sparkling and still).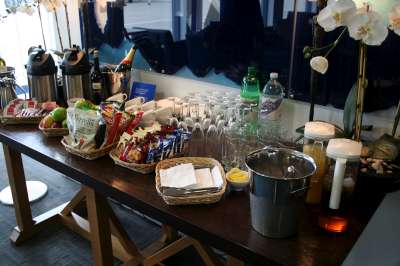 Bar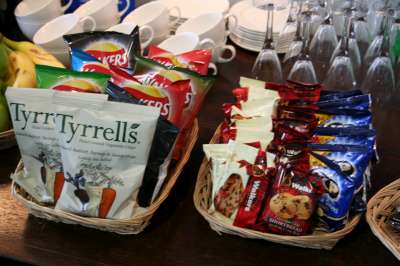 Snacks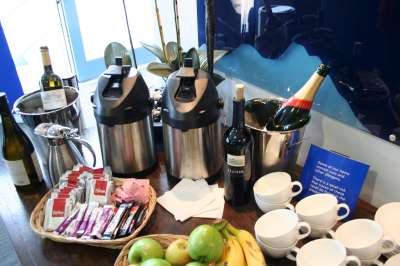 Drinks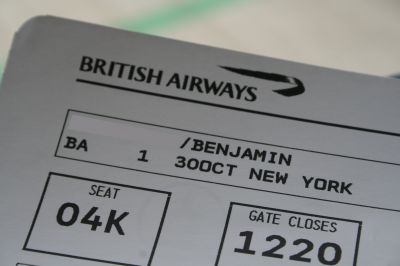 Ah, BA001!
Shortly after noon boarding was announced and we were directed towards the door.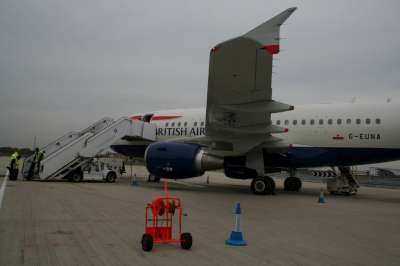 Here we go!
British Airways 001, LCY-JFK, A318
Friday, October 30
Depart: 12:30PM
Arrive: 6:15PM
Duration: 9hr45min
Seat 4K (Club World)
The purser, Sandra, was standing at the door checking boarding passes and directed me towards my seat in row four.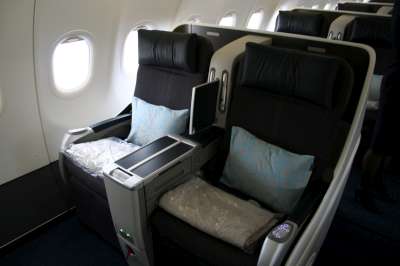 Row four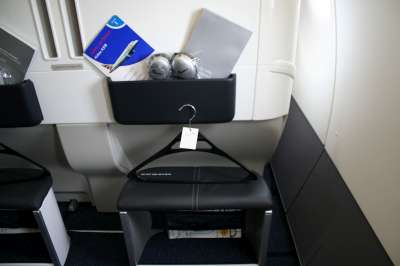 Legroom 4K
The load today was 26/32, so much fuller than the outbound, but boarding was still quick and efficient. Within about ten minutes everyone was aboard and the captain made a welcome announcement, proudly exclaiming our callsign, "Speedbird 001." He mentioned that our flight time to Shannon would be around an hour, and that there would be a change of pilots there. For those of you not familiar with this new service, the plane refuels in Shannon which would usually be an inconvenience, but they also have a US Customs & Immigration pre-clearance facility, which means you land at JFK as a domestic passenger. Stay tuned for the analysis of that.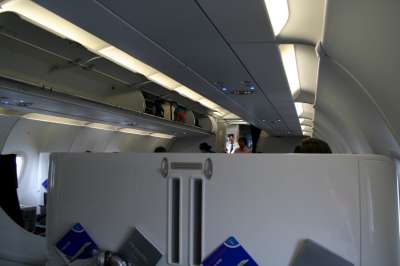 Cabin just before departure
At around 12:25PM the door closed, and shortly thereafter the safety demonstration began. Given that London City Airport is so small, we were taxiing on the runway before the safety demonstration finished. We then took off on runway 09.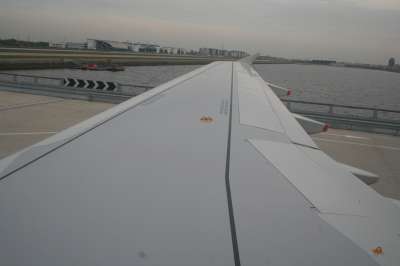 Here is a video of the takeoff:
The takeoff out of London City Airport is quite fun, even more so than SNA, for those that have flown out of there. Not only is there a short runway, but there's a very steep initial climb. Fun!
About five minutes after takeoff the fasten seatbelt sign was turned off and the purser distributed the menus, while one of the other flight attendants distributed immigration forms.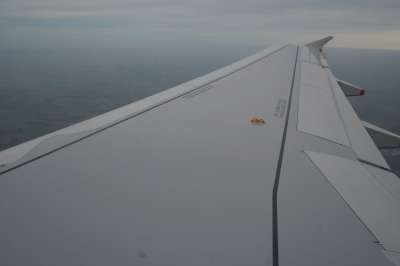 View on climb out
The menu read as follows:
Welcome aboard this Club World
London City service to New York.

British Airways is proud to be working
in collaboration with Roast to design
and develop your onboard menu today.

Roast is a popular restaurant drawing on
the best of Britain's seasonal produce and
cooking traditions set in a landmark building
in London's oldest surviving food market,
Borough Market, just by London Bridge.

We have created a dynamic food development
team combining the years of inflight catering
experience of British Airways with Roast's
head cook, Lawrence Keogh.

As a British airline passionate about food,
we are delighted to embrace Roast's food
development philosophy. Using British
ingredients wherever we can, placing
emphasis on the sourcing and provenance
of products, we intend to explore dishes
and recipes that also highlight seasonality.

From succulent spit roasts and deeply
flavored puddings cooked over days,
to organically grown salad leaves that have
real taste, British cooking can rightly take
its place on the international stage.

We have the great pleasure of taking this
philosophy and bringing it to life for you
to enjoy onboard today.

All paper used for menu production is made
from an environmentally friendly source
from sustainable forests.

London City – Shannon

Shortly after take off, we will be serving
you an appetiser and drink service on
our short journey to Shannon.

Appetiser

Welsh Carmarthen ham with Cox's
apple potato salad with pea shoot

Shannon – New York

Shortly after take off, whilst we prepare
your lunch order, we will be offering you
a selection of drinks from the bar to
enjoy with your meal.

Lunch

Dedham Vale Farm fillet of beef with
Scottish girolles and Madeira sauce

British corn-fed chicken
cooked in a Somerset cider sauce

Grilled sea bass served with
a roasted fennel and caper dressing

Penne pasta in a courgette
and aubergine tomato sauce
with chestnut mushrooms
and Berkswell cheese

Inverawe smoked salmon and prawns
with new potato and horseradish salad

We apologise if your first choice is not available.
For allergen information, please ask your crew for more details.

Dessert and Liqueurs

We will be pleased to offer you
a liqueur to savour with your chosen
dessert option.

Eton mess

Cornish Yarg and Cropwell Bishop
Stilton with Bath Oliver and Orkney
oat biscuits

Working Lunch

If you prefer to eat later whilst you
finish off some work, we will be
happy to serve you a main meal salad
together with your choice of dessert
from the lunch menu.

Inverawe smoked salmon and prawns
with new potato and horseradish salad

Club Kitchen

After lunch, please help yourself
to a selection of tasty treats including
crisps, chocolates and biscuits
available in the forward galley area
for you to choose from.

Drinks are available throughout
the flight.

Afternoon Tea

We will be serving a traditional
British afternoon tea service
approximately 1 hour and 30 minutes
before our arrival into New York.

Sandwich Selection

Roast beef with horseradish cream
and beetroot chutney

Smoked salmon with cream cheese

Mature English farmhouse Cheddar
with tomato

or

Laverstoke Park Buffalo Mozzarella
with roasted figs and Port reduction

A selection of plain and sultana
scones served warm with English
preserves and Cornish clotted cream

Afternoon Tea cake selection
of coffee éclair and lemon tart

Drinks

Tea, ground coffee
or decaffeinated coffee

Selection of herbal teas
includes green tea with jasmine,
peppermint, blackcurrant
and camomile with honey
And here is the wine list:
Wines

Please ask your crew to advise you of the choices
available on today's service.

Champagne Cocktail
Kir Royale
Crème de Cassis gives this cocktail its distinctive taste
Buck's Fizz
Crisp, dry Champagne and naturally sweet orange juice

Champagne
Heidsieck Monopole Blue Top
Generous nose, with toasty and buttery aromas
Ayala Brut Majeur NV Champagne
Elegant and lively, with delicate fresh and fruity notes

White
Terra do Gargalo 2007 Monterrei
Intensely flavored with lemon, lime and apple
Marmesa Vineyards Chardonnay 2006, Edna Valley
Appetising and dry, with an aroma of white peaches
Château de Rully 2007, Rully
Lemony, smoky and taut
Arboleda Coastal Sauvignon Blanc 2008
A super-refreshing dry white

Red
Montes Alpha Syrah 2006
Flavours of spice and blackberries, rounded off
by soft, silky oak tannins
Château Bournac 2005
Pretty and succulent, from an outstanding vintage
La Haute Marone 2007, Gigondas
Essence of spicy Grenache, intense and full-bodied
J. Lohr, Los Osos Merlot 2006, Paso Robles
Scented, rich blend from California's Central Coast

A selection of traditional and modern drinks
to suit all tastes

There will be a complimentary bar available
serving alcoholic beverages and soft drinks.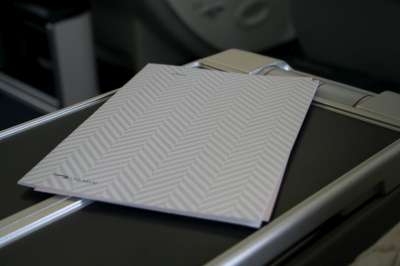 Menu
So as you can see they just serve drinks and an appetizer on this short flight. The service was rather slow to begin with, as the two flight attendants began to wheel the beverage cart through the cabin, which was quickly followed by the purser, who had the appetizers. The flight attendants were all friendly and professional, although not quite of the caliber of the outbound crew. More to come on that later.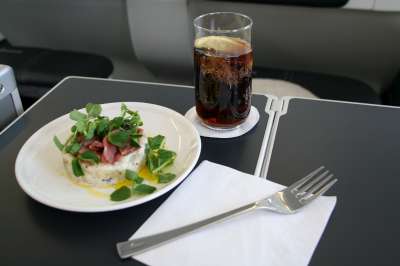 Welsh Carmarthen ham with Cox's apple potato salad with pea shoot
Before the whole cabin was served we began our (long) initial descent. It was rather bumpy, and about 20 minutes out the captain turned on the seatbelt sign and told us we were going to be 30 minutes early into Shannon. Not sure how we can be 30 minutes early on such a predictably short flight….
The landscape looked beautiful as we approached and I kind of wanted to get off and spend a day or two in Shannon.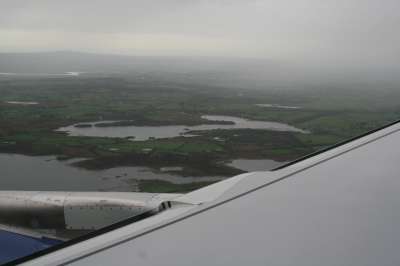 Approaching Shannon
It was raining as we made a smooth landing, at which point the flight attendants explained the arrivals procedure. They explained we would have to take all our carry-on bags with us, clear customs, and then would wait in the lounge area until boarding starts. We pulled up next to an Aer Lingus A330.
I was among the first dozen people off the plane and proceeded down a series of long halls containing dozens of banners proudly exclaiming that Shannon has the first US Customs & Immigration pre-clearance facility. Good for them. I was kind of excited to see how it all worked.
Before entering the queue for C&I there was an agent at the door asking anyone with a checked bag to take a seat in the nice waiting area they had set up. Fortunately I didn't have any checked bags, so I ended up being the first to the immigration desks.
Ah, talk about choices! There were several agents without anything to do, and I carefully made my selection. I went with the first counter where I immediately recognized the agent. She was the same lady that appears in the CNN Business Traveller episode where Richard Quest takes this flight, as she welcomes him to the United States.
I'm pretty sure I made her day (and mine) when I walked up to her and said "you're famous, you were on CNN Business Traveller." Her face lit up as she began to chuckle. What followed was the most pleasant conversation I've ever had with any immigration officer. Because there were hardly any other people we talked for a good five minutes and discussed how they filmed that show, how nice of a guy Richard Quest is, and how the new pre-clearance immigration was so awesome.
The agents are all American, although this one had a common Irish last name. She mentioned that she was from New York and has lived in Shannon for years and loves it. While the stopover in Shannon is theoretically inconvenient, this agent actually made the stopover fun! No rude US immigration officers, no lines, and no interrogations!
Just past immigration was a small sterile area with a seating area blocked off for Club World London City passengers. There was a tiny duty free shop, but not a whole lot else. There were several British Airways agents standing around to advise us that we would be boarding in about 15 minutes. There is free Wi-Fi at the airport, so it was great to be able to check my email while "crossing" the Atlantic.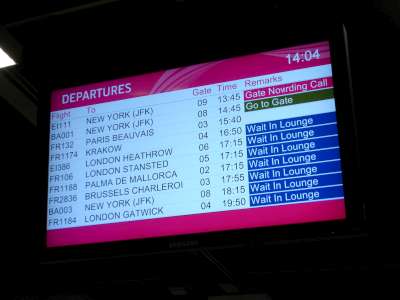 Departure monitor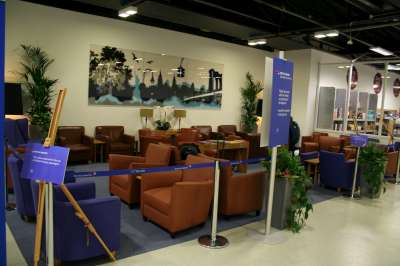 Seating area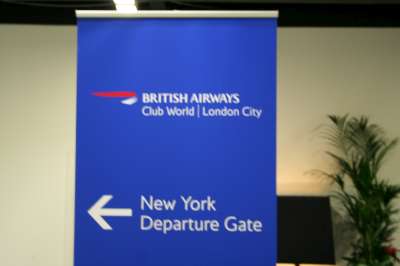 To New York!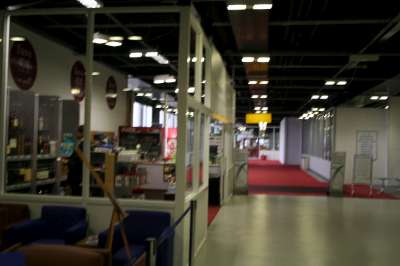 Sterile area
Within about 15 minutes all the passengers were through immigration and in the waiting area, at which point boarding began.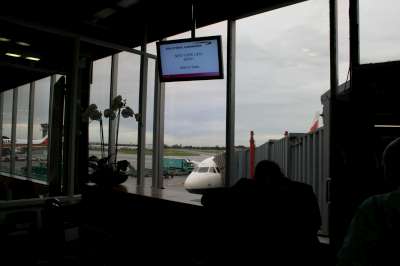 Gate 8
Once we were aboard we were greeted by the same three flight attendants, who had been busy clearing customs and immigration and tidying up the cabin before crossing the Atlantic. Everyone was settled in within about ten minutes, at which point the door closed. The captain for this segment (a new cockpit crew, as the LCY-SNN pilots lay over in SNN and fly to JFK on the next flight, which happened to be Sunday) came on the PA and welcomed us aboard this "very special service." He informed us our flight time would be 6hr55min and advised us we would be landing in New York about 45 minutes ahead of schedule, er, "shed-jewel."
We began our pushback as the purser announced that all safety guidelines from the safety demonstration applied, and reminded us of a few regulations (although didn't go through the whole safety demo). After a rather long taxi in the rainy weather we made it to our departure runway and rocketed off. Here's a video of the takeoff:
Minutes after takeoff the seatbelt sign was switched off and the flight attendants sprang into action. The purser started by taking meal orders, although she didn't address anyone by name. When she came up to me she said "have you chosen your beef?" She laughed as she realized her mistake, but I said "great guess, I'll go with that please." That's also when the two other flight attendants started distributing the media players, which took about 20 minutes. When the purser was finished taking meal orders she distributed amenity kits followed by hot towels.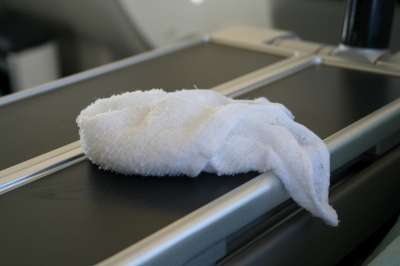 Hot towels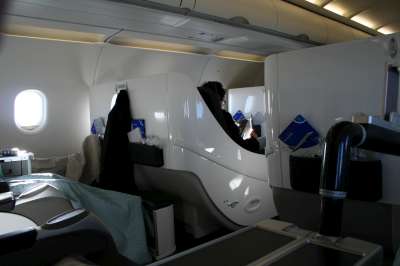 We're on our way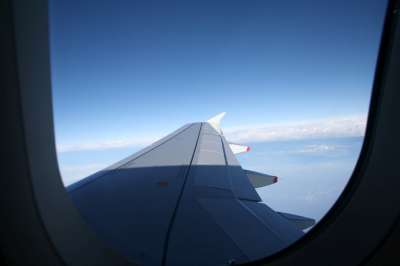 View from the window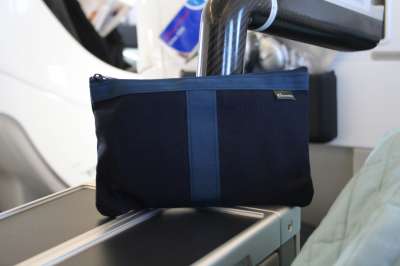 Amenity kit
Once that was finished the beverage service began. Service was a bit slower on this flight than the outbound due to the rather full load and more service intensive flight. It was probably an hour or so into the flight before I had a drink, which was served with packaged nuts.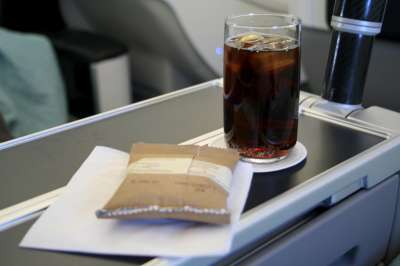 Diet Coke and nuts
First a tray with salad was served, which was accompanied by the breadbasket. The salad was tasteful. About midway through the salad the entree was served. I'm not sure if that's how it's supposed to be, but it struck me as being a bit sloppy. The beef was delicious, definitely one of the best business class steaks I've had.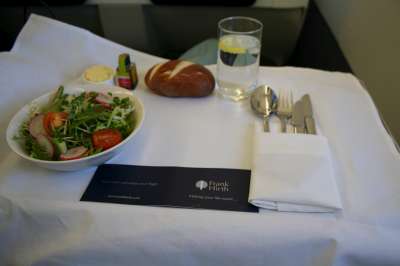 Salad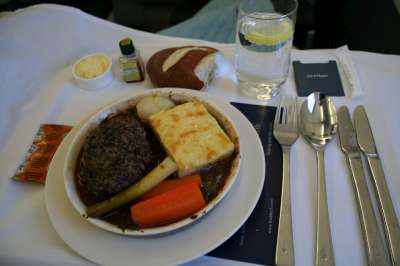 Main course
Once the main courses were picked up the dessert trolley was brought through the cabin. I wasn't really familiar with either option, so I asked the flight attendant for a suggestion. She said the eton mess was "beautiful and lovely," so I went with that. And yeah, it lived up to her word. Very good. I had coffee with dessert.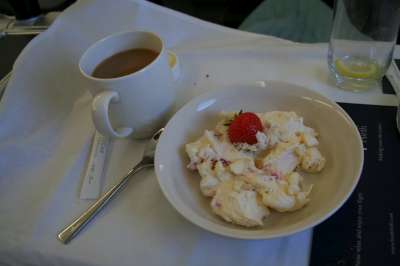 Eton mess
By the time the tray was cleared it had been 2.5 hours since departure from Shannon, which strikes me as a long time for a meal service. The flight attendants were efficient, although it seemed like they more than had their hands full.
After lunch I decided to watch a couple of sitcoms and then got started on my trip report. I then reclined into the fully flat position and tried to nap for a while, but the loud guy seated behind me prevented that (due to his excessive laughter) until I reminded him that he wasn't on a private jet. You can read more about that, erm, situation here.
About 1.5 hours before arrival the pre-arrival meal service began. Everything was on one trolley, and I went with the sandwiches. They tasted fresh, and the clotted cream and scone were great as well (although I restricted myself to one scone).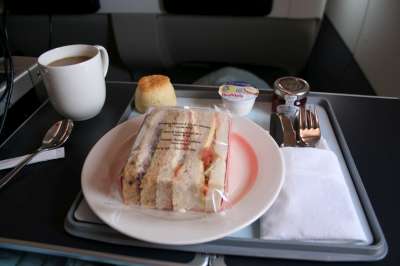 Sandwiches, tea, and scone with clotted cream
Next up was dessert, which consisted of a coffee éclair and lemon tart. Both were delicious.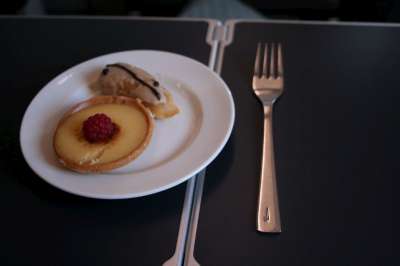 Coffee éclair and lemon tart
As the trays were cleared up the captain came on the PA and indicated that we had 40 minutes to go to New York and confirmed that we would still be arriving 45 minutes early. At this point the flight attendants began to collect the entertainment systems and prepare the cabin for landing. I restowed everything I had taken out during the flight, and couldn't help but smile. Why? Well, I fly international premium cabins into JFK somewhat frequently, and no matter how wonderful the flights are, I can't help but dread immigration. After being pampered for hours and having everything brought to your seat, it's tough to get back to reality and race people to immigration, wait in long lines, deal with rude agents, and be interrogated as if I had bad intentions. But there was none of that today, so I couldn't help but smile. My passport was in my travel wallet and I didn't have any immigration form to deal with.
After a smooth approach we touched down at JFK and taxied to our gate. We did make it in 45 minutes early, and I was sad to have the experience come to an end on one hand, but on the other hand couldn't help but proudly walk straight into the terminal instead of queuing for immigration. I was at the AirTrain station exactly five minutes after I exited the plane. Now that's awesome.
So what's my conclusion about this service? Well, I think it's awesome and actually adds value to the market. The main thing I noticed was how proud British Airways employees were of this service. The crew on the way out was one of the best flight crews I've had on any airline, while the return crew was exactly what I was expecting (although nothing more). As far as clearing immigration in Shannon goes, otherwise known as "the Shannon shuffle," I think it's great. On one hand it's a pain to get on a transatlantic flight, only to have to get off so quickly. But on the other hand, the rest of my flight was that much more pleasant, knowing I wouldn't have to deal with long queues and rude agents in New York. I might not feel as great about it if my immigration agent were rude, but having such a gem added to the experience (although I realize this is outside of British Airways' control).
Thanks again to British Airways for the opportunity to sample the product. If anyone has any questions about the service, feel free to post them here or email me.