You've gotta love Delta. My upgrade cleared six days out despite the first class cabin looking rather full. Unfortunately it was an MD-80, but given that it was a lunch flight, I'd have lounge access in TPA, and the ticket was only $99 each way, I wasn't going to complain.
My flight was at 12:06PM and I got to the airport right around 11:15AM. I went to the counter to print my boarding pass, which took all of two seconds, and then proceeded through security, where there was only a short line. I was entertained when the people in front of me speculated that the time change between Tampa and California was eight hours. I headed to the SkyClub, which I have access to thanks to my American Express Platinum card, where I was asked for an ID for the first time ever.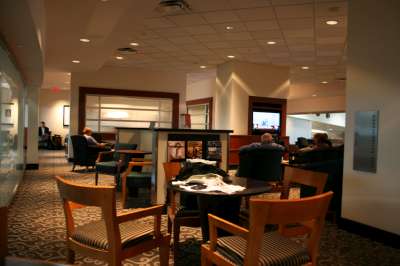 SkyClub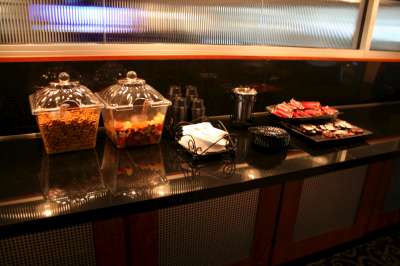 Skimpy snack selection
I just quickly checked my email and within a few minutes headed to the gate for departure for an anticipated 11:36AM boarding time. I got to the gate at 11:30AM and unfortunately there was no plane in sight. Not sure if it's just bad luck, but this has happened every time I've flown Delta to/from JFK. Obviously it's not an issue, but I wish they would post a slight delay so I could have just stayed in the lounge. Within five minutes the plane landed and within 15 minutes boarding commenced. Given that they were making a tight turn they announced that there would be no pre-departure beverages in first class, which is understandable.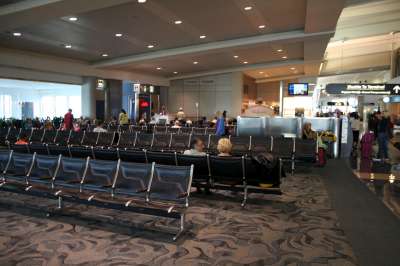 Gate E69
In order to save them time I already took my camera out of my bag because I was in a bulkhead and wanted to keep it with me, which meant I technically had three carry-ons. As I'm walking down the jetway the gate agent comes running after me and asks if I can do her a favor. I said "Let me guess, consolidate?" and she said "yes sir." I tried to explain to her that I just took out my camera bag because I needed to use it in-flight, but she insisted I consolidate. 30 seconds later I was cleared. I realize technically she's only following the rules, but there are some cases where you should just close an eye, in my opinion, and this is one of them. It's like going 46MPH in a 45MPH zone and getting a ticket for it. And please don't start the "they could be fined $30,000 argument." If that ever happens I'd gladly pitch in, and I don't have $30,000 to spare!
Delta 132, TPA-JFK, M80
Tuesday, October 27
Depart: 12:06PM
Arrive: 3:00PM
Duration: 2hr54min
Seat 2B (First Class)
The flight attendant at the door, Amber, couldn't have been any nicer. She was a senior TPA based flight attendant, but truly did a phenomenal job. She welcomed everyone aboard and smiled throughout the flight. She was a gem. Boarding finished up relatively quickly (within 15 minutes of our scheduled departure time) and there were still two empty seats in first class. As the gate agent was about to close the door a passenger came up from coach and indicated she was on the upgrade waitlist. The gate agent simply responded "first class is full" and shut the door in her face. Wow, that was incredibly rude. Shame. The flight attendant was sympathetic but said there was nothing she could do.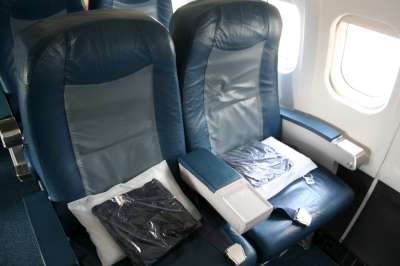 Seat 2B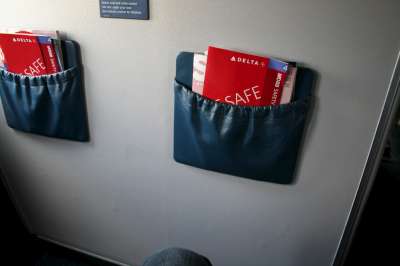 Legroom
After a quick taxi we were airborne and on our way to JFK with a scheduled flight time of 2hr2min. The climb out was quite bumpy, and there was consistent light chop as soon as we leveled off. Nonetheless the seatbelt sign stayed on and the flight attendants were asked to remain seated. It's nothing new with US airlines, but it really does tick me off. To make matters worse, there was an annoying baby (or I should say an annoying, careless mother with a baby that wasn't at fault) seated right across from me, and it seemed like she went "potty" moments after takeoff. Given that the seatbelt sign stayed on, that made for a stinky hour. Speaking of the seatbelt sign, it didn't really seem to be working. The picture below shows the seatbelt sign and no smoking sign when illuminated.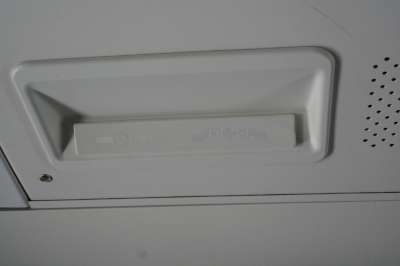 Yes, that's what the seatbelt sign looked like when it was on
As a result service didn't start until about an hour into the flight, which meant Amber was busy. She started by serving drinks. I went with a Diet Coke with lime (my first one in two weeks, and boy was it good) which was also served with a bottle of water. Meal orders were taken, the choice being between a Cobb salad and a chicken wrap. I went with the Cobb salad, which was served with fruit, breadsticks, and a brownie. The salad was filling and delicious, minus the bacon (I hate bacon), which I removed.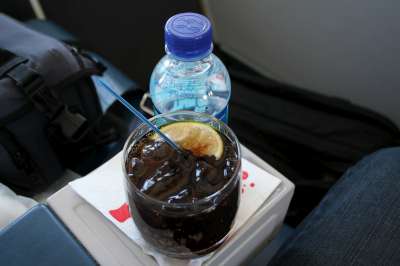 Water and Diet Coke with lime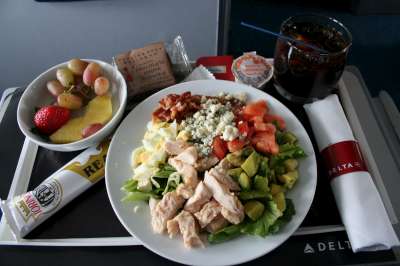 Chicken salad
While Delta doesn't have any in-flight entertainment on their MD80's, the first class cabin seemed to have a built in entertainment system, consisting of the whackos in the cabin. First there was the unhappy, careless mother across from me. Then there was a rich Croatian lady that wouldn't stop talking to the guy next to her. He had the patient of a Saint, constantly listening to her and continuing to pretend as if he was interested (or who knows, maybe he was). She kept talking about how great the bargains are in Tampa. The jeans she buys in Italy for $500 are only $300 here. What a bargain (or maybe she just doesn't realize there's a difference between the Euro and USD, who knows).
Shortly before landing Amber came around with the snack basket, consisting of chips, peanuts, Twix bars, and biscoffs. While I didn't eat the Twix of biscoffs (incompatible with my attempt at a diet), I took them just in case I ended up stuck somewhere down the line without anything to eat. Oh, and of course to snap a picture.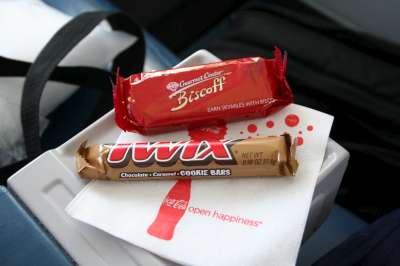 From the snack basket
We landed at JFK a full 30 minutes early (gotta love airline schedule padding), which the captain proudly announced. And while we made it to the apron 30 minutes early, there was no gate for us. Then the captain announced that we were just waiting for a remote stand. I guess I live in a bubble, but a remote stand for a domestic flight in the US? Seriously?!?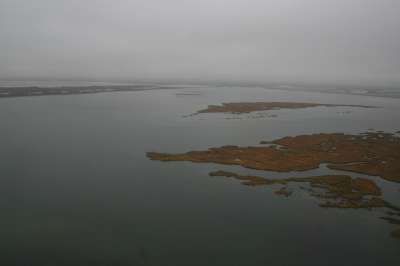 On approach to JFK
Our 30 minute early arrival turned into a 15 minute late arrival in the terminal, thanks to waiting forever for our people mover. Of course it was also a total sardine can, since the captain insisted we all squeeze into one. At least I got some good shots of the El Al plane parked next to us without getting shot. 😉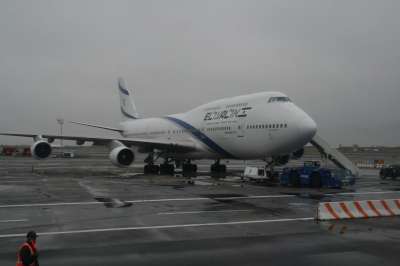 El Al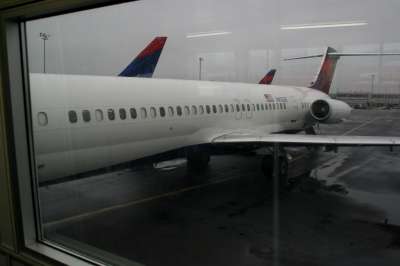 Our plane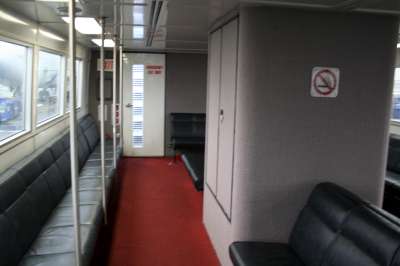 People mover
I walked through the hell hole which is T2 and made my way towards the AirTrain to head over towards T7, the terminal British Airways operates out of.