---
After a ride on the DLR to Canning Town and a switch to the Jubilee Line, I made it to the Green Park station. From there it was a pleasant ten minute walk to the InterContinental, which was easy enough to locate.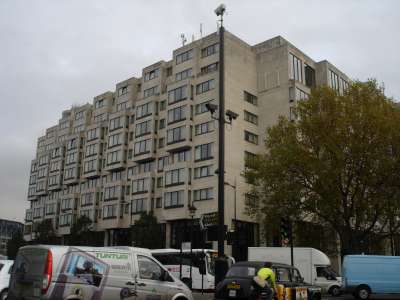 InterContinental London
The reception desk was located immediately inside, where I was promptly checked in by the friendly gentleman that introduced himself as the guest relations manager. I was assigned room 310, a one bedroom suite. I had used free night certificates from the big promotion earlier in the year for my stay.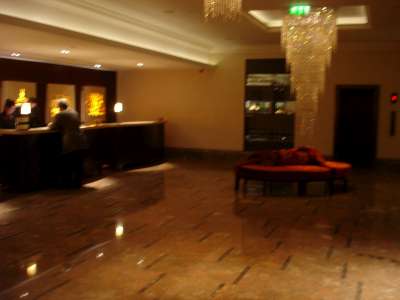 Lobby
Soon enough I made it to my room on the third floor.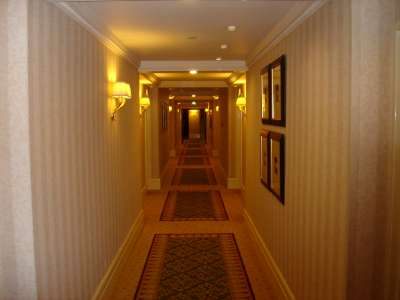 Hallway
I was impressed by the room. It was "fresh," well furnished, spacious, and had great views. First as I walked in there was a half bath on the left.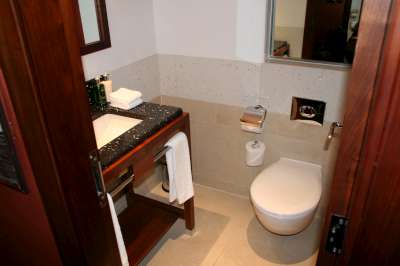 Bathroom
Next was the living room, which had a desk, a table with four chairs, and a couch with two chairs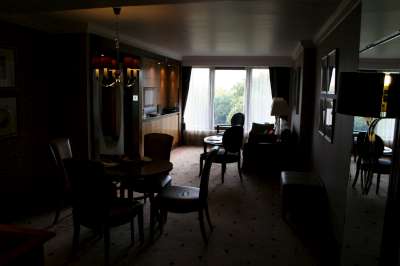 Living room
The room had a Bang & Olufsen TV and Bose stereo system — very nice!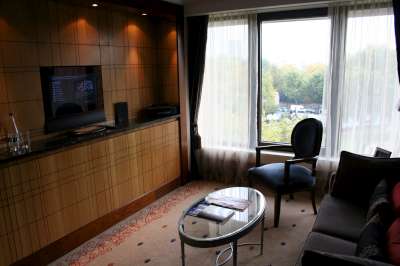 Living room
The view from the room was towards the parks with lots of greenery and not much noise.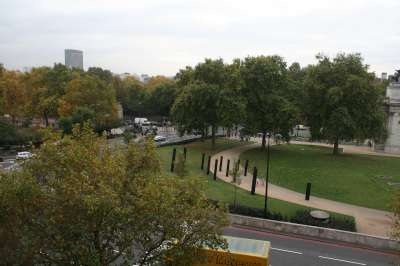 View from the room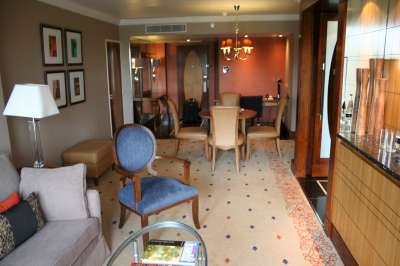 Living room from the other side
Under the TV was the minibar, and yes, I had to take the obligatory Royal Ambassador minibar picture. 😉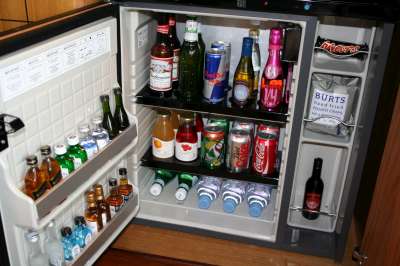 Minibar
On the table was the welcome gift, consisting of fruit and cookies. There was also a large bottle of mineral water near the TV.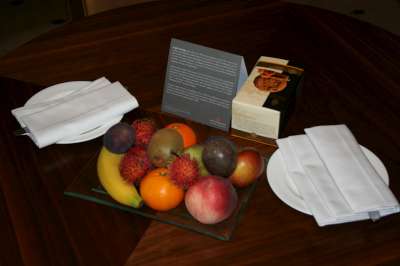 Welcome gift
The bedroom featured a very comfortable bed, large closet, Bang & Olufsen TV, and yet another Bose stereo system (not a bad way to wake up in the morning).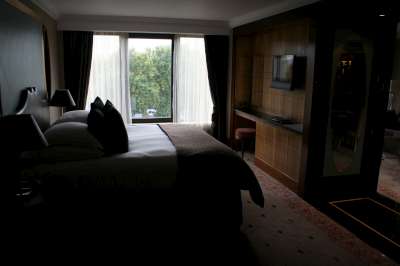 Bedroom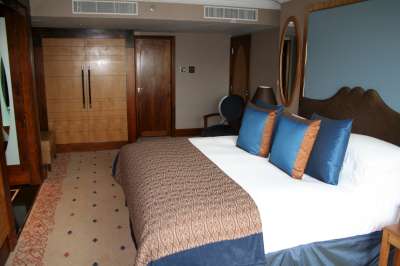 From the other side….
The main bathroom was large, with both a shower and bathtub. The highlight of the bathroom was definitely that it was stocked with 100ml bottles of Elemis products. I know that might sound insignificant to some, but Elemis products rock and I've never seen bottles as large as 100ml in hotels. It's even perfect for bringing through airport security. And no, I had no part in the disappearance of the Elemis bottles near the bathtub at the end of my stay. 😉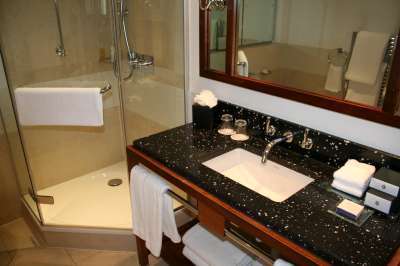 Shower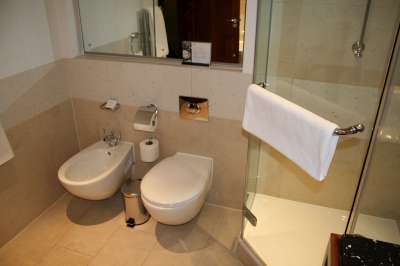 Toilet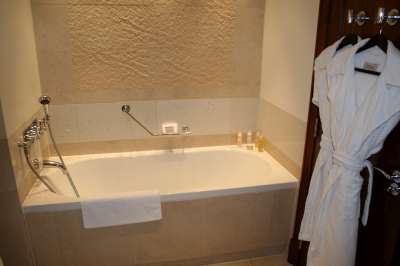 Bathtub
For those interested, here's a floor plan of the hotel: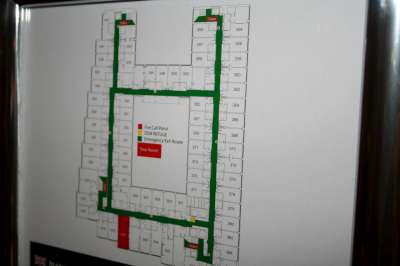 Floor plan
After taking a nap (and sleeping like a baby for a few hours), I hit the gym, which is located on the first floor. It was never busy and was well equipped. It had two towels at every machine, along with water and fruit too. The highlight of my gym usage had to be the middle aged man (very clean cut business type, I would assume) who spent at least 30 minutes kicking and punching the crap out of the punching bag. I'm guessing some deal didn't go through. 😉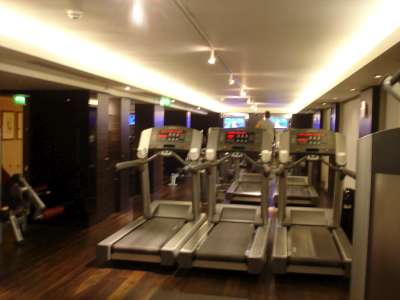 Gym
The Club InterContinental is located on the seventh floor and boasts great views, not only of Hyde Park, but also of Buckingham Palace and on a clear day the London Eye. The lounge is stylish and offers plenty of seating, both at tables and on couches. It also has a couple of PC's.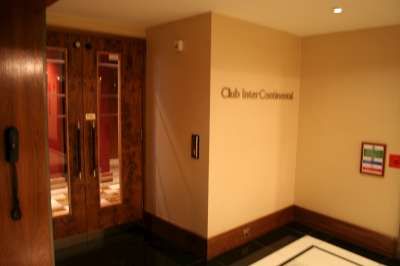 Entrance
Breakfast starts at 7AM and goes till at least 11AM. There's both a buffet with continental breakfast options, like fruit, croissants, meat, cheese, pastries, etc., along with a menu, with omelets, pancakes, etc.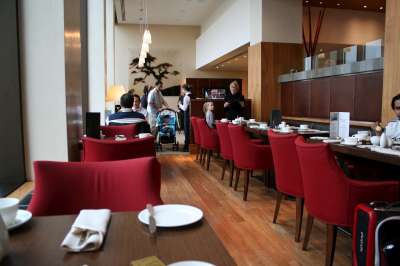 Club for breakfast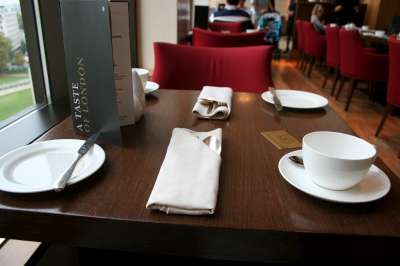 Table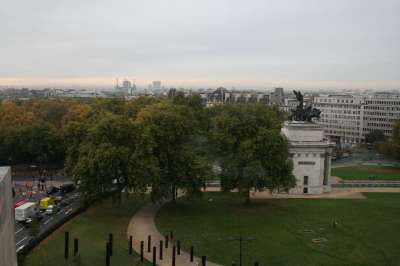 Views, views, views!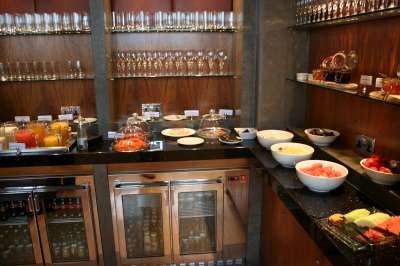 Continental breakfast selection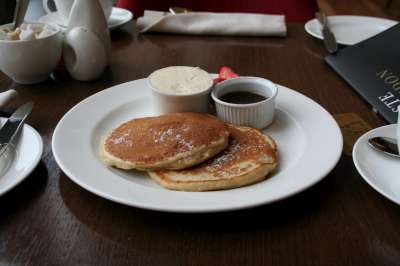 Pancakes from the menu…. well present and tasted great!
The wait staff couldn't have been more professional either. In the evenings there's also a nice spread. First I was offered a "taster plate" and drink, which consists of a variety of things to nibble on which change every night. After spending the entire day walking (a total of about 20km.), there was no better place to sit and observe bustling London by night.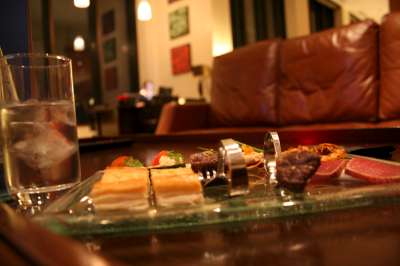 Taster plate the first evening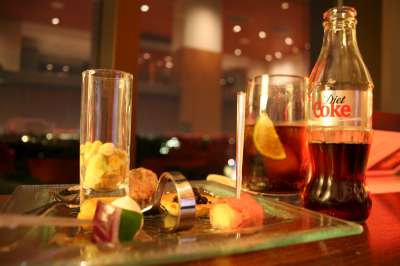 Taster plate the second evening
There's also a buffet set up with cold options, such as cheese, meat, breads, etc.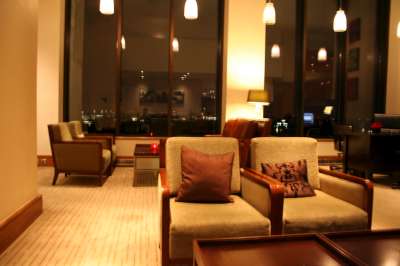 Lounge at night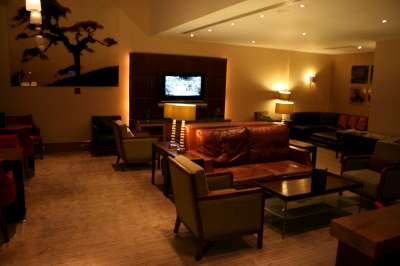 Lounge at night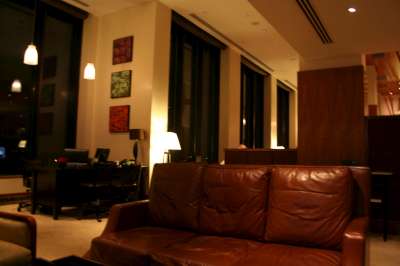 Lounge at night
Unfortunately I didn't have a chance to try out the afternoon tea as I was out and about both days around that time.
Club lounge access often goes for £40 per night for Ambassadors and £80 for everyone else at check-in. Club access also includes free internet, which is usually £15, so as an Ambassador you're often only essentially paying £25/night for lounge access (when the £40 promotion is running) . That's a bargain, and a steal if you're traveling with someone else.
The highlight of my stay, however, was dinner at Theo Randall, the award winning (London Restaurant Awards 2008 Italian Restaurant of the Year) Italian restaurant located inside the InterContinental. I was invited to join two lovely people from InterContinental (one from the hotel, one from corporate) for dinner. First of all, I'm no foodie, so please take my comments with a grain of salt (no pun intended) if you're looking for sophisticated food analysis.
I love Italian food, and this was among the best dining experiences I've had, including in Italy. For one, the service was phenomenal. In the US we're so used to being rushed in and out of restaurants, even in nicer establishments, as opposed to the more reasonable pace here. Second, the company was fantastic. Maybe I was the zaniest when it comes to travel (in the form of mileage running), but I wasn't the only one passionate about it!
The food was absolutely incredible, and after the kitchen tour we had (after dinner), it was apparent why. They literally spend all day making making pasta and the ingredients are imported from Italy. Simply incredible food.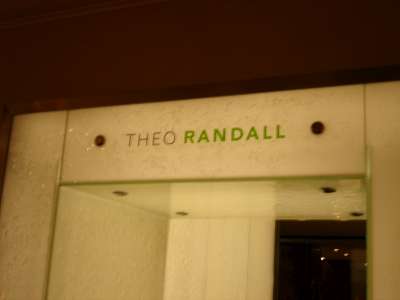 Theo Randall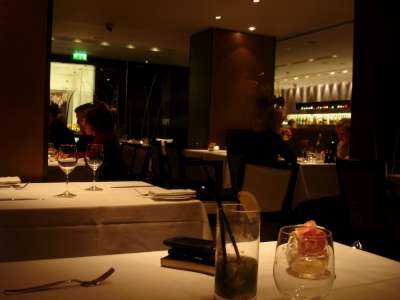 Restaurant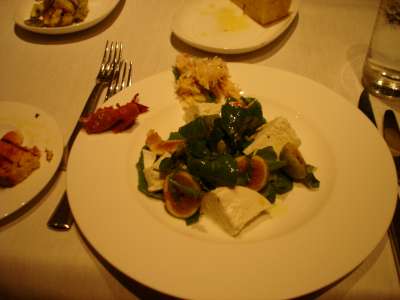 Buffalo mozzarella with grilled red peppers, basil, Swiss chard, marinated artichokes, and Taggiasche olives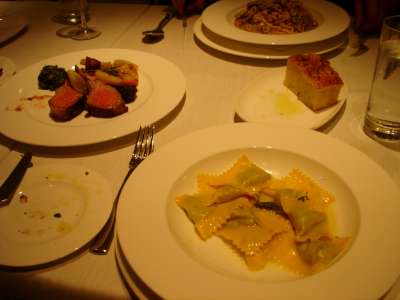 Mixed green ravioli with Swiss chard, rocket, spinach, sheep's ricotta, butter and sage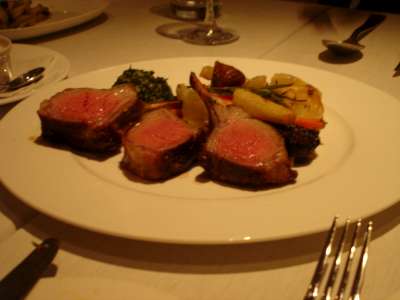 Roast rack of new season's Somerset lamb with wood roasted carrots, globa artichokes, fennel, beetroots and salsa d'erbe (which we shared)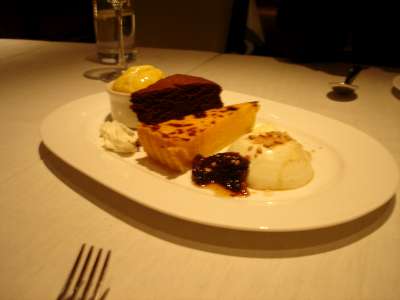 Dessert plate
I'm not usually one for gourmet dining, but I had a blast, the food was incredible, and I'd even consider returning on my own dime (which is saying quite a bit since I'd usually rather spend money on other things).
My stay at the InterContinental was fantastic. I love the location (as a tourist it was nice to start and end my day with a stroll through the parks), the hotel was modern yet elegant, and the service was great. All around it's everything you'd expect from one of the flagship InterContinental properties and I'll definitely be back soon.