---
Disclaimer: As I mentioned in the introduction post, British Airways comped me this flight. They asked for my honest feedback on the product, which is exactly what I'll provide. I wouldn't be doing anyone a favor by giving inaccurate remarks, since I hope my positive comments can reinforce what they are doing well and that my constructive criticism can convince them to improve in some areas.
Upon entering terminal 7 I turned left towards premium check-in, and quickly spotted the "Club World" sign. There was no wait and I was immediately helped. Given that it was only 4PM and I had seven hours to spare the agent offered to put me on the earlier flight, which was a nice gesture, although I declined since I wanted to get some work done in the lounge. I confirmed that the seat next to me was still empty, and the agent indicated that it was. I chose seat 8A, the last row, because I figured it gave me the best chance of an empty seat next to me, and since it's in the last row, I felt like it would give me the most accurate representation of their service (since I'd be served last). It's worth noting that British Airways doesn't allow free seat assignments for non British Airways Gold members in business class more than 24 hours out. It doesn't really matter on a flight like this where all the seats are the same, but I can see it being a bit of an inconvenience on other flights.
Check-in is also where the first sign of the pride British Airways takes in this product shows – the check-in agent proudly exclaimed that this was the same flight number as the Concorde. I of course knew this and was thrilled about it, but it was nice to see that the employees shared a similar enthusiasm.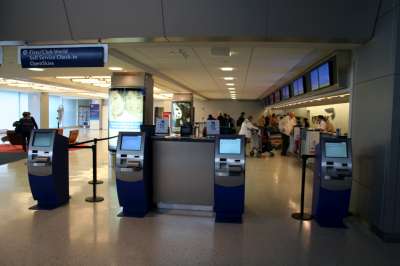 Premium check-in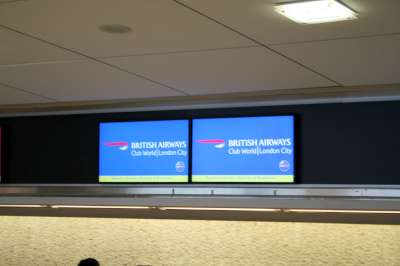 Club World London City
British Airways has a dedicated premium security line located by the premium check-in area, where the line was pretty short. Unfortunately there was a family at the front of the line that took at least five minutes to get all its stuff on the x-ray. I had all day so couldn't have cared less, and within about 10 minutes I was through. I proceeded to the Terraces Lounge, which is located on the other side of the terminal, where I was admitted by a rather matronly agent that didn't say a word (interestingly enough, the only person in that lounge that didn't go above and beyond).
I had never been in the Terraces Lounge before. It's actually right in front of the Red Carpet Club, so I nearly made the mistake of walking past it as I'm so used to looking at the fancy glass doors of the Terraces Lounge on my way to the dungeon which is the RCC. My first impression was that the lounge was HUGE. I wasn't really surprised given that BA has at least six flights a day out of JFK, along with an OpenSkies flight, two Club World London City flights, along with lounge access for ANA, Cathay Pacific, Iberia, and Qantas passengers, so it probably houses over 1,000 people a day. So the lounge didn't feel particularly private, but it was functional and had a lot of amenities.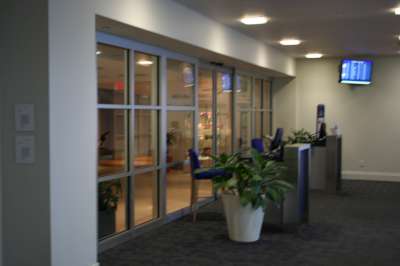 Entrance to the Terraces lounge
Each area of the lounge had a different theme, which was interesting given that there wasn't really anything that separated them. It did look a bit weird, but nonetheless it's easily one of the best business class lounges in the US. There were lots of snack options available, like chips, cookies, finger sandwiches, etc., so I only had a small snack.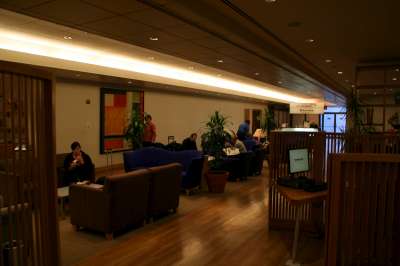 Terraces Lounge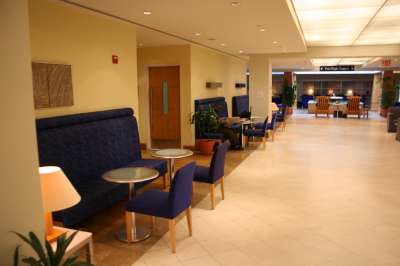 Terraces Lounge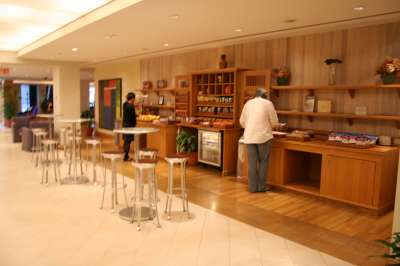 Terraces Lounge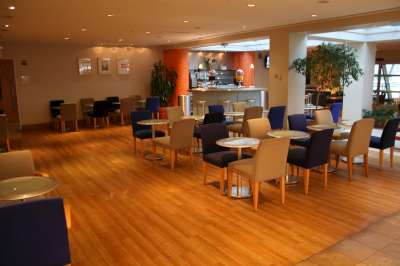 Terraces Lounge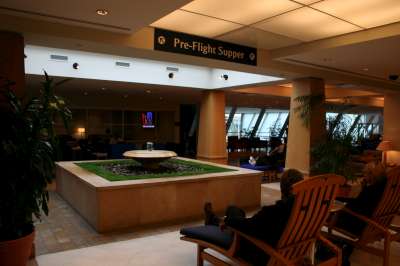 Terraces Lounge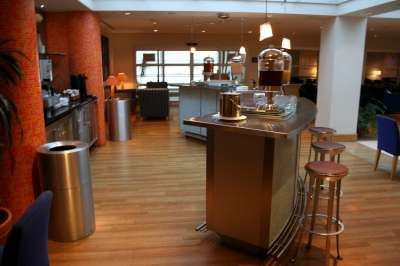 Terraces Lounge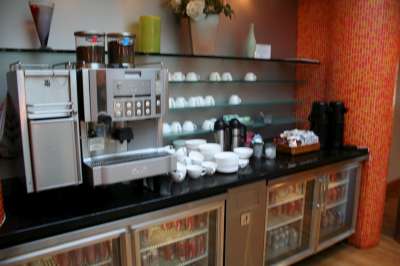 Terraces Lounge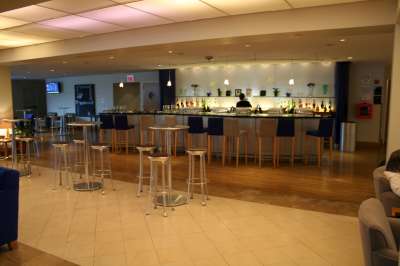 Wine bar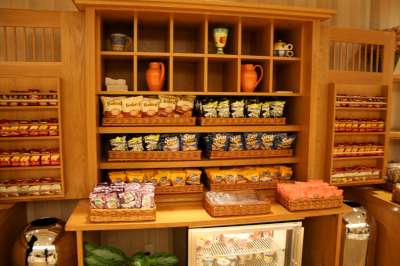 Snacks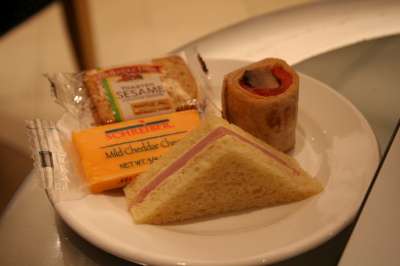 Snack
There is no full dinner service on the Club World London City flight, but instead there's pre-flight supper in the lounge, which I was saving my appetite for. First I spent about an hour on my laptop, and then at around 5PM I headed over to the Elemis Spa to book an appointment. Business and first class passengers are entitled to a 15 minute service, ranging from back massages to foot massages to mini-facials. Given that they only have a few dozen slots for hundreds of passengers, I made my appointment early. I booked a power back massage for 9:40PM, just before my flight. My plan was to have dinner, then shower, and then enjoy a massage.
I got some more work done in the meantime, but really just enjoyed sitting in the lounge. What makes this lounge unique is that it's so huge, which means you can do a lot of people watching, which is one of my favorite things to do at airports.
At around 7PM I decided it was time for dinner, so I went to the pre-flight supper room. There are dozens of tables, most of which were full, since it was probably a peak time. The food is all served buffet style, and there's a good variety. The menu read as follows:
Pre Flight Supper North America

Soup
Mushroom Veloute
(Wild Mushroom Bisque)

Salads
Organic Mixed Greens
Cucumbers, Grape Tomatoes
Calamata Olives

Baby Arugula with Balsamic Pears

Roasted Acorn Squash with Black Eyed Peas Salad

Roasted Beef Salad with Crumbled Goat Cheese and Toasted Almonds

Prosciutto
Peppered Turkey Breast

Honey Dijon Dressing
Balsamic Vinaigrette

Entrees
Vegetable Curry

Mushroom Lasagna with Gorgonzola Cream Sauce and Toasted Walnuts

Lamb Sheppard's Pie with Chive Mashed Potatoes

Baked Haddock with Caramelized Onion Potatoes and Roasted Tomato Ragout

Dessert and Cheese
Chocolate Chip Cookies

Lemon Bars

Seasonal Fresh Fruit

Cheese Board
Saga Blue
Double Gloucester
Brie
I have to say, the food was fantastic. I'm not a foodie or a fancy eater, but it tasted great, better than the quality I typically get in business class. And the concept of pre-flight dining is a great idea on a short transatlantic flight, in my opinion. The only let down was the dessert, which consisted of somewhat tasteless lemon bars and stale cookies, although that was actually a plus for me since it helped me not break my diet too much.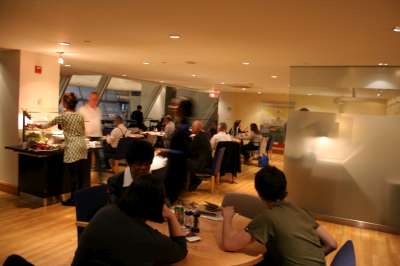 Pre-flight supper area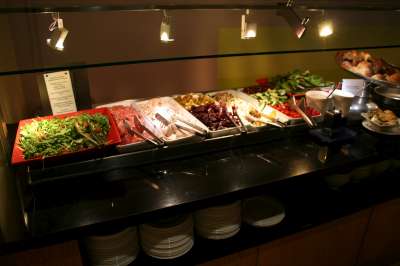 Buffet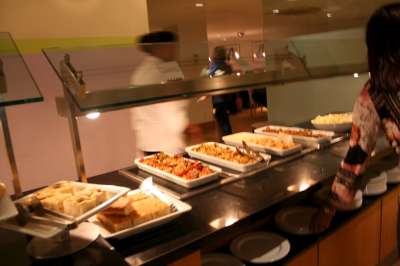 Buffet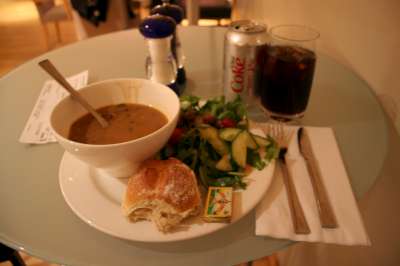 Salad and soup (mushroom soup was AMAZING)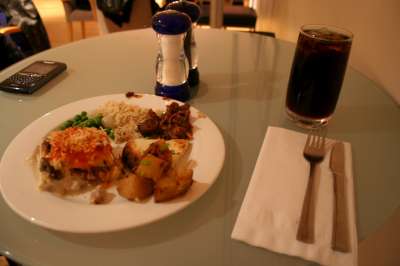 Main course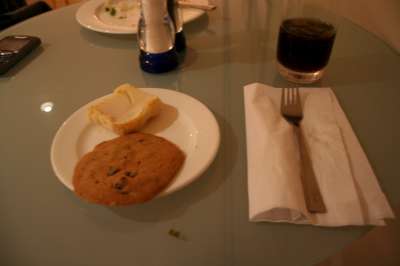 Dessert
After dinner I got some more work done, and at around 9PM headed to the shower rooms, which are located next to the Elemis Spa. A room was ready for me within a few minutes. The rooms were large, the water pressure and temperature were good, and they had one of those fancy showers that requires a two page instruction booklet to operate. 😉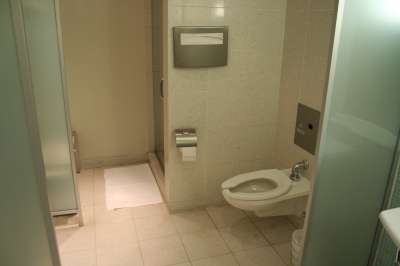 Shower room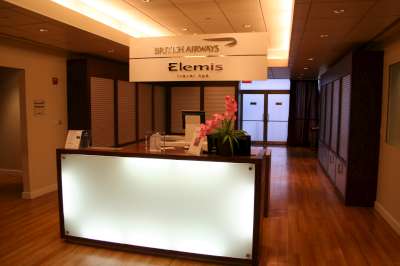 Elemis Spa Desk
When I was all showered it was time for my massage. I went to the Elemis Spa and was asked to take a seat on one of the comfortable lounge chairs they have in the waiting area. Within a few minutes a guy named Joe introduced himself as my "massage therapist." Remember that ex-NYPD cop that I had as a flight attendant a while back? Yeah, well I think Joe may very well be related to him based on his personality.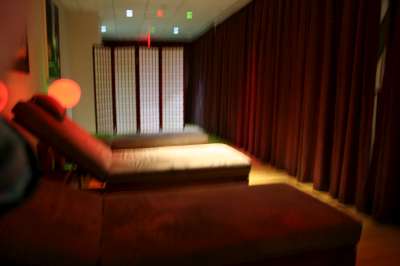 Spa area
He was easily one of the funniest guys ever. As he was massaging my back he said "I can tell you have a good taste in shirts, I can feel the great quality." I responded "thanks, but I bought it at Ross for $20 yesterday." Then his story quickly switched to "well, it's not the shirt, but rather the man under it that counts." LMAO! 😀
Either way, he did an incredible job for the 15 minute massage (which was closer to 20 minutes, so I left him a $10 tip (don't flame me, I didn't have smaller bills and I realize a tip isn't required, but he was that funny and that good that it just felt right). Despite leaving my shirt on he used all kinds of oils and I was fully expecting to have my shirt drenched, but it was totally dry. After the massage there's a quick sales pitch for Elemis products, although that didn't last for more than ten seconds.
By that time it was approaching 10PM and I went to the front desk to see if the seat next to mine was still open. Someone had selected it, so I wanted to see if there was another seat they had available with an empty next to it, and indeed they did. The agents were hilarious about it, too. Definitely had the spunky New Yorker attitude as well (as one agent told the other "what do you think I am, hard of hearing?"). Loved 'em.
I checked my email one last time and headed to the gate at around 10:30PM for boarding at around 10:50PM. You've gotta love a plane with only 32 seats. I was the only person in the gate area, which you won't see anywhere else. I started talking to the gate agent, who was awesome. She indicated the load on tonight's flight would be 17 out of 32, and it was clear that she took pride in the new product. She also reminded me that these were actually the same flight numbers as the Concorde. Every time an employee mentioned that to me, it just came across as passion for the product, and there's nothing more important than passion when it comes to doing a good job. Interestingly enough she also indicated that she works the same flight every night and that there are already quite a few regulars. Good for BA.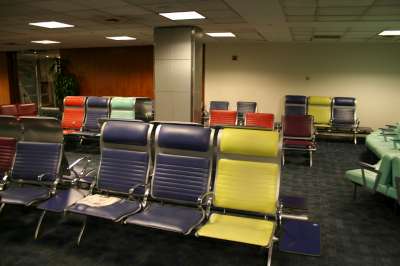 No gate lice!
At around 10:50PM boarding was announced, yet I was still the only passenger in the gate area. Nothing beats a private boarding experience!
British Airways 004, JFK-LCY, A318
Tuesday, October 27
Depart: 11:10PM
Arrive: 10:45AM +1
Duration: 7hr35min
Seat 8K (Club World)
I got aboard and was immediately greeted by the two male flight attendants, Olivier, the purser, and Chris, as they directed me to my seat. I quickly asked if I could snap a few pictures before other passengers boarded, and they happily obliged.
My first impression of the cabin was one of awe. I've been on a few all business class planes, but this was a new one for me. While the cabin was small, it felt spacious and couldn't have been classier. There was music playing along with mood lighting, and the cabin just looked so fresh.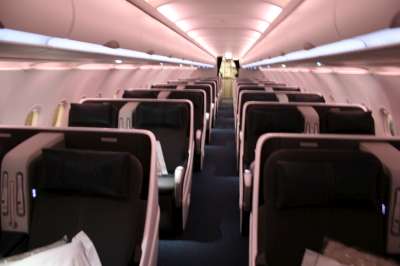 Cabin
As I got to the rear of the aircraft (where I was seated), I was greeted by Sara, the other flight attendant. To say she was proud and excited to be working the flight would be an understatement. As soon as she saw me taking pictures she started talking about the product and also mentioned the Concorde flight number connection. You know the drill by now. I also asked how bumpy this flight tends to be, not because I was concerned, but just because I was curious about what her answer would be. She said her flight out was the smoothest flight she has ever had. Stay tuned for that. 😉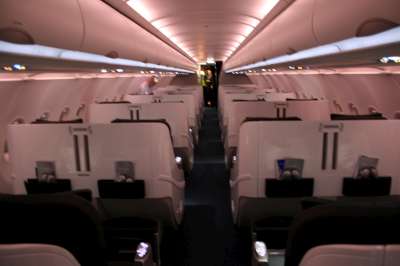 From the back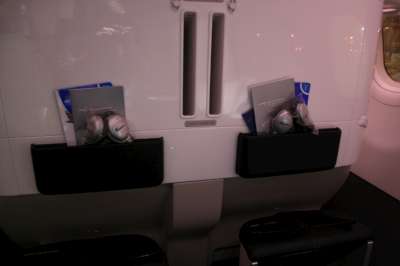 From seat 8K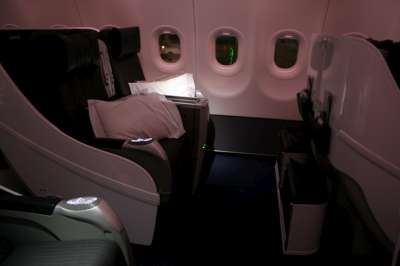 Seat 8A & 8B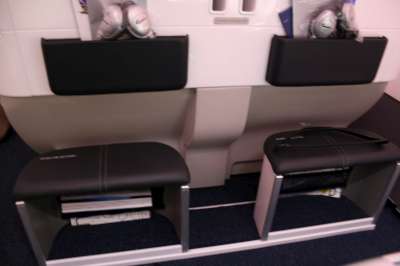 Seatback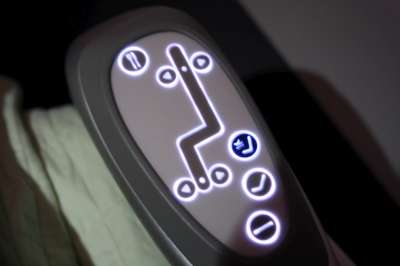 Seat controls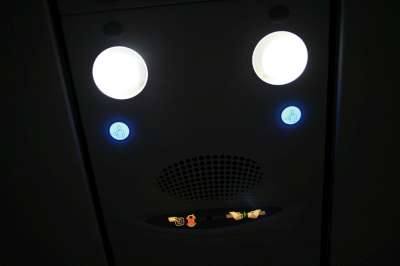 There's even an air nozzle!
Within a few minutes passengers slowly started to board. There were only 17 of us, so the door closed in no time. While there were no pre-departure beverages (I assume due to the short boarding time), bottled water, amenity kits, and menus were immediately distributed.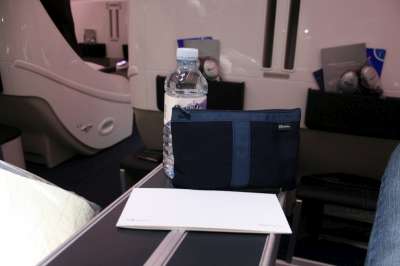 Water, amenity kit, and menu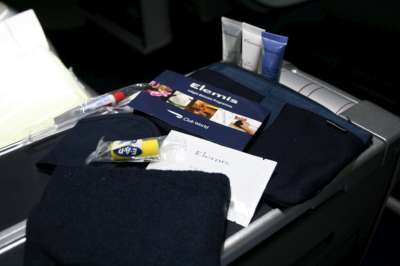 Amenity kit contents
Before we pushed back Captain Piers introduced himself and First Officer Ian, once again very proud about the product, labeling this the "special Club World London City product." I don't know if all the employees are always this good or if it's just a matter of pride, but either way they were on top of their game and could take on the cabin crew of any airline. Captain Piers informed us that our flight time would be 6hr45min, and that we should be landing about 45 minutes ahead of schedule (pronounced in my favorite way, of course, "shed-jewel").
We pushed back and as we taxied towards the runway the purser Olivier came to every passenger, wanting everything to be taken care of so that we can rest after takeoff. He really did an incredible job. He addressed every passenger by name, and despite being rushed, took his time with everyone. He asked whether we wanted to eat a snack after takeoff, whether we wanted to eat breakfast, whether we wanted to be woken for breakfast (for those that wanted to eat), and whether we wanted a personal entertainment system. I was the only passenger that said yes to everything. As a matter of fact, as far as I could tell, no one else ordered a post-takeoff snack.
The menu read as follows:
We hope you enjoyed the pre-flight supper in the
lounge this evening. Tonight's menu is designed around
helping you maximize your sleep on this short overnight
flight, enabling you to arrive in London well rested and
ready to start your day.

If you wish to settle down and sleep shortly after take
off you may like to have a look at our breakfast options
available to you when you wake up in the morning.

Good night.

NightCap

On tonight's flight, we have a selection of night cap
options for you to choose from should you wish to eat
something to help you settle down and get some quality
sleep before our arrival into London.

Four cabbage slaw with pequino peppers
topped with crab cakes
or
Croque-monsieur
or
Bruschetta sandwich with goat's cheese

Wildflower and honey cheese cake

Please accept our apology if your first choice
is not available.

Club Kitchen
Should you wake up and feel hungry during the
night, we have a selection of tasty treats including
crisps, chocolates and biscuits available in the
galley area for you to choose from.

Please ask our crew for a drink from the bar,
or you may wish to enjoy a hot drink. We have
a choice of tea and freshly ground coffee.
We also offer a selection of herbal teas.

Prior to Arrival

We will be serving you a light breakfast
approximately 1 hour and 20 minutes
before our arrival into London City.

Chilled fruit juice
An energising fruit smoothie
Fresh seasonal fruit

or
Special K with dried berries
Warm bacon roll served with tomato ketchup
Selection of warm breads and breakfast pastries
Your choice of coffee or tea

City Breakfast

If you wish to maximize your sleep during the
night, we won't wake you up if we see you are
still sleeping soundly. When you do wake up,
we have our City Breakfast option available up
until 20 minutes before landing, which you can
eat on descent or on your journey into the office.

Chilled fruit juice

Fresh fruit

Breakfast pastries
And here's the drink menu:
Wines

Please ask your crew to advise you of the choices
available on today's service.

Champagne Cocktail
Kir Royale
Crème de Cassis gives this cocktail its distinctive taste
Buck's Fizz
Crisp, dry Champagne and naturally sweet orange juice

Champagne
Heidsieck Monopole Blue Top
Generous nose, with toasty and buttery aromas
Ayala Brut Majeur NV Champagne
Elegant and lively, with delicate fresh and fruity notes

White
Terra do Gargalo 2007 Monterrei
Intensely flavored with lemon, lime and apple
Marmesa Vineyards Chardonnay 2006, Edna Valley
Appetising and dry, with an aroma of white peaches
Château de Rully 2007, Rully
Lemony, smoky and taut
Arboleda Coastal Sauvignon Blanc 2008
A super-refreshing dry white

Red
Montes Alpha Syrah 2006
Flavours of spice and blackberries, rounded off
by soft, silky oak tannins
Château Bournac 2005
Pretty and succulent, from an outstanding vintage
La Haute Marone 2007, Gigondas
Essence of spicy Grenache, intense and full-bodied
J. Lohr, Los Osos Merlot 2006, Paso Robles
Scented, rich blend from California's Central Coast

A selection of traditional and modern drinks
to suit all tastes

There will be a complimentary bar available
serving alcoholic beverages and soft drinks.
In no time we made it to our departure runway as we rocketed off after a 30 second takeoff roll. It was a rather rainy evening, although the picture below makes it look a bit worse than it really was.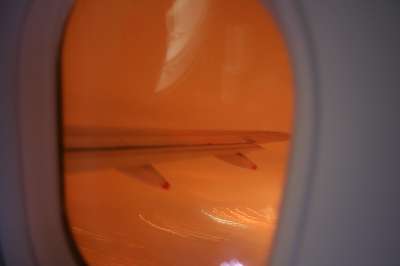 Taking off
For the first two or three minutes there were some decent bumps, but just a minute later the seatbelt sign was switched off. The purser made his after takeoff announcements, which were intentionally brief. He mentioned that the On Air service would not be turned on until we were off the US coast, about an hour after takeoff. Within less than ten minutes of takeoff immigration cards were passed out (I didn't need one since I was using my German passport) along with hot towels. The lights were dimmed all the way, as almost all passengers immediately reclined in order to get a decent night of sleep. Speaking of the lights, they have some very nice mood lighting. The light transitions slowly, as opposed to the rapid change of light on planes without mood lighting.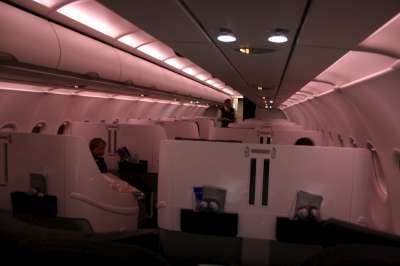 Cabin lights being dimmed
Moments later Olivier brought me the entertainment system (I think only one other passenger requested one), and explained to me all the features. It's basically the same system United uses on Premium Service, with lots of movies, TV shows, and music. Unfortunately it's portable, so there's no Air Show.
Here is the movie selection:
Angels and Demons
Australia
Capote
Che Part 2
Cheri Fargo
Five Minutes of Heaven
Imagine That
Independence Day
Looking For Eric
Moon
My Sisters Keeper
Roman Holiday
Telstar
Terminator Salvation
The Assassination of Jesse James
The Dark Knight
The Day The Earth Stood Still – 2008
The Good The Bad And The Ugly
The Hangover
The Last King of Scotland
The Lives Of Others
The Other Man
The Private Lives of Pippa Lee
The Taking of Pelham 123
The Thomas Crown Affair – 1968
Transformers – Revenge Of The Fallen
Vicky Cristina Barcelona
Whatever Works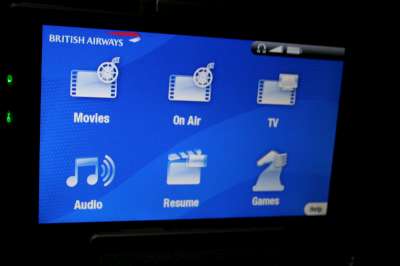 Entertainment system
I started talking to Olivier for a few minutes, and just to start conversation said "so, are you Heathrow or Gatwick based?" He responded "Gatwick, is there a problem with that?" with the most brilliant inflection and a smile on his face. Brilliant. He addressed me by name throughout the whole flight.
Five minutes later the drink trolley was brought through the cabin. I went with a Diet Coke with lemon, which was served in a rather small glass (as is the norm with BA). The snack quickly followed, consisting of a bruschetta sandwich with goat's cheese, along with a light cheese cake. It was delicious and a perfect snack for such a flight. At this point we were hitting quite a bit of turbulence, and as Sara walked by I couldn't help but say (with a smile) "you lied to me."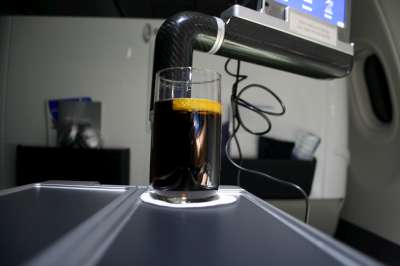 Diet Coke with lemon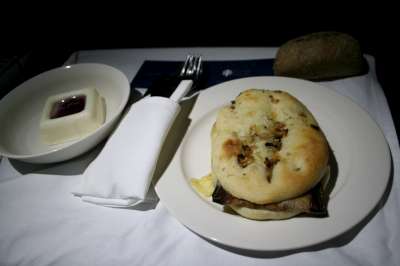 Snack
After dinner I wasn't quite tired, so I talked to the crew for a while, in particular Olivier. I found out that he commutes from France to Gatwick on EasyJet, and even has to pay for the privilege. He loves his job and was so passionate about what he does (and British Airways), that I would easily say he's among the best flight attendants I've ever flown with. We talked for about an hour, but like any good flight attendant he excused himself every so often to check on the other passengers. I also loved his accent, which was French, but at times he pronounced words with a thick British accent. As it turned out this was the second time all the crewmembers had worked the new service.
After we talked I decided to take a nap, and I did sleep very well for nearly three hours. As far as the seats go, they are somewhat similar to United's new business class seats, with a few differences. First of all, they seem to be a bit wider, especially in the flat position, which is a plus. Furthermore, I love the material of the seats. Not sticky leather, not easy-to-slide on cloth, but something awesome. The blanket and pillow were rather simple, although I'm not a huge fan of thick duvet's on European airlines since I typically sweat my rear off at the temperatures some airlines keep their cabins at. Not only was the cabin cool throughout the whole flight, but there were individual air nozzles at the seat, which is the key to a good night of sleep, in my opinion.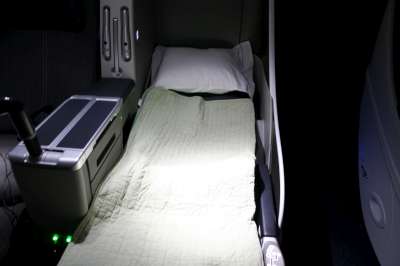 Flat bed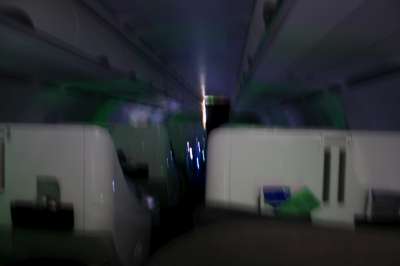 Cabin lighting
I woke up naturally about two hours before landing as the sun creeped ever-so-slightly through my window shade. I decided it was time to watch a movie, and I eventually decided on "The Hangover." While the selection was vast, not very many of the options interested me. In other words, there weren't very many comedies. Fortunately "The Hangover" has to be one of the funniest movies I've seen in a long time. Absolutely brilliantly hilarious.
As I was about half way through the movie breakfast service began with about an hour to go till London. I went with a smoothie and orange juice to start, both of which tasted fresh. I was then served fresh fruit, which was delicious, along with a warm croissant. As far as I'm concerned breakfast can stop there on a short transatlantic flight like this.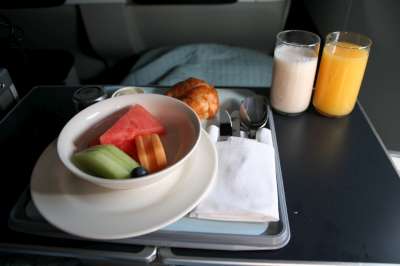 Breakfast
Just to see what all of the hype is about on the British Airways forum on FlyerTalk I decided to try the bacon roll, which was the only main course option. Now, I should say that I'm probably one of the two people in the world that HATES bacon. Nonetheless I wanted to see what all the buzz was about. I had one bite and had enough. I think if they're going to serve a main course, they should offer another option. While many may like bacon rolls, it's not exactly the healthiest option, especially for those going office-to-office. I'd actually prefer to see a yoghurt or muesli option and keep the breakfast continental. But I think I had my first and last bacon roll.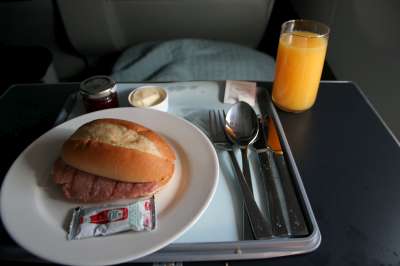 Bacon roll
About 40 minutes prior to landing the captain came on the PA and announced that we were quickly approaching London, confirming that we were still on "shed-jewel" to touch down 45 minutes early. As the flight attendants had noticed my picture taking, they asked if I wanted one of the "to go" breakfast bags as well. This is actually a pretty cool idea, since you can eat it anytime, either on final descent, on your way to the office, or at the office. It's simple, consisting of a muffin, apple, and orange juice, but it does the trick, in my opinion. It even has a hook practically designed should you finish it during the final descent, so that you can just attach the bag to the coat hook at your seat.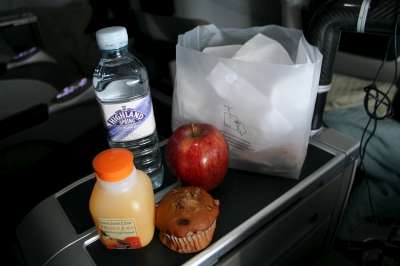 Breakfast to go
20 minutes out the seatbelt sign came on as Captain Pears once again thanked us for flying "on this special service."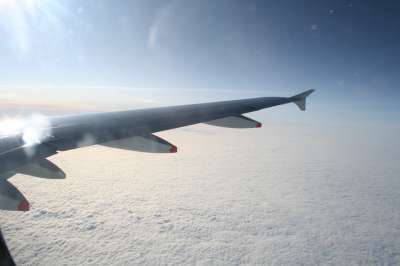 Approaching London
There were quite a few bumps on final approach, and as you can see in the video below, the landing into London City Airport was quite an adventure. The A318 is the largest plane that serves this airport, and with less than 5,000 feet of runway, you've gotta touch down at the marker regardless of how rough it is. As you can also see in the video, the speed breaks were deployed until just a couple of seconds before landing, which was a first for me. After a back taxi on the runway, we reached our stand within seconds.
Here is the landing video:
Olivier thanked us for flying on Club World London City, and within minutes stairs pulled up to door 1L so we could deplane. I thanked Chris and Sara for a phenomenal flight before leaving my seat (as they were in the rear galley), and thanked Olivier on the way out. The captain was also standing there thanking everyone. When I thanked him for the safe ride (as I always do), he almost looked perplexed.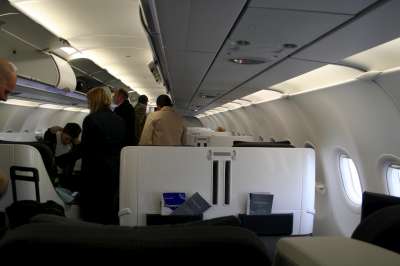 Upon arrival
It was so nice to walk off the stairs and onto the tarmac, as it was a beautiful cool morning, not too hot and not too cold. It was a 30 second walk to the entrance to the terminal, where we queued for immigration.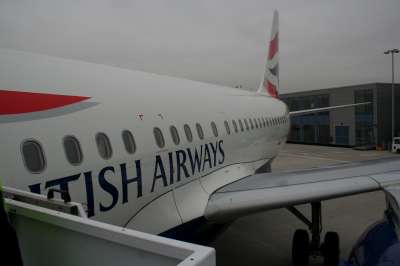 Ah, what a beauty!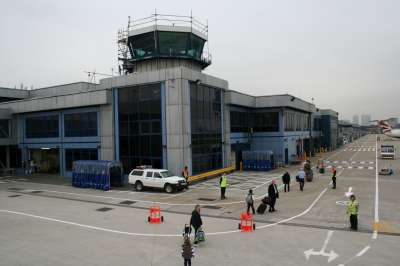 Off to immigration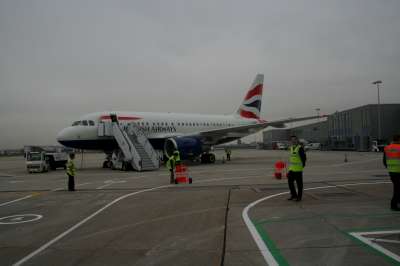 Our big little bird
There was only one immigration officer, but we were the only flight they were taking care of. I was intentionally last in line as I wanted to see how long it would take. I was through in less than five minutes, and on the curb in six minutes. Right after immigration was the "arrivals" team, offering Oyster Cards (which are for the transportation systems and got me a free ride on the DLR and tube) along with more information about the London Marriott, which acts as the arrivals facility for this service should one care to freshen up. I didn't end up giving it a try since it was after 10AM and I just wanted to get to the hotel.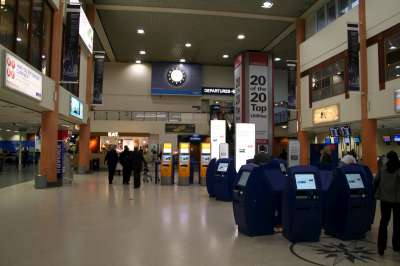 London City Airport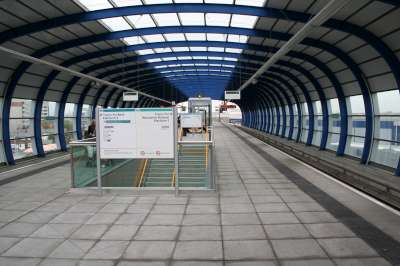 DLR at London City Airport
So what are my conclusions based on the outbound? Club World London City is an un-friggin-believable product. The Terraces lounge at JFK is quite nice and the seats are great, although that's not what sets apart this product. First and foremost, were the phenomenal employees. Never before have I seen three flight attendants so passionate about good customer service. They genuinely seemed like they wanted to be there. Not only that, but they were polished. They really knew what they were doing, and it showed. The cabin crew get a perfect score in my book, and that's very rare for me.
Beyond that, flying on a 32 seat plane is just an amazing experience. No queues, no 45 minute boarding time, and no long lines at immigration. It really feels like a private jet. This product is a winner.