---
After going with my brother to shop for a Halloween costume for him (and waiting in line for 20 minutes just go get in the door of the store), it was time to head to the airport for my flight home. Despite leaving three hours before departure, I hardly made my flight. I always take public transportation when possible, but it proved to be a bit of a pain this time around. After several transfers (due to some stations being closed) and not knowing where the hell I was, I made it to the AirTrain station at Jamaica by around 4:15PM. While I knew I would make the flight, I hadn't checked in online yet, so was concerned I would miss the check-in cutoff. I called my brother and he checked me in online to prevent that problem.
I made it to the terminal and still managed to print my boarding pass. Of course terminal 3 at JFK is a total dump. There's no elite security line, but fortunately the line wasn't too long. The TSA agents were particularly militant, though. Fortunately my flight left from gate 1, which is right after the security checkpoint. As I walked up to the gate boarding began, a full 35 minutes before departure. This time there was no moaning about my carry-on.
Delta 133, JFK-TPA, M80
Saturday, October 31
Depart: 5:10PM
Arrive: 8:41PM
Duration: 3hr31min
Seat 2C (First Class)
All three TPA based flight attendants were standing at the door. The purser was Kim, who was an older lady wearing one of the bright pink dresses that Delta flight attendants seem to be sporting to support breast cancer month, and then two older male flight attendants.
There was already a bottle of water waiting at my seat, which was quickly followed by pre-departure beverages of choice. I went with a Diet Coke with lime, which was promptly served, and I was even offered a refill (which I declined).
Boarding was done in no time, and I figured we might just have an on-time flight out of JFK. With 20 minutes to go till scheduled departure everyone was aboard, so we were just waiting for the paperwork. Much to my amusement, first class was a massive game of musical chairs. There were only two passengers (including me) that didn't swap seats. There were also four Delta flight attendants commuting in first class (fair enough, I'm all for non-rev benefits).
The door closed with 10 minutes to go till our scheduled departure time, and the safety briefing quickly followed. There was no announcement from the flight deck and we spent a good 30 minutes standing there without any update. At this point Kim took the meal orders, the choices being between a mandarin chicken salad and a turkey cheese sandwich. I went with the salad.
We pushed back but then still stood on a taxiway for another 15 minutes or so. This is where I start to have small issues with non-revs. The commuting flight attendant seated behind me decided to use the lavatory despite us being on a taxiway and the seatbelt sign being on. Now, if she really has to go, fine, but let's be honest, almost any revenue passenger on a US airline would be scolded (maybe even over the PA) for that. Fair enough, I figured, when you've gotta go you've gotta go.
But then she goes in the galley and starts chatting with the flight attendants. And she continued to stand there talking as we taxied towards the runway. Sorry, it just doesn't look good when you're flying as a passenger in uniform and break the rules, while we're constantly reminded about the need to remain seated whenever the seatbelt sign is on, not just for our safety, but also for the safety of those around us. Set an example, please.
Anyway, we began our rather long taxi, and I was entertained as the guy sitting next to me started to count how many planes were waiting for takeoff. "One…. two…. three…. four…. five…. six." After about 30 he decided to give up. The captain made a ten second announcement saying we were hopefully going to take off in the next 30 minutes or so, but didn't say anything else (like, oh, I don't know, "welcome aboard").
I dozed off as we queued for takeoff, but soon enough it was our turn. We took off and the seatbelt sign was turned off relatively quickly (which more than made up for the lack of announcements), at which point service began. First came hot towels, which were quickly followed by drinks and then dinner.
The salad was awful. I really liked the one on the way out, but this one had mushy lettuce and tiny strips of chicken and all around lacked flavor. The fruit was fresh and the sugar cookie was delicious, though.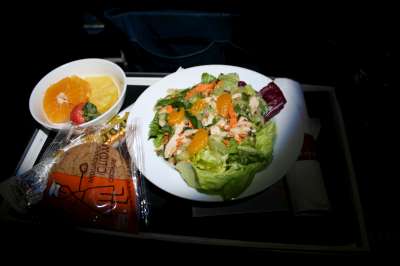 Dinner
After dinner I tried out the in-flight Wi-Fi, which happened to be free thanks to it apparently not working properly. I surfed the web for as long as my battery would allow, which wasn't all that long. Kim came through the cabin every five minutes or so offering refills. She did a bang up job.
After that I dozed off a bit more. It had been a long few days filled with limited sleep and a lot of walking (and exercise), so I basically slept like a baby till the seatbelt sign was turned on. Again no announcement from the captain, other than "flight attendants prepare for landing."
Overall Delta has a decent domestic product. The flight attendants working first class both ways were phenomenal. MD80's suck, and I realize I'm experiencing the worst Delta has to offer. Terminal 3 at JFK sucks. And lastly, non-revs that can't follow the rules suck. But overall a decent experience. I really do need to try some of Delta's pimped out domestic planes, but they never seem to fit into my travel plans.
Anyway, thanks very much for reading! Sorry about the slight delay with the trip report. I had an amazing trip. Club World London City, the InterContinental London, and the city of London itself, were all amazing. I can't wait to return.