——————————————
Amazingly enough this was my first time in London. I've flown through Heathrow many times and have technically visited the UK by going through customs instead of transferring terminals, but this was my first real visit. London was always one of those cities I assumed I would see anyway, so I guess my reasoning was something like "why 'waste' a trip there when I could go to places I otherwise might not visit, like New Zealand or Vietnam" (both of which I love). Of course this trip presented the perfect opportunity.
Beyond that, I'm not sure why, but my expectations weren't that high for London. I always assumed London and New York were alike, and I'm not really a fan of New York (despite having been born there). I know almost everyone will disagree (everyone seems to love New York), but New York just ain't that great, in my book. It's nice to visit once in a while, but I'd never want to move back there permanently. Anyway, I'm starting to get off on a tangent, so let's get back to London.
What can really be said? Holy cow, what a city! My perception couldn't have been any further off. It's easily one of the coolest major cities, and I'm already looking forward to returning. London is a combination of a bustling metropolis, a laid back city, and Disney World (based on the number of landmarks virtually everyone will recognize). It ranks up there with Hong Kong, which is currently at the top of my list for major cities.
The first thing to note is that the weather was incredible. Absolutely the nicest weather I've experienced in well over a year. It was sunny for most of my stay, and more importantly, it was that temperature where you don't feel hot or cold. Simply perfect.
I didn't get to do a whole lot the first day (between taking a nap upon arrival, taking care of some work I had to finish, going to the gym, and dinner, the day was basically over), but the second day I was exploring London from morning till evening.
Now, I should have probably taken a tour on one of those buses, but when I'm traveling alone and don't have a lot of time, I prefer to just wander with a map and see how far I go. I realize my method doesn't get me all the facts, figures, and statistics I could possibly want about a city, but I do find that it gives me a good overview of the city, the people, and most importantly, the vibe. When I left the InterContinental that morning at around 8AM, the only thing set in stone was that I was meeting a friend for lunch at 12:30PM.
So with a map in hand I started my stroll. While I'm no London expert, I love the location of the InterContinental. It's near Hyde Park, Green Park, and St. James' Park, which is how I started my walk. It's great to be able to start a day of sightseeing with fresh air and falling leaves (especially as a Floridian). While New York might have Central Park, it can't compare to this, in my opinion.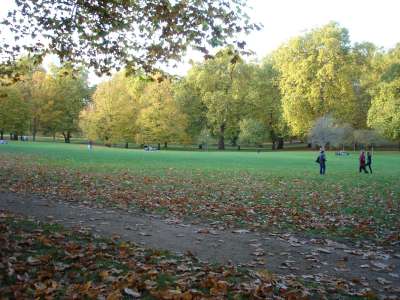 Ah, leaves….
The next stop was Buckingham Palace, which was on my way to the Thames River. While I was expecting lots of cops, there was some special event going on. It involved "Delhi 2010," although I'm not sure what exactly the purpose of the ceremony was. I stopped for a few minutes to watch the guy on the big screen talking, which was rather painful to watch. There was some sort of delay issue, and he kept saying that they were talking into his ear, so they took at least a few (dozen) takes.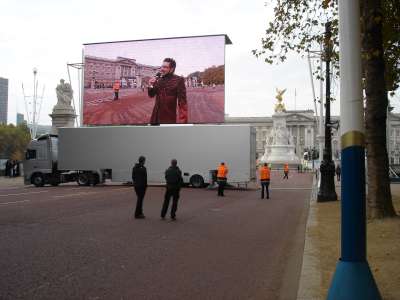 Buckingham Palace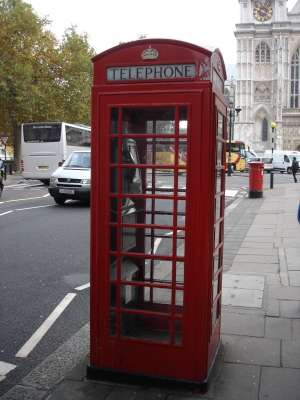 Yes, I'm a tourist, and yes, I had to take a picture…. get over it 😉

I then continued my walk past Westminster Abbey, Westminster Hall, and of course Big Ben, which brought me up to the Thames.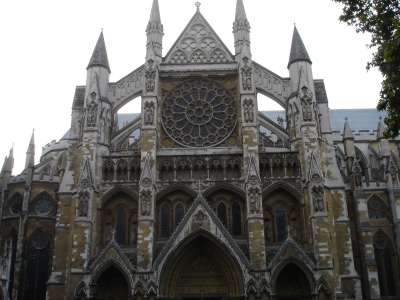 Westminster Abbey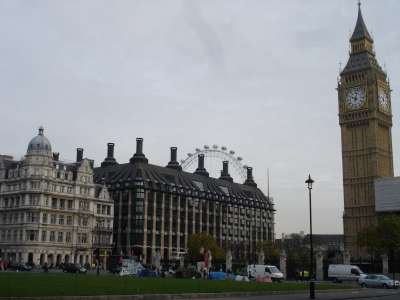 Big Ben and the London Eye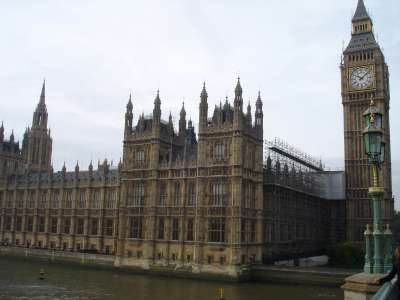 Big Ben and Westminster Hall from the Thames
I crossed Westminster Bridge and walked along the river towards the London Eye. My plan was to do as much walking as possible before lunch, so I was going to come back and take a ride on the London Eye after lunch (since this was close to where I was going to meet my friend for lunch).
I continued walking along the Thames towards Southwark, where I crossed the bridge to the other side. At this point the London Bridge was in sight, so my goal was to make it all the way down there before lunch.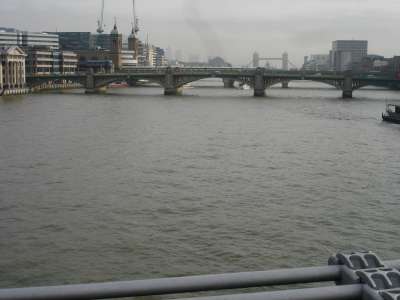 London Bridge in the distance
Of course I got distracted on the way by what I believe is called "The Gherkin," which I had seen pictures of but knew nothing about. I felt like I had to navigate a maze to get there as I took at least a dozen side streets, but I did eventually make it. I even walked by the Salvation Army headquarters. One thing I noticed in London is how many office buildings have offices on the first floors without blinds, so you can see the person sitting at their desk, or in many cases a meeting room filled with people.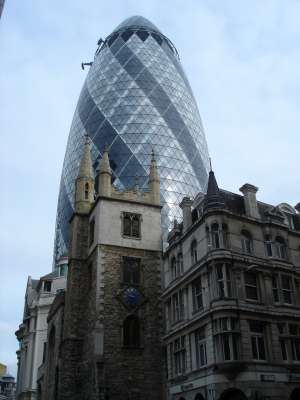 The Gherkin
After that I walked towards the London Bridge. Since I was meeting my friend Lewis for lunch at 12:30PM, I didn't quite make it all the way, as I wanted to leave plenty of time to get back in time. I got pretty close, though.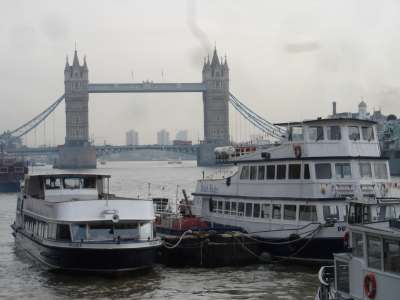 London Bridge
Lewis suggested a traditional British restaurant where we had — you guessed it — fish and chips! While my diet might not approve (I think I've worked it off in the meantime), it was delicious. He insisted we go for the brownie sundae dessert. Again, not diet approved, but excellent. 😉
In addition to discussing everything miles, points, and flying, Lewis was able to provide some suggestions for what to do in the afternoon.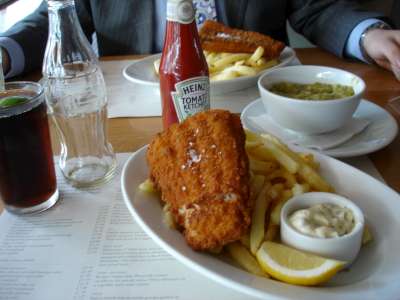 Fish and chips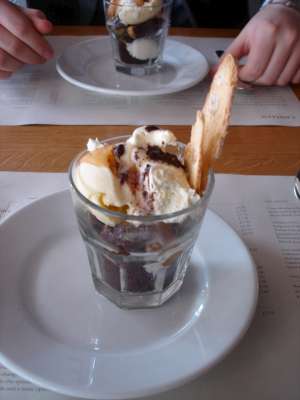 Brownie sundae
The first thing he suggested was taking one of the "duck tours," which are those fancy driving boat things. We went to the "duck tour" office, but they were sold out for the day. Next he suggested the London Eye, but the line was quite long, so I passed (no, it had nothing to do with my fear of heights when there are no wings involved). 😉
Anyway, many thanks for lunch and all the tips, Lewis!
At this point it was just a ridiculously beautiful afternoon. I think the picture below speaks for itself.

Ahhh….
I decided to cross the River and headed towards Trafalgar Square. On my way I took just about every turn possible, so it was about an hour before I made it there. I stayed there for a while and just observed, as it is an interesting place for people watching.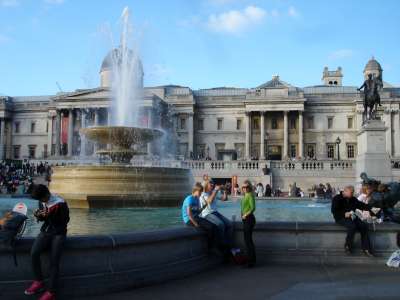 Trafalgar Square
After a bit more walking I found myself approaching the parks again, which were beautiful as the sun slowly began to set. I decided to head back to the hotel for the time being (it was around 5PM).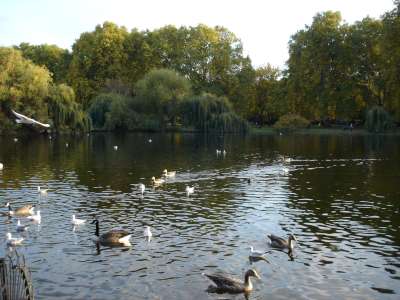 St. James' Park maybe?
Later in the evening I headed back out to see Big Ben by night, which was incredible. Now that I'm looking at the map I'd say I walked around 10 miles or so. The above is only the highlights, mainly because there are many areas I walked through that I can't identify every detail of.
Despite only having a full day in London, I think I did a pretty good job of maximizing my time. London is an incredible city. There's no description I can give that would do it justice, other than to say that I can't wait to return.