Introduction: Emirates, Etihad, Qatar Economy Class Showdown
Review: Zurich Airport Observation Deck
Review: Emirates A380 And 777-300ER Economy Class Zurich To Dubai To Delhi
The Delhi Airport Ground Experience
Review: Air India 747-400 First Class Delhi To Chennai
Review: Jet Airways 737-800 Economy Class Chennai To Mumbai
Review: Qatar Airways 777-300ER Economy Class Mumbai To Doha To Beirut
Transiting Beirut Airport On Separate Tickets
Review: Etihad Airways 787-9 And A320 Economy Class Beirut To Abu Dhabi To Muscat
Review: Premier Inn Abu Dhabi International Airport
Emirates Vs. Etihad Vs. Qatar – Who Has The Best Economy Class?
---
After arriving at Mumbai Airport just after midnight, I made my way up to departures without a single passport or ticket check (a strong contrast to my experience at Delhi Airport). Once inside, I walked over to Qatar check-in.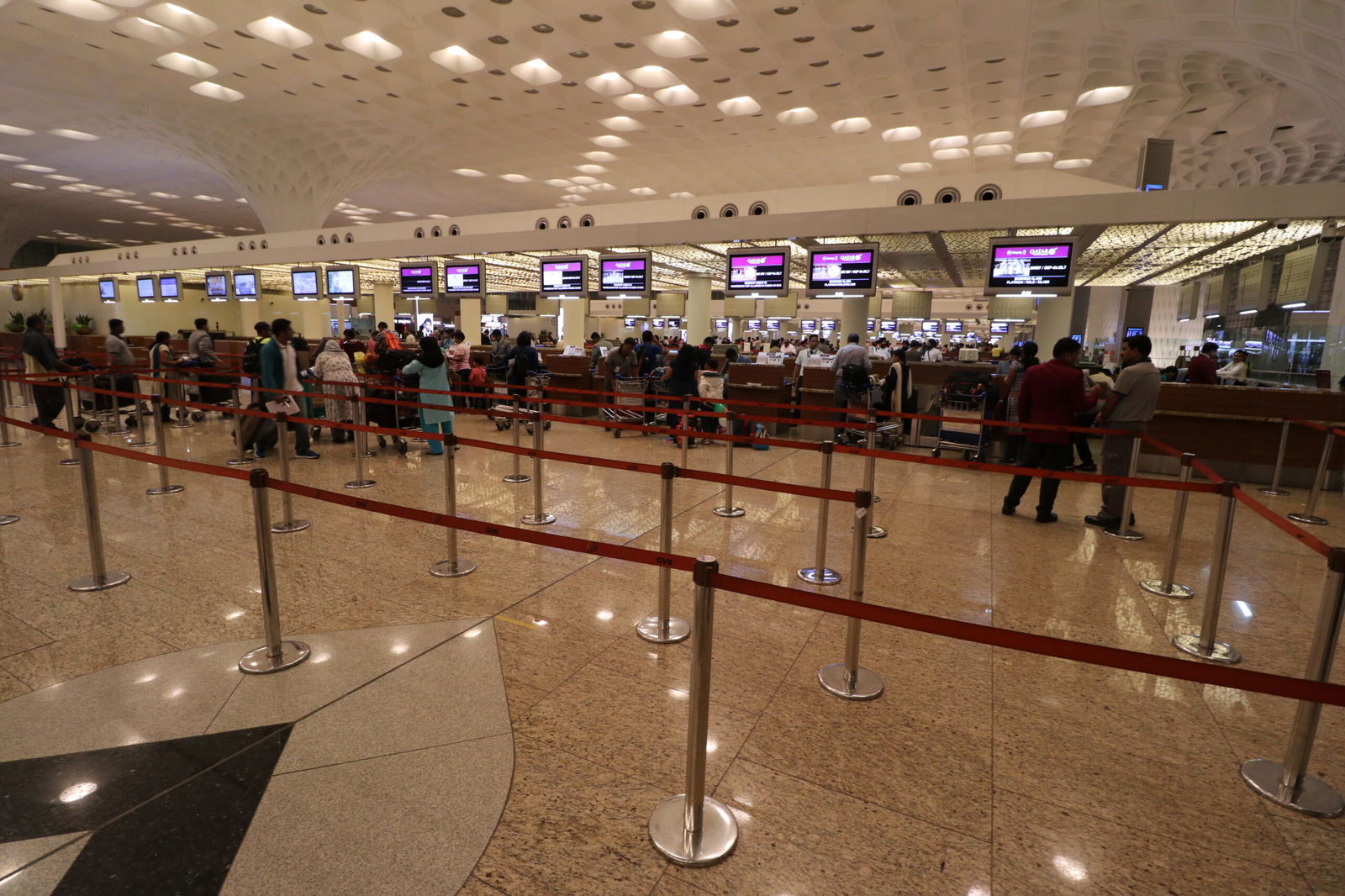 When I got to the front, the agent eyed my carry-ons (one roller bag and one laptop bag). "You can't bring two bags onboard," she said. "You must check one." That would have been fine had I not used hidden city ticketing to book my flight. The final destination of my Mumbai to Doha itinerary was Salalah, and I certainly didn't want my bag to end up there.
I presented my oneworld emerald status to no avail. I asked to talk to a manager who explained that there is nothing they could do. At this point I was freaking out, so I escalated it yet again and spoke to the top manager for Qatar at Mumbai Airport. I explained I was filming an extensive review of Qatar and would need my bags during my layover in Doha. After a few seconds of silence, he beckoned me to proceed. Phew! Moral of the story: only bring one carry-on when flying Qatar, especially from India.
Two things stick out about this to me:
Almost all reputable airlines allow two carry-on items, one large bag, and one personal item.
Emirates and Etihad have similar policies, but Qatar was the only airline to enforce it.
Anyhow, I made my way through security and passport control, which took about an hour and a half. It must have been the longest emigration line I've stood it. When the agent saw my eTourist visa had only been activated the day before, he asked me why I didn't just get a transit visa. "They're so convenient, you should try it next time." Flying back and forth to Stockholm and waiting at least two weeks for a transit visa sure sounds "convenient." 😉
When I got through, I grabbed a quick bite of food in the lounge and headed to my gate.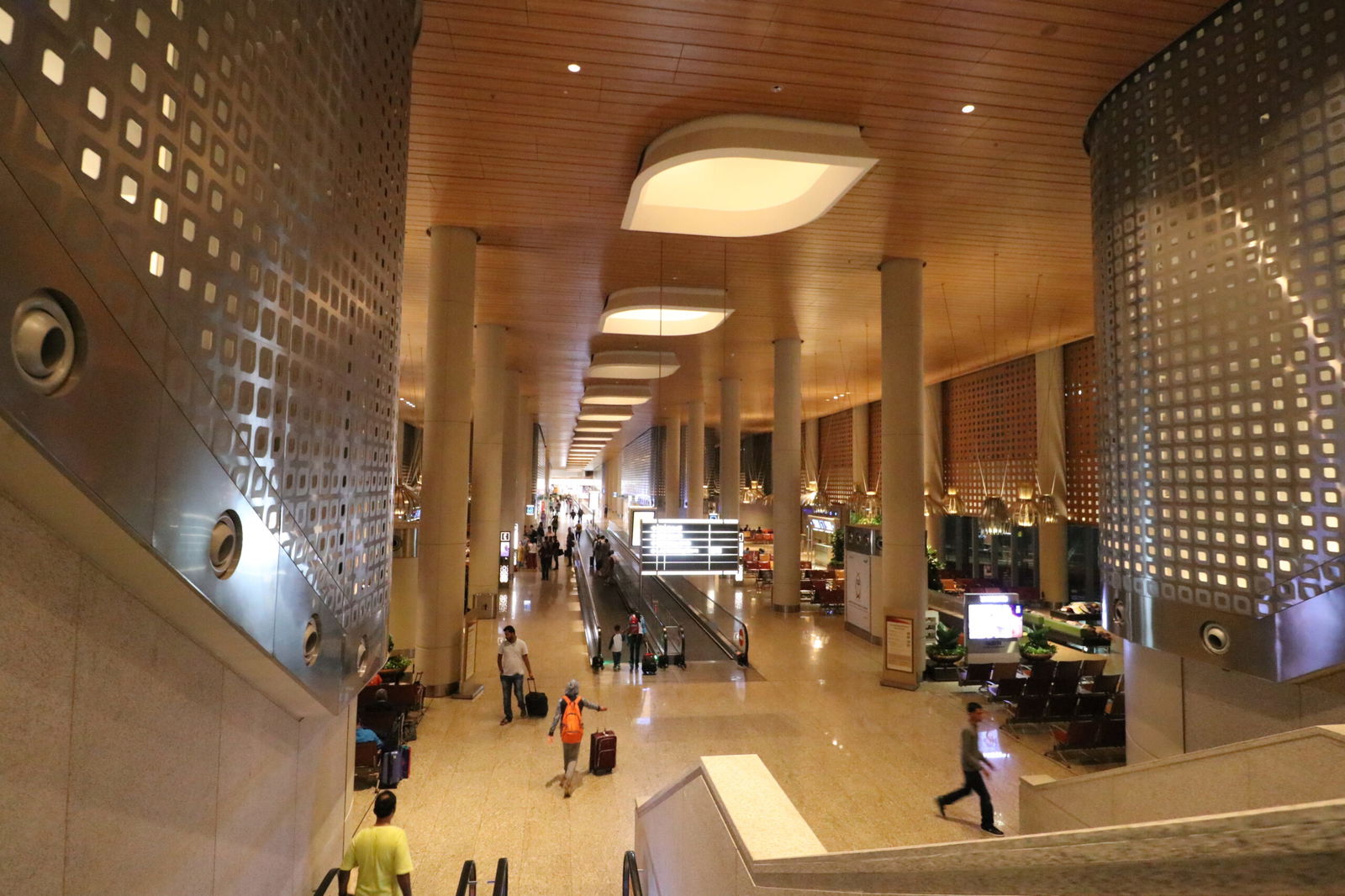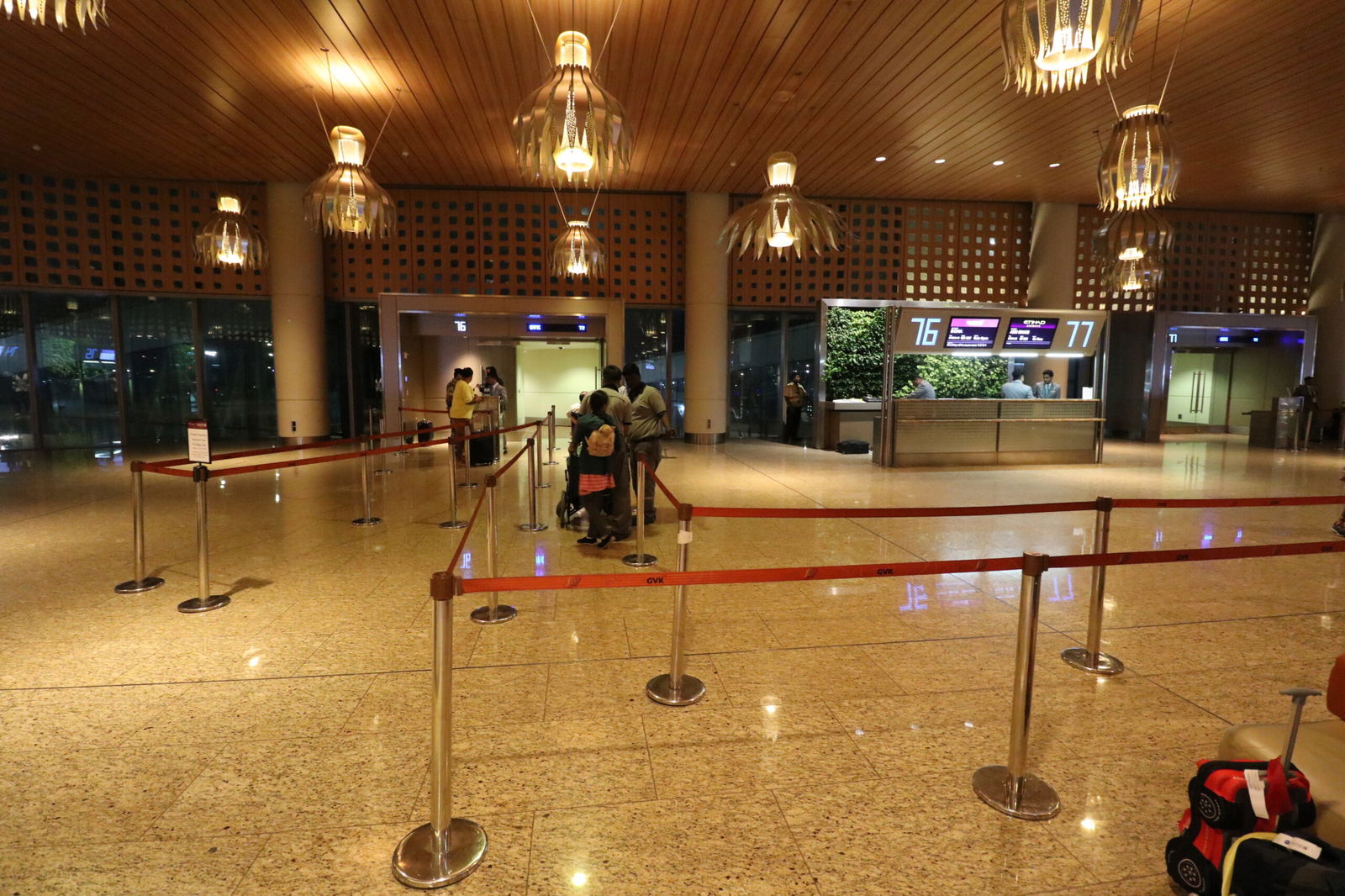 Boarding started promptly with elites and business class passengers.
Qatar Airways 557
Mumbai (BOM) – Doha (DOH)
Depart: 4:10AM
Arrive: 5:10AM
Duration: 3hr00mins
Aircraft: Boeing 777-300
Seat: 15A (Economy Class)
My 777-300 to Doha rocked the oneworld livery!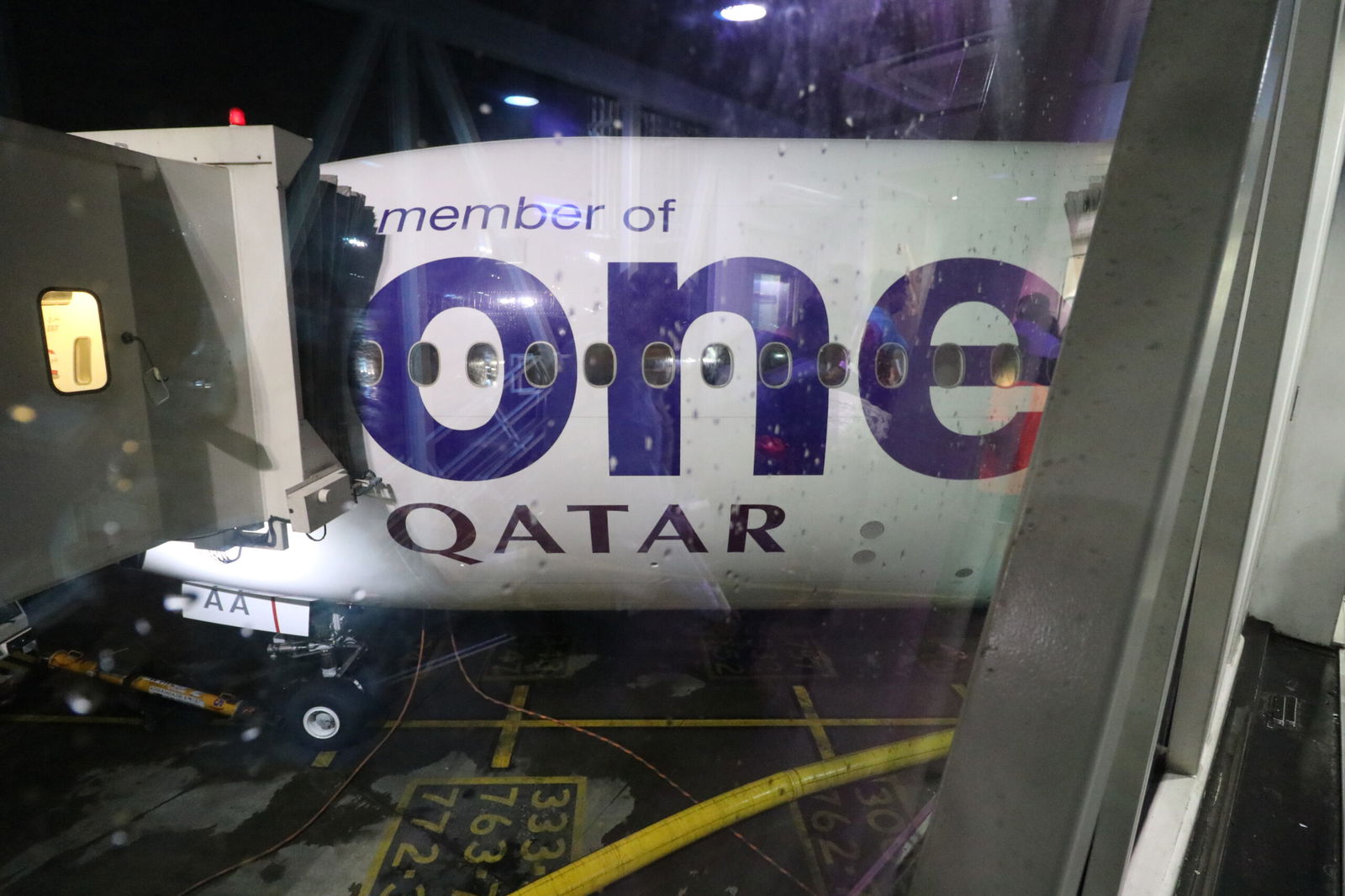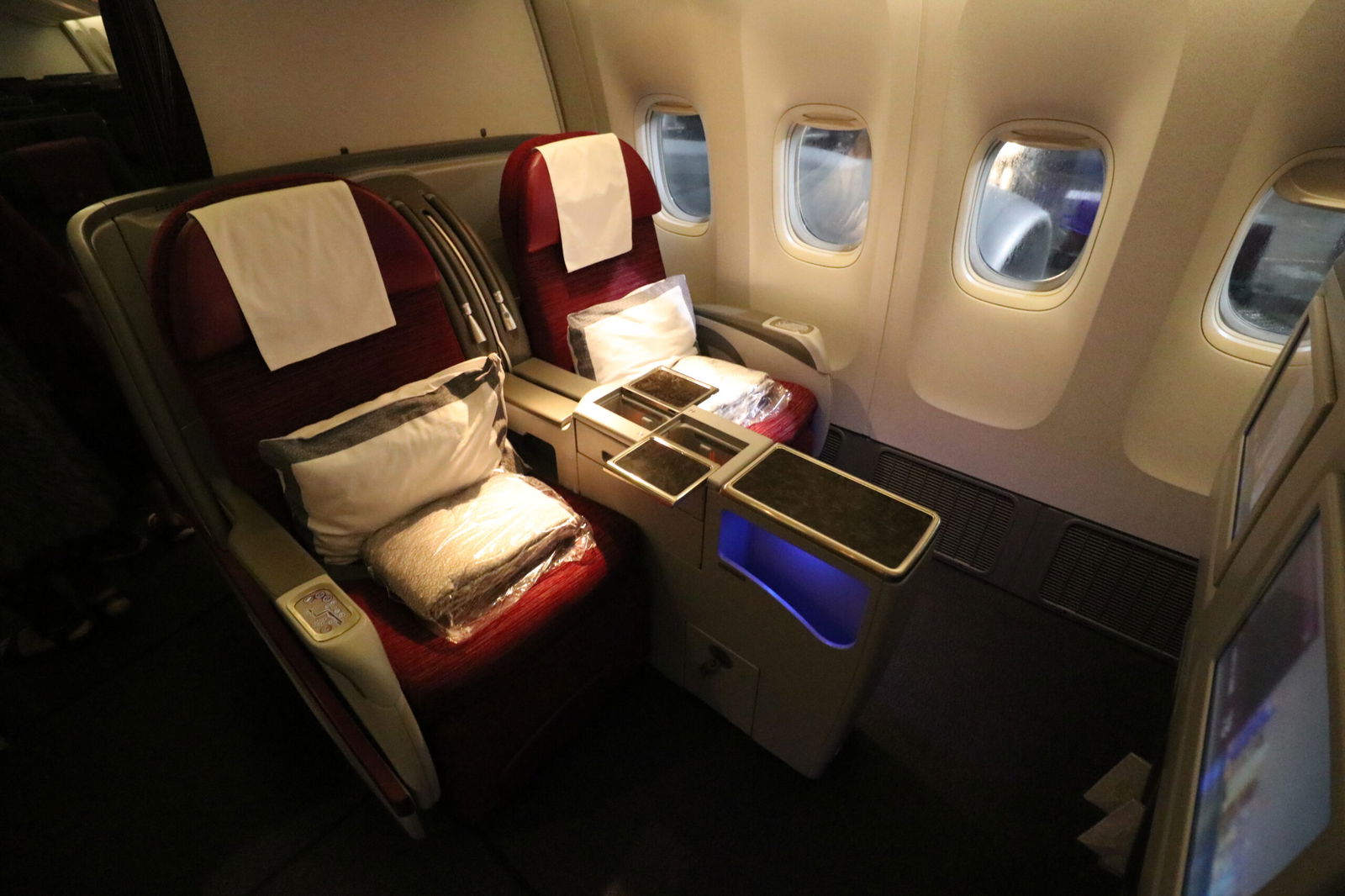 Once onboard, I settled into my seat.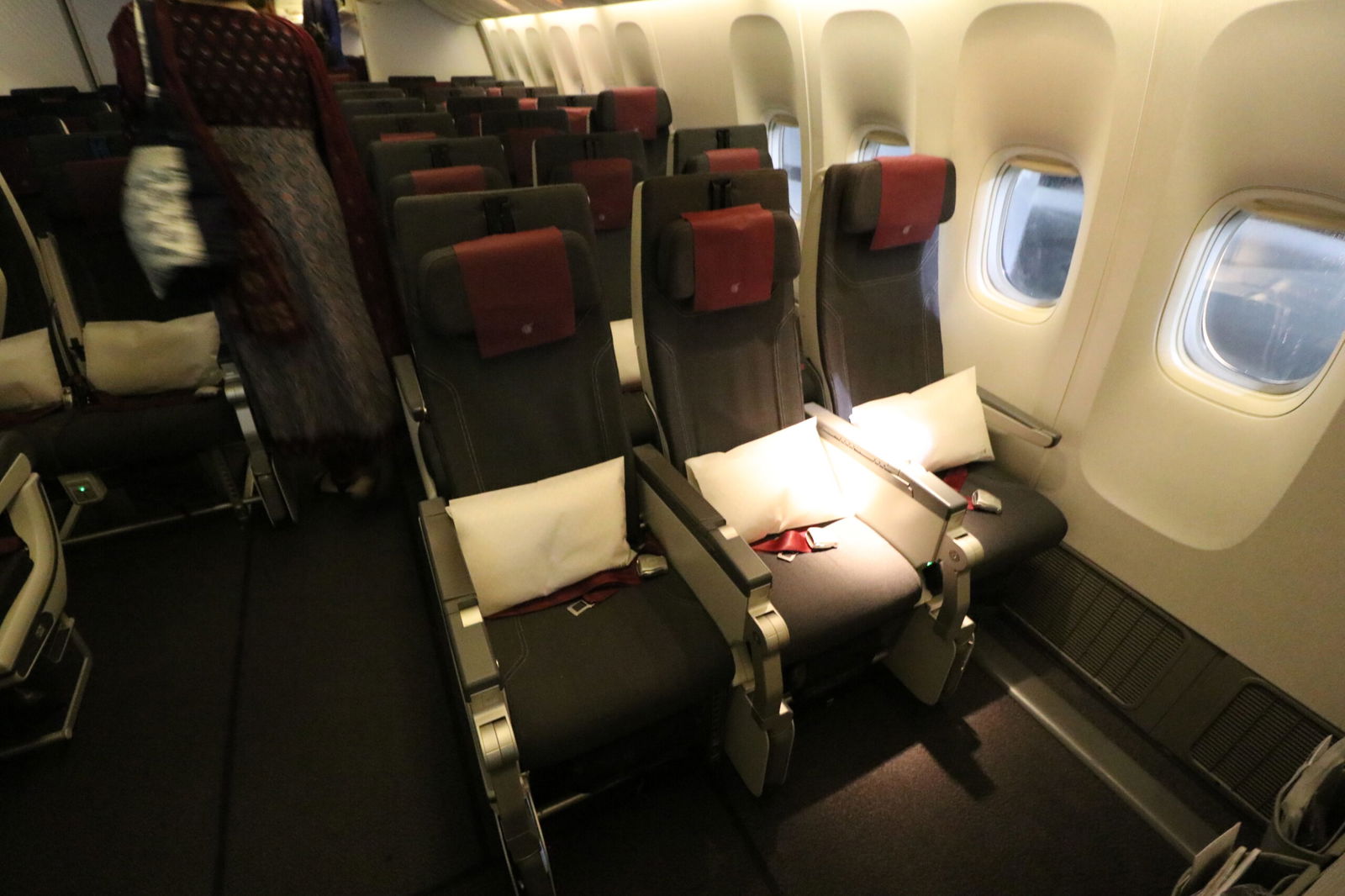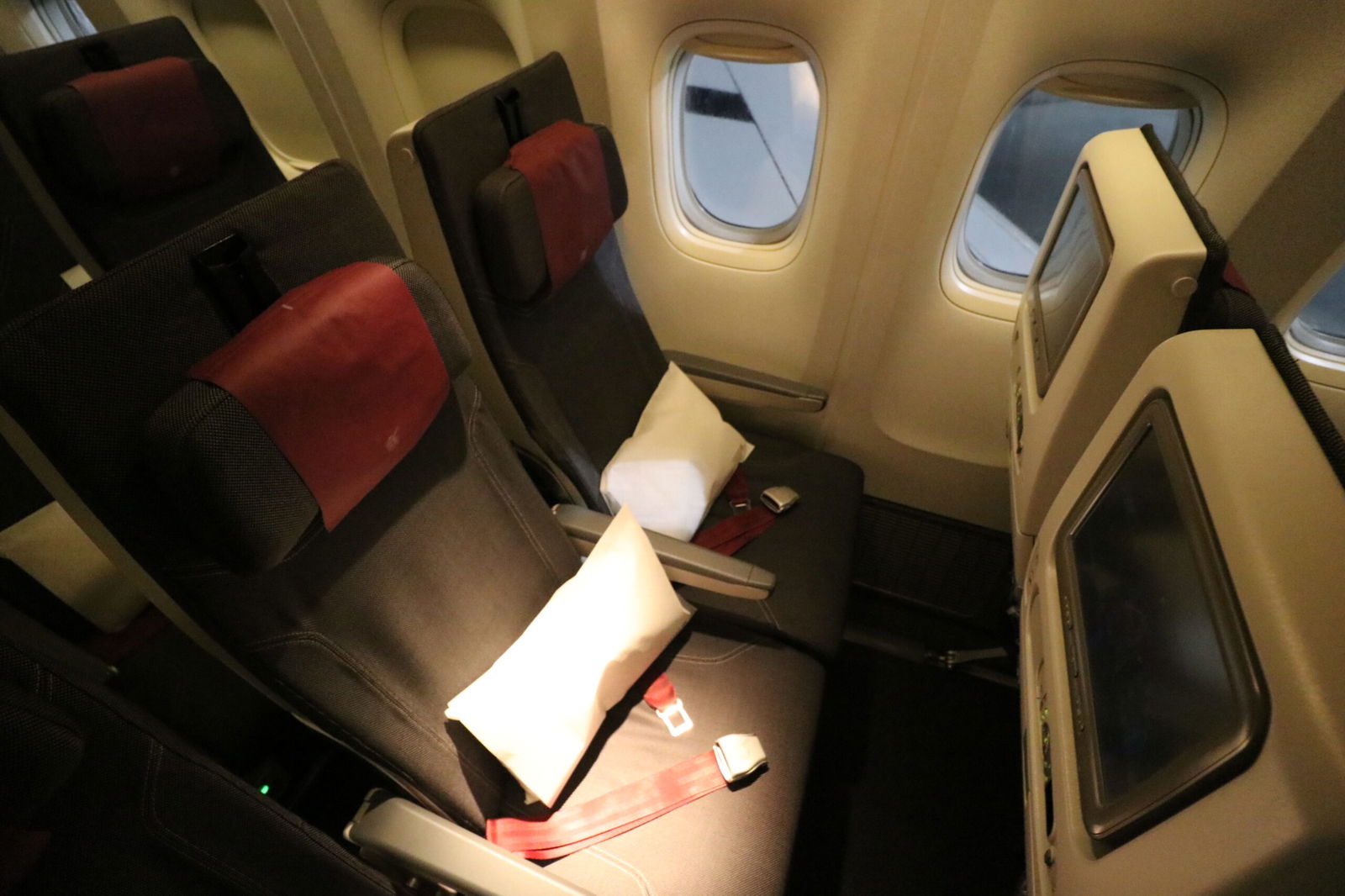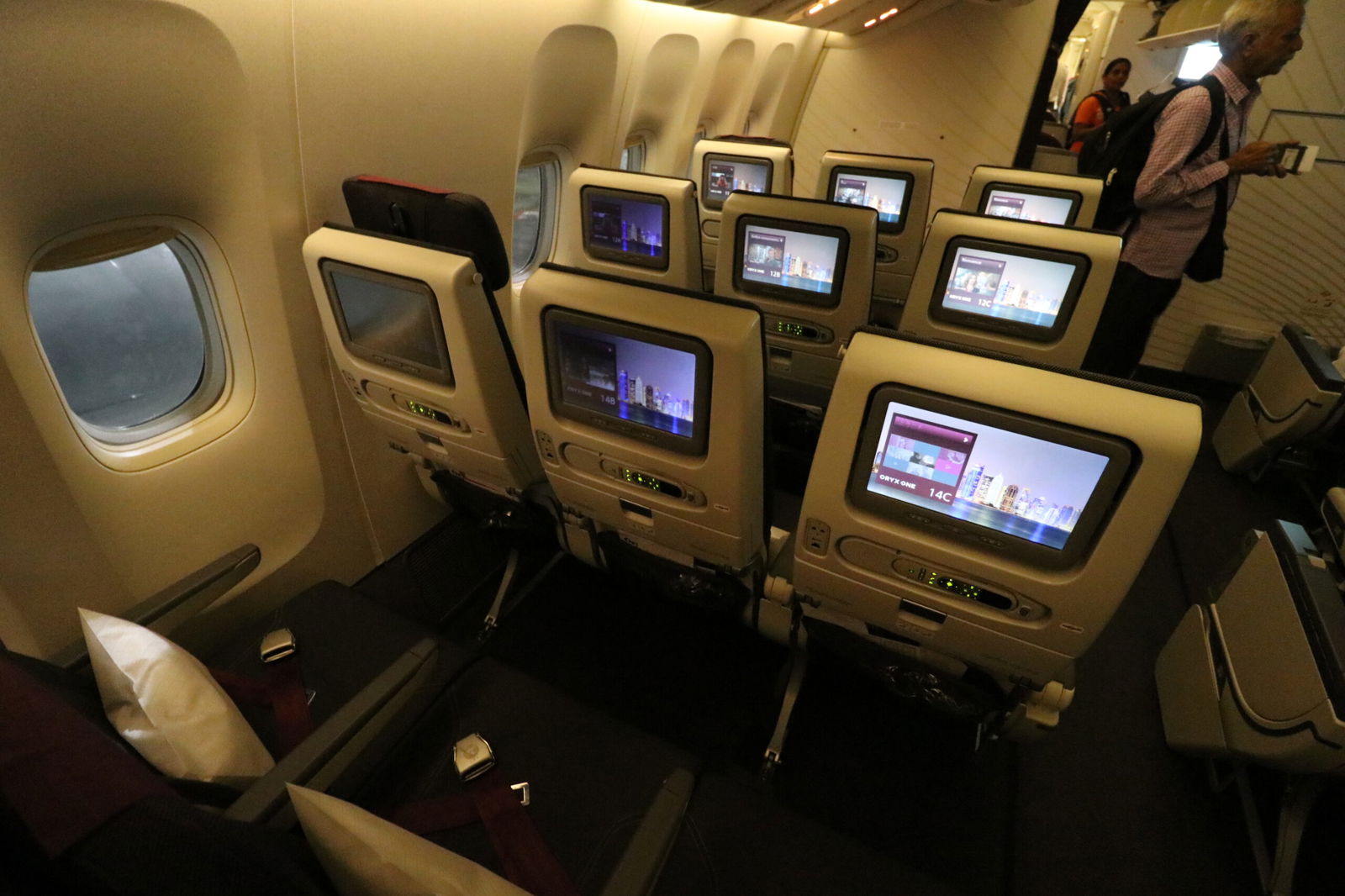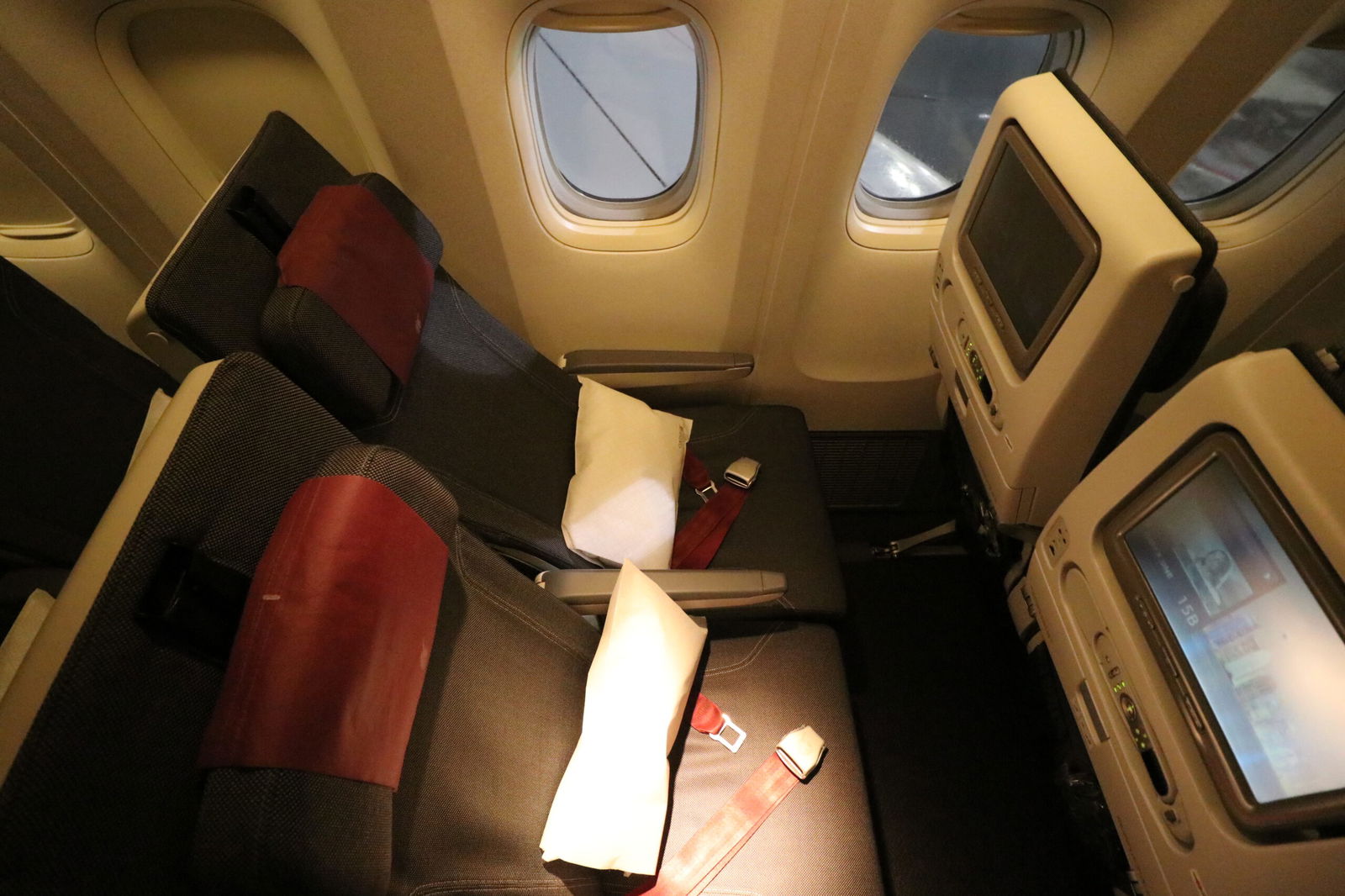 The colors and cabin ambiance are incredibly sleek in my opinion, and I love the slim look of the seats.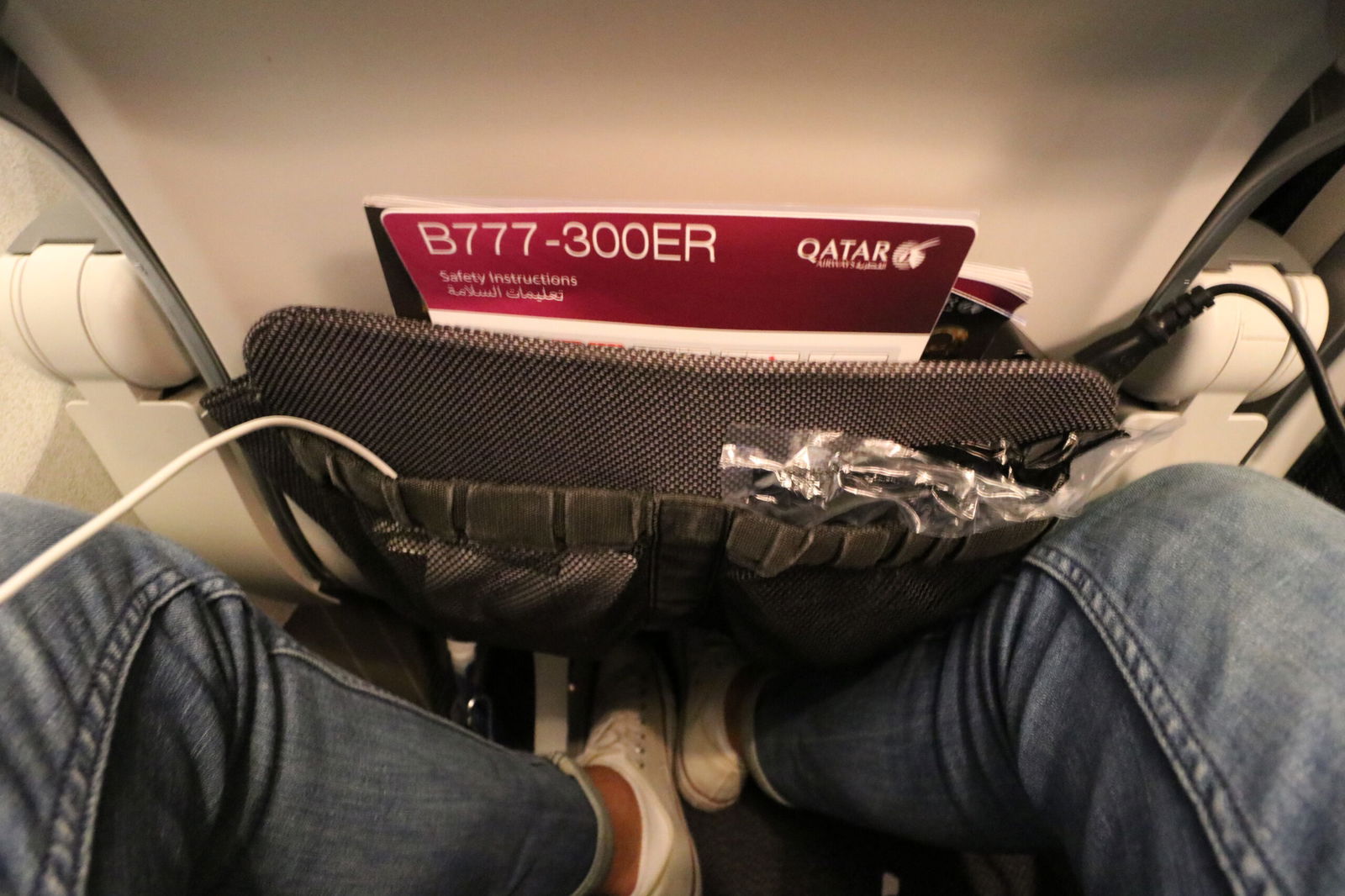 The seatback had three pockets. One of the small ones contained some comfortable headphones and the other was dedicated for PEDs.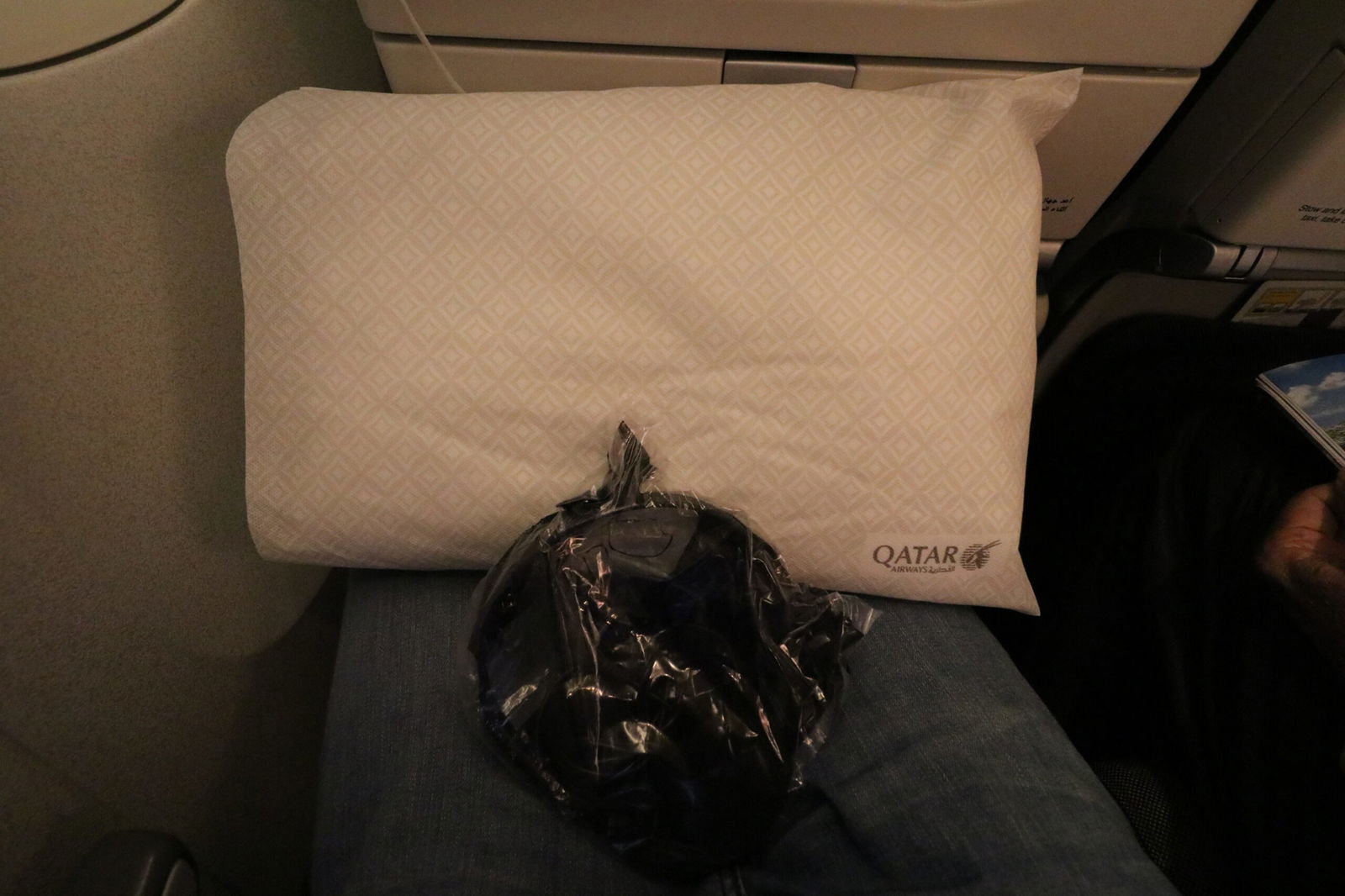 Blankets were available on request but were not provided by default in contrast to Emirates.
Qatar's Oryx entertainment system is fantastic, and while the screen was more standard than Emirates, it's still one of the best in the world.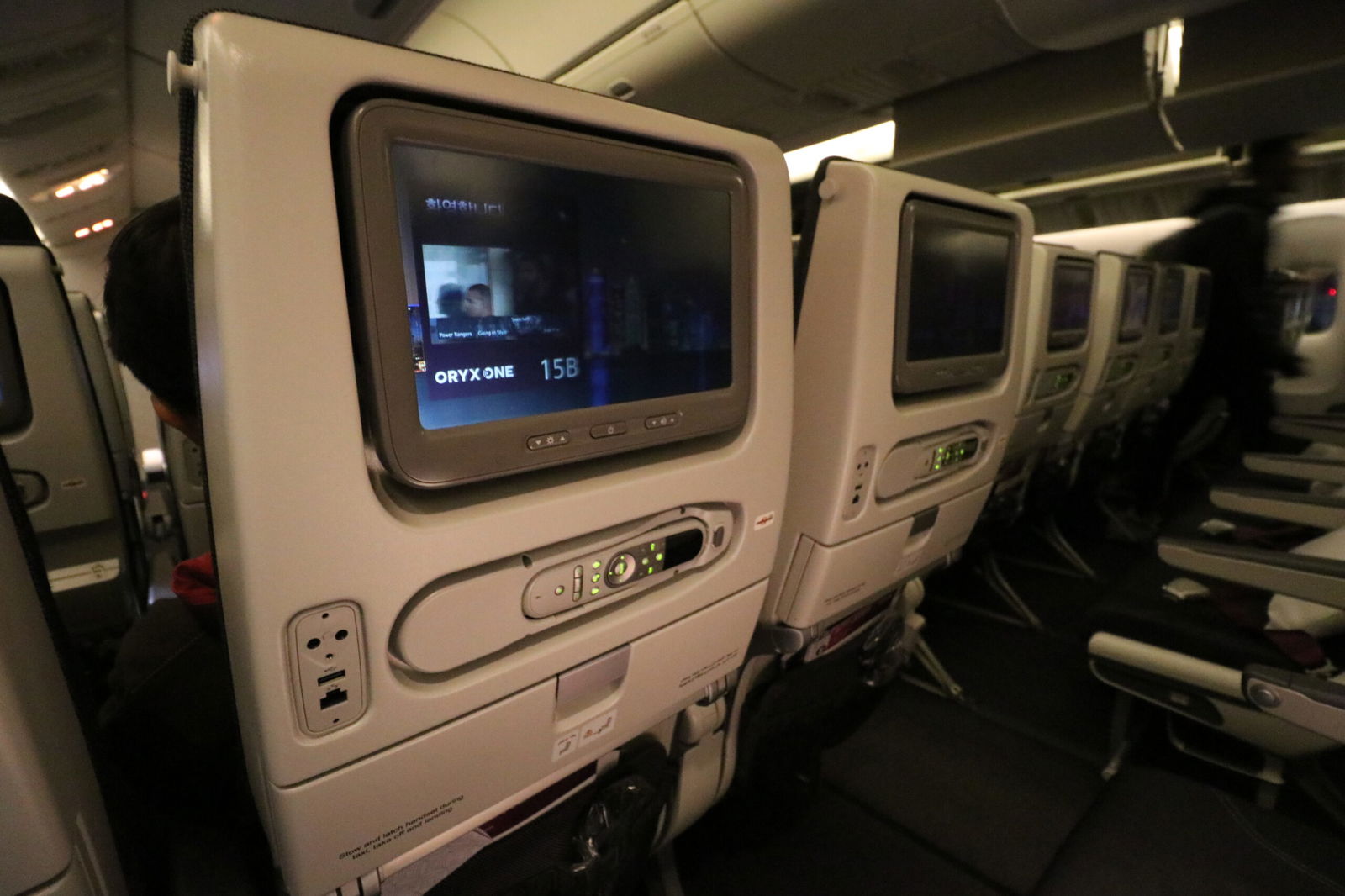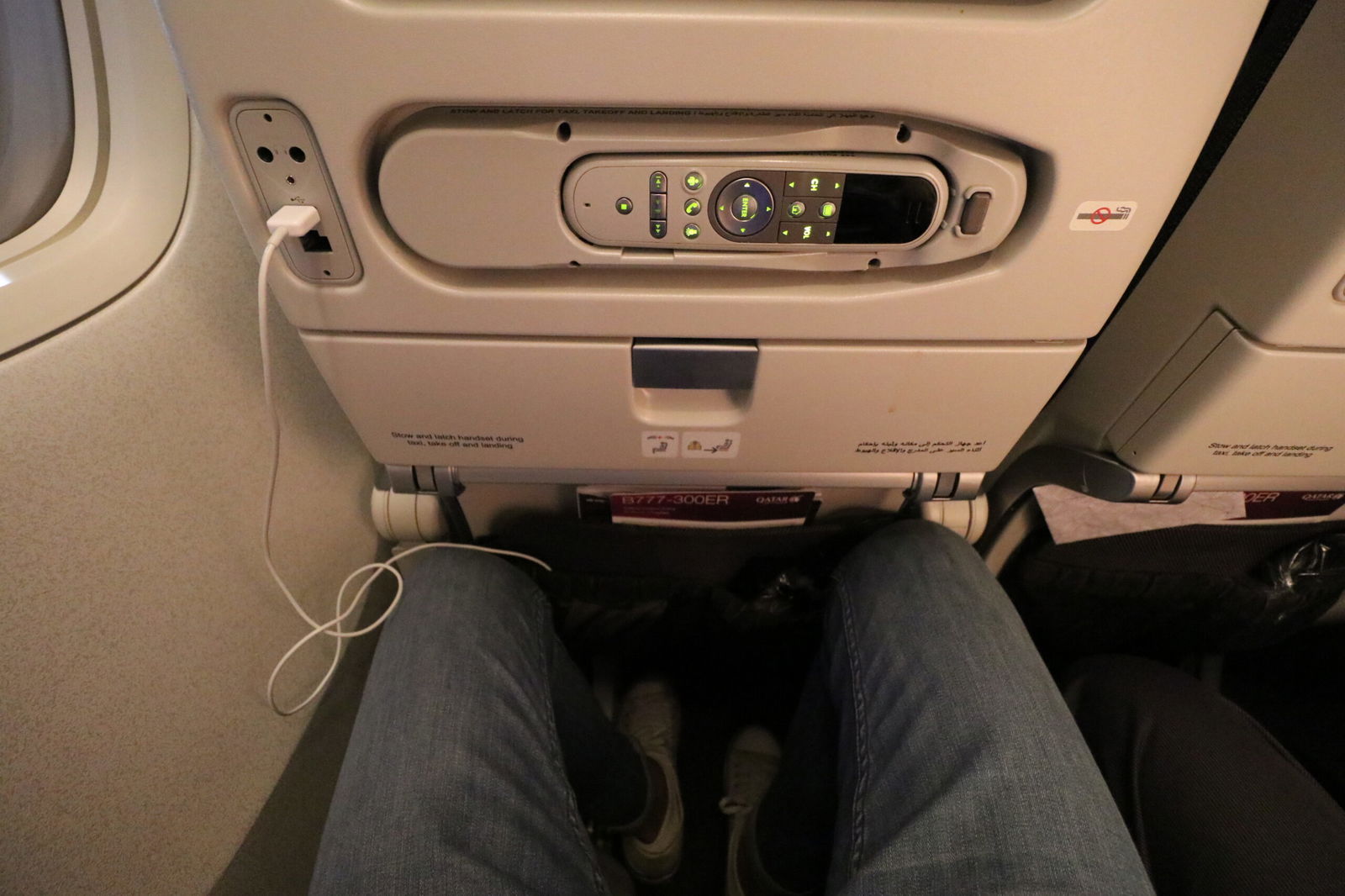 Prior to takeoff, the flight attendants came by distributing menus and "refreshing towels".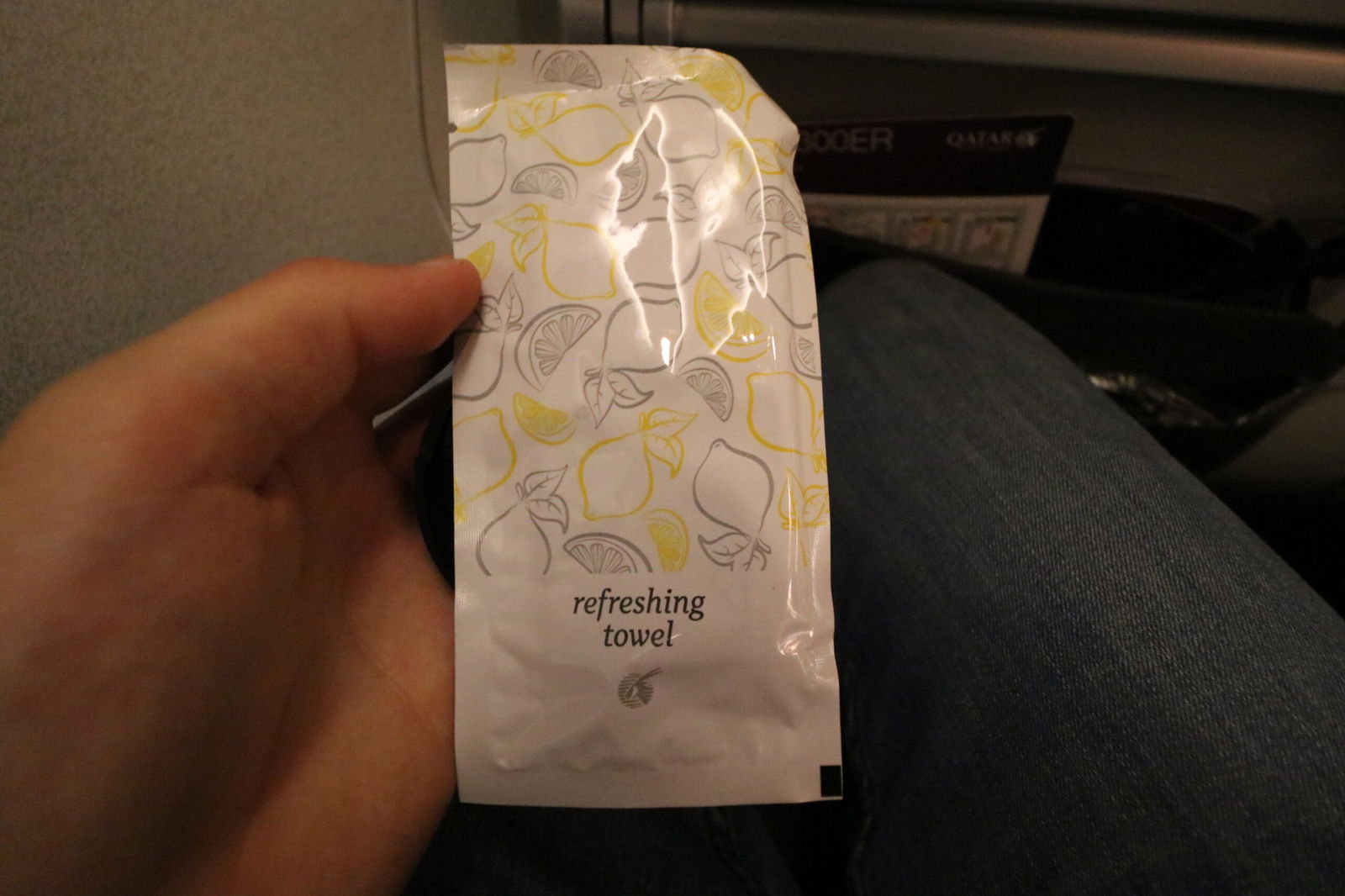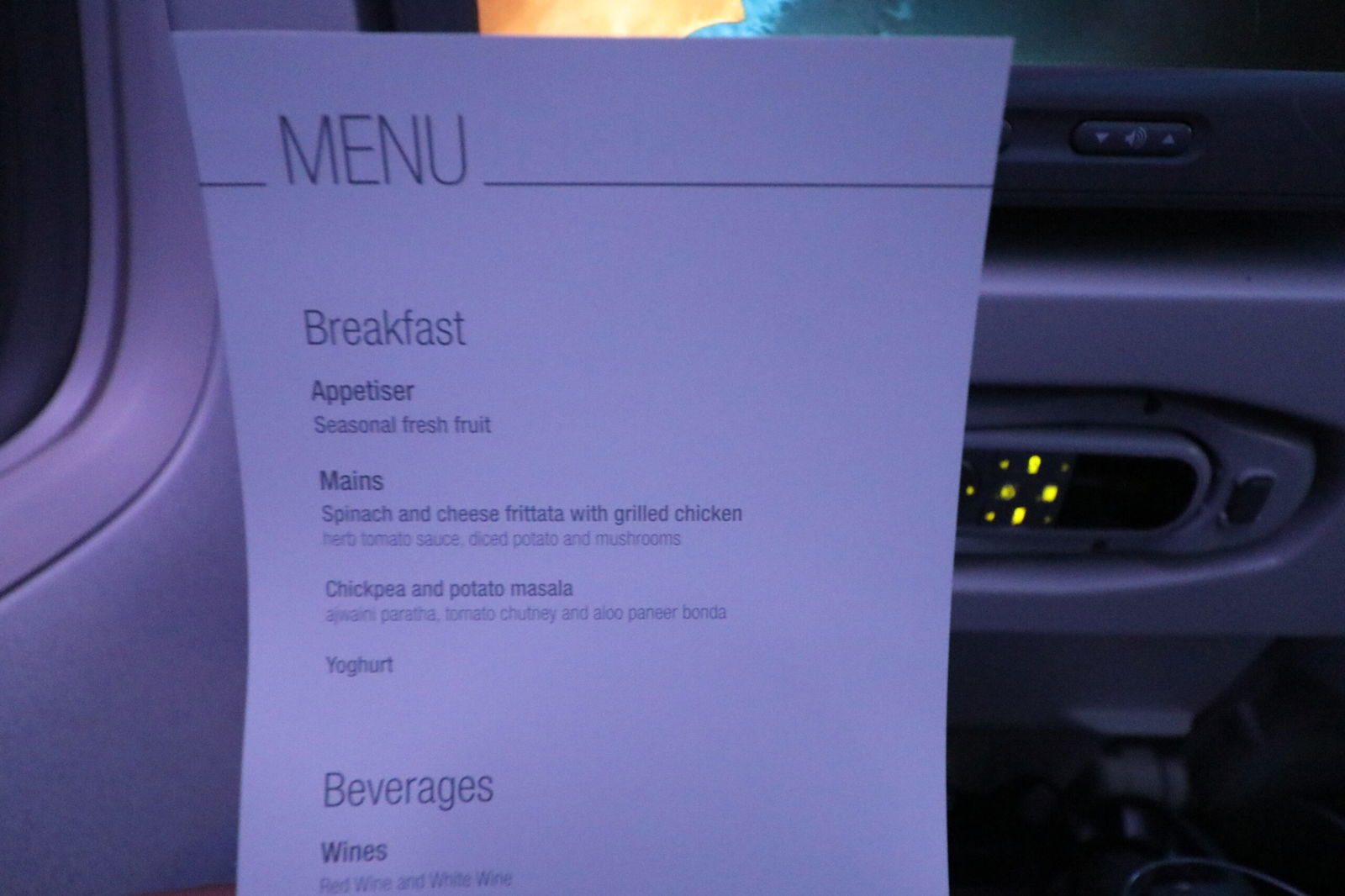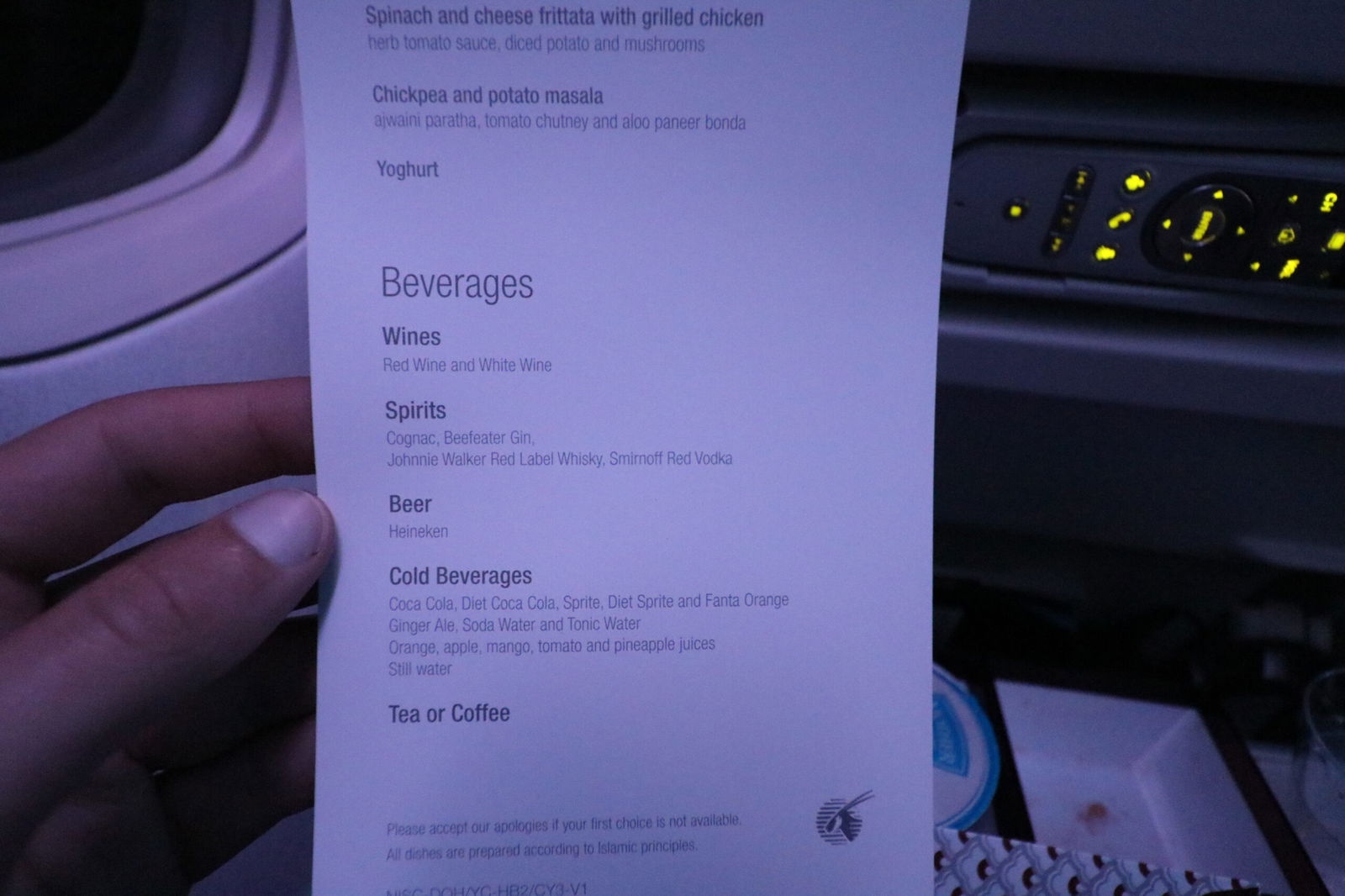 We pushed back on-time. After a short taxi to the active runway, we were airborne towards Doha.
Here's where things got a little frustrating. Despite the 4:30 am departure, the flight attendants started serving beverages and food immediately.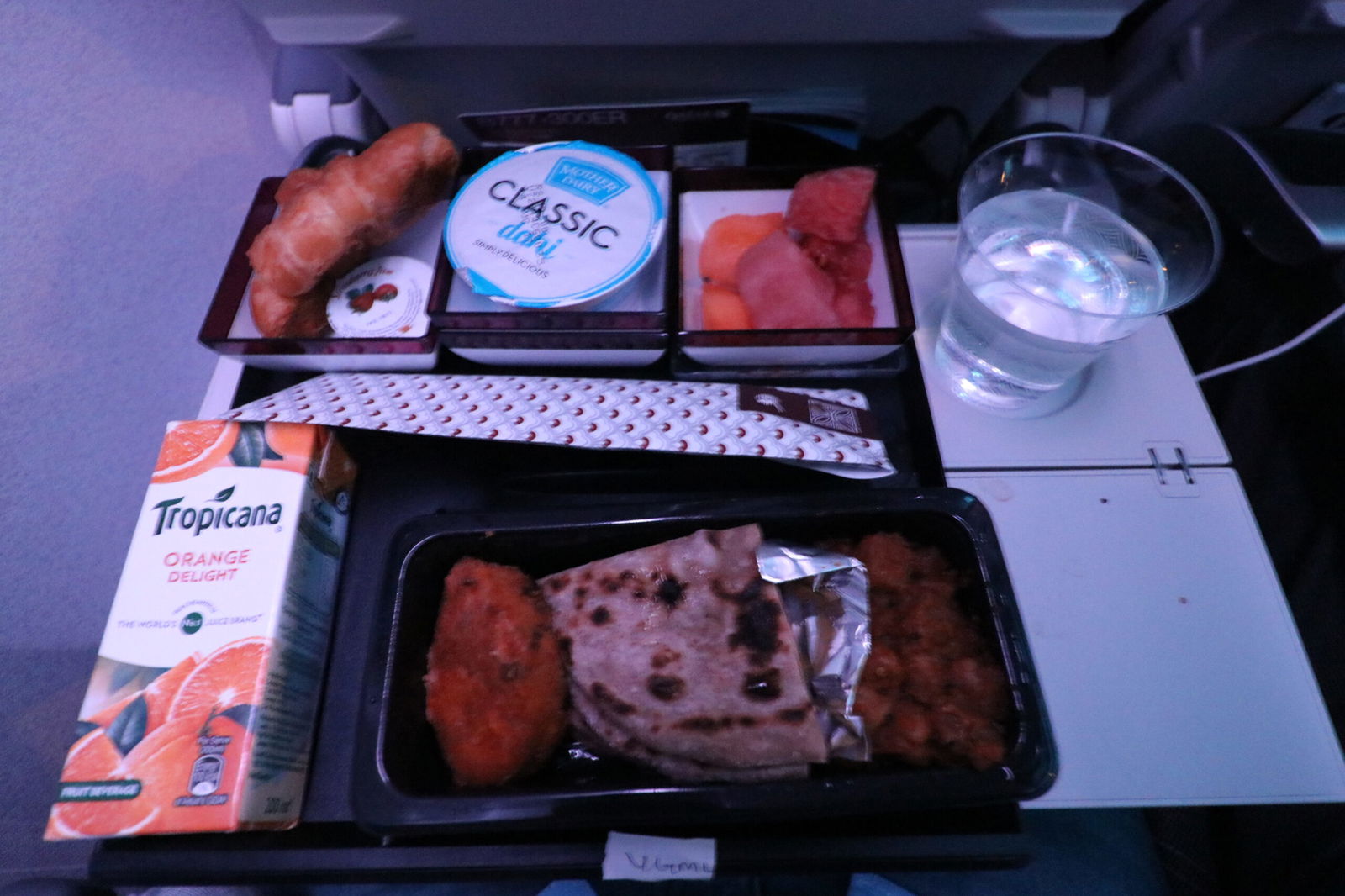 The food was decent, but it wasn't really an hour at which people normally eat breakfast. Everyone seemed a little confused why they didn't serve it before landing instead.
I slept until we started our descent. The flight attendants started preparing for landing 45 minutes before touchdown, just like on Emirates. This was pretty consistent across the Middle Eastern carriers and seems like a surprisingly non-customer oriented policy for them.
We touched down right on schedule as the sun started to rise.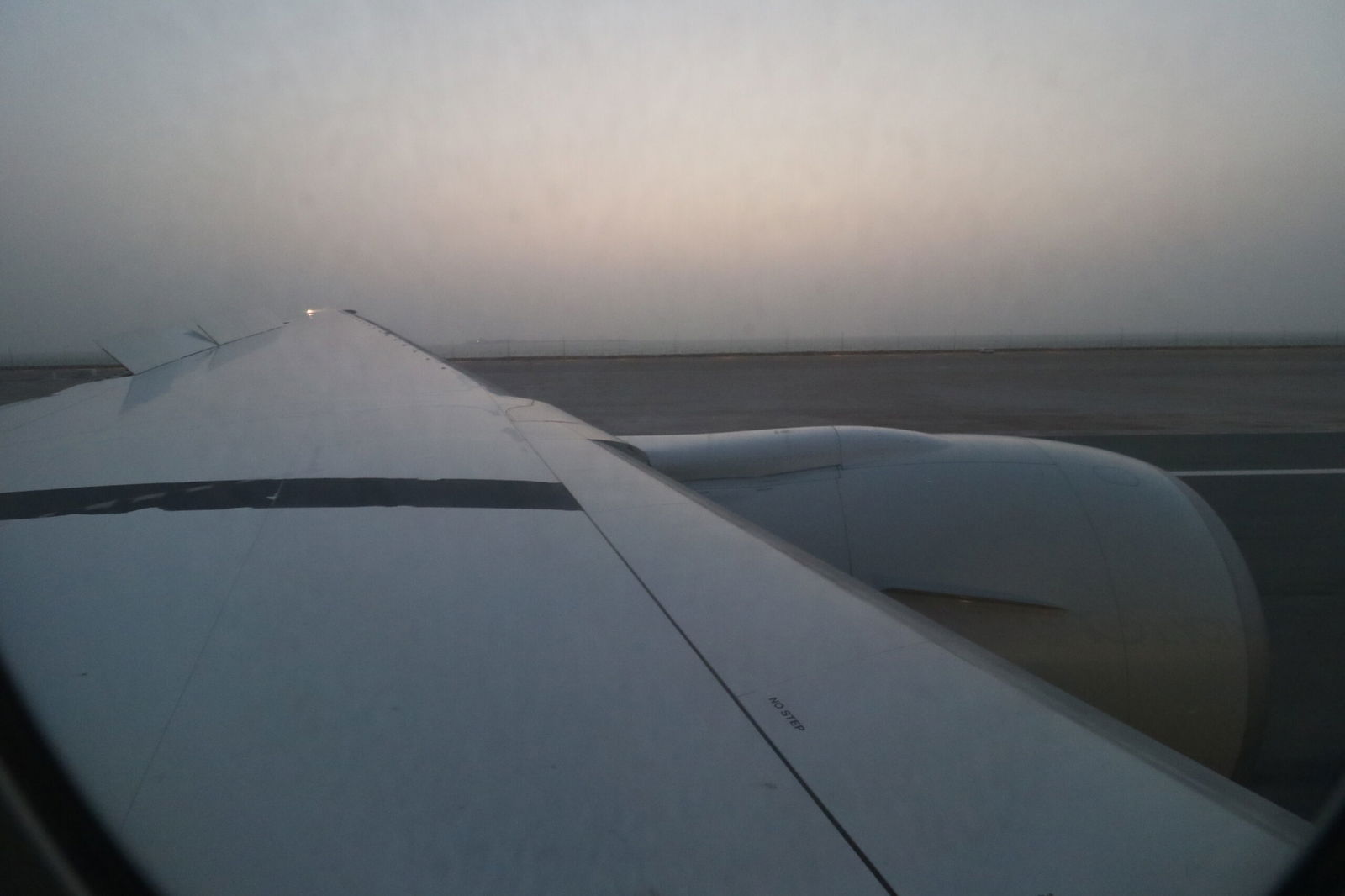 A quick taxi later, we were at our gate.
Transiting in Doha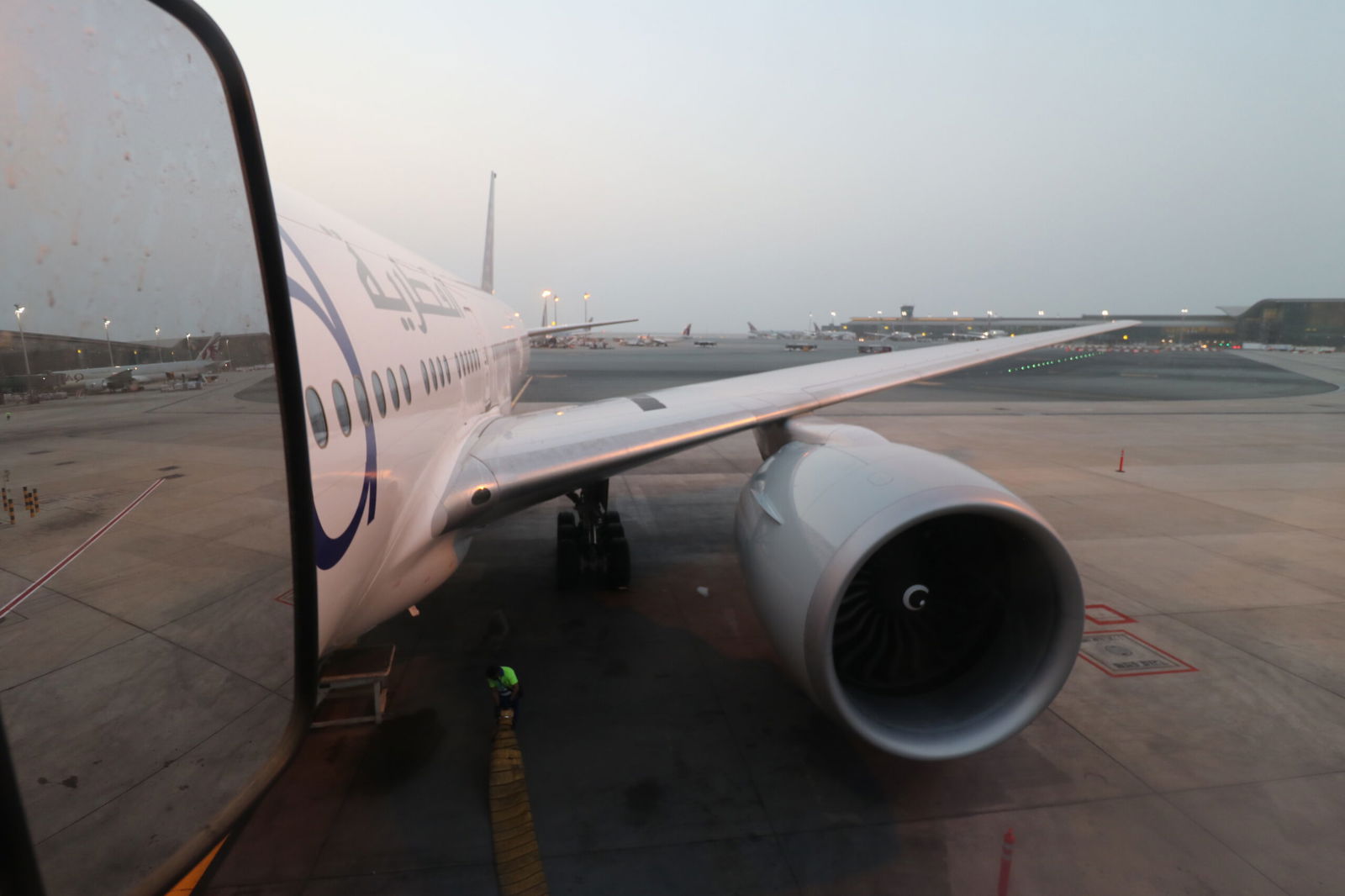 Despite being booked on a separate ticket for my second flight, connecting was super smooth and I was through security in a matter of minutes.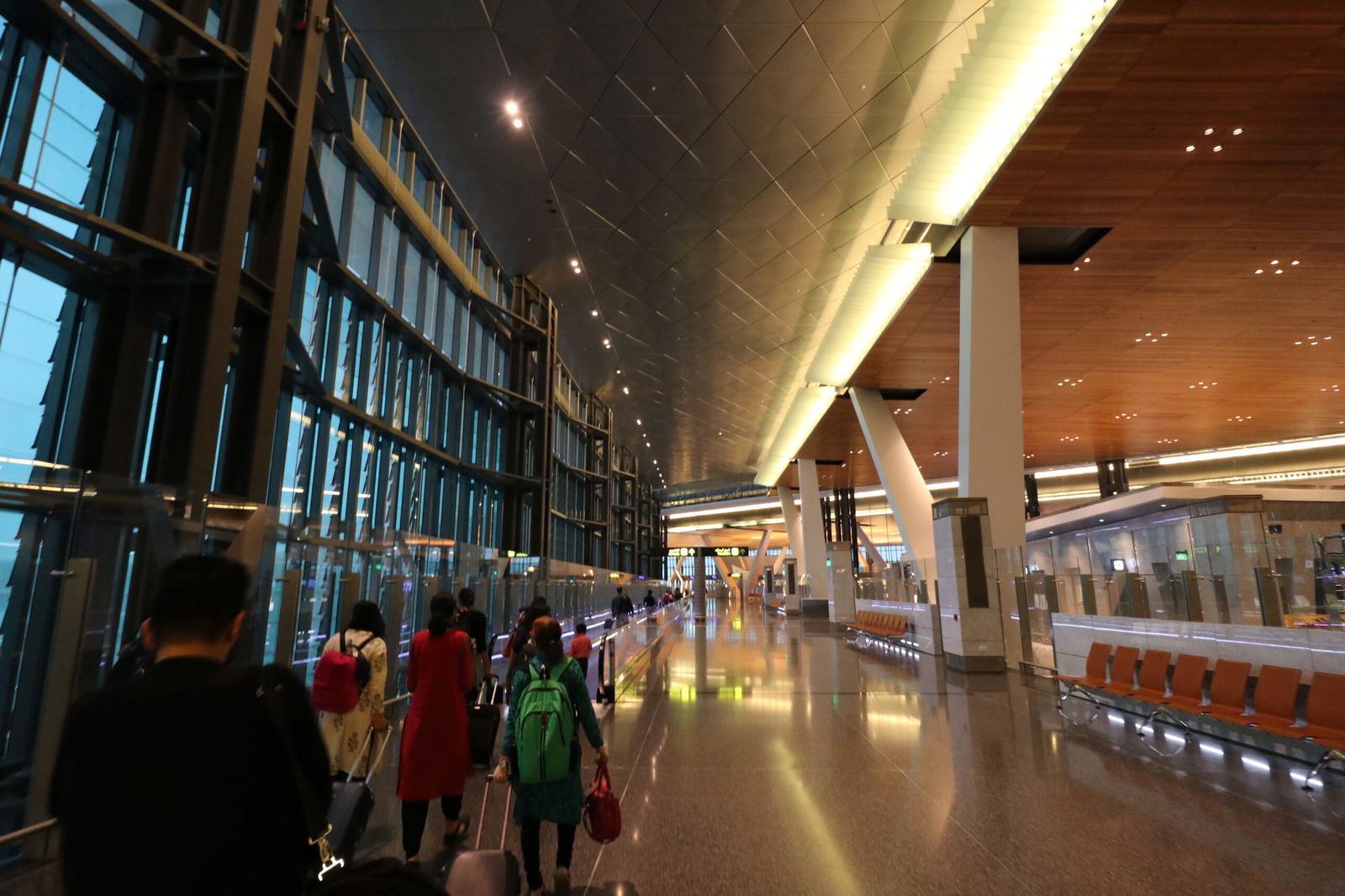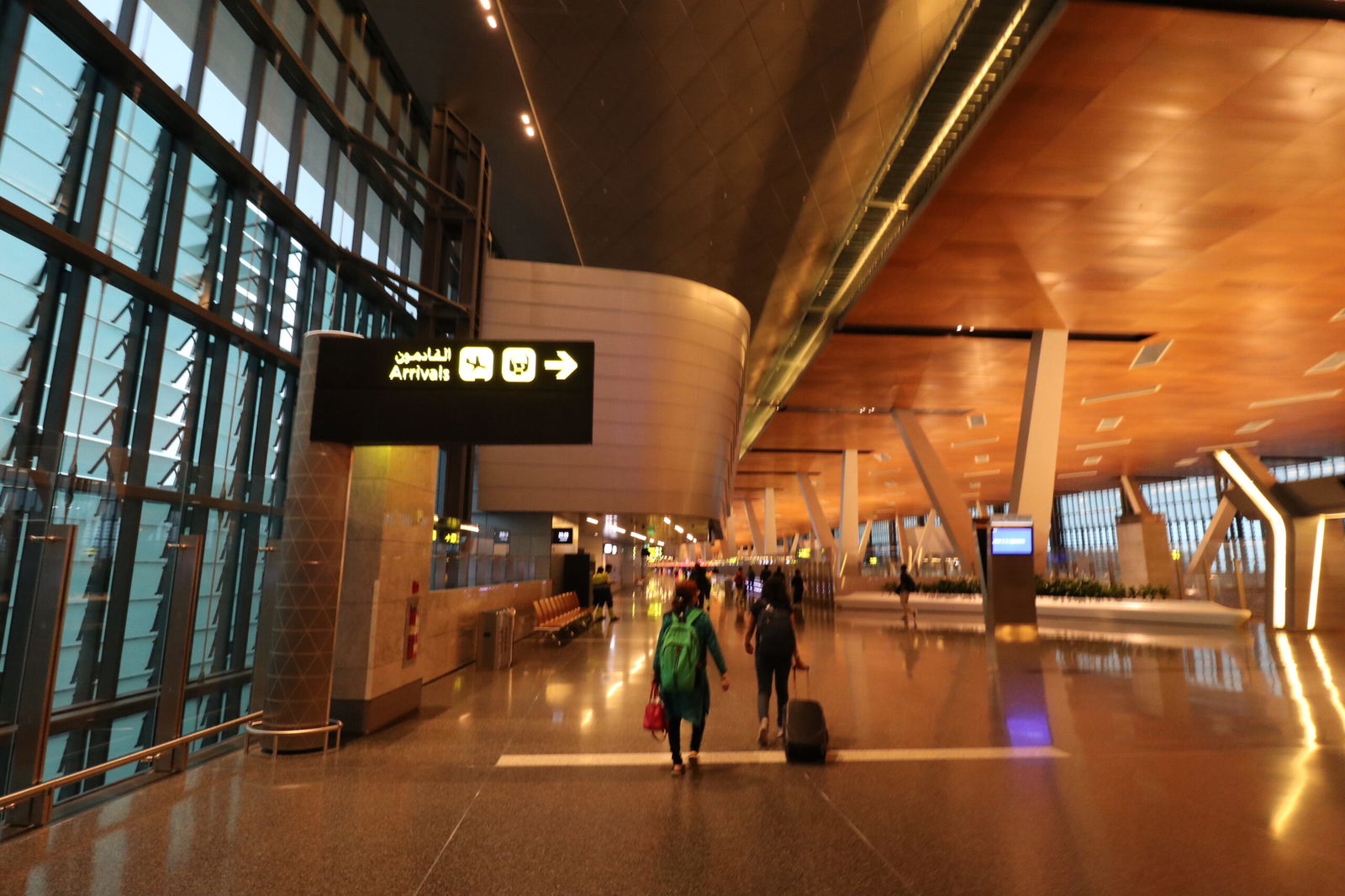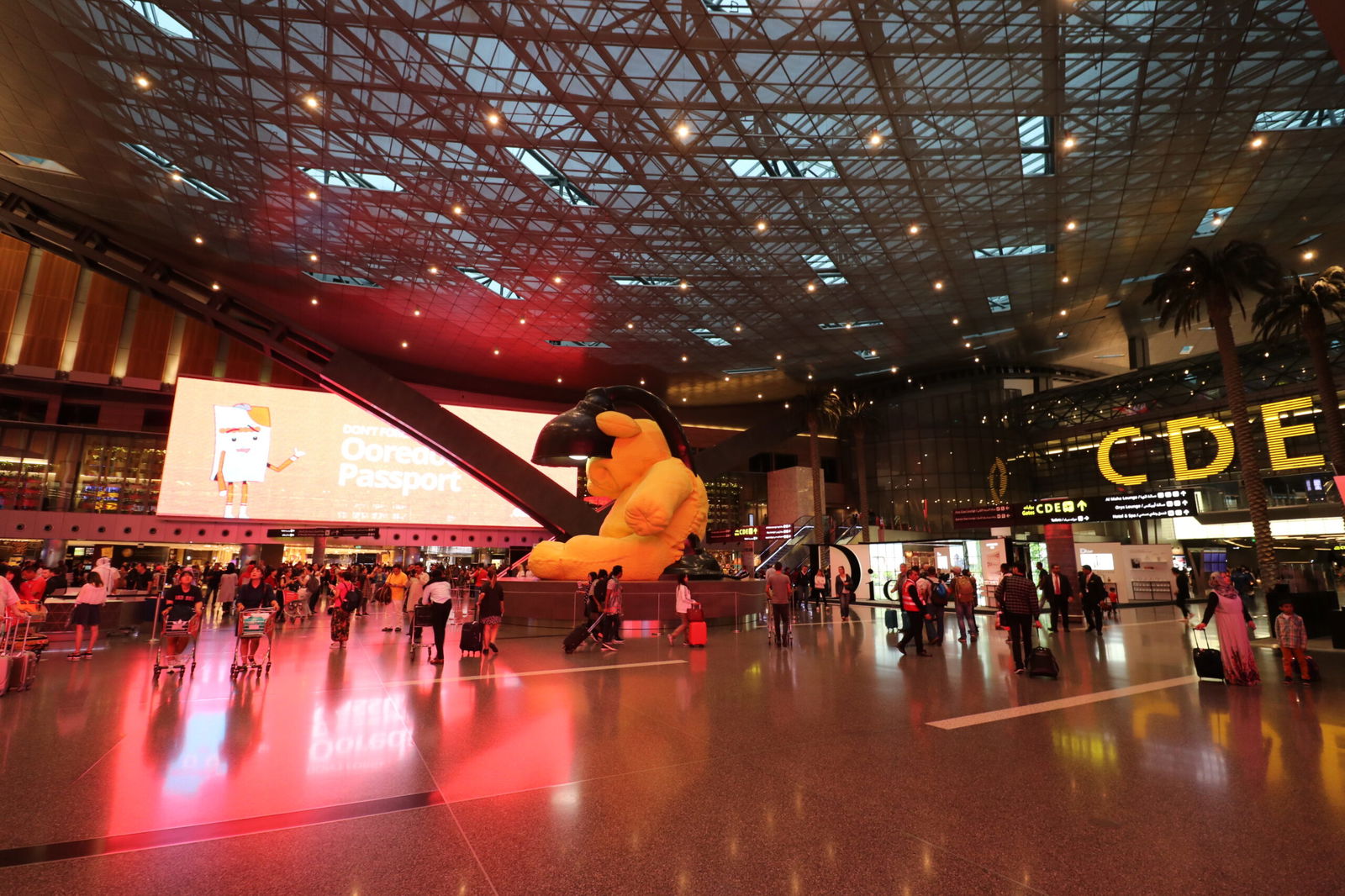 Hamad Airport is one of the most beautiful airports in the world. Though the functionality isn't quite as good as Munich or Copenhagen, it's still in the top five airports in my experience.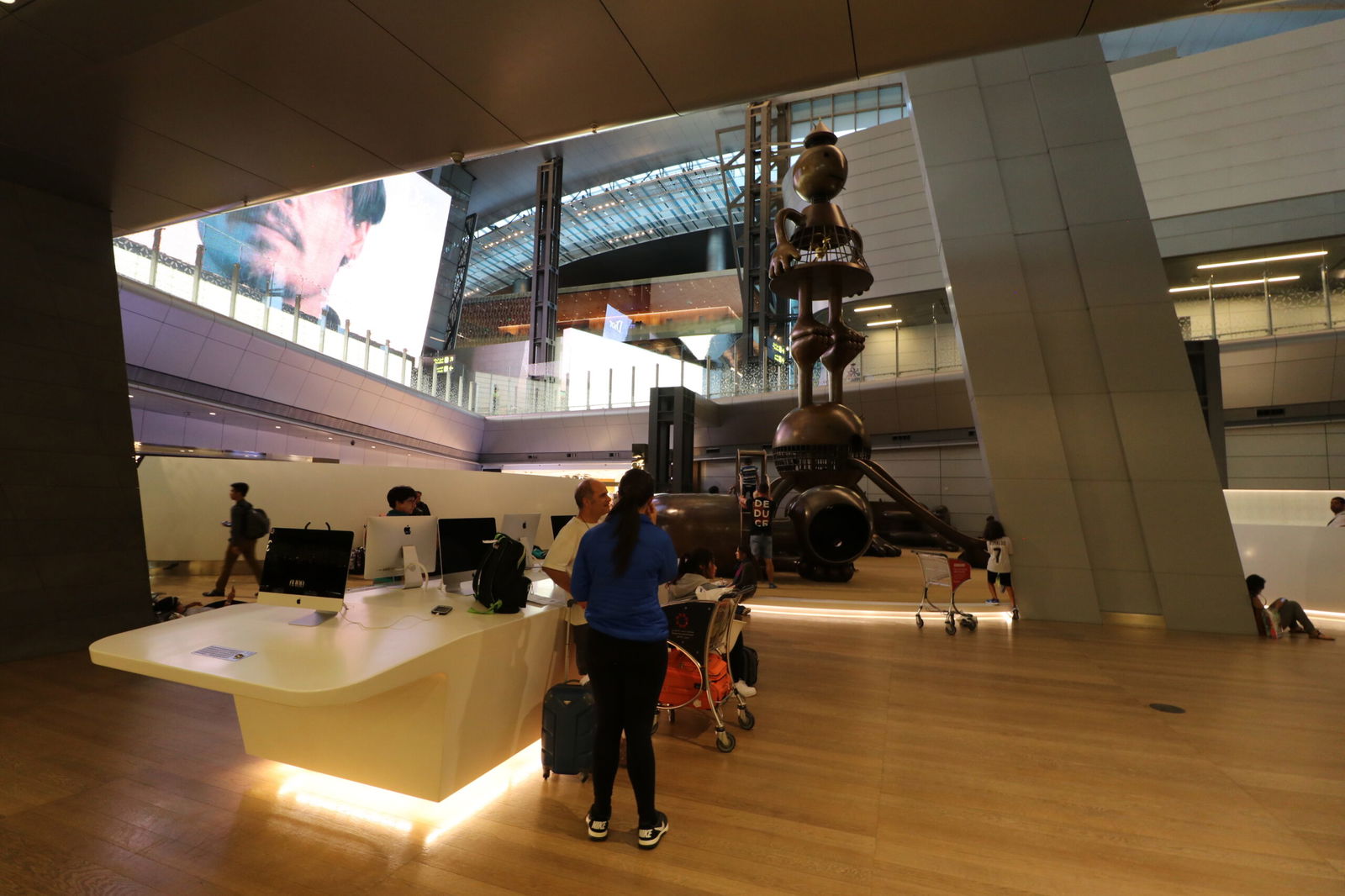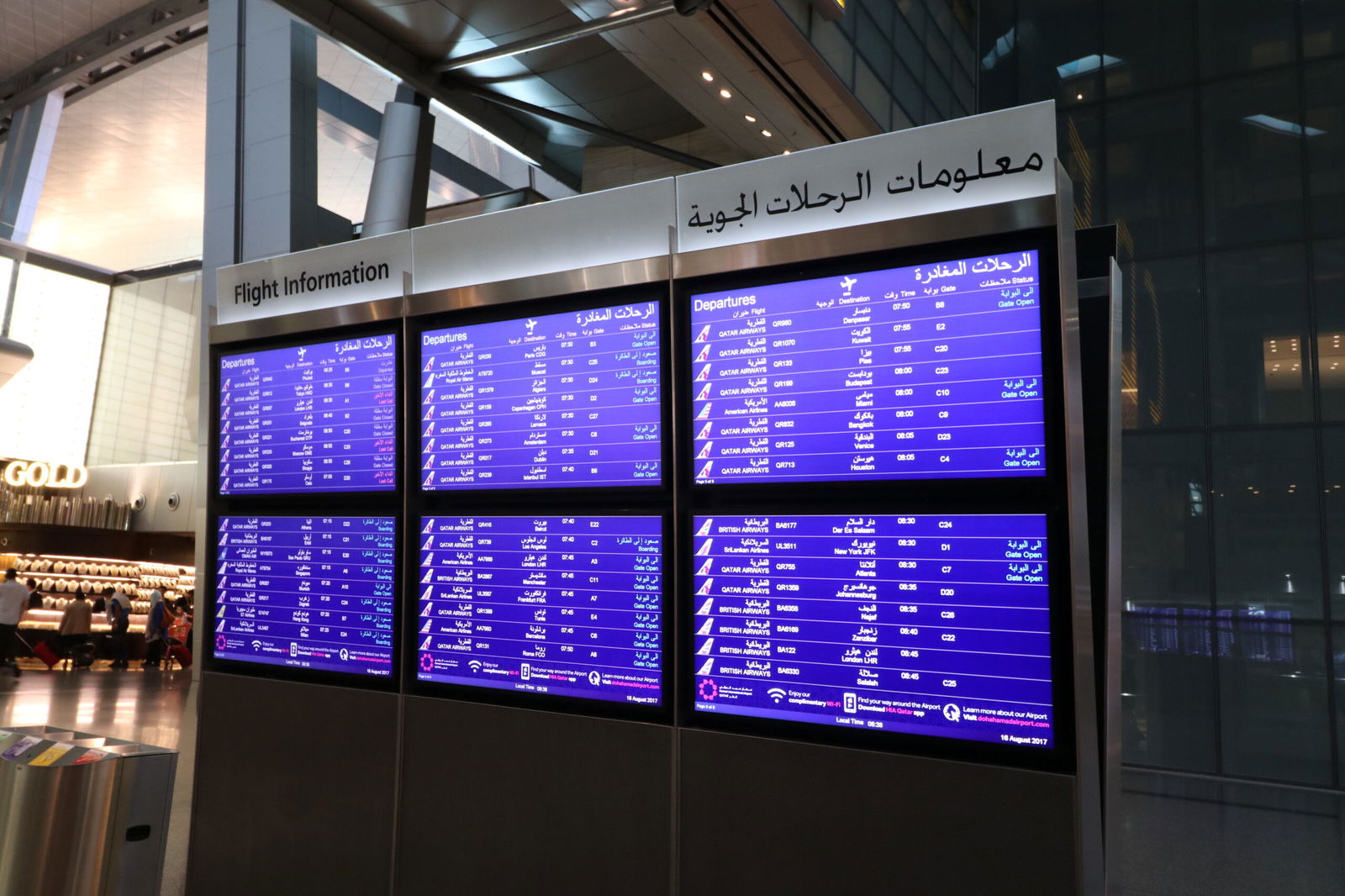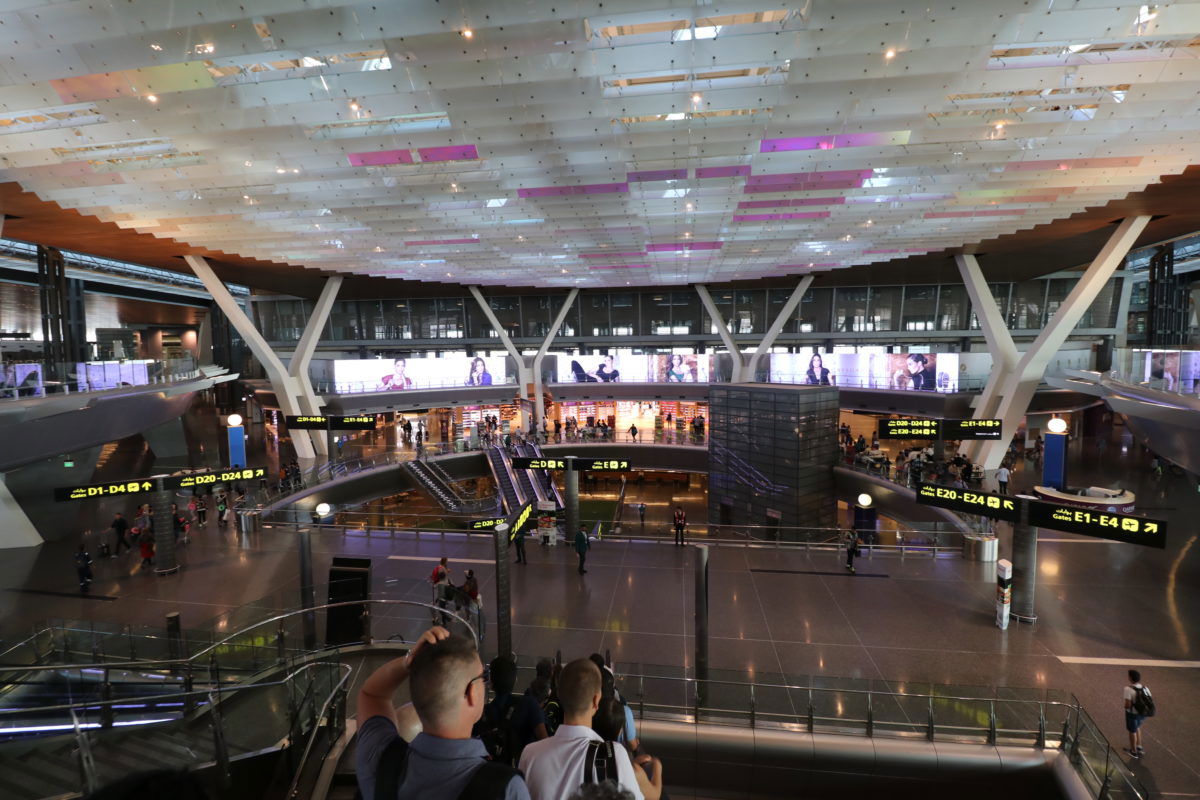 My flight to Beirut departed from the far end of the terminal. As is quite common in Doha, we boarded via bus, which is insane for such a new airport, especially where temperatures are regularly 100F+.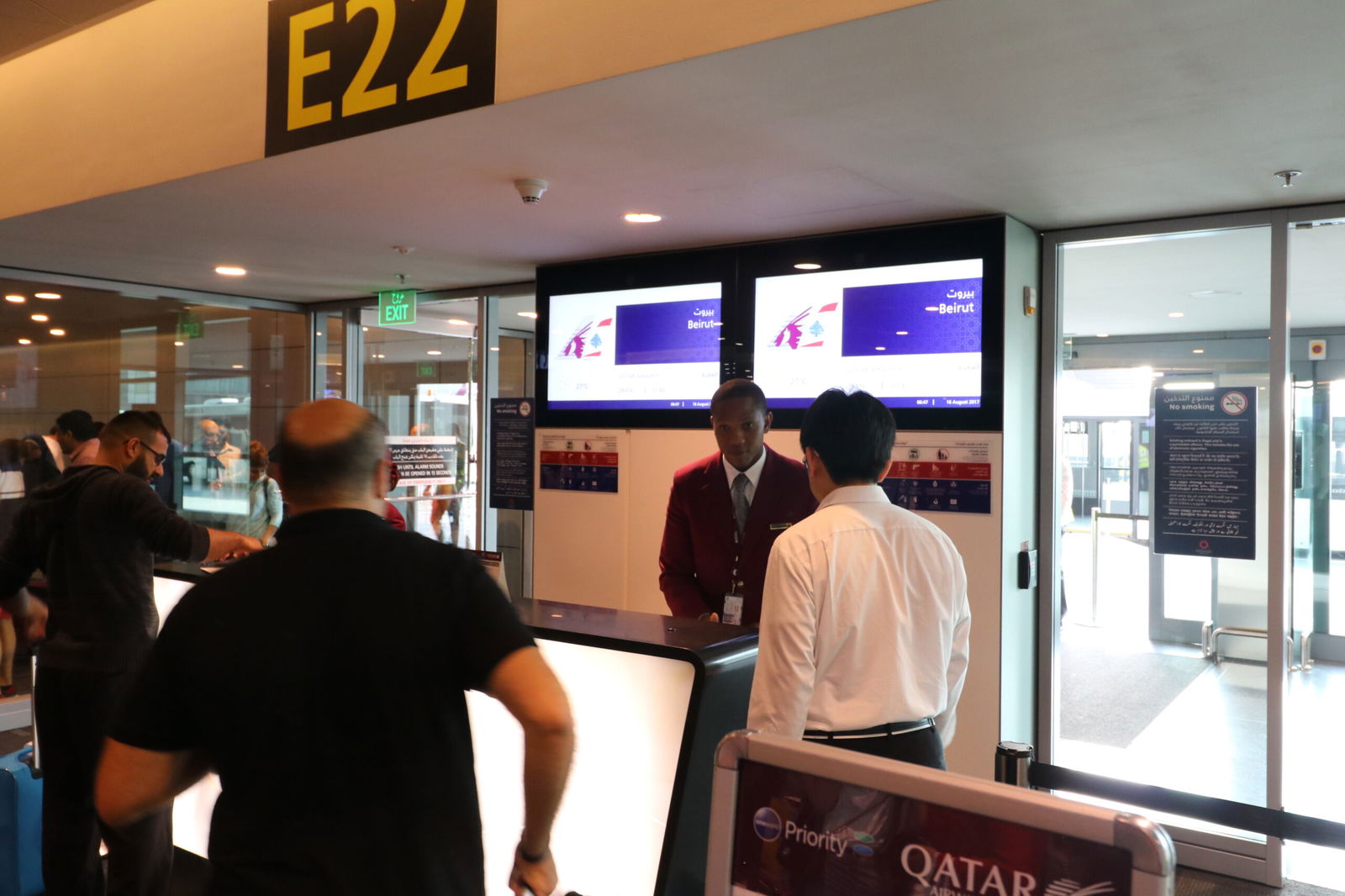 Then again, boarding a 777 via bus is enough to make any avgeek happy!
Qatar Airways 416
Doha (DOH) – Beirut (BEY)
Depart: 7:40AM
Arrive: 12:10PM
Duration: 3hr30mins
Aircraft: Boeing 777-300
Seat: 14A (Economy Class)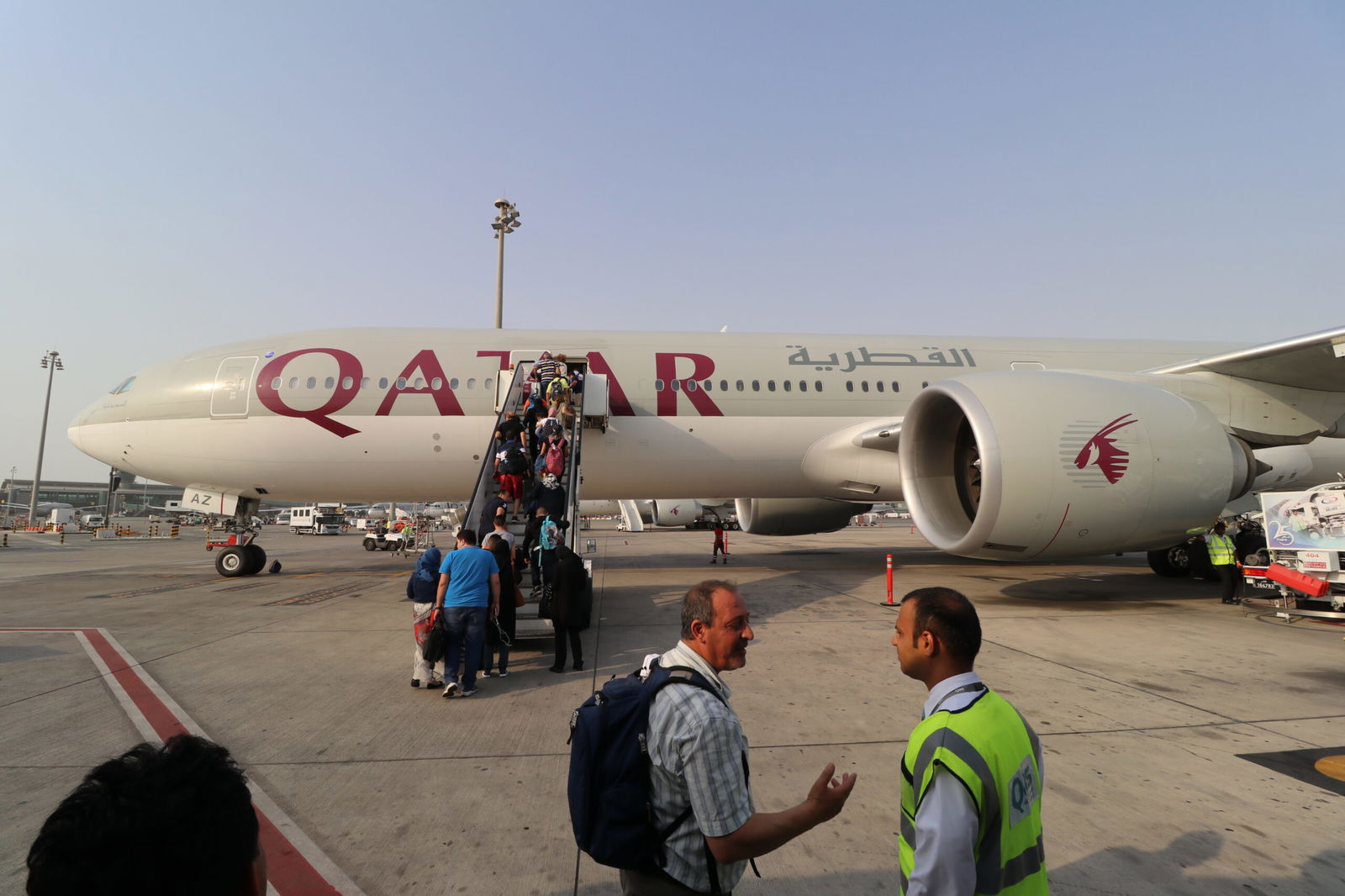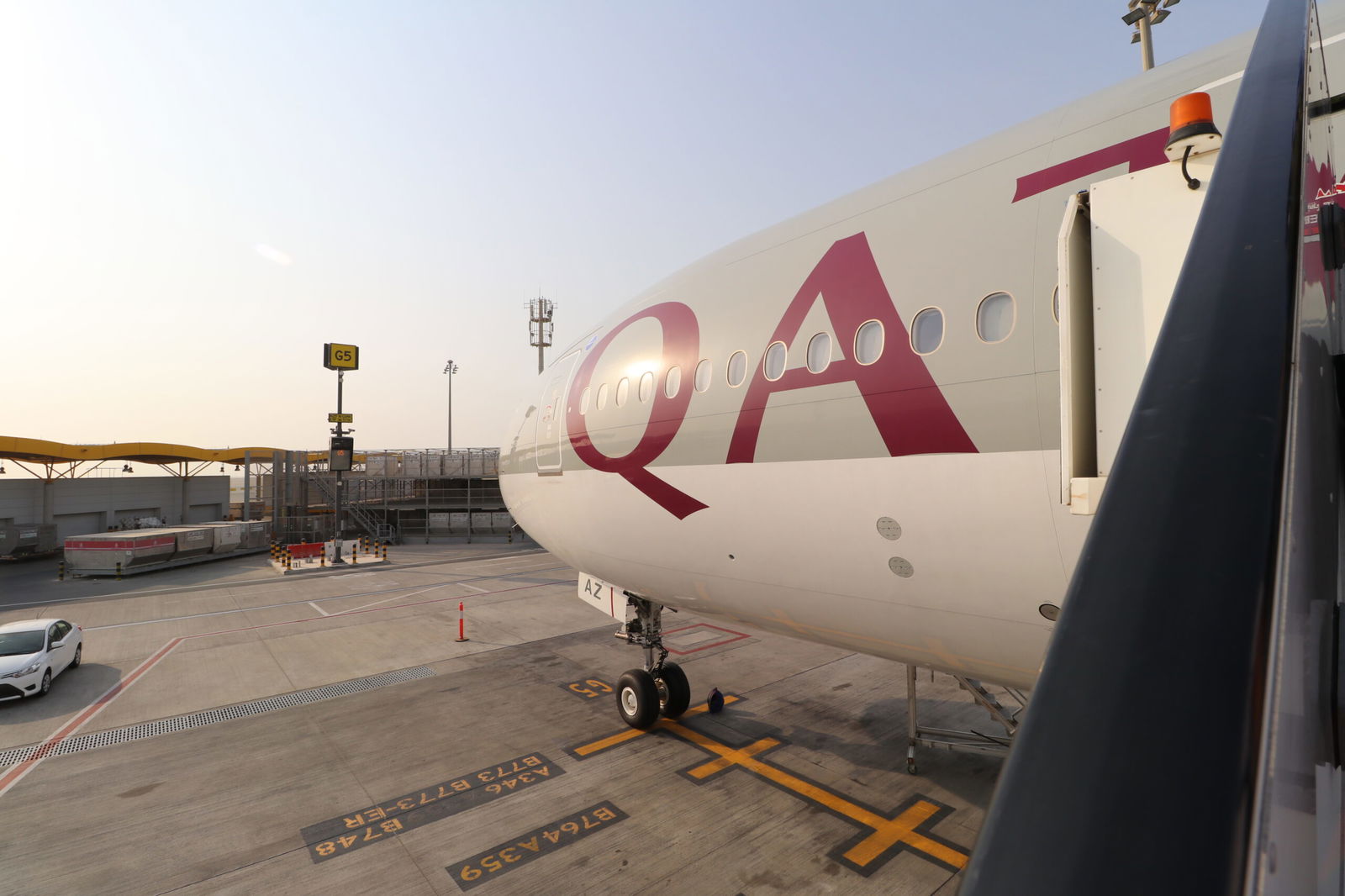 I was greeted by another set of professional crew. Qatar trains their flight attendants to perfection, which is noticeable even for economy passengers.
The aircraft to Beirut did not have a business class cabin behind the second door. While I was just one row further up for this flight, I now had a stunning engine view.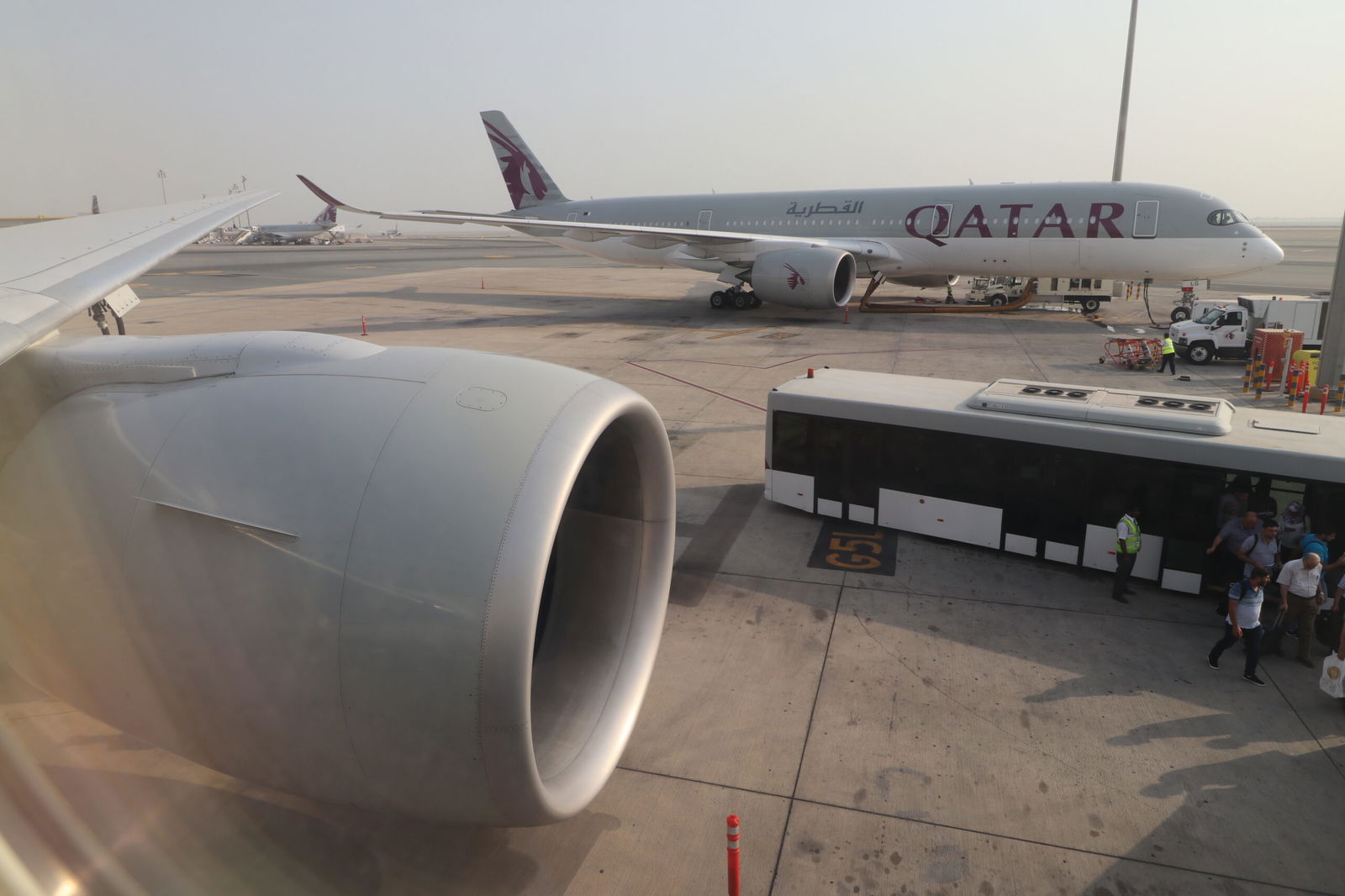 The seats were red in my part of the cabin this time around. As you can see, seat colors shift between red and grey every few rows.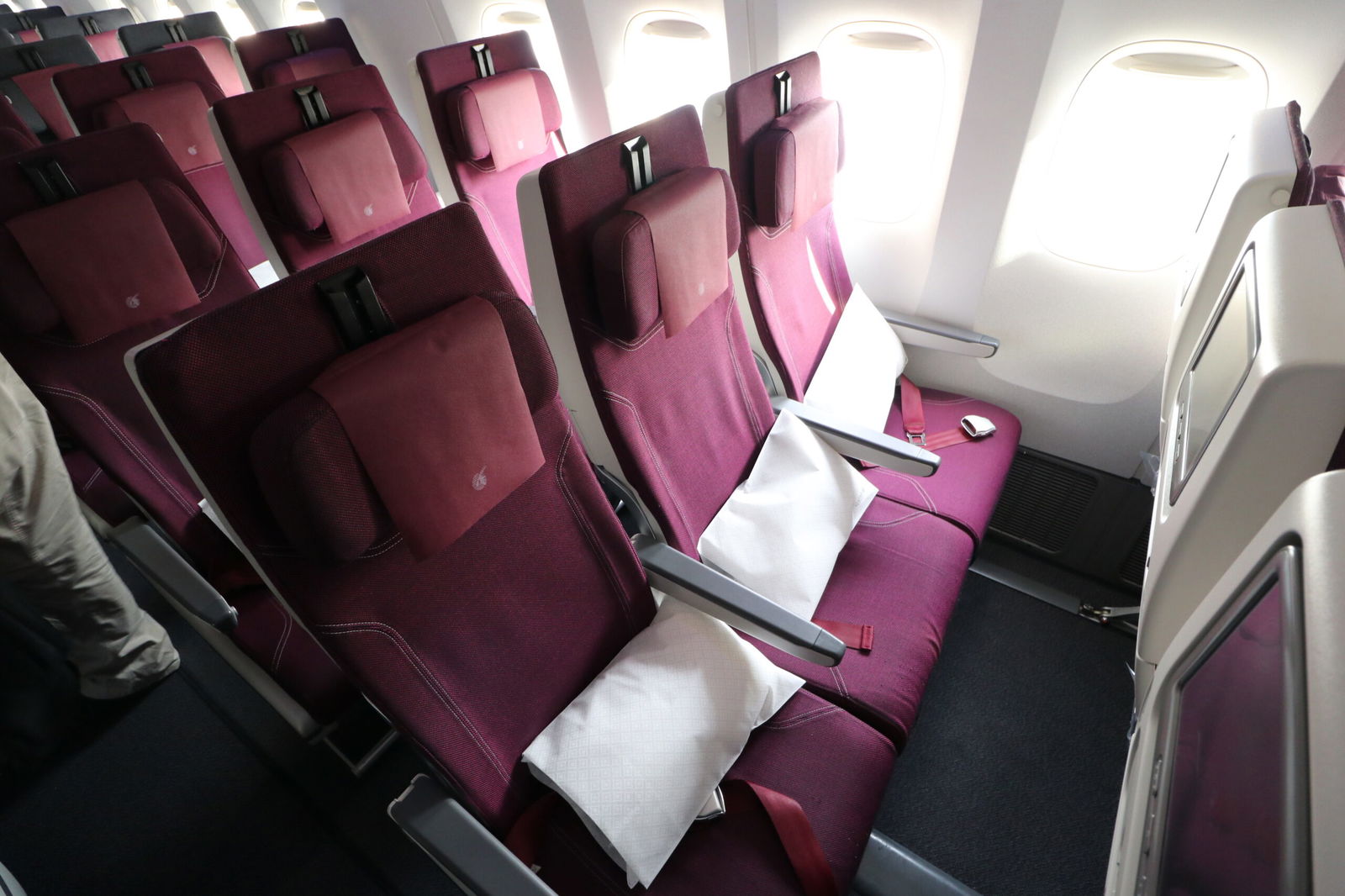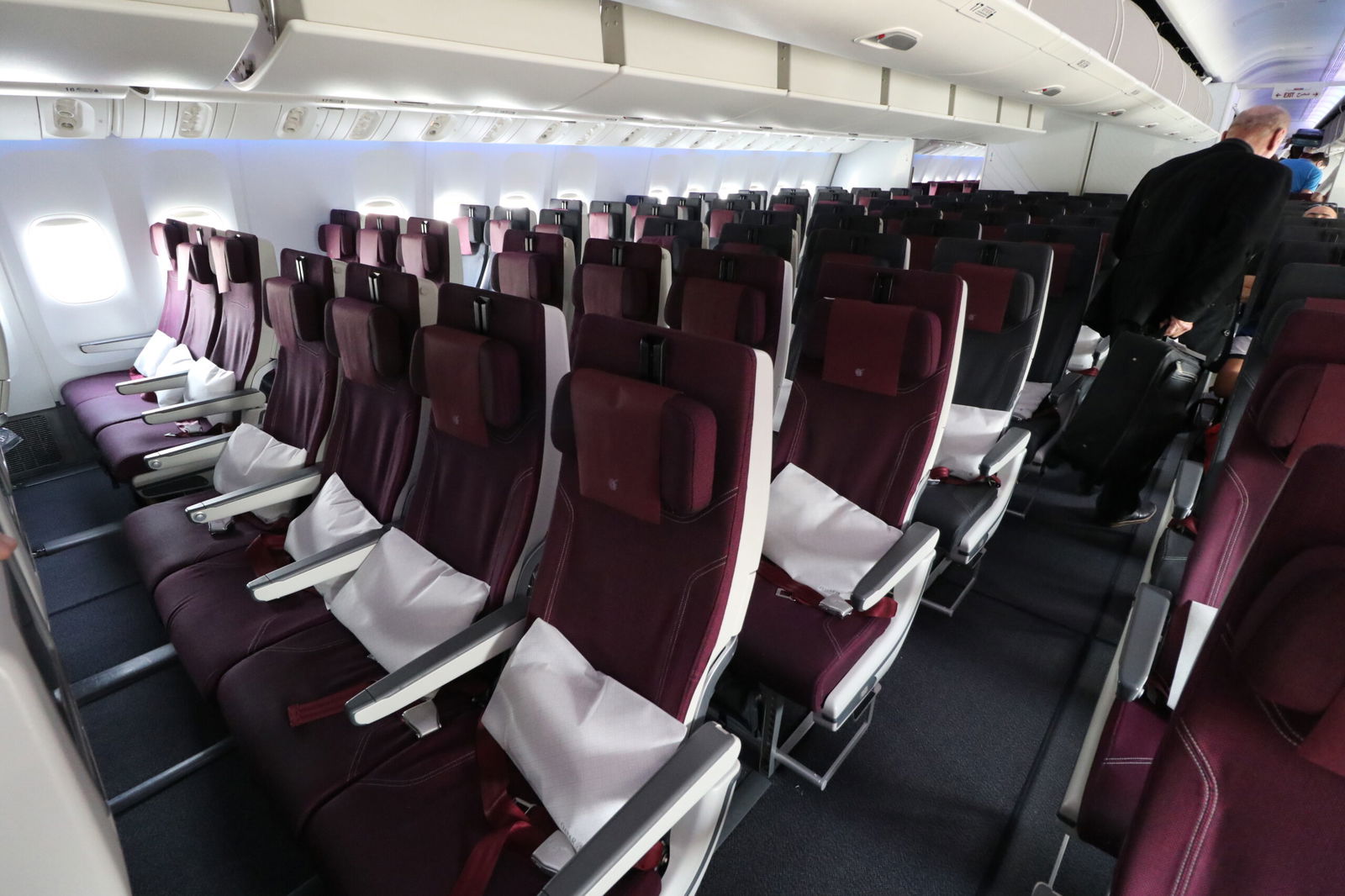 The legroom was just as great as on the last flight.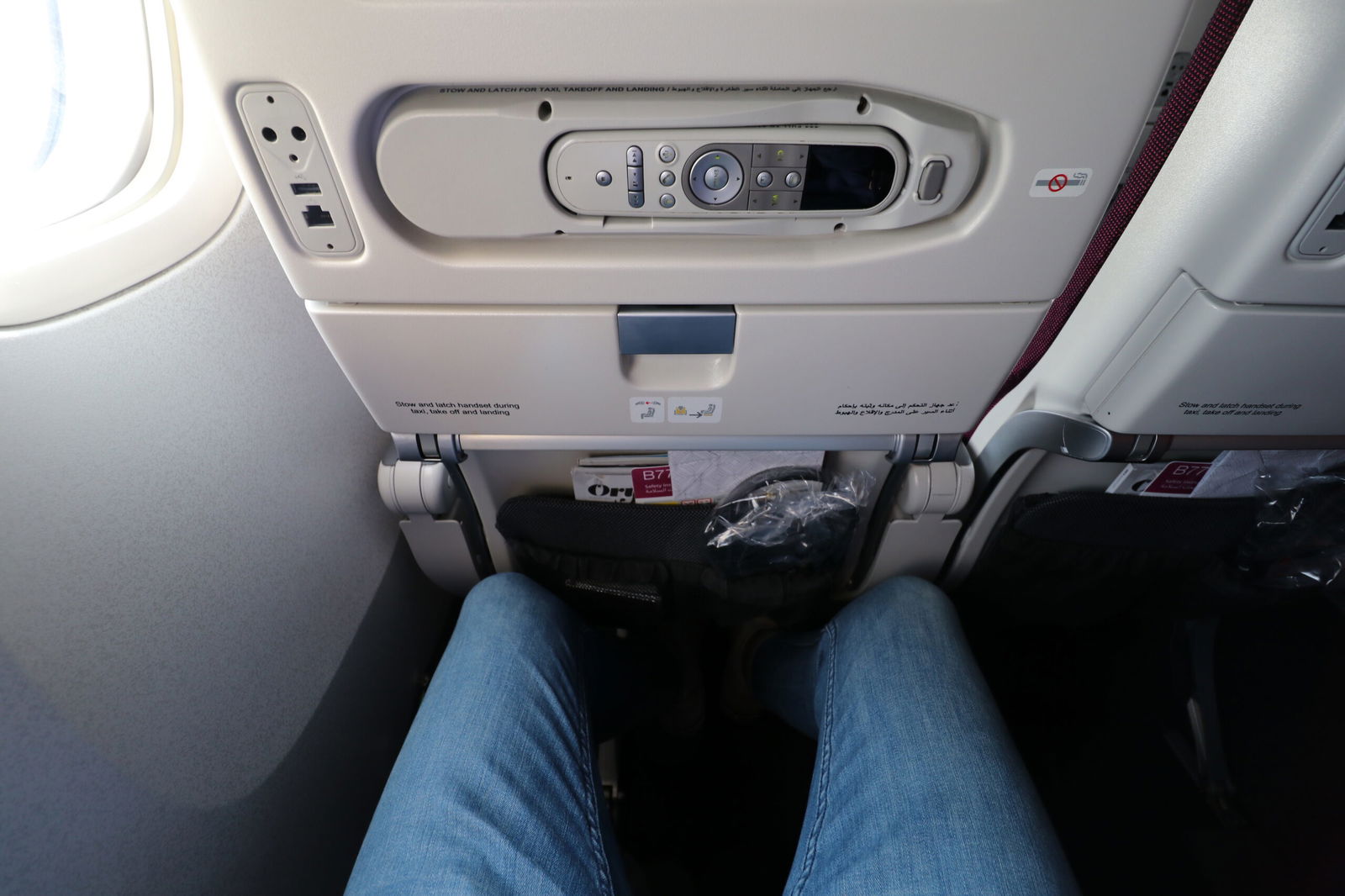 The headrest and overall seat cushioning are impressive on Qatar.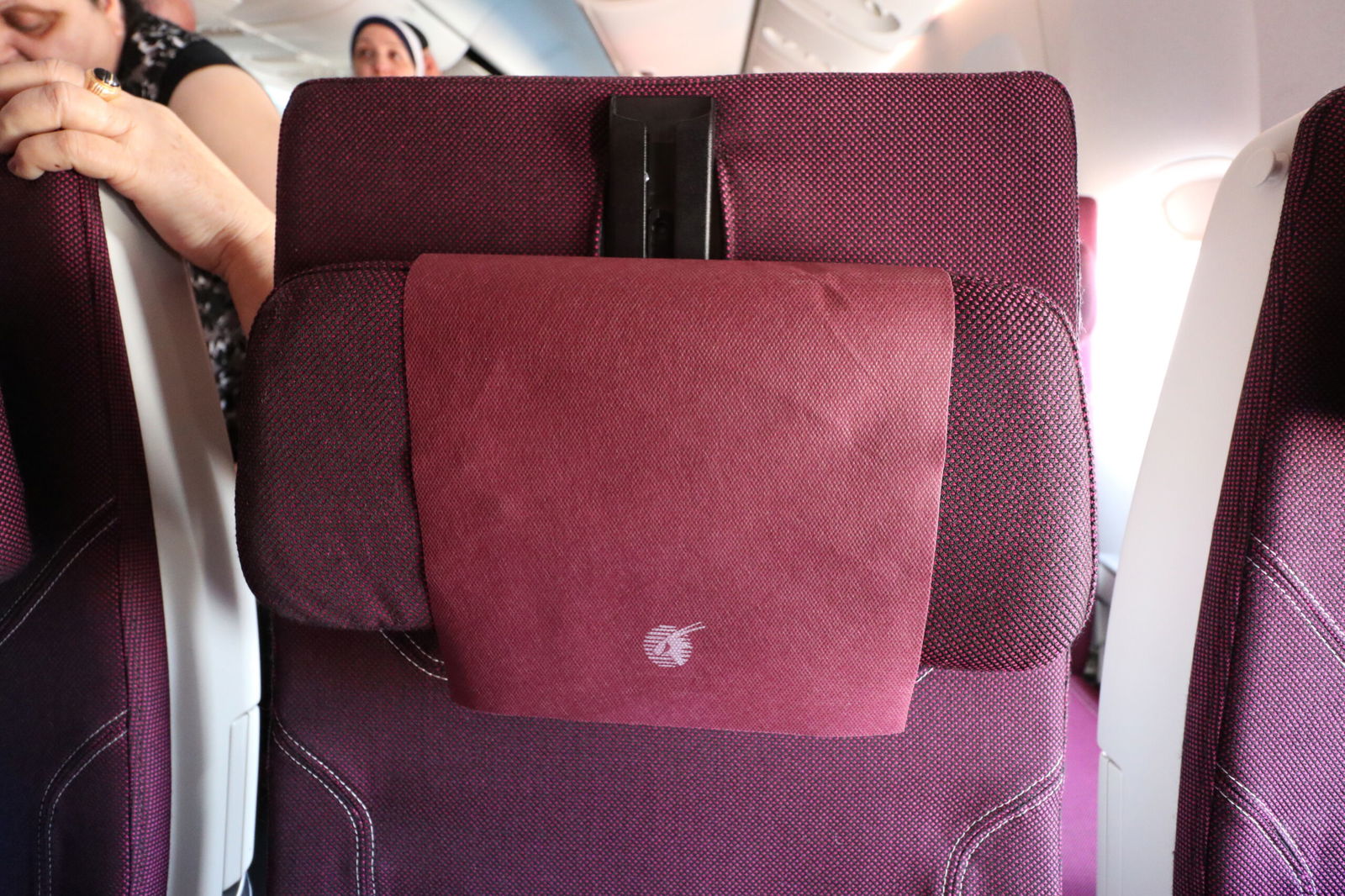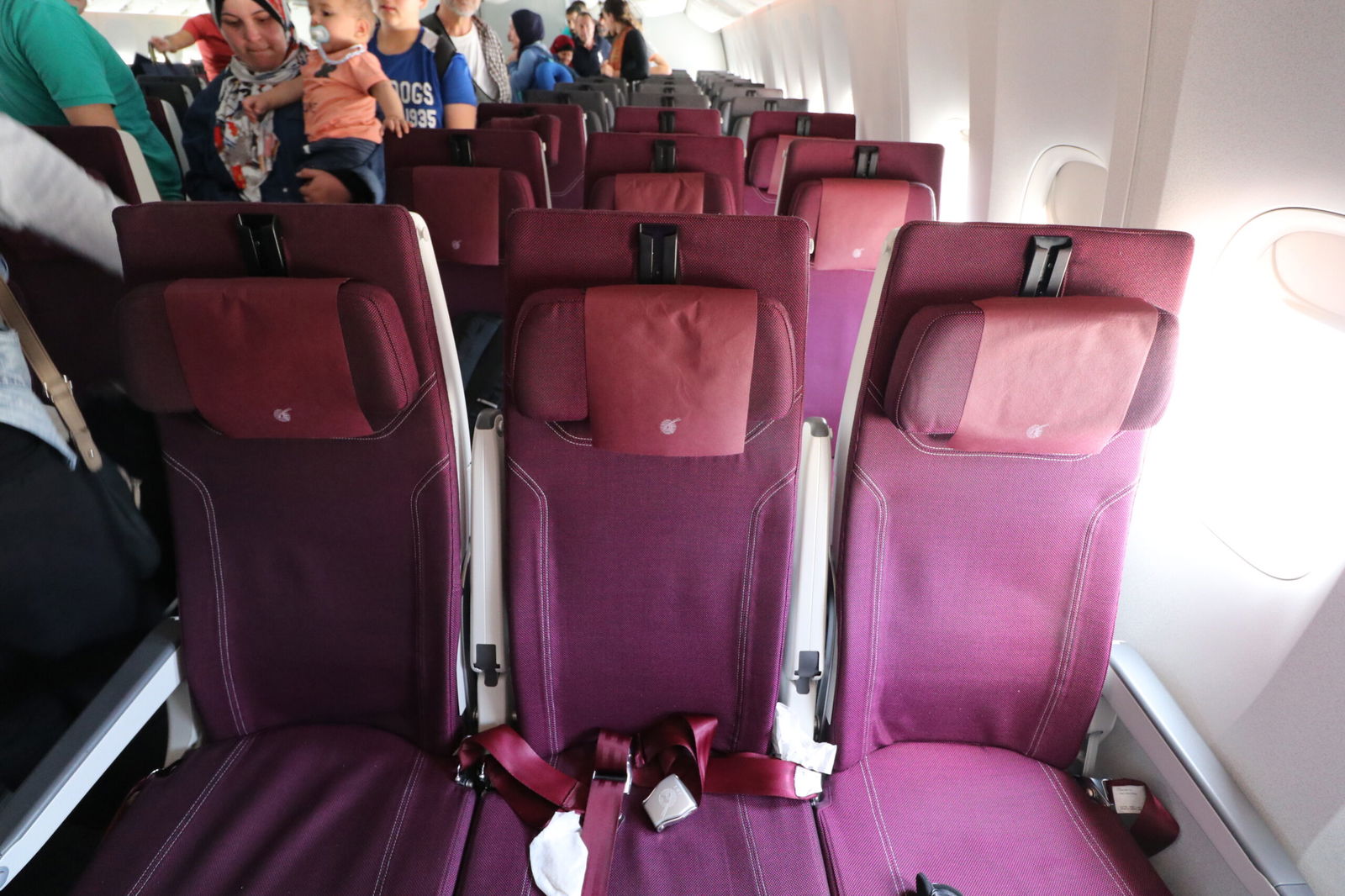 Soon enough we were off to Beirut. We had quite a short takeoff roll, turned right and flew over Qatar until we reached Irani airspace. Just as on my previous flight, paper menus were distributed.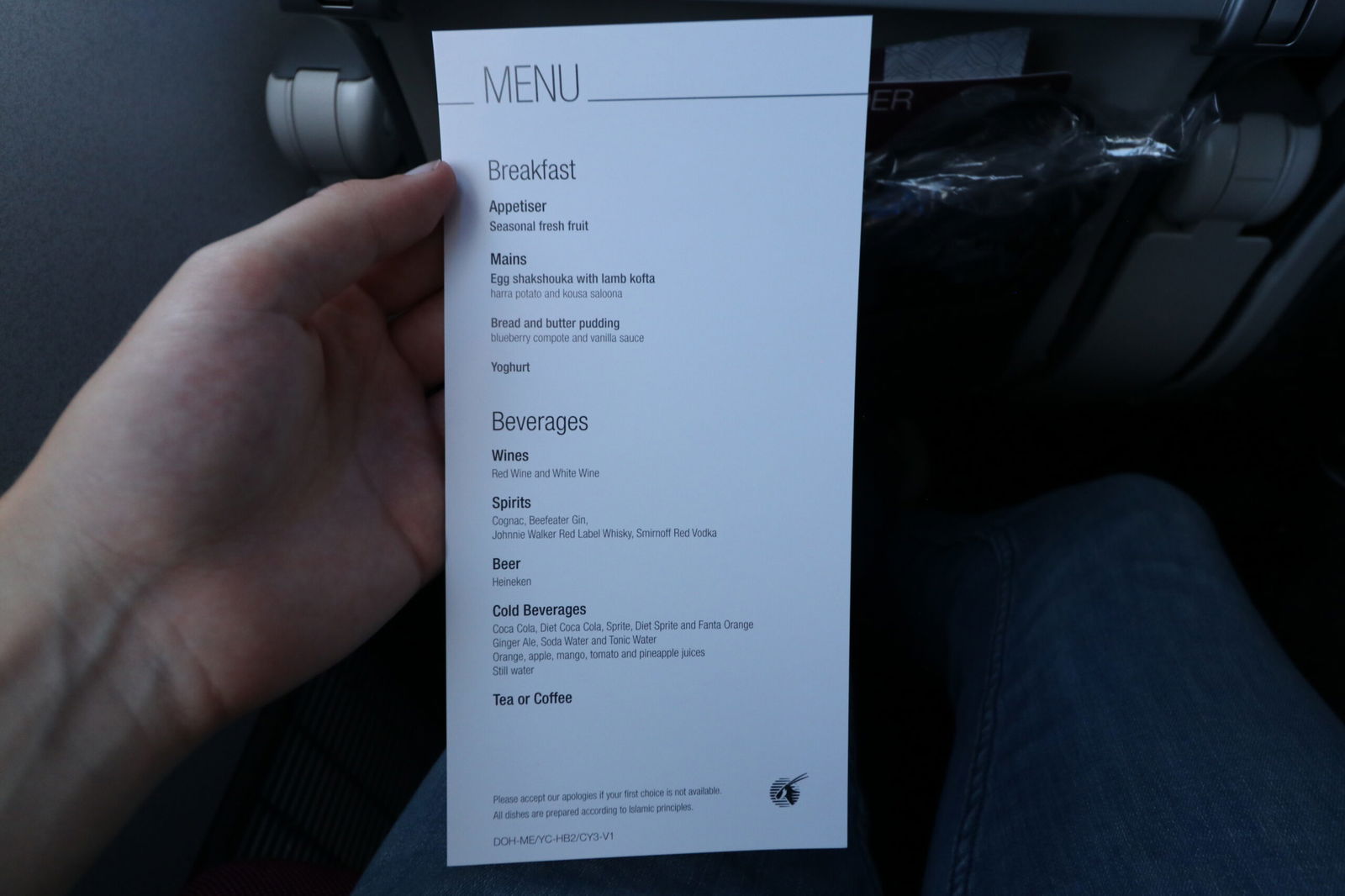 The crew initially handed me a regular meal, so I had to remind them I had ordered vegetarian. Interestingly, Qatar does not deliver special meals before others.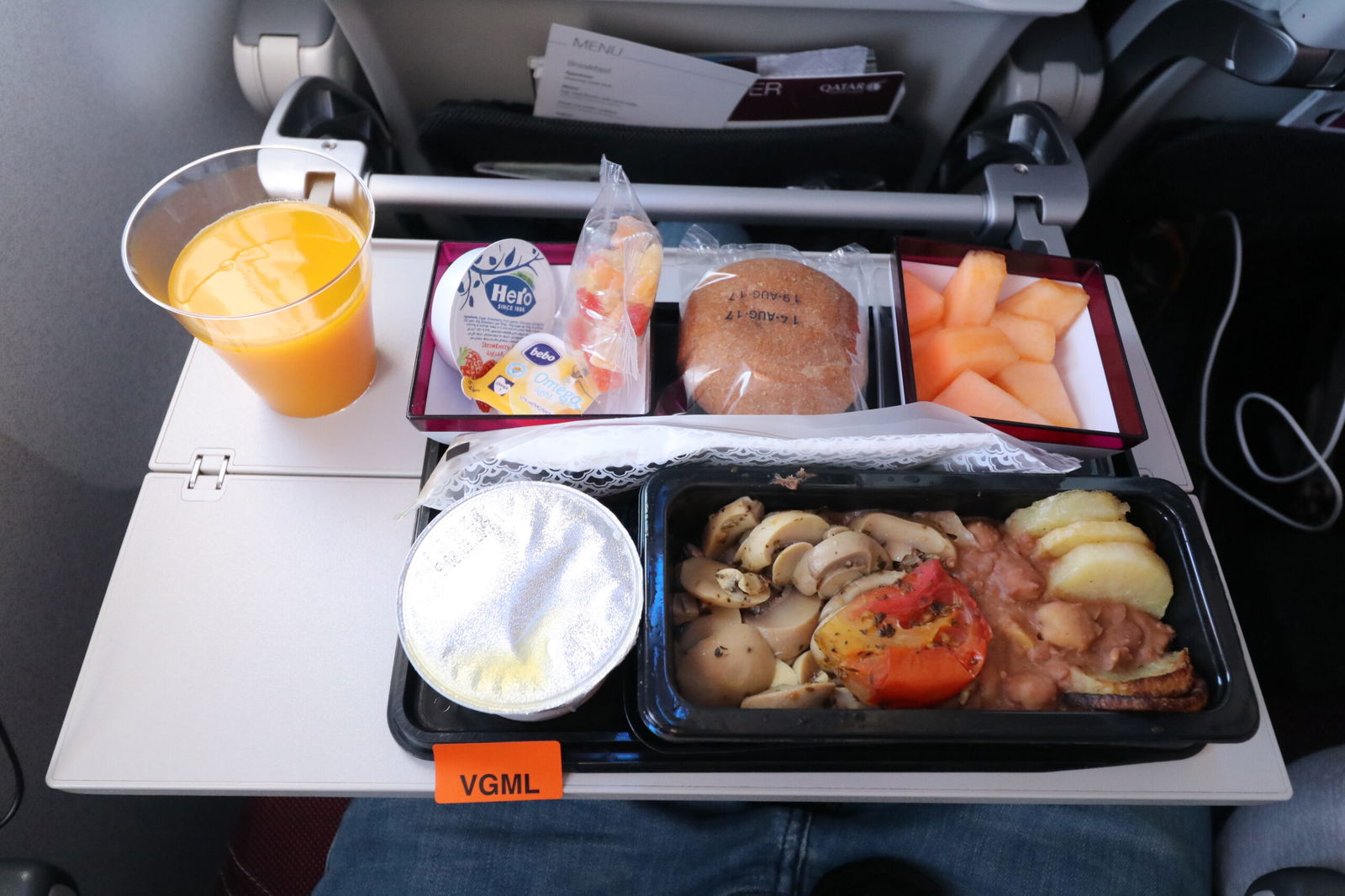 It consisted of an English-ish breakfast, melon, bread, and orange juice. Again, the food was tasty, but nothing to write home about.
Time passed quickly with the plentiful entertainment onboard, though Wi-Fi is still blatantly lacking from their fleet of 777s.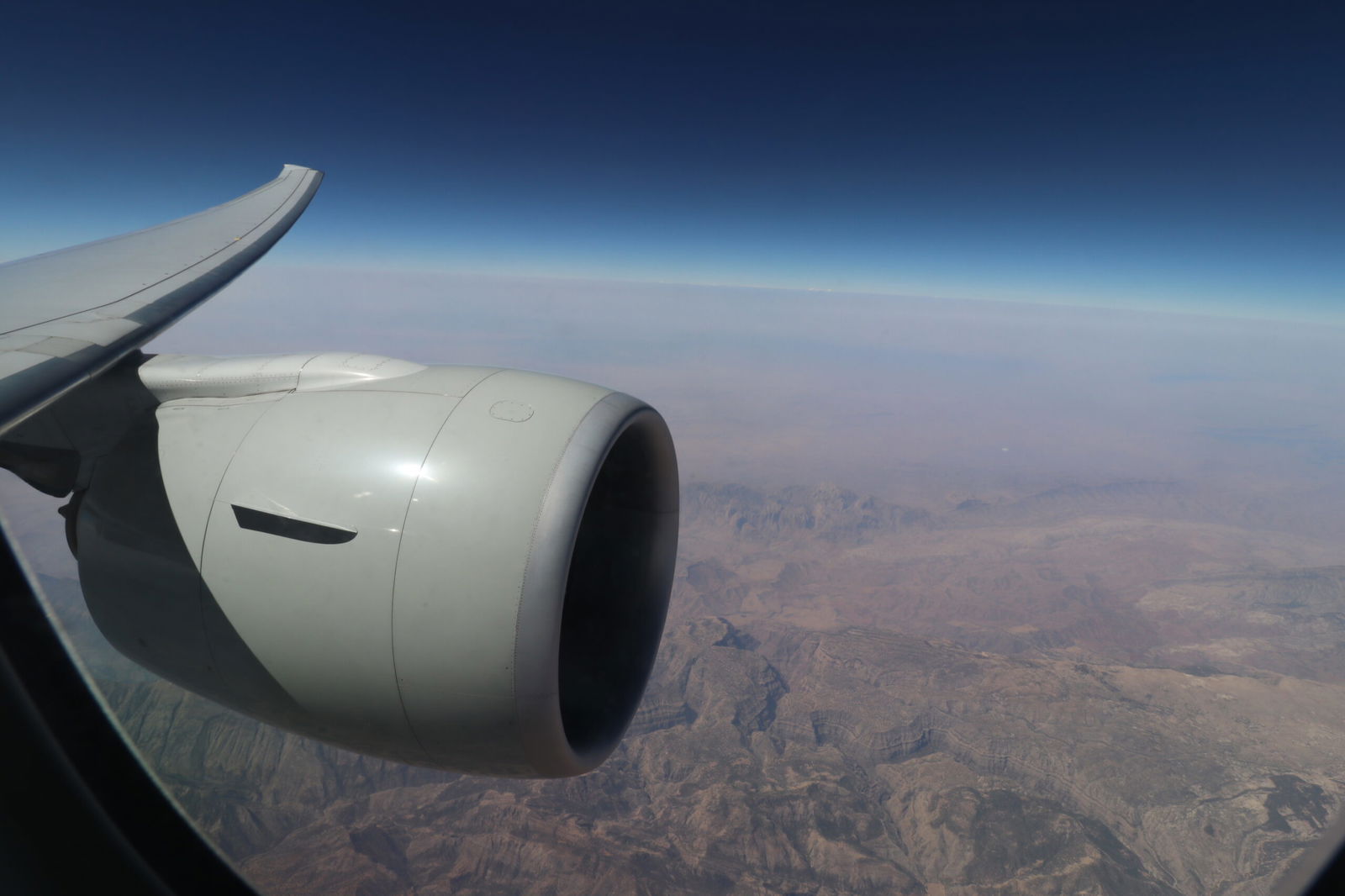 Before I knew it, we'd begun our descent.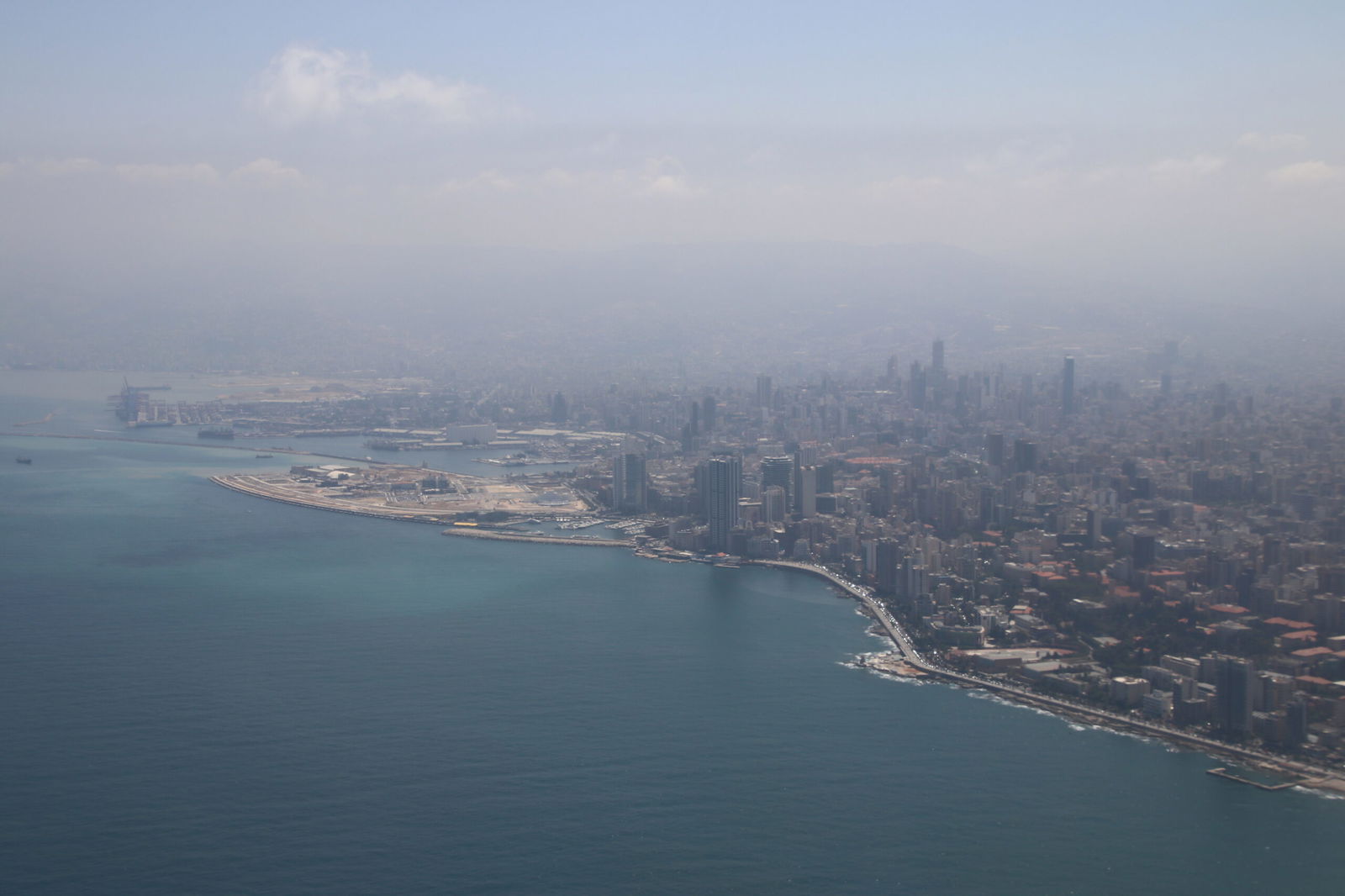 The approach into Beirut Airport was one of the most beautiful I've ever seen!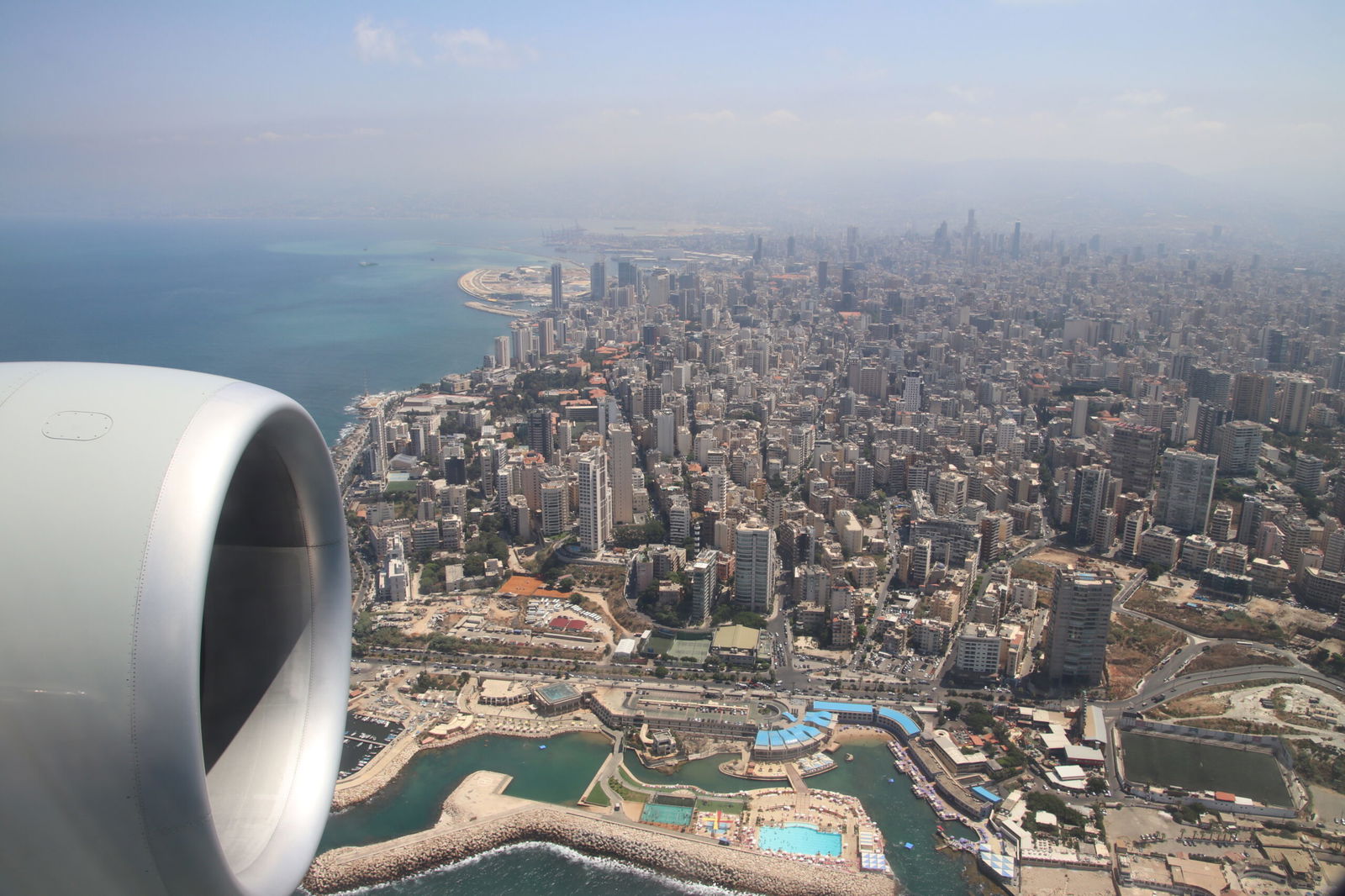 After arriving at the gate, I bid farewell to the crew and headed straight to my connection with Etihad.
Bottom Line
Qatar Airways is really in a class of its own. With great seats, in-flight entertainment, an efficient hub and meticulous crew, it's hard to go wrong. The food and lack of wi-fi were disappointing compared to their Middle Eastern rivals, though overall, I would gladly fly them again.