Introduction: Emirates, Etihad, Qatar Economy Class Showdown
Review: Zurich Airport Observation Deck
Review: Emirates A380 And 777-300ER Economy Class Zurich To Dubai To Delhi
The Delhi Airport Ground Experience
Review: Air India 747-400 First Class Delhi To Chennai
Review: Jet Airways 737-800 Economy Class Chennai To Mumbai
Review: Qatar Airways 777-300ER Economy Class Mumbai To Doha To Beirut
Transiting Beirut Airport On Separate Tickets
Review: Etihad Airways 787-9 And A320 Economy Class Beirut To Abu Dhabi To Muscat
Review: Premier Inn Abu Dhabi International Airport
Emirates Vs. Etihad Vs. Qatar – Who Has The Best Economy Class?
---
This comparison has taken way too long to publish, but I hope you will find it helpful despite the wait!
In August, I took a trip from Europe to India, flew around the Middle East, and then flew back to Europe. The purpose was to record a head-on comparison between Emirates, Etihad, and Qatar.
I've received comments asking why I didn't compare the same aircraft type on each airline, for example, the A380. The reason is that Emirates has over 100 A380s, and Qatar has only eight, meaning you're over ten times less likely to fly a Qatar A380 than you are to fly an Emirates A380. Does that make a fair comparison of your average passenger's experience? I'd argue that it doesn't. On Qatar, you'll likely be on a 777, at least from the US. For Etihad, the 787 will soon be the backbone of their fleet.
So, here is my experience with each airline by category. Jump to the end for my ranking. Again, I hope you enjoy and find this helpful.
Seat
Emirates A380
Emirates' A380 is configured 3-4-3, with economy class occupying the entire lower deck. If you can, choose a seat in the forward cabin, which is the quietest. You'll also get served first, which makes a big difference on an aircraft with 500 passengers.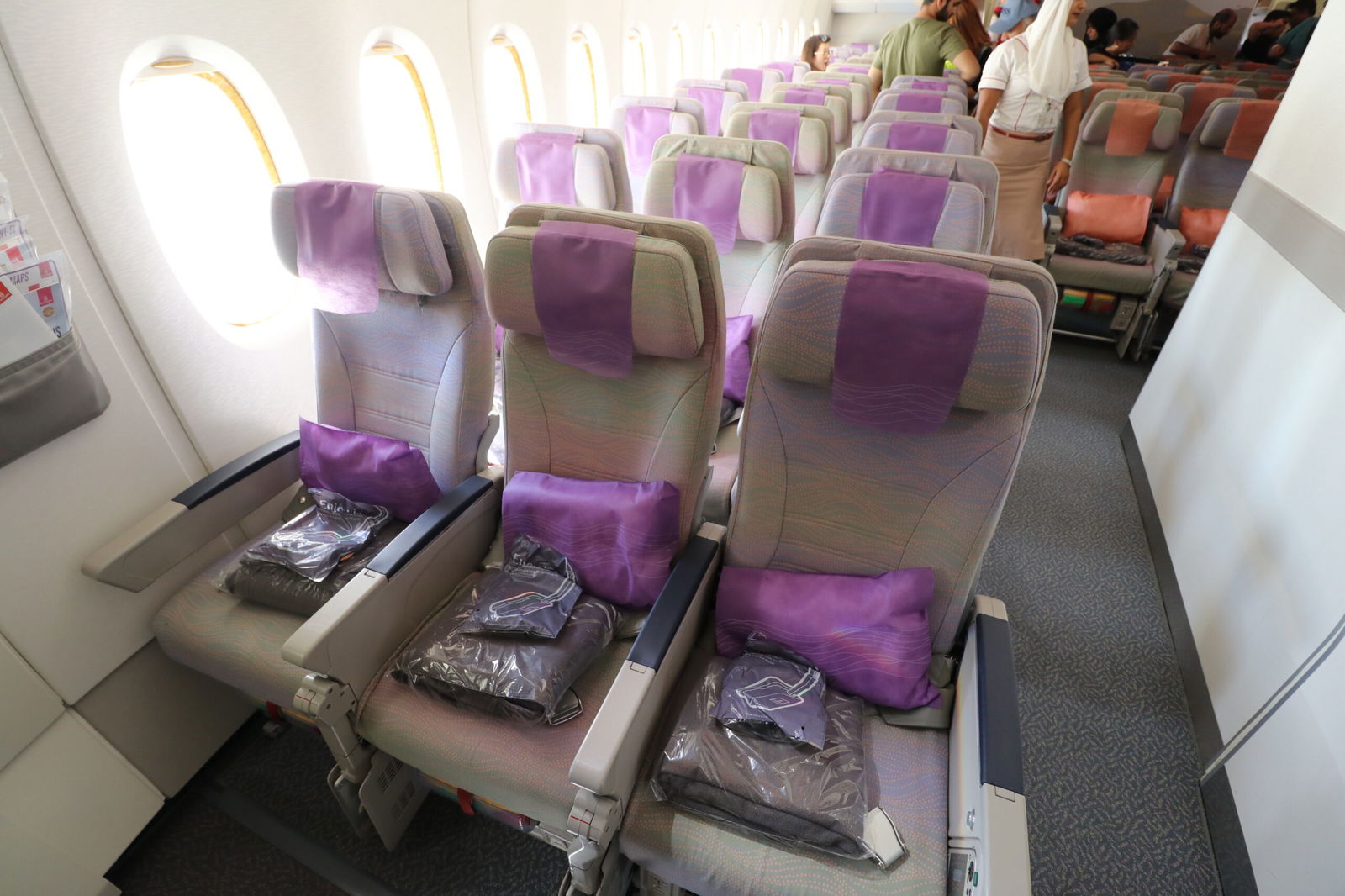 Overall, the Emirates A380 had the most comfortable seat of all my flights. It was wide, had good legroom and recline, and had an efficient layout with storage, easily accessible power ports (in 2/3 seats), etc. I like the adjustable headrest, which is sturdy without being too hard.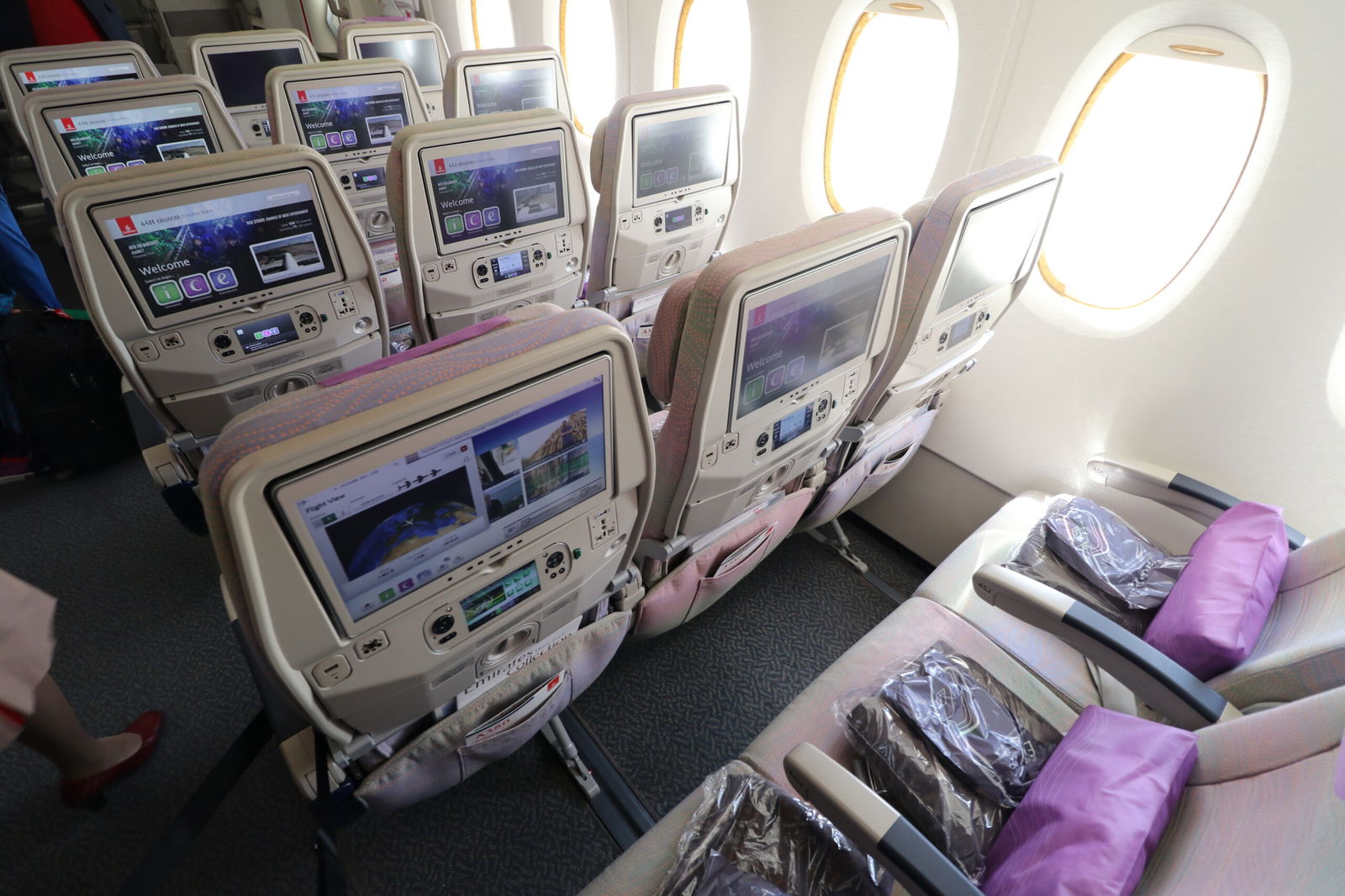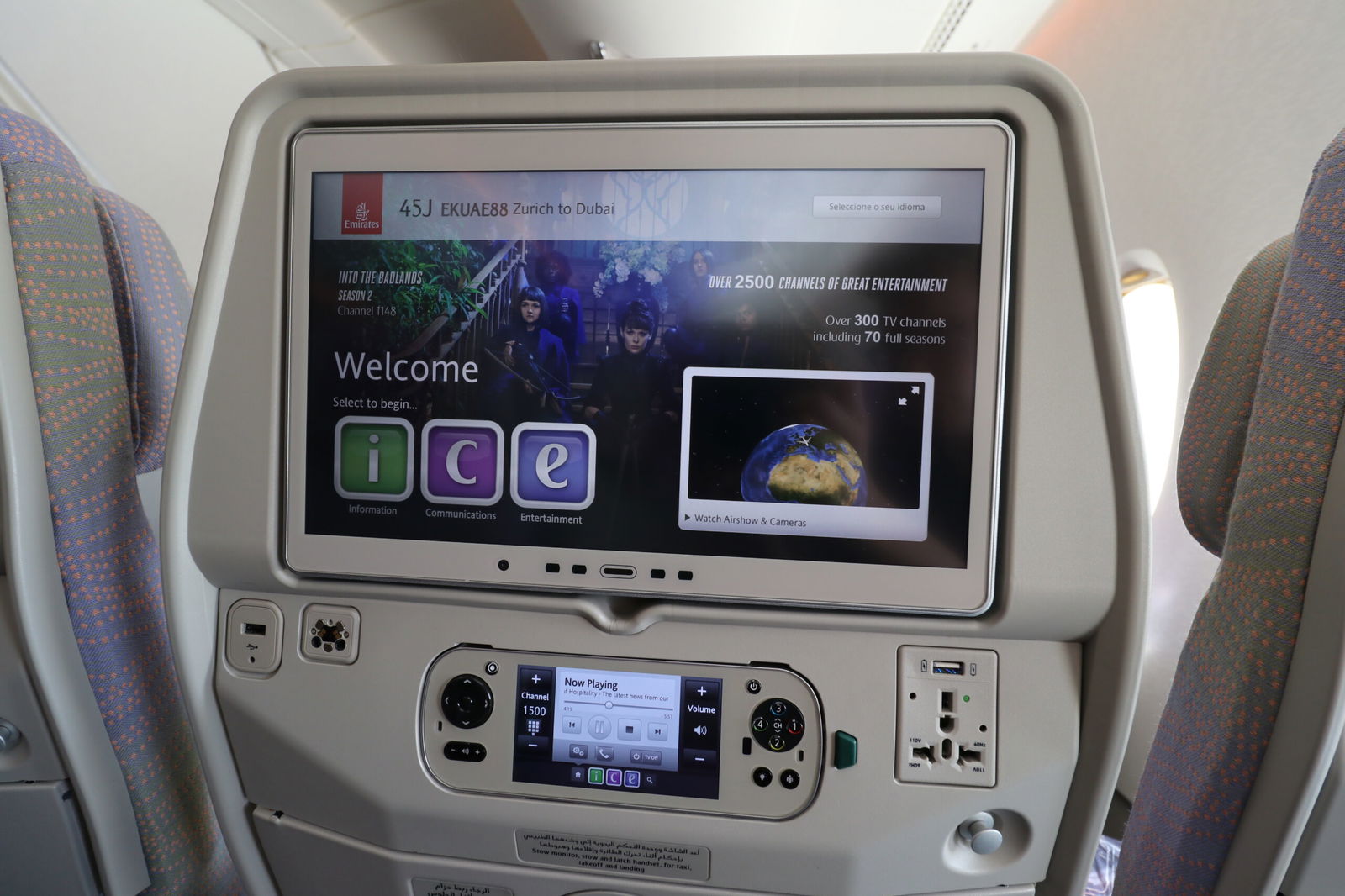 Emirates 777-300ER
Meanwhile, their 777 was not as impressive. The aircraft, which is considerably narrower, has the same 3-4-3 configuration. The seat itself is pretty much identical, but the legroom on this specific aircraft was bad. When reclined, my knees pushed against the seat in front of me, making it nearly impossible to sleep.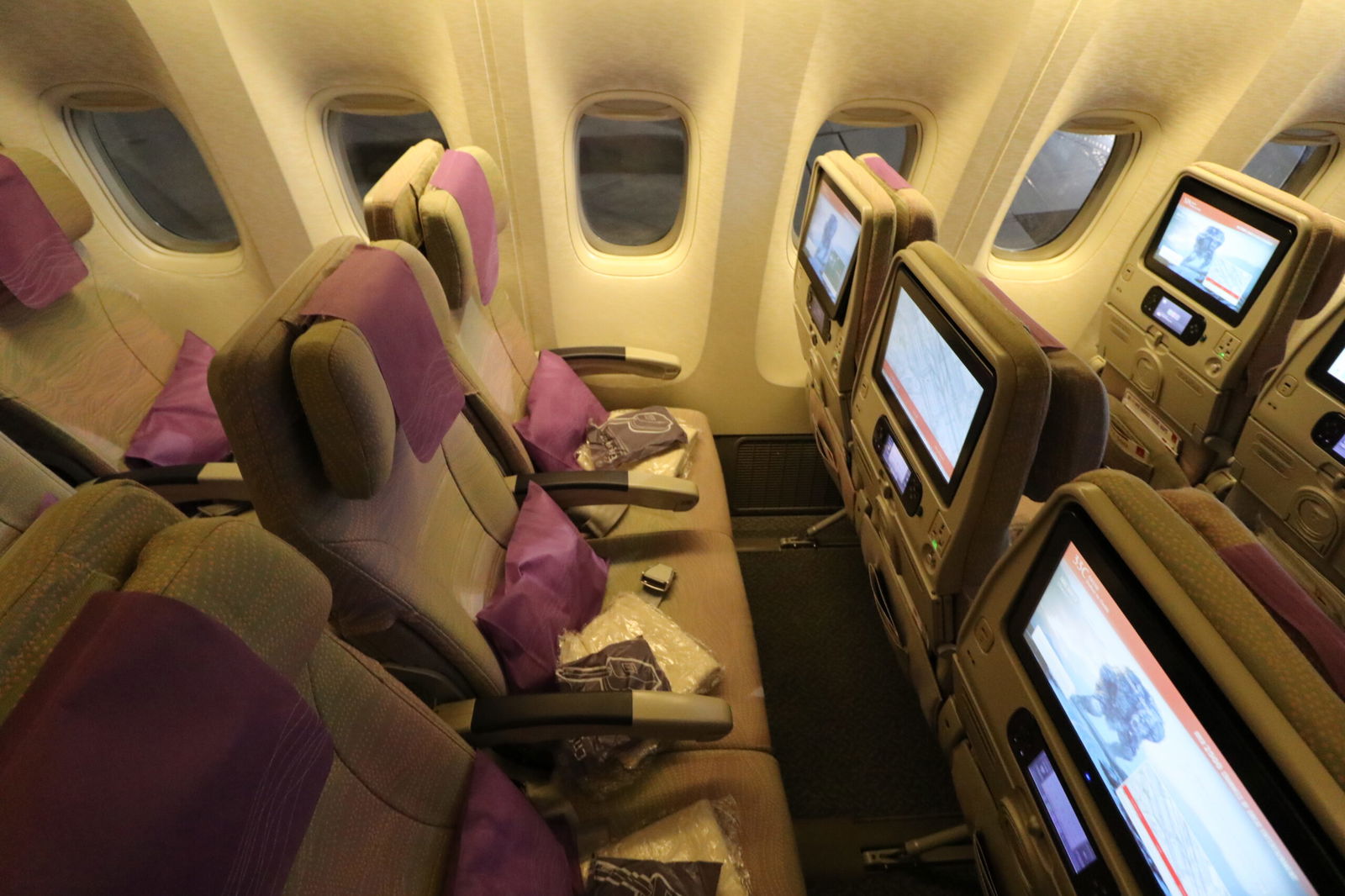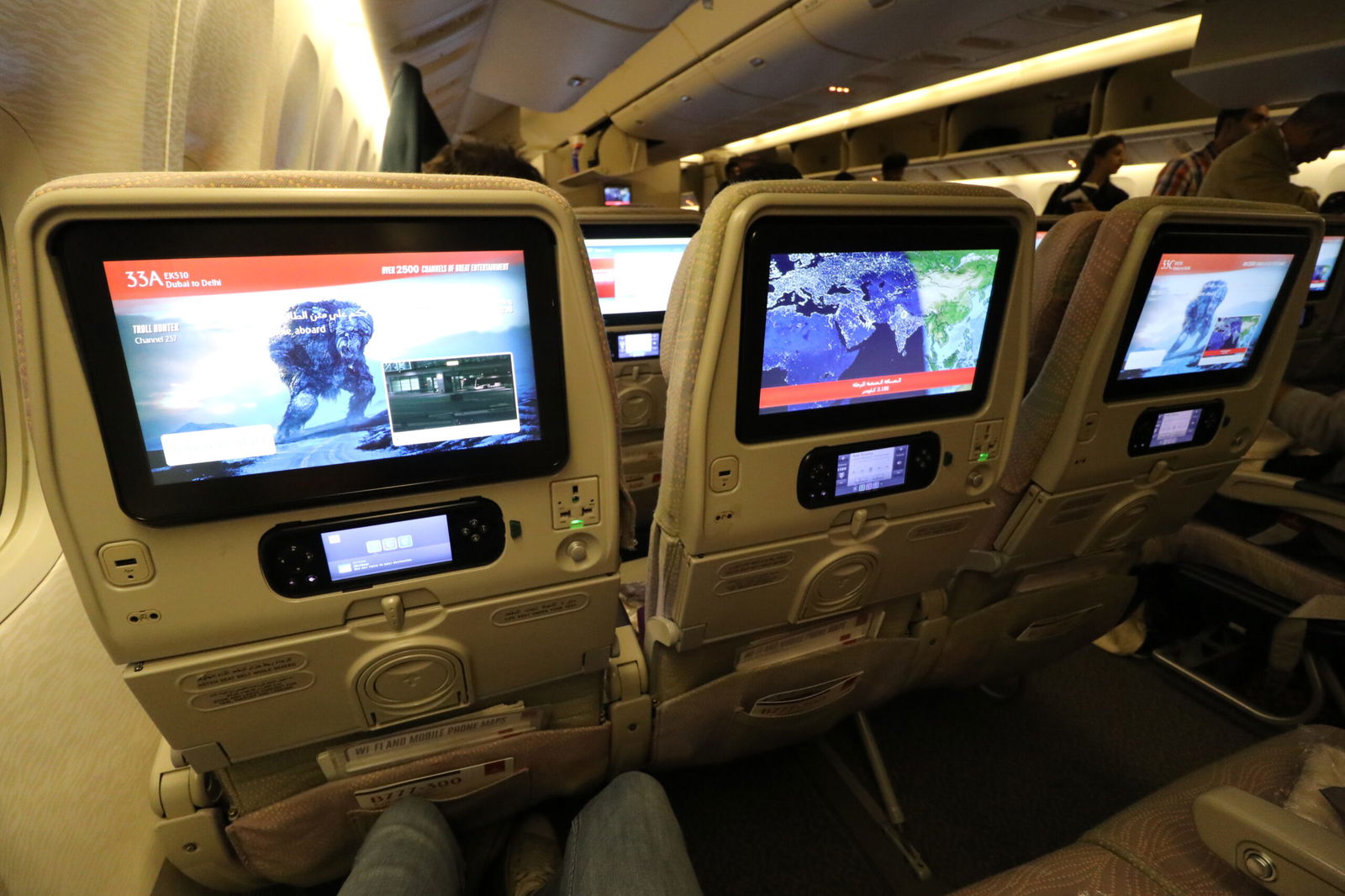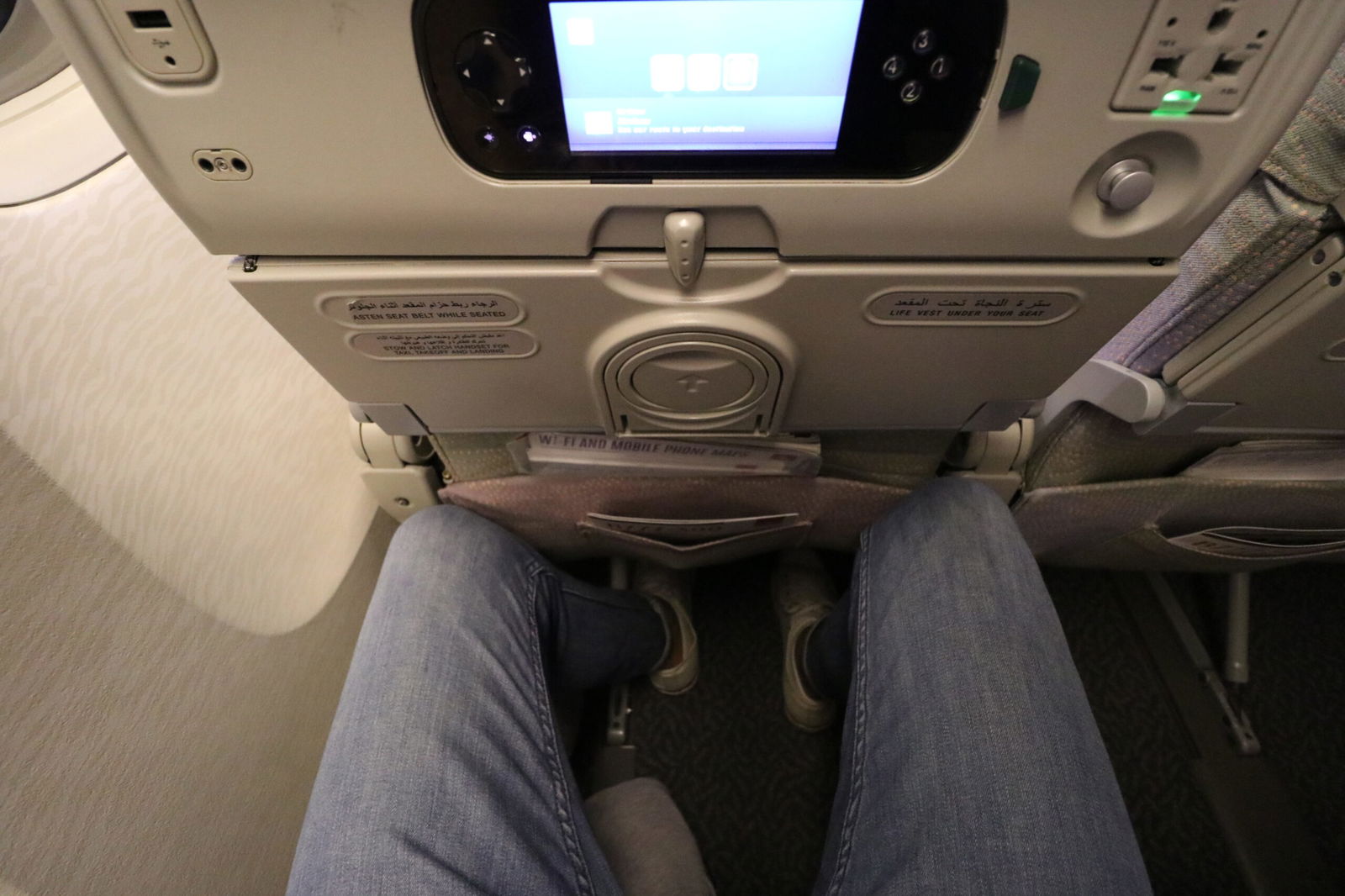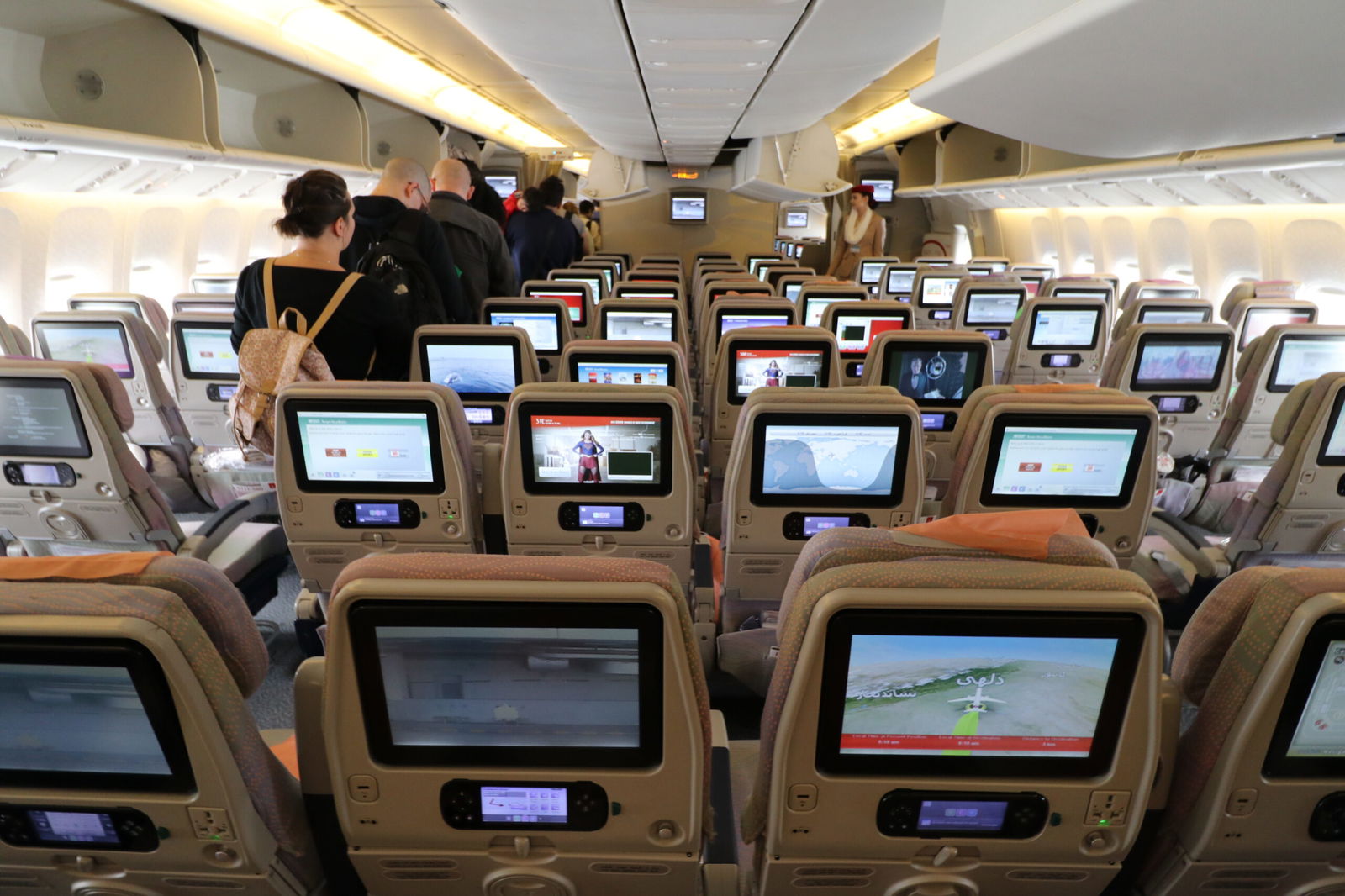 Qatar 777-300ER
Since they had an equipment change, I flew Qatar's 777 on both my flights. I was surprised how modern the interior was, given the aging business class on the majority of these aircraft. This is the same economy seat as their Qsuites configured 777s have too.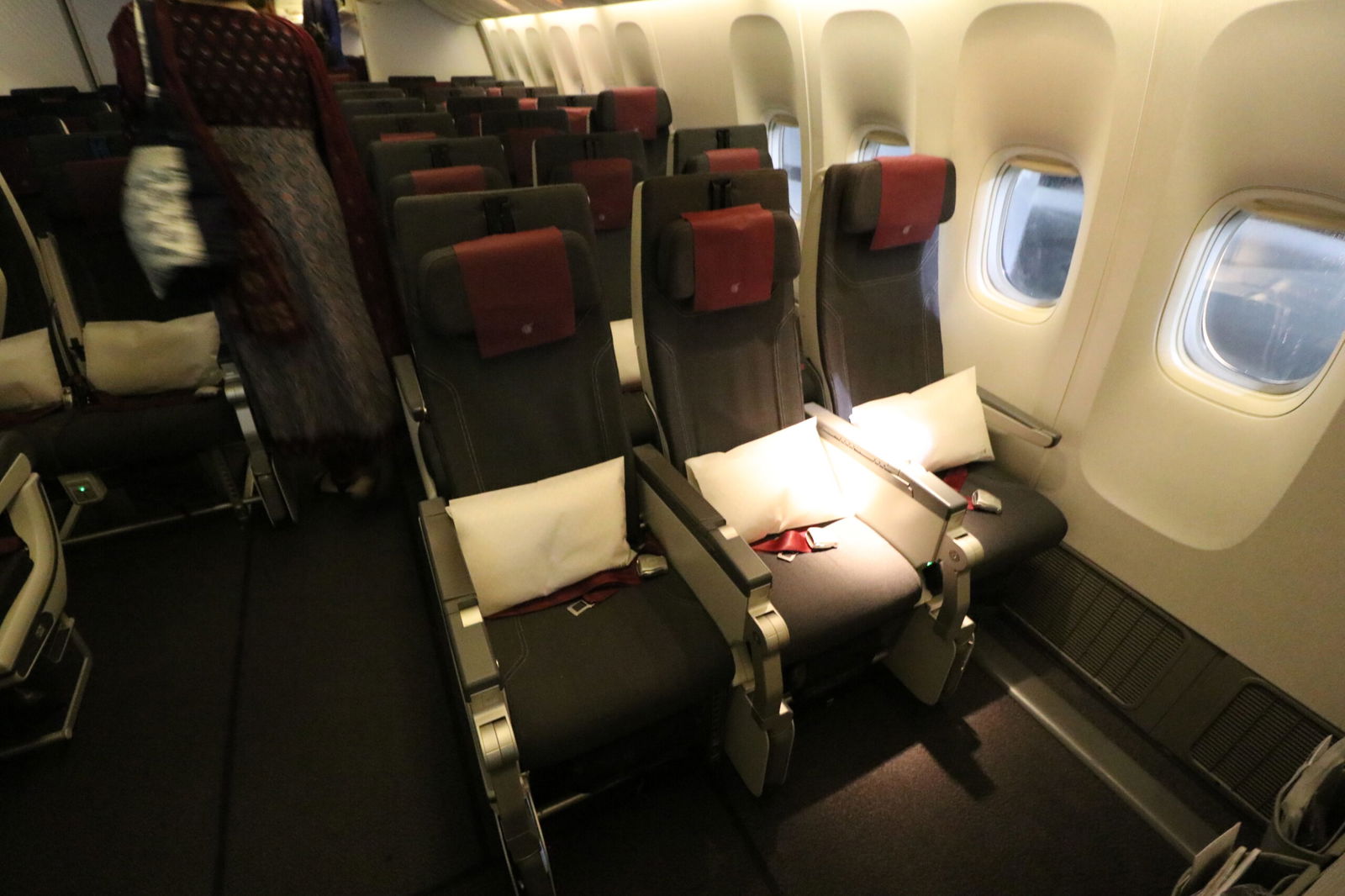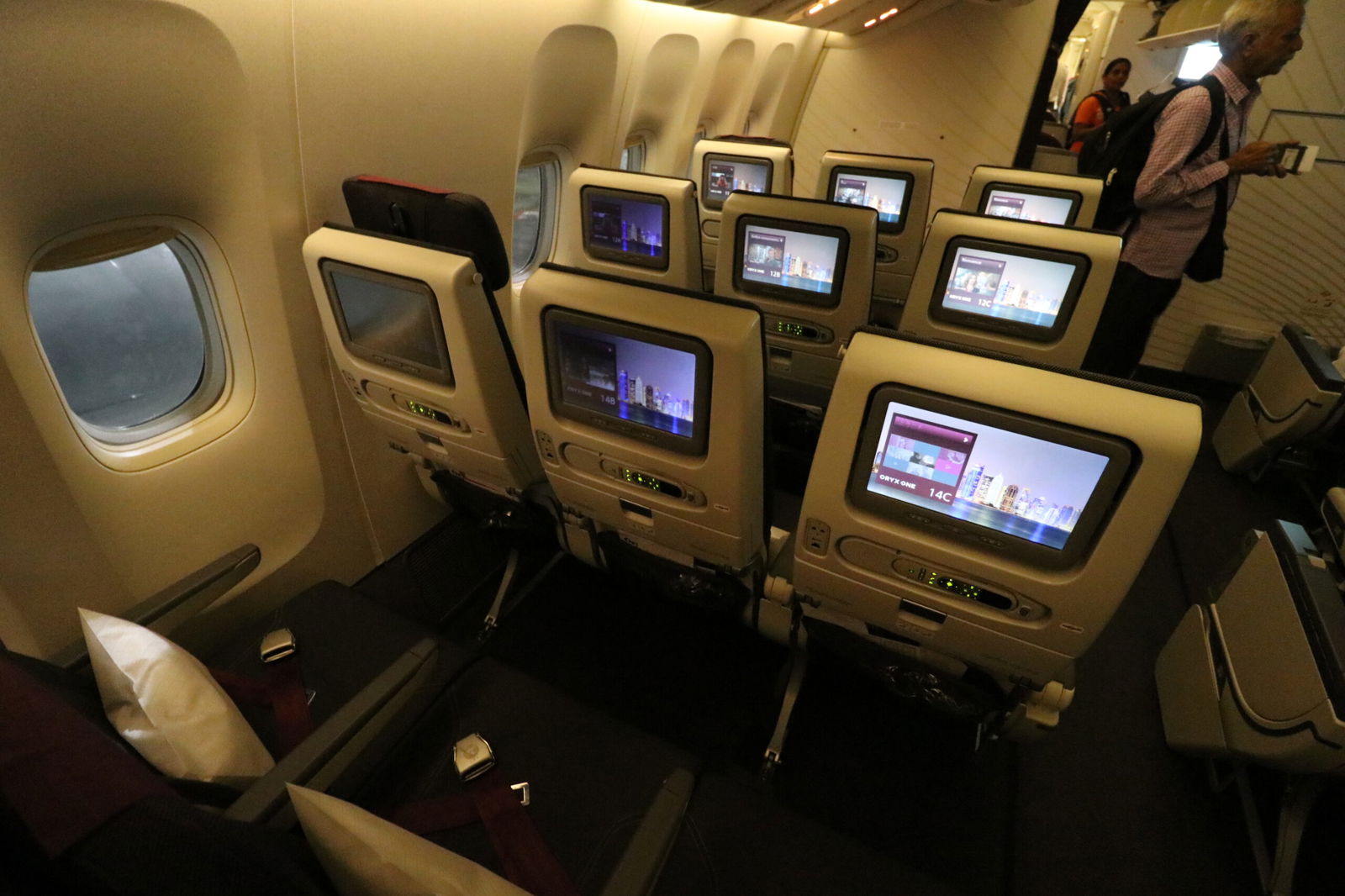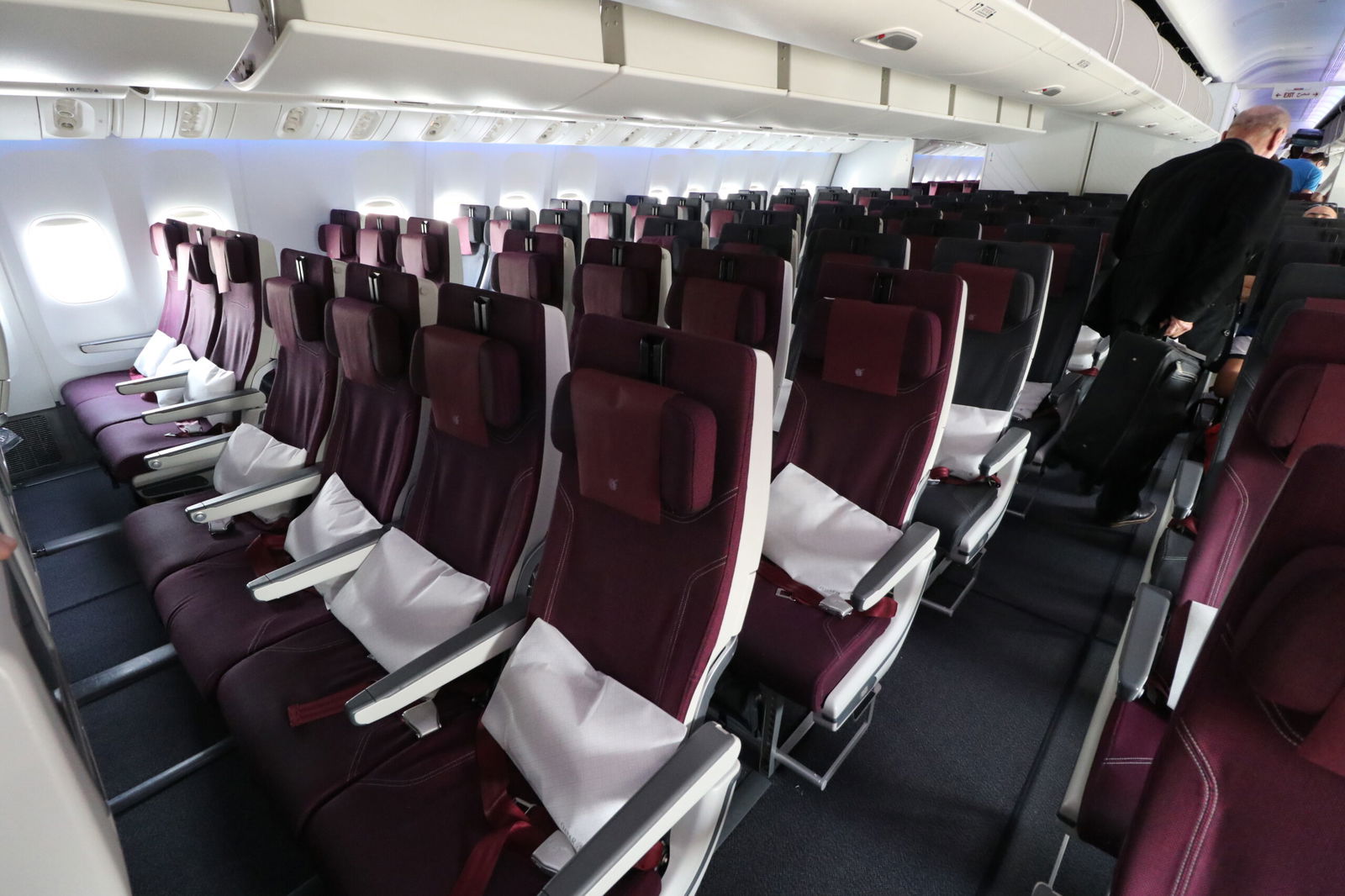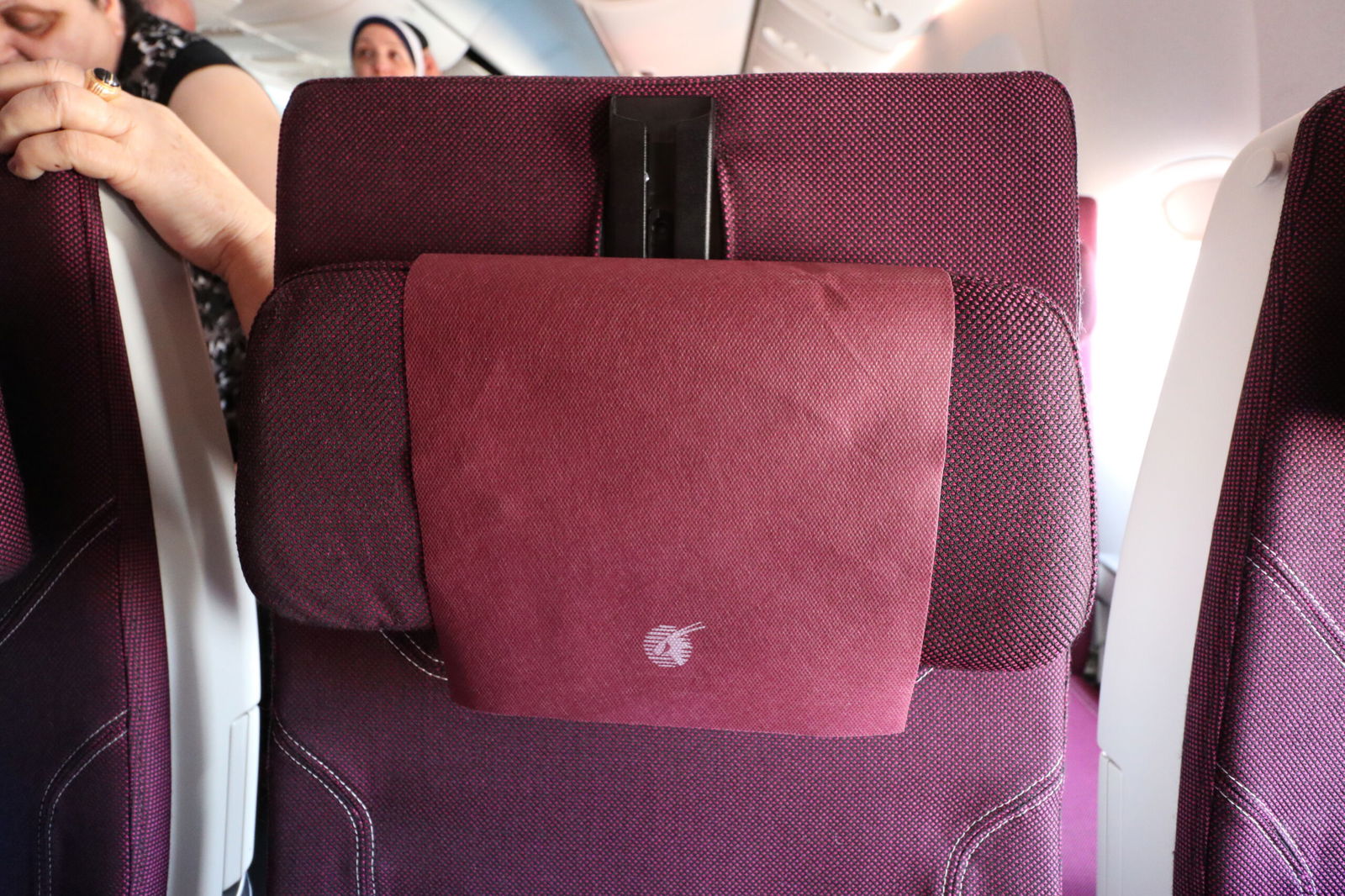 I love the headrest on Qatar, just like on Emirates. It wasn't too bulky but provided plenty of support. The legroom was also the best of all my flights. I slept really well in these seats, despite the same 3-4-3 configuration as on Emirates.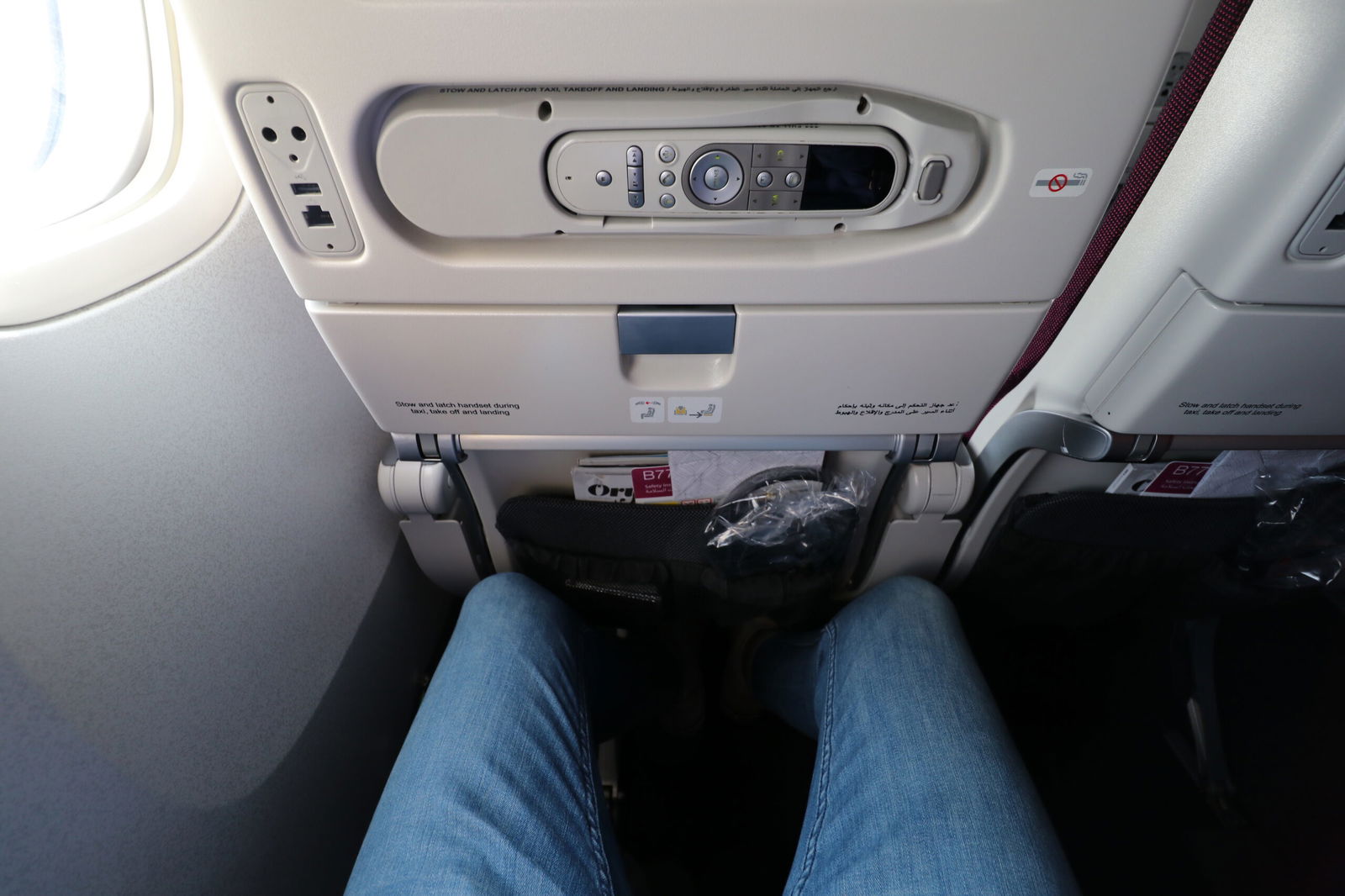 Etihad 787
Etihad's 787 and A380 have identical seats, just like on Emirates. The colors are beautiful, and the seat design is cool. Other than that, they're nothing special. The headrest is unique but non-adjustable. The legroom was bad, and the seats are narrow.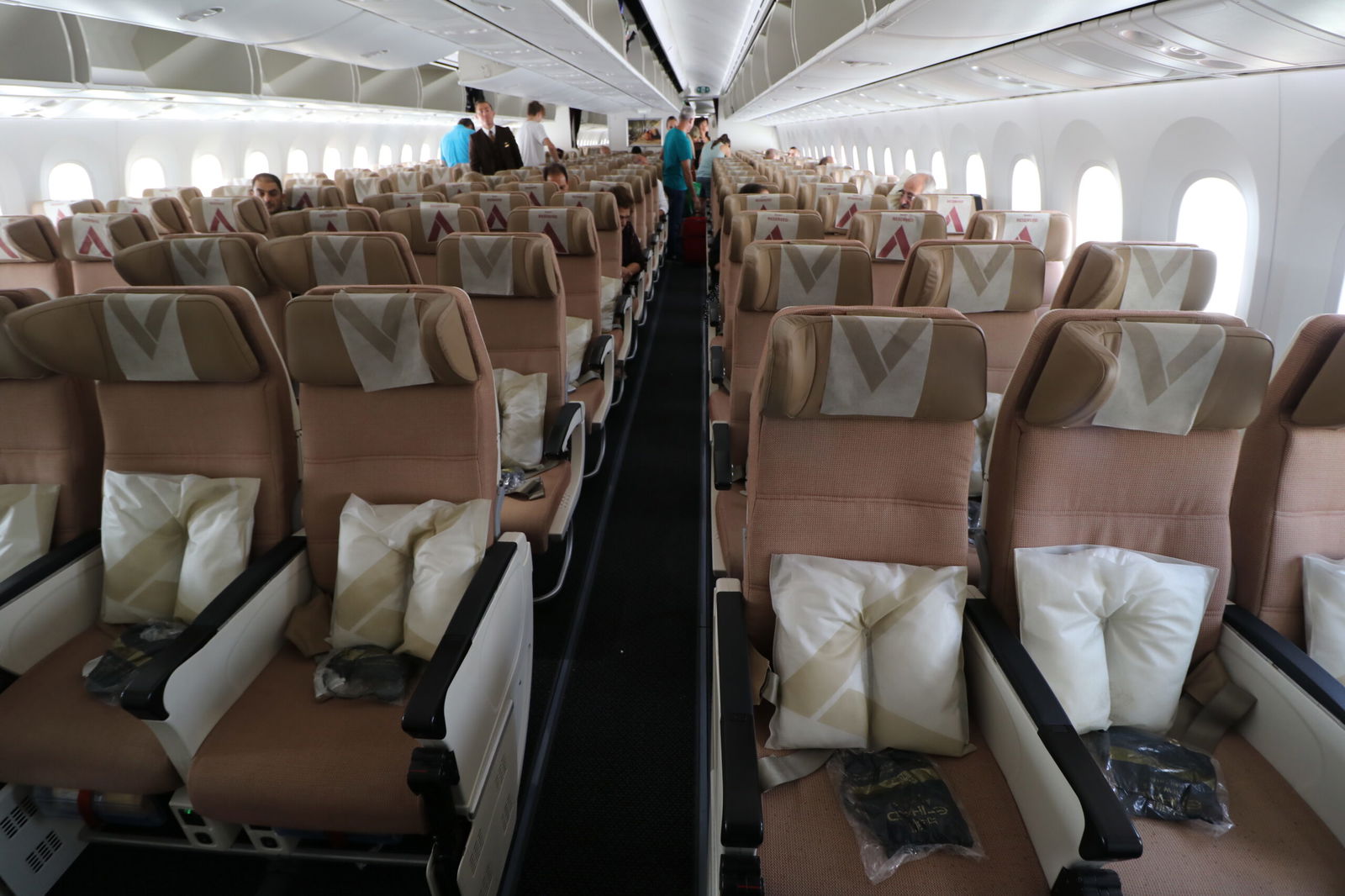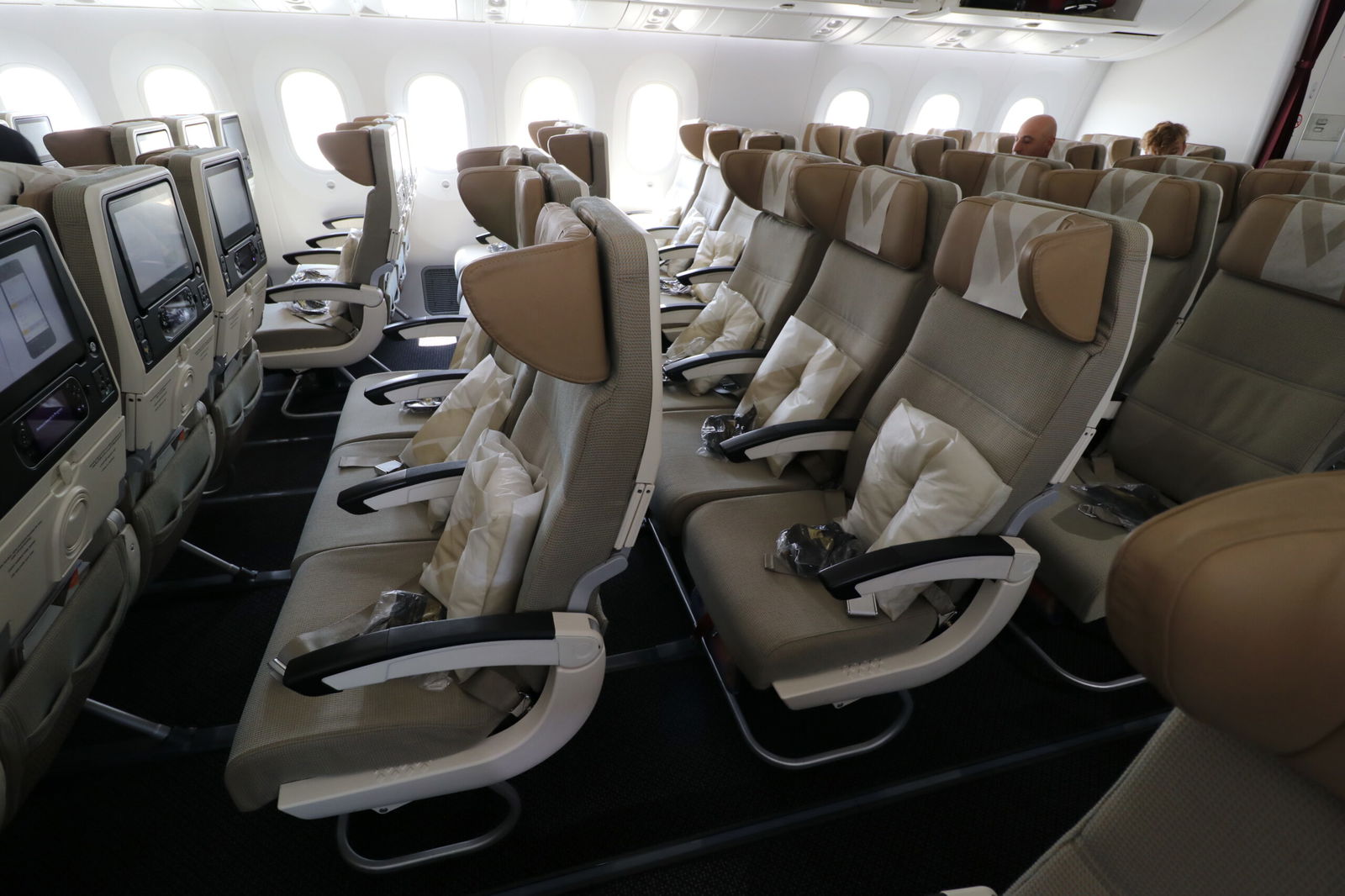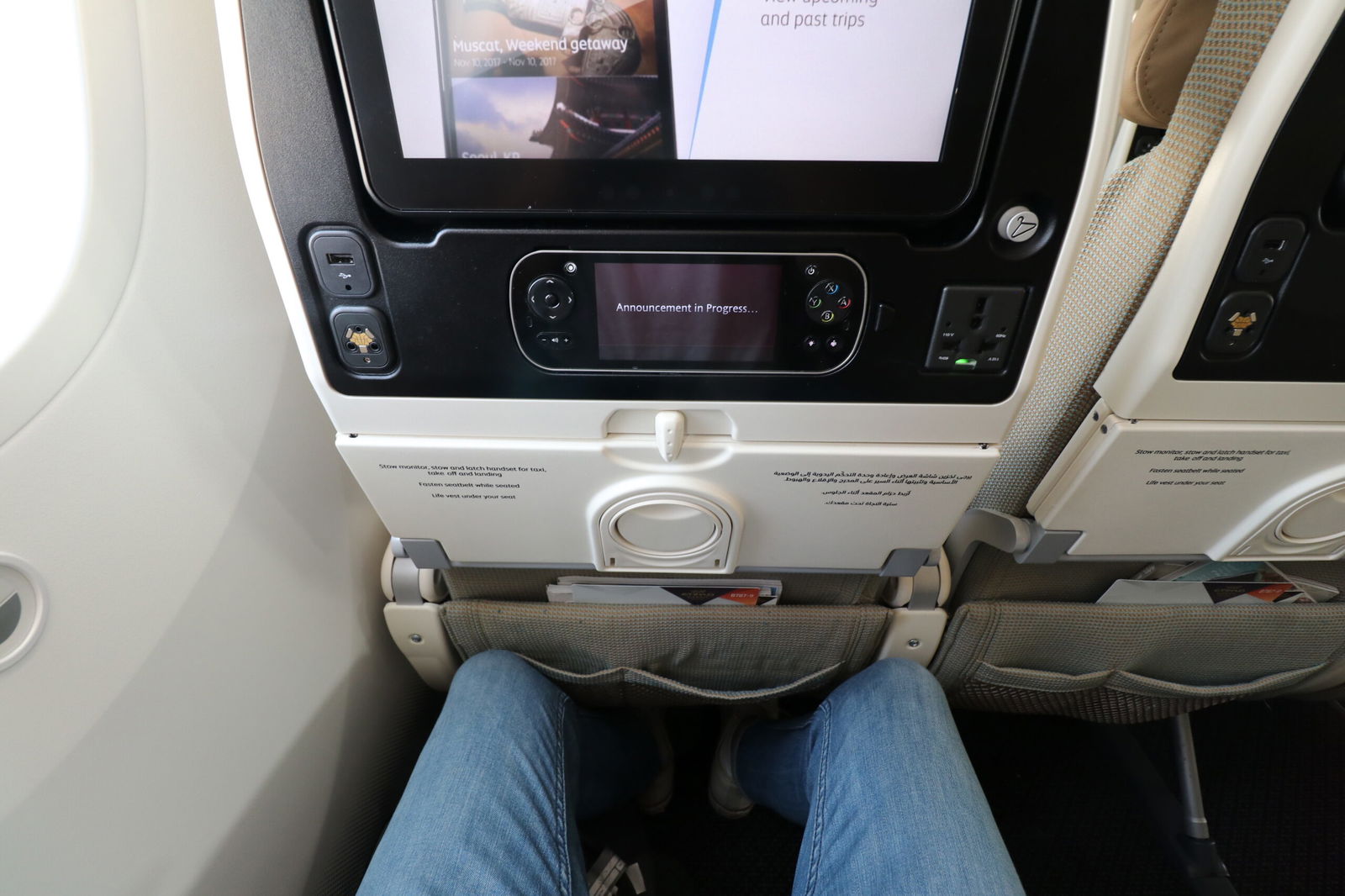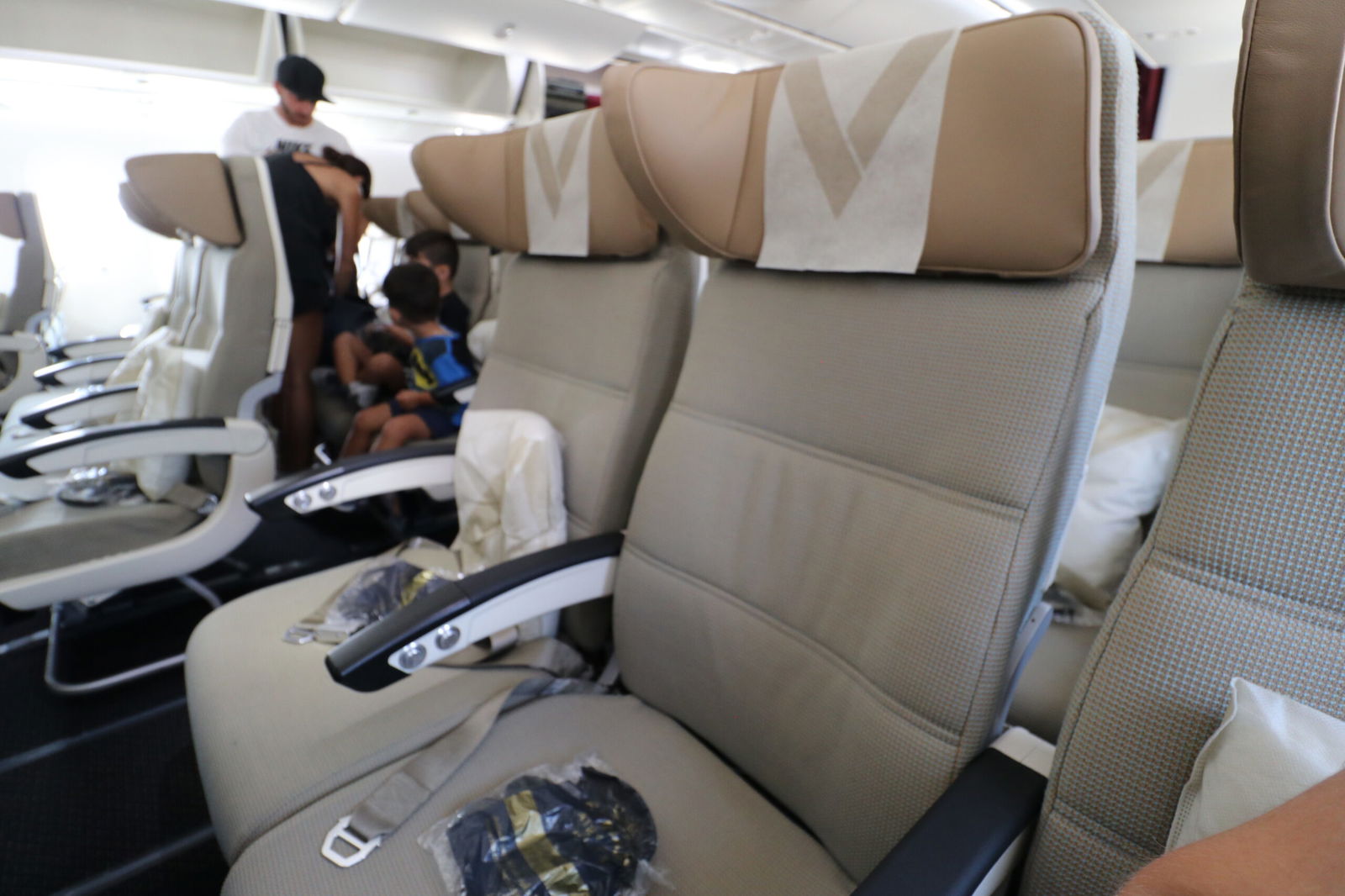 I did love the seatbacks, though.
Etihad A320
Their A320 was actually more comfortable, which was surprising given that it is only used on short-haul routes. The legroom was better, and the seat was noticeably wider.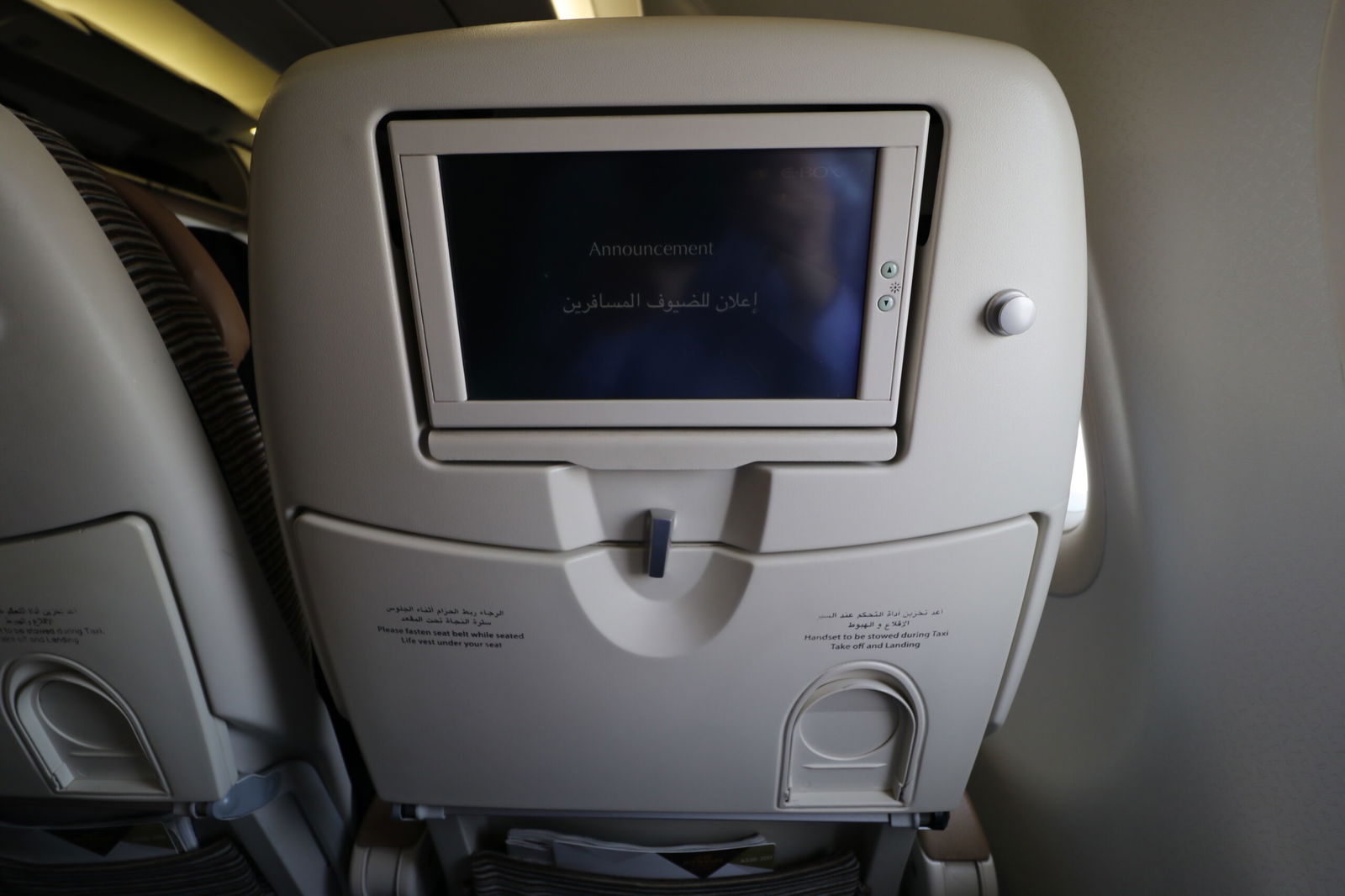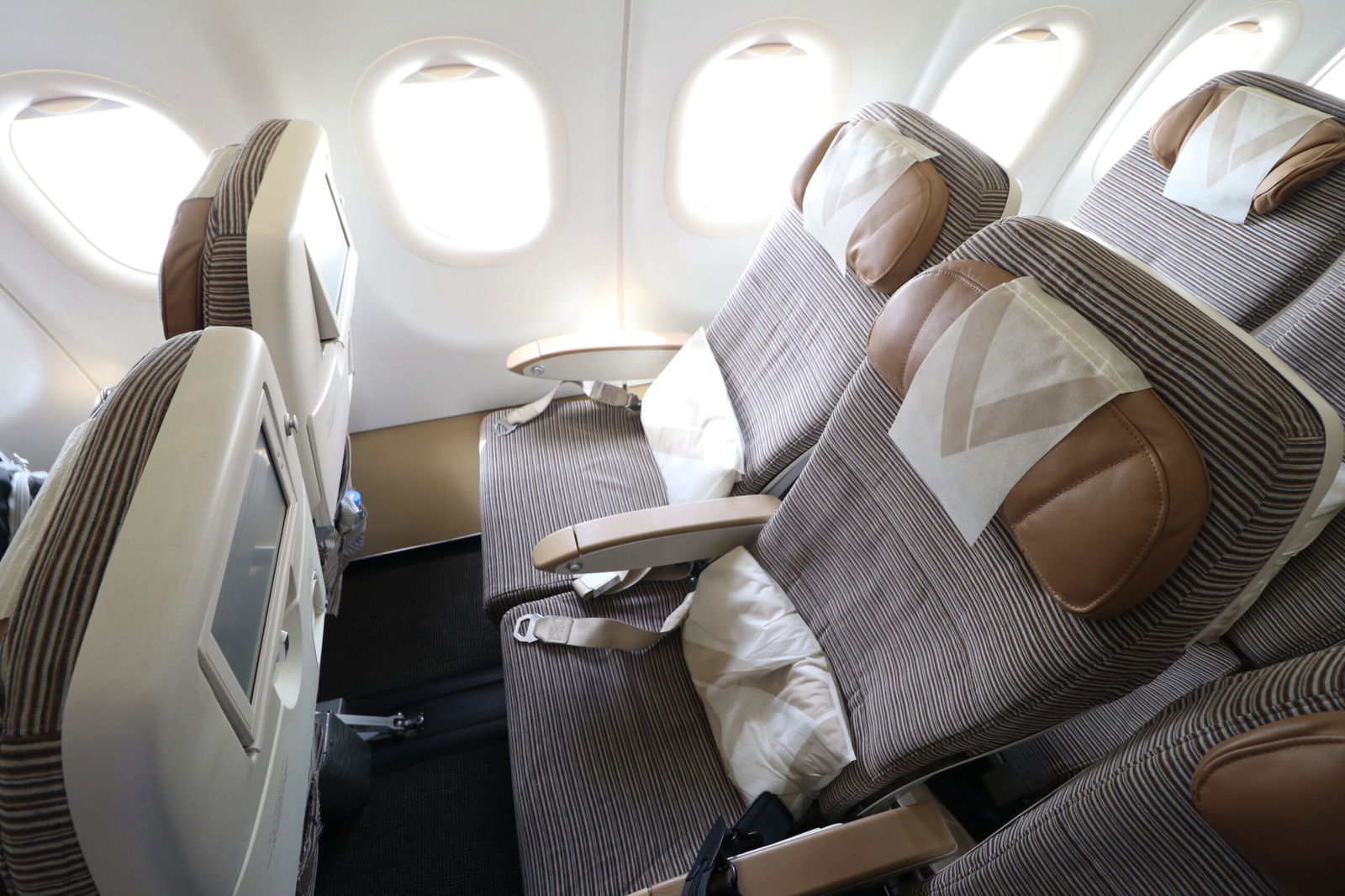 Winner: Emirates
While Qatar's 777 was also great, Emirates' A380 hit it out of the park. It is among the best economy class seats in the world and will guarantee a comfortable flight.
Entertainment
Emirates
ICE is regarded as one of the best entertainment systems in the world and has won multiple awards. I agree. However long your flight is, the plethora of entertainment options of Hollywood classics to entire seasons of various TV shows, there is no way this selection will disappoint. In addition, Emirates has slow, but reasonably priced Wi-Fi on almost their entire fleet. They also provide semi-noise canceling, comfortable headphones in economy.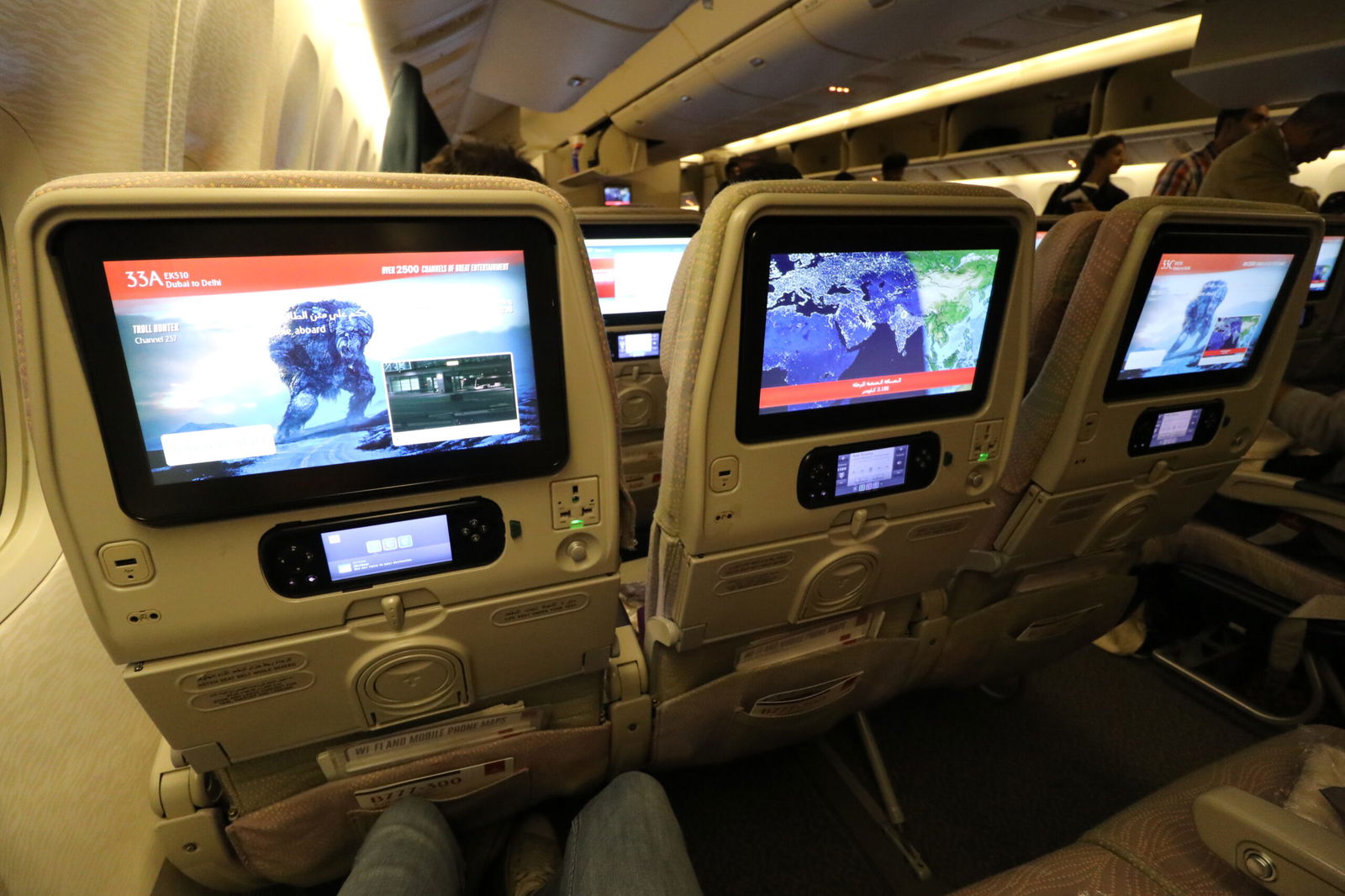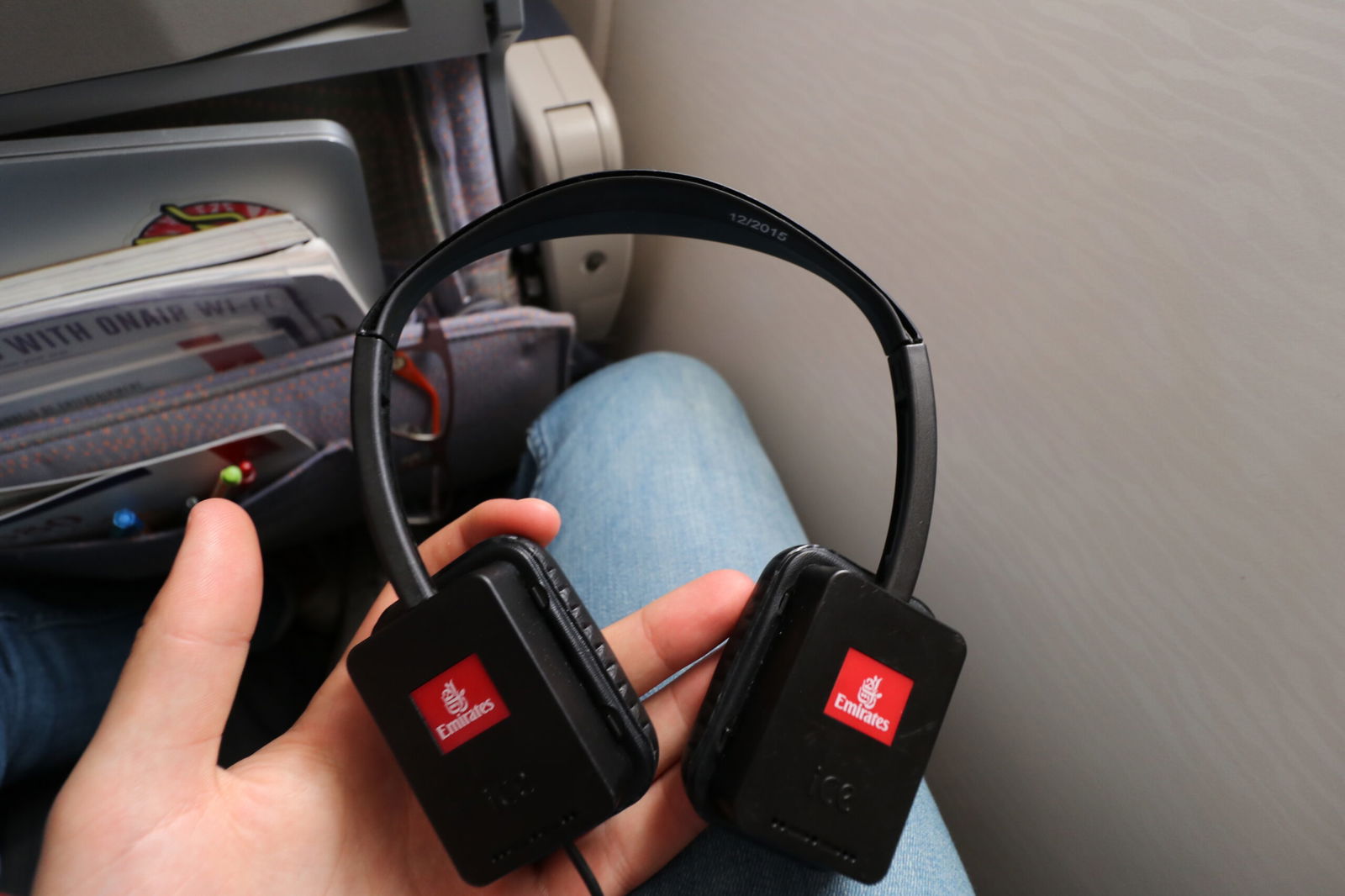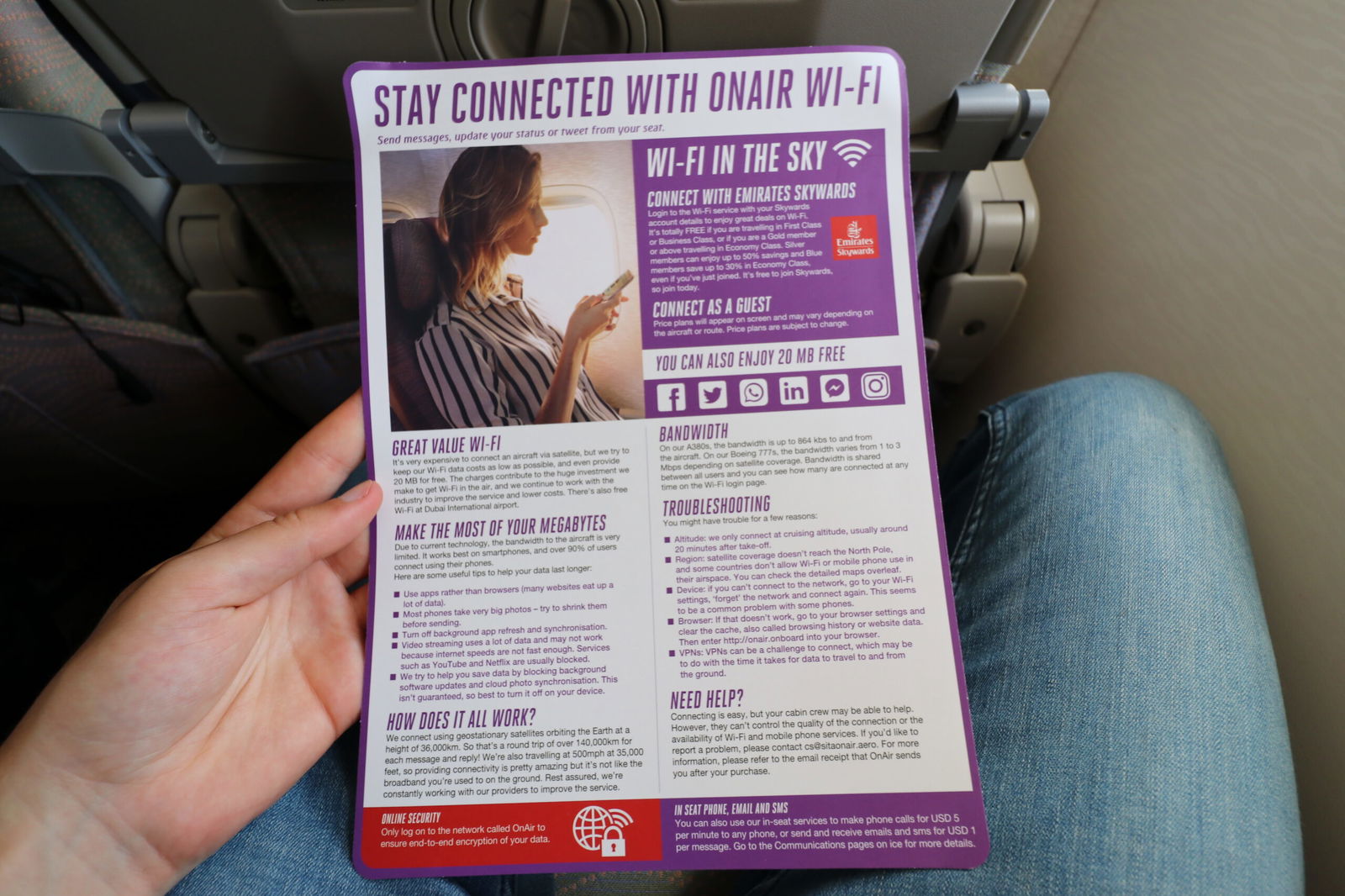 Qatar
However, Qatar's Oryx One entertainment system doesn't trail far behind. The layout is more intuitive and their selection is huge. However, there seemed to be slightly fewer options than on Emirates, especially when it came to entire TV show seasons. The in-seat power isn't as conveniently located, though, and their entire 777 fleet lacks Wi-Fi.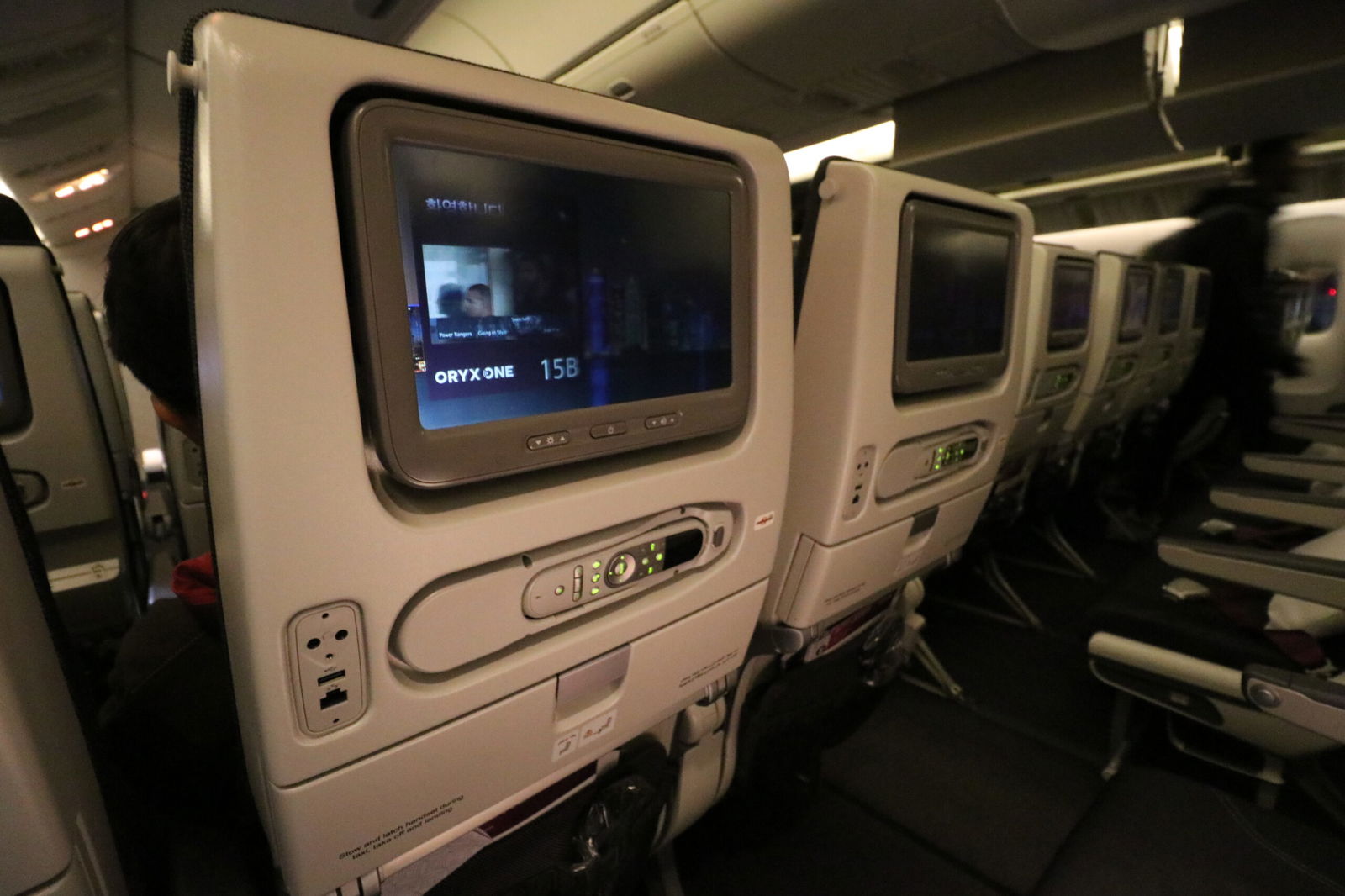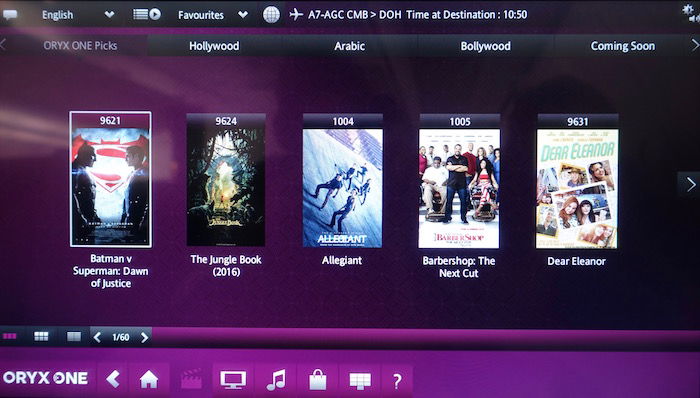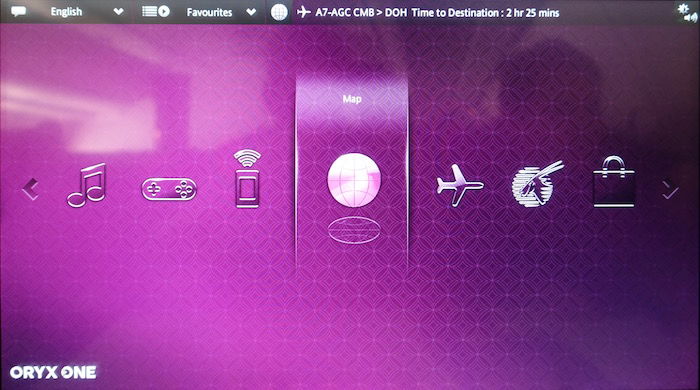 Etihad
Etihad has my favorite system layout, but that doesn't make up for the more limited options. Here, there are only a few episodes of shows that have several seasons on Emirates. The movie selection isn't as good either, but the system is still decent on a global scale. Etihad also has Wi-Fi, though it ran out much faster than on Emirates, despite doing the exact same task.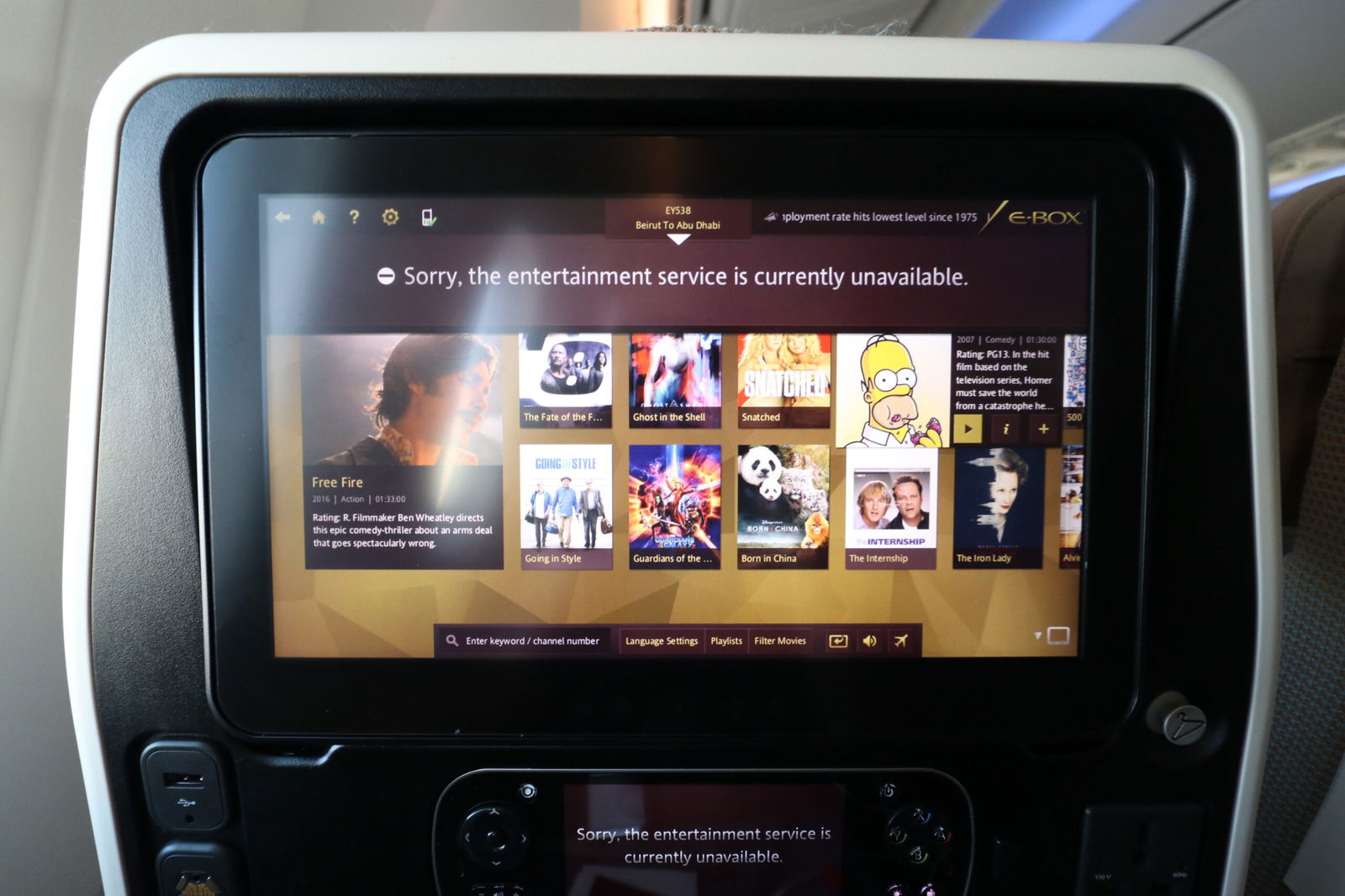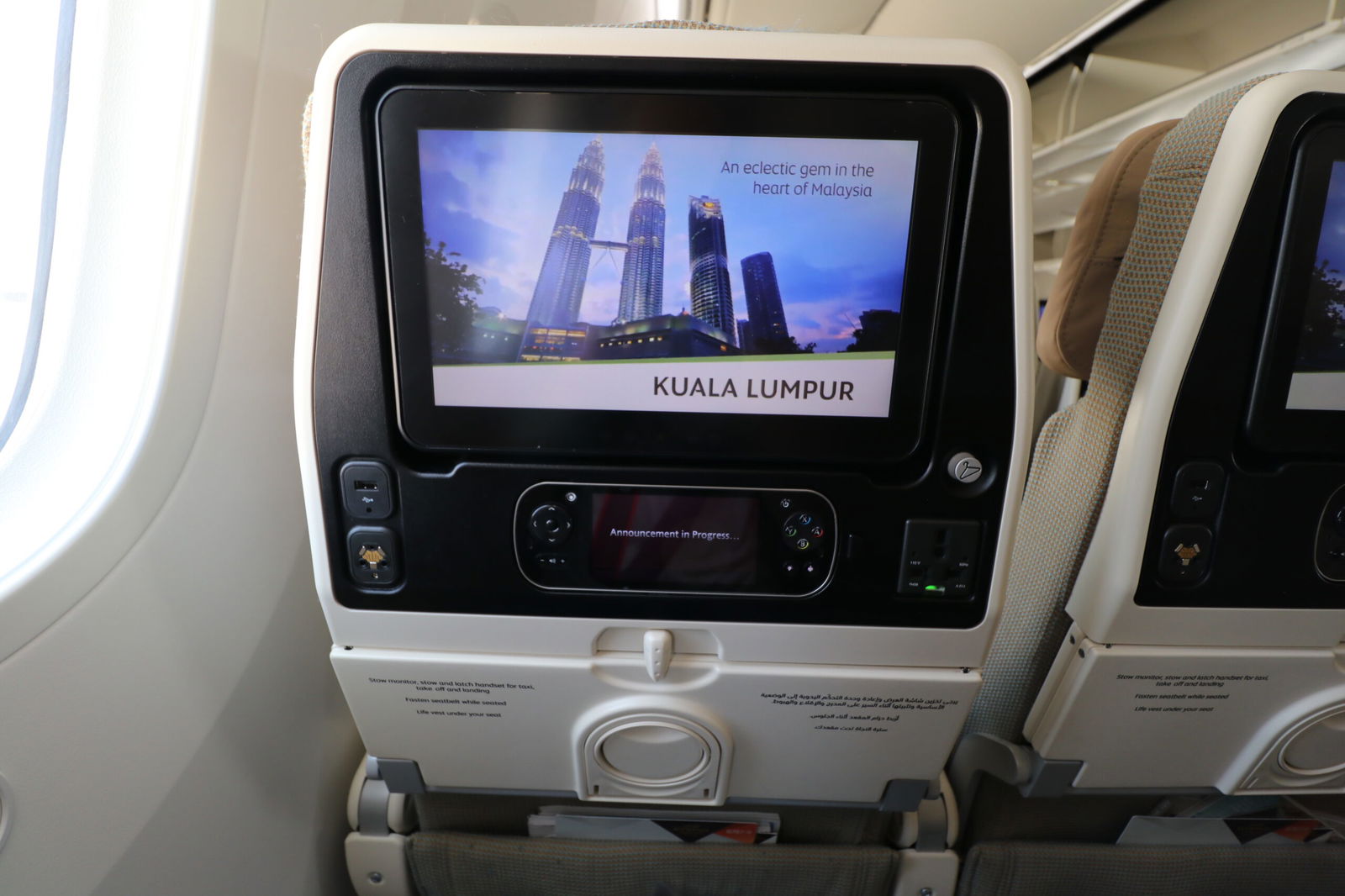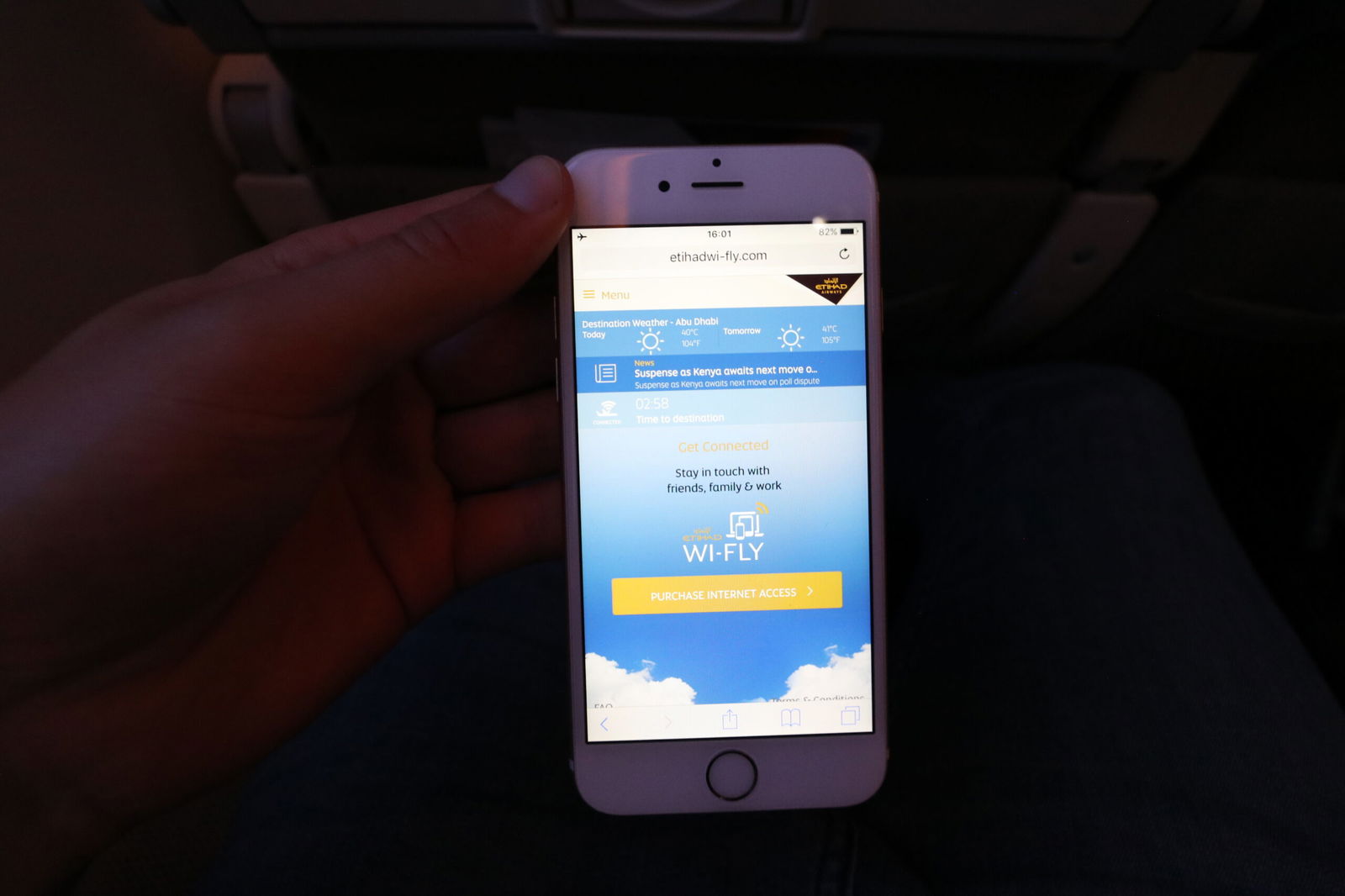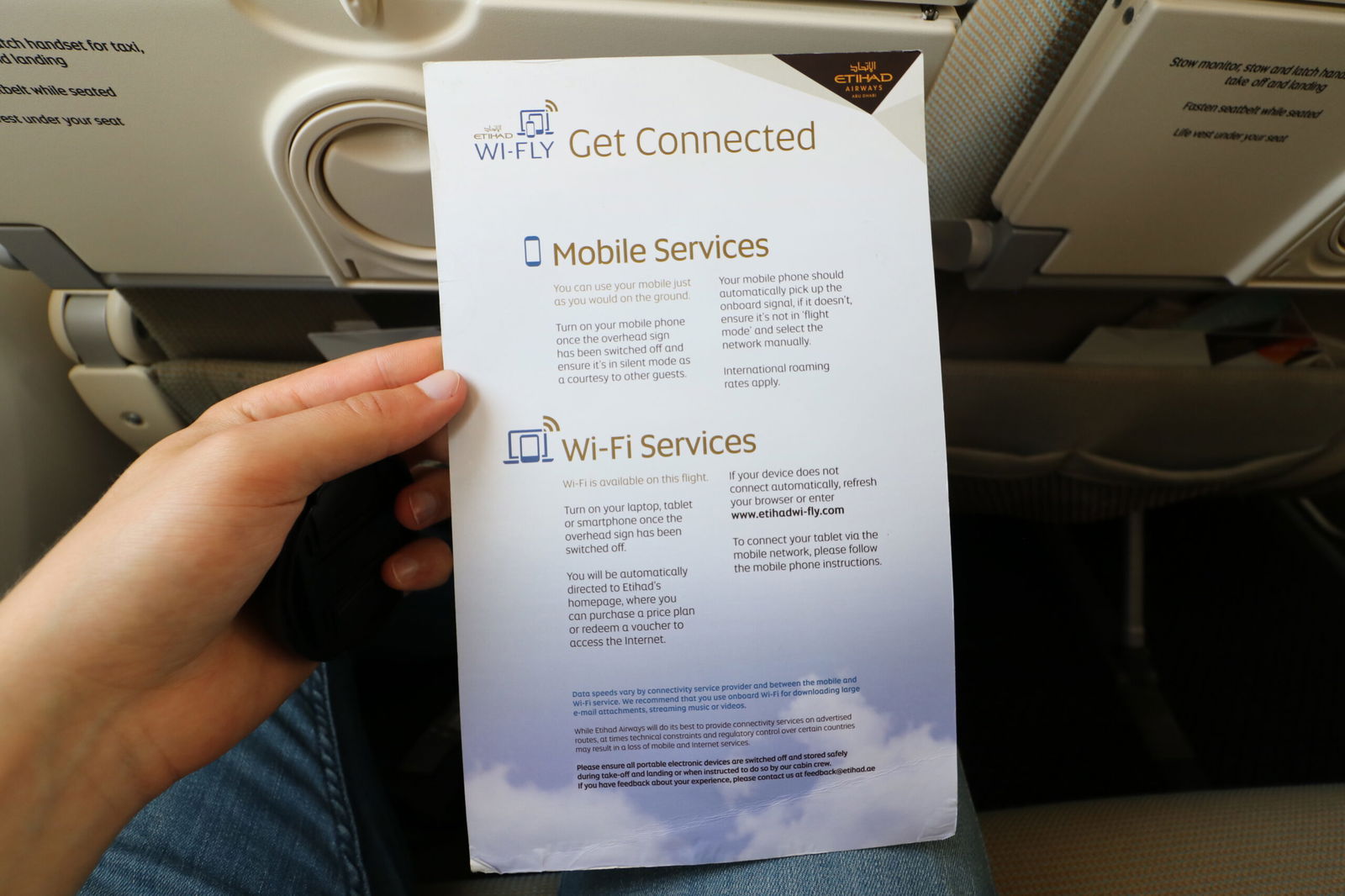 Winner: Emirates (and Qatar)
Unsurprisingly, Emirates takes the crown again. I love being able to binge-watch shows on planes, which is possible on their ICE entertainment system. Oryx One is almost as good (and still one of the best in the world), but combined with the lack of Wi-Fi, I'd prefer Emirates. It's worth noting that all three airlines play ads before the content plays.
Food
Emirates
I was served two meals on Emirates, one lunch after takeoff from Zurich and one breakfast mid-flight to Delhi. Each meal service started with beverages and pretzels, followed by the actual meal. The selection of juices onboard was fantastic, and the food tasted fresh. The food was good, and I appreciated the nice presentation and the steel silverware.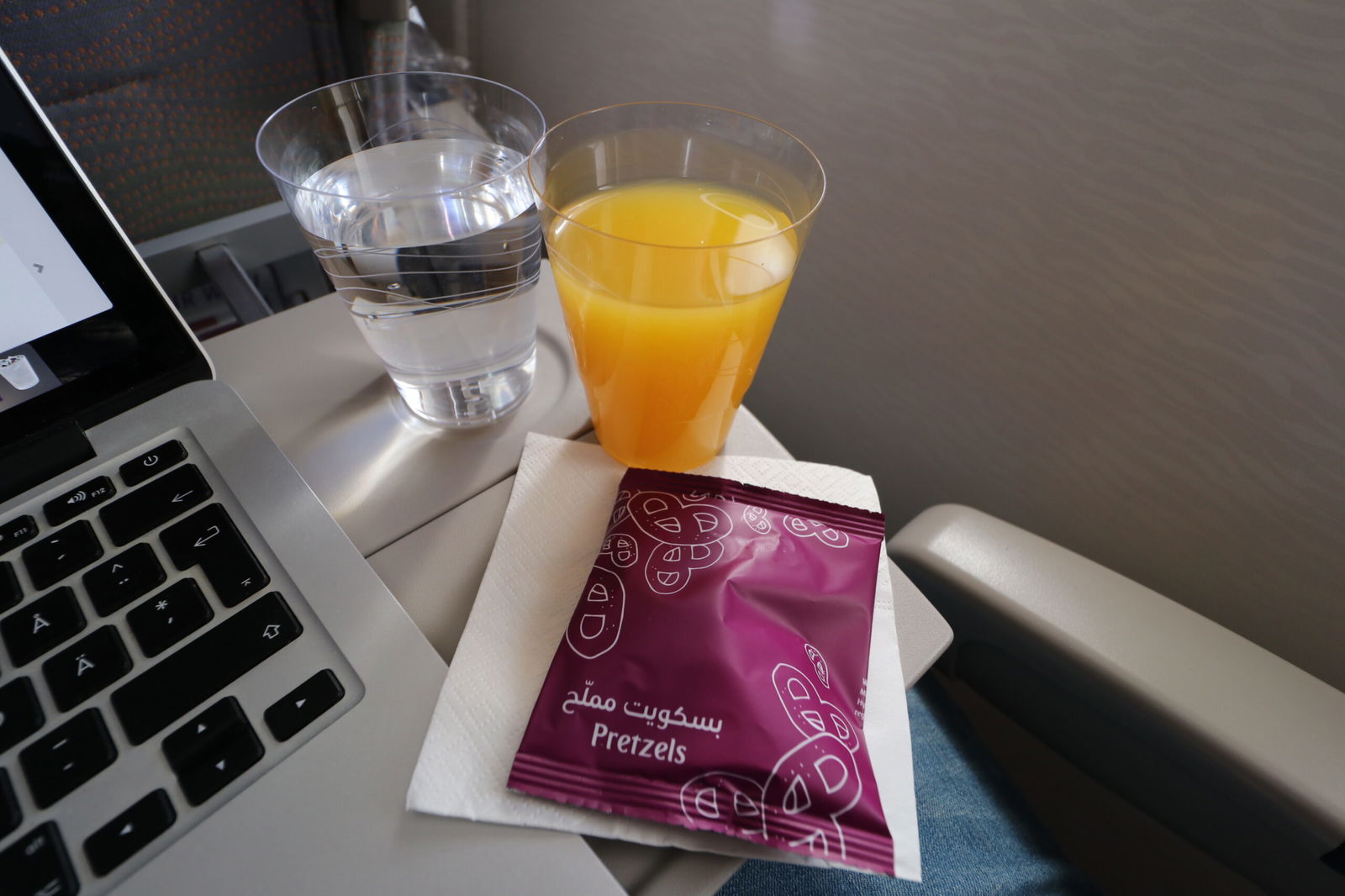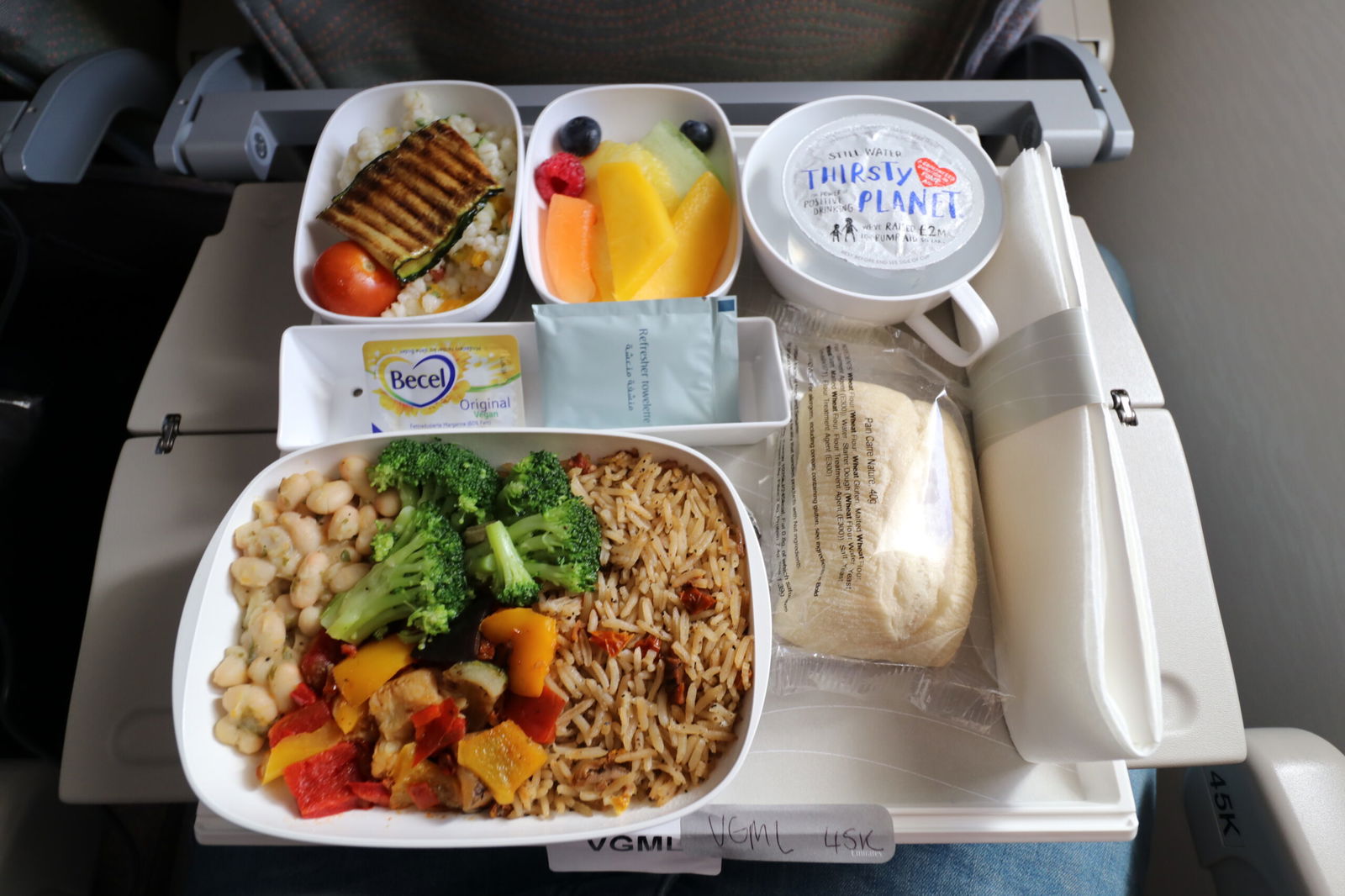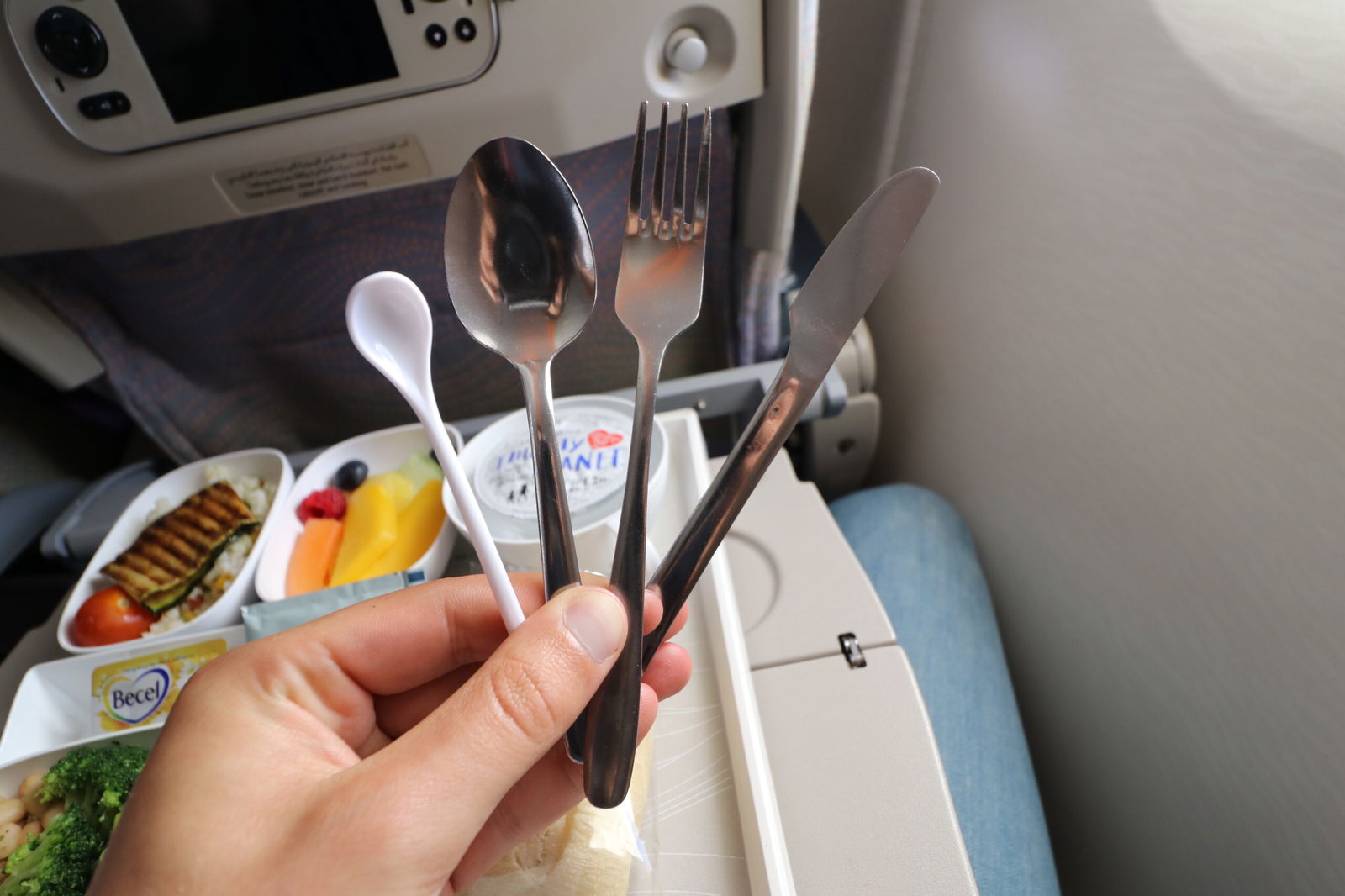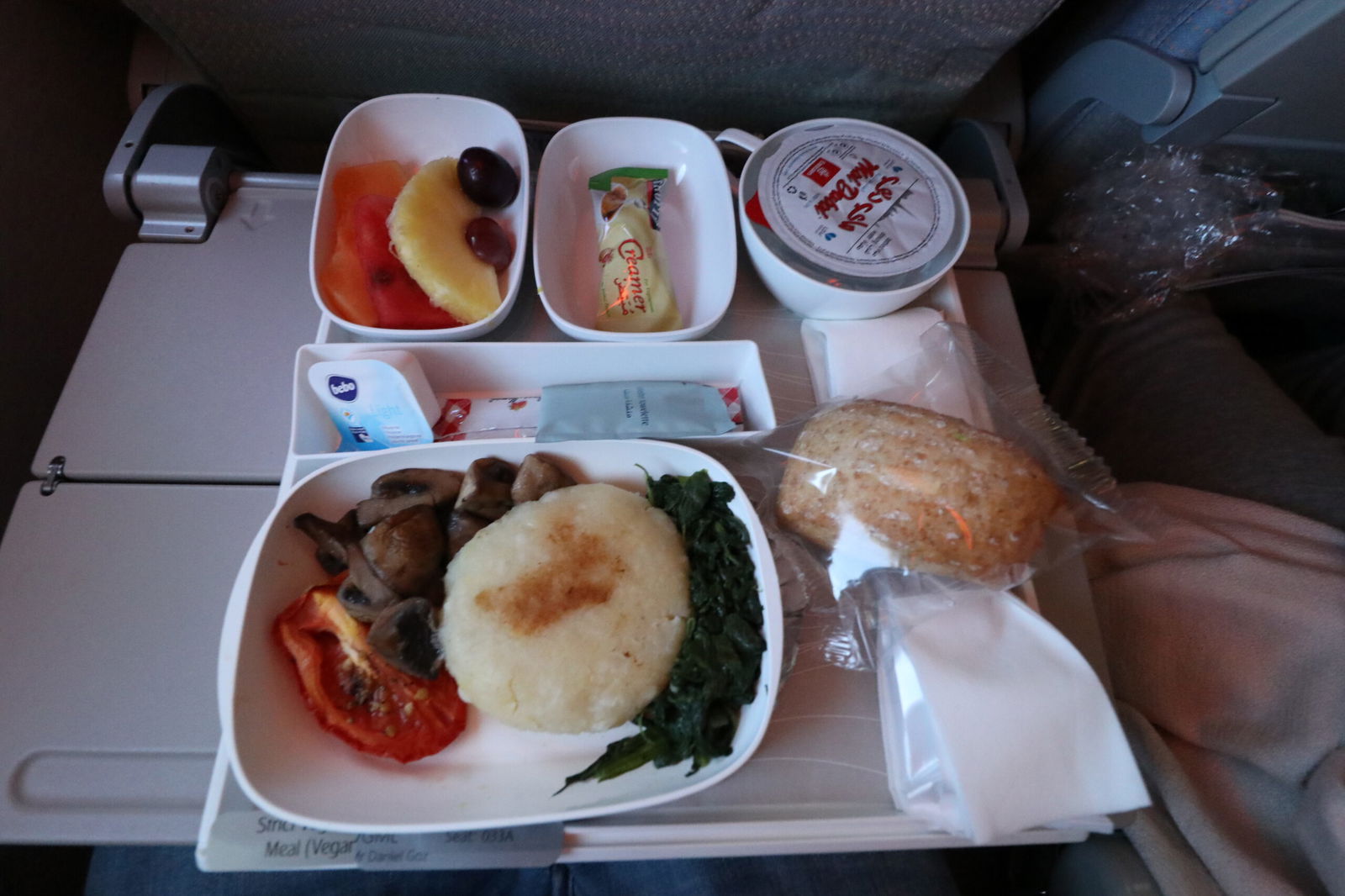 Qatar
Just as on Emirates, Qatar handed out paper menus on both flights. Since I'd ordered vegetarian meals, the menu didn't match, but it's nice to know what everyone else was eating.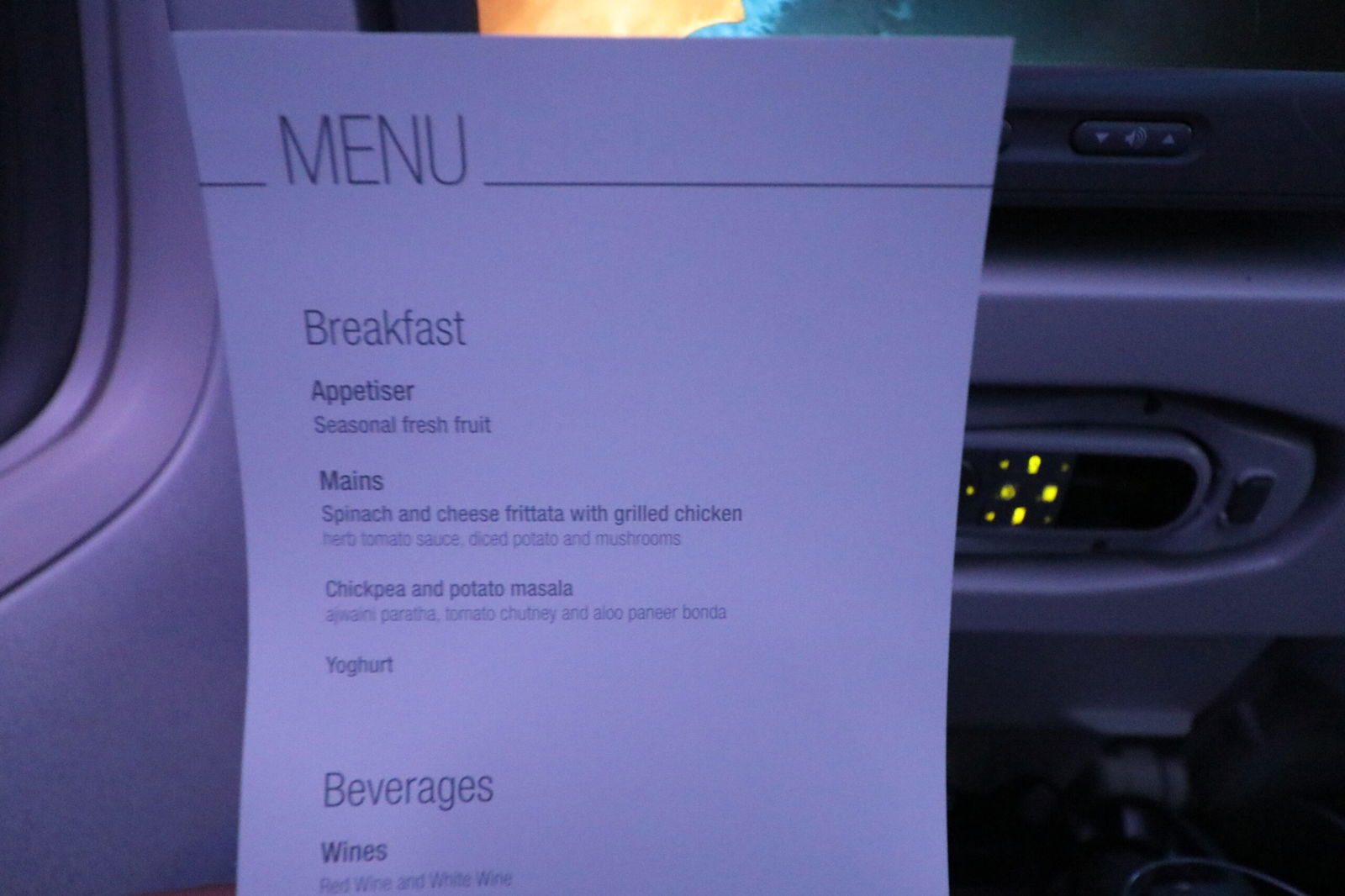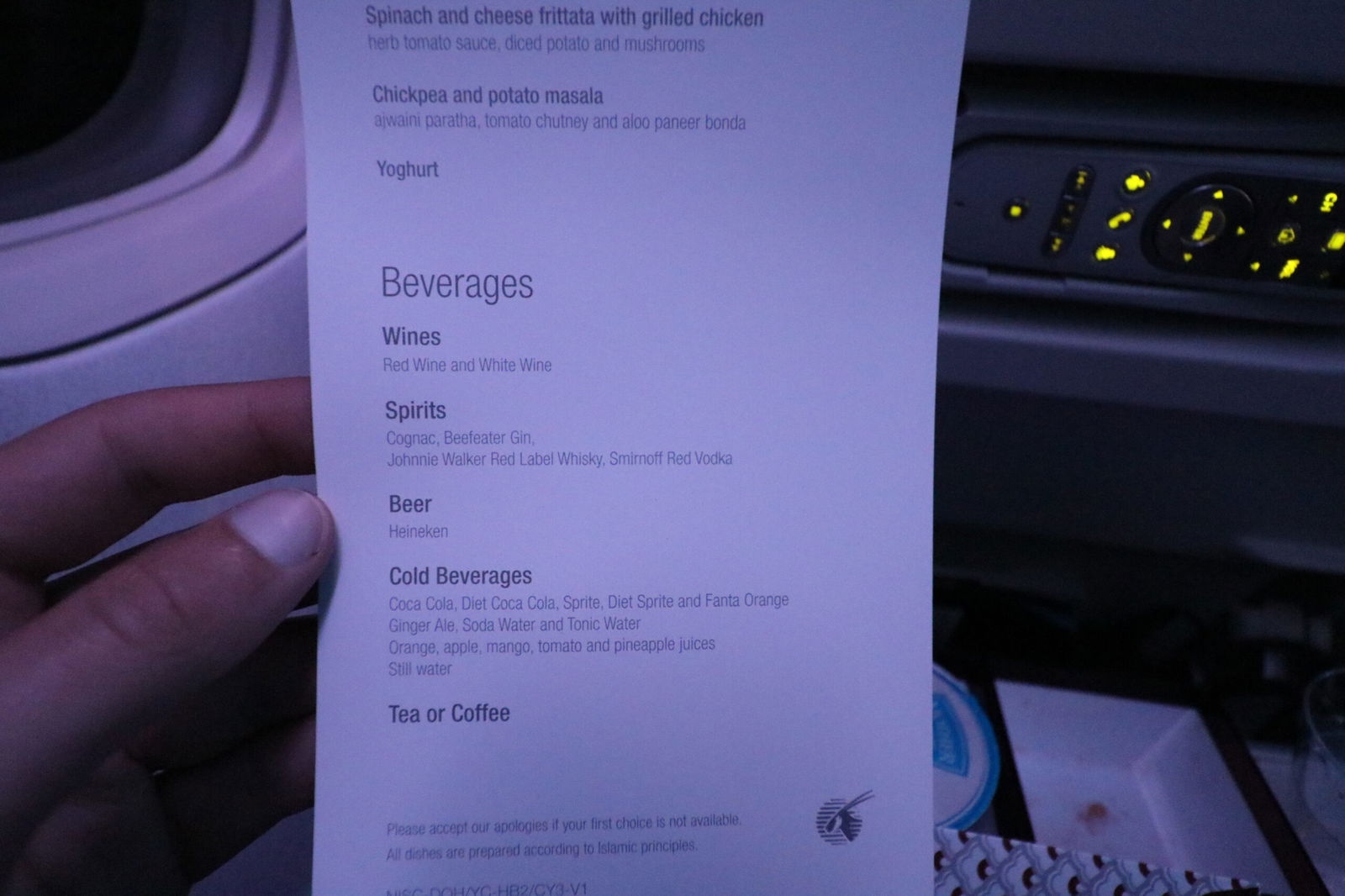 Qatar has an equally impressive juice selection, and I love that they serve Tropicana. The meals were both good, but unmemorable.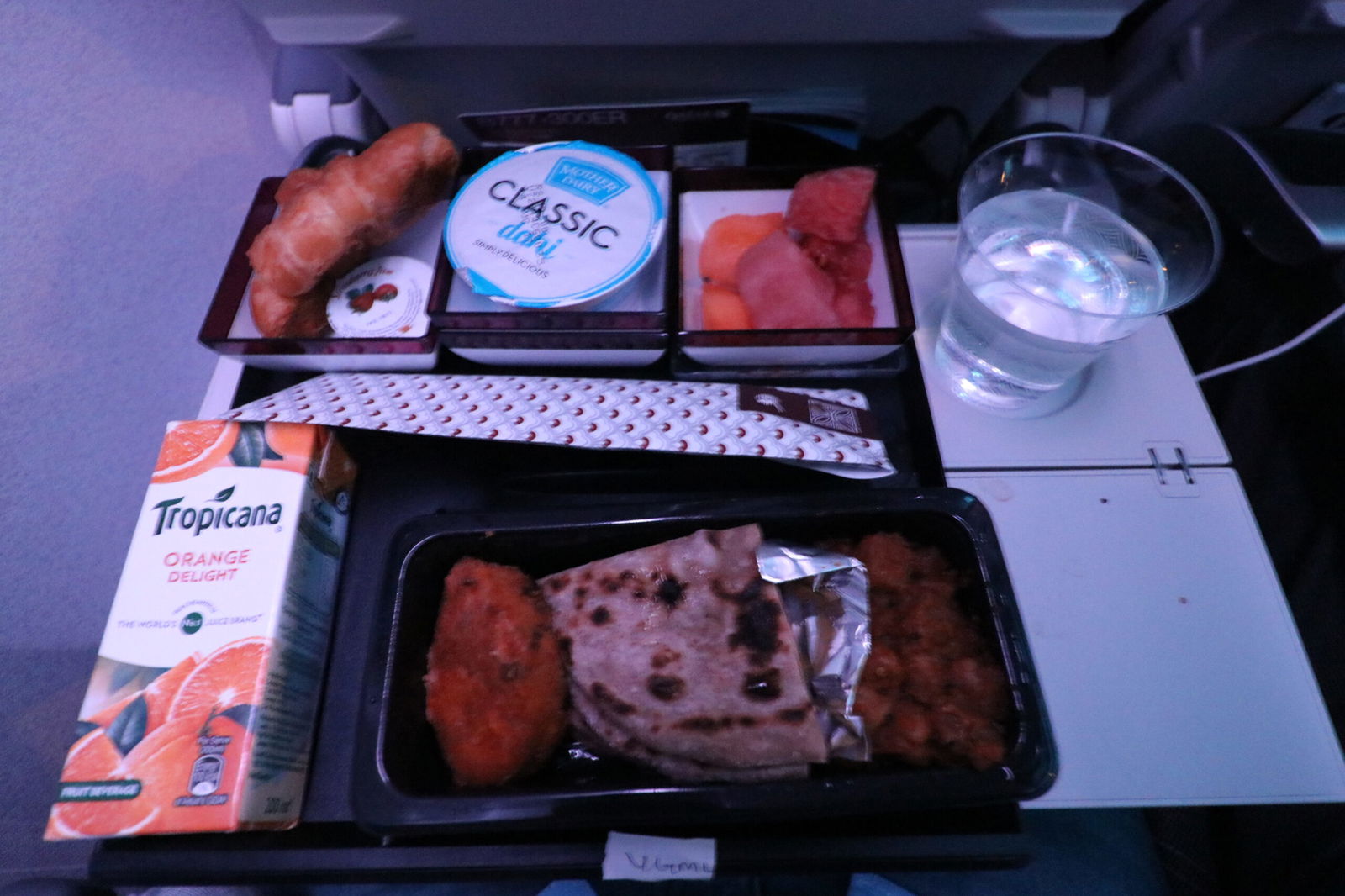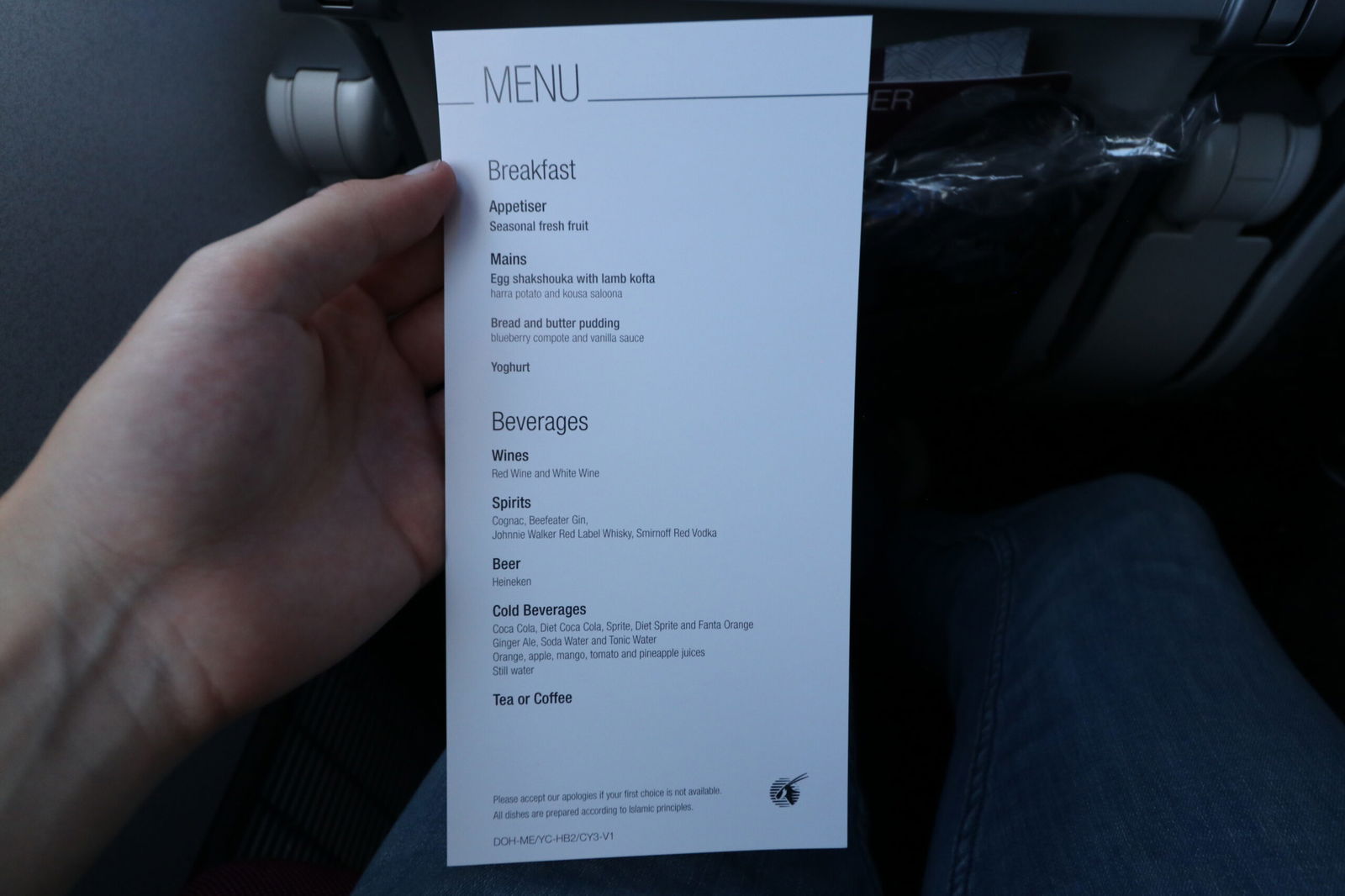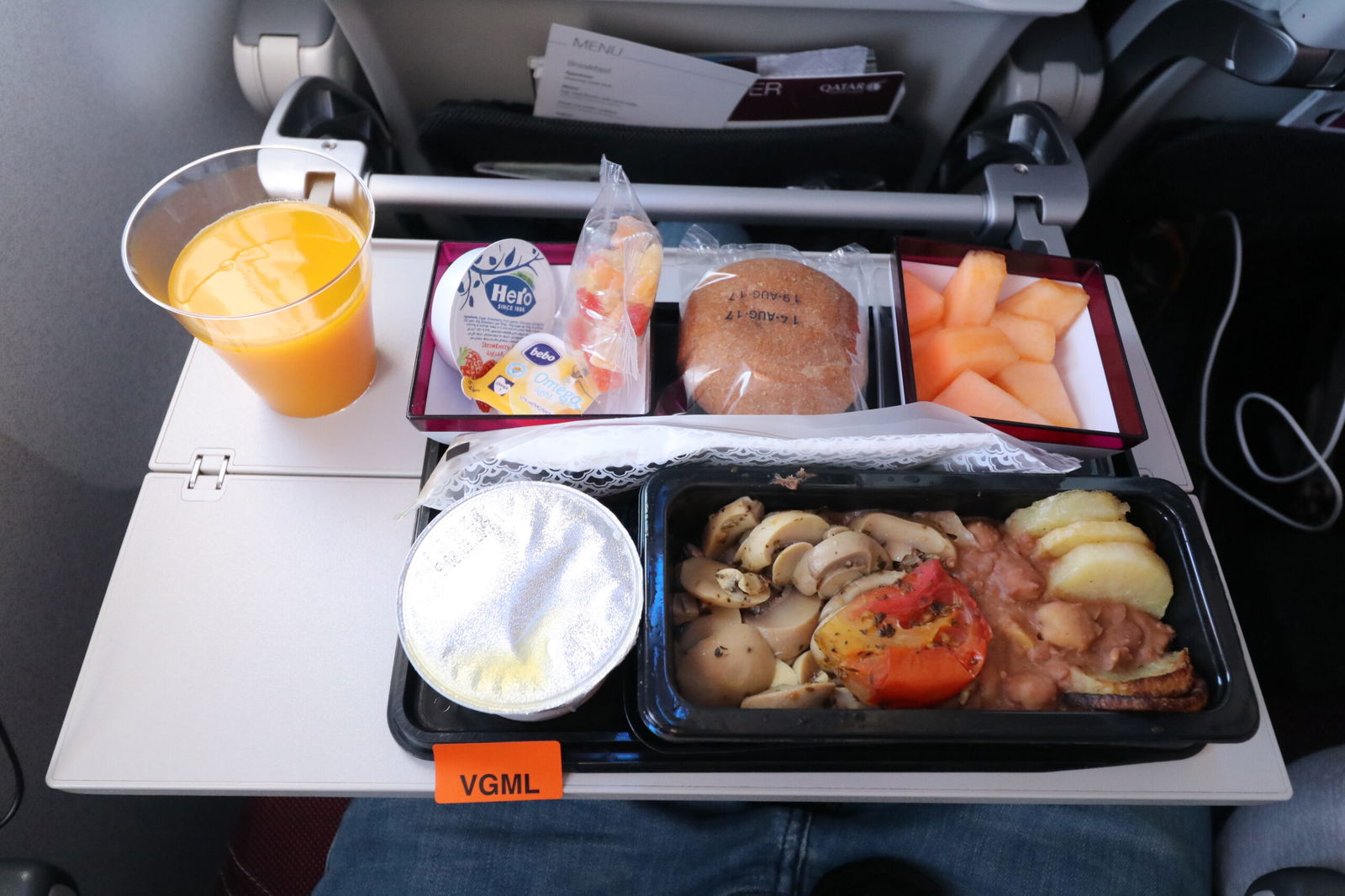 Etihad
Maybe I got lucky, but Etihad served fantastic pasta in a spicy arrabbiata sauce on my flight from Beirut to Abu Dhabi. The bean and corn salad that accompanied my meal was also delicious. However, Etihad did not have menus, nor did they have a good juice selection (which is important for Middle Eastern airlines).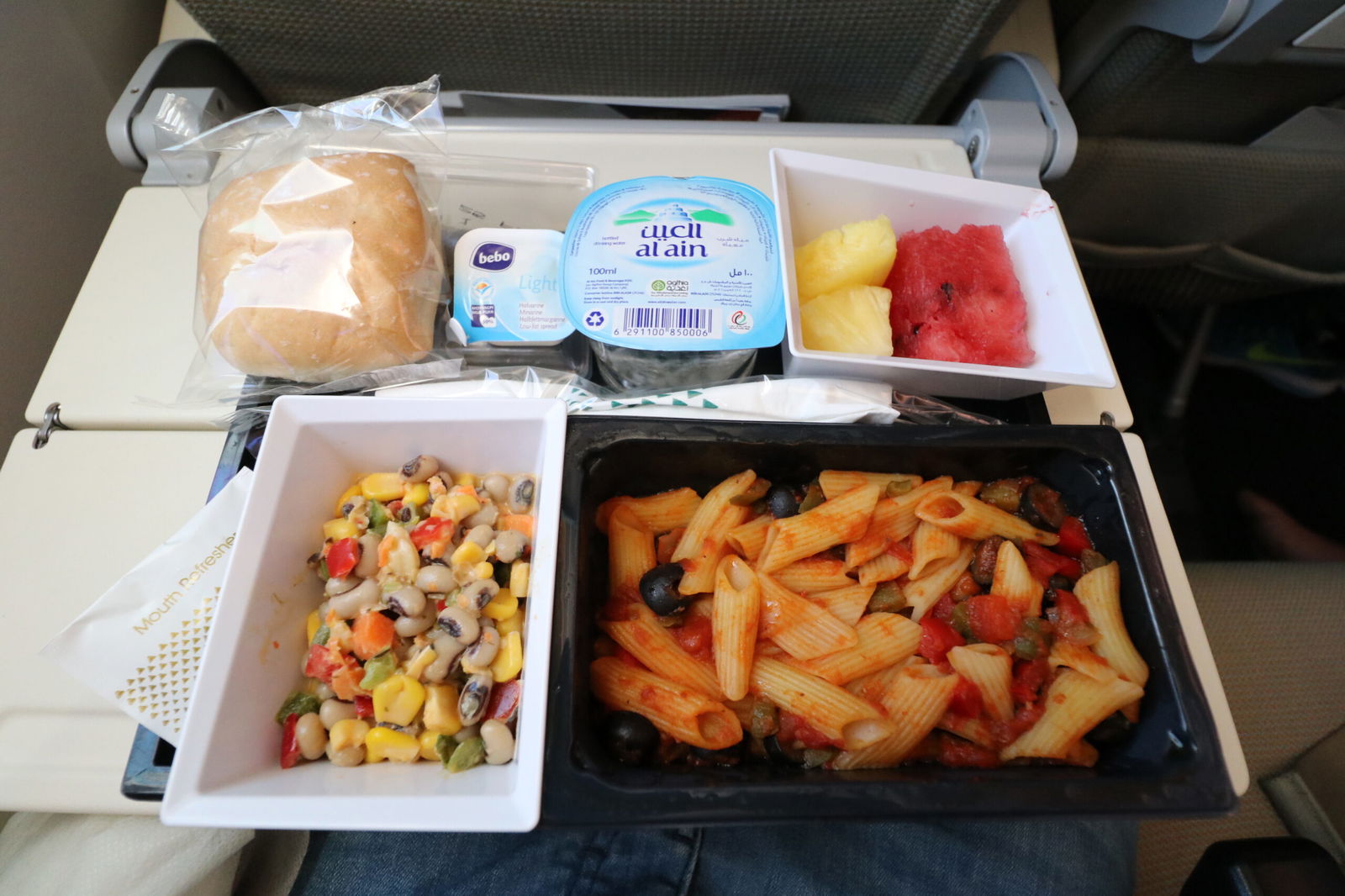 On my short-flight from Abu Dhabi to Muscat, I was served an "Express Snack", which was basic but impressive for such a short flight.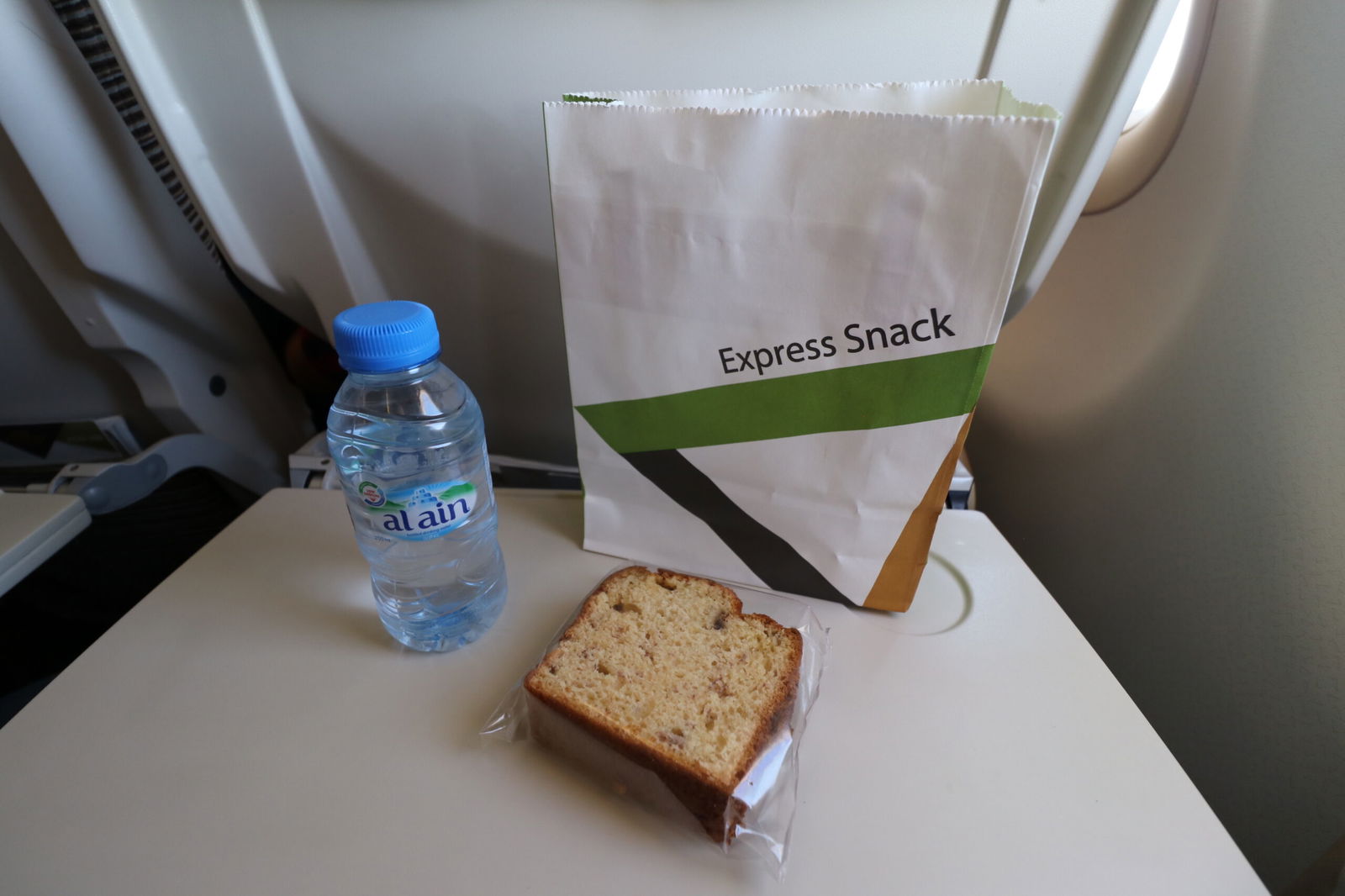 Winner: Etihad
While I liked the meals on all my flights, Etihad's was most memorable. The pasta was perfectly al-dente, the sauce was great and the accompanying dishes were healthy. However, I wouldn't choose the airline based on meal quality, since none of the airlines disappointed here.
Service
Emirates
Here's where you really start to notice the difference. Emirates' crew was extremely helpful during boarding, lifting carry-ons for passengers and guiding them to their seats. However, after takeoff, the service declined. It felt impersonal and even lazy at points. The A380 is an enormous aircraft, but it took 90 minutes before the crew cleared the food trays, which is consistent with my previous experiences on Emirates. This means people can't get up to go to the bathroom during that time, so when the trays are finally cleared, people flock to the lavatories.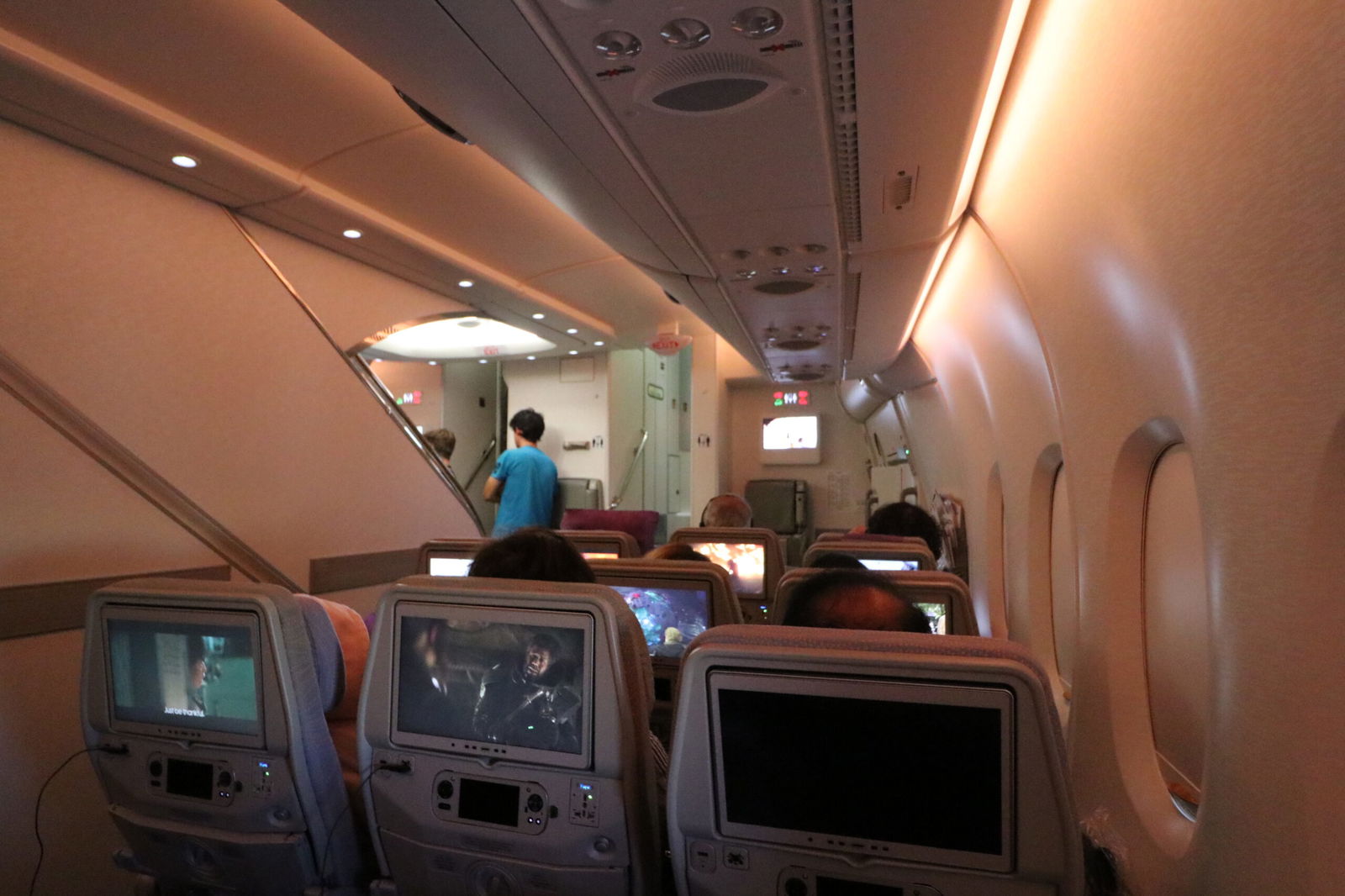 Qatar
This is where Qatar truly shines. While the difference lies in minute details, the crew on Qatar are in another league. Even in economy class, the seconds they dedicate to serving your meal somehow feel personalized. Their training makes them gracious and helpful, even more so than many premium-class flight attendants at other airlines.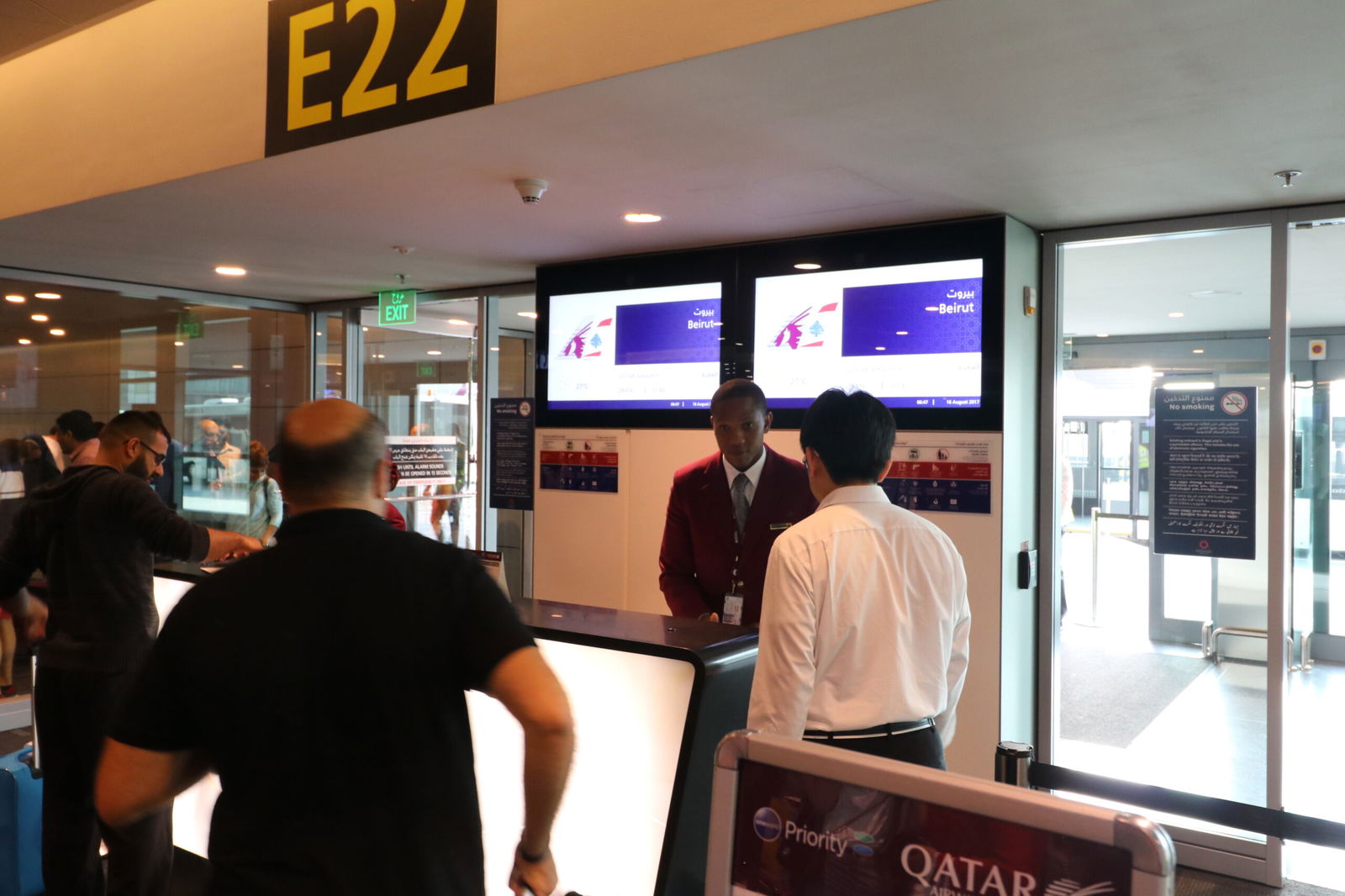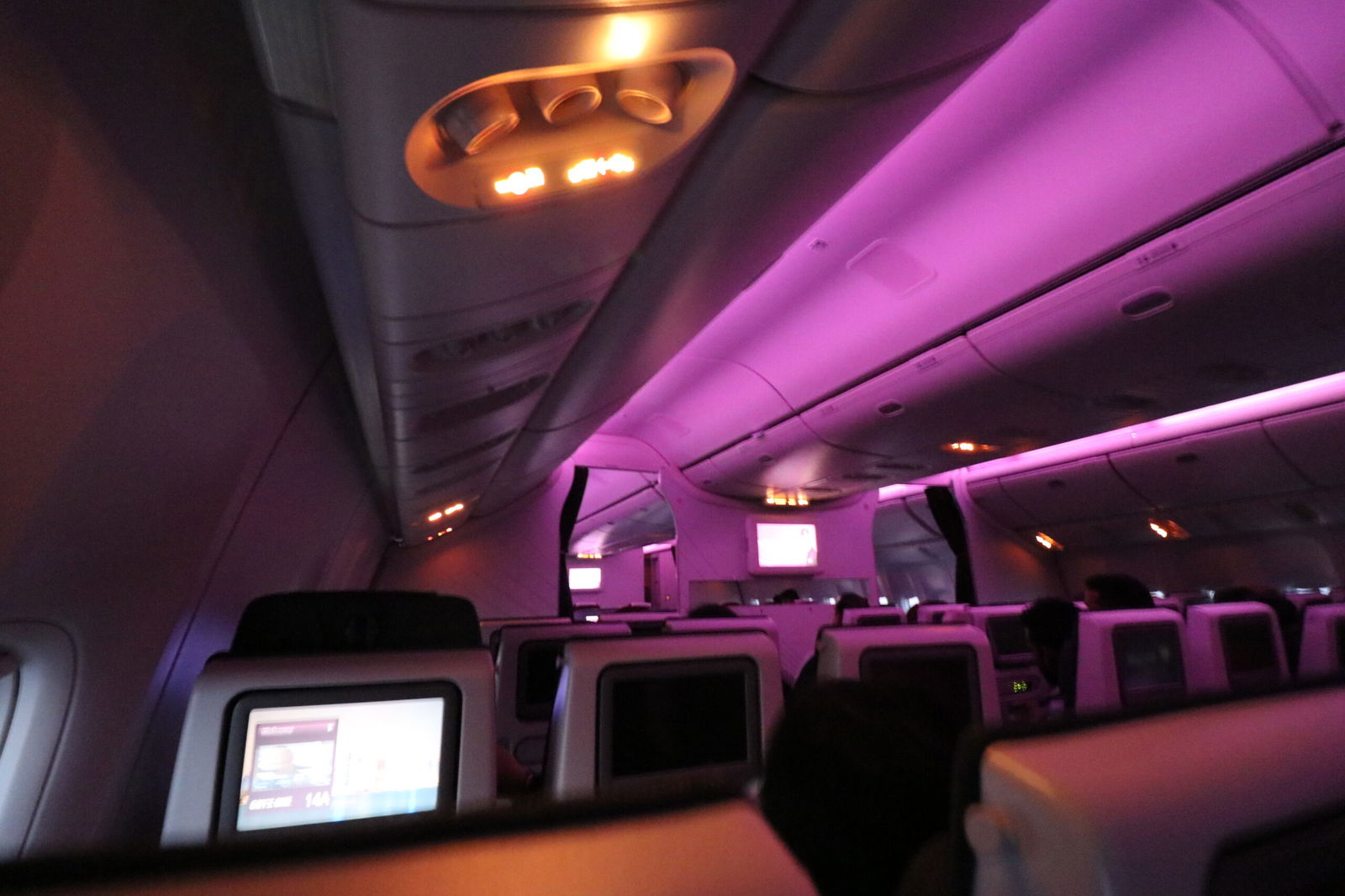 Etihad
I was surprised that Etihad's crew reacted badly to my taking photos after not having a problem with it on the other two airlines. Maybe that means they were actually doing their job, or maybe the policies are different? In any case, the service was similar on Emirates and Etihad, which wasn't better than what you'd find on the top European or Asian carriers.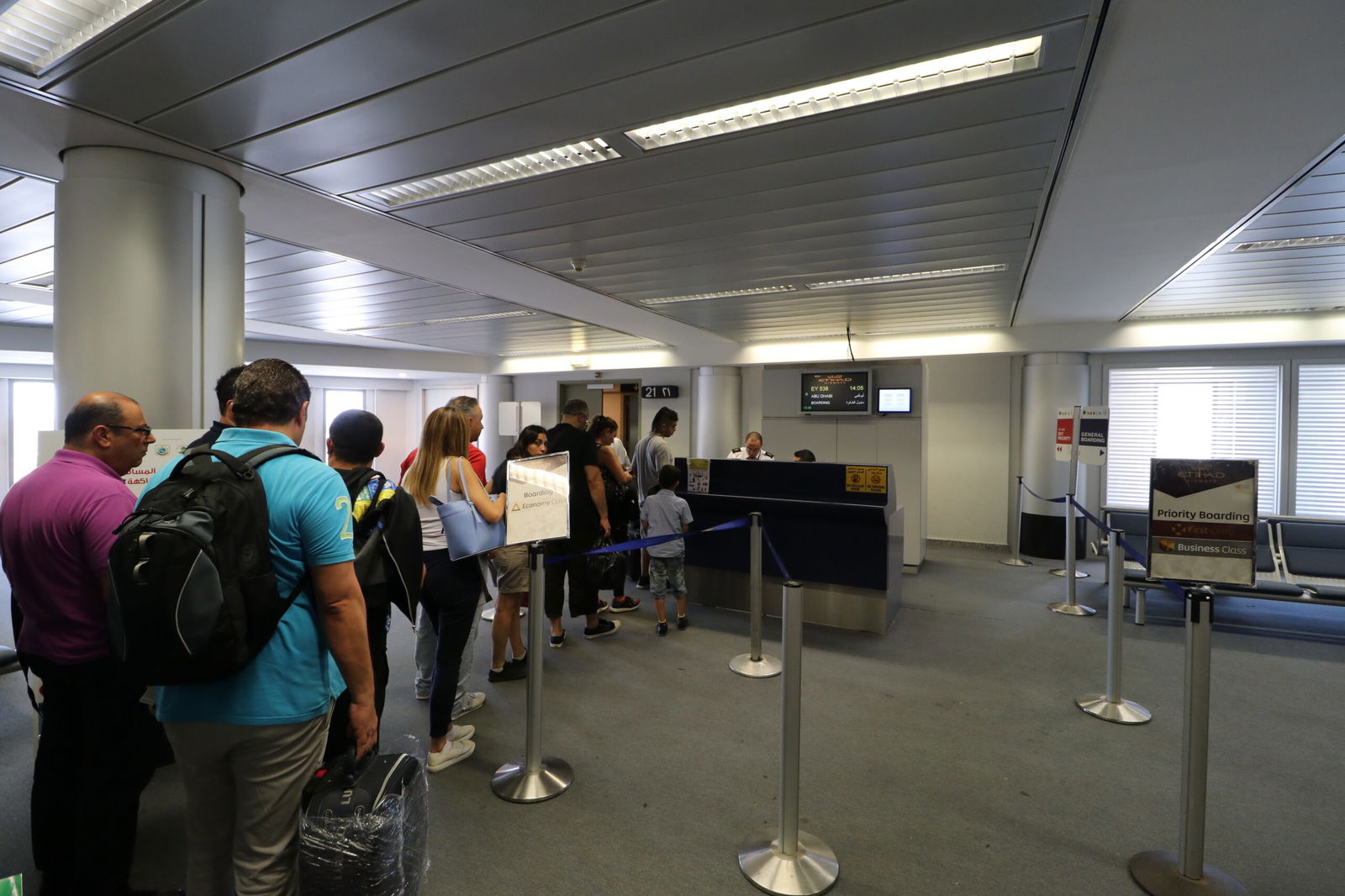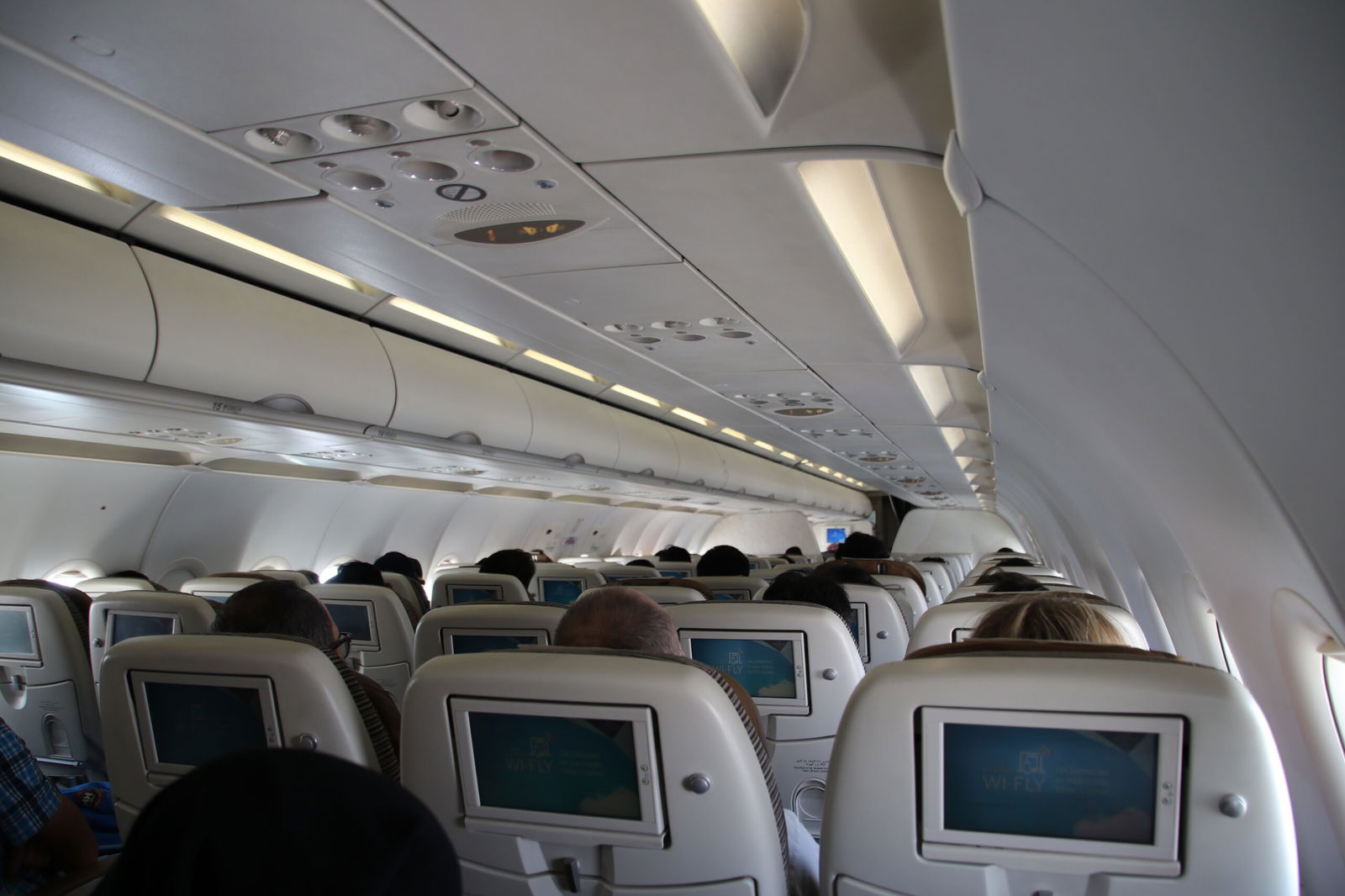 Winner: Qatar
See above 🙂
Hub
Emirates
This is another major factor that differentiates the experience between the three carriers, especially since so many passengers are connecting. Dubai Airport has expanded fast, and given the glitz and glamour of their business and first class lounges, I was expecting a great transfer. Unfortunately, the airport seems to have forgotten about the majority in the back of the bus. Not only do transits take a long time, between train rides between concourses and long walks, but the departure areas also aren't ideal for late-night connections. There are no benches to lie down on and no widely available charging stations. They did have great food options, though.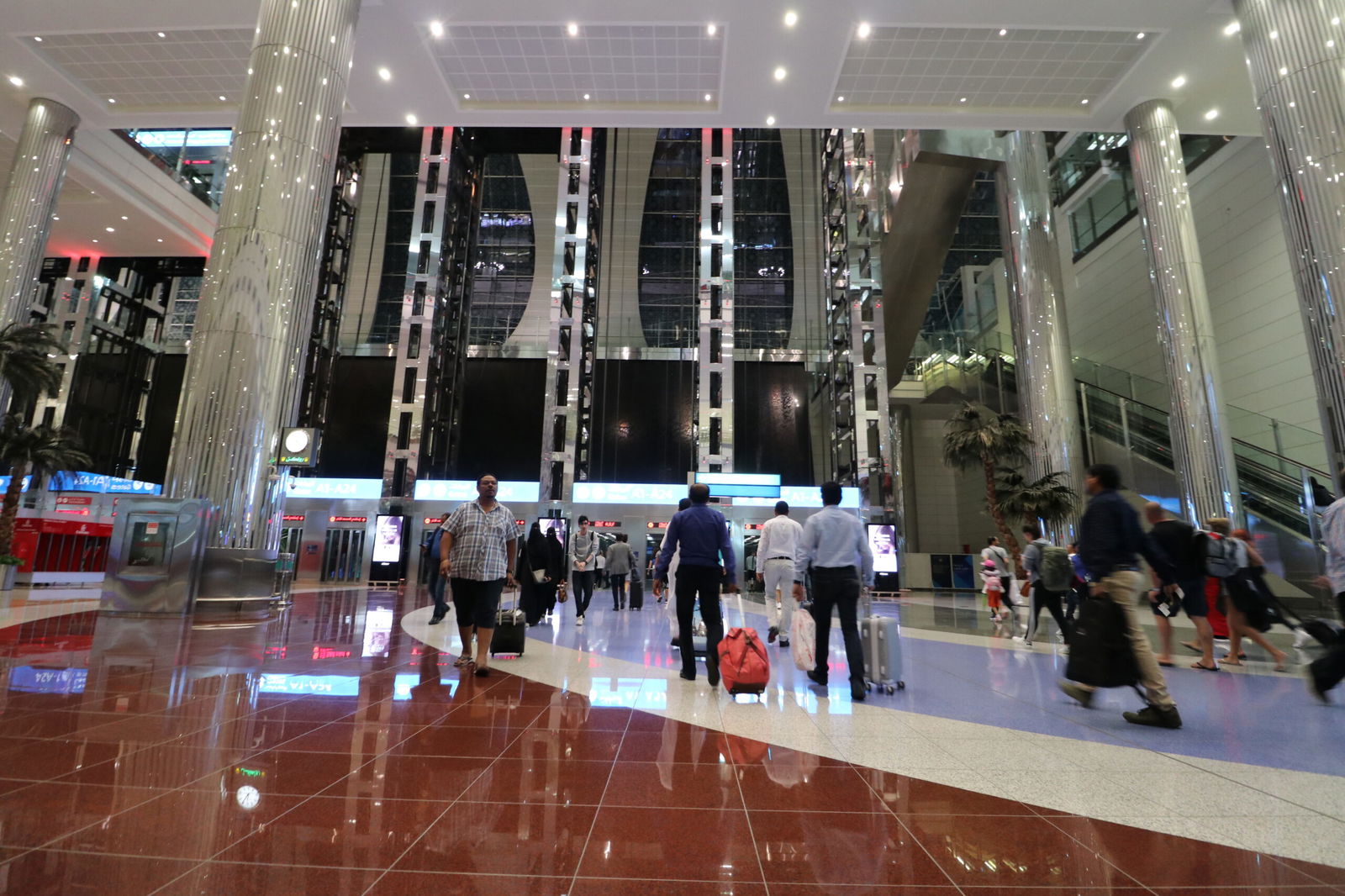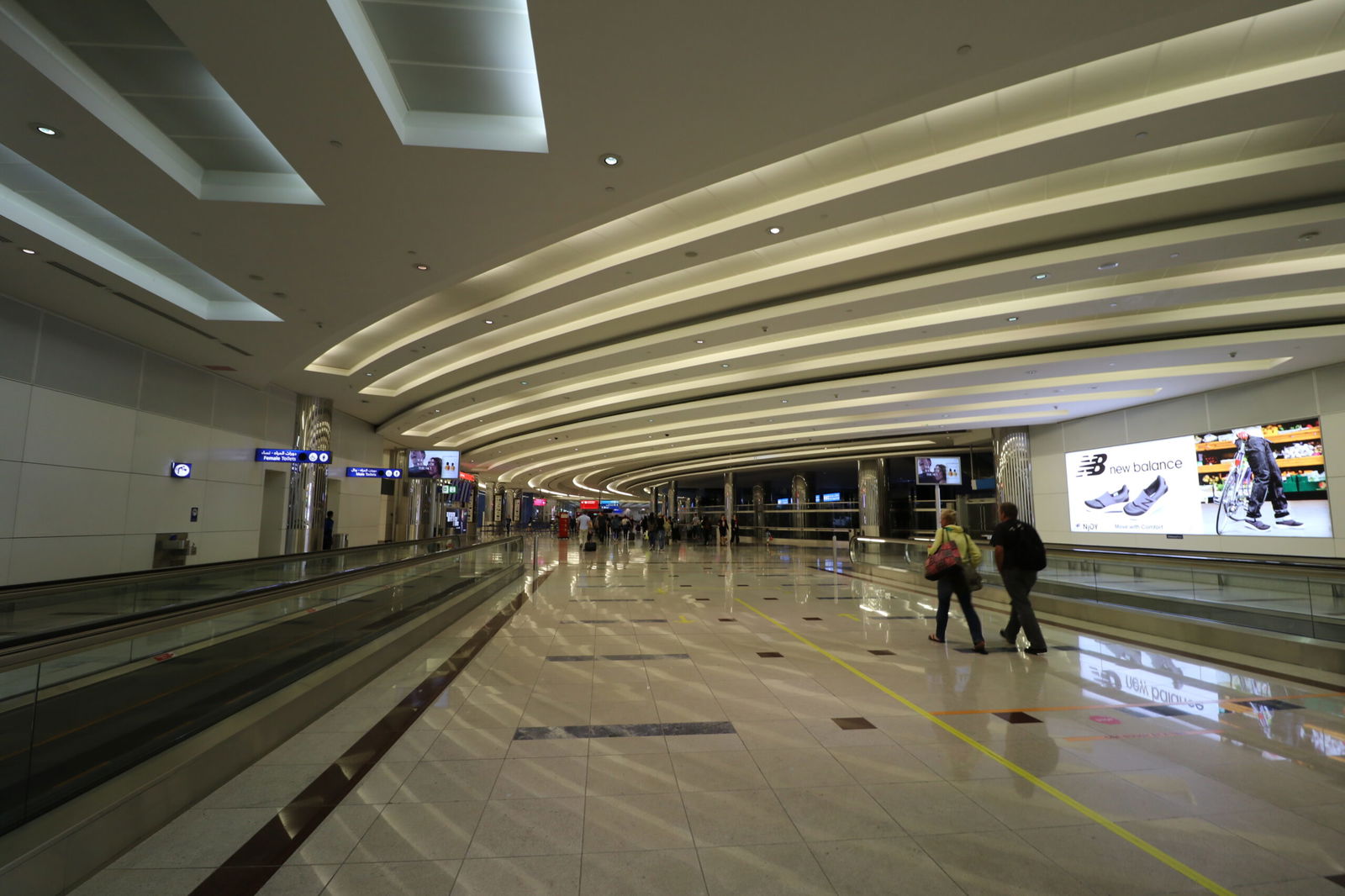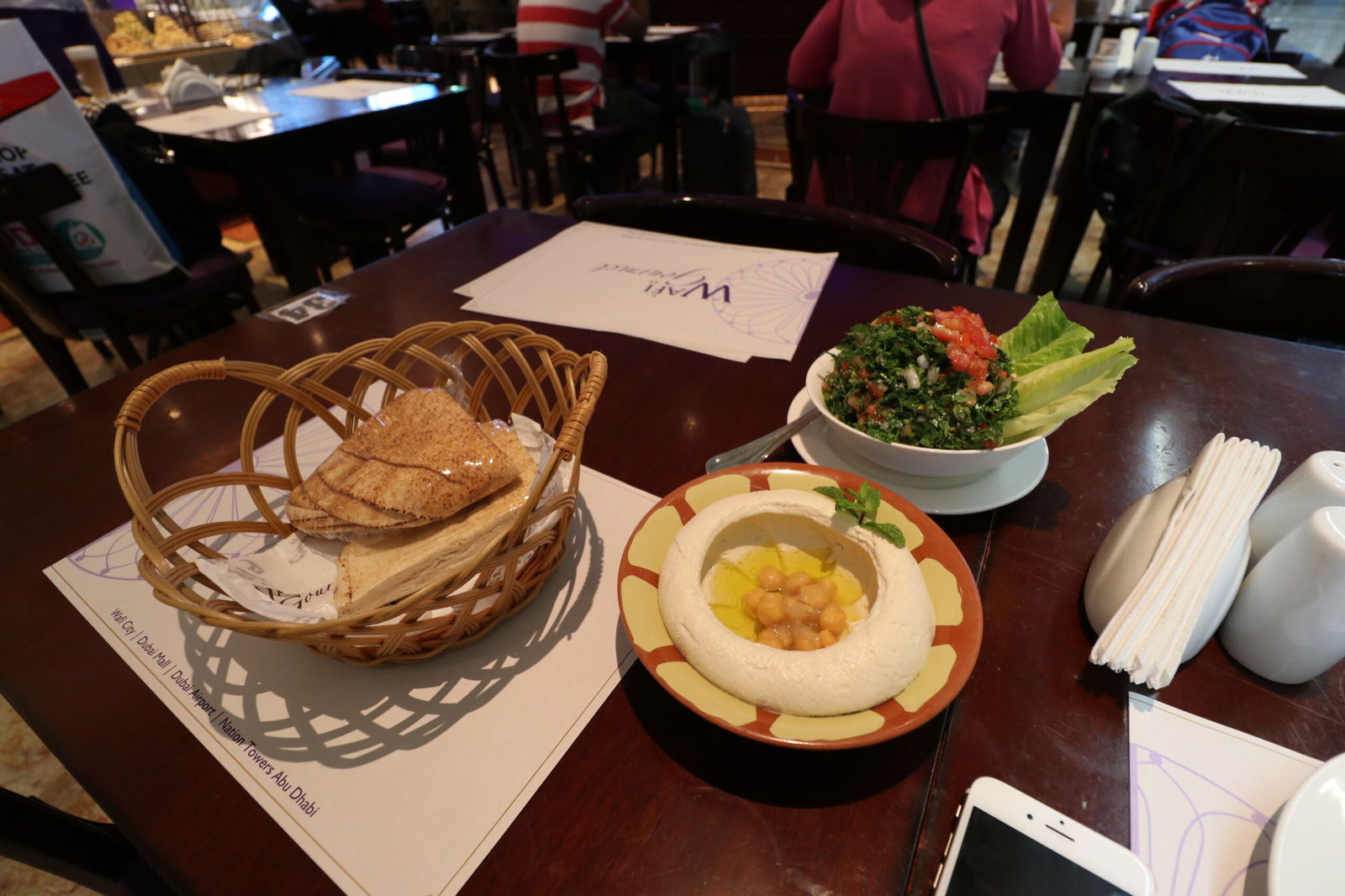 Qatar
Aaaah, the shining star. While the transit security deck-point is chaotic, pretty much every other area in Doha Hamad Airport is stunning. Stores and restaurants are spaced out, there are dedicated rest areas, passengers can rent computers, there are children's play areas, charging devices is easy etc. Doha is by far the best airport to transit at as an economy passenger.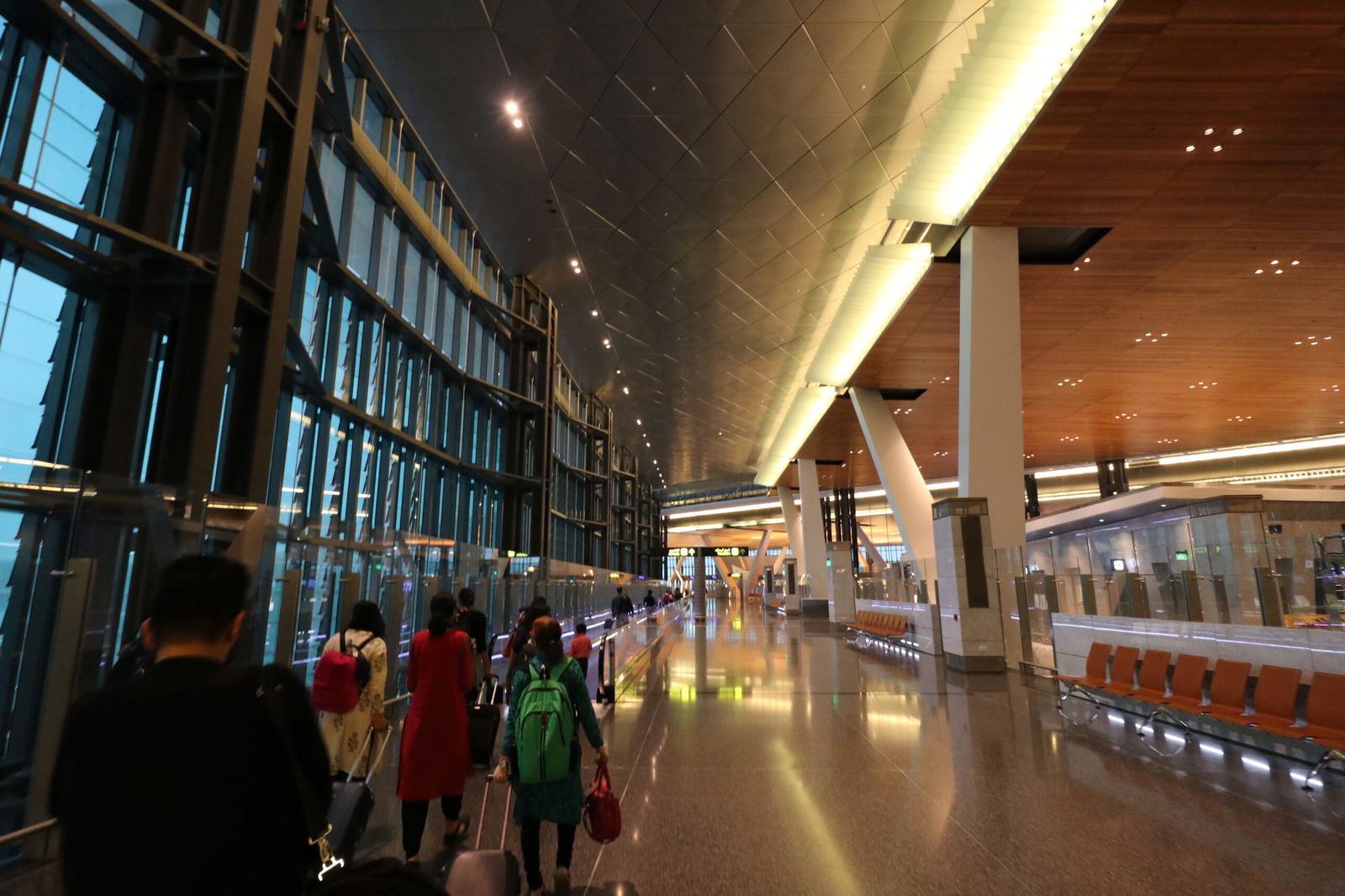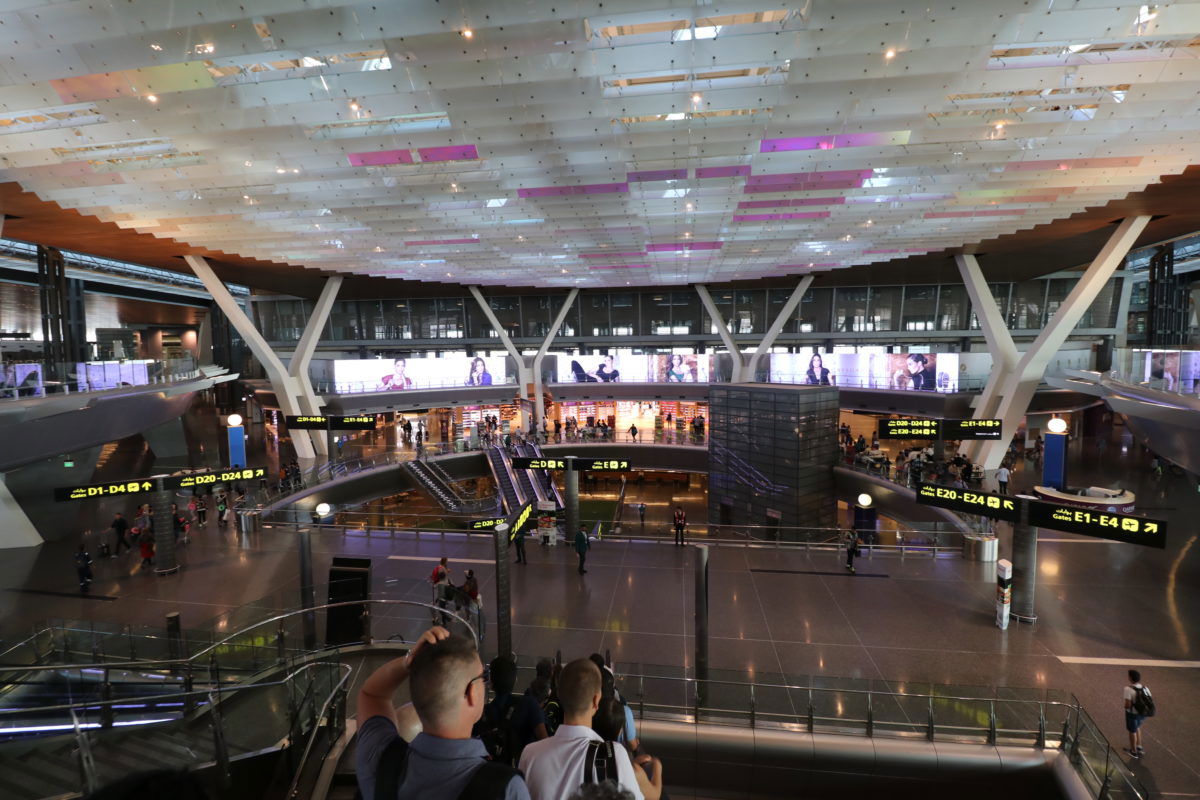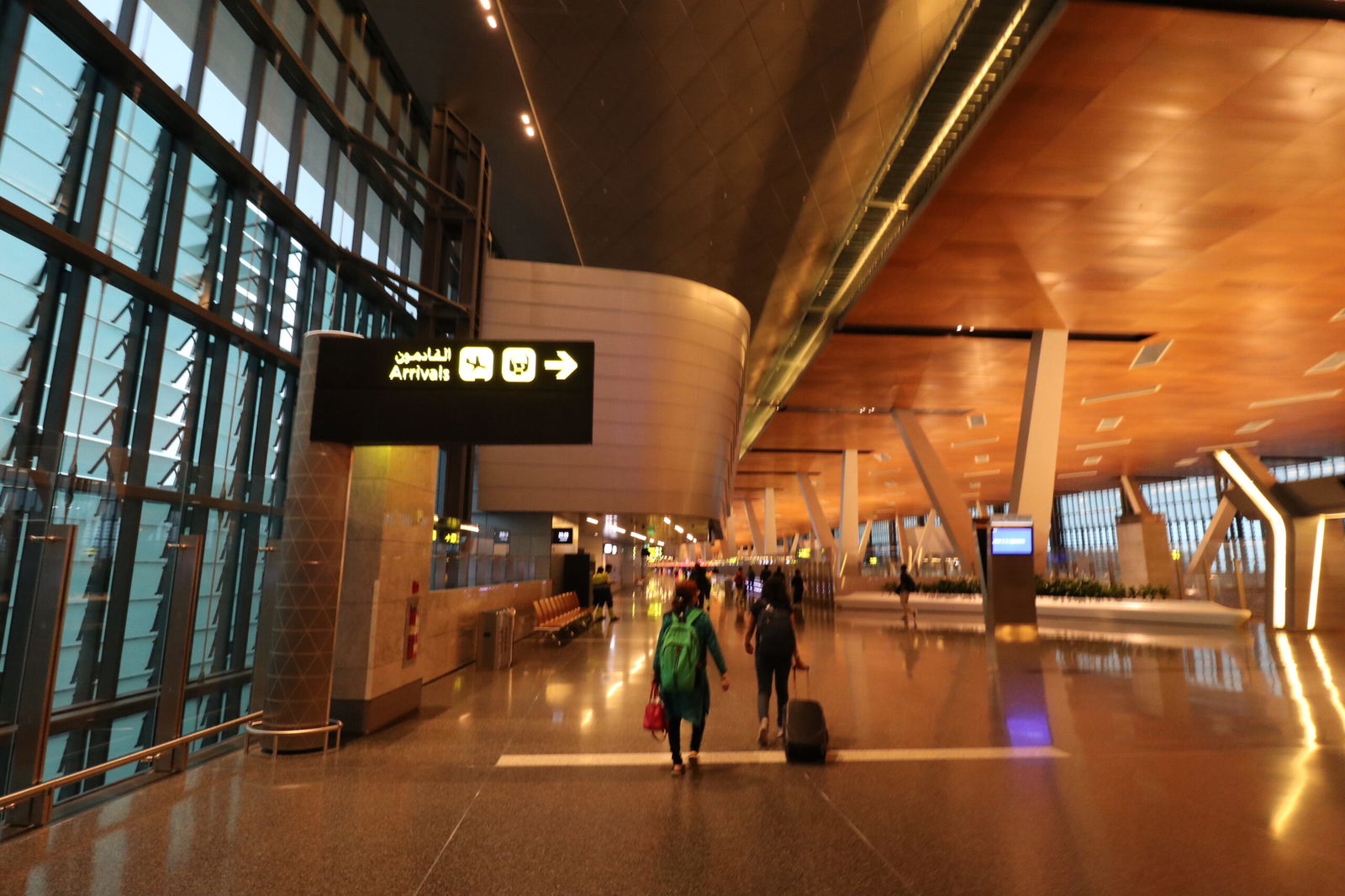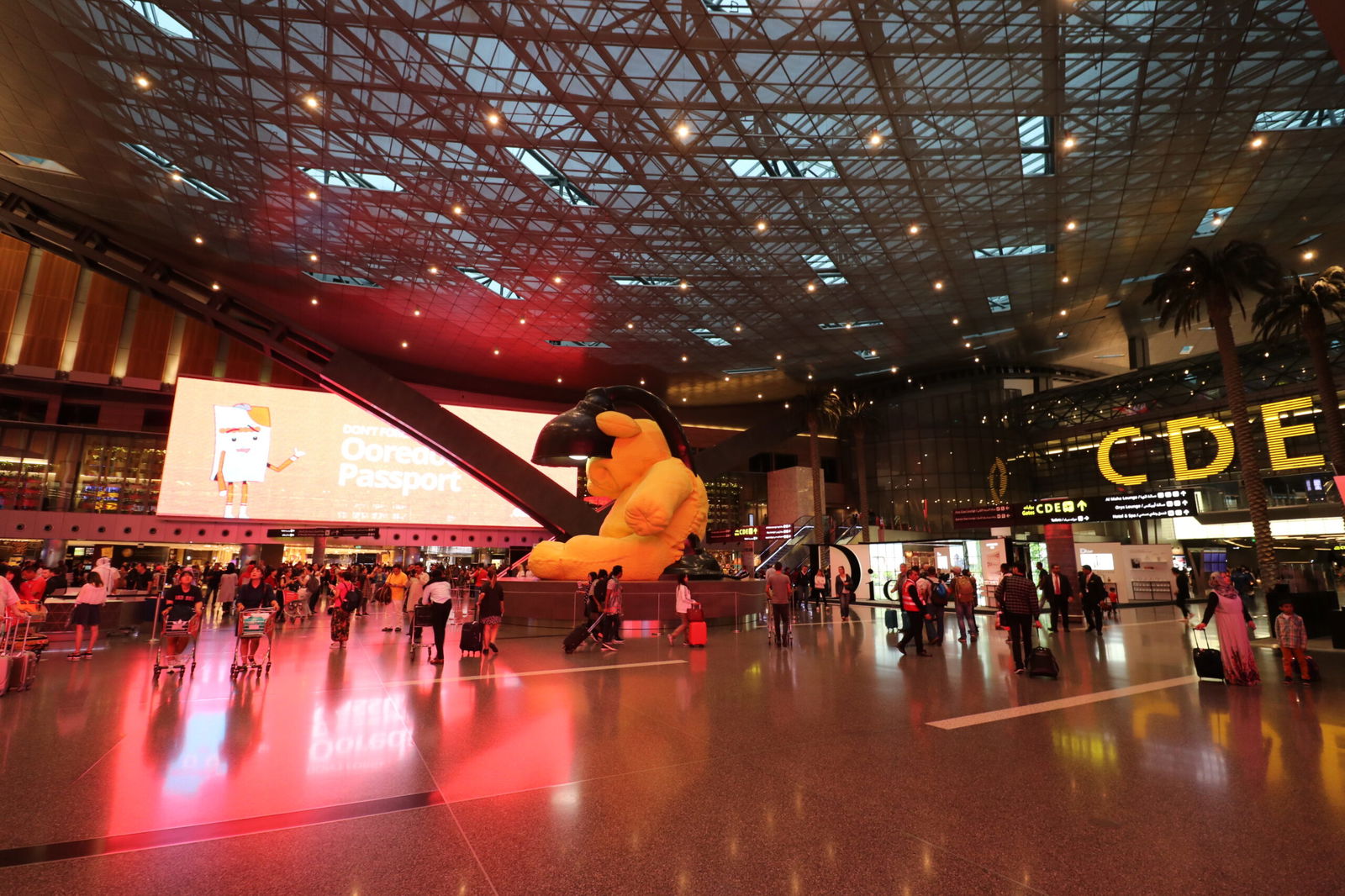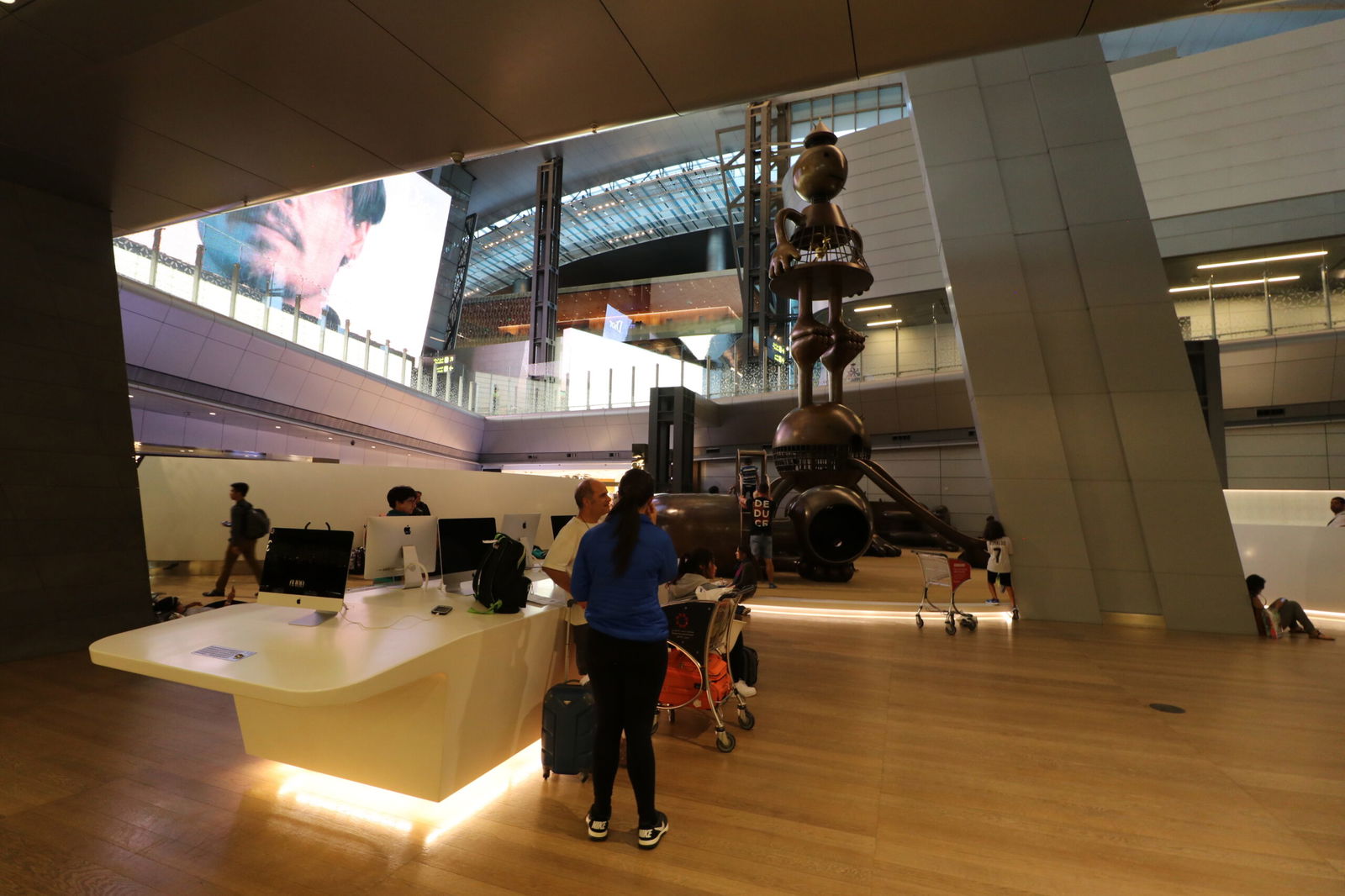 Etihad
Oh, Abu Dhabi. Please open your new terminal soon! There are more details on my transit in the review, but the moral of the story: don't do it.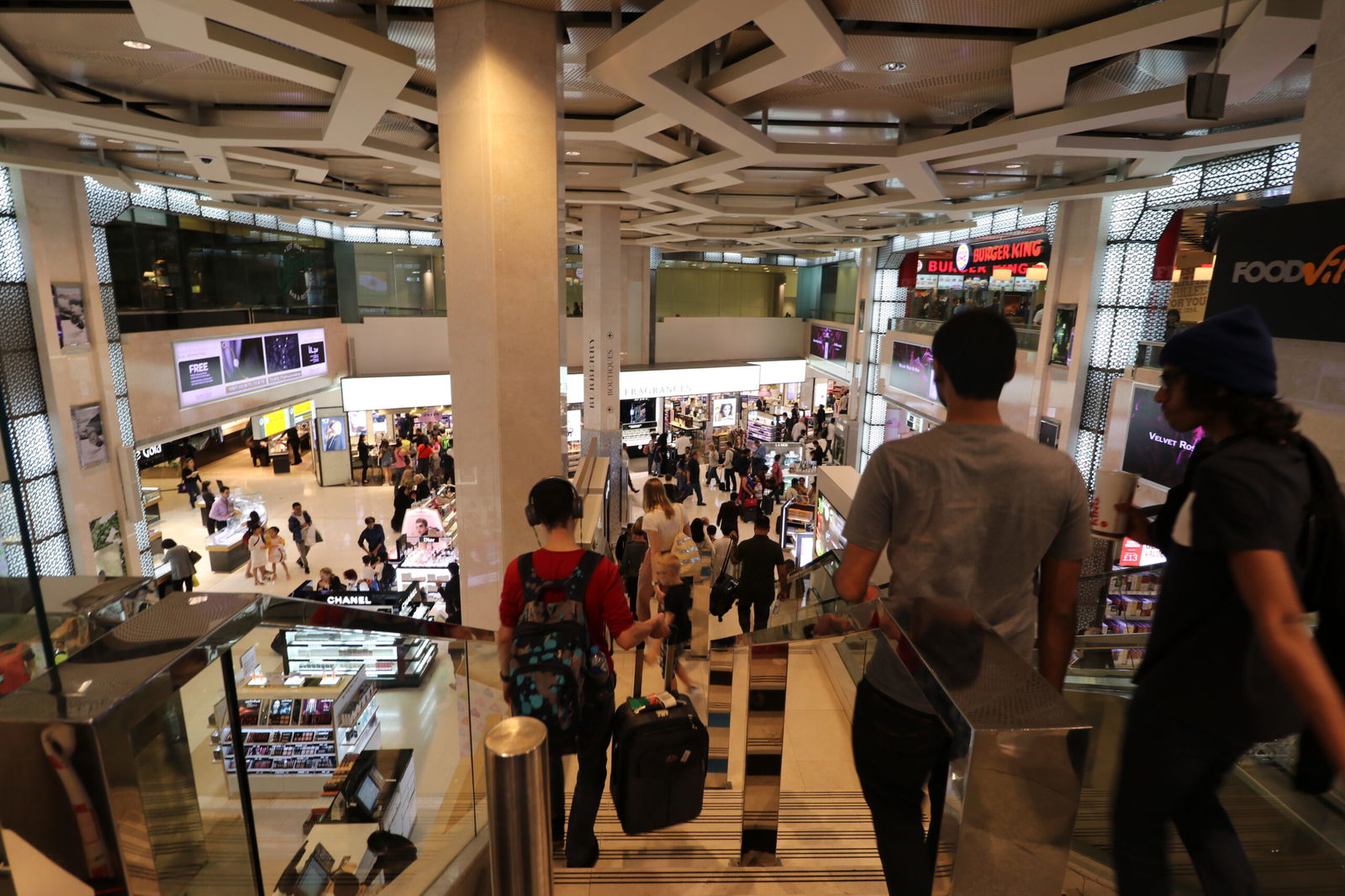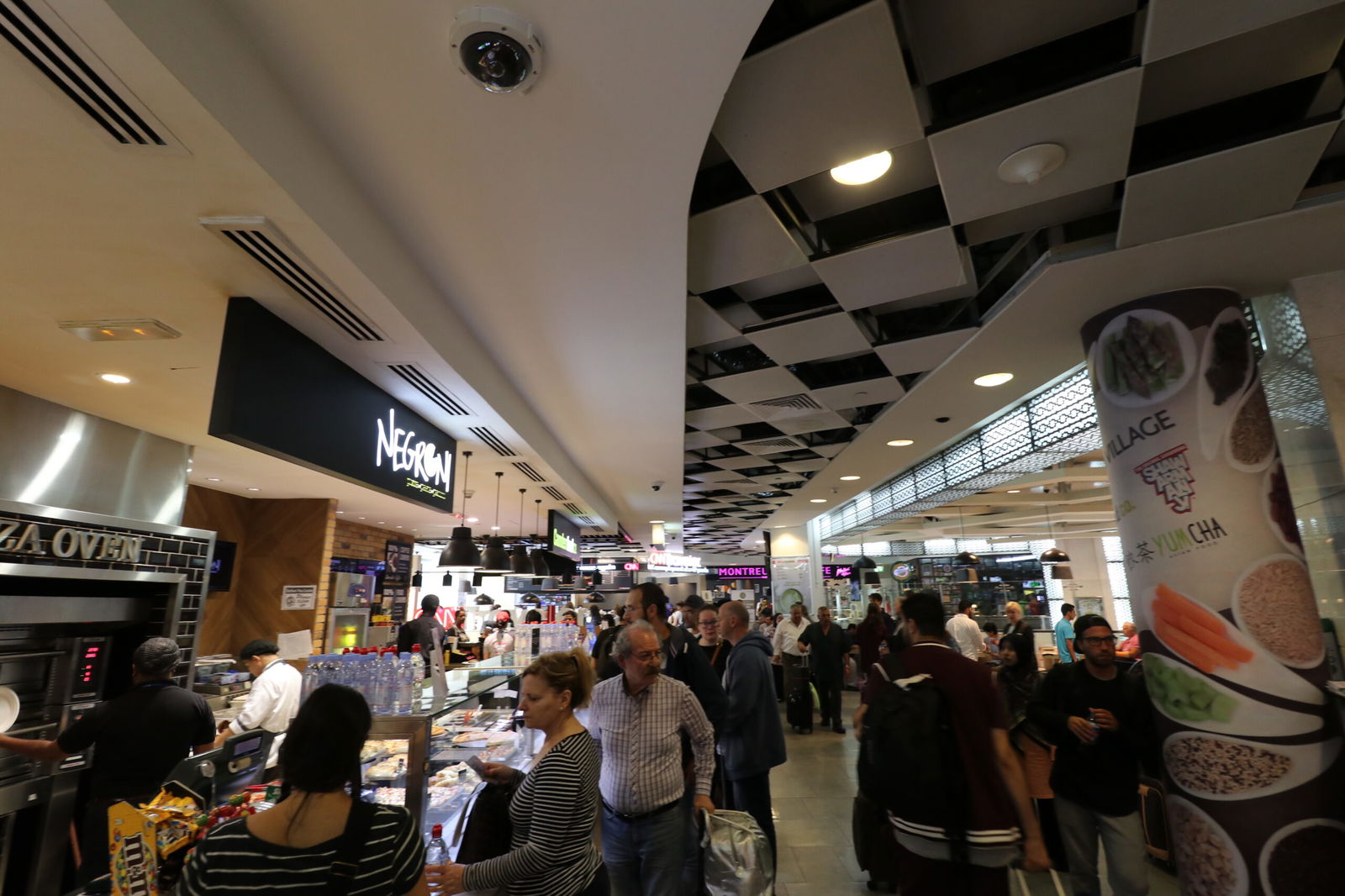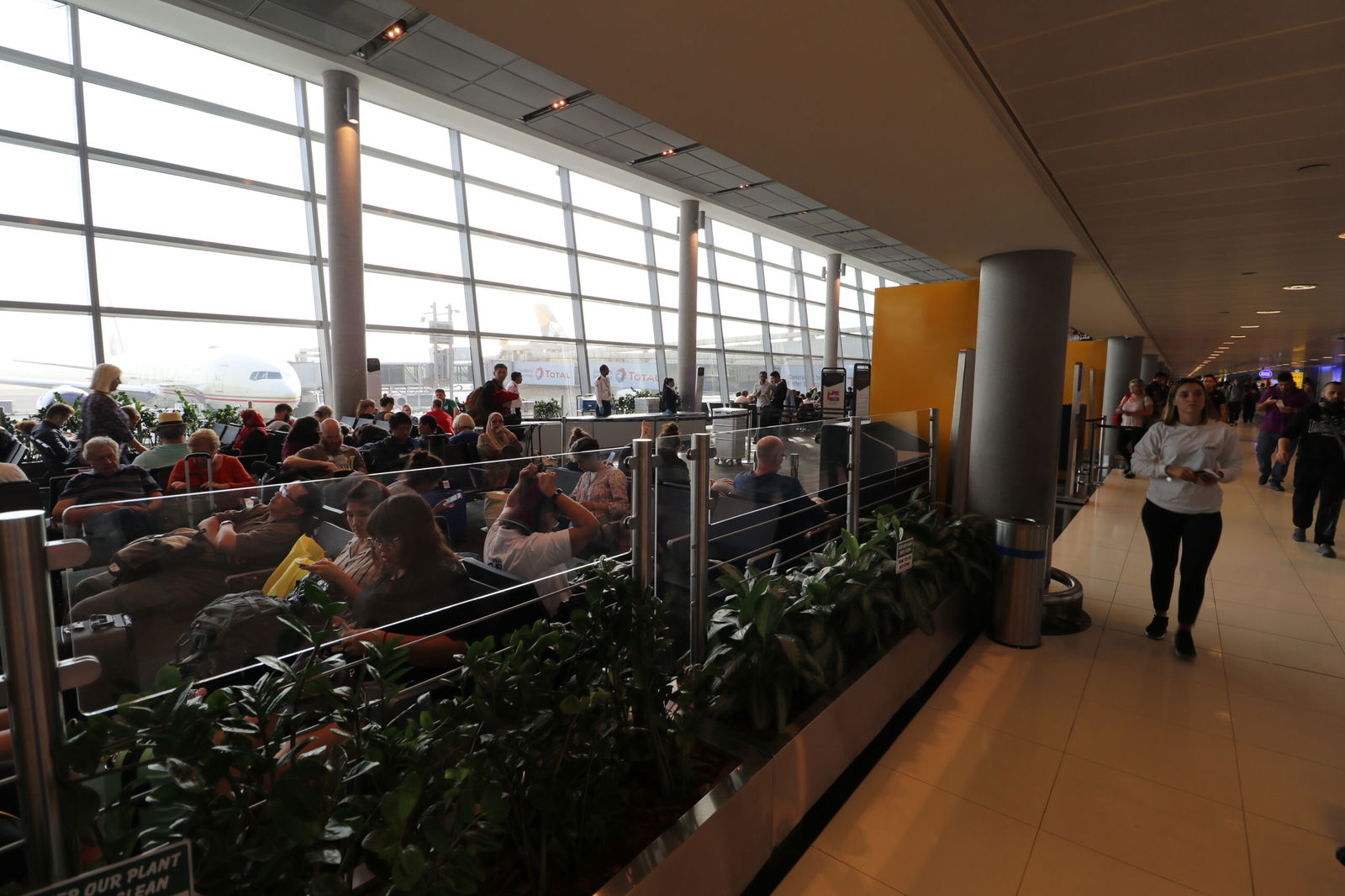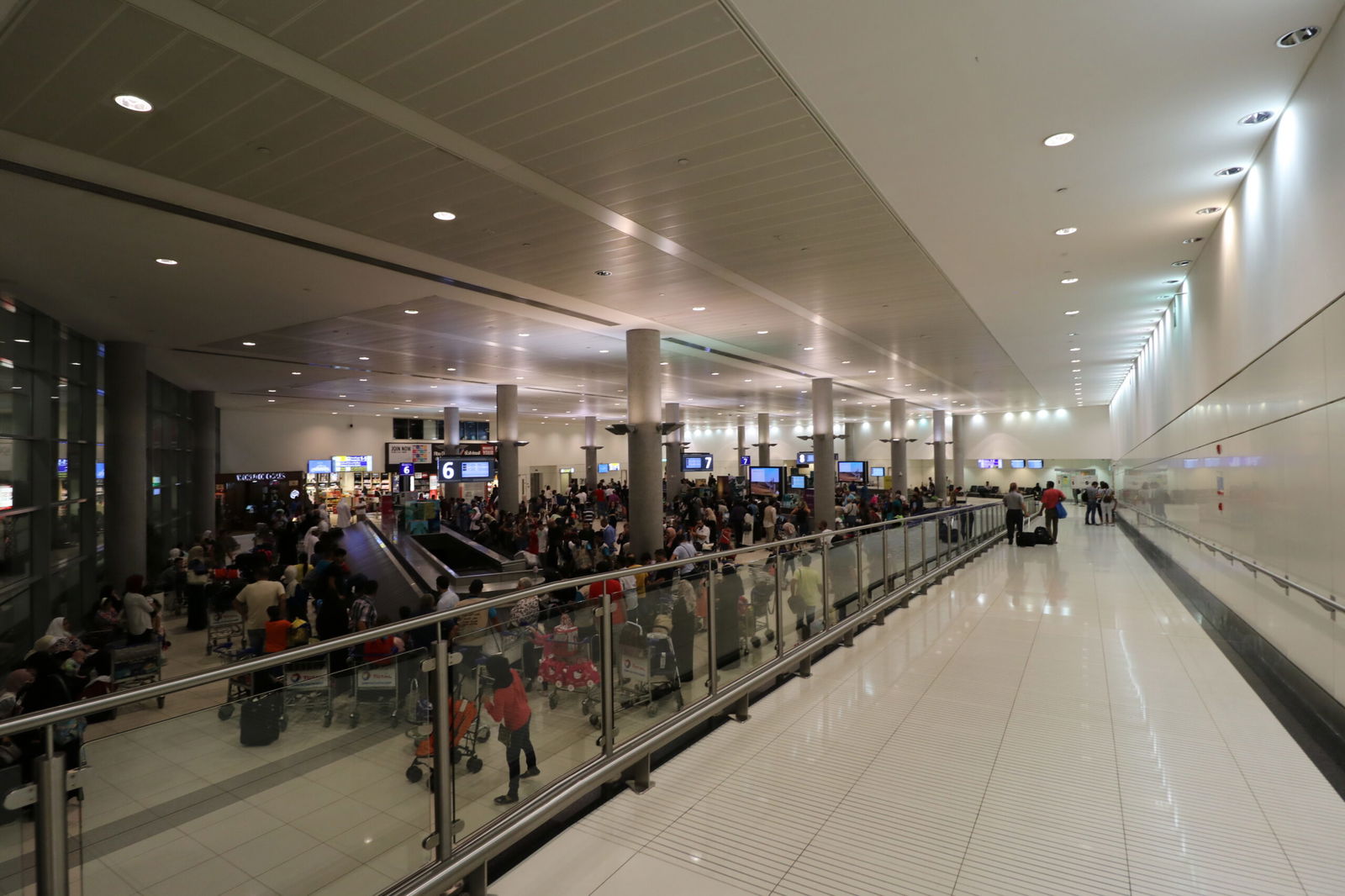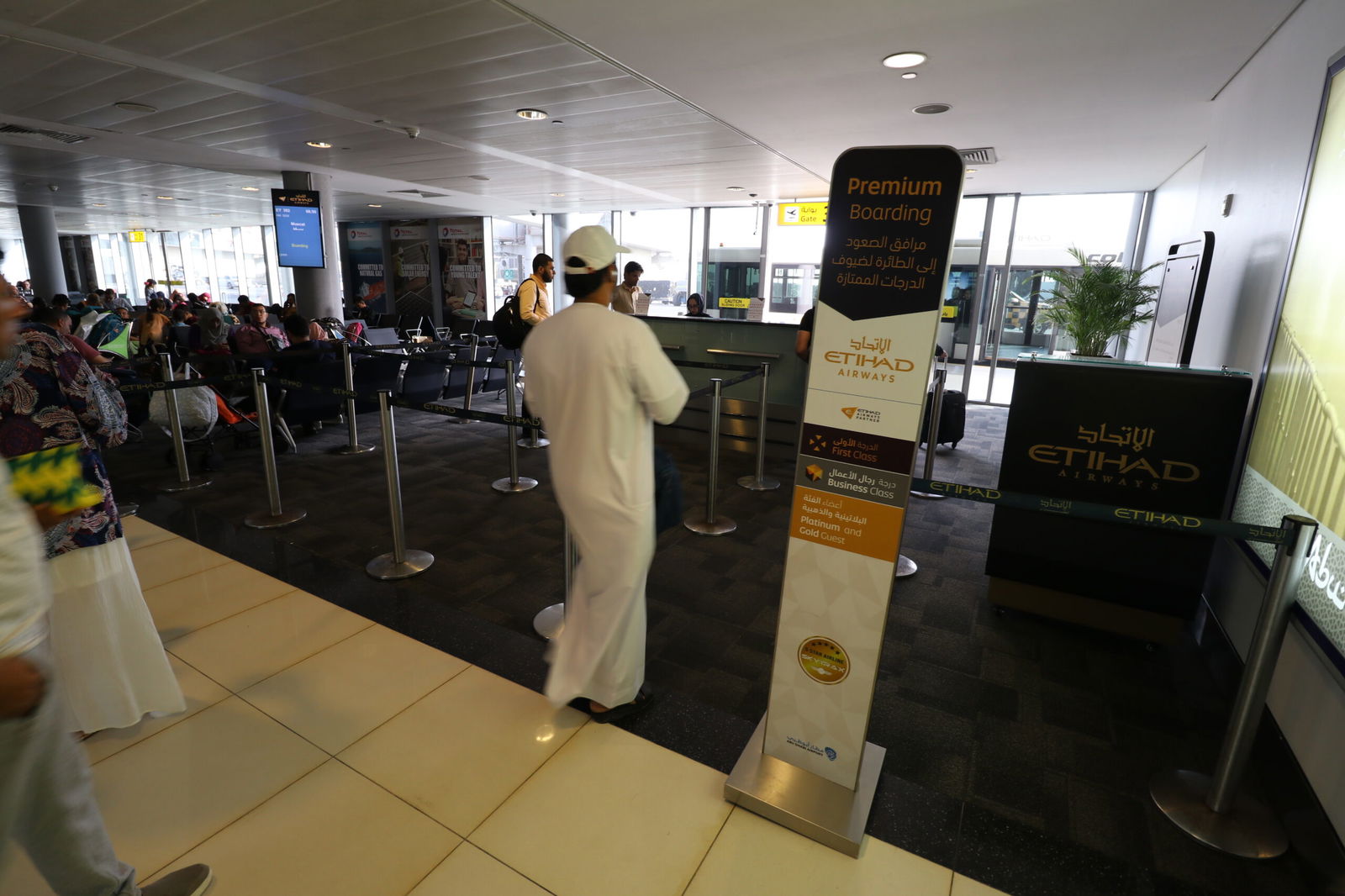 Winner: Qatar
See above again. Qatar blows the competition away.
Miscellaneous coolness
Etihad's 787 has a lumbar support button: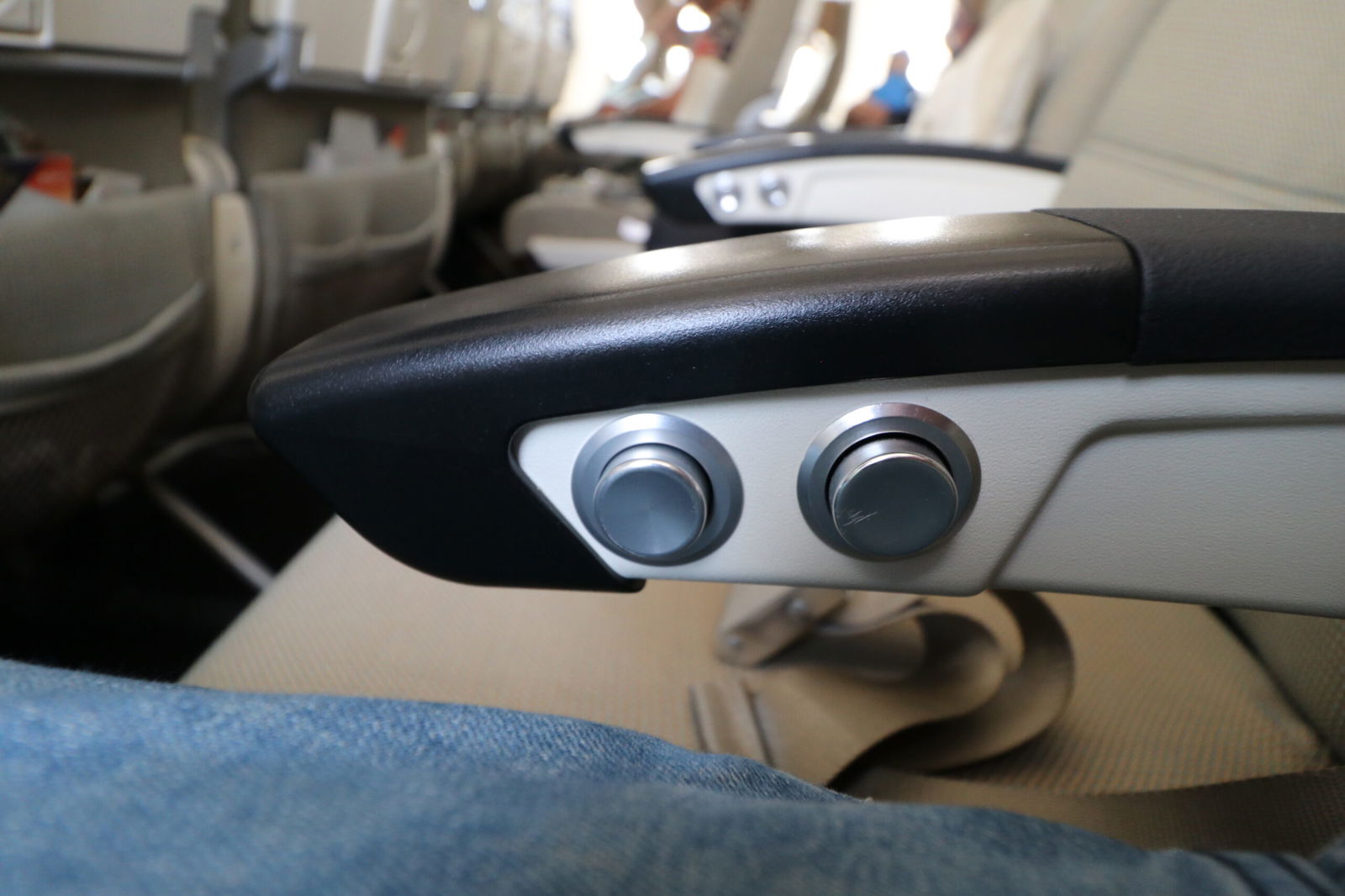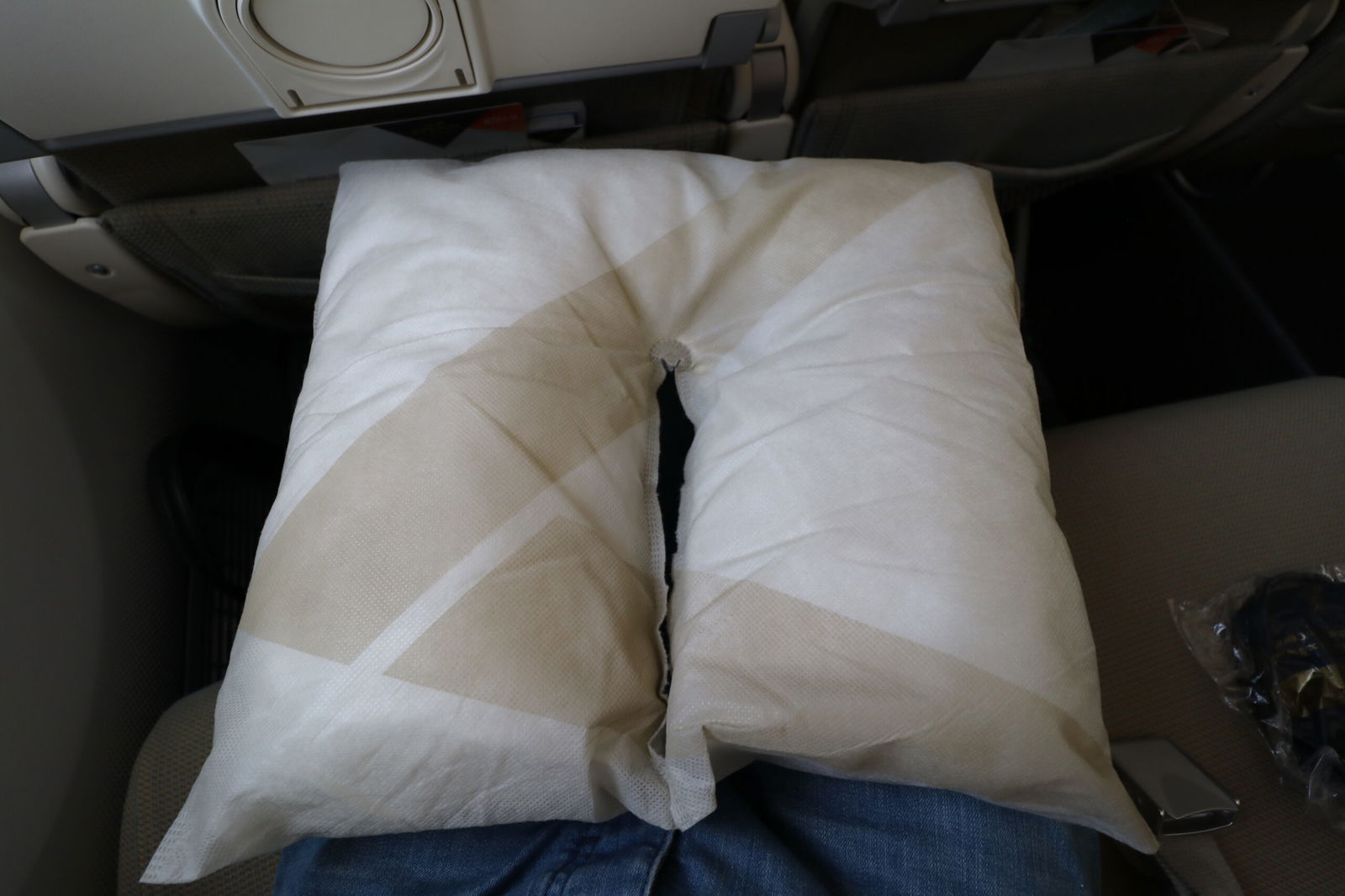 Their pillow is also awesome (if it's clean 😉 ).
Emirates has stickers to notify the crew of your preferences. Why haven't more airlines caught on?!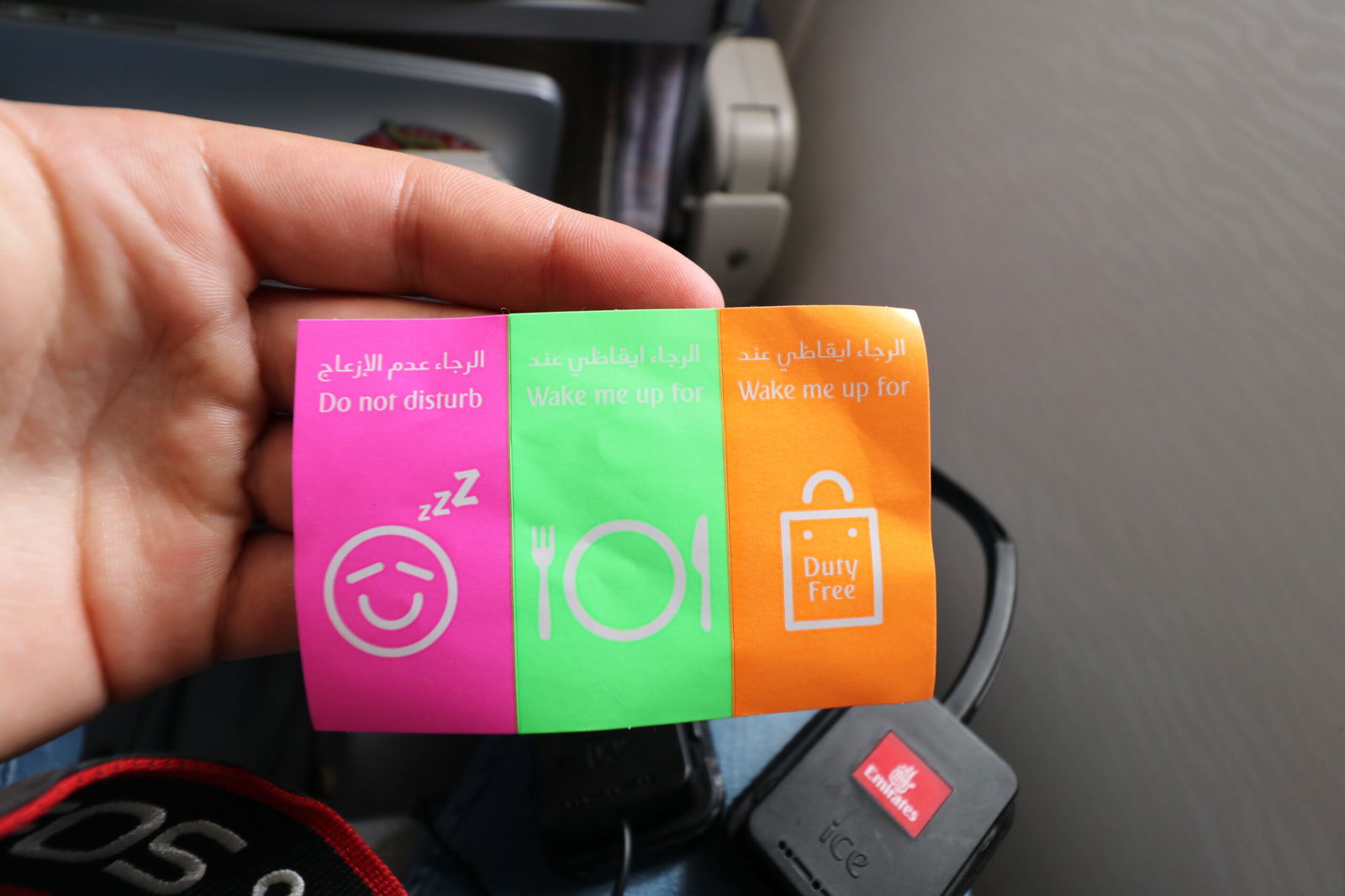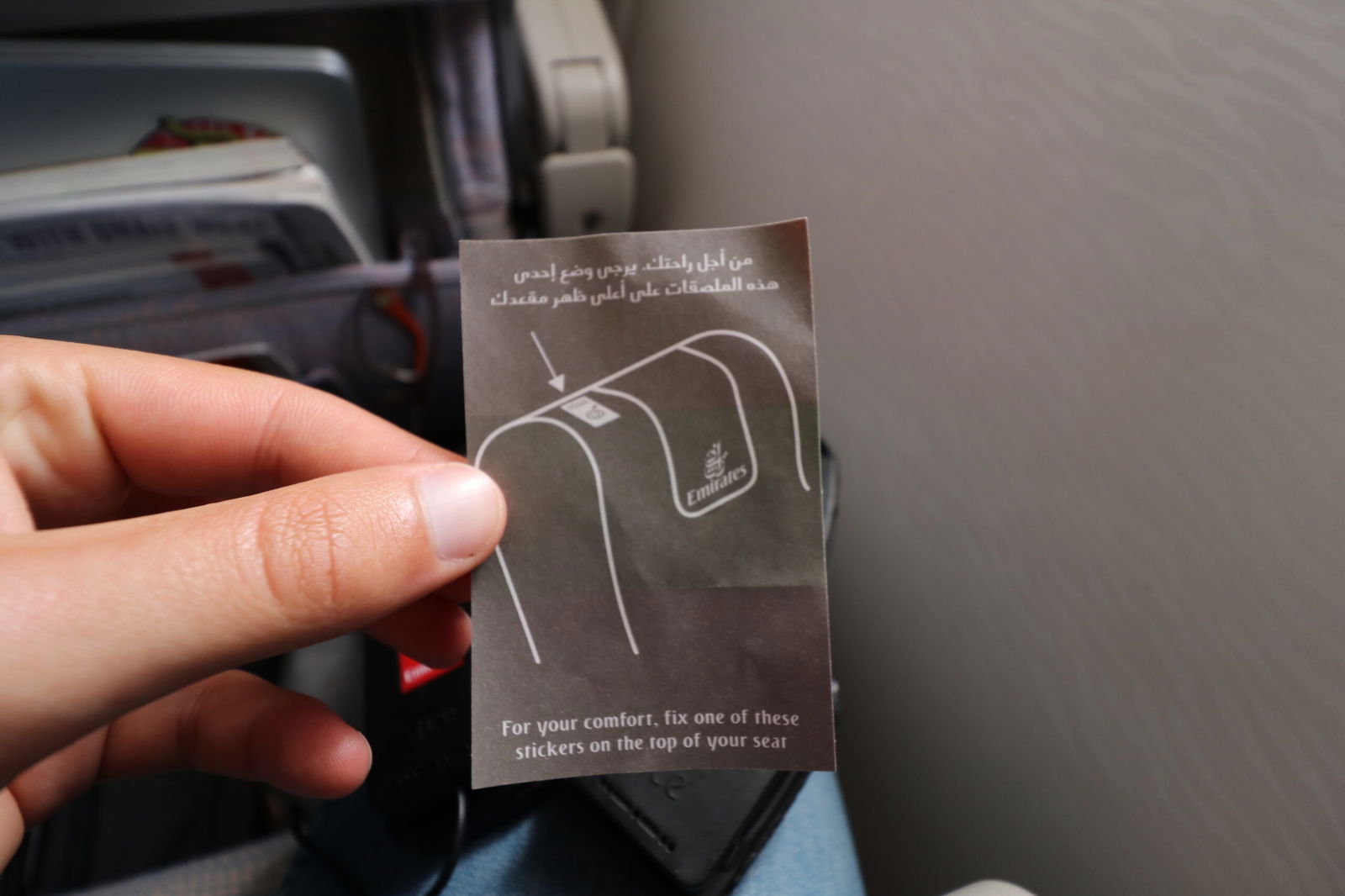 Conclusion
So, as you can see, it's a mixed bag. My biggest take home from trying all these airlines in economy class is that I wouldn't go out of my way to fly them again. Sure, these are among the better economy class products in the world, but I'd be equally happy to fly Lufthansa, KLM, Cathay Pacific, Singapore Airlines, Finnair etc., if the price or convenience was better. However, my ranking of the three airlines can be concluded as follows:
Overall winner: Qatar
Given their superior hub and onboard service, Qatar has a slight edge over Emirates, since the rest of the onboard experience was quite similar. They have the benefit of being part of oneworld, which makes earning and redeeming miles on them more convenient for most people.
Runner-up: Emirates
Based on my A380 flight alone, I would have said Emirates was the best. However, the experience was significantly impaired by their chaotic hub and their tight 777. If I was flying point-to-point on their A380, or even connecting from one A380 to another, I would consider flying Emirates again in economy. However, their 777s should be avoided, especially on those torturous 15-hour flights to/from the US and Australia.
Most disappointing: Etihad
Their fantastic marketing had me thinking my best economy flight would be onboard them. Sadly, their 787 was a disappointment. Their entertainment system, hub, and seat all lagged behind Emirates and Qatar. While they are still decent, I'd avoid them unless they were the cheapest option.
Did you find this comparison useful? Would you like to see more comparisons of other large airlines?