As of April of this year, Hilton HHonors has shifted how they make award category changes. Rather than having massive award chart changes every so often, they're doing quarterly hotel category adjustments. That's to say that they're not changing the number of points required for each category every quarter, but rather are shifting which hotels belong in which categories.
Ultimately I favor anything which isn't an award chart massacre like what we saw with HHonors early last year, though I don't really buy that this is being done to increase transparency.
Basically, rather than emailing members when there's a big award chart change, they now have a website where Hilton lists the category changes. That sounds great in theory, except I'm not sure how a vast majority of members are expected to know when these changes happen.
Q1 2015 HHonors category changes
Anyway, these seem to be happening quarterly, so Hilton HHonors has just announced the award category changes for this quarter, which kick in for bookings made on/after January 14, 2015 (though you can stay on a subsequent date and still qualify for the old rates).
There will be 12 hotels increasing in HHonors category, as follows:
Waldorf Astoria Amsterdam
Hilton Garden Inn Krakow
Doubletree by Hilton The Point Hotel
Hilton Edinburgh Airport Hotel
Alexandra Barcelona
Hampton Inn Richmond Airport / Sandston
DoubleTree by Hilton Phoenix Gilbert
DoubleTree by Hilton Asheville – Biltmore
Hampton Inn & Suites Ft. Lauderdale / Airport
Home2 Suites by Hilton  Long Island City
Hilton Biltmore Park
Hampton Inn & Suites Destin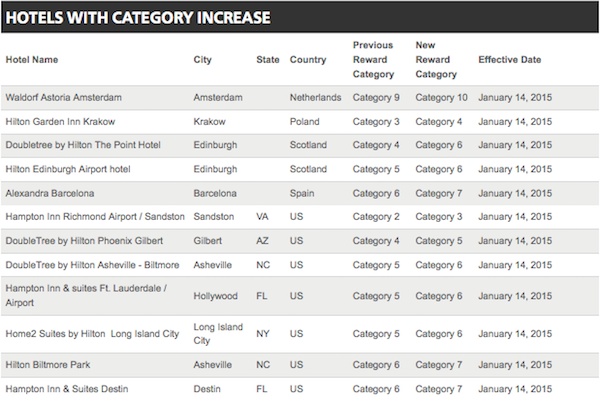 Then there will be 5 hotels decreasing in HHonors category, as follows:
Hilton Bora Bora Nui Resort & Spa
Hilton Garden Inn Gainesville
Hilton Waikoloa Village
DoubleTree by Hilton Breckenridge
DoubleTree by Hilton Ocean Point Resort &  Spa
Ultimately it's always disappointing when more hotels go up in price than down, though at the same time this isn't a huge deal for a hotel chain with 4,000+ properties around the world.
Bottom line
Ultimately these are minor changes — 12 hotels are going up in category and 5 are going down in category, so that's a net of 7 hotels becoming more expensive. If these are the worst changes we'll see from HHonors, I'm certainly fine with that…