Lufthansa first class is kind of my baby (or at least I'd like it to be!). If you have a bad experience in their first class I kinda take it personally. 😉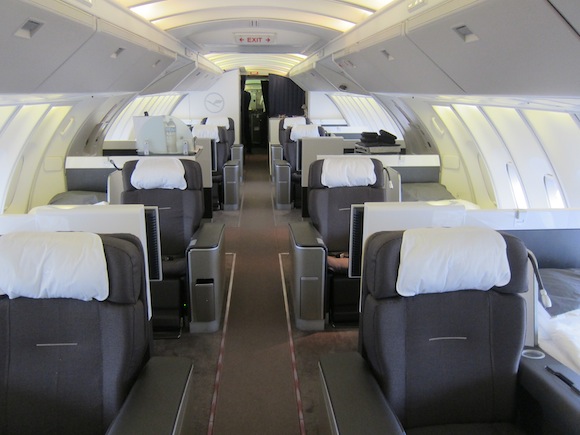 Over the past couple of years Lufthansa sure has made it tougher to snag first class award space for those redeeming Star Alliance miles. A couple of years back they released a ton of award space, and it wasn't unusual to see at least four first class award seats per flight.
Nowadays unfortunately they release first class award space to Star Alliance partners at most ~15 days out. When they first instituted that policy they seemed to actually release award space at that point, but nowadays more often than not they're releasing space even closer to departure, often only a few days out, or at times only a few hours out. Still, I suppose that's still better than Swiss, which doesn't release any first class award space to partner airlines, and as of next year will only release first class award space to their own Senator and HON Circle members.
How stingy is Lufthansa sometimes? Take a look at one of tomorrow's flights from Los Angeles to Frankfurt. All eight first class seats are still for sale:
Meanwhile Lufthansa still hasn't released any first class award space.
Admittedly there could be other factors at play. Only six business class seats are left for sale, and it could very well be that the business class cabin is already oversold and they're continuing to sell them and counting on upgrading people to first class in order to accommodate them. Or that might not be the case. But regardless, it shows you that there are no guarantees that space will be released even if all eight seats are left for sale.
So what's the "secret" to snagging Lufthansa first class award space:
Step 1: Understand on which routes you actually have a chance
It's good to go into this knowing on which routes you have the best shot at snagging first class award space. As a general rule of thumb, here are Lufthansa's US routes and how easy I consider snagging first class award space to be:
Toughest routes for first class award availability:
FRA: IAH, LAX, MIA, SFO
MUC: LAX, SFO
"Medium" difficulty routes for first class award availability:
FRA: BOS, DEN, EWR, IAD, JFK, ORD,
MUC: CLT, IAD, JFK, ORD
Easiest routes for first class award availability:
DUS: ORD, EWR
FRA: DFW, DTW, MCO, SEA, YVR
MUC: BOS
Now of course there are other considerations, and I'm sure people will refute some of my "rankings." Seasonality, aircraft type, etc., can impact how easy it is to snag space. But as a general rule I think the above is fair.
Not surprisingly, the difficulty of the above routes corresponds pretty closely to their desirability. Everyone seems to want to snag Los Angeles to Frankfurt on the 747-8 or Houston to Frankfurt on the A380, and those are also among the toughest routes on which to snag space. Meanwhile almost all of the "easy" routes are operated by aircraft with the old first class product (here's how to figure out whether a flight has the new or old first class product).
Step 2: ~15 days out (or more, if you'd like) start looking at actual flights loads
Roughly two weeks out I'll start looking at the actual loads in first class. Lufthansa only has eight first class seats on all their aircraft equipped with a first class cabin, so I check to see how many of those are still for sale. I do this on ExpertFlyer, but you can also do a "dummy" booking online and see how many seats they'll sell you.
For example, on Monday, September 30, all eight first class seats are still for sale on the Detroit to Frankfurt flight:
I'd say it's extremely likely that multiple first class award seats will open up 1-2 weeks before departure.
Meanwhile for the same date here are the loads for the two flights between Los Angeles and Frankfurt:

As you can see one flight has one first class seat for sale, while the other has zero first class seats for sale. First class award space just isn't happening on either flight.
So 15 days out I'll make a list of the routes on which I actually think there's a chance of award space opening up.
Step 3: Set ExpertFlyer alerts and/or start monitoring for availability every five minutes
One of my favorite things about ExpertFlyer is the ability to set availability alerts (just enter "O" as the class code, since that's the first class award code). They'll notify you when award space opens up on the flights you specify. The "catch" is that they pull award space from united.com, and sometimes united.com displays phantom award space. Still, it's probably accurate ~90% of the time or so.
My experiment
Two weeks ago I tested this out to see just how well I could predict availability. For the purposes of this I looked at transatlantic award availability for this coming Monday and Tuesday. I actually made this tougher on myself by excluding any route on the old product, which would be almost all of the routes above in the "easy" category.
After looking at loads I decided to set ExpertFlyer alerts for the nine flights that I thought had the best chances of opening. Sure enough, all nine of those flights eventually opened up. So I figured I'd share my "rule of thumb," with the caveat that there are billions of counter examples and inventory management is so damn complex, so this totally doesn't apply in many cases.
But as a general rule I feel pretty good about award space opening up on one of the "easier" difficulty flights if the flight is at least "F4" or "F5" (meaning at least four to five seats are left for sale). Meanwhile for the "medium" difficulty flights I look for at least "F6." For the "tough" difficulty flights I'm always aiming for F7-8.
To be clear, when I say "F4/5/6/7/8," I'm referring to how many seats are left for sale. "F" is the first class fare bucket, and if a flight is "F8" that means eight first class seats are for sale, if a flight is "F4" that means four first class seats are for sale, etc.
Admittedly it gets a bit tougher when you're looking for multiple award seats. Generally if there are two passengers you're best off either:
Aiming for one of the "easy" routes
Aiming for a route with multiple frequencies and potentially locking in one passenger at a time. It's risky, but if the flight is wide open and there's only one award seat you'll want to snag it before someone else does, or else your chances are further reduced
Conclusion
Lufthansa first class is definitely tougher than ever before to snag. That being said, with a bit of research and patience it's far from impossible. Like I said in the example above, I was able to predict availability 100% accurately for the routes I expected would open up.