Travis is my first new contributor to the blog, who will be writing a post every Wednesday to start. The idea behind adding guest contributors is to add different perspectives to the blog. Travis has a unique approach towards travel, given that he travels almost exclusively with his wife and young children, which is in stark contrast to my travels, which are usually alone.
You can find more posts by Travis here:
---
I'm currently on a month long trip in SE Asia with my family.
It probably goes without saying, but when traveling internationally it's important to make sure that your passport is in order. You should verify that you have
at least 6 months of validity on the passport
sufficient pages available for visas and/or immigration stamps.
My wife and I (ok, mostly my wife) are really good about managing these types of things. In a stroke of good fortune, our passports were about to expire shortly after we met. Well, that's not exactly good fortune, but by renewing them at the same time, we were able to synchronize our passport expiration dates such that we (theoretically) should only have to remember one date, instead of two. And since we almost always travel together, we are likely to run out pages together at the same time and whatnot. Of course, we also save on postage by mailing them together.
That said, the planning and syncing that you and your spouse may have done doesn't help when you have kids. Even if you somehow synced the birth of your child with the expiration of your passport (good luck with that!) such that you could renew your passport at the same time that you get a new one for the kiddo, the child passport would only be valid for 5 years, and thus you'd eventually be out of sync again.
All of this is to say that we had a relatively significant passport issue on our hands at the start of our current trip. About three days before departing on our 30-day, 5 country SE Asian Adventure, we discovered that my three-year-old son's passport probably didn't have enough pages/empty spaces remaining given the number of countries we were visiting and, more importantly, transiting. Despite having a year and half of validity remaining, he only had a couple of empty pages and a few random spots remaining. I guess that's what happens when you've been to 24 countries by age 3!
We brainstormed. My wife immediately discarded the obvious option – leaving him at home! (I argued it was his responsibility to have told us that he was nearly out of pages!)
Rather than pay various expedite fees, we decided that we would visit a US embassy while on the trip. After looking through our scheduled stops, it seemed that Singapore would be the easiest, particularly since we had a 2-day stopover there early in the trip.
Renewing passports versus adding pages
The next decision was what to do about the problem. The conventional answer was to add pages which costs $82. The fee is the same regardless of whether the passport is for a child or an adult, which seems a bit odd. I get that it takes the same amount of labor and materials either way, but so does the making of the passport in the first place. Yet the original passport costs $80 for kids and $110 for adults. Why is the original passport fee reduced for kids? If the fee is based on the length of validity (5 years instead of 10), why isn't it 50% of the adult fee?
The other alternative was to simply renew his passport at a cost of $80. This would give him a new set of pages as well as give him 5 more years of validity.
The tradeoff here was between spending $82 to extend the life of his current passport for 1.5 years or spending $80 to renew the passport for another 5 years. Breaking this down on a per year cost, adding pages would cost $55/year vs. $16/year for the renewed passport. This made the choice seem pretty obvious.
The problem is that new passports take time to be prepared, roughly 2 weeks according to the website as they are made in the US and then shipped to Singapore (or wherever you are in the world). Given that we are actually passing back through Singapore later in the trip, this seemed feasible, especially since you don't have to surrender the old passport until you pick up the new one. But then we realized that between the Christmas holiday and the fact that President Obama had just declared the day after Christmas to also be a holiday, the embassy may not be open on our return transit through Singapore. Or there could be a delay in processing. Just when you think the planets are aligning….
So in the end, we decided to just bite the bullet and get more pages.
Adding passport pages while traveling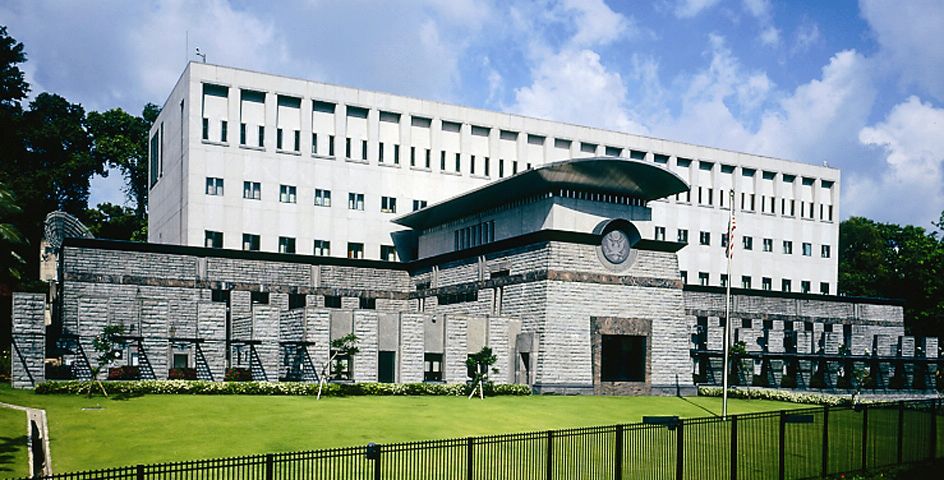 US Embassy in Singapore
The US Embassy in Singapore requires that everyone needing passport services make an appointment. Fortunately for us, there were still two appointment slots available on our one full day in the country. From a quick glance at US Embassies around the SE Asian region, it seems that each one gets to set some of their own rules, which is surprising to me.
Some require appointments, some do not. Some mention wanting to see a progression of pictures documenting the changes in appearance of minors (for passport renewals of minors), others do not. And the websites are all somewhat unique, which I suppose adds "flavor", but adds some confusion to the process, at least to me.
With our appointment scheduled, we cabbed from the Bugis area out to Embassy Row in the Orchard Road district. We had never visited an embassy anywhere before, so this was really a new experience. The cab dropped us off in front of the massive compound. There was a large covered corral-style waiting area which was apparently for non-immigrant visa applicants, but a sign directed Americans to immediately proceed to the guardhouse. Outsourced security collected our cameras and phones before directing us through the metal detector and on inside.
Next was a long, stone ramp that scaled the outer walls of the compound. It might have been 50 yards long and somewhat steep, at least for a guy on crutches. It really felt like we were entering a castle. At the top of the ramp we passed through the next level of security, also outsourced I think, before entering the castle. This marked the end of the road for most visitors, as you quickly come face to face with no-nonsense Secret Service behind an elevated glass booth and an electronic door that leads to the inner sanctum.
Since we weren't there to see the ambassador, we turned left to the passport services processing area. We took a number and had a seat. There was a sign permanently affixed to the wall stating that the wait today was 1 hour. It was just like the DMV!
Yet sure enough, 10 minutes later we were called to the window where we easily requested the additional pages and surrendered the passport. Then we went to the cashier to pay, either with credit card (in American dollars, no chance for a foreign exchange fee!) or in cash with Singapore dollars. This may have been sovereign American soil, but greenbacks were most definitely not welcome here!
The next day we returned to pick up the completed passport.
Suggestions for Managing Family Passports
Don't just check the expiration date of your passport, but also look at how many pages / spaces you have available, especially before you undertake a multi-country extravaganza.
Sync up the passport expiration dates of as many family members as possible. It may be worth renewing early (and sacrificing some months or years of validity) to get all of the kids on the same renewal schedule.
Consider renewing a child's passport instead of adding pages. Better yet, request additional pages in the new passport at the time of renewal.
If you do end up needing to make an emergency visit to the US Embassy while traveling abroad, pay attention to the local policies.
What would you have done in this situation?