After a ton of useful feedback from you guys, I'm testing out the idea of adding contributors to the blog. This isn't intended as a means of replacing me (hopefully), but rather as a way to add new and interesting perspectives, which I think you guys will enjoy.
I'm not hiring professional writers-for-pay, but rather truly passionate people in the hobby that might not have a background in blogging, but do have a background in obsessing over miles & points 24/7. 😉
My first new contributor is my good friend Travis, who will be writing a post every Wednesday to start. I've known Travis for years, and I love how unique his approach towards travel is, given that he has a family. So thanks to Travis for joining the team, and please welcome him! 🙂
---
"Daddy, Daddy, wake up. I see a big Peruvian flag out there."
I rolled over, tried to remember where we were, and then looked out the window of our 20th floor suite in the Sheraton Lima. Sure enough, there was a gigantic Peruvian flag waving in the breeze on top of the Palacio de Justicia. My son was going to turn three tomorrow, but today he was eager to start exploring his 22nd country. But first his sister — and their Mom — were in need of breakfast at the buffet which was about to close. We needed to get moving.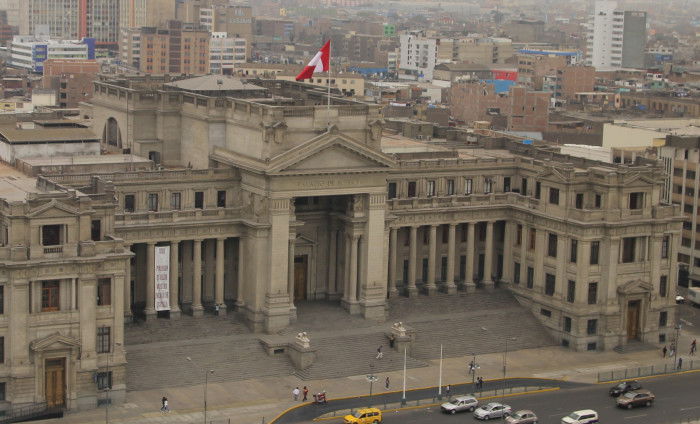 Palacio de Justicia with Peruvian Flag
My miles and points story starts in 2006 when a buddy (who was already neck-deep in this hobby) dragged me with him on a trip to Southeast Asia to celebrate the end of grad school for me. That trip pretty much got me Silver status on Northwest, my first elite status of any kind. You have no idea how important I thought I was, especially when I got my first upgrade (DTW-TYS). I would even go up and ask at the counter what my upgrade chances looked like…. I was so important!
And I was sure that flashing this shiny card was going to attract the ladies – for sure. I just had to figure out how to bring it up in conversation.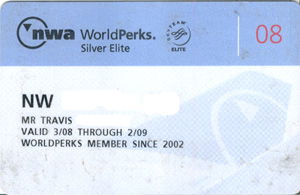 My shiny Northwest Silver Elite card
In reality, I figured it would be a short-lived novelty. I really didn't see myself flying enough to maintain status, because only business guys travel that much, right?
About a year went by and I had taken all of one business trip. It wasn't even on Northwest because my boss was an American Airlines guy! I was destined to rejoin the unwashed masses. But then, out of the blue, I found a girl who couldn't get enough of my Silver elite card. I was set, except for the fact that she lived halfway across the country from me. Suddenly I had a reason to fly. I also had a reason to learn how to fly on the cheap.
(OK, the truth is she had no idea what elite status was, but she did think it was pretty cool that I could fly first class once in a while!)
For the next 2.5 years, I continued to date this girl long distance, flying a couple times a month, all the while learning more and more about airlines, frequent flyer programs, and how to work the system to our advantage. During the first six months of our relationship, I flew more than I had in my entire life. Oh, the lengths to which guys will go when chasing women….
That girl eventually became my wife.
Despite the success of our long term relationship, she put her foot down and said that we had to be living in the same city by the time we got married. That was a little bittersweet for both of us, as we had come to love the travel aspect of our relationship. But then the light bulb turned on in our heads and we realized that we were now free to travel wherever we wanted—we were no longer constrained to fly from her home to mine, but rather we could go anywhere in the world.
We could fly together! It was liberating. The world was our oyster. Life was great!!
Then my wife said it was time to start our family. Now sure, I had always looked forward to being a Dad. I loved the concept of it and was excited for that phase of my life. But I figured we would wait until 'next year'. (And trust me, there would always be a next year!) I tried to convince my wife that we should just wait until the airlines shutdown their frequent flyer programs or the banks stopped giving out massive signup bonuses. We should live in the moment and enjoy our freedom, because once we had kids, we would be grounded for at least the next five years.
I lost that argument.
It turns out that women have these biological clocks that tell them when to have kids – who knew? So a bit over three years ago we had a son, and about a year after that, his sister. We are now a family of four, but our travel life is still pretty good. Sure, we rarely fly in premium cabins anymore, and there's more work involved, but we've adapted and couldn't be happier. My son has been to 23 countries and 24 US states to date, and his sister isn't far behind.
It turns out that raising the next generation of world travelers is pretty cool.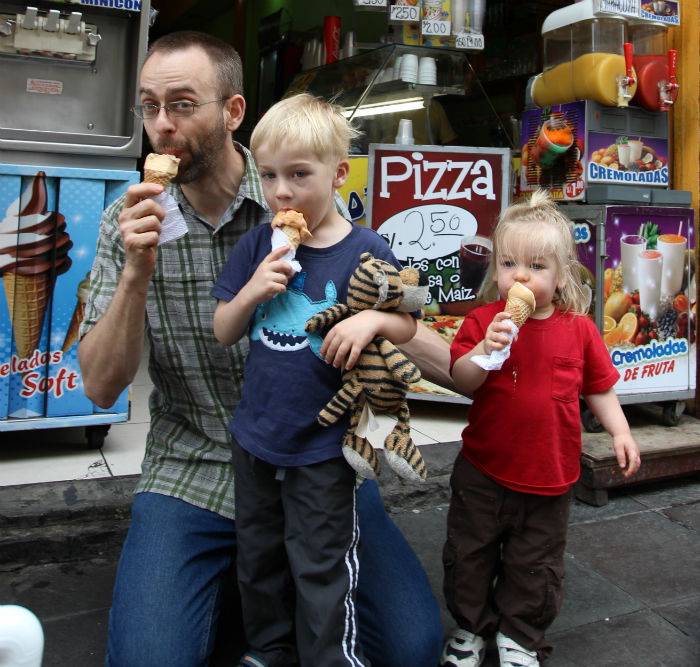 Ice Cream in Lima
Ben and I have been friends for a long time, so when he asked me to become a contributor to OMAAT, I was surprised and flattered. My goal is to bring a unique perspective on this hobby while still keeping you guys entertained. As you can tell by now, I'm usually traveling with my entourage in tow – which means I do lots of logistics. (Sorry, UPS, you're not the only one!)
We're the type of people who have spreadsheets for every trip, optimizing flights, hotels, car rentals, whatever. When you're traveling with littles, priorities can shift a bit – sure, my son would love to get a duck from the Lufthansa First Class Terminal (he hasn't), but he'd be just as excited to fly in a plane that has an animal on its tail (he has). The math of earning and burning also changes — I get particularly excited about scalability! I'm a techie kind of guy in real life where I occasionally travel for work so I'll try to share some stories there as well.
Most of all, I'm super excited about the opportunity to interact with you guys and geek out about travel.