Travis is my first new contributor to the blog, who will be writing a post every Wednesday to start. The idea behind adding guest contributors is to add different perspectives to the blog. Travis has a unique approach towards travel, given that he travels almost exclusively with his wife and young children, which is in stark contrast to my travels, which are usually alone.
You can find more posts by Travis here:
---
As you may have read, I've been recovering from my mountaineering accident a couple months ago. I guess this was good a time as any to have a broken leg, as I didn't have any travel scheduled for the entire fall, which was unusual for us. I could focus on my recovery without feeling like I was missing something.
That's about to change. We now have a big trip coming up.
Though it's been in the planning phases for months, I've been reluctant to write about this trip because at various times over the last few months it seemed unlikely to happen, for obvious reasons. I also didn't want to jinx it. But this week, I had a checkup with my orthopod and was given the green light. OK, it's not a see-it-from-mile-away-neon-green light, maybe more like pea-soup green light, but it's green nonetheless. I'm excited.
Almost from the moment I woke up from surgery, I've been asking my wife if she thinks we'll get to go on this trip. At the first followup appointment with the my orthopod back in September, I told him about how we had a month-long jaunt around Southeast Asia planned for December. I asked him if he thought I'd could go. He said "at this point maybe it's 50/50 in the good case, and 20/80 in the bad". (What does that even mean? Shouldn't a probability encompass all known information at the time and be distilled down into a single number? But I digress…)
A month later at my next followup appointment, I again asked the question. This time he told me that he'd been thinking about it. "I don't really know why you'd want to go, but I'm coming to realize you're not asking me that. You're asking me if you can NOT go, and I don't really have a reason that you can't. But come back right before the trip, and we'll reevaluate."
Fair enough. I don't expect everyone to "get" my love of travel, my need to explore, my need to simply go somewhere. I just wanted him to tell me if I was going to risk doing something stupid or delay my healing. We also told him about how we left for Bangkok once within days of my wife being cleared for weight-bearing after breaking her ankle. With two kiddos under two. I think that's when he started to take me seriously!
That takes us to this week and my 3-month checkup. I'm doing well. The bone isn't healed yet, but it's making progress. It was a bad break and it's actually ahead of where he expected it. He's giving me the green light to go on the trip! He says it might be good for me to do what I love rather than sit around. My physical therapy team is encouraging me to go. I've got my exercises planned out, and even have them on speed dial in case I have any questions while I'm away. They've been awesome. (I even tried to persuade one of them to come along — who doesn't travel with their own personal physical therapist?)
Just how big is this trip?
30 days
17 flight segments
5 countries
4 airlines
2 preschoolers
1 (somewhat) broken leg
It must be crazy trips like this that prompted Lucky to recently write
I've known Travis for years, and don't know anyone else who travels the way he does.
What is the motivation behind it?
One of my best friends — the guy who introduced me to the world of miles and points over a decade ago — is getting married in Penang. I'm the best man. While I've been an usher, a groomsman, a videographer, and a keeper of the guestbook (ok that was my wife), I've never been a best man. I'm super psyched about it. Even more special, the wedding is in Penang, a destination he and I visited in 2005 on my first trip to the region.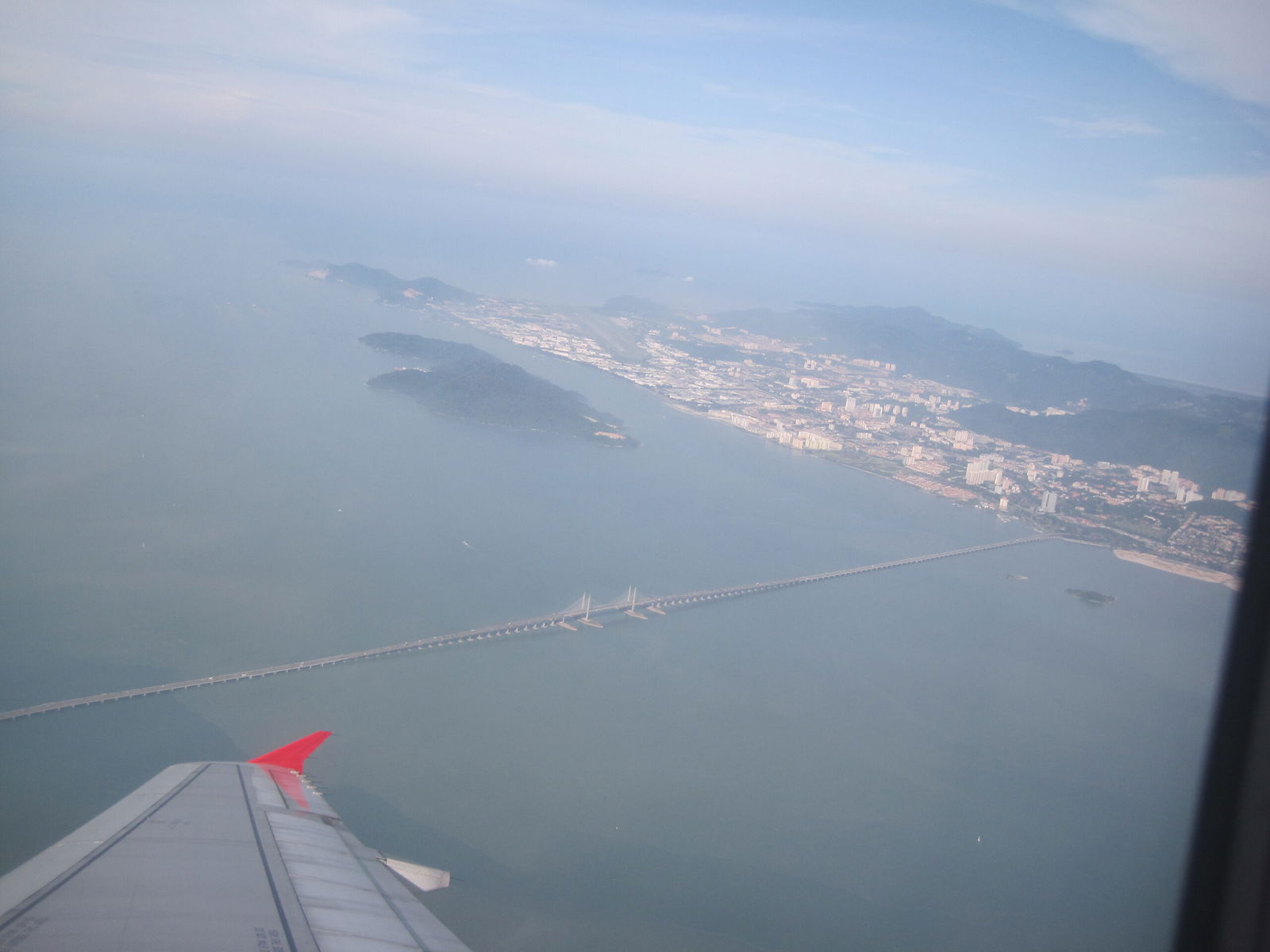 What will it be like traveling in a partially disabled state?
I'm sure it will be challenging. I'll probably get tired and fatigued. I'll probably get cranky. I'll probably have to take some naps and spend time in the hotel room. But let's face it, all of that is true even if I were to stay home.
I'm also sure that I'll get a different perspective on the world and be more appreciative of my health and mobility in the future. Many people are confined to crutches (or other assistive devices) as I will be on a regular basis, and they still manage to see the world! Perhaps I will better connect with them?
The fact that we have two kiddos in tow means our expectations are always tempered anyway. We don't expect to see everything, and more often than not, we're thrilled to just see something. These days we need to be back to the hotel by early afternoon for kid nap anyway, and of course late nights are right out. I should have plenty of time to rest, maybe even more so than if I was at a home. I should also have the opportunity to make plenty of bone-building Vitamin D in the tropical sunshine!
Our plan had always been for me to work part-time during the trip anyway. Although far from being completely location-independent like Ben, I am fortunate to have a flexible job in which I can work remotely for limited periods. So working from a hotel room may not feel much different than working from my home office.
As my physical therapist advised me, "Go slow. Experience the culture. See things. You won't be able to rush from place to place like most Americans." And she's right. Our trips are usually short hops here, longish weekends there. This time we have the chance to just be in a place.
---
I'm excited to share the details of the trip with you over the coming weeks. For now, here's a teaser of the deals from which this trip was constructed.
Then we rounded out our hotel stays using
Hyatt credit card free nights
Hyatt Diamond Suite Upgrades
IHG Anniversary nights
SPG category 1 properties
Club Carlson BOGO Award nights
We'll be flying
United
ANA
AirAsia
Malaysian
I plan to do some reviews of the flights, hotels, and experiences as well as some discussion about how we pull a trip like this together. Please leave a comment with any requests for topics you'd like me to cover.
Have you ever taken a trip when you were less than 100%? If so, how did it go?