Travis is my first new contributor to the blog, who will be writing a post every Wednesday to start. The idea behind adding guest contributors is to add different perspectives to the blog. Travis has a unique approach towards travel, given that he travels almost exclusively with his wife and young children, which is in stark contrast to my travels, which are usually alone.
You can find more posts by Travis here:
---
On Monday Gary wrote about a Canadian man who booked a mistake fare for he and his girlfriend, but they have since broken up. The aspect that has turned this into a story is that he's now looking for a replacement travel companion with the same name as his ex. Free travel, no joke.
So if your name is Elizabeth Gallagher, and you want to travel around the world for free, this is your chance.
This story resonated with me, because it happened to me.
Way back in 2005, I booked my first mistake fare — Boston to Madrid for $170 round trip on Air Europa. The mistake occurred in May and I booked my girlfriend at the time and I for October.
By October, we were no longer together.
As a deal seeker, I was torn. I really didn't want to fly with her, but I also couldn't bear the thought of seeing the ticket go to waste. Since there was no social media at the time, I didn't have the means to seek a stranger with the same name to replace her. So we did what adults do and agreed to fly together but then do our own thing once we arrived.
It worked out. We even sat next to each other on the way over. But I guess she remembered why we weren't meant to be, because I boarded the flight home to find her seated at the other end of the plane!
Then again, I guess I didn't learn my lesson. Within a month of meeting my future wife, I had proposed a diving trip to Mexico. She was smart enough to decline.
---
Anyway, there's another aspect of this story that serves as a reminder of just how insecure airline reservations really are.
While Jordan Axani is busy trying to find a replacement travel companion, what's to prevent his ex from calling up Alitalia and canceling her (and his) tickets? She presumably knows the itinerary. She knows his last name. She knows her last name. She probably even knows the PNR (not that she would need it). And it sounds like there might be a bit of tension between the two right now…
Worse yet, if she has a flair for the dramatic, what's to stop her from just showing up at the airport and checking in, thus leaving the replacement Elizabeth out of luck?
But no, that's still not the worst of this guy's problems. He's got his entire itinerary posted online, presumably so that his potential Elizabeth can determine whether it fits her previously scheduled life.
December 21: NYC – Milan
​December 28: Prague – Paris
December 29: Paris – Bangkok
January 7: Bangkok – New Delhi
January 8: New Delhi – Toronto
That opens him up to some problems. Ever called the airline and said "Can you help me find a reservation? I don't know my PNR." Then they ask you for your name, date, and route. That's it. At that point, you are authenticated and can do whatever you want.
I certainly hope this goes well for the the guy. He seems nice and I wish him well.
That said, I'm hoping for an Elizabeth Gallagher convention in New York on December 21! Let's have every Elizabeth Gallagher on the planet show up at the check-in counter each claiming to be the designated replacement. I'd love to watch the Alitalia staff sort that out.

Will the real Elizabeth Gallagher please stand up?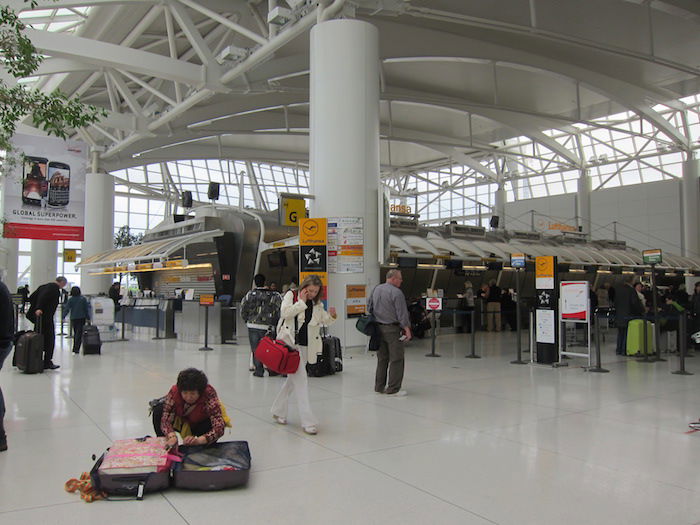 JFK check-in area
The real issue here is the lack of security with airline tickets. There is generally a lack of security in place to prevent anyone with the most basic details from mucking with your travel plans. It really does happen.
Be careful out there.
Have you ever booked a ticket to travel with a significant other only to see the relationship end before the trip? What did you do?