Travis is my first new contributor to the blog, who will be writing a post every Wednesday to start. The idea behind adding guest contributors is to add different perspectives to the blog. Travis has a unique approach towards travel, given that he travels almost exclusively with his wife and young children, which is in stark contrast to my travels, which are usually alone.
You can find more posts by Travis here:
---
The new United seems to have trouble with branding. Take the united.com Club and the United Club. Two completely unrelated programs have virtually the same name. Perhaps United should hire Vanilla Ice to explain the difference, just as he explained that Ice Ice Baby has a completely different bass line than Under Pressure.
"We sampled it from them but it's not the same capitalization. Theirs has a capital U. Ours has a lower case u. It's not the same."
The United Club of course is the name for United's lounges. You buy a membership, you get some cheese and crackers.
The united.com Club is United's loyalty program that rewards you for booking flights directly on their website. In exchange for the $25 annual membership fee, you get a $5 rebate on every flight you book while logged into your account. Each of these $5 rebates is deposited into your TravelBank account and can be used to pay for future United flights.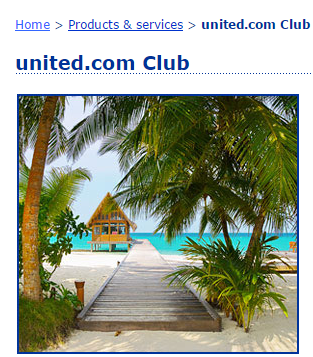 united.com Club
Despite the ridiculous branding and confusing names, the program is actually really simple. And depending on how many tickets you book each year, it can be a reasonably good deal. If you play travel agent for your family and friends, this is one option to get a little kickback.
Earning Travel Bank Credits
There is one and only one benefit to buying a $25 annual membership to the united.com Club – earn a $5 credit on every itinerary booked while logged into your account.
It doesn't matter if the trip costs $100 or $1000. It doesn't matter if the itinerary is for you, for your son, for your grandma, or for your brother's first-grade teacher's uncle who lives 8 states away. It doesn't matter if it is a one-way, round-trip, or multi-city itinerary. And it doesn't even matter if it's a revenue ticket or an award flight.
You earn $5 for each ticket booked while logged into your account and issued on 016 stock.
For me, this is about scalability. In my single days I probably wouldn't have cared about getting a $5 rebate on a flight. But now this quickly becomes 4 x $5 = $20 for each trip my family takes, or 8 x $5 = $40 if the trip can be booked as one-ways. And most domestic trips can.
A family of 4 that takes just one trip per year can make a 60% return on the $25 annual membership fee with just one trip.
It's worth noting that the system does have some bugs. For example, if you book multiple passengers on the same itinerary, you sometimes only get one credit. And sometimes it just doesn't pay out at all.
I know of folks who keep a list of all of their missing credits and then once the list gets long enough, they call in to have them manually posted. Once upon a time, I probably would have done this too. But nowadays, I just don't think it's worth it – I know that I make a pretty good return on my $25 annual investment and leave it at that.
Redeeming Travel Bank Credits
The credits are awarded fairly quickly after the trip is flown. Your travel bank balance is displayed in the "My Account" area of the website. Using Travel Bank funds to pay for a trip is painless. You search for flights on United.com just as you always do, and then when you get to the payment screen, you will have the option of applying travel bank funds to the purchase price. Just click 'Apply' and it will reduce the amount owed appropriately.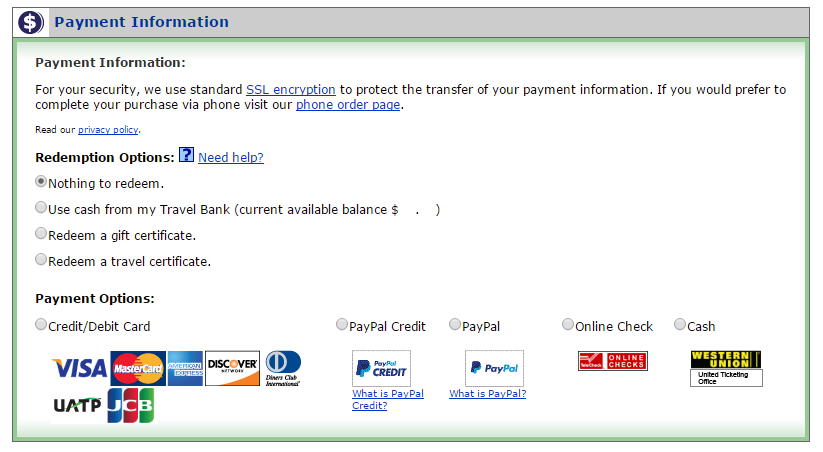 Travel bank shows up as a payment option
Travel bank funds are treated as a form of payment, as opposed to a discount. This is significant because it allows you to earn Premier Qualifying Dollars (PQD's) on the full amount of the ticket, including the balance covered by Travel Bank. It also means that if you refund the ticket, the funds go back into your travel bank. (As opposed to most discount certificates which technically go 'poof' once they are redeemed.)
Travel bank funds can even be combined with discount certificates. And also with travel credits.
My general strategy is to let my travel bank funds accumulate to a reasonable level and then apply them all at once. I figure that I'm more likely to put in the effort to chase down $100 in credits if I need to refund a ticket, as opposed to $5 which I would probably forget about. But if you truly like to earn and burn, you can certainly use the credits as quickly as you earn them.
The trade-off of course is that by booking directly with United you can't book through an online travel agency (OTA) or earn bonus rewards points by booking through a portal. Essentially United is offering you some of the commission that they would have paid the OTA. I generally prefer to book directly with the airline anyway but you should do your own evaluation.
Have you ever been a member of the united.com Club? How has the program worked for you?