Travis is my first new contributor to the blog, who will be writing a post every Wednesday to start. The idea behind adding guest contributors is to add different perspectives to the blog. Travis has a unique approach towards travel, given that he travels almost exclusively with his wife and young children, which is in stark contrast to my travels, which are usually alone.
You can find more posts by Travis here:
Travis was involved in a serious mountaineering accident back in September. Although not miles and points related, it's a chilling and captivating story of an adventure gone wrong. I was captivated when he told me the story, and invited him to share it here.
Part 1 was published yesterday: Travis' Mountaineering Accident on Mt. Sneffles Part 1
---
"Colorado Army National Guard has accepted the mission."
Those were the words that came over Ruth's radio as she called base for the morning check-in. The excitement on the mountain was palpable. Not only had I survived the night, but now I had a first class ticket off the mountain. It was close to 7 AM by now and the chopper crew had said they would be leaving soon, meaning there wasn't much time to get ready.
---
High, Hot, and Heavy. The wrong combination of those conditions can be scary territory for many helicopters and their pilots. The air density at high altitudes is low enough that rotor blades have trouble generating sufficient lift. Hot environments exacerbate that phenomenon and of course the weight of the machine, crew, and cargo further increases the power required to operate safely. My Dad once explained, if something bad happens in an airplane, you can usually glide and buy yourself some time to figure it out — if something bad happens while you're flying a helicopter, you become a rock.
To help train pilots to deal with the challenges of flying in truly thin air, the High-Altitude Army National Guard Aviation Training Site (HAATS) was founded in 1986 to train rotary wing pilots in such conditions. Based at the Eagle County airport (EGE) in Gypsum, CO (near Vail), HAATS rose to prominence during the war in Afghanistan as scores of pilots needed to learn these skills.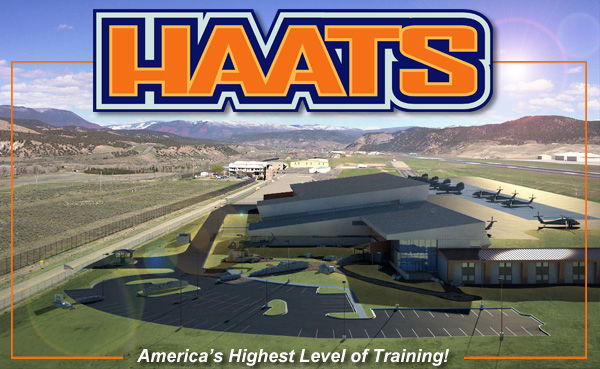 The training at HAATS consists of a one-week course taught by full time CO ANG pilots. Basically it's like Top Gun for helicopters. Pilots in the course typically fly OH-58 Kiowas, CH-47 Chinooks, UH-60 Black Hawks and LUH-72 Lakotas, but their website notes that 'pilots can bring their own aircraft if they choose.' Awesome.
As a service to the community, and to gain valuable real-world experience that directly translates to in-theater operations, HAATS offers their pilots and equipment free of charge to assist search and rescue (SAR) teams around the state. A typical year will see them assist with 20 or more such missions and save numerous lives.
On what was presumably a lazy September Saturday morning, HAATS received a call about an injured mountaineer at 13,900 feet on Mt. Sneffles. OMRT was requesting a helicopter evacuation. HAATS agreed to take the mission and quickly dispatched their All-Star crew in a Black Hawk UH-60 to come rescue the fallen mountaineer. That fallen mountaineer was, of course, me.
The crew that day consisted of pilot Chief Warrant Officer 5 Jeffrey Girouard and co-pilot Chief Warrant Officer 4 Anders Nielsen both of whom are considered to be some of the most experienced rotary wing pilots in the world with a combined 13,000 flight hours and 50 years of experience. The crew in the back were Sergeant 1st Class Tommy Castillo and Sergeant 1st Class Charles Whaley, two other instructors at HAATS.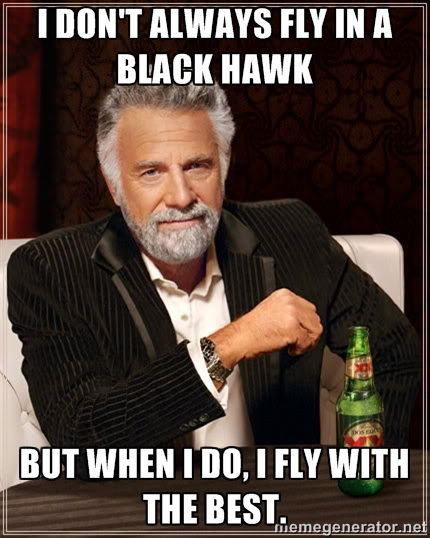 In the tradition of One Mile at a Time, this is my review of the Black Hawk flight — the best flight of my life.
Pre-Departure
I've never had a better view to enjoy while waiting for a flight. The sunrise over the San Juan mountain range was spectacular — and the mountains seemed close enough to touch!
The facilities, however, were rather spartan — about the level of a United Club, except that I had a bed instead of worn out furniture. It was in fact a very comfy bed that the Ouray Mountain Rescue Team (ORMT) had constructed for me. As my paramedic Ruth had promised, it did feel like the Marriott, and I had cat-napped in the hours prior to my flight. The only beverage available was water, but it was seriously the best water I had ever had — the nectar of the gods. Food was even more sparse. Wifi? Forget about it. I couldn't even get a cell signal.
But the service was impeccable. As the only one waiting for their flight, I had the full attention of Ruth, along with Matt and Mike, the former OMRT SAR captains who had apparently drawn the short straws regarding who would spend the night with me on the mountain. They catered to my every whim, making me as comfortable as they could.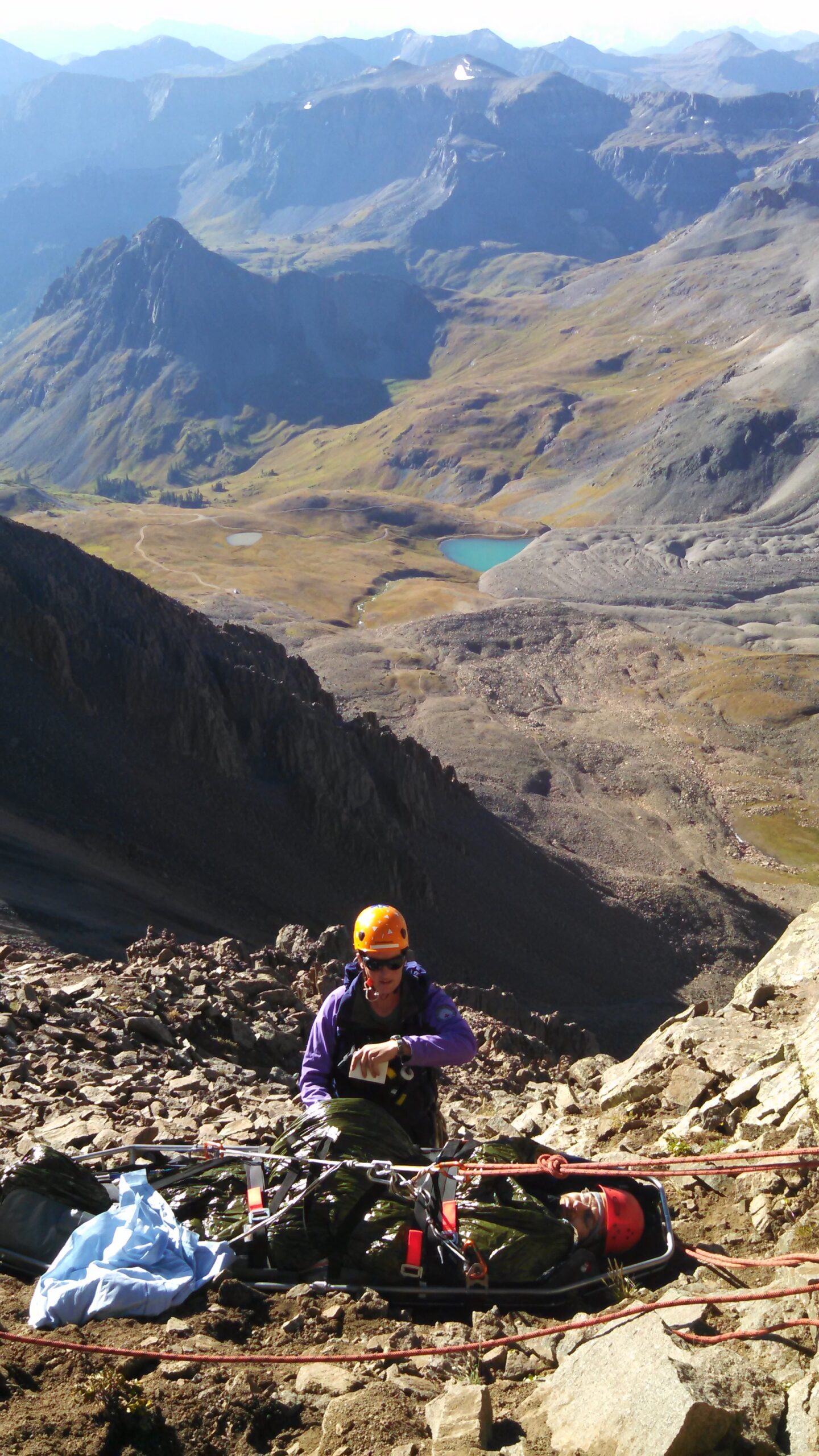 Boarding
I'm used to boarding aircraft via jet bridges. Occasionally I enjoy boarding via the stairs such as when the plane is parked at a remote pad in Frankfurt. I am not used to boarding an aircraft via a hoist.
It's pretty obvious that the best way to get in a helicopter is for the pilot to land it on flat ground so you can climb (or be loaded) in. It turns out that the second best way is for the pilot to execute a "one wheel" landing whereby he, with the help of the crew who serve as his eyes, puts one wheel on a rock or ledge and then hovers while passengers or equipment are loaded and unloaded. As safe thrilling as that sounded, it was also not an option.
Nope, I was scheduled for a hoist boarding.
There's a reason that the hoist is the boarding process of last resort — there's apparently a lot that can go wrong. The timing between the ground crew and the chopper crew has to be impeccable and instinctive because there's no opportunity to go over the plan. Fortunately for me, Matt from my OMRT ground crew had recently attended a training session at HAATS to review and practice hoist procedures for situations precisely like this.
He quickly took over command of the scene, explaining to Mike and Ruth exactly what was going to happen and what their roles would be. First, they would need to clear the area of anything that could become airborne because it was about to get very windy. Packs, ropes, and gear were all ferried back to the ridge, or weighted with rocks.
Then he explained how the hook from the Black Hawk would be connected to the litter. The timing of this is critical, as I was already secured to the mountain via a series of ropes and anchors. This set of ropes would need to be released at precisely the moment that the litter was attached to the hook.
Next came a discussion of how the swirling air coming off the rotors can cause the litter to spin around while being winched up. This sounded a lot like the rides at the county fair, one of which caused me to puke when I was a kid. But then he continued by explaining that they now attach a long rope to the foot of the litter such one of the ground crew can counteract the rotational force. Of course, this introduces another risk because now one of the ground crew is "connected" to an incredibly powerful aircraft — he needs to be able to drop the rope quickly without getting tangled if something goes wrong.
Finally he explained that the litter needs to get about 10 feet or so off the ground before giving them the "all clear" sign at which point the pilot can decide to ascend and fly off if conditions start to deteriorate. This didn't sound so great to me either. In fact, listening to and watching all of the preparations for this operation sort of started to freak me out. But then I reminded myself of the alternative.
No sooner had the site been prepared and a plan formulated when the thump-thump-thump of the Black Hawk could be heard in the distance. It was showtime.
The chopper first hovered a bit adjacent to us, presumably so they could verify that everything was ready via a quick hand signal. Then they slid into position about 100 feet directly above me. The hook was right over me. Ruth had put me in a 'taco' of tarps and blankets, all strapped in to the litter. The hook was attached, and I was off.
The approach to the aircraft was breathtaking. Literally. The air coming off the blades, or rotor wash, forced me to focus on my breathing.
Inhale.
Exhale.
Inhale.
Exhale.
I had planned to keep my eyes open to savor the once-in-a-lifetime experience but the rotor wash was creating a mini-sandstorm on the mountainside with me at the center of it. With my arms and legs secured beneath blankets and tarps, I didn't want to get sand in my eyes with no way to get it out.
Finally the wind seemed to die down and I opened my eyes. Right above me, leaning out the door of the Black Hawk, were two crew members ready to welcome pull me onboard. They both wore helmets with heads up displays as well as their combat fatigues — uniforms that may not have the elegance of Singapore Airlines, but are surely the most badass of any in the world. There may have been a greeting as I came through the door but I didn't hear it.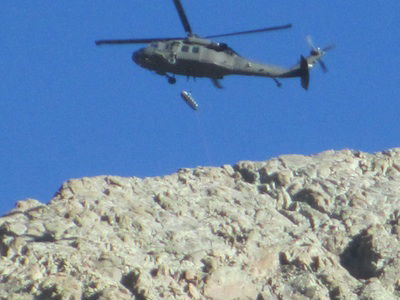 Seating
I was the only passenger on this flight and the lie flat space bed had been reserved just for me, right in the middle of the forward cabin. The two crew members who had welcomed me aboard quickly anchored me in place and we were off. (In reality, we were probably off long before I was anchored, and possibly even before I was onboard. Apparently this is one time that you don't have to have your tray tables up and your seatback in its fully upright position for takeoff!)
Apologies for the lack of pictures: if you think United doesn't take kindly to having their aircraft and crews photographed, I can only imagine what Uncle Sam would have to say.
Amenities
As I looked about the cabin I noticed a sign above me on the wall that read "Hearing Protection Required". At that point I was a little miffed that that the purser had forgotten to distribute the amenity kits as the roar of the rotors was deafening and I really could have used that pair of crappy ear plugs. Oh well, I still had one or two knit hats pulled over my ears, so that would have to do.
Service
The service on this flight was perhaps the most perfunctory I've ever experienced — these guys could give Lufthansa flight attendants a run for their money. No chit chat, no small talk, no talk at all, at least to me. They were all business, all the time. The most interaction I had with any of them was when I mouthed "thank-you" to one of the cabin crew and he returned a "thumbs up". I guess the 5-10 minute ride down to town wasn't even long enough to push the drink cart once.
Transit Lounge
And just like that, it was over. I've flown well over a million miles, but this was easily the best flight of my life.
Upon landing, I was greeted by a cadre of officials and quickly escorted to a red mobile lounge with spinning lights on top that was parked nearby. The staff quickly attended to me, checked my vitals (amazingly good!) and inquired as to how I managed to obtain a ticket for such a thrilling flight. I think they also commented on how much morphine I had had.
I finally realized I was going to be OK when I asked one of the staff "Am I going to live?" and they looked at me like I had three heads. At that point I asked to borrow a cell phone (mine had gone down the hill with Steve the night before) to call my wife. It was great to hear her voice. She later told me that she knew that I was doing OK because the first thing I told her was that 'I got to ride in a Black Hawk!' She was jealous. And ecstatic that I was going to be OK.
Apparently I had guest privileges at this lounge as one of the OMRT volunteers who had retreated from the mountain in the wee hours of the morning came in to greet me and give me a familiar face.
While laying in the lounge, I realized that I had forgotten to give them my frequent flyer number — though I'm not sure that the CO ANG is part of any alliance anyway. Given the flight was less than 5 miles, I probably wouldn't have earned much. But just imagine if they had a revenue-based frequent flyer program….
My lounge visit was relatively short as my next flight arrived quickly. This was a life flight helicopter that would take me to the hospital about 45 minutes away by air. It was a nice ride, and the three man crew was quite sociable (they even gave me ear protection!), but frankly it felt like an E-145 after just having flown on the upper deck of a 747.
---
A few x-rays later, it was determined that I had shattered my femur and would have surgery to get a titanium rod in my leg. I also had a severely bruised elbow and much of my body was covered in road mountain rash.
The surgery was a success and I'm expected to make a full recovery.
I'm now up and about, able to to walk with the assistance of crutches or a walker. I spend a lot of time in the therapy pool at the gym where I'm usually about half the age of everyone else in there. (Note to self: When I get old, hang out here all day because apparently it makes you feel young again!) I'm getting better every day.
Recovering from an injury is also a mental challenge. Your kids don't understand what happened. Your spouse is pulling double (or triple) duty by adding nurse to her or his list of titles. Your life rapidly gets turned on its head. You wish you could do things. You wish you could travel. You wonder if you'll ever get back to where you were.
But then I remember how amazingly lucky I am to be here today. How much I owe my life to my climbing partner Steve, the SAR crew from Ouray Mountain Rescue Team and in particular my personal medic Ruth, the incredible skills of the Black Hawk pilots (and the generosity of HAATS for providing their services), and of course the medical team that put me back together.
Most of all, I am grateful for my wife who has been my rock through the recovery process. She understands and embraces the fact that I have the adventure gene and accepts the risks. She has stood by me through the good days and the bad days, encouraging me, and reminding me that sooner or later this will all be just a memory and a fantastic story.
I really am the luckiest guy on the planet and I hope you never let me forget it.
Oh, and if you'd like to read the local coverage, both the The Watch and the Ouray County Plain Dealer covered the story.