I've always been fascinated by "fifth freedom" and unconventional airline routes, like New York to Vancouver on Cathay Pacific, New York to Frankfurt on Singapore Airlines, London to Los Angeles on Air New Zealand, Singapore to London on Qantas, etc.
Anyway, starting June 5, 2013, Pakistan Airlines will offer twice weekly service between Chicago and Barcelona — what could be more fun? The service operates on Wednesdays and Saturdays, and after reading a trip report about Pakistan Airlines I'm actually kind of curious to try them.
Best of all per the Good Deal Premium Fares thread on FlyerTalk, the fares are extremely reasonable. Roundtrip business class — even in the peak of summer — is just $1,358 all-in.
And even more intriguing, to me at least, is that one way business class is just $769. While that's a bit more than half of the roundtrip cost, most airlines charge at least the same for a one way international ticket as they do for a roundtrip.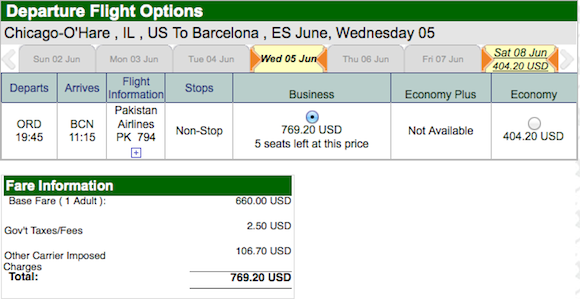 I think I might just give them a try. For example I've wanted to fly Iberia's new business class either to/from Europe, though not necessarily roundtrip. Rather than burning an extra 50,000 miles for the other direction I'd rather just pay to fly Pakistan Airlines. After all, surely that would make an interesting trip report?
Unfortunately best I can tell Pakistan Airlines doesn't really partner with any useful airlines in terms of mileage accrual. But with those kinds of fares, who needs miles?