———————————————————————————
We took the Airport Express from the airport to Kowloon, which took about 20 minutes. I always enjoy a ride on the Airport Express, since it is quick, efficient, and modern. Upon arrival we hopped on the free Airport Express shuttle bus which goes to the various hotels, which is the exact opposite of the Airport Express: old, run down, and slow.
We made it to the InterContinental Grand Stanford by around 7:45AM. As some of you may remember, my last stay at this hotel was less than stellar (this report also has lots of pictures of the property, if you're interested), so the hotel manager promised me free club access during my next stay. I emailed him a couple of weeks before our stay, although I didn't receive a response. I wasn't worried since I printed out the email from him. My upgrade was confirmed in advance to a city view suite, although when I checked the morning of our stay from the arrivals lounge, the upgrade only showed as being to a harbor view room. By the way, the rate we paid was $1,100HKD, which is about $140USD, plus tax. Unbeatable for Hong Kong!
Anyway, fast forward to check-in. The agent was happy to check us in, although only for a harbor view room. When I asked about club access (as the GM promised me) and showed her the confirmation which showed us as being confirmed in a suite, she was surprised. She asked if she could make a copy of the documents, which I agreed to.
After about ten minutes she came back and agreed I should get club access. She said we were only getting a harbor view room because I was recently downgraded from Royal Ambassador (which is true). I was fine with that, since the view from the harbor view rooms can be spectacular. Still, it shows the "we're not giving any more than we absolutely have to" attitude that the Grand Stanford continues to have.
The agent escorted us to our room.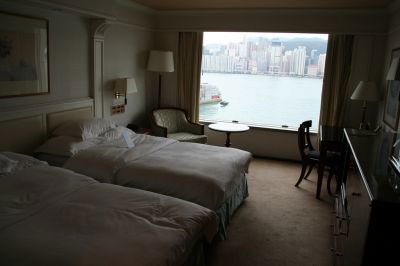 Our room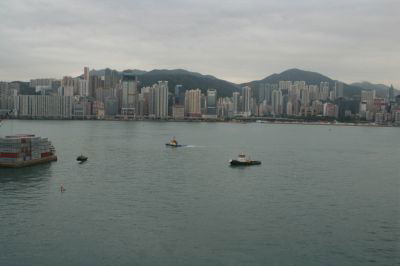 View from our room
Shortly after checking in we checked out the club lounge, which is located on the first floor. InterContinental keeps promoting this club lounge as boasting "panoramic" and "breathtaking" views. While the view is nice, it's anything but panoramic, unless the views they're referring to are of the freeway.

View from the lounge
The breakfast spread in the lounge was fantastic. They had all kinds of meats, cheeses, pastries, cereals, fruits, etc. They also had a menu from which you can order. The service in the lounge is efficient although not particularly friendly. It's as if they're in the lounge primarily for our safety, or something.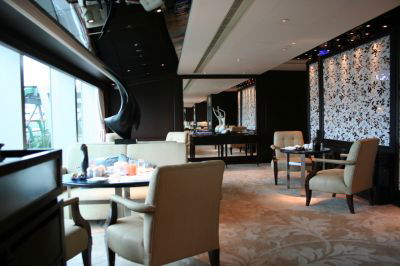 Club InterContinental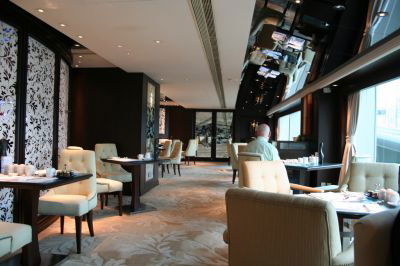 Another club picture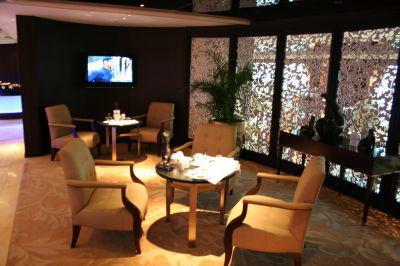 And another one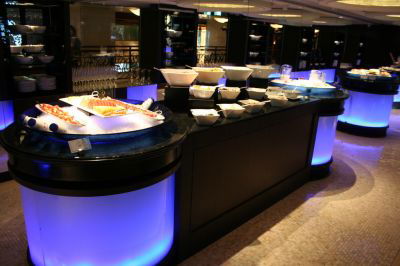 The food area
When we got back to our room the welcome gift was on the table, which consisted of some fruit, a bottle of water, and some chocolates. When I was here last August the box of chocolates was much bigger.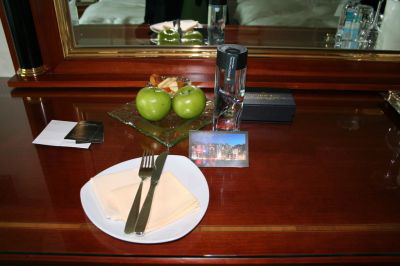 Welcome gift
After settling in and talking to a few people on Skype (gotta love free internet for club guests!), we headed over to 26 Garden Road, where the US consulate is located. I needed to get some pages added to my passport, and this seemed like a convenient place to do so.
There's no form of transportation that's as cheap or exciting as the Star Ferry. For only about $0.30USD you can take a ferry ride which I'm convinced has the most stunning view in the world.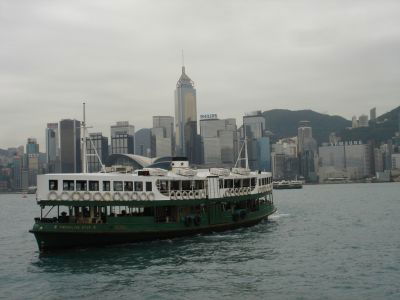 Star Ferry and Hong Kong skyline
We made it to the US Consulate a few minutes early, and were out of there in no time. I wrote about my experience there as well, including the rather matronly United flight attendant that was there. We walked around beautiful Hong Kong for a couple of hours, and by 2 PM were back at the hotel.
When we got back to the hotel there was a handwritten note from the hotel manager in our room, which read as follows:
Dear Mr. Lucky,

Welcome back to the "Grand Stanford." I wish you a great stay with us. Please contact me at any time in case you require my assistance.
Nice touch! We decided to go to the concierge and see if he had any suggestions for things to do. I've been to Hong Kong about five times now, and have seen most of the touristy stuff. I explained to him that I had been to The Peak, The Ladies Market, Stanley Market, etc. I've heard complaints about the Grand Stanford concierge in the past, but I didn't expect him to be that bad. In a city as dynamic as Hong Kong, how can you not make one solid suggestion? All he could recommend was The Peak and similar touristy thing. So much for the "insider concierges" that InterContinental loves to tout.
Since we had a long two days, including arriving in Hong Kong before 4AM, we decided to take a nap. While I'm usually opposed to naps when traveling, we needed it. I'm used to arriving in Asia from the US in the late evening, which works great for getting over jetlag. Unfortunately, there's no such luck with a 4 AM arrival.
At around 6PM we went to the club lounge, where their evening cocktail service was starting. The evening options weren't as impressive as the morning buffet spread, but were still fine. At around 7:30PM we walked the "Avenue of the Stars" towards the other InterContinental, which affords an incredible view of the skyline. Every night at 8PM is the "Symphony of Lights," which is the most amazing light show in the world. For about 15 minutes dozens of buildings in the Hong Kong skyline light up, combined with lasers and music. It never gets old!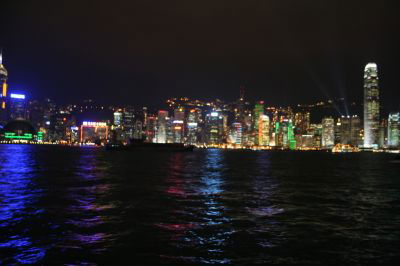 Hong Kong skyline
After that we were exhausted and went to bed, only to wake up at 4AM. Getting an early start on the morning was nice, as I could catch up on emails and other essentials. We had breakfast in the morning, walked around Kowloon for a while, and at around noon headed to the airport for our 4:40PM flight, since we wanted to check out the Cathay Pacific lounges at the airport.
We once again took the "Airport Express" back to the airport, and got there at around 1PM.