We got to the reception desk at around 11:20PM and were promptly assisted. The check-in agent was efficient, and had our keys within a few minutes. I was still shocked that we were getting club access since this hotel is notoriously stingy when it comes to upgrades, so I once again confirmed it with him. He replied we'd have access and were also upgraded to a harbor view room, and that internet is also free for Royal Ambassadors. He also gave us two drink vouchers for the bar in the lobby, although we never actually used them.
The entrance and lobby were quite nice. While it's no Peninsula, it's definitely a solid four star hotel.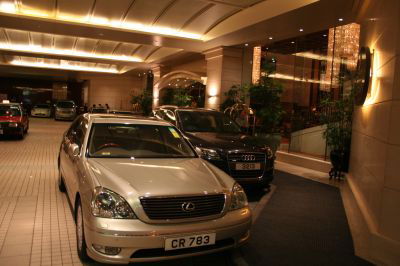 Hotel entrance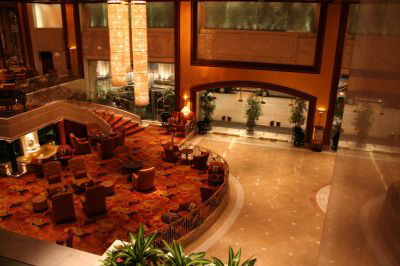 Hotel lobby
We went up to our room and while it wasn't very big (by US standards, actually a decent size by HK standards), it was nicely furnished and had an incredible view of Hong Kong. The beds were extremely comfortable, which is always a pleasant surprise when traveling.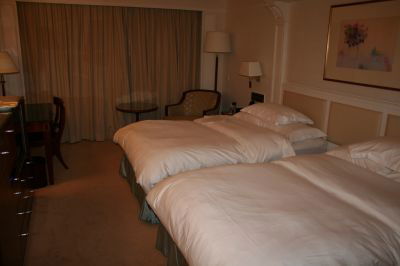 Harbor view room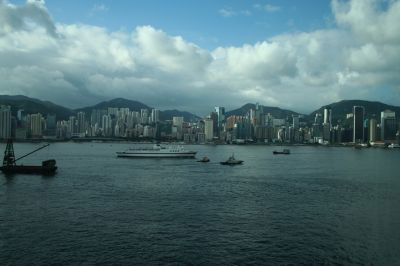 View from the room (taken the next day)
The bathroom was also nice with great toiletries, and it even had blue water in the toilet.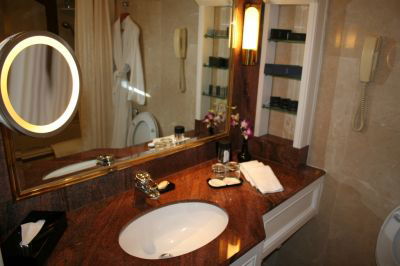 Bathroom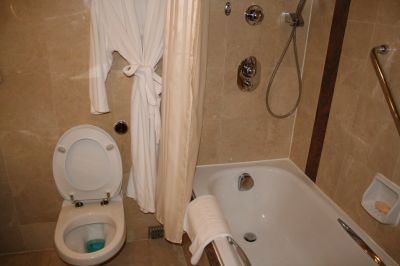 Bathroom
On the counter was the Royal Ambassador welcome gift, which was a nice box of chocolates along with a fruit plate. Also, as posted above, another RA gift is the two free drinks in the lobby bar (which seemed to be filled mostly with older businessmen and young girls in red dresses… not inferring anything, of course).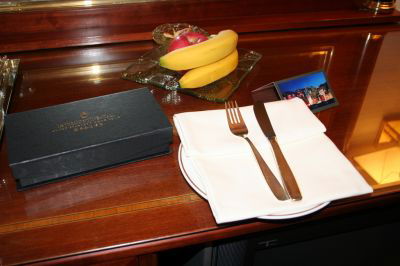 Royal Ambassador welcome gift
Another great feature was the minibar, which was very well stocked. As a Royal Ambassador all of the beverages are free.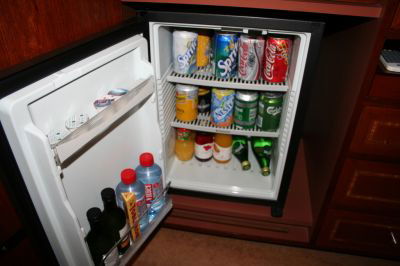 Minibar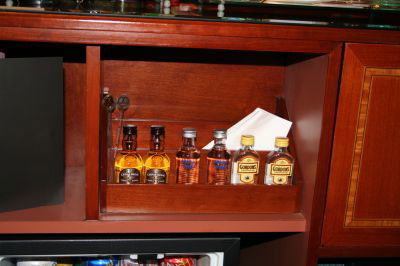 The hard stuff
Since we arrived so late turndown service was already complete, and there was some chocolate and a welcome letter on the bed.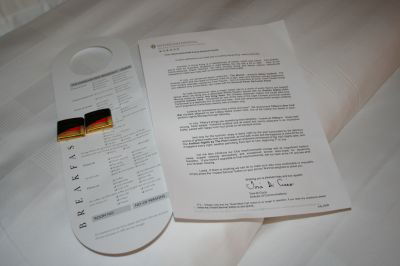 Chocolates and welcome letter
We explored the hotel a bit, and went up to the pool (which is located on the top floor). While it was closed, we could still check it out, and it seemed like hookah headquarters. I guess a bunch of people were wrapping up dinner or there was some party up there, because I haven't seen so much paraphernalia, well…. ever!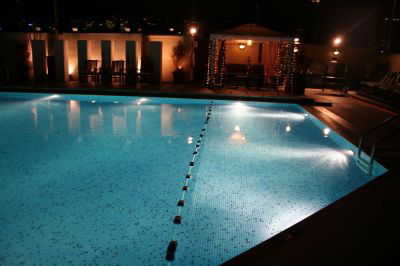 Pool
The next morning we went to the club lounge for breakfast at around 7AM, and the agent denied us entry. She said we weren't entitled to access, so she made a call to the lobby. They said no as well, and this lady wouldn't budge. Up until this point I was extremely impressed with the hotel (especially considering that it was $180 all-in and the RA benefits were pretty decent), but this ruined it for us.
Since the lady wouldn't budge we went down to the lobby and I asked the agent to look at what room type the reservation showed as. She said it showed as a club harbor view room, exactly as I explained. She said RA's don't get upgrades to the club and that there is no such thing as a club room at this hotel, but only club access. Unlike other hotels there is no single floor that has all club rooms, which only made my point stronger. Anyway, she wouldn't budge either and we weren't particularly hungry, so we went to sightsee.
Suffice it to say we were both furious about the way they handled this situation.
I sent an email to the Ambassador Service Desk and within 24 hours received a response from the hotel manager of the Grand Stanford, which read as follows:
Dear Mr. Lucky,

Greetings from the InterContinental Grand Stanford Hong Kong!

We hope you had an enjoyable time in Hong Kong and a pleasant journey back home.

Thank you very much for taking the time to inform the Ambassador Service desk about your check-in experience. Your feedback on the services in the hotel is very important to us.

We are committed to continuously improve our service and product and to consistently provide our guests a memorable stay in our hotel.

We investigated your booking and discovered a system failure which caused the confusion. Nevertheless the team members on the Front desk and in the Club InterContinental were not able to solve the situation to your satisfaction. In fact, in refusing you the access to the lounge made the whole situation worse.

We sincerely apologize for all the inconveniences caused and that we couldn't meet your expectations. This is definitely not the service we usually provide to our guests and the quality of service we are known for.

As a matter of fact, we started already an intensive training on service culture and customer service for the entire team of front office to avoid such incident in the future.

Mr. Lucky, we know you have many choices when it comes to lodging and hope you will continue to choose Intercontinental Grand Stanford for your future travel needs.

As a gesture of goodwill we would like to invite you to enjoy the Club InterContinental lounge and benefits during your next stay with us.

If I can be of any further assistance, please do not hesitate to contact me directly via telephone at (XXX)-XXXX XXXX or e-mail at [email protected]

Best regards,
XXXXXX
Hotel Manager
I won't deny it, I'm damn impressed by that response. Not only did it come within 24 hours, but it was personalized, logical, and actually addressed my complaint. Also, he CC'ed seven other people, so at least someone else will be reading this as well.
I'll definitely give them another shot the next time I'm in Hong Kong. Just to clarify, my problem wasn't with the lack of a good upgrade, but rather with the awful job they did at managing our expectations, both because it showed as a club room online and also because the front desk agent told us we'd have a club room when we checked in.
So while we were furious on the morning of the second day, the hotel was a good value overall, and I'm quite impressed by their customer service in the end.
More to come…