---
We took the AirTrain to Federal Circle, which is where the Holiday Inn Express bus picks up from. It was a rather chilly evening, at least after returning from Manila, and we didn't have any warm clothes. Fortunately the bus was there, so we made it to the Holiday Inn Express only about ten minutes later.
I should start by saying that we paid about $90/night for the Holiday Inn Express, and as usual, I did it for the points. All the other decent hotels were at least $150, and I'm a firm believe in the "you get what you pay for" approach, so I wasn't expecting a whole lot.
That being said, the hotel was pretty decent. The rooms were well appointed, and as usual at Holiday Inn Express hotels, there was free Wi-Fi, breakfast, etc. My only complaint would be the "lobby," if I can even call it that. There's a reason they don't have pictures of it on the website. It's hard to describe, but it's pretty horrific looking. I guess it kind of like a Greyhound terminal in the worst area possible. Furthermore, the elevator can only be accessed from a level down, so in order to get your bags in it you first have to take the elevator down a level.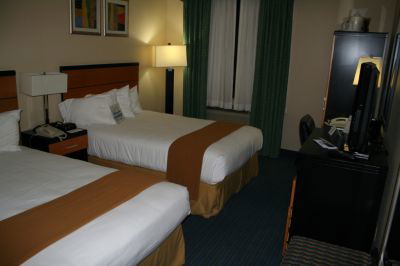 Our room
The one thing that caught my attention was the "Hospitality Promise" posted in the bathroom. Hampton Inn, for example, has the 100% satisfaction guarantee, where you don't pay if you're not satisfied. This "promise," on the other hand, promises to make the part of your stay you have a problem with right, or else you don't pay. Could someone explain to me how that works? Last I checked my room bill had one charge under the title "accommodation." I don't see it broken down by proper water pressure, correct bathroom amenities, clean bedding, quality breakfast, etc. Anyway, I just found that interesting….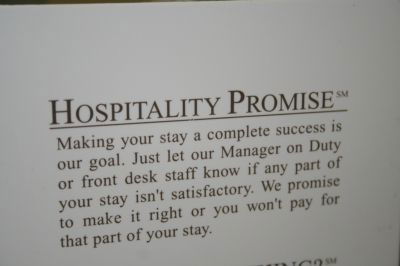 The "promise"
We took the subway into the city, where we had dinner at P.J. Clarke's with my brother and his girlfriend. At that point we were a bit on the exhausted side, and the cold weather wasn't helping either. We took the subway back at around 11PM, and were back at the hotel by around midnight. We set our alarm for 4AM, although we ended up hardly getting any sleep, probably due to the time change.
We originally had a four hour layover in MIA, although I noticed online that there was an earlier MIA-TPA flight, which would get us in about three hours earlier. We decided to head to the airport a bit early to try and get on that, since it looked wide open.
We took the 5:30AM shuttle to the airport, and unlike on the way out, we were dropped off at the terminal as opposed to Federal Circle, which saved us quite a bit of time and hassle.
We headed to first class check-in, which is partitioned off and has some fancy indoor plants to make it look special, I guess. While I was born in New York, I typically don't view New Yorkers as being overly-customer service oriented, at least towards outsiders (sorry Dan). That's why I was surprised as heck when our agent was overly friendly. Not only did she confirm us on the spot for the earlier MIA-TPA flight, but she also gave us a ticket jacket. I commented to her that I thought they had discontinued them, but she said she was too embarrassed to not have any for her premium passengers, so she keeps a stash with her.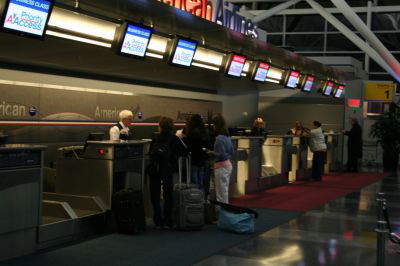 Check-in
Even more surprising was the TSA checkpoint. The agent was once again extremely friendly, and we were through in no time.
On the other end we went to the Admirals Club, where we were once again met by a cheery lady. What the heck folks, it's before 6AM and we're in a recession! Why's everyone so happy? 😉
We presented her with our JAL first class boarding passes and American boarding passes, hoping to get into the Flagship Lounge as OneWorld international first class passengers. While she was friendly, she insisted that we'd have to be on a codeshare flight in order to use the lounge, which was wrong. I explained we also had Amex Platinum cards, which should also get us into the Admirals Club. She suggested we use the nicer lounge closer to our gate so that we could get the "full lounge experience." She sent us on our way with a "couple of gifts courtesy of Citi," as she put it. They were leather organizers which were actually kind of nice, similar to what I received a couple of years ago through the Ameniti deal.
Out of curiosity we tried using our JAL boarding passes again, and this time the agent admitted us without asking any questions. It just comes to show you that United's Red Carpet Club agents aren't the only clueless ones.
We got there right as the club opened, and it was nicely decorated and had plenty of PC's, which is nice since they charge for Wi-Fi (for non-members). In typical American fashion, the lounge had next to nothing for free, mainly because they want you to buy their food. All they had was cheesy snack mix (which isn't exactly tempting at 5:30AM), apples, and bagels, although the bagels only had butter or jelly, and not cream cheese. Yar!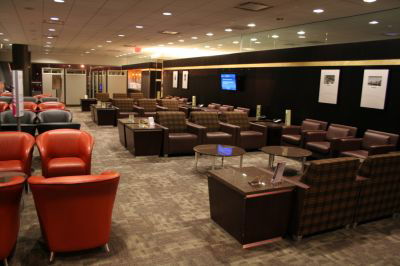 Admirals Club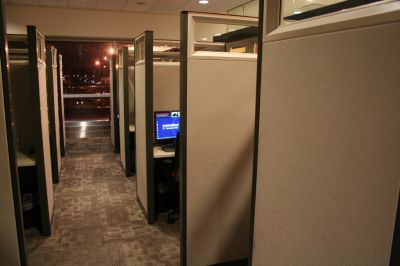 PC's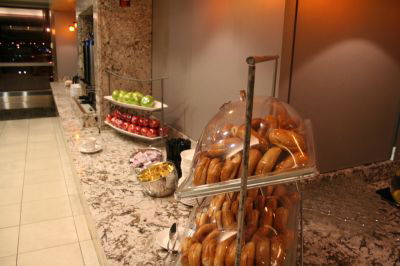 Bagels and apples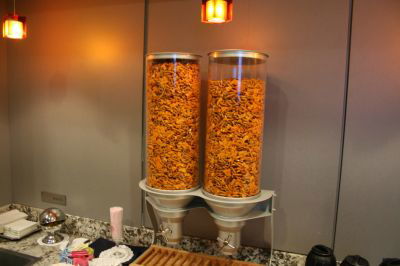 Snack mix
At around 6:30AM we decided to roam the airport for a while to stretch our legs. We eventually headed to gate 46, where the 767-200 that would be taking us to Miami was parked. by the way, for those of you not familiar with the 767-200's that American flies, these are the same planes they feature on their Flagship Service from JFK to LAX and SFO. They are configured with three cabins, and on flights other than JFK-LAX/SFO, first class is catered like a normal first class flight, and business class can be reserved by elites for free, although it's just coach service.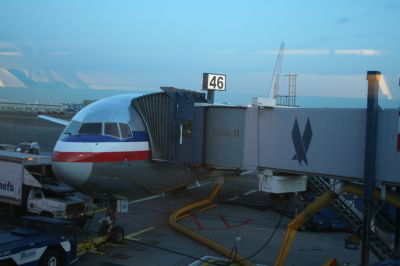 Our plane
Boarding began at around 7:15AM, and onboard we went.
American 1165, JFK-MIA, 767-200
Tuesday, March 17
Depart: 07:45AM
Arrive: 11:00AM
Seat: 3A (First Class)
Ah, reality bites! Unlike Cathay, we weren't escorted to our seats, and the flight attendants didn't even acknowlege our presence as we boarded. I snapped a few quick pictures of the cabin.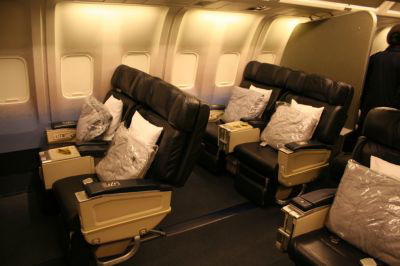 The first class cabin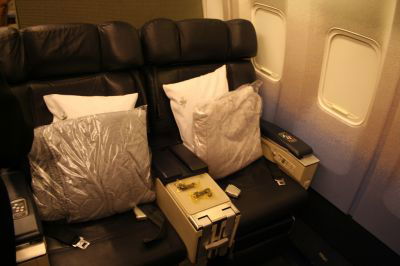 Our seats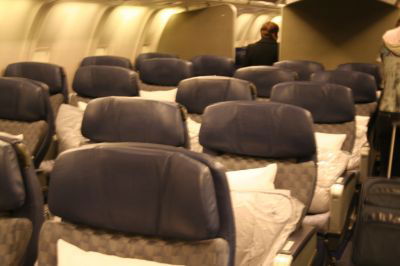 Business class
Eventually a flight attendant came around to offer us beverages, which seemed to break up the chit chat in the galley. I didn't see the flight attendant break a smile once throughout the flight. I found it pretty interesting that this flight attendant had a W.W.J.D. (What Would Jesus Do?) lanyard on. Well, frankly, he'd probably care a bit more about his guests….
I patiently sat there with my coat in my lap for the better part of 30 minutes. Of course I didn't ask nicely that one of them hang my coat, because that might be perceived as rude (according to a Continental flight attendant that once commented here….. he obviously *loved* his job as much as these ladies). Eventually a male flight attendant from coach came by and noticed my coat and hung it. He seemed to be the only crewmember that realized he was there for the passengers, and not the other way around.
As boarding wrapped up I noticed both the captain and the first officer going to the tarmac to look at the left engine. Eventually an SUV pulled up to the side of the plane, which read "Supervisor." It seemed like about a dozen ground workers were gathering around the engine too. Those blue things in the picture below we're blowing a lot of smoke at one point, although I didn't get a picture at the time. Any clue what they do?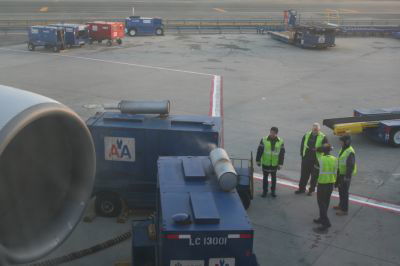 Hmmm….
As departure time passed I figured we had a pretty nasty mechanical, but surprisingly enough the pilots were back aboard and everything seemed to be alright. The gate agent came on last minute and filled the two empty first class seats with a lady and her daughter. They were assigned seats on opposite sides of the plane, so the lady asked if the guy sitting next to her wouldn't mind switching with the aisle seat on the other side of the plane. He commented "I can do that, as long as I get an aisle." Take note, folks!
We began our taxi and the guy that switched seats earlier in the flight whispered something in the flight attendant's ear, and then proceeded to get up and use the lavatory. I knew they'd NEVER let a "normal" passenger get up during taxi, let alone during climb out in smooth air at 32,000 feet, so I knew something was up.
I then began to notice the signs. The guy seated across from us in the "Captain Kirk" seat had a backpack right behind his seat. Soon enough we were airborne, and I mentioned to my dad that those two guys were air marshals. He didn't believe me, but I kept pointing out the signs. Neither of them reclined their seats at all. They both drank just water and coffee. One of them was playing his video game console with an ear bud in one ear and the other one open (which he's not supposed to do), and as both of them went to the restroom, they gave each other looks, despite not sitting together or otherwise seeming to know each other. Oh, and of course they had the same fancy PDA's.
Anyway, service was limited throughout the flight. For breakfast we had a choice between an omelet and cereal, and my dad and I both went with the omelet. Other than that the flight attendants weren't once to be seen. No hot towels. No mints. No pre-arrival drinks.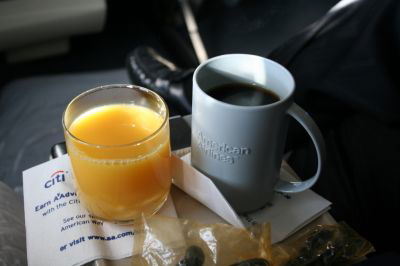 Coffee and orange juice
Instead I had a bit of my own in-flight entertainment, more specifically with the air marshals. I was sure to stretch my legs every once in a while, walking up and down the short first class aisle. I constantly got stuff from my carry-on. I can't stand these guys based on an experience I had with their colleagues a few years back, but I won't get into that. I just find the whole program to be a huge waste of taxpayer dollars, especially when they can be so easily spotted.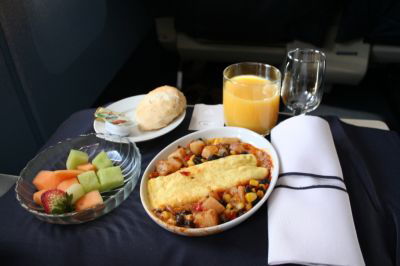 Breakfast
The seats were quite comfortable. I'd say they're a bit better than Premium Service first class seats for lounging, but not quite as comfortable in the lie flat position. We began our descent a few minutes late due to the late departure, but touched down nearly on-time.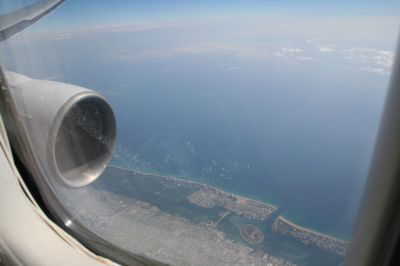 On approach
Miami airport is a maze, and as a result our taxi took quite a while. As luck would have it our flight was leaving from the furthest possible gate from the gate we arrived at. Curious about whether or not those two passengers were FAM's, we observed them as they got off. Yep, they were! Once out of the jetway they started to talk to each other, and guess which gate they went to? Yep, the flight right back to New York!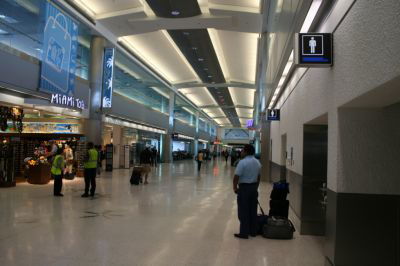 Miami airport
Boarding began on-time, and on we went for the last segment of our long journey.
American 1846, MIA-TPA, 757-200
Tuesday, March 17
Depart: 11:55AM
Arrive: 12:55PM
Seat: 3A (First Class)
The American 757's look tired. We were seated in row three, where we took our seats. The load in first class was light, probably only about 50%.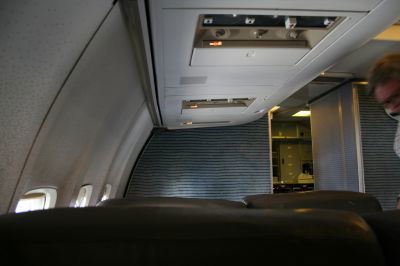 View from our seat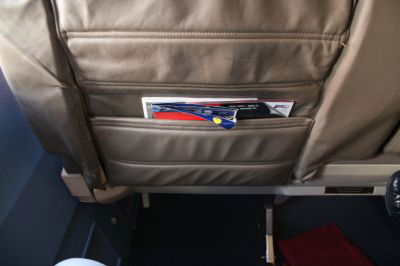 Legroom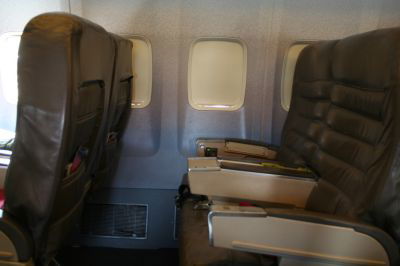 Seats across from us
Our flight attendant in first class was attentive. He offered pre-departure beverages of choice. The boarding process was quick, and we were airborne in no time.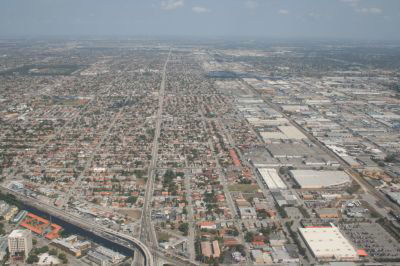 After takeoff
Given that our flight time was only 40 minutes, there was no service in coach, although there were several rounds of drinks and snack mix in first class. We even got mints prior to arrival, which we didn't get on our last flight. Our flight attendant was great, while one of the coach flight attendants sat down in a first class seat and read a novel for the better part of 10 minutes. You're kidding me, right?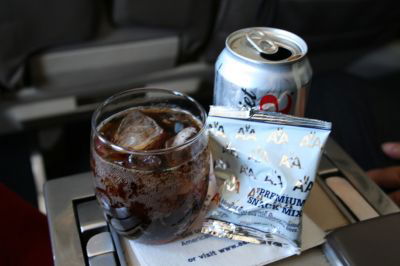 Snack mix and Diet Coke
We landed about 10 minutes early, and were sort of happy to finally be back home. I loved the post-landing announcements in which the purser said that "It was a pleasure serving you today." Yes, while we got a round or two of drinks, what service did those in coach receive? Nada!
Our bag came out almost immediately, and off we were.
Overall we had an amazing trip. Cathay Pacific first class was amazing. JAL first class was somewhat underwhelming, and I'd probably try American first class next time if Cathay Pacific isn't an option on a OneWorld award. We were happy to have seen Manila, although it's not necessarily a city that's on the top of my list as far as places I'd like to return to (like Ho Chi Minh City, Bangkok, etc.). Hong Kong, as always, was incredible.
Anyway, thanks for following along for the ride, and I apologize that it took so long. My next "big" trip will probably be in May, although it hasn't been booked yet. I'm thinking either Buenos Aires, London, Dubai, or Kuala Lumpur.