---
Ah, the day had finally arrived, starting with my alarm going off at 4:30AM. Typically I have trouble sleeping the night before an international trip, mostly because a ton of thoughts go through my head. Did I forget to pack something? Should I make a last minute hotel switch? Did I print out all my confirmations? Blah, blah, blah. Surprisingly enough that wasn't the case, and I got a solid four hours of sleep before being woken up.
After a quick shower and some last minute packing, my mom drove my dad and I to the airport at around 5:15AM. We made it there by 6AM, and proceeded to American Airlines check-in counter. There was no wait and our agent was incredibly friendly, amazed by the fact that we were traveling all the way to Hong Kong. I asked her whether we'd need to pick up our bags in Toronto and then re-check them, or whether they'd be checked through. She assured me that the bags would be checked through, and pointed out "HKG" on the baggage tag. I was relieved to hear this, since I was worried about the baggage situation.
Security took longer than normal, although we weren't surprised given that it was spring break time. We got through security by around 6:30AM, about 15 minutes before boarding began.
Before we knew it boarding was called for the first class cabin, and onboard we went.
American 1401, TPA-DFW, MD-80
Saturday, March 7
Depart: 07:15AM
Arrive: 9:05AM
Seat: 5A (First Class)
We were immediately greeted by a friendly flight attendant and took our seats in the second to last row of the first class cabin. While I'm not a fan of the MD-80, the seats were comfortable. They were slightly narrower than normal domestic first class, but the pitch and comfort of the seat itself were fine.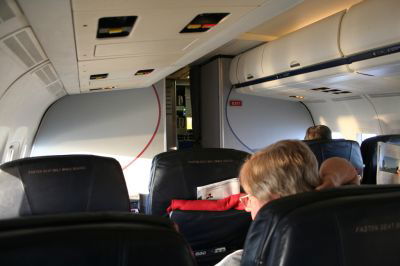 First class cabin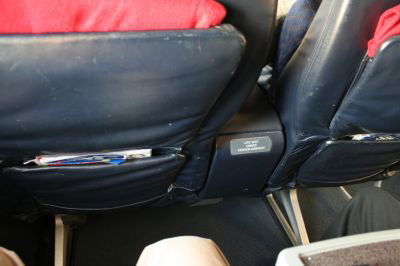 Plenty of legroom
Within minutes our friendly flight attendant came around with orange juice and water, explaining that the coffee was still being brewed. I went with an orange juice.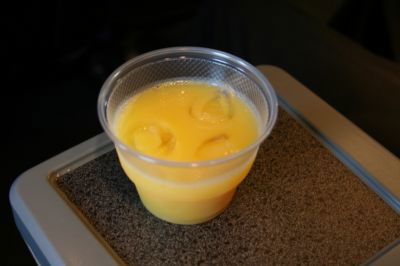 Pre-departure orange juice
Soon enough the door closed and we were on our way, about five minutes ahead of schedule. To my surprise first class was only about half full, with eight empty seats. After a quick manual safety demo and taxi to the runway, we were airborne into the south, only to make a quick turn to the west. One nice thing about the MD-80 is how quiet it is up front, thanks to the engines being all the way in the back of the aircraft.
As we leveled off our flight attendant started with hot towels and then a drink service. My dad and I both asked for orange juice and coffee. American's glassware is remarkably similar to United's, although I didn't see any logos on the glasses. The "mugs" are actually some sort of plastic.

Post-departure drinks
Shortly after the initial drink service the flight attendant came around with another set of drinks and made sure everyone was topped off. She then took meal orders (by name!) starting in the back, as expected. American uses the "FEBO" system for meal priority, which means they take meal orders starting in the front on even numbered flights, and in the back on odd numbered flights. We were offered either omelets or cereal, and we both went with omelets.
The omelets were served about 15 minutes after our orders were taken, and came with our choice of biscuits or cinnamon raisin bagels. I went with a biscuit. The omelet was "southwestern" style, with beans and cheese. There was also a small fruit plate consisting mostly of melon.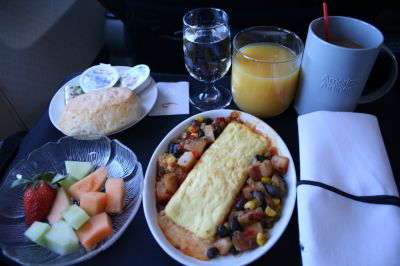 Breakfast
The meal was delicious, although I'm one of the few fans of airline omelets, so I guess you really shouldn't be listening to me on this. The fruit was fresh, and I really liked the biscuit, much more than United's flavorless croissants. I also noticed the next place American will cut costs: they give passengers both cream cheese AND jelly, while most people would only take the cream cheese with the bagel and the jelly with the biscuit. I'm betting they'll only be offering one or the other pretty soon. Think of all the pennies they could save!
Our flight attendant was spectacular. She was constantly roaming the aisle to make sure glasses were full, came around with the bread basket about five times, and always did so with a smile. As we later found out, she hadn't worked first class in over five years, since she prefers coach because she likes to stay busy, and in her words, "first class is boring." We gave her an "AAplause certificate," which is the equivalent of a United "Going the Extra Mile" certificate. She literally didn't sit down for the whole flight.
As we began our initial descent into Dallas our captain made an announcement thanking us for our business and giving us some arrival information. Shortly thereafter our flight attendant came around with hot towels again and then water and mints, which is a nice touch American offers but United doesn't. While it's nothing huge, it adds substantially to the perceived service on the flight, in my opinion.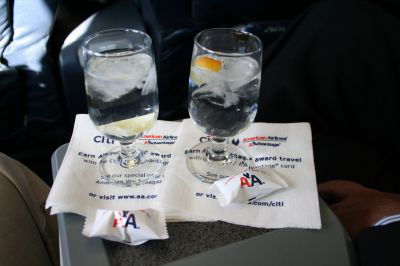 Mints and water
We touched down at DFW about 20 minutes before our scheduled arrival time, but unfortunately we had a 20 minute taxi. I never realized just how damn big DFW is! We still make it to the gate right on-time and bid farewell to our excellent flight attendant.
Once at DFW we switched from the "A" terminal to the "D" terminal via the Skylink train service which connects the various terminals. Once we got to the "D" concourse we went to the nearest Admirals Club, as we had about an hour to kill before our connecting flight.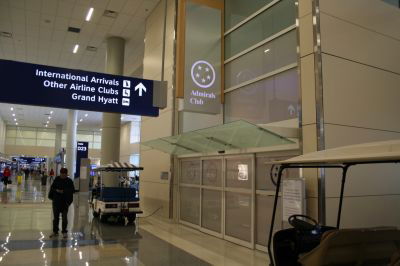 The Admirals Club
The reception desk was on the second floor, and we handed the male agent our DFW-YYZ and YYZ-HKG boarding passes. He was really nice, and even gave us two drink certificates. As we walked away he commented that "we're going to have to get you a new pin." Little did I realize I still had a United pin on my sports coat. Oops! We both got a good laugh out of it.
We grabbed some seats in the corner of the lounge, and I walked around a bit to check out the features. Overall the lounge was quite nice, with modern furnishings, showers, and PC's.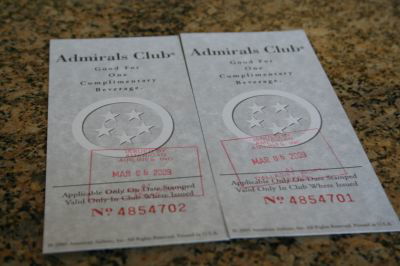 Drink chits, which are unfortunately only valid for the day and airport they're issued at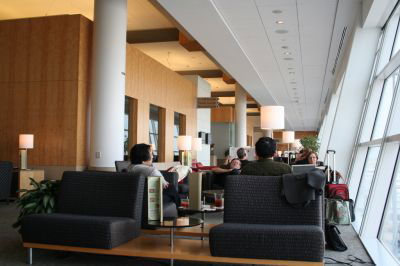 Lounge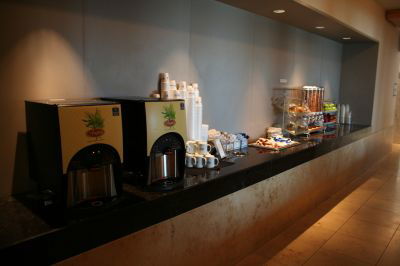 Snack counter
What's pretty cool about the American lounge is that they have waitresses coming around asking people if they want anything to drink. Wait, I guess that's not necessarily a good thing, since it means greater expectations for tips. Whatever.
Anyway, I noticed some smoke coming from the other side of the field. I have no clue what it was, but the beautiful 777 just arriving kind of distracted me. Bonus points to anyone that knows what it might have been.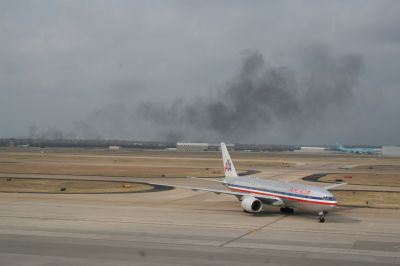 Smoke….. anyone know what was going on?
For some reason the boarding pass indicated that boarding would begin at 10:05AM, a full 45 minutes before departure. I'm not sure if that's because it's technically an international flight or whether it was a glitch, but we decided to head down to the gate at around 10AM. We got to the gate a few minutes later, yet there was no sign of boarding. As a matter of fact, boarding didn't start until 10:20AM. Oh well.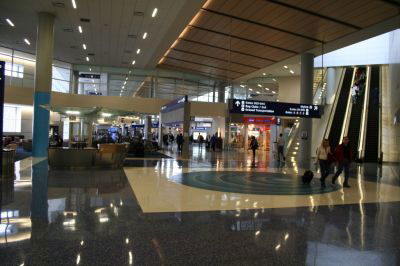 Gate area
American 1252, DFW-YYZ, Boeing 737-800
Saturday, March 7
Depart: 10:50AM
Arrive: 2:45PM
Seat: 4A (Business Class)
It was nice to get on an American Airlines plane within North America that wasn't an MD-80, for once. We settled into our seats in the second row, and immediately noticed how spacious they were. They had abundant pitch, plenty of width, and more recline than most domestic first class seats. Seeing video monitors on an American Airlines plane was also a sight to take in!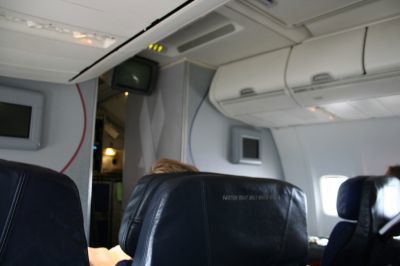 737-800 first class cabin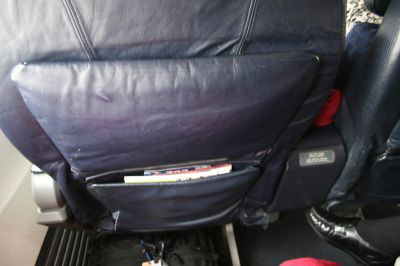 Legroom
As soon as everyone was settled in pre-departure beverages of choice were offered and immigration forms were handed out. I immediately filled out the immigration form so that I didn't have to worry about it later in the flight.
While our flight was full up front, there were plenty of open seats in coach. The door closed a few minutes ahead of schedule, and our safety video started. You heard me right, an American flight without a manual demo! The wonders of having TV's aboard. Unfortunately the video came with that annoying music American loves playing, so I'm not sure whether it was a good thing of a bad thing.
As we were taxiing out our captain advised us that he was expecting turbulence for departure, and advised the flight attendants to remain seated. The purser then announced that our flight time would be 2hr20min. Eventually we were airborne and on our way, and the captain was right, there was quite a bit of chop.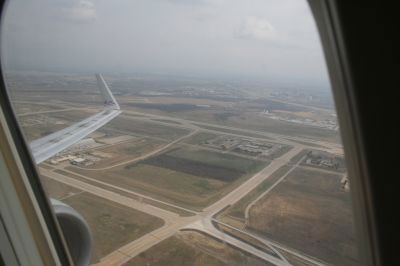 Departing DFW
As we climbed through about 10,000 feet we had a smooth ride, but nonetheless the captain kept the seatbelt sign on well past our cruising altitude. That meant our flight attendants didn't spring into action either.
After about 45 minutes service began, starting with nuts. HOT nuts!!! Oh, the joys of flying.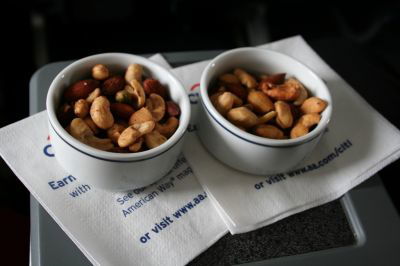 HOT NUTS!!!
As many of you may know, I'm a big fan of hot nuts. Nothing makes me happier than a ramekin filled to the rim with warm, mixed nuts. American didn't disappoint in this aspect. I'd like to point out that while their ramekins look bigger than United's, they're actually quite shallow. In the end I'd say United's and American's nut portions are equally large, although getting a second helping solves any potential nut shortage pretty quickly.
Shortly thereafter drinks were served, and I went with a Diet Coke, which was promptly served. Another 20 minutes later our flight attendant came through the aisle with a cart, which had the lunch trays on it. We were offered either a beef quesadilla or a salad. Typically I'd go with the salad, but I noticed that the quesadilla had a side salad, so I went with that.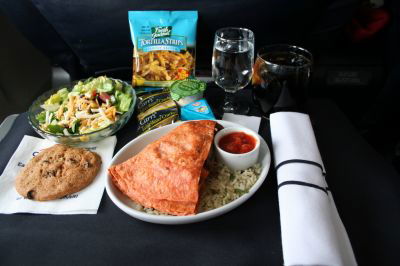 Lunch!
I've heard so many negative reviews of American's meal service within North America. Some of the nicer comments are that the food is total garbage and inedible. I couldn't disagree more, based on my two flights. In this case the beef quesadilla was tasty, and the side salad, which included cheese, olives, and tortilla strips, was also flavorful. The warm cookie and cheese and crackers were also good. Two thumbs up to American for their meal service in this case.
The entertainment was started half way through the flight, but the audio quality was so bad that I had a hard time listening. I did notice that this flight featured the new NBC programming which American stole from United, and it was funny to watch all the celebrities do the "You're watching NBC on American" plug, since I'm so used to hearing "You're watching NBC on United." Cheaters! It also seemed like American had a lot more commercials and promos than United had.
While our flight attendant on this flight wasn't bad, she was nothing compared to the one we had from Tampa to Dallas. She was slower and lacked the enthusiasm our earlier one had.
As soon as the trays were collected the seatbelt sign went on, as Captain Cautious was anticipating some bumps on the descent. He wasn't too far off, and soon enough we landed in Toronto. We taxied towards the gate, but we had to wait for another American 737 to taxi out before we could taxi in. We still made it to the gate about 20 minutes early, which was nice.
After disembarking we started the hike towards customs and immigration, where we were "assisted" by a 20-something year old smartass immigration officer. The conversation went something like this:
Officer: "And how long are you here in Canada for?"
Me: "About 10 hours, we're flying to Hong Kong tonight."
Officer: "And why are you staying here in Toronto?"
Me: "Well, we have ten hours before our flight to Hong Kong."
Officer: "And why are you flying from here, this point in Canada, to Hong Kong?"
Me: "Eh, cause that flight had availability for what we needed."
Officer: "But why fly from here in Canada?"
Me: "Cause that flight had award availability, and we are using miles."
Officer: "And how many bags do you have with you right now at this moment?"
Me: "Two bags."
Officer: "And that's two bags total, including checked bags?"
Me: "No, we have one checked bag as well."
Officer: "Oh, so you have three bags on you at the moment."
Me: "Well…."
I was just about expecting him to ask why we had bags with us. Sheesh. Near the baggage belt I decided to ask one of the employees whether my bags were really checked through or whether we'd have to reclaim them, and he assured me we'd have to reclaim them. Sure enough, our bag came off the belt, so we had to take it with us. I'm happy that I double checked!
While in Toronto we had the chance to meet up with Michael and Monty, two friends that keep the skies above Toronto safe. Michael was waiting for us with a sign reading "LUCKY'S TOUR," which made for easy identification. He walked us out towards his car in the cold and rainy Toronto weather (which he thought was warm), and we drove out towards the building which houses much of "Toronto Center," where we met up with Monty. Michael and Monty were gracious enough to give us a tour, and I can't even begin to say how fascinating it was. Seeing the actual radar screens, hearing controllers give real directions to real airplanes, and getting a chance to be in that environment was just incredible. It was hugely awesome. We had to say goodbye to Monty, who was actually working (I believe).
As if that wasn't cool enough, Michael also arranged a tour of YYZ tower. We drove out towards the tower and took the elevator to the top. What an amazing view! The supervisor was nice enough to explain to us the basics of their operation. Did I mention that I think I want to be an air traffic controller now?
After that Michael drove us downtown and gave us a tour, although we couldn't get out and do a whole lot other than drive due to the heavy rain.
We eventually went to Flatiron & Firkin for dinner, which was a nice pub/restaurant in a cool building. I had a Caesar salad wrapped in a tortilla, which was great. After Michael showed us a bit more of Toronto we headed back to the airport, and got there at around 8PM. At this point my dad and I were getting a bit exhausted after getting up so early, and the cold weather wasn't helping. Michael and Monty, thanks again, you guys are awesome!