Here's your weekly update about Heather Cho, the nutty Korean Air executive who in December had an A380 bound for Seoul Incheon returned to the gate after she was displeased with the way she was served nuts. This story just took a turn for the whole-lot-more interesting, as she has now been indicted and could face up to 15 years in jail.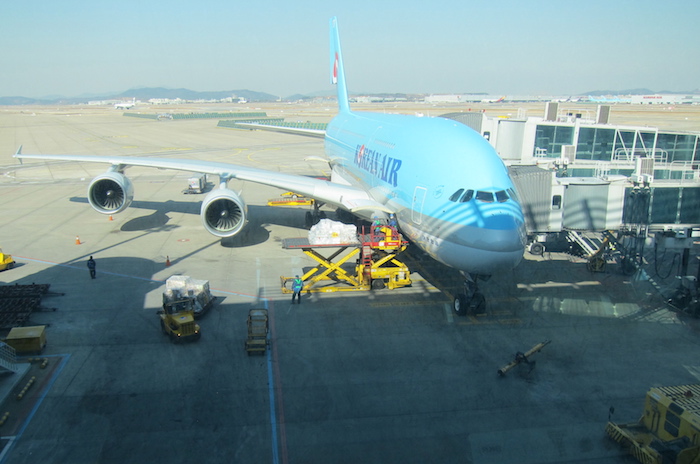 To start, here are my previous posts in the saga:
Last week I wrote about how she was being detained while her case was being heard, due to the cover ups by some Korean Air and government officials.
She has now been indicted on five charges. Via The Washington Post:
Cho was indicted on five charges, including two of violating aviation safety laws by ordering a deviation in the route of the plane and by assaults that interfered with the safe navigation of the plane. The other three are for coercion and obstruction in trying to minimize the incident. Lawyers said the charges could carry as much as 15 years in jail time.

Another Korean Air executive, identified only by his surname Yeo, was indicted for destruction of evidence, coercion and obstruction.

"The Korean Air executives have obstructed the government investigation from the beginning by making false statements and forging evidence," Kim said.
The NY Times has some more info on the other Korean Air executive who was apparently trying to cover up the scandal:
Indicted along with Ms. Cho on Wednesday was a Korean Air executive, identified by the family name Yeo, who was accused of coercing Korean Air officials to delete an email on what happened on Dec. 5 and to lie to government investigators to protect Ms. Cho. Prosecutors also indicted a Transport Ministry official on charges of illegally briefing Mr. Yeo on the confidential details of the official inquiry.

Prosecutors also said they were investigating allegations that ministry officials have regularly asked Korean Air to upgrade their seats when traveling abroad — a practice civic groups have said amounts to bribery.

On Wednesday, the prosecutors said Ms. Cho had ordered Korean Air officials to hush up the scandal. "What did I do wrong?" she was quoted as asking Mr. Yeo.

Around the same time, Ms. Cho's younger sister, Cho Hyun-min — a Korean Air executive in charge of corporate communications — sent a text message to Ms. Cho, vowing "revenge" against unspecified enemies of the family, according to investigators. (She later apologized for her "immature" behavior.)
The NY Times also has some more info about what the claims of the purser on the flight:
But Mr. Park, the attendant who was kicked off the plane, described damning details during news interviews. He said that Ms. Cho had made him and a junior flight attendant who had served the nuts apologize on their knees and that she had also hit his hand with a plastic folder of in-flight service manuals and pushed the other flight attendant against a wall. He also said that Korean Air officials had pressured him to give Transport Ministry investigators a less incriminating version of what had happened on Dec. 5, adding that the investigators appeared to cooperate with Korean Air's attempt to minimize the event by letting its executives monitor his questioning and even ask questions themselves.
As far as the purser goes, do we know if he's still flying with Korean Air? On one hand I imagine he has the greatest job security in the world given that I don't think they'd want to accuse him of anything at this point. At the same time, I can't imagine he's very popular with management (while I'm sure he's a superstar among employees).
While Ms. Cho could face up to 15 years in jail, any guesses as to how much time she'll actually end up serving? Do her five charges seem fair?