For those of you that have been living under a rock, see these previous posts: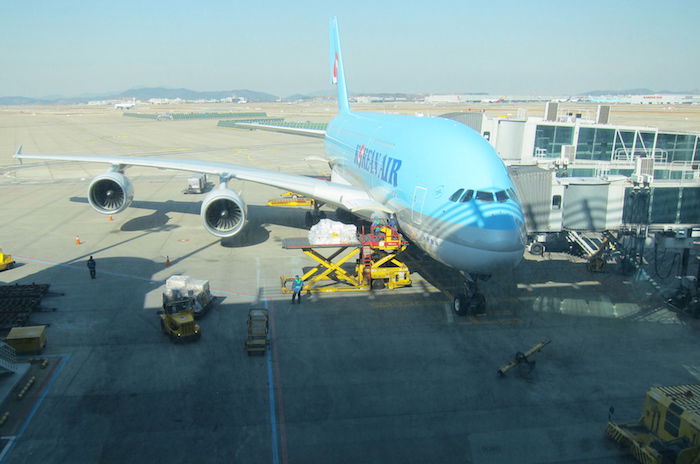 Korean Air's nutty inflight incident from last week keeps getting more interesting. Check out the New York Times article which was published about it today.
First, the Korean Air CEO and father to the SVP, apologized for not raising his daughter properly:
"I failed to raise her properly," said the chairman, Cho Yang-ho, who bowed deeply and asked to take the blame, showing contrition in the traditional South Korean way when one's child misbehaves.
Then the purser makes some pretty serious accusations about what Cho did, claiming she demanded he kneel down and apologize, and that she hit him with a folder of documents:
As if that was not enough, the head steward on the flight spoke up after days of silence, telling Korea's KBS-TV on Friday that Mr. Cho's daughter had forced him to kneel down and apologize on the plane as punishment for the way one of his stewards served the nuts to passenger in first class. She later kicked the steward off the flight.

"You can't imagine the humiliation I felt unless you experienced it yourself," the steward, Park Chang-jin, said, adding that Ms. Cho called him names, hit him several times with a folder of documents and hurled it at the steward.
Then he provides an explanation as to why he felt powerless in the situation (not that we really needed an explanation:
In his statements to KBS, the head steward said that he had not felt able to stand up to Ms. Cho because she was "a daughter of the owner" of his company. KBS also quoted Mr. Park as claiming that Korean Air officials later tried to hush the scandal by asking him to tell investigators that he left the plane of his own will.

Korean Air had earlier accused Mr. Park of "ignoring regulations and procedures" of in-flight services and of trying to defend his crew's mistake with "excuses and lies." But the airline also admitted that Ms. Cho's decision to remove him from the flight was "excessive."
On the plus side, it seems Cho is now being humiliated in the same way she humiliated the crew, and that she plans on apologizing to the crew in person:
On Friday, Ms. Cho seemed chastened by the public embarrassment. As she arrived for questioning at the offices of South Korean Ministry of Land, Infrastructure and Transport, she spoke in a barely audible whisper with her head bowed as a scrum of journalists snapped photos and thrust microphones in her face. She then said she would apologize in person to the crew members she was accused of abusing.
Karma is a bitch, eh?