As I wrote about earlier, Qantas has placed an order for 12 Airbus A350-1000s, in what will be a major development for the airline. These planes will be used for "Project Sunrise," whereby Qantas intends to fly nonstop from Sydney and Melbourne to New York and London starting in late 2025.
While I've covered the aircraft order as such, in this post I wanted to talk about what we know so far about Qantas' A350-1000 interiors.
Qantas' Airbus A350 configuration
Qantas' A350-1000s will feature just 238 seats, spread across four cabins. That means Qantas will have first class, business class, premium economy, and economy. Qantas will have the fewest seats of any A350-1000 operator in the world. This very sparse configuration serves a couple of main purposes:
In order for these flights to be profitable, Qantas will have to heavily focus on premium traffic, so having more premium seats makes it easier to maximize revenue
Having fewer seats keeps the weight of the aircraft down, enabling these flights to be operated nonstop
As of now we know fairly little about business class, premium economy, or economy:
We know that business class will have 52 seats, and will be upgraded over Qantas' current Boeing 787 business class; I'd imagine doors may be added, but we don't know much beyond that
We know that premium economy will have 40 seats, and we're expecting an improvement over Qantas' current premium economy, with 40″ of pitch
We know that economy will have 140 seats, and will feature 33″ of pitch (two inches above the industry average), with a comfortable 3-3-3 layout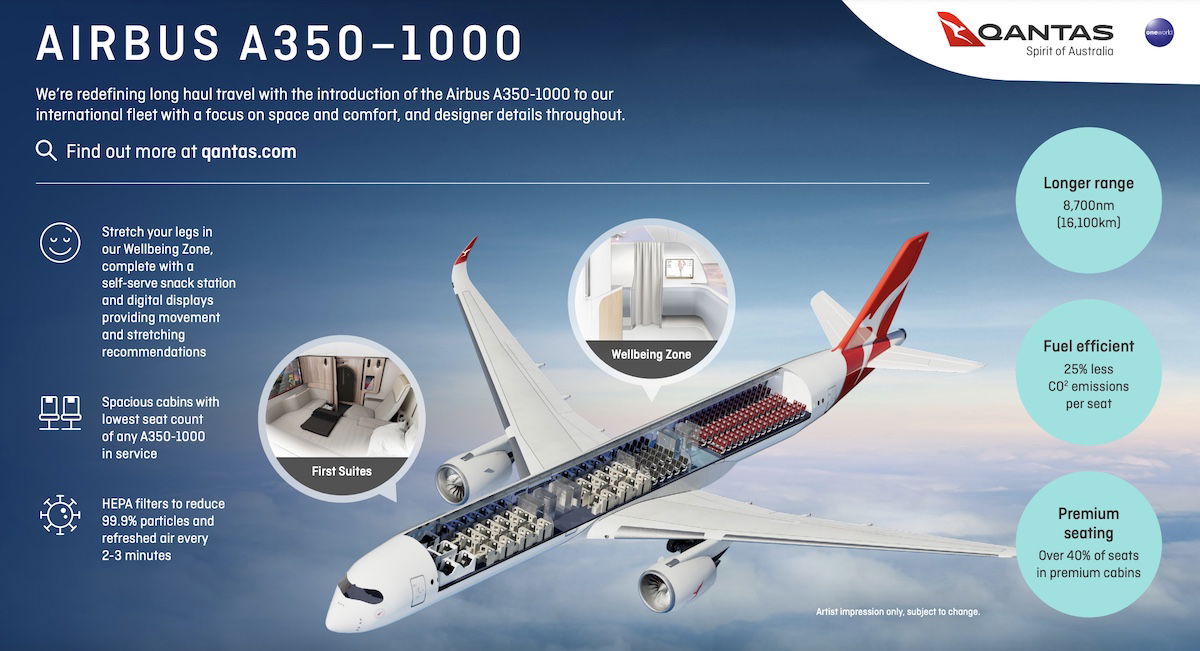 What we do know the details of is Qantas' new A350 first class suite, plus a new onboard wellbeing zone. So let's talk about those two things in a bit more detail.
New Qantas Airbus A350 first class suite
Qantas' Airbus A350-1000s will each feature six first class suites, and will be a completely new product compared to what's available on the Airbus A380. Here are some basic details of the new suites:
First class suites will feature both a seat and a separate bed, similar to what you'd find in Singapore Airlines' A380 Suites
First class suites will have doors, though they're not floor-to-ceiling like in Emirates' new 777 first class, but rather it's more of a shoulder-height privacy door
First class suites will feature plenty of storage, as you can place bags and belongings underneath the bed and ottoman, and there are also several storage compartments
First class suites will feature a 32″ television, a personal wardrobe, and a mirror
First class suites will feature tailored lighting, temperature, and humidification, for wellbeing
Below you can find some renderings of Qantas' A350 first class suite, as well as a video.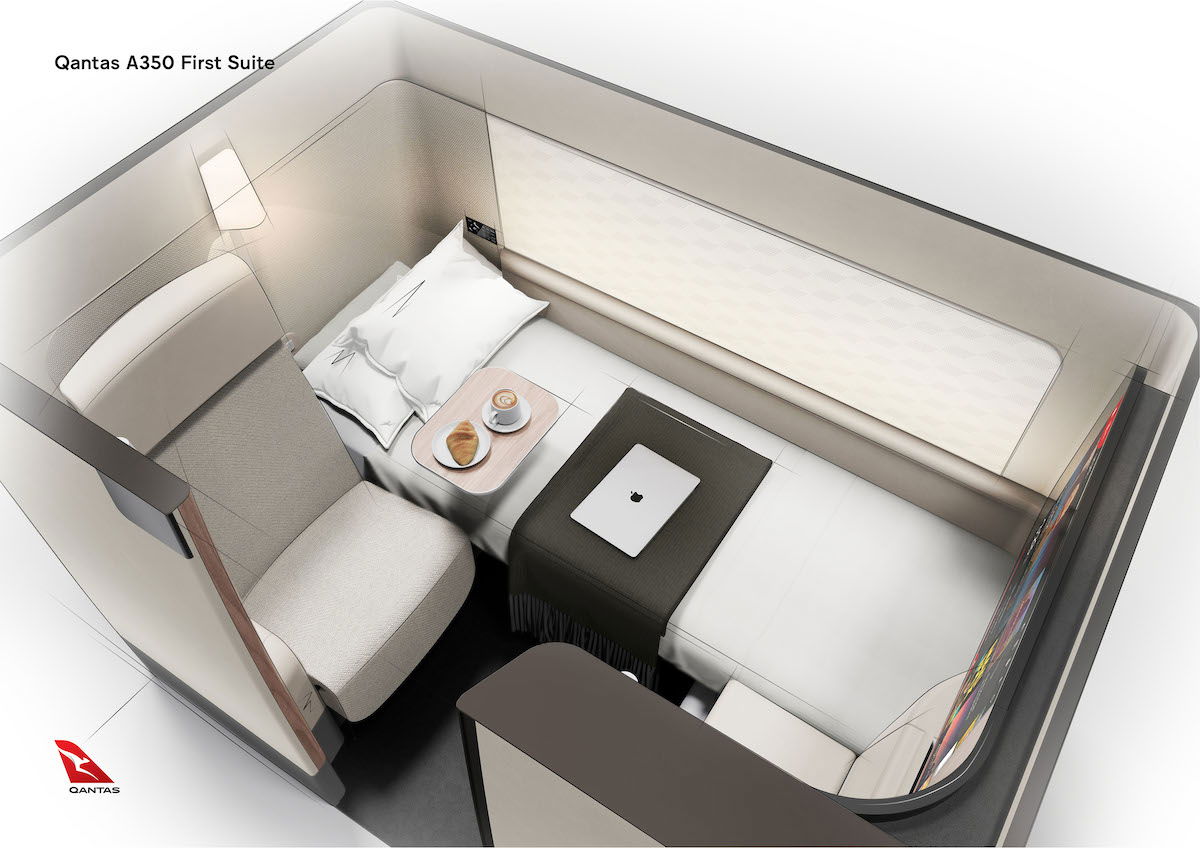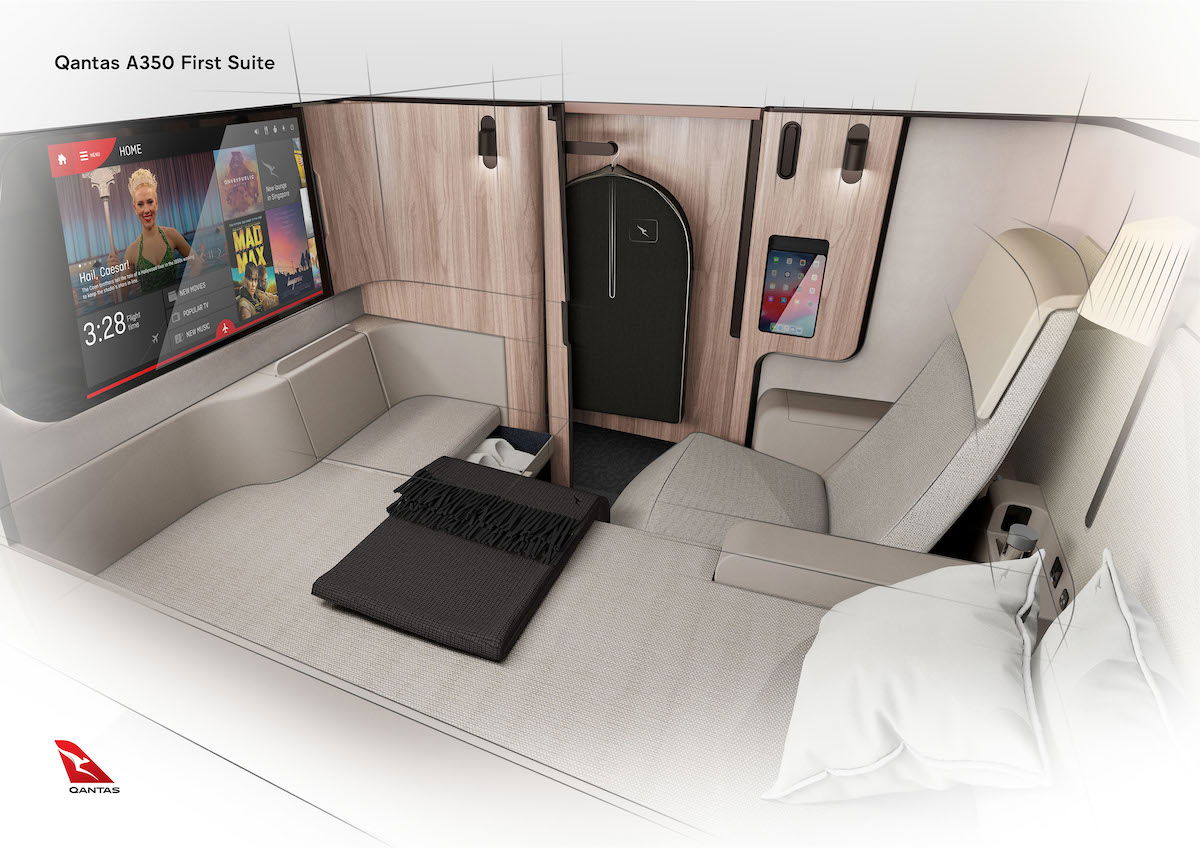 What's my initial impression of Qantas' Airbus A350 first class suite?
This is a reasonably innovative product, and looks fairly good
This almost looks to me like a heavily modified Vantage XL seat; the seat itself may be similar to Malaysia Airlines' A350 Business Suite, with a bed next to it as well
I just can't help but feel like the space could be utilized much more efficiently, as the seat looks fairly narrow, as does the bed; why not instead create a zone where the entire suite could be turned into a massive bed, especially for a flight this long?
This won't be ideal for those traveling together, since there won't be a way to form a double suite, or anything along those lines (of course there are certain limitations that simply can't be overcome, and this is one of those in a 1-1-1 configuration)
I'm sure award availability for this product will be virtually non-existent, or perhaps just blocked altogether; Qantas is stingy with premium award availability to begin with, and I imagine that'll be taken to the extreme on the A350
New Qantas Airbus A350 wellbeing zone
While Qantas' A350 won't feature a bar or showers, the plane will have what's described as a wellbeing zone, which will be located between premium economy and economy. Presumably this will be open to all passengers. It's not entirely clear what purpose this is supposed to serve, based on the renderings.
It seems that this is designed for people to be able to stretch or grab a drink or snack from a self-serve bar, but it doesn't seem like there will be much to it beyond that. It doesn't look like there's room for yoga, or any other sort of activity.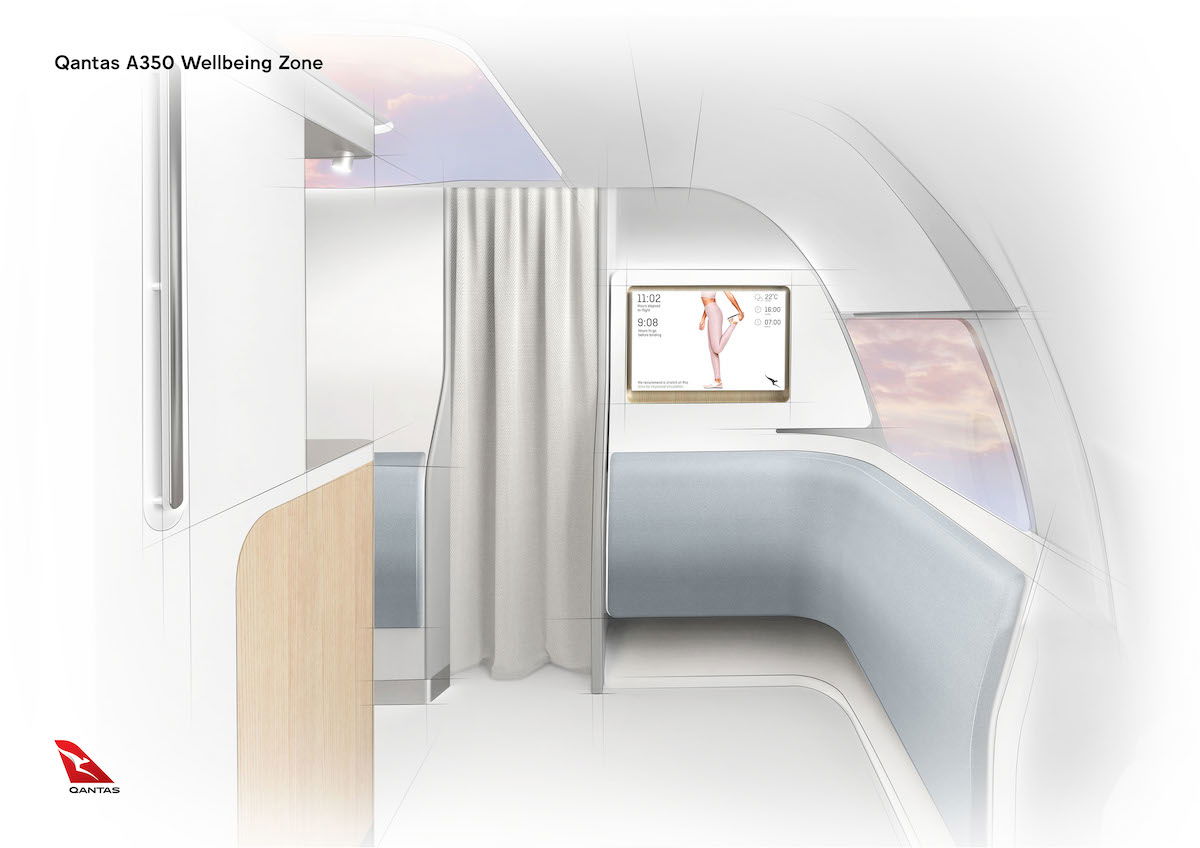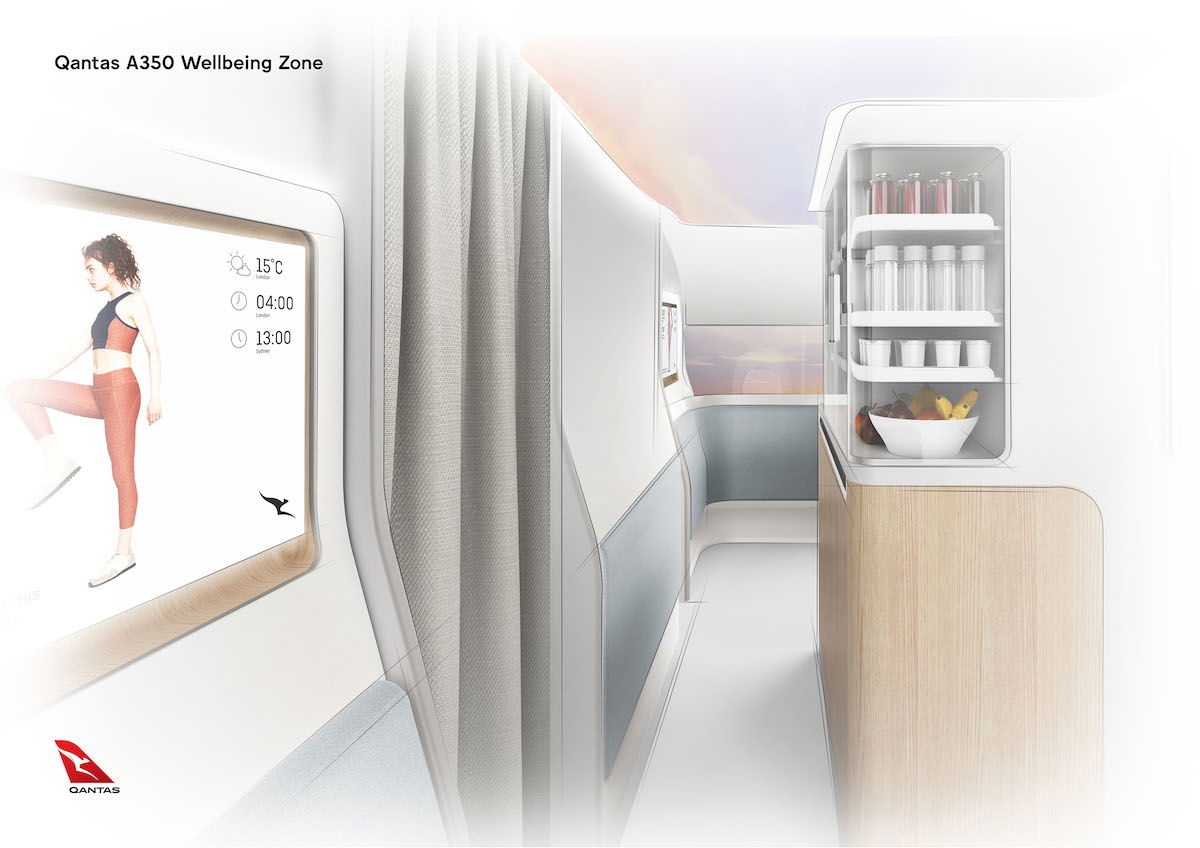 What's my initial impression of Qantas' Airbus A350 wellbeing zone?
Ultimately this seems more about keeping the weight of the A350 down than anything else
The wellbeing zone is in an area where there's an emergency exit, so I assume this will be in place of a galley, in an area where there couldn't otherwise practically be seats
I suspect this will ultimately be a nothingburger; it's essentially a walk-up bar area, and there's nothing in the rendering that suggests there will be more to it than that
Even if there were some substance to this, realistically sharing such a zone with up to 237 other passengers limits how much value each passenger could get out of it
Bottom line
Qantas has placed an order for 12 Airbus A350-1000s, which will be used to operate the world's longest flights starting in 2025. It's pretty incredible to think that a nonstop New York to Sydney flight will become a reality.
As far as the interiors of these planes go, they'll be very sparely configured, both to woo premium travelers, and to keep the aircraft weight down. While details are limited as of now, we can expect new first class suites, plus a wellbeing zone.
The new first class suites are certainly unique, but I just feel like space could be utilized better to make a more comfortable environment for such a long journey. The bed doesn't look particularly comfortable or spacious to me. Meanwhile the wellbeing zone seems to just be a self-serve snack and drink bar, unless I'm missing something.
What do you make of Qantas' A350 interiors?