Hello from Singapore! I just flew roundtrip from Singapore to Sydney on Singapore Airlines' brand new A380. On the outbound I flew Singapore's new A380 business class, which I shared my thoughts on yesterday. Then on the return I flew Singapore's new A380 Suites, which I wanted to share my initial thoughts on in this post (I'll have a full trip report soon).
To be honest, I'm a bit surprised by how I felt walking away from this flight. Singapore's new A380 Suites cabin is damn impressive. It's on the upper deck of the A380, and features just six seats — two seats on each side for three rows. As you enter the cabin it looks remarkably similar to Etihad's A380 first class cabin, except it features nine First Class Apartments plus The Residence. Singapore's new A380 Suites cabin is significantly more spacious. In terms of square feet per passenger, this is by far the most spacious first class product in the world.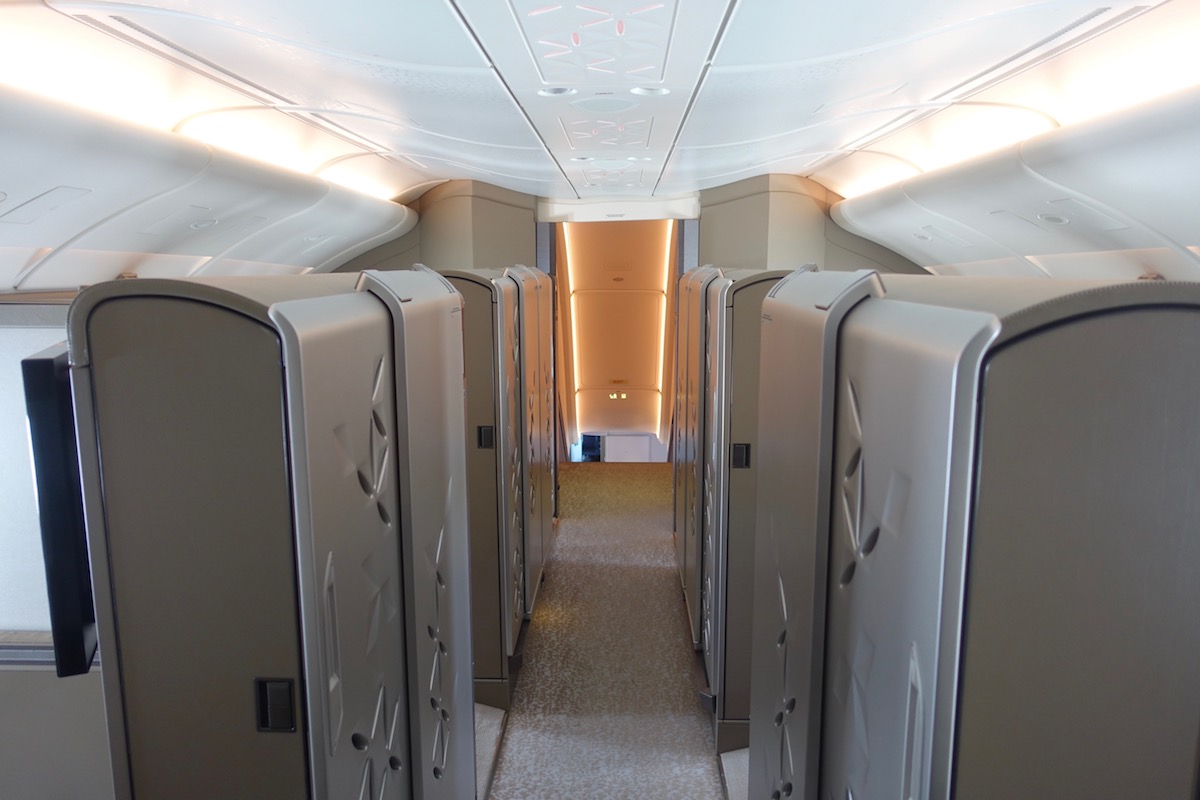 Each suite has a door, and as you board it sort of looks like a (really nice) dentist's office, or something.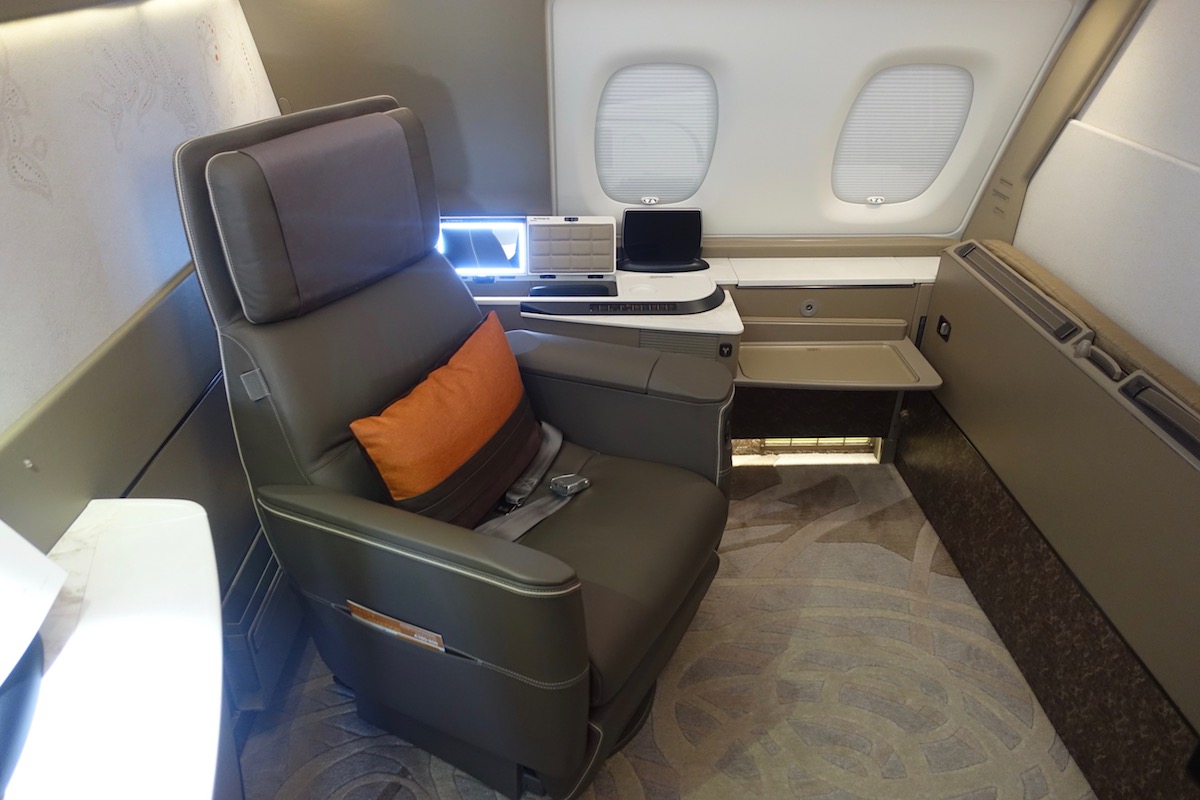 To the side of the seat, near the entrance, is a console where the tray table can be extended from. This setup is beautiful, especially as they had the menu there, with a light shining at it.
Later on in the flight when you want your bed made, it folds out from the wall.
Below is what the suite looks like when converted to bed mode — what a beautiful cabin.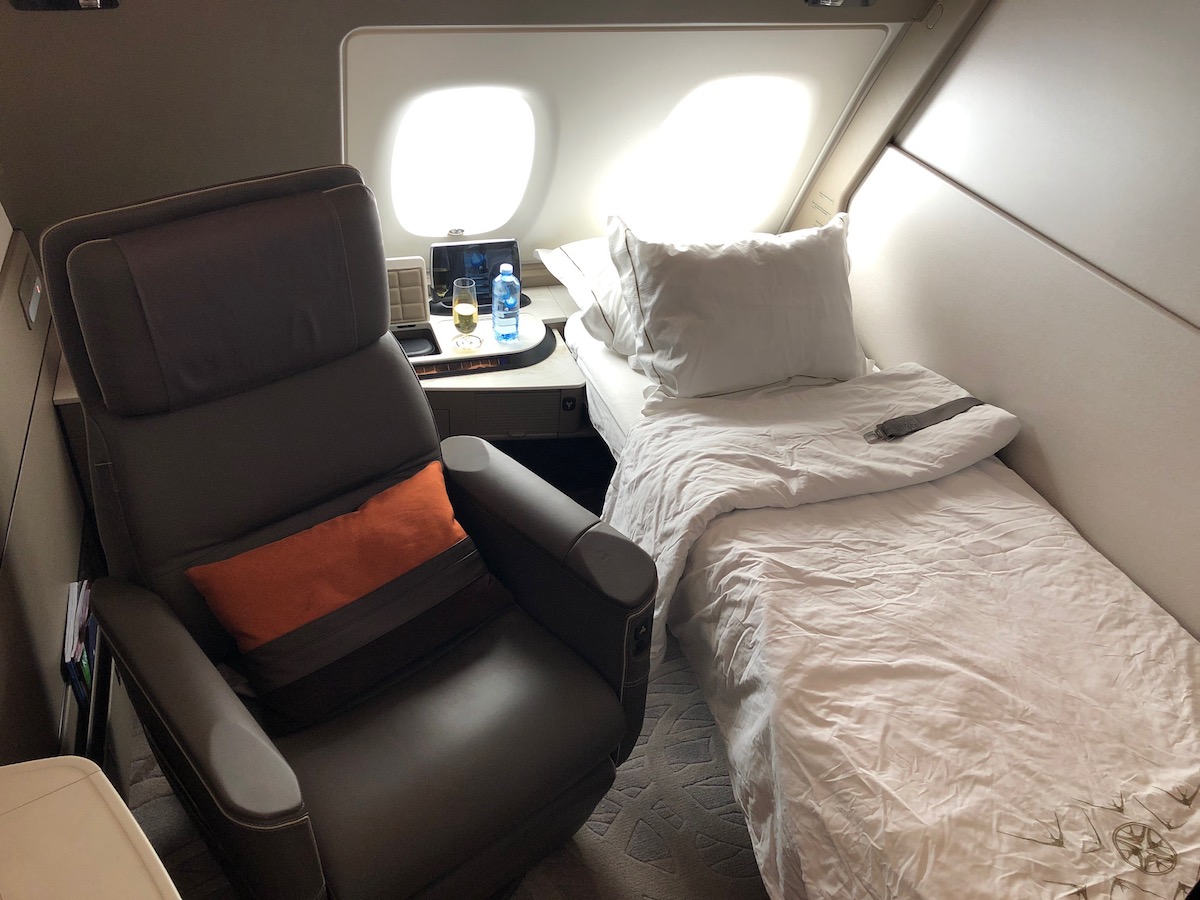 The massive TV is located next to the door to the suite, and it can be moved at the push of a button. You can have the TV so it's flat against the wall, which is ideal for watching TV from bed, or you can angle it maybe 30 degrees, so that you have the best view possible from your seat.
Most of the seat functions, including the location of seat controls and power outlets, and the tablet that lets you control the entertainment, are well design.
Those are the basics of the seats, so now let me share my overall conclusions having flown this.
Singapore's new Suites is very similar to Etihad's First Class Apartment
I knew that Etihad's First Class Apartment and Singapore Suites were similar in that they both have a single aisle on the upper deck of the A380. What surprised me, though, was that in terms of comfort and design, the two suites are actually very similar. Both have a seat and a bed, both have TVs that swivel, and both have the same pros and cons. Etihad's Apartment is just a more efficient version of Singapore's new Suite.
The issues I have with Singapore's new Suites
Singapore's new Suites are absolutely gorgeous. Both Emirates and Singapore have really taken first class cabins to the next level, so I do think this is one of the world's two best first class hard products.
However, there were some things I didn't like about the Suite.
First of all, the bed is hard. Really hard. I know in Asia many prefer hard beds, though it would be nice if there were a choice to have a mattress pad. When the bed is made, they basically just put a sheet on it, and there's not even a real mattress pad. In terms of comfort I wouldn't rank this as one of the top five first class beds in the sky, and that's kind of an important detail when it comes to comfort.
The cabin also got really hot, and the suite has no individual air vents. Add in the fact that you're sleeping right next to a wall, and there's a real lack of airflow.
I also couldn't help but feel like parts of the design weren't very well thought out. For example, due to the location of the tray table you can only eat while being angled towards the aisle. That's not a huge issue, but since most people eat meals with the Suite door open, it means you're looking at the person across from you. You could close the Suite door, but that makes service significantly more difficult, since they can't provide you with especially attentive service. Wouldn't it have been better if they somehow designed the seat to be forward or rear facing, or ideally even facing the window, during the meal service?
For example, you can swivel the seat towards the window, but there's limited legroom, and there's not a tray or anything you can use.
The seat itself was reasonably comfortable, though not extraordinarily so. Emirates' new first class seat is so comfortable, while this just felt like a really comfortable dentist chair. For reference, below is a picture of the seat reclined as far as it goes.
You can also raise the back of the bed a bit, but at that point it feels like a hospital bed.
Singapore's Suites soft product is exceptional
The food, service, and amenities on this flight were top notch. I had the same crew looking after me both ways, and they couldn't have been better. In terms of champagne, Singapore Airlines offers the choice of Dom or Krug in Suites, and for a limited time they're even serving 2004 Krug, which is phenomenal.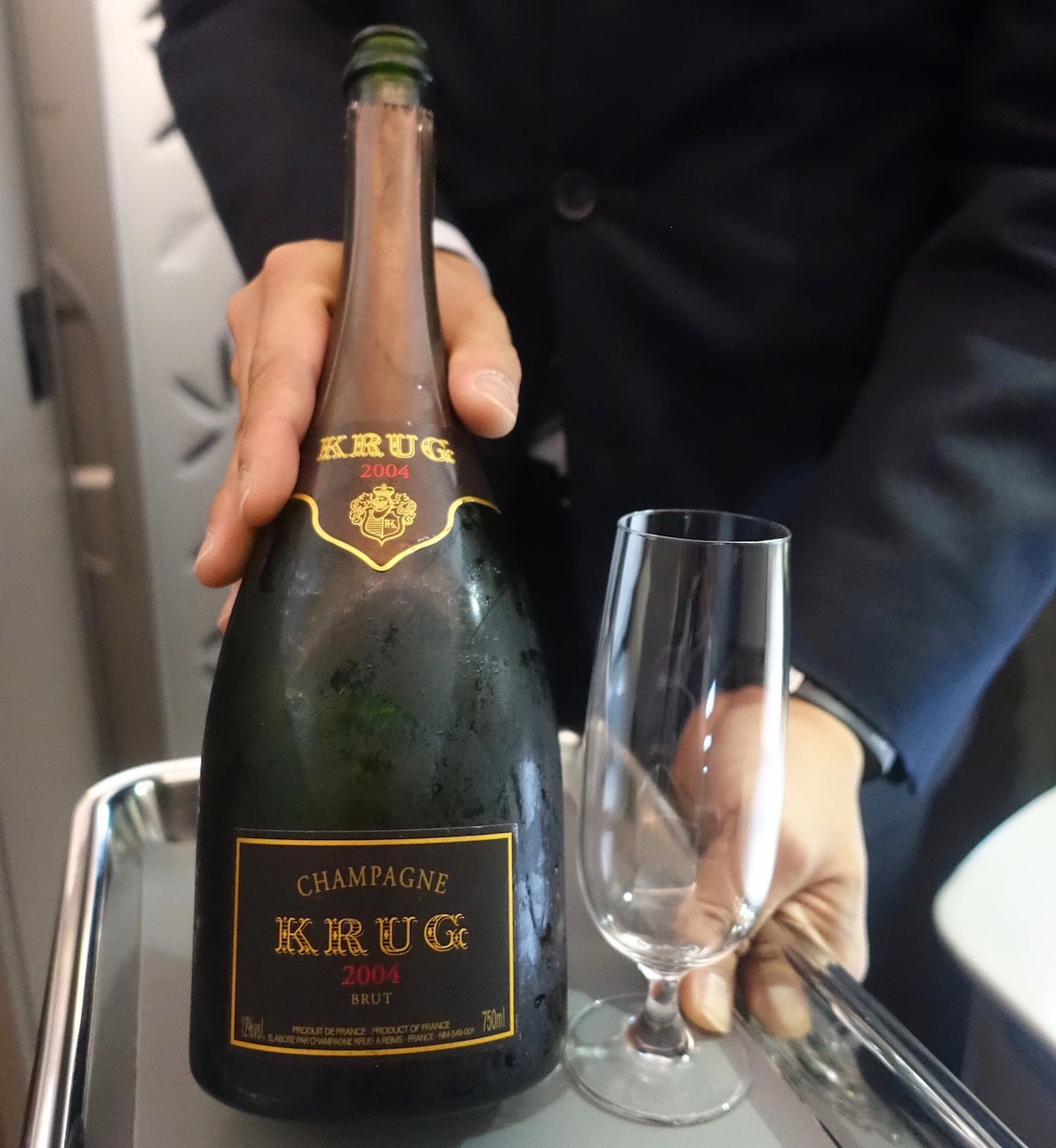 The food was great as well.
Singapore Airlines has amenities and pajamas from Lalique, including a candle, which is pretty cool.
So when it comes to the soft product, Singapore Airlines is as good as it gets.
Am I wrong for having expected more?
Singapore's new Suites product is great. All around it's now one of the world's two best first class products, in my opinion. Yet somehow I can't help but feel like they wasted a lot of space and missed a lot of opportunities. The Suite looks impressive. It's stunning, actually, and I was overwhelmed when I walked into the Suite, because I thought it was even nicer than in pictures.
But if the airline is going to design a seat that takes up more square feet than any other first class product in history, I feel like they could have done a bit more with it. At the end of the day Singapore's new Suites bed isn't any bigger than before, and as far as I'm concerned it wasn't especially comfortable.
The seat itself also wasn't any more comfortable than the old one. Sure, the novelty of having a separate seat and bed is cool, but if neither are industry-leading when it comes to comfort, isn't that a lost opportunity?
As a point of comparison, Emirates' new first class product uses space incredibly efficiently, and is a huge improvement in terms of comfort and privacy.
So Singapore's new Suites are great, don't get me wrong. Flying this was incredible, and it's one of the best first class products in the world. I just think they missed some pretty big opportunities with the design, especially given what huge innovators they are historically. They designed one of the world's best first class products, when they could have designed the world's best first class product by far.
What do you make of Singapore's new A380 Suites?