Historically Singapore Airlines is one of the most innovative carriers out there when it comes to their onboard product. When they introduce a new product, they already have design teams who are working on the next generation of products, or so I'm told.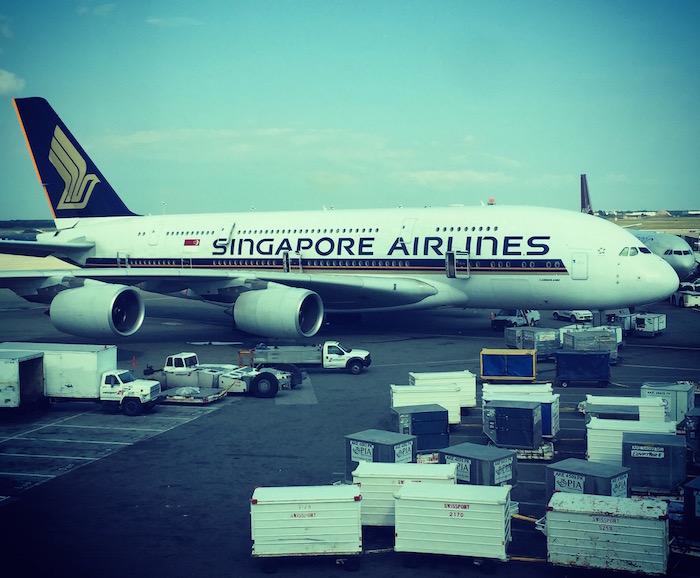 Singapore A380
In May of 2015 I wrote about how Singapore Airlines was planning on introducing new Suites Class & Business Class products in 2017, when they take delivery of their next batch of A380s. We didn't hear much about the supposed new product for a while, though last March we learned that the Suites Class seat count would be reduced when the new product is introduced, which should come as no surprise.

Singapore's current A380 Suites Class
Then in January we learned that Singapore would be moving the Suites Class cabin on the A380 from the lower deck to the upper deck, that the product would be revealed in the second quarter, and that it would be in service starting around October 2017.
Well, it looks like we now have another hint of what Singapore's new A380 Suites Class product will be like. Singapore uploaded a seatmap to their website with the name "test.pdf," which has the new seatmap. Based on this seatmap, Suites Class will have six seats, spread across three rows in a 1-1 configuration.
As you can see, they're going with a single aisle configuration in first class. Etihad also has a first class cabin on the upper deck of the A380 in a 1-1 configuration.

Etihad's A380 First Class Apartments
However, it seems like Singapore may have an even more spacious configuration than Etihad has. Etihad has 10 first class seats between the stairs and door one on the upper deck of the A380 (including The Residence), while Singapore will have only six. So Singapore's new Suites Class product is going to be significantly more spacious, it would seem.
Based on the rest of the seatmap, it looks like the remainder of the upper deck will consist of business class seats in a 1-2-1 configuration, without any sort of an onboard bar or lounge. Then the lower deck will have premium economy and economy.
I can't wait for Singapore to reveal this new product, which should happen in the coming weeks. I have very high expectations, though also recognize that this product is probably very bad news for award space, given that they're reducing the seat count in Suites Class from 12 to six.
What are you guys expecting from Singapore's new Suites Class? Best product out there, or…?
(Tip of the hat to Point Me to the Plane and ukiechris)