Singapore Airlines has been developing their new premium cabin products for the past several years, and they plan to reveal them at a media event in Singapore this Thursday, November 2. I've been amazed up until now about how there haven't been any leaks, given the number of people presumably involved in the project.
Well, earlier today, under two days from the official reveal, pictures have leaked of the mock-ups of the new cabin. The new Suites product looks insane, with a fully enclosed private bedroom that almost looks like the Etihad Residence.
While Singapore Airlines hasn't confirmed officially that this is their new Suites product, I think it's safe to assume that it is, since it matches everything we've been hearing about the new product up until now.
Well, there's now yet another major leak when it comes to Singapore's new A380. Specifically, SQTalk seems to have the seatmap for Singapore's new A380s. Keep in mind that Singapore Airlines is reinventing all four of their cabins on this plane, so it's not just Suites that's being redone.
Here's what the new seatmap supposedly looks like:
Very, very interesting!
What doesn't surprise me is that it would appear that the Suites in rows one and two can be converted into a double bed, though if you're not traveling with someone the "shield" can be lifted for privacy. It also looks to me like there are two lavatories at the front of the cabin, with one being significantly larger than the other (though Singapore has confirmed that they won't offer showers).
Singapore is also introducing a new business class seat, though we haven't heard much about that. That's where the seatmap starts to paint a clearer picture of what we can expect. First of all, Singapore will have 78 business class seats on their reconfigured A380s. The surprising part is that they're fitting those 78 business class seats in the same space that they currently have 66 seats, so they're going for a denser configuration (that assumes I'm counting correctly). That's not to say it's going to be worse, but it is denser.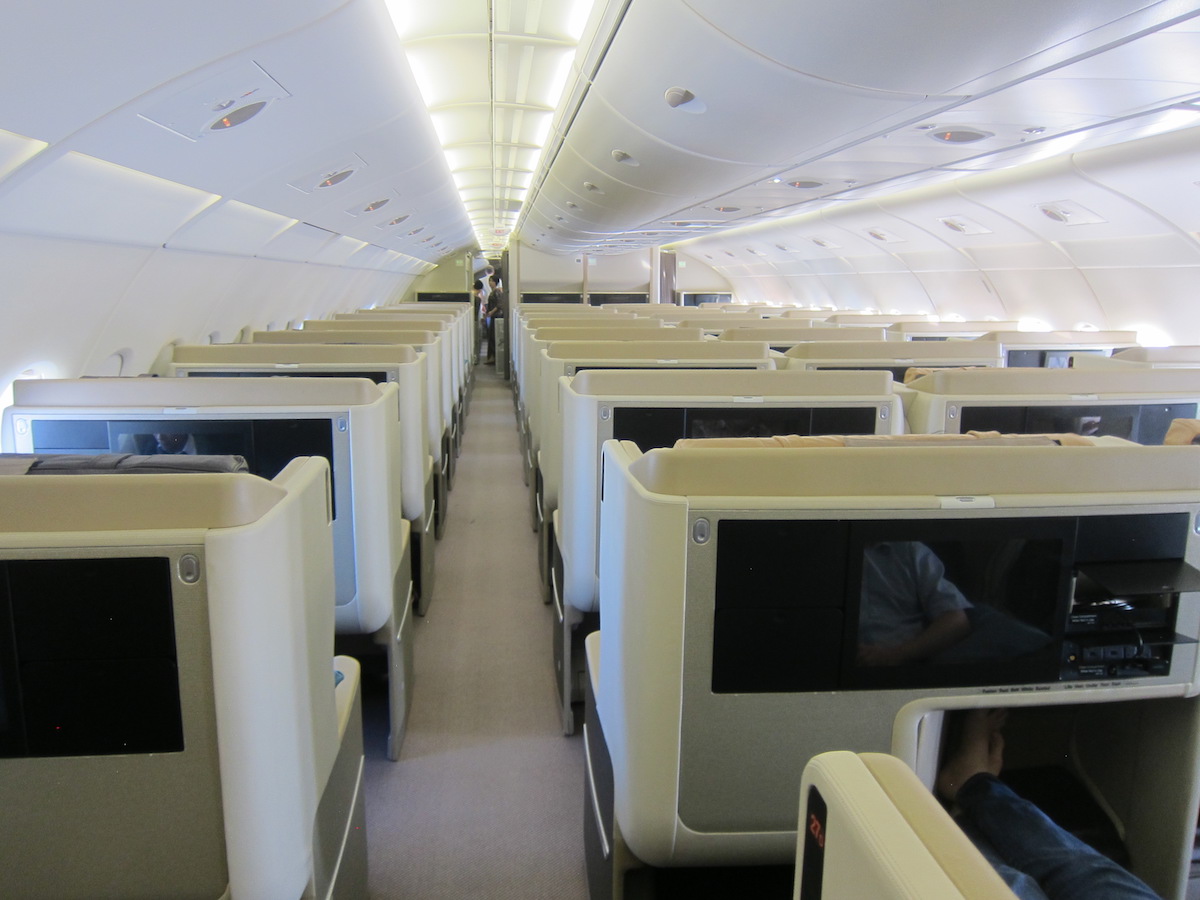 Singapore Airlines' current A380 business class
In terms of the seats themselves, they're not going for a staggered configuration (where seats alternate between being closer to the aisle and closer to the window), as many airlines do nowadays. Instead it looks like the seats by the windows will have passengers seated close to the aisle with a console by the window, while those in the center seats will be seated close to one another, with consoles on the outer aisle.
I feel like Singapore Airlines is going to come up with something great in business class, though based on the seatmap I'm a bit skeptical.
What do you make of Singapore's new A380 based on the seatmap?
(Tip of the hat to Julian)