Nowadays a good number of airlines offer chauffeur service for premium cabin passengers as a way of differentiating themselves. The terms of using the chauffeur service vary, whether it be a fare class restriction, ticketing restriction, etc. Then there are some airlines which are especially generous, and offer chauffeur service even on award tickets.
I've always been intrigued by chauffeur service as an airline product offering. In many cases it's not cheap to offer (especially when it's contracted out in cities like London and Paris, or even Venice, for example), and is there really any marginal return on offering a chauffeur? Presumably if someone is traveling in a premium cabin on the company's dime they could also expense a car service.
I think one situation where it makes a lot of sense is with Emirates and Etihad in the UAE. The two cities are only an hour apart by car, so it kind of narrows the gap between the two — it's a way for people to "fly" Emirates to Abu Dhabi, and a way for people to "fly" Etihad to Dubai.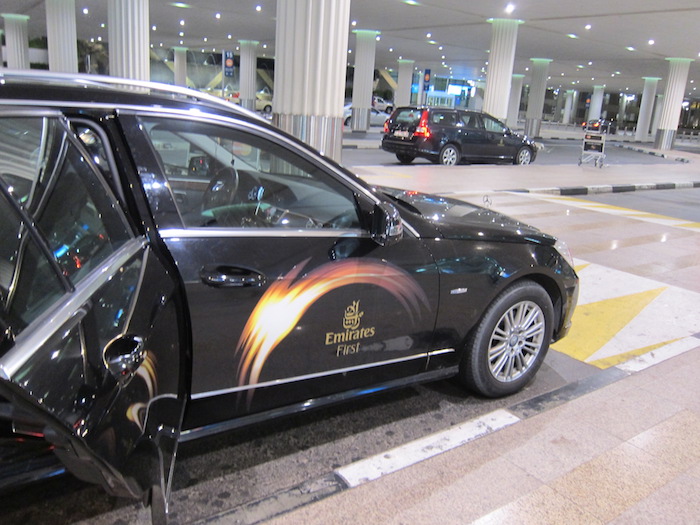 Anyway, Emirates has historically been one of the most generous airlines when it comes to their complimentary chauffeur service, though it seems they've recently tightened up their rules.
For tickets issued as of January 1, 2015, Emirates is only offering complimentary chauffeur service to first & business class passengers booked on Emirates and Qantas ticket stock. That means if you issue your ticket through another airline, you'll no longer be eligible for a complimentary chauffeur (yes, that includes issuing Emirates award tickets through Alaska Mileage Plan). 😉
Emirates will continue to offer chauffeur service for all first & business class tickets issued directly through them, including award tickets — it's just partner tickets they're excluding.
Bottom line
Of course this is a negative change, though I can't really say I'm surprised. Emirates first class continues to be a great use of Alaska miles, though I will miss getting four chauffeur drives on a one-way Alaska award ticket (one at the origin, two at the stopover, and one at the destination). 😉
(Tip of the hat to Ron)