We're on record here at OMAAT as preferring to avoid taxis, as our rides nearly always end up being highly entertaining, and not particularly efficient. When public transportation isn't reasonably available, our defaults are Uber, Lyft, and even hotel cars — probably like many of you.
Hotel cars can be expensive, and of course Uber and Lyft have their problems as well. There are some alternative companies, however, including Blacklane, which specializes in airport transfers (though they provide other car services as well). Blacklane promotes itself as a "global professional driver service," not a ridesharing provider or transportation app. They utilize licensed and regulated drivers throughout their network of 200+ cities.
I used Blacklane for the first time this week, and I think it's a service that will be useful to many of you, so figured I'd share my experience and the details.
The backstory
I'm in Europe this week on a long-planned birthday trip for my mom. My cousin Heather and her mom are here too, so there's quite a bit more going on in terms of logistics than is "usual" for me. I usually prefer to take public transit from airports in European cities, as it's almost always the most efficient option, but Berlin (where we are presently) is a little trickier. The trains and trams don't service Tegel, so it would have been a bus + subway or multiple bus situation to get to our hotel.
And if you think I'm going to drag my mother and her baggage across two buses on her birthday — well, you obviously haven't read about our trip to Singapore.
As I had to email the hotel about some other things, I enquired as to the pricing of the hotel car. For comparison, last time I took a taxi from the Berlin airport to the city center it was about €30 for one person. I generally expect the hotel car to be about double a taxi, but their pricing was so outrageous as to be comical:
From airport Berlin-Tegel (TXL)
by limousine (up to 3 persons) EUR 110,- one way
by minivan (up to 7 persons) EUR 135,- one way

From Hauptbahnhof / main train station (HBF)
by limousine (up to 3 persons) EUR 100,- one way
by minivan (up to 7 persons) EUR 125,- one way
There are four of us on this trip, so no thank you to €135 for a six-mile car ride. (Though as bad as the airport pricing is on a per-mile basis, it's nothing compared to that for the train, which is not even a mile and a half from the hotel).
Berlin doesn't have much in the way of Uber yet, though you can call taxis using the Uber app, and since I have international data through Google Fi, it's easy enough to use overseas. The downside to that, however, is that you can't choose the car size, and with four of us and our luggage something like a Prius would have been a tight fit.
Enter Blacklane
Of course we could have just taken a taxi from the airport queue, which is relatively simple in Berlin, but I remembered one of y'all mentioning Blacklane in the comments at one point (I can't remember which of you it was, sorry!). This seemed like the perfect opportunity to check it out.
Blacklane is different than other car service apps in that you schedule rides in advance. The rates are all-inclusive (including tax, tolls, tips, and meeting you inside the airport), and the system is cashless.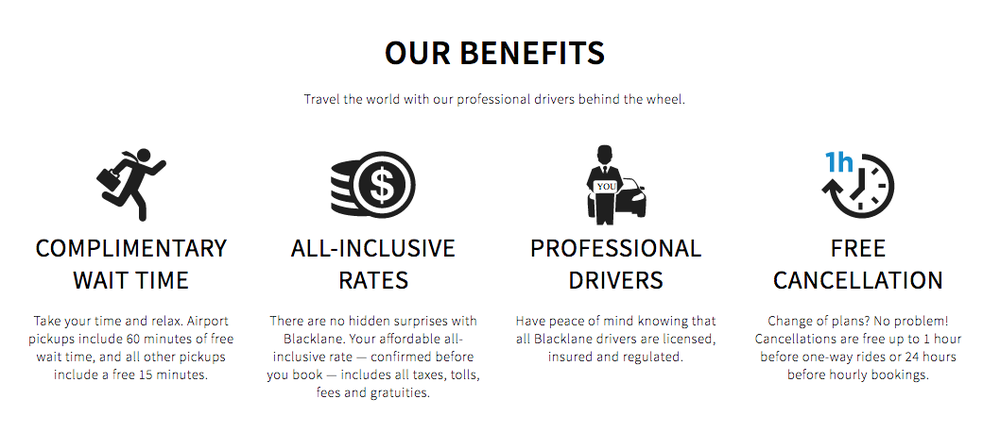 One of the nice features of Blacklane is that they track your flights, so when we were delayed 45 minutes the booking was adjusted automatically.
They also include 15 minutes of standard waiting time, or an hour for train and airport pickups. That means if you get stuck in customs or waiting for a bag you don't have to worry about not having a ride.
You can also cancel reservations up to one hour before the scheduled pick-up time with no penalty, so you have some flexibility if plans change.
Making a Blacklane reservation
The website and app are both intuitive. I started by entering our travel date, the approximate time, and the address of our hotel. Blacklane then gave me two different options for cars: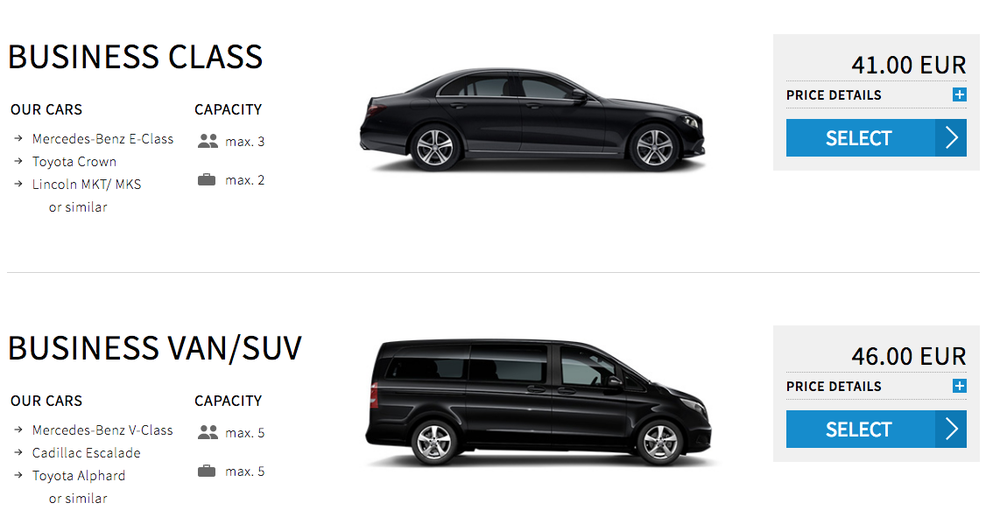 Both prices seemed fair (especially once you subtract the $10 discount code), and since there would be four of us I chose the van/SUV option. On the next screen I entered my flight number, and Blacklane automatically offered to adjust the pick-up time to correspond to the flight data. Love that!
There was also space to specify a name for the sign (great if you're booking for someone else), or make any notes about the booking.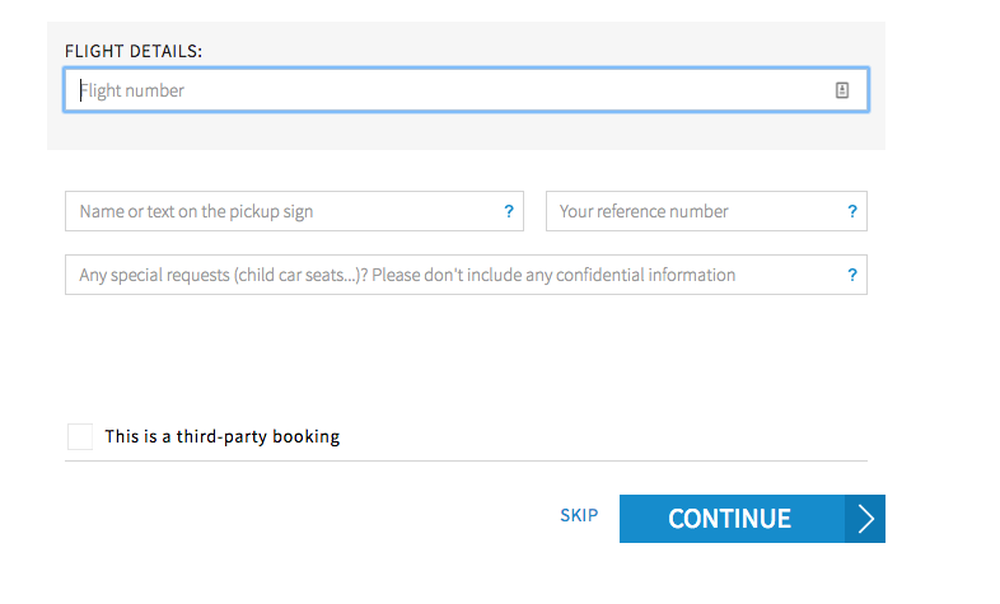 Entering credit card details was as you'd expect: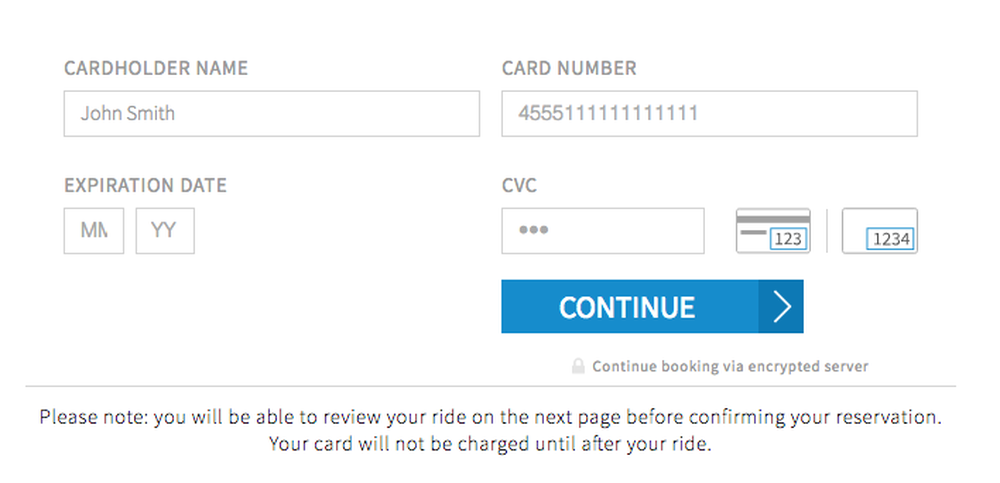 I was then asked to confirm the reservation details, and if you have a Blacklane voucher code you'd enter it during this step.

Shortly after confirming the booking I received an email, and the ride displayed instantly in my account.

The booking process couldn't have been easier, really.
Using Blacklane
On the actual travel day I received a couple of emails from Blacklane:
The first re-confirmed the reservation, and provided me with the name of the driver and their cell phone number
The second was sent automatically when the driver checked-in at the airport
The latter was nice, but not really necessary as the driver was standing right outside the baggage claim area with a prominent sign. He introduced himself, offered help with the bags, and walked us right outside to his vehicle, which was spotless.
I don't think I even need to describe how much better that was than standing on the curb looking at license plate numbers and watching a car icon get progressively further away from the terminal.
The drive itself was easy, the driver knew where he was going (and had received our hotel info in advance regardless), and it was nice not dealing with a taxi after an overly-ambitious two days of travel.
I was really impressed by the entire Blacklane experience, actually, and based on this wouldn't hesitate to use them again.
Is Blacklane a good deal?
Overall, I think Blacklane pricing is fair, and the process is super-convenient. There's obviously a price premium for that. So it's more expensive than a taxi or UberX, but seems to be competitive with UberBLACK (and less than hotel-arranged cars).
To get a sense of the cost of Blacklane compared to Uber, I did a couple of quick price checks.
From LAX to the Andaz in West Hollywood, for example, Blacklane rates started at ~$66: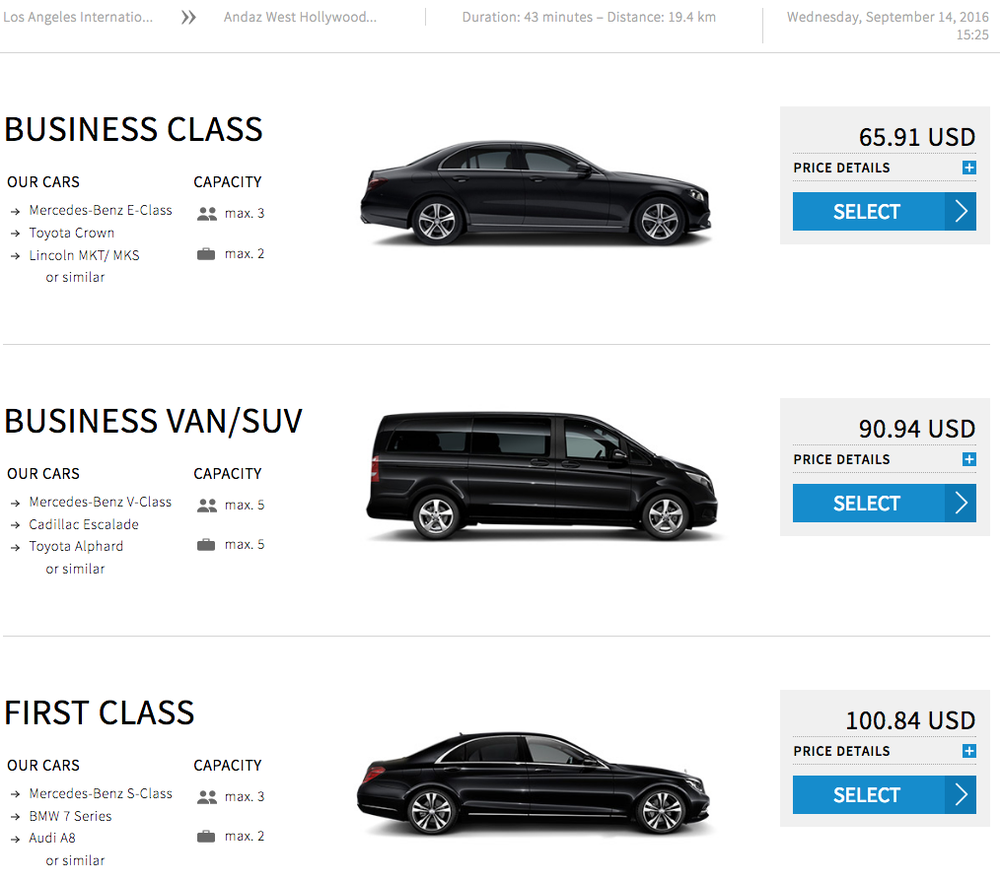 Compared to at least $85 for UberBLACK: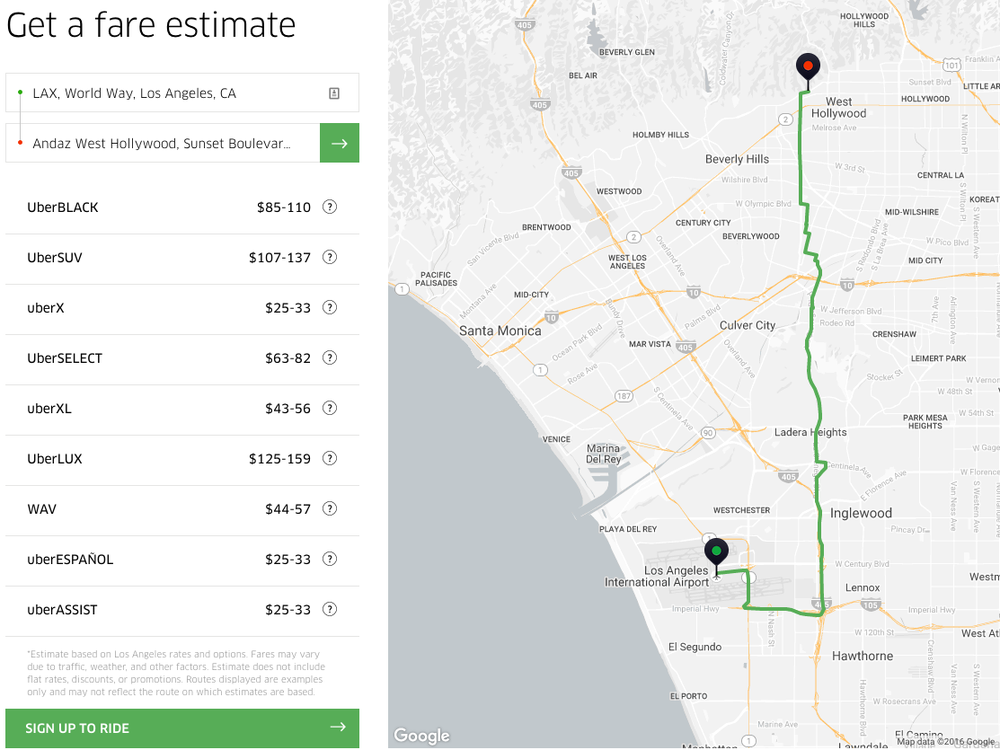 In some cities Blacklane has an economy option, which generally seems to be a bit pricier than UberX, but that could vary (more on that later). In New York, a "Business Class" Blacklane car from JFK to the Andaz 5th priced at ~$105: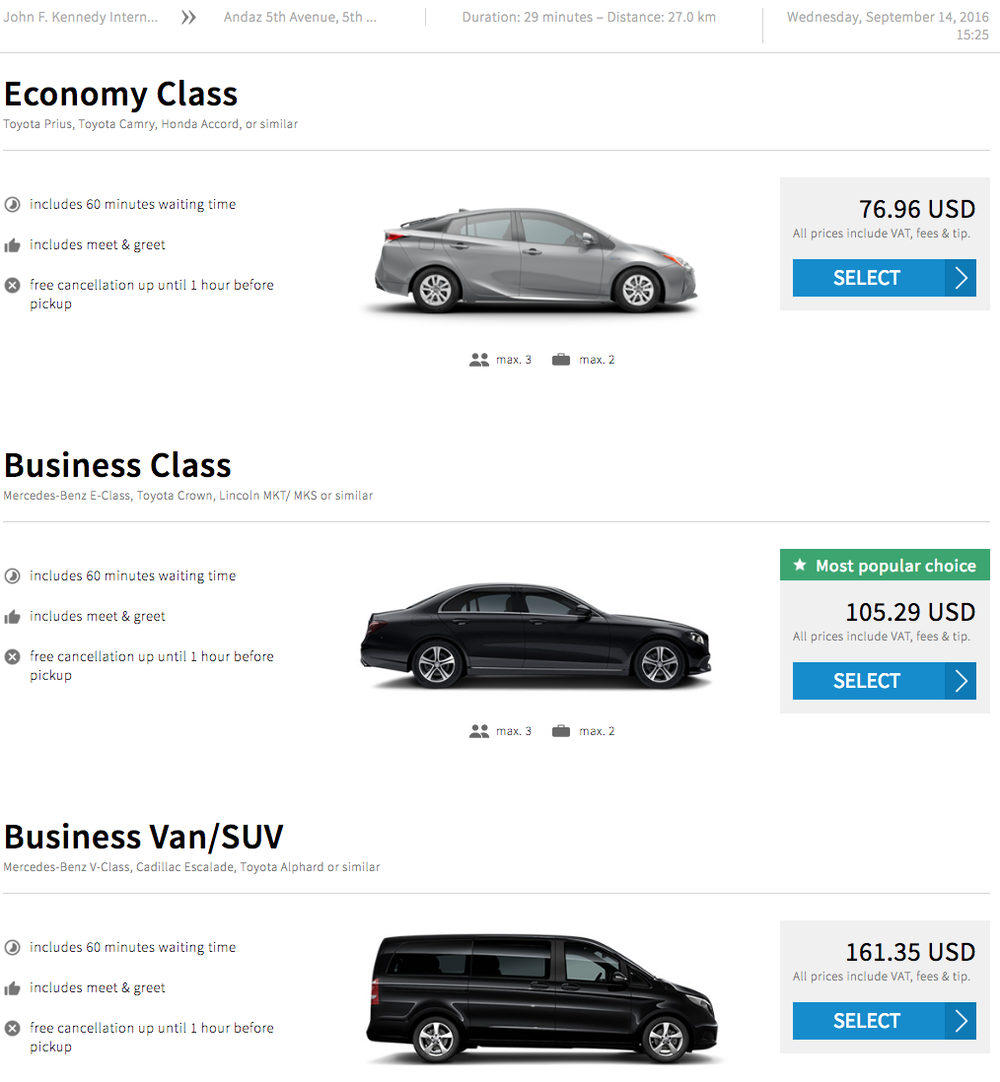 While UberBLACK rates range from $97-$126: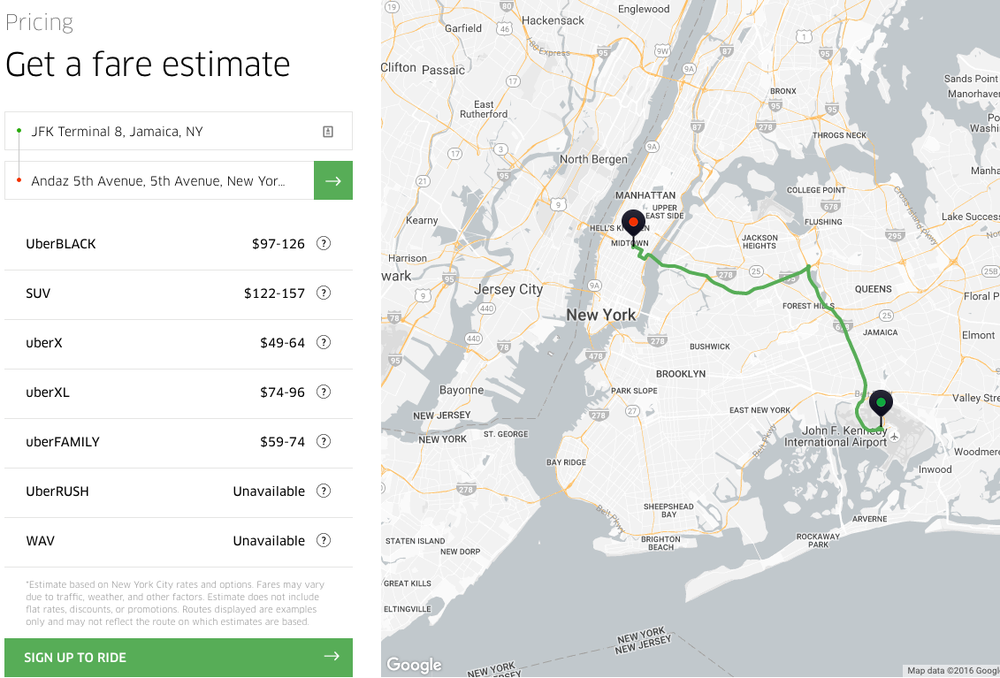 Nine times out of ten I would personally take the tube from London Heathrow, but I know many prefer cars. London is one of those cities where you can get a good price by booking ahead with a local car company, so I'm not endorsing Blacklane as an option in London, necessarily.
That being said, both of Blacklane's premium options compare well against Uber.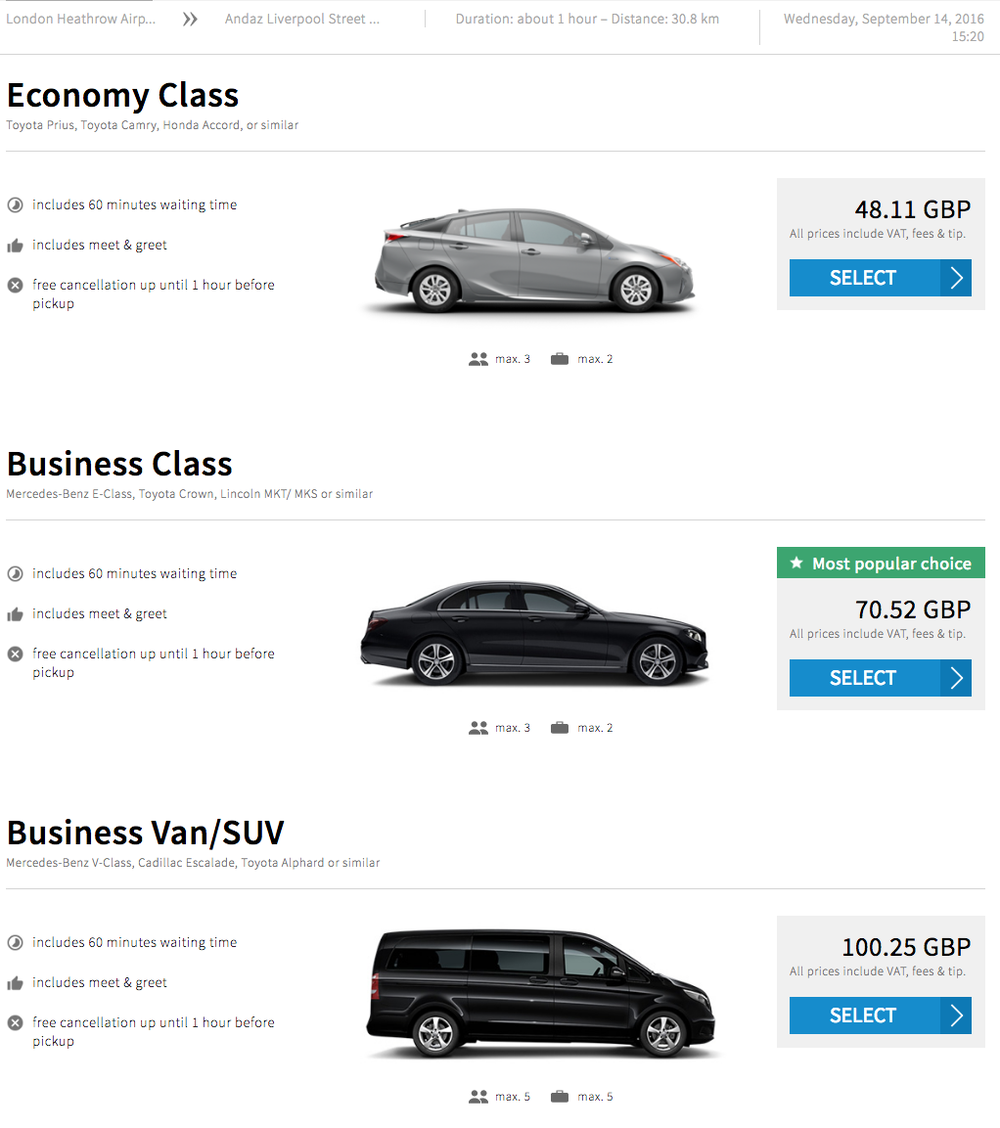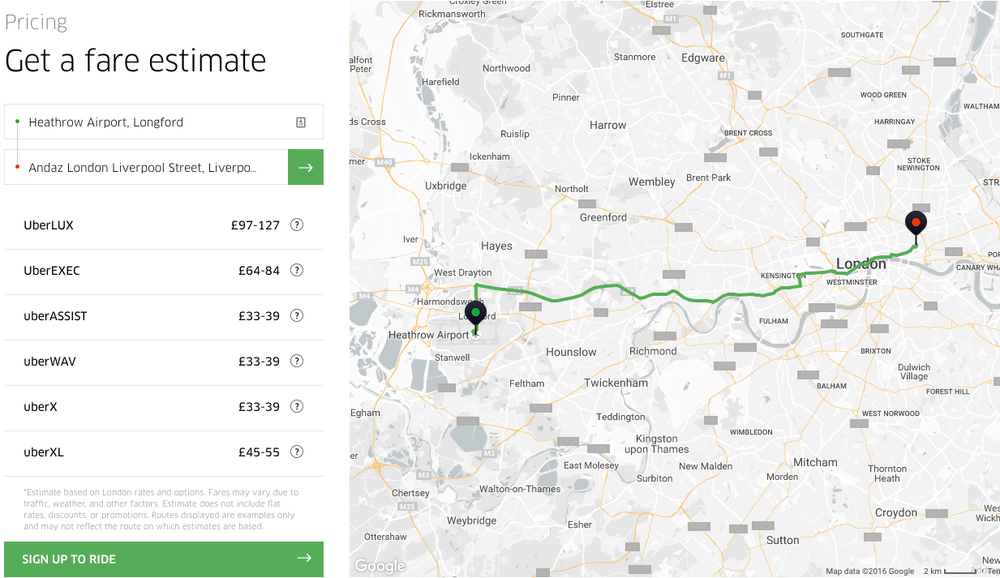 On top of having competitive rates, the Blacklane options also include meet-and-greet services at airports, which in and of itself is a huge timesaver.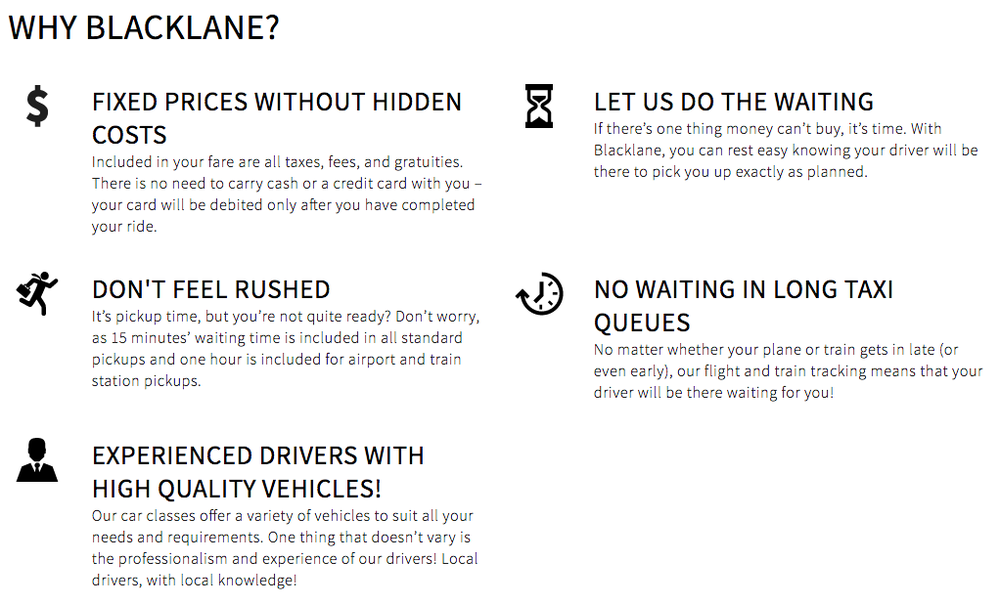 In order to make the all-inclusive rates work, Blacklane does vary their rates based on time of day and such. The nice thing is that you know what the rate will be when you confirm your Blacklane reservation, so there's no guesswork involved.
I checked rates for Berlin at other times (using the same origin and destination), and the price varied anywhere from $5-$15. I'd imagine it could go even higher during peak times or special events.
The pricing also seems to vary dramatically by city. This probably has to do with driver availability, as Blacklane wants anywhere from $50 to $70 to pick me up at the San Diego Airport and take me the three miles to my apartment. That's clearly not happening, and is a rather ridiculous markup.
So you definitely want to check rates and shop around, but in general I think this is a great option to have, and the pricing can be surprisingly good.
Bottom line
It's nice to see some upscale competition for Uber. I can see this being a valuable service for business travelers looking to save time, or for those who don't have international data plans, particularly for cities in which the pricing is reasonable.
And for future airport transfers in cities with less-than-ideal public transit, I will absolutely be checking Blacklane rates.
Have you used Blacklane? How was your experience? (And please post your referral code if you have!)