In mid-September I wrote about the SPG "Paradise Just Got Closer" promotion, whereby select Starwood resorts can be booked for 35% fewer Starpoints. The promotion is valid for stays through March 8, 2016, and seems to be an annual promotion offered by Starwood.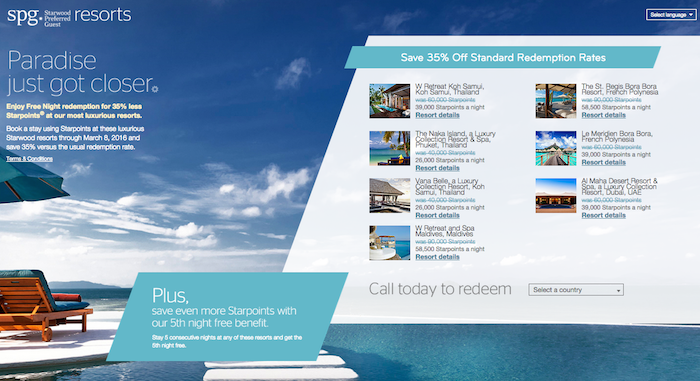 These are resorts which are otherwise quite expensive when redeeming points, as they typically cost anywhere between 40,000 and 90,000 Starpoints per night (the equivalent of 120,000 to 270,000 Marriott Rewards points).
One property which has always intrigued me is Al Maha, the desert resort not far from Dubai. It's ordinarily 60,000 Starpoints per night, but through this promotion can be booked for 39,000 Starpoints per night. That's still a lot of Starpoints, given what a valuable currency they are.
But this property is really unique:
All rooms are standalone villas with plunge pools
All rates at this hotel include full board (breakfast, lunch, and dinner)
All rates at this hotel include two activities per day, like dune bashing, camel riding, falconry, etc.
I decided to book a two night stay here, and outlined my reasoning and the booking process a couple of weeks back. The cheapest paid rate over our dates was ~$1,700 per night, so at 39,000 Starpoints it was quite a deal.
I'm about to wrap up my stay, and while I'll have a full trip report soon, I just can't help myself in at least sharing my initial thoughts.
Wow, wow, wow, WOW!
WOW!
This is my new favorite SPG property anywhere in the world. I've had some amazing SPG redemptions over the years (like taking my parents to the St. Regis Bal Harbour over Christmas), but this hands down ranks as my favorite ever. By a long shot.
Where do I even begin?
The rooms
The hotel has slightly over 40 villas, all of which are private and feature plunge pools. The rooms are gorgeous, and the hotel's website really doesn't do them justice.
Not only are the villas gorgeous and authentic-feeling, but they're well appointed. The bed was massive (I'd have to guess it was even bigger than a California King), and one of the most comfortable I've ever slept in. Not something you expect in the desert.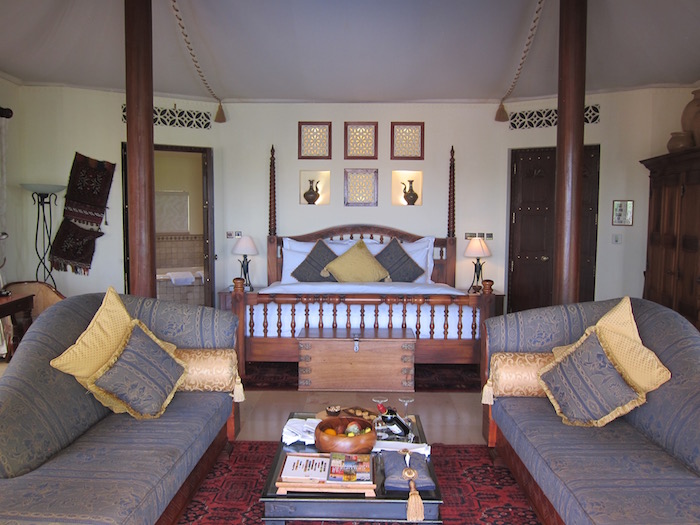 The bathroom was equally gorgeous, and well appointed. It was stocked with BVLGARI toiletries.
And then there was a large plunge pool overlooking the desert, with a huge deck.
We had a direct view of the sunrise every morning. Absolutely heavenly.
There are gazelles roaming around the entire property. Hundreds of them. They're so adorable, and aren't shy about paying you a visit on your patio.
The rooms were just fantastic.
The food
Breakfast, lunch, and dinner are included. You can choose to have any meal either in the hotel's restaurant, or via room service at no additional cost.
And the food was top notch. We had breakfast in the restaurant both mornings, which consisted of a buffet, and then you could order as many things as you wanted from the menu.
We had lunch via room service both days, and you could order anything you wanted from a huge menu, with up to three courses.
Our gazelle friend quite seemed to enjoy the bread basket as well!
And then you could have dinner at the restaurant, with great views of the desert.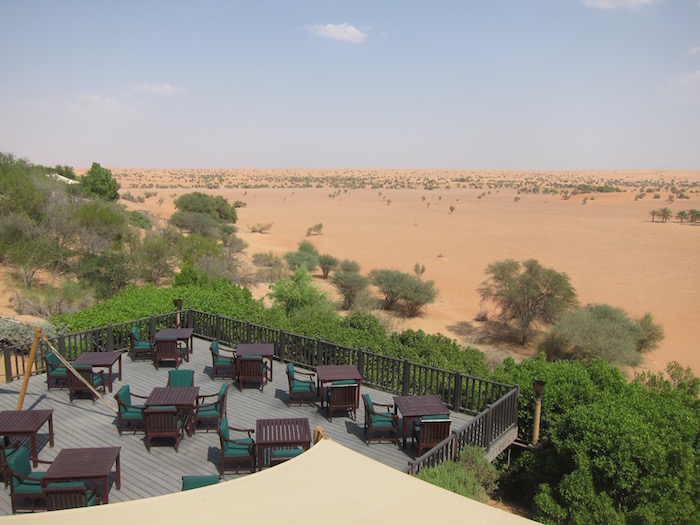 The dinner consisted of five courses, and the food was excellent. Not only was there a huge menu, but if you wanted something else the chefs were happy to oblige and prepare it for you as well.
What kind of food was on offer? They had sashimi grade fish with caviar as a starter, for example.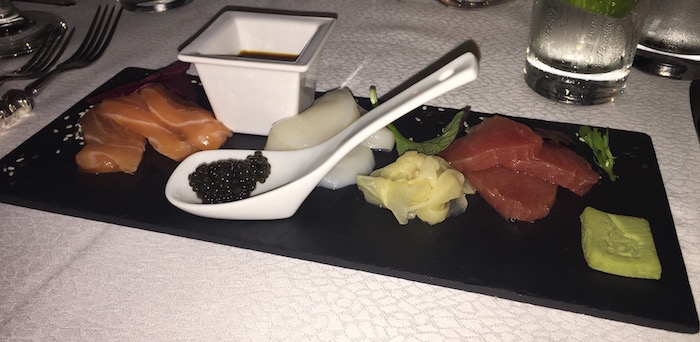 And then a pretty great lobster thermidor as a main course.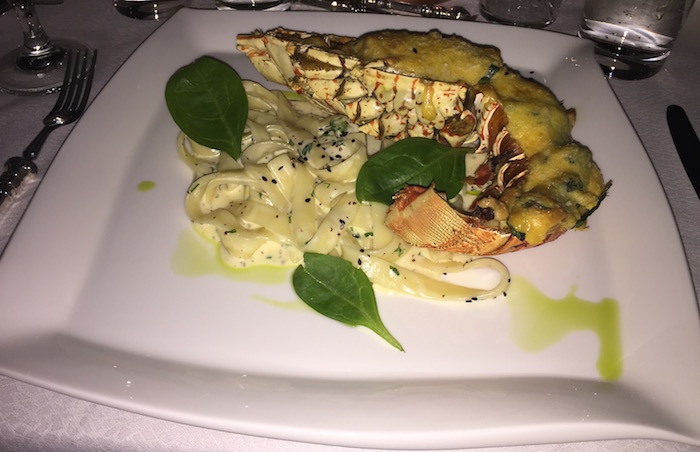 And that's just two of the five courses.
Generally all inclusive resorts aren't exactly known for the quality of their food, though this one was an exception.
The activities
Two activities are included per day, and you can choose from all the "traditional" desert options.
There were camel rides…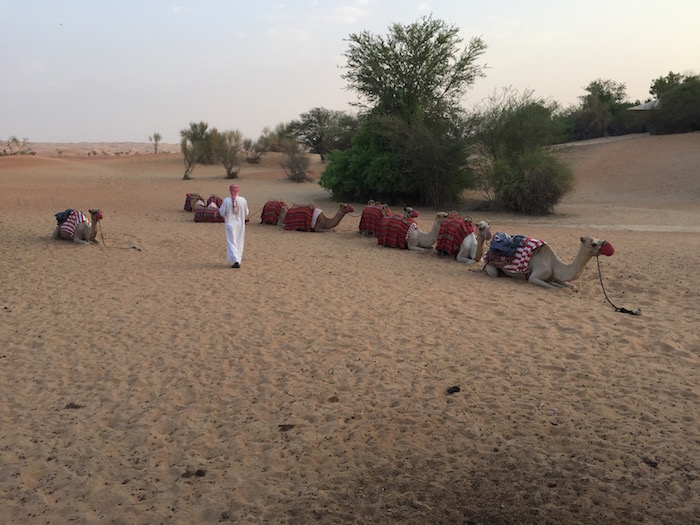 Dune bashing…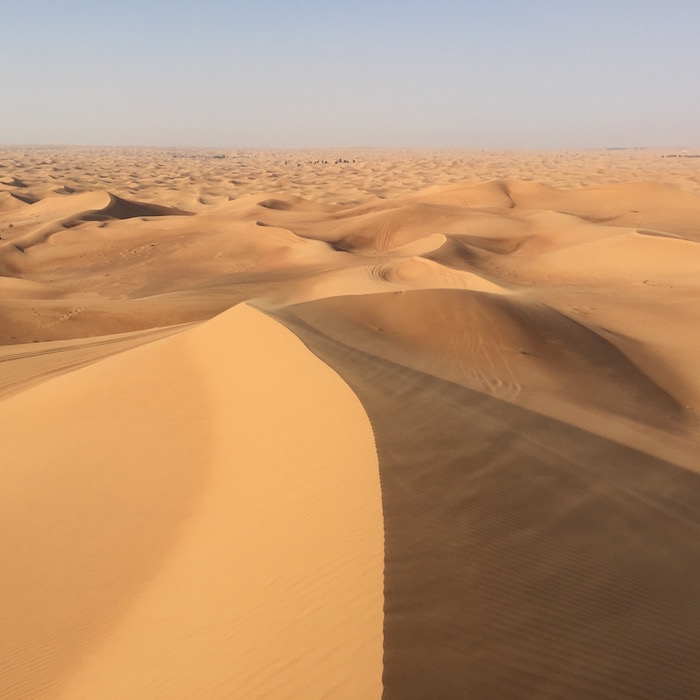 And a pretty amazing falconry show (including one of the falcons flying away and not coming back, which added to the entertainment value).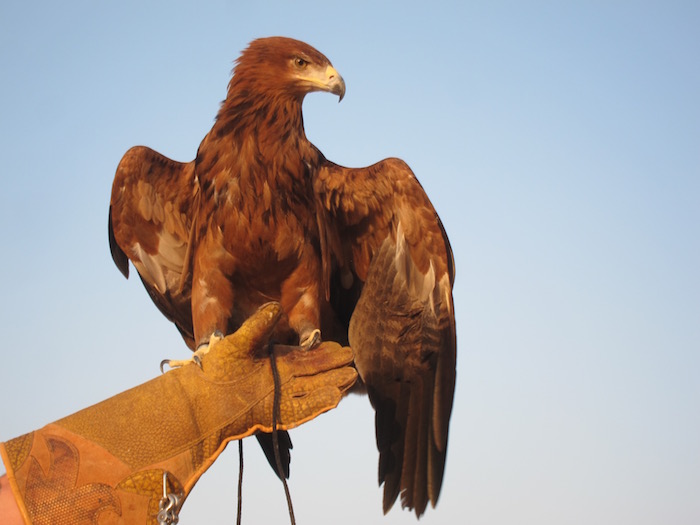 While I wasn't really into holding the falcon, Ford quite enjoyed holding Khaleesi, the Peregrine Falcon.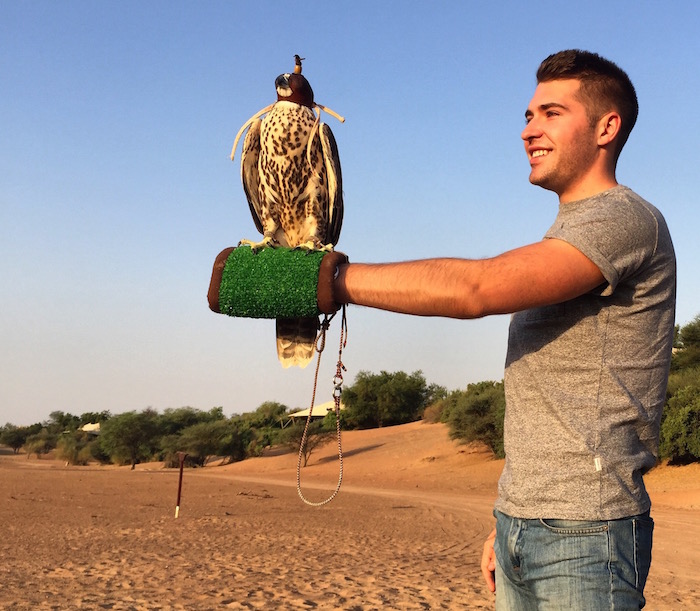 The service
The service was incredible. I'm a tough critic of service, but it was just about flawless. Which is sort of incredible, given how involved everything is. The villas are so spread out that you need golf carts to get between everything. They were always on-time, room service orders were always correct and prompt, and the execution on everything was sublime.
For example, Tiffany and her husband overlapped with our stay, so we had dinner for four one night. Our dishes were brought out by four servers, and all placed on the table in unison. They all had lids, and all four of them were removed at exactly the same millisecond.
Bottom line
I'll have a more detailed trip report soon, but I wanted to get this post out as soon as possible to encourage people to stay here. This property is gorgeous, and even at 39,000 Starpoints per night (which is more than I've otherwise ever spent for one night at an SPG property), it was an absolute bargain.
The resort is gorgeous, the views are amazing, the wildlife is beautiful and integrated into the resort, and the food was great.
And perhaps best of all is how easy Al Maha is to get to. It's only a 45 minute drive from Dubai.
I'd return in a heartbeat, and can't recommend this hotel enough. Perhaps along with my stays at Amans in Bali, it's the most perfect hotel stay I've ever had.
Has anyone else stayed at Al Maha, or have plans to visit it soon?