Good morning from Warsaw! I'm in the midst of a US Airways 90,000 mile business class award to North Asia, and flew from New York JFK to Warsaw yesterday on LOT Polish.
I was excited to finally fly the LOT 787, after having flown their 767 from Warsaw to Chicago last year. Their 767s are ancient, so suffice to say that flight was a LOT less POLISHed than I was expecting (you'll be happy to know that on this trip we only have one more flight on LOT, so the jokes will soon stop). 😉
How did the 787 compare? Well, after an interesting visit to the Korean Air Lounge at JFK, I was ready to find out!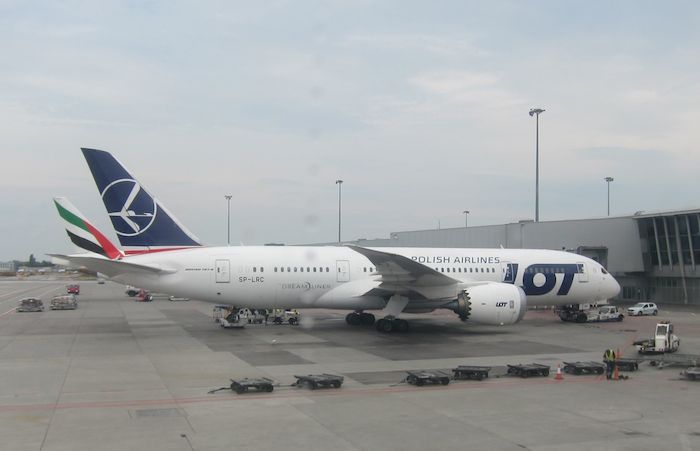 LOT 787
I'll have a full trip report upon the conclusion of the trip, though in the meantime here are my initial thoughts:
LOT Polish 787 business class seat
LOT's business class cabin on the 787 is really nice. It consists of just 18 seats spread across three rows in a 2-2-2 configuration. The seats are standard forward facing fully flat business class seats, though felt spacious. These seats are pretty ideal if traveling with someone, since you have a bit of privacy but can still have a conversation without having to scream or turn.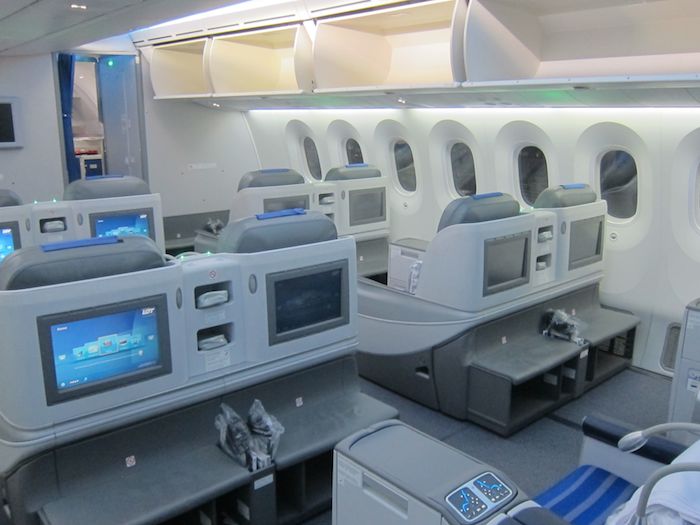 LOT 787 business class cabin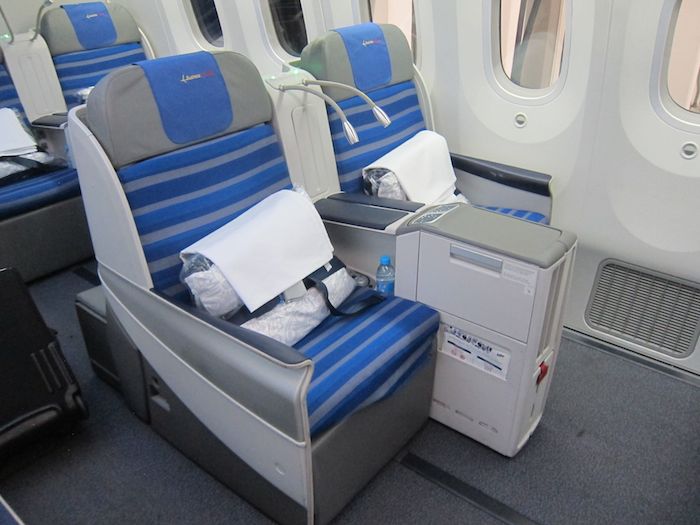 LOT 787 business class seats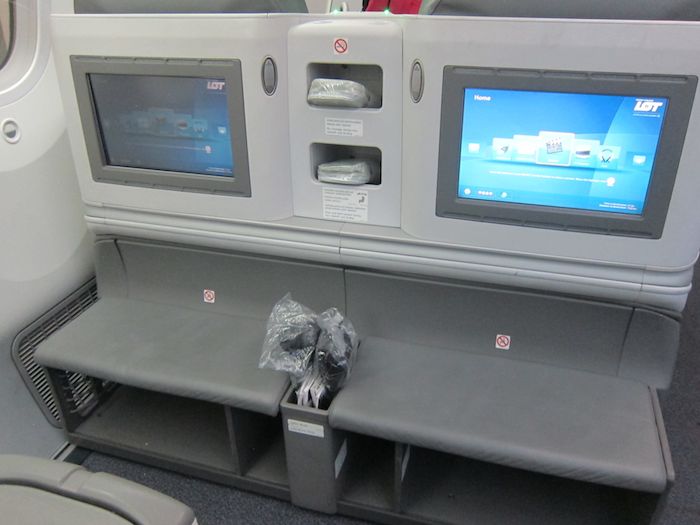 LOT 787 business class seats
The one thing worth noting is that while this was a fairly new 787, it was already starting to show its age. My tray table wouldn't come out (the flight attendant nearly got a concussion trying to get it out), Andrew's entertainment control didn't work, and the back of both of our seats were being held up by duct tape (though perhaps that's a "feature?").
Despite the somewhat depressing state of the seats, I was impressed by the hard product, which was comfortable for sleeping and lounging.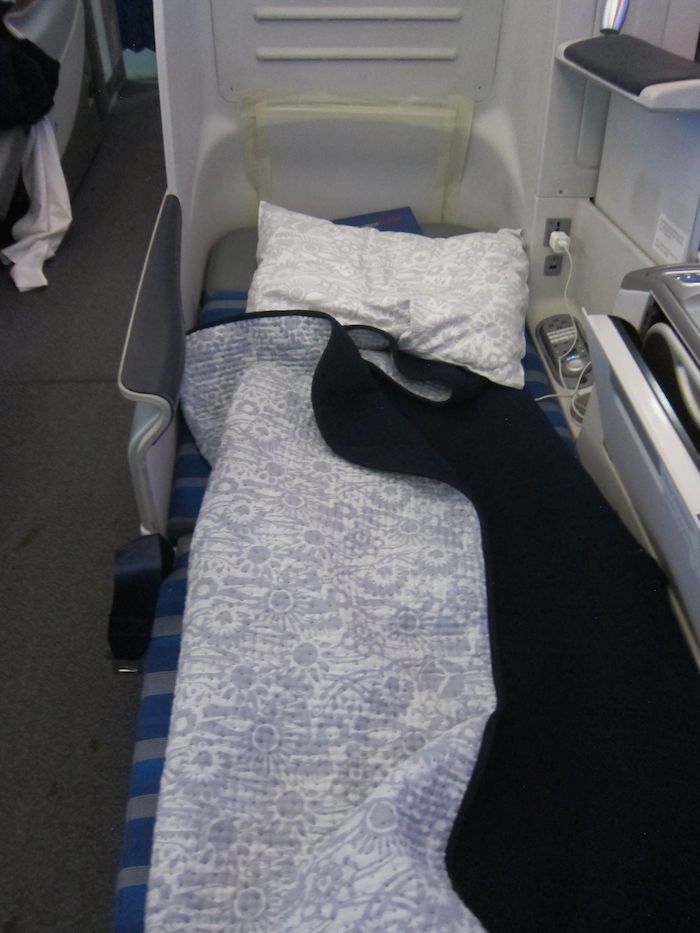 LOT 787 business class seat reclined position
LOT Polish 787 business class food

The food was actually sort of impressive. The catering on my flight out of Warsaw last year was kind of depressing. But I guess that's what happens when they're serving "seasonal greens" catered in Warsaw in January.
The food on this sector was actually good. Not quite to the level of Austrian or Turkish in business class, but I'd say better than Lufthansa and most other airlines in business class for sure.
They served amuse bouche on the ground, along with champagne that was actually drinkable (which is somewhat of a rarity in business class on non-premium airlines).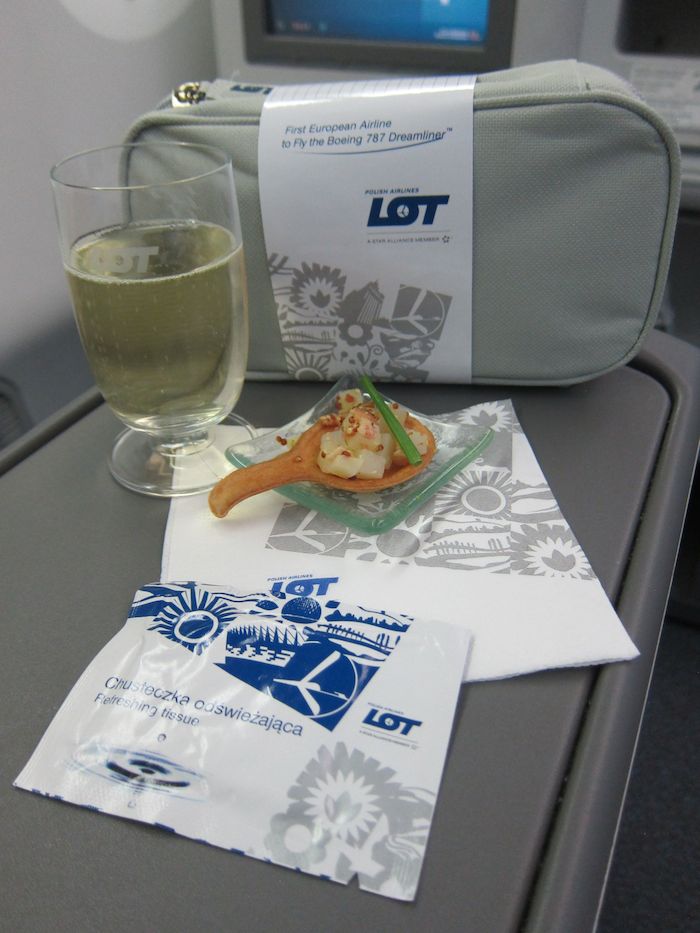 LOT 787 business class amuse bouche
Inflight service began with a thimble of room temperature nuts.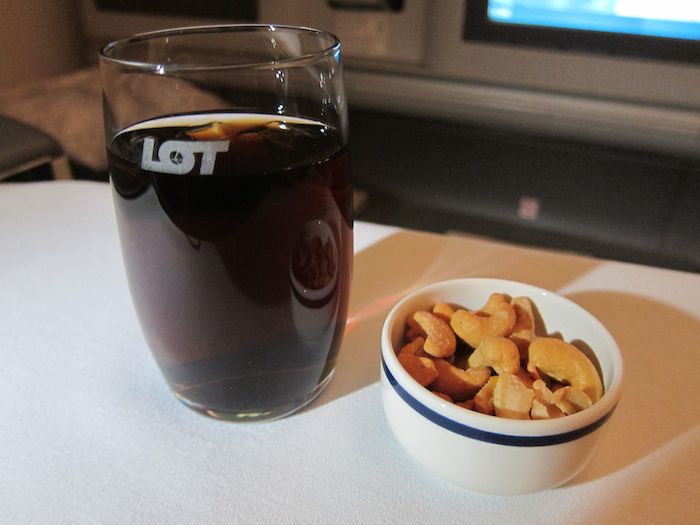 LOT 787 business class nuts
Then the salad and appetizer were served — "seasonal" greens and scallops. I was impressed by the plating and also that there was no tray — everything was placed directly on the tablecloth.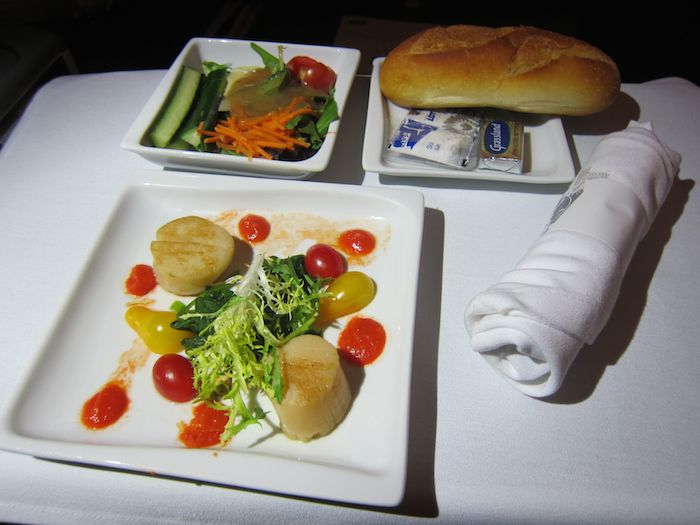 LOT 787 business class appetizer
The main course consisted of halibut and risotto. Again, I was impressed by the presentation, which looked a lot more like first class plating than business class plating.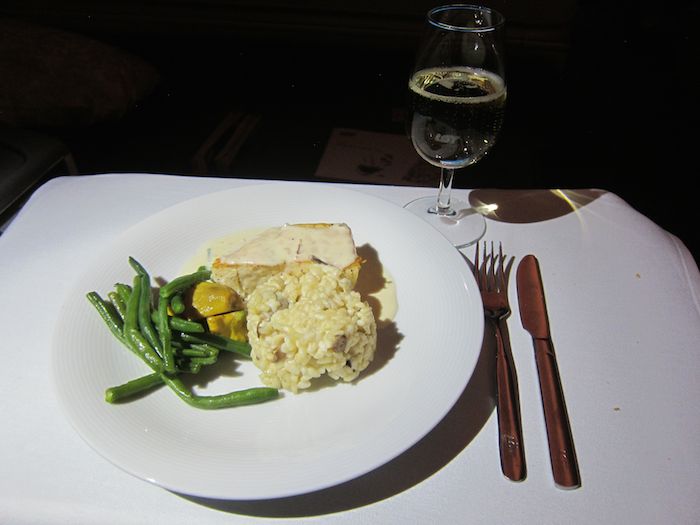 LOT 787 business class main course
Then there was a pre-plated cheese course.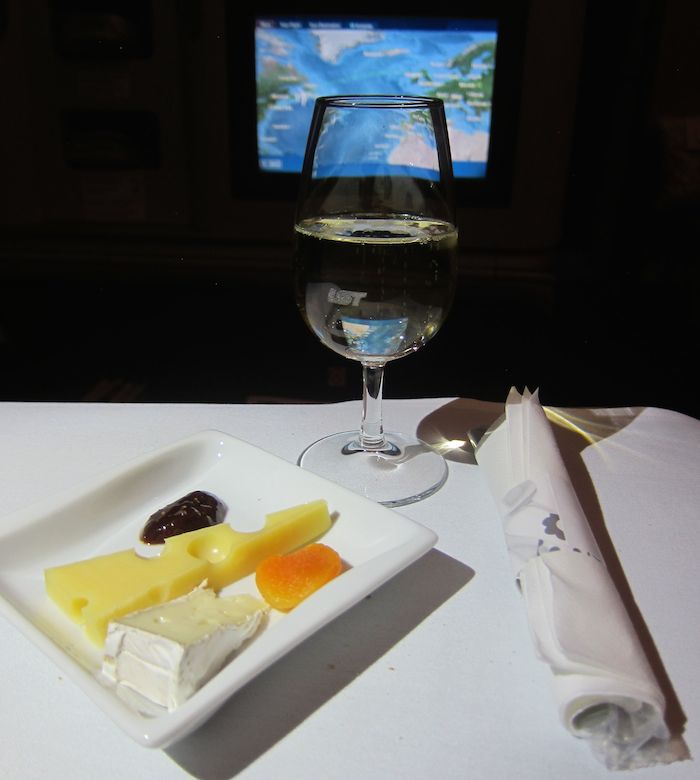 LOT 787 business class cheese course
And dessert consisted of ice cream and berries.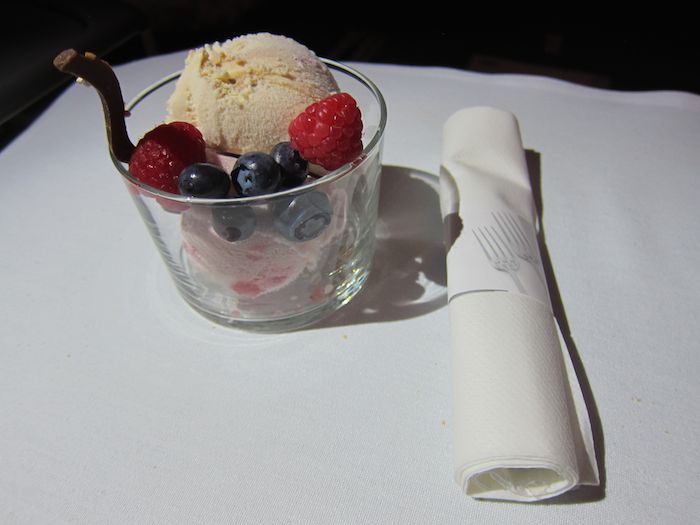 LOT 787 business class dessert
Breakfast was "continental," and was accompanied by two truffles.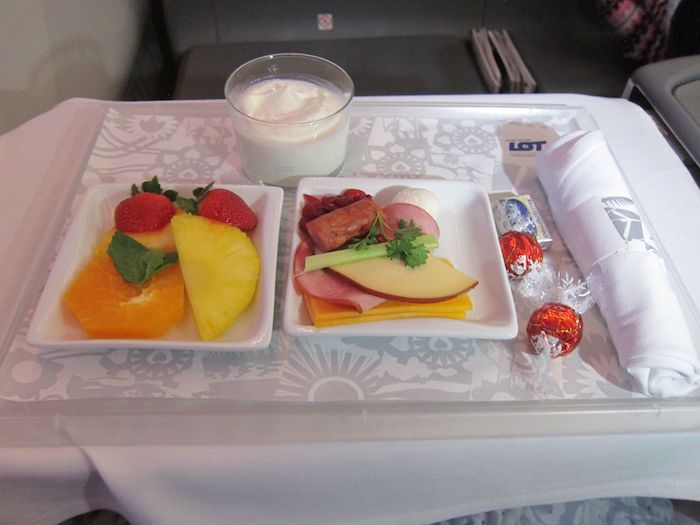 LOT 787 business class continental breakfast
LOT Polish 787 business class service
The service was very… efficient. There was one younger flight attendant working business class that smiled once in a while and was friendly, while the two senior flight attendants working the cabin were…
Okay, so they weren't at all rude and I wouldn't call their service "bad," but they were just very focused on efficiency and weren't really into smiling or anything. And I actually didn't mind that since they were still rather attentive and at least were sincere in their lack of warmth.
I couldn't help but laugh when we landed and one of them made an announcement "a vhery vharm vhelcome to Vharshaw." The only thing warm about the announcement was the outside temperature she cited.
LOT Polish 787 business class amenities
LOT has a decent entertainment system on their 787. Not anything like what you'd get on Singapore or Cathay Pacific or Emirates or Etihad, but it did have the most popular sitcoms and movies of 2005, so that was kind of cool. I just watched the airshow most of the way.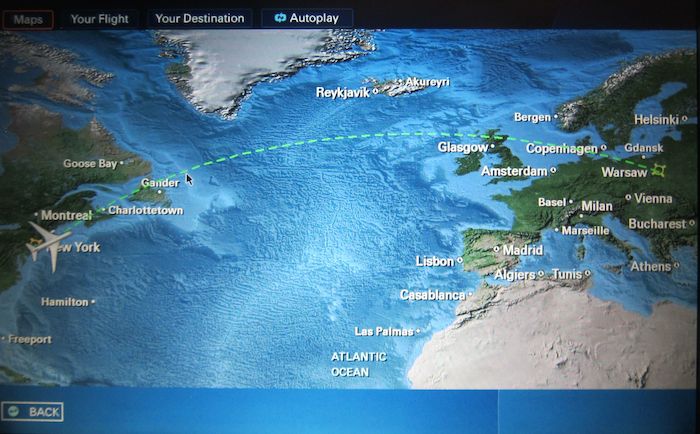 LOT 787 airshow
I was impressed by the bedding. The blanket and pillow were plush, and there was even a "sheet," though I'm not sure what purpose that served.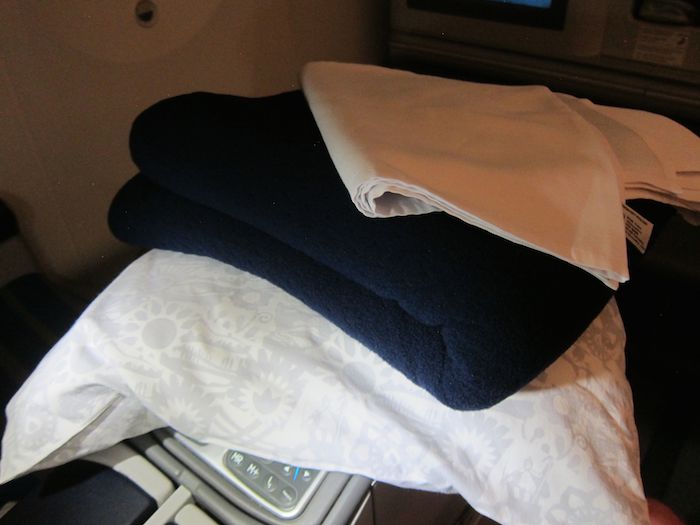 LOT 787 business class bedding
And then there was a fairly decent amenity kit.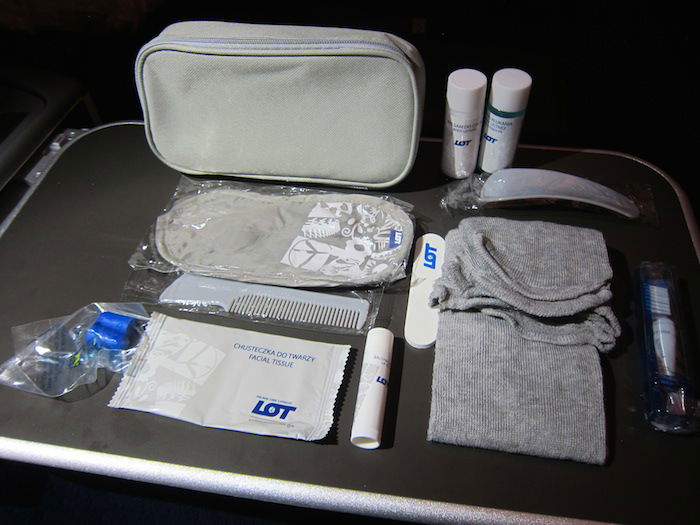 LOT 787 business class amenity kit
LOT 787 business class bottom line
The seat and food exceeded my expectations. The service was efficient, which I appreciate on an overnight flight. And unlike during my visit in January, I actually am finding Warsaw to be quite charming in the summer. It's also a super easy airport to transit, as it was less than five minutes from the time we deplaned till we were in a taxi on our way to the hotel. Or more accurately, standing next to a taxi as the police were being called (more on that shortly)…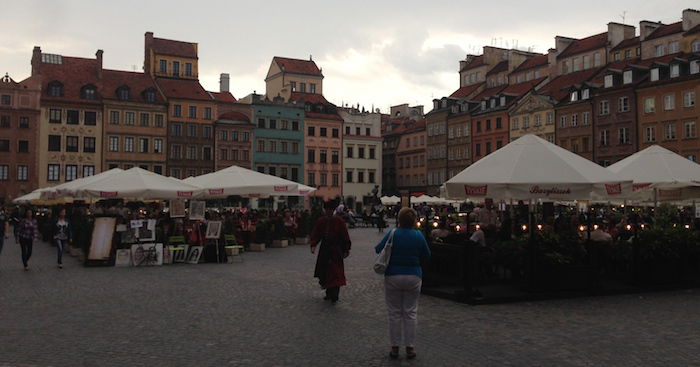 Warsaw