---
La Compagnie 100
Paris (CDG) – Newark (EWR)
Friday, July 25
Depart: 5:50PM
Arrive: 8:30PM
Duration: 8hr40min
Aircraft: Boeing 757-200
Seat: 12A (Business Class)
Boarding was through door 1L, and the first thing I noticed about the La Compagnie cabin was that there were no partitions or bulkheads between any of the seats. It was one, long cabin. On one hand that was kind of cool, since it made the cabin feel spacious. At the same time it makes you feel like you have less privacy.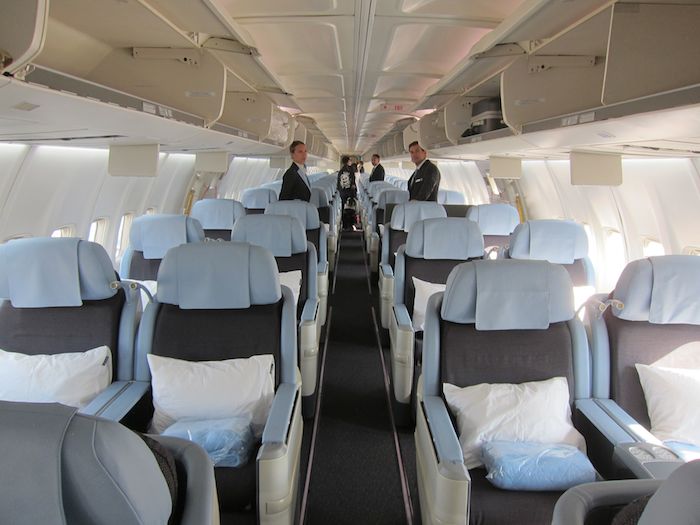 La Compagnie 757 cabin
The crew was positioned throughout the cabin to greet passengers, and I walked down the aisle to my seat, 12A, which was a bit more than halfway back in the cabin.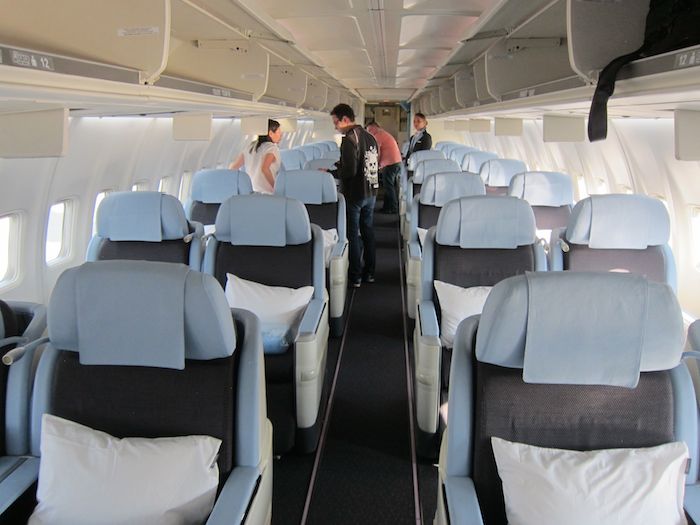 La Compagnie 757 cabin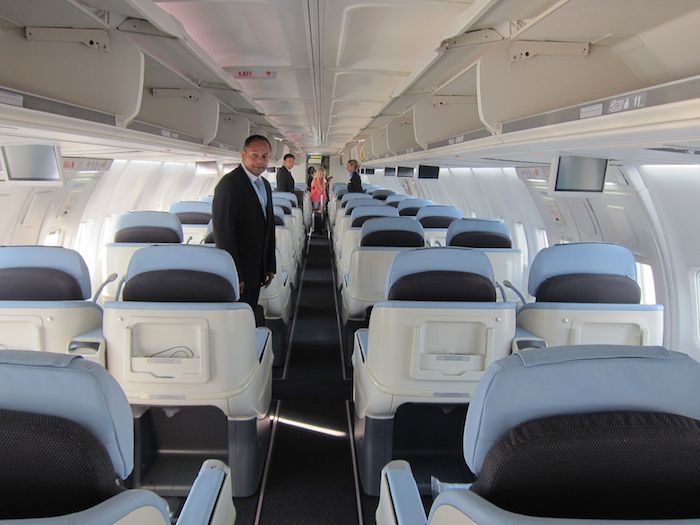 La Compagnie business class cabin
The seats themselves were stylish — I liked the contrast between the light blue and gray. At the same time they didn't look very comfortable, given that they're angled.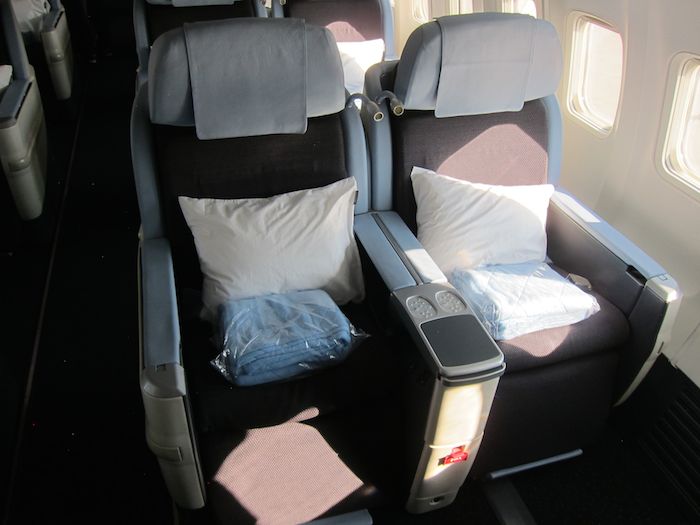 La Compagnie business class seats, 12A & 12C

The seatbacks look sort of ghetto. The La Compagnie plane doesn't have built-in IFE but instead the crew distributes Samsung Galaxy Tablets after takeoff.
So it's nice that they have a "cutout" in which you can place your tablet, but at the same time the fact that there are wires hanging out kind of made it look like a robbed car stereo.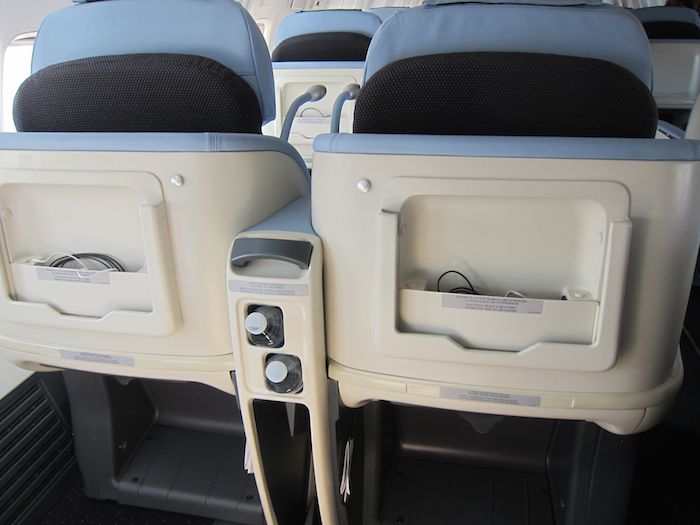 La Compagnie business class seats, 12A & 12C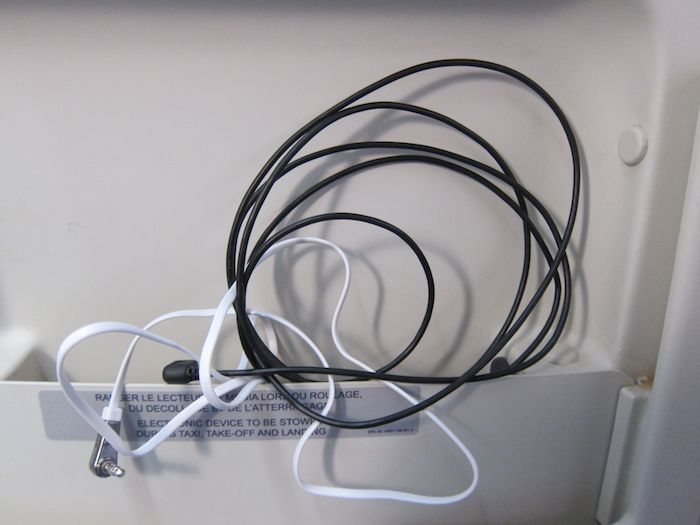 La Compagnie Samsung Galaxy tablet wires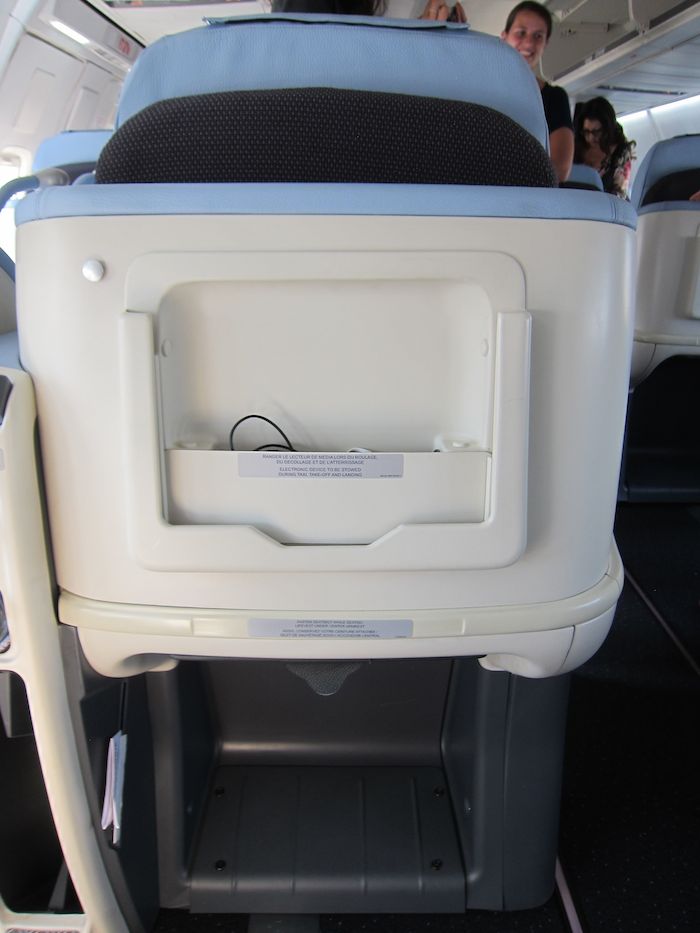 La Compagnie business class, seat 12C

There was also bottled water in the console between the seats in front of me.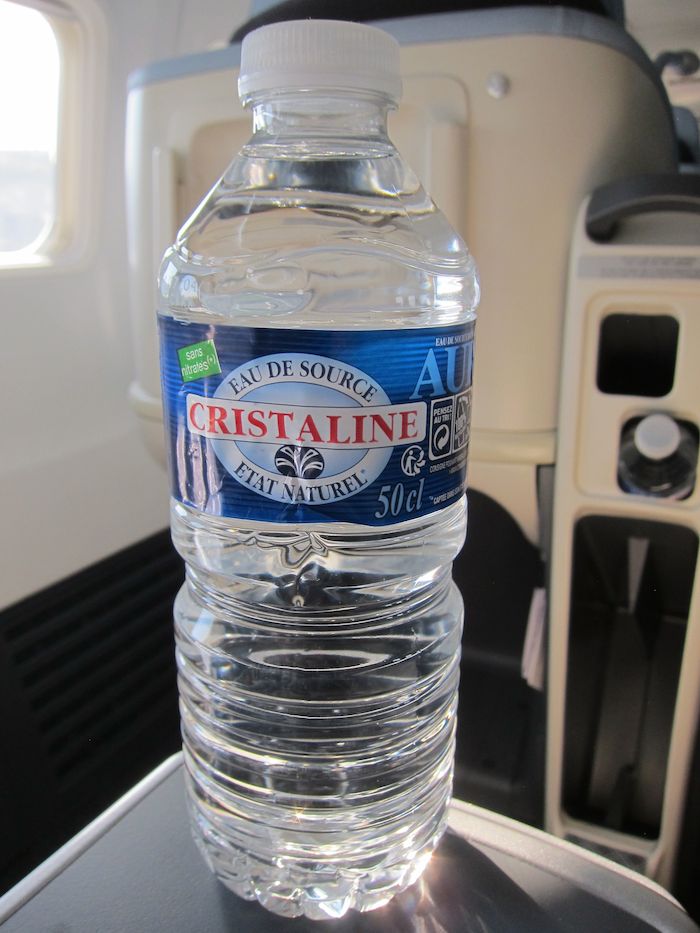 La Compagnie business class bottled water
Waiting at each seat was a pillow and blanket. The blanket felt cheap, and the pillow was fine. Fortunately the cabin wasn't full, so I was able to build a pillow fortress of sorts.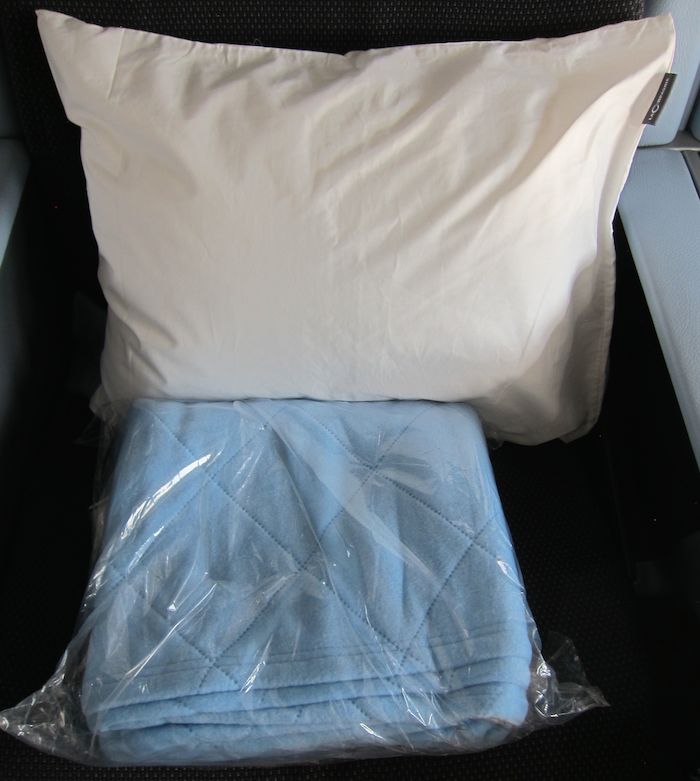 La Compagnie business class pillow and blanket

The seat controls were on the center console, and were intuitive enough. I can't really sleep in angled seats, so I usually stay pretty close to the upright position in these types of seats.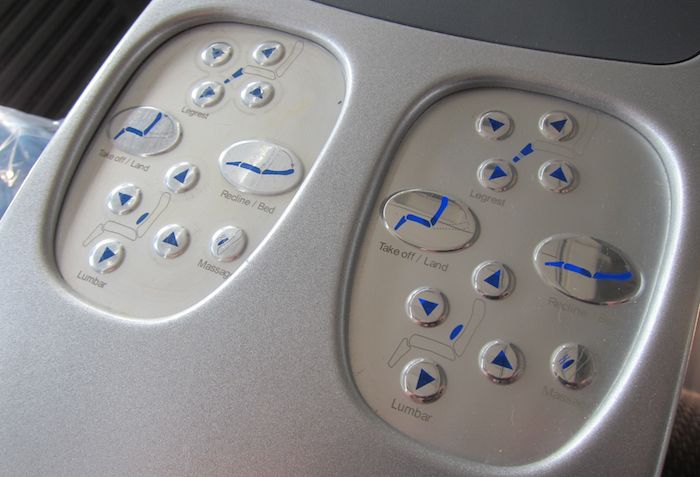 La Compagnie business class seat controls

I was pleased to see that La Compagnie had both 110V and USB power plugs. Since they were too cheap to install actual personal televisions, I was worried they cut corners when it comes to installing power ports as well — fortunately that wasn't the case.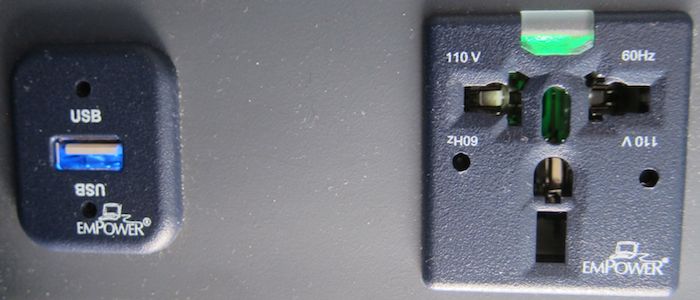 La Compagnie business class seat power ports

One really awesome thing was that the plane had air vents. That's something that's far too rare.


La Compagnie air vents!!!
I briefly walked around the cabin as other passengers were settling in to get a sense of the best seats. All of the seats seemed to be more or less equal, though there was an exit row at row six. I'd generally shy away from it, because:
You're seated across from the flight attendant on the jumpseat, which is awkward
I'm not exactly sure where your Samsung Galaxy Tablet goes (I'm sure they have a solution, but I'm not sure what it is)
When you have an international business class seat where the person in front of you isn't reclining into you, I don't really see the benefit of having more legroom, as it just makes you feel "exposed"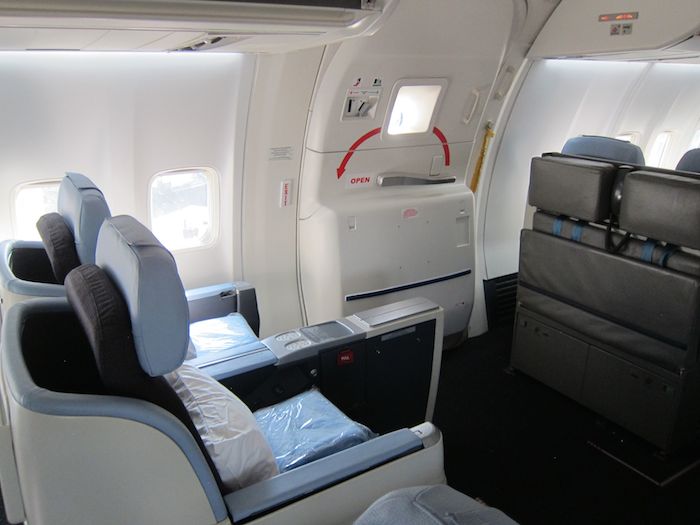 La Compagnie exit row seats
Row 10 also had overwing exits, and I got the sense that those seats had a bit more legroom.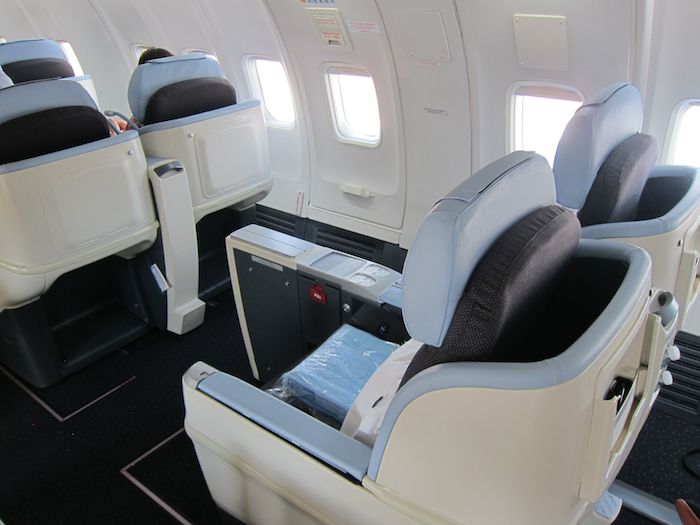 La Compagnie exit row seats
I was perfectly happy in row 12, which was towards the back of the wing. Next time I might sit a bit further back, since I do love having a view overlooking the wing from behind. That's the biggest benefit of all business class planes, in my opinion — I don't remember the last time I've sat behind the wing otherwise. 😀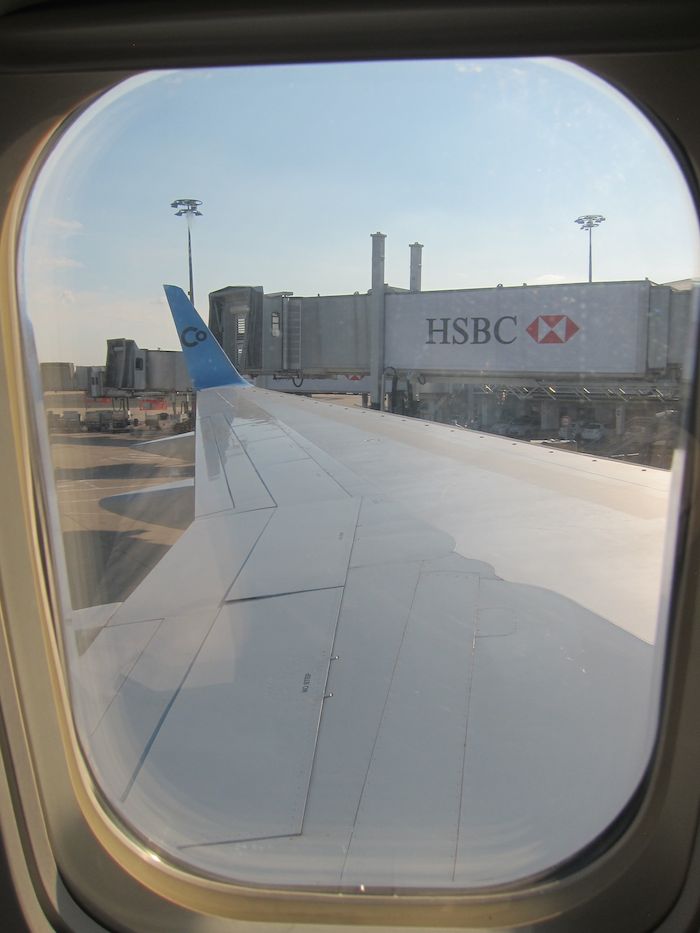 La Compagnie wing
During boarding I headed to the lavatory to change into something more comfortable. There were two lavatories located in the rear of the cabin, and they were pretty standard.

La Compagnie rear lavatory

Within about 20 minutes boarding was finished. Amazingly enough, the cabin was two thirds full (I say "amazingly enough" because booking a seat on La Compagnie was more challenging than taking advantage of a Hyatt Daily Getaways promotion!).
I'm pretty sure I was the only person traveling alone — everyone else was traveling in couples, which I guess makes sense given the amazing sale they have. I was also just about the only passenger not wearing Juicy Couture, in case that tells you anything about their loyal customer base thus far…
I was a bit surprised that:
There were no pre-departure drinks
There was no offer to hang coats (more on that later)
They also had boarding music, which was a trashy version of "Set Fire To The Rain." Lemme say, making Adele sound trashy is a feat, cause that girl has more class than a school.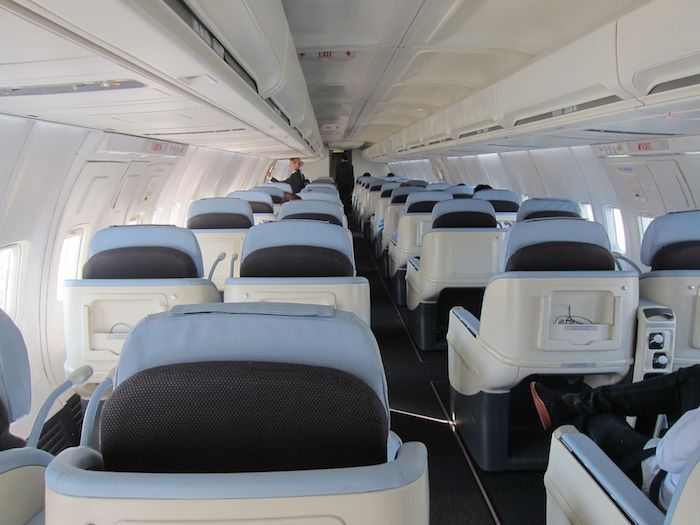 La Compagnie cabin view from my seat
As we began our pushback, sealed amenity kits were distributed.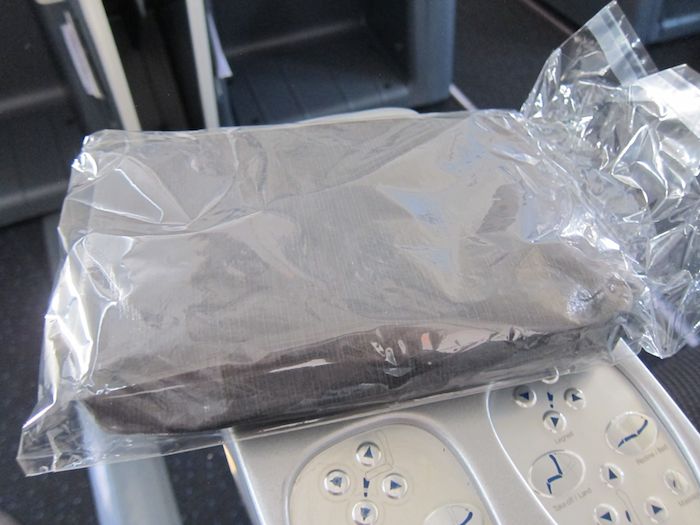 La Compagnie business class amenity kit
Now look, I'm not expecting some super awesome amenity kit, but this was quite possibly the trashiest amenity I've ever received. The actual material the kit was made out of felt kind of like a garbage bag. It "crumpled up" quite easily, as shown below.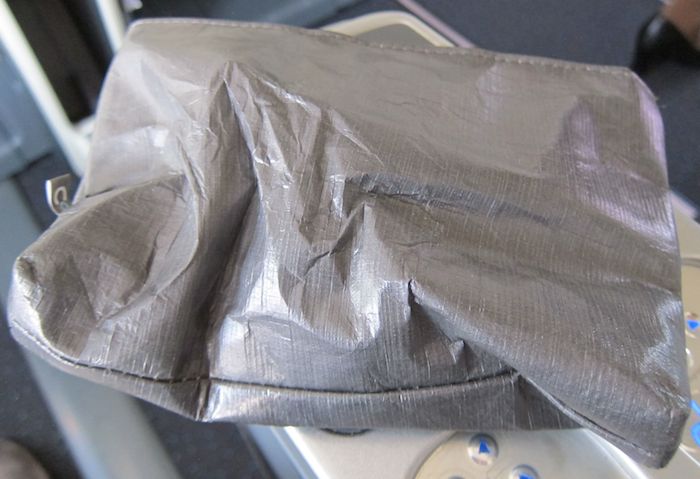 La Compagnie business class amenity kit
And then the contents were crap as well. It never ceases to amaze me when there isn't a toothbrush and toothpaste in an amenity kit.

La Compagnie business class amenity kit contents

As we pushed back the purser informed us that our flight time would be 7hr55min, and that our adjusted arrival time was 9:45PM.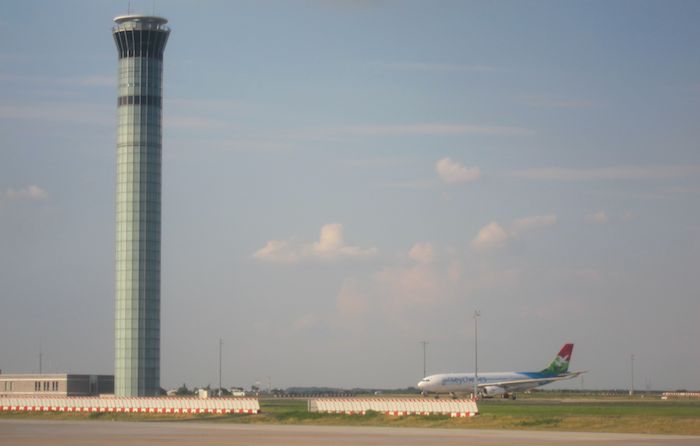 Charles de Gaulle tower
As we taxied out the manual safety demonstration began. There were six La Compagnie flight attendants on this sector, though I was a bit surprised that only two stood in the aisle to do the manual safety demonstration, while the others stood in the galley chatting.
We taxied to Runway 9R, which took us past quite a bit of interesting traffic, including a few Lufthansa aircraft, a TAM 777, an ANA 777, etc.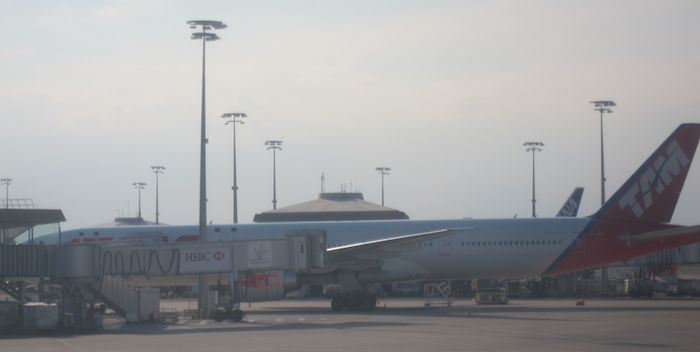 TAM 777-300ER Charles de Gaulle Airport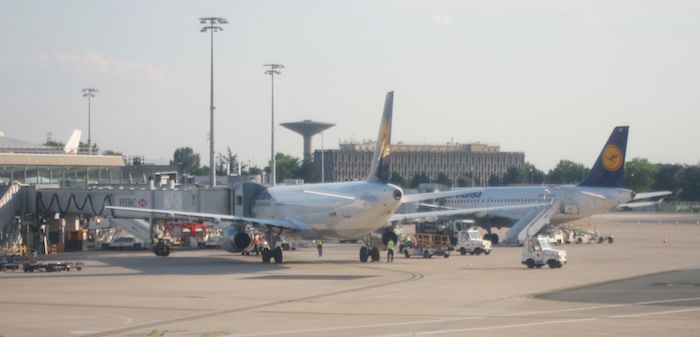 Lufthansa Charles de Gaulle Airport
When we approached the runway the captain came on the PA to announce that takeoff would be in two minutes.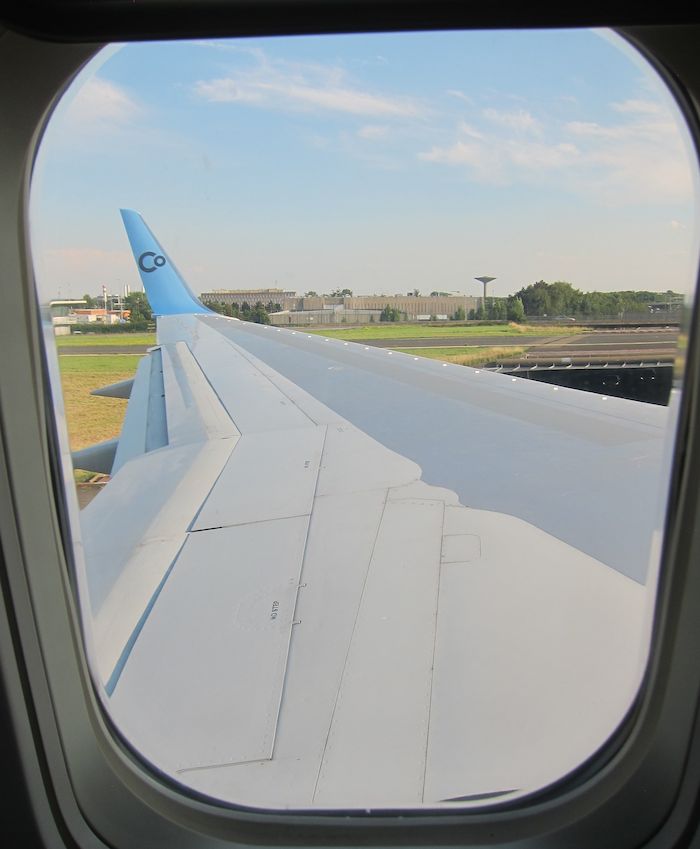 Taxiing to runway Paris Charles de Gaulle Airport
Sure enough, at 7:20PM we were cleared for takeoff on Runway 9R, and airborne after a fairly quick takeoff roll.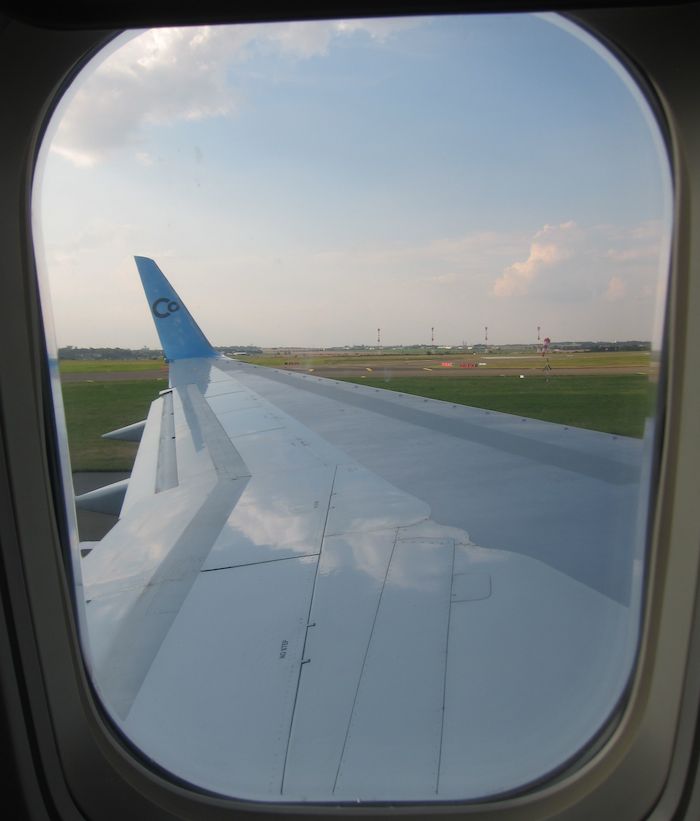 Taxiing to runway Paris Charles de Gaulle Airport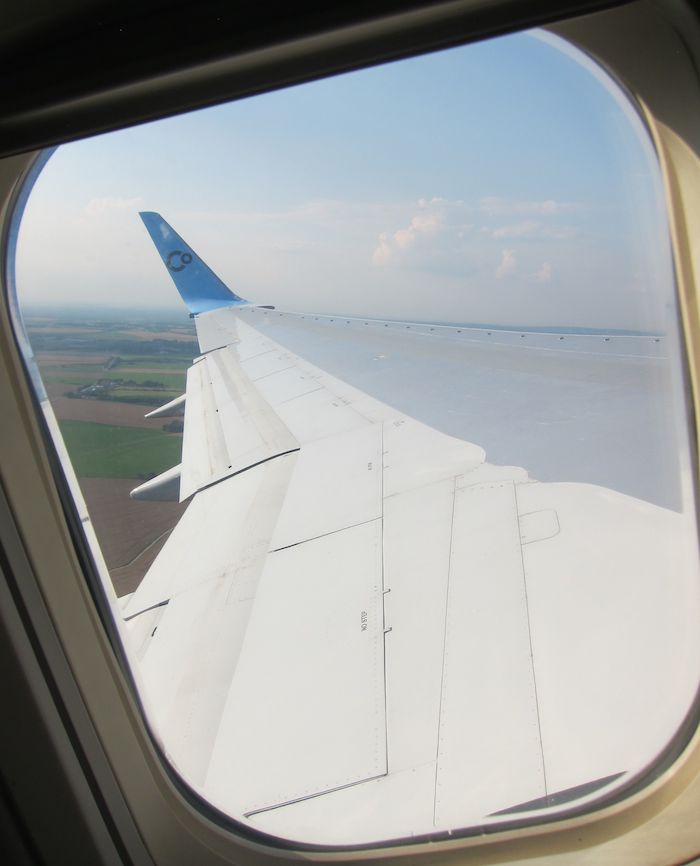 Taking off Paris Charles de Gaulle Airport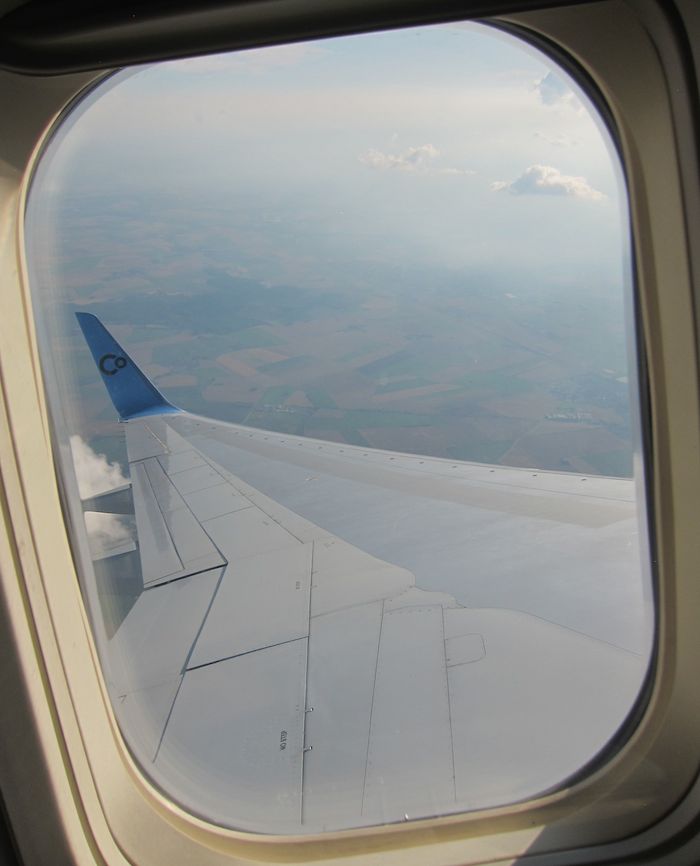 Climbing out after departure
About 10 minutes after takeoff the seatbelt sign was turned off, so I stood up to retrieve something out of the overhead bin. I was quickly approached by a flight attendant:
"Sir, you must be seated for your safety."
"But the seatbelt sign is off."
"The seatbelt sign is for us."
"Okay… so how am I supposed to know when I can get up?"
"We will tell you."
A minute later she returned to apologize and say that she was confused.
As I continued to get situated the purser walked by, and I asked him if he could please hang my coat. I was surprised it wasn't offered before takeoff, after all. He really didn't speak much English at all, and looked at me confused.
"Is there anywhere I can hang my coat?"
"I don't understand, you want a coat?"
"No, I have a coat and want to hang it, please, so it doesn't get wrinkles."
"I don't understand."
"I have a jacket and would like it to be hung in a closet, please."
"We don't have that."
"You don't have a closet where I can hang a coat?"
"Of course not."
Of course not? Hell, I get my jacket hung on domestic US flights, and you'd think that's an absolute given in business class, no?
I was impressed by how quickly the crew began the service. Within 20 minutes they began distributing the Samsung Galaxy Tablets. They were helpful with setting them up, and offered to explain how they work.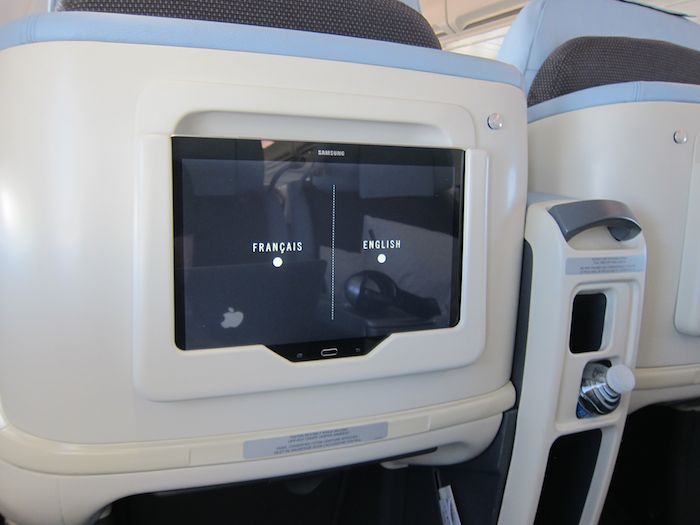 La Compagnie Samsung Galaxy tablets
The entertainment selection on the tablet absolutely sucked. It had a handful of movies and one TV show on it. La Compagnie falsely advertises on their website that they have Wi-Fi, though they don't plan on installing it until October. Once they have Wi-Fi they'll apparently have more on the tablets, like some sort of flight information and menus (which they don't otherwise have).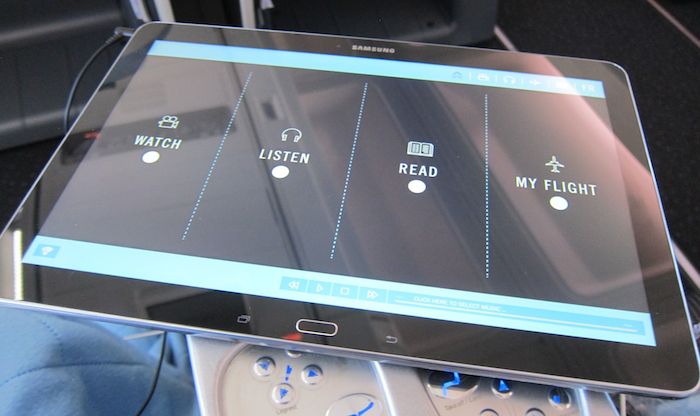 La Compagnie Samsung Galaxy tablets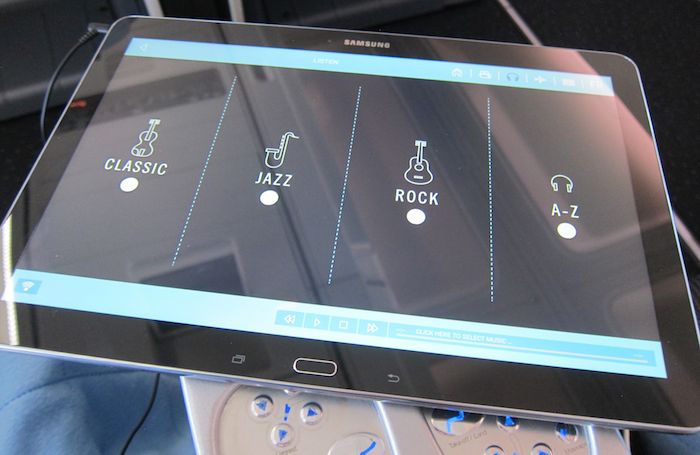 La Compagnie Samsung Galaxy tablets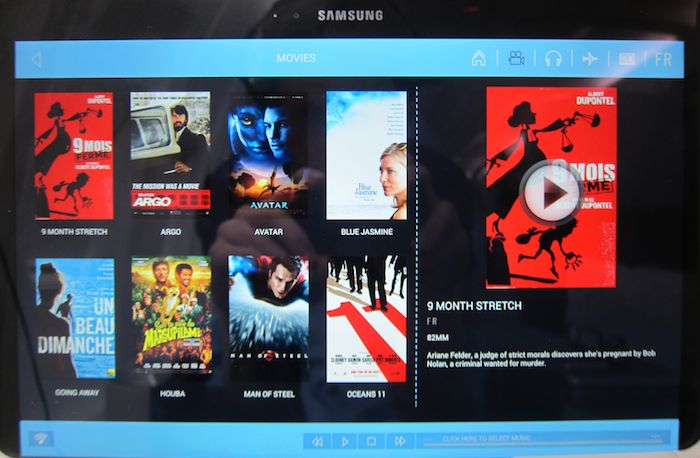 La Compagnie Samsung Galaxy tablets
I ended up watching Blue Jasmine, which wasn't entirely horrible.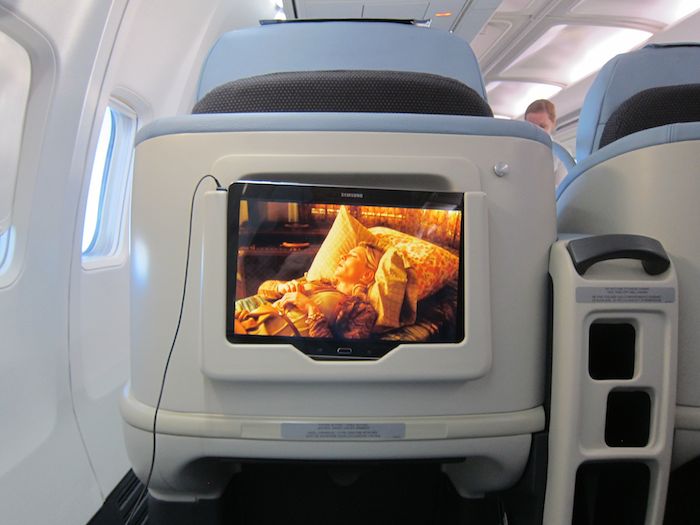 La Compagnie Samsung Galaxy tablets
They do give you headphones with the tablet, which are also crap. Fortunately I had my Bose headphones with me.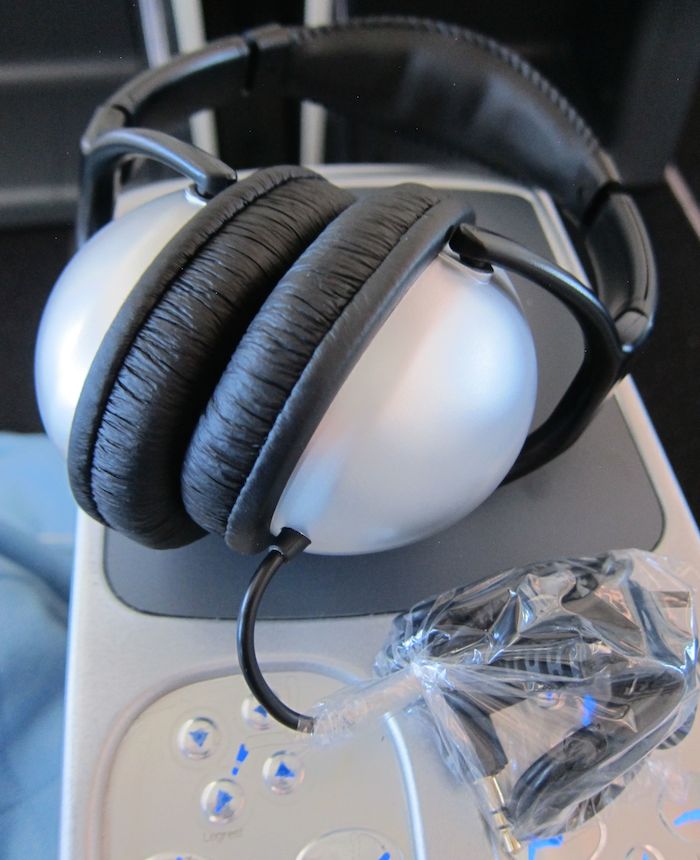 La Compagnie headphones
About 30 minutes after takeoff another flight attendant came by with hot towels.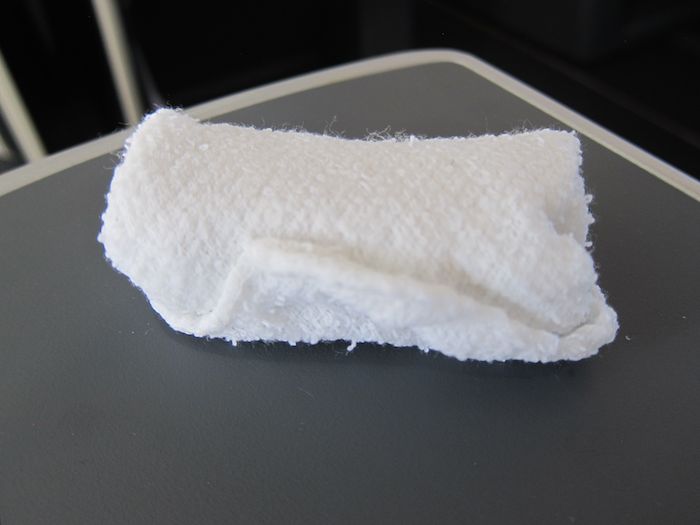 La Compagnie hot towels
While I was impressed by the initial speed of the service, this is where it got interesting. It's worth mentioning that my flight had six flight attendants, while long term they plan on only having three per flight.
While tablets and hot towels were distributed within 30 minutes of takeoff, it was another 30 minutes before the drink service began. With the way the carts are set up, they basically begin all service at three points in the cabin. Service starts at rows one, seven, and fourteen. Being in row twelve, I was towards the back of the service area for the center flight attendant.
To drink I had a glass of champagne, which was Piper Heidsieck — very nice! I also had a Diet Coke. Along with the drinks I was offered a rather unique "snacks of the world" mix.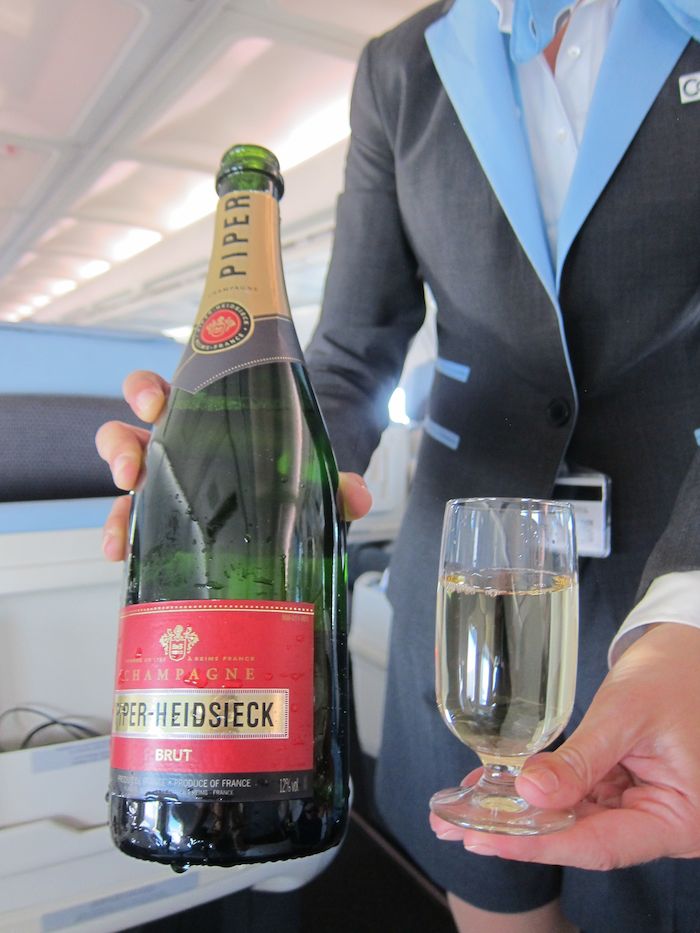 La Compagnie Piper Heidsieck Champagne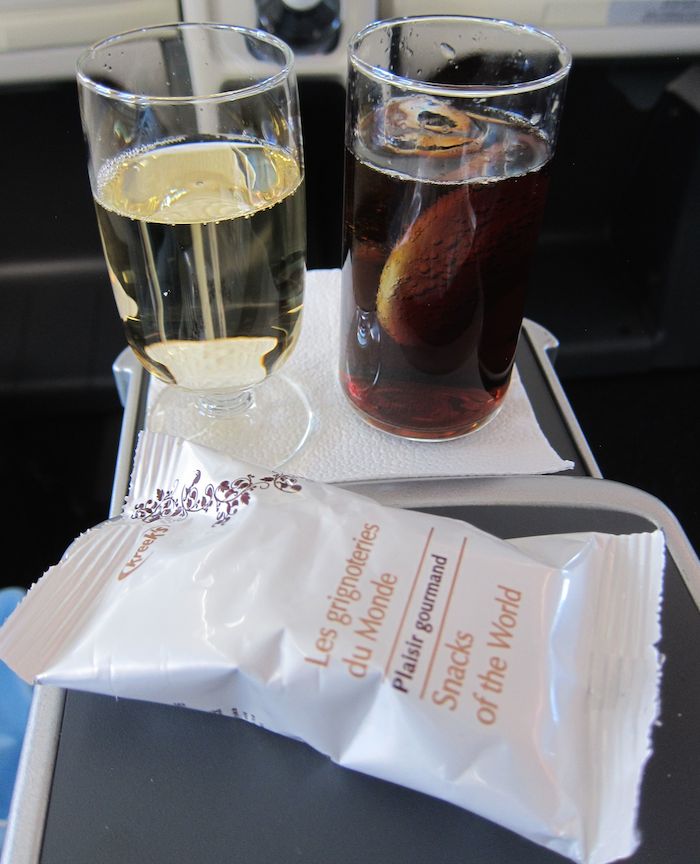 La Compagnie drinks and snack mix

Then for another 30 minutes I didn't see a flight attendant, at which point a flight attendant came around with a tray and said "can I take your glasses?"
Okay, this is what really puzzles me. I have two empty glasses sitting in front of me. Sure, you can take them if you really want to, but what I'd really like is another drink. After all, at this point I've been sitting on the plane for close to two hours, and there was nothing to drink on the ground. So it's puzzling to me, not just in terms of the customer service aspect, but also in terms of minimizing the amount of glassware that has to be used.
A few minutes after that — about 1hr45min into the flight — the appetizer was served. There were no menus, though it seemed to be salmon with some blinis. On the same tray were the dessert and cheese, which still had plastic covers over them.
Not a very classy presentation in my opinion, both in terms of the plastic covers and in terms of serving dessert with the appetizer.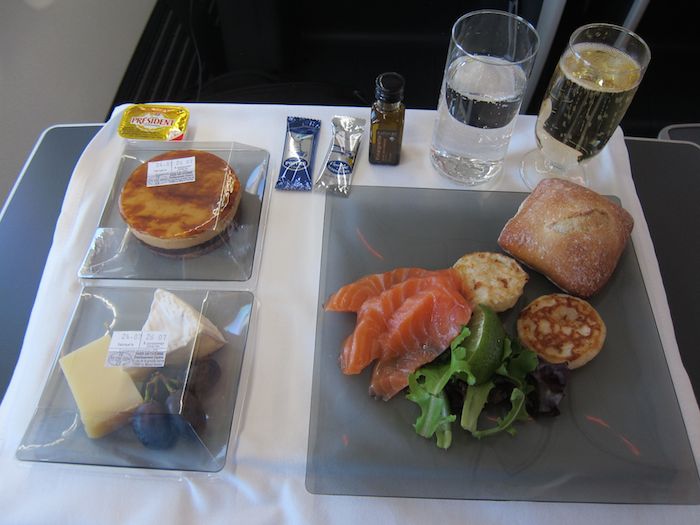 La Compagnie business class appetizer, cheese, and dessert
Fortunately the salmon was pretty good, at least.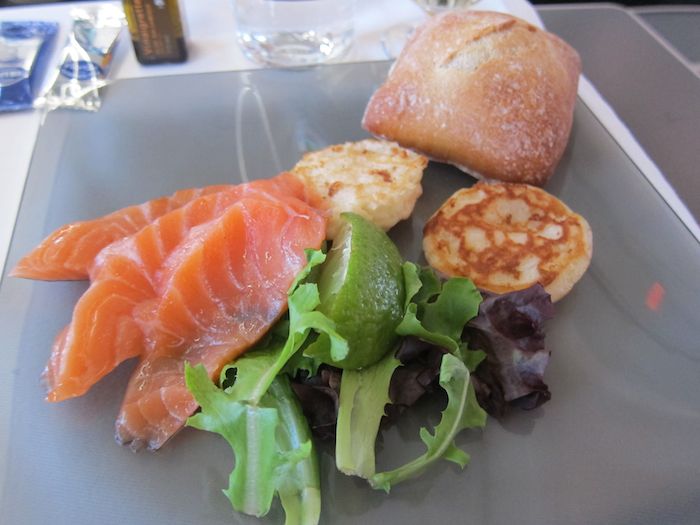 La Compagnie business class appetizer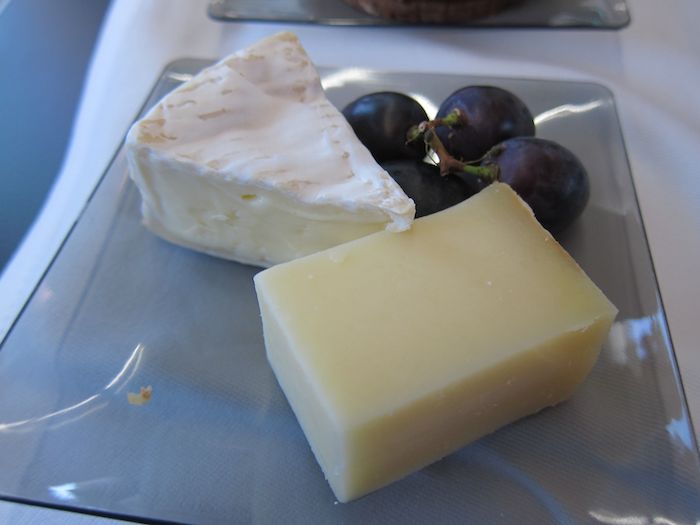 La Compagnie business class cheese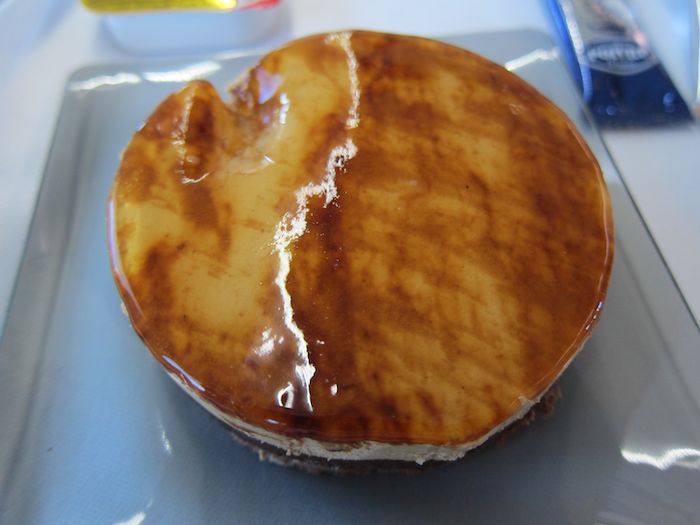 La Compagnie business class dessert
Then it was another 40 minutes before the cart with the main courses was rolled around. For the main course I had the choice between "shrimp and beef." I asked for a description of the shrimp, and it was described to me as "Creole and spicy." I love shrimp and I love spicy, so bring it on!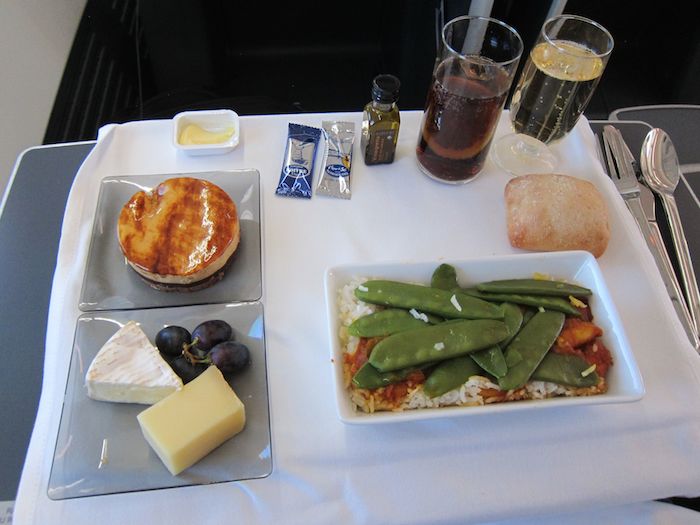 La Compagnie business class main course

Unfortunately it was anything but spicy, and consisted 90% of rice and snap peas.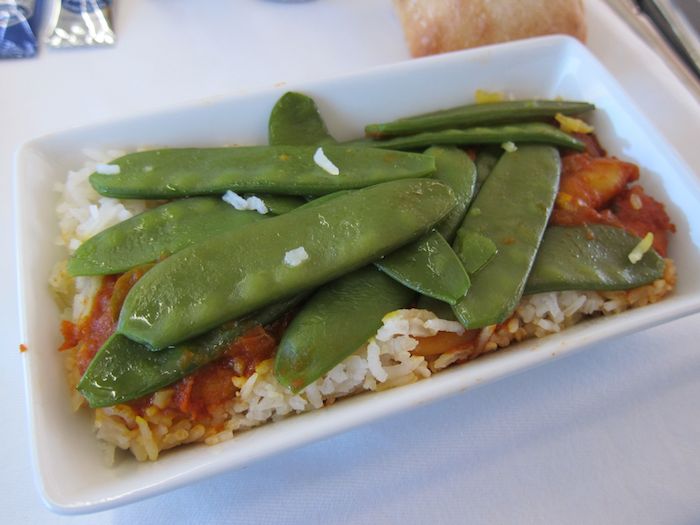 La Compagnie business class main course
Yet another 40 minutes later the crew came around with coffee and liqueurs. La Compagnie's website advertises how they have espresso. And technically they do. But when I asked for an espresso after dinner, I was told that they were only serving coffee at the time, and if I wanted espresso it would have to be after the service was done. Oy…
So I had coffee for the time being.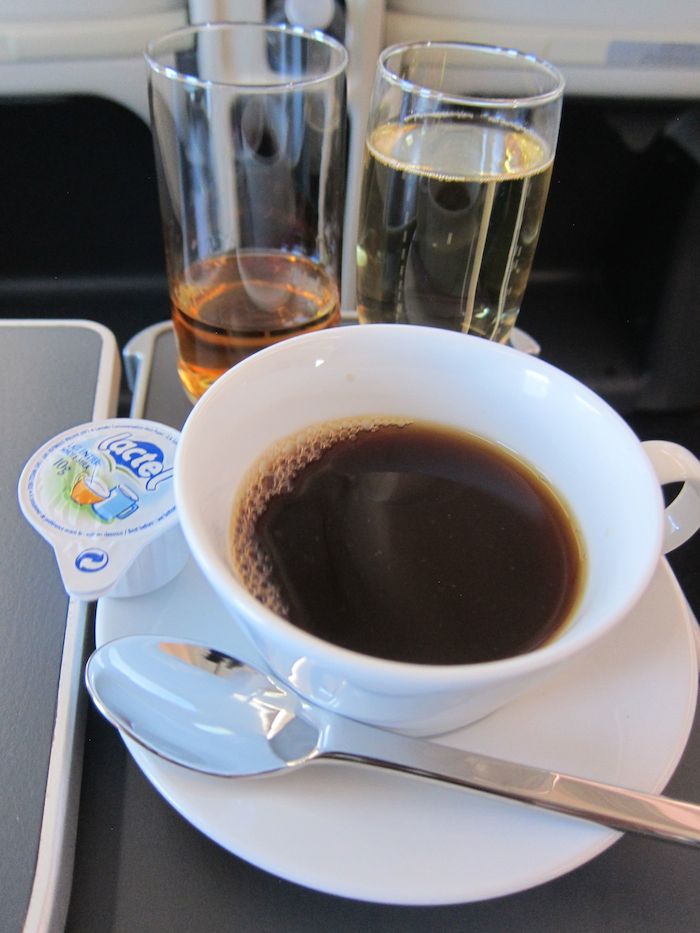 La Compagnie business class coffee
And then 30 minutes later ordered an espresso.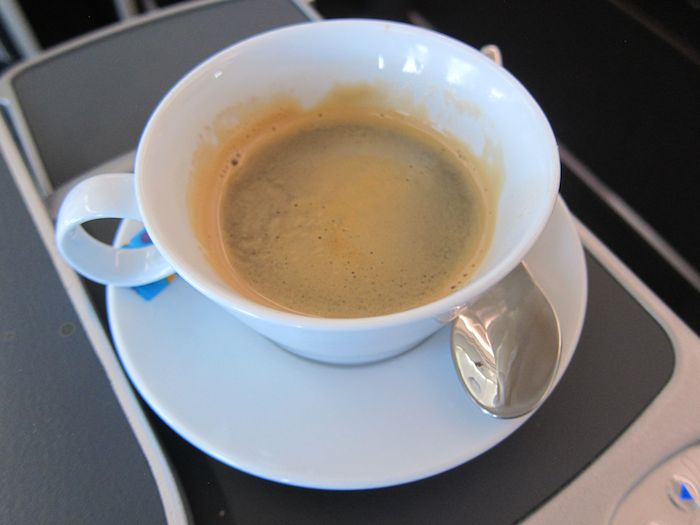 La Compagnie business class espresso
It sure felt like we were approaching Canada by the time the meal service was done.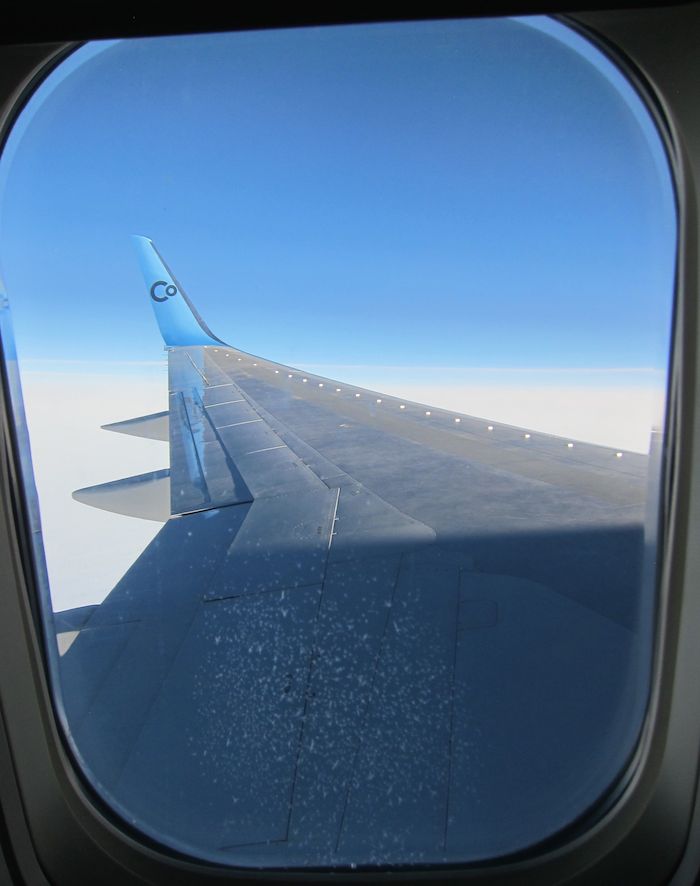 La Compagnie wing view midflight
After dinner I decided to recline the seat and see how comfortable it was.
It wasn't.
The La Compagnie seat wasn't angled flat, but rather angled in three different directions. Within a minute of reclining I put it back in the upright position.
The other puzzling part is that there was no privacy between seats at all. Not even one of those plastic partitions you could lower between seats. So it would be really awkward trying to sleep next to a stranger on this plane.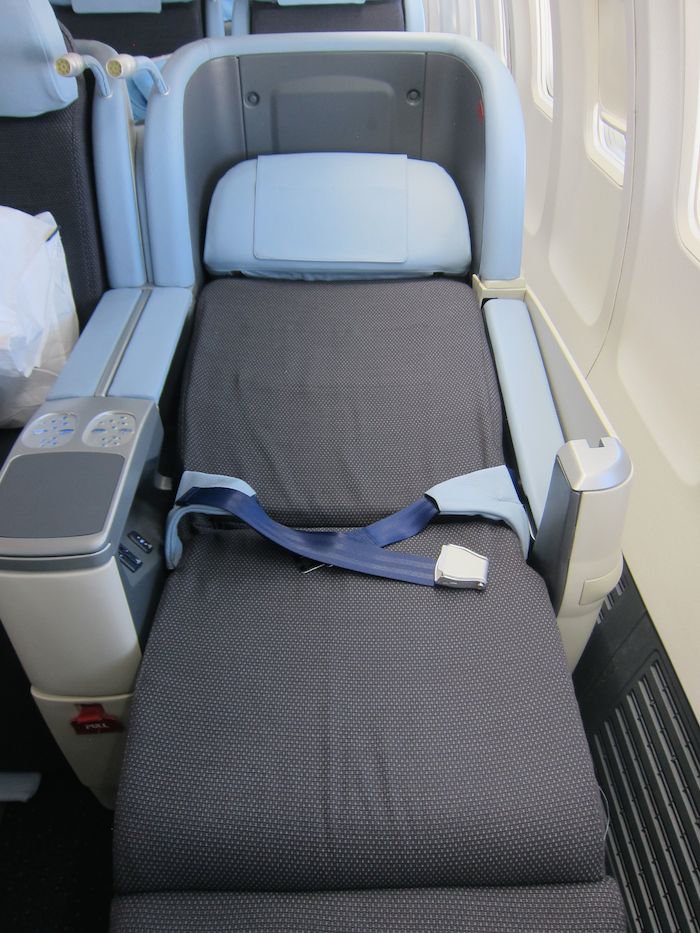 La Compagnie business class seat reclined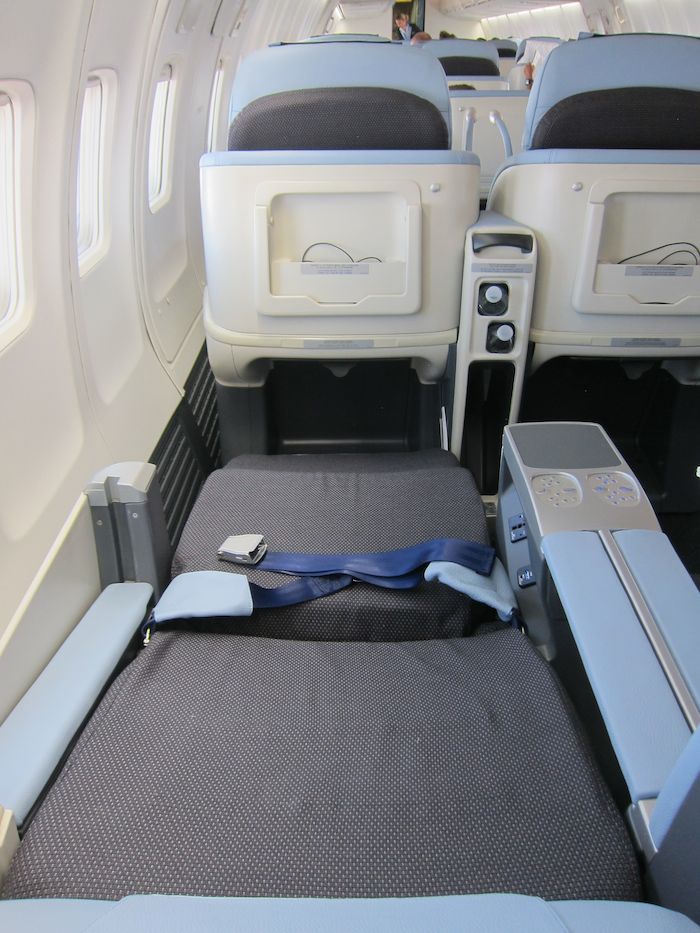 La Compagnie business class seat reclined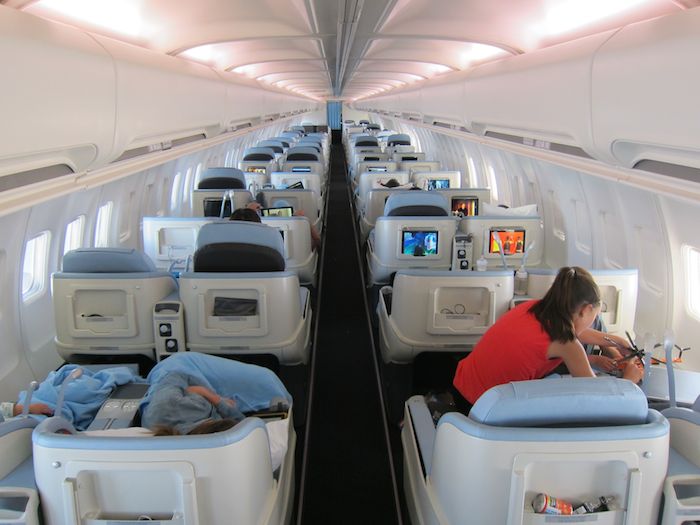 La Compagnie cabin view

For the next couple of hours I tried to get some work done on my laptop. After a while I was thirsty, so went to the galley to ask for a Diet Coke. Interestingly it was served in a cup. There was also a snack basket with some chocolate bars and pretzels, so I took some pretzels.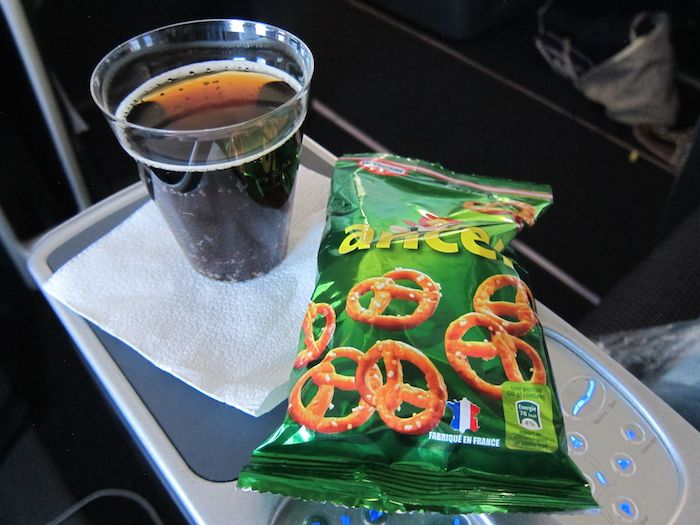 La Compagnie snack
I realize I haven't talked a lot about the crew, so might as well at this point. Aside from the purser (who I found to be arrogant), the crew was generally friendly while they were serving me.
That being said, between meals I was a bit disappointed they weren't more proactive. A flight attendant must have walked down the aisle every five minutes between the forward and rear galley, though they did it with such haste and purpose that it was as if they were trying to avoid anyone making a request. When I did push the call button they were prompt, though.
They also have really snazzy uniforms, for what it's worth.
About two hours before arrival the service began. I was a bit surprised the crew turned on the lights to the highest possible setting before the service began. Maybe it's just me, but on a longhaul flight I don't ever like having the lights turned all the way up, regardless of whether there's a meal being served or not. At least use the intermediate setting, in my opinion.
Service began once again with hot towels.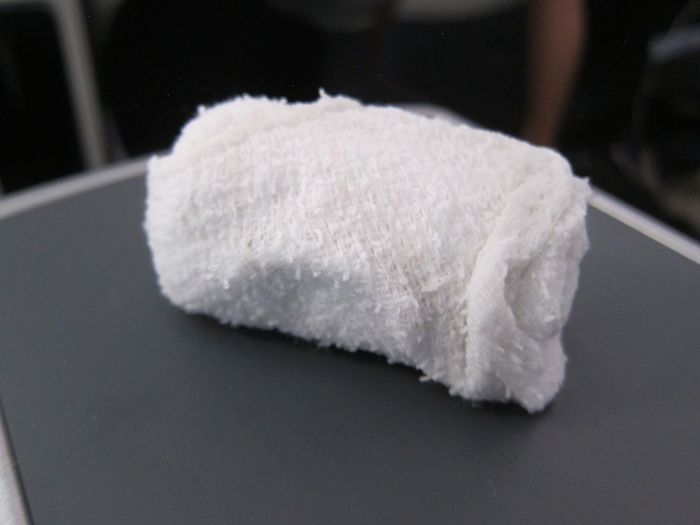 La Compagnie hot towel

The pre-arrival meal service consisted of a cold plate and a dessert consisting of a few mini-pastries.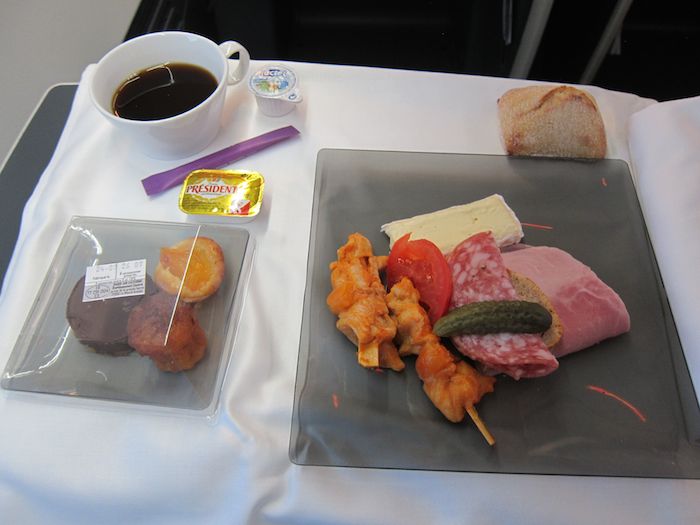 La Compagnie pre-landing snack

The meat was soggy and just not very good.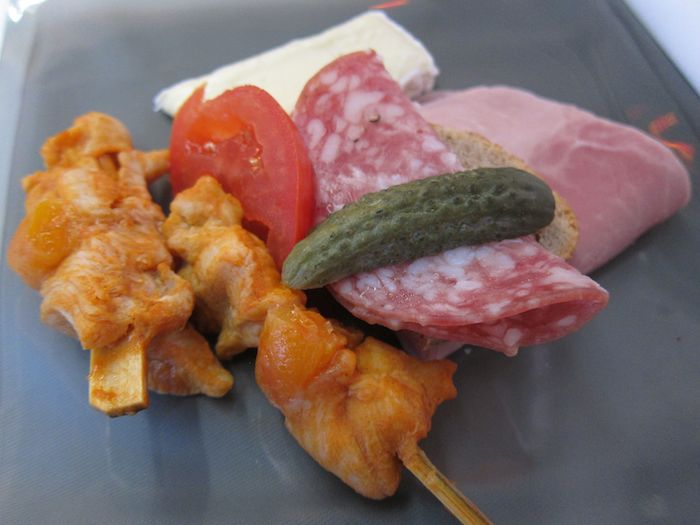 La Compagnie pre-landing snack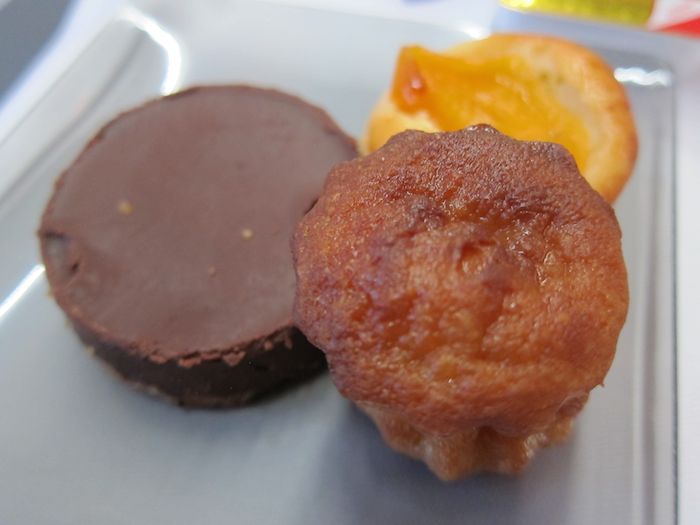 La Compagnie pre-landing snack dessert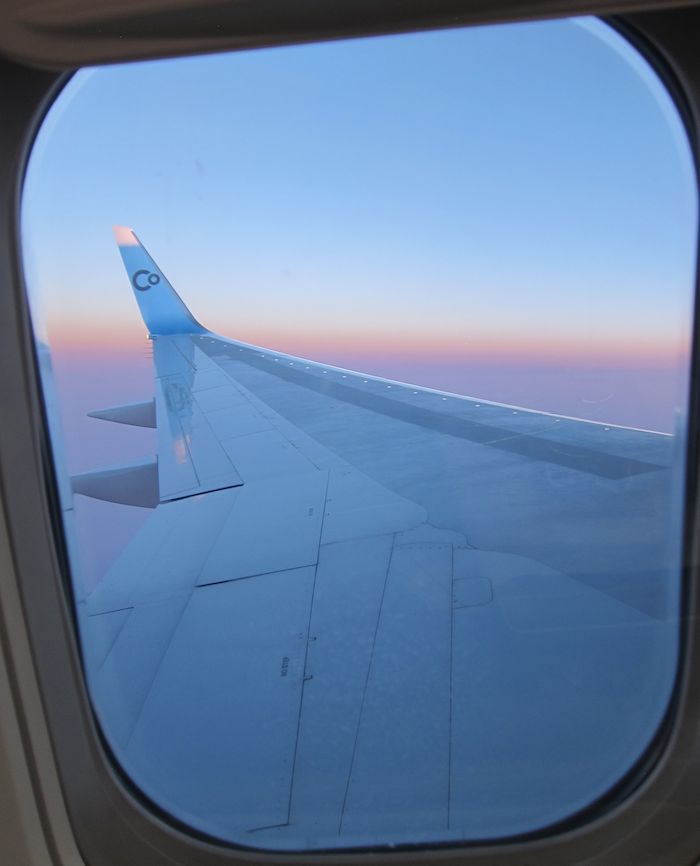 Sunset over the Atlantic
At around 8:50PM ET we began our descent into Newark. We had amazing skyline views on the descent.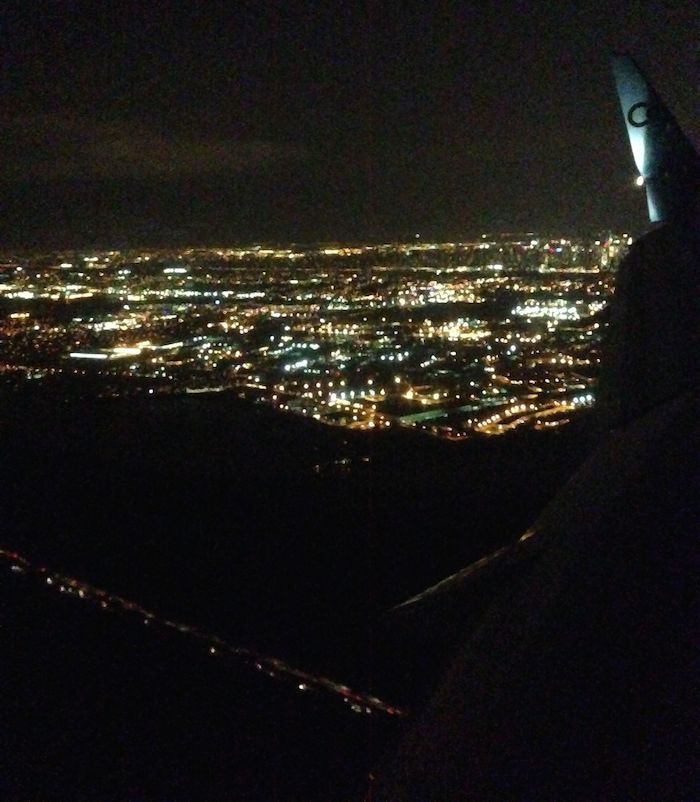 Approach into Newark
We touched down on Runway 22L at 9:20PM, and had about a five minute taxi to our arrival gate.
I've shared my thoughts on La Compagnie in great detail, so let me just summarize by saying:
This flight was an AMAZING value
I paid 500EUR for my flight, which was cheaper than any economy ticket. So was this better than economy?
OF COURSE — in terms of what I paid it was a great value. But would I ever pay anywhere close to a business class fare for this product? No way!
Constructive feedback for La Compagnie service standards
I've poked enough fun at them, and at the end of the day I don't see how their business model will work.
For example, I realize when they're crunching numbers having 74 seats sounds good, but if you're only expecting to have at most load factors of 75-80% (which is very optimistic), wouldn't it make more sense to have fully flat beds so you can maximize your yields?
This is something they can't easily change at this point. They're committed to what they've done, and they'll have to live with it. But in terms of minor things which won't make or break the airline but would still make a difference in terms of service, here's what I'd recommend:
Offer pre-departure beverages and offer to hang coats immediately. Neither Newark nor Charles de Gaulle are pleasant airports, and many people skip the lounges altogether. Having a drink upon boarding is nice after a stressful airport experience.
Flight attendants need to do a better job anticipating needs. After having been on a plane for two hours, I don't want to be asked whether my glass can be taken, but rather would like to be asked if I would like another drink. It seems like common sense.
Never turn the cabin lights all the way up, except for during boarding and deplaning.
Between meals, have the flight attendants be more anticipatory. When they walk through the cabin, make eye contact with passengers to see if they might want anything.
Either dump the amenity kit or put something decent in it. An amenity kit without a toothbrush and toothpaste is just silly.
Don't use plastic cups. It's tacky.
The above are all easy fixed, so here's one that's maybe a bit tougher. Offering a decent business class service with three flight attendants simply won't work. No way, no how. There's no way it should take three hours to serve what essentially amounts to a two course meal, and on top of that be told you can't have an espresso until after the service is done.
Bottom line
I'm rather curious which new route Icelandair will launch with the 757 they get back within six months. 😉