Want to receive extra benefits for your stay at Amanwella, including complimentary breakfast, a space available room upgrade, a property credit, and more? Contact [email protected] for more details. He may even be able to help if you already have a stay booked.
In the last installment I reviewed our three night stay at Amangalla, and in this post I'll be reviewing our four night stay at Amanwella. While Amangalla is located in the fort town of Galle, Amanwella is located in Tangalle, a beach town along the coast of Sri Lanka.
Booking Amanwella
We booked a seven night package between the two Amans in Sri Lanka, known as the Fort & Beach Journey.
Our nightly rate at Amanwella was 900USD (more than at Amangalla), but for booking the package we received the following add-ons:
Daily breakfast
Afternoon tea
Guided tour of the Fort
Sandalwood facial for her and a traditional shave for him at Amangalla
Visit to the Handunugoda tea plantation (during complimentary inter-resort journey)
Visit to Mulgirigala Rock Temple and one 60-minute Amanwella massage for two at Amanwella
Daily choice of lunch or dinner (excluding alcoholic beverages)
Getting to Amanwella
Amanwella is located on the south coast of Sri Lanka. While Amangalla is in the very southwest, Amanwella is located in the central southern coast, so you just drive along the coast to get there.
That means it's not far distance-wise between the two hotels, though the roads along the coast aren't good at all, not nearly as good as the highway from Colombo to Amangalla.
For booking the Fort & Beach journey the roughly two hour transfer between hotels was included. The transfer was delayed by about 30 minutes because the car apparently broke down, though they found a replacement quickly.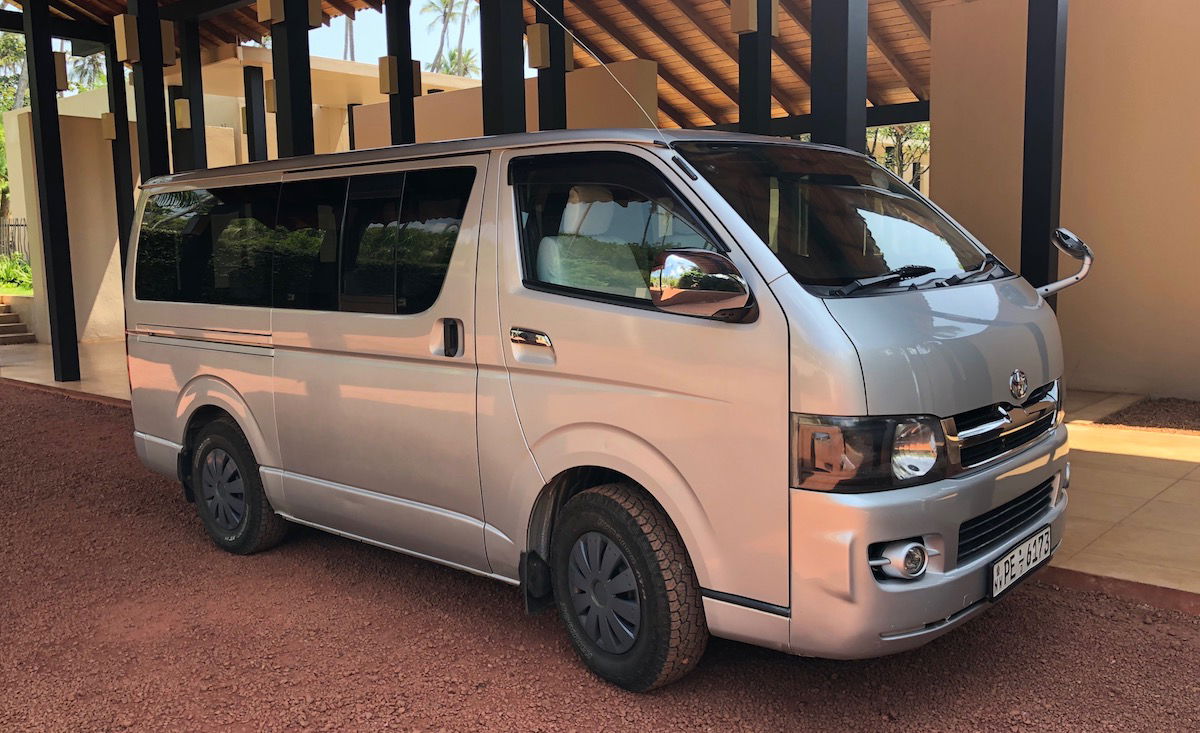 Car driving us between Amans in Sri Lanka
Our transfer included a visit to the Handunugoda tea plantation. They marketed this as being a feature, though in reality anyone can visit the planation for free — everyone gets a free tour, and then they try to sell you tea.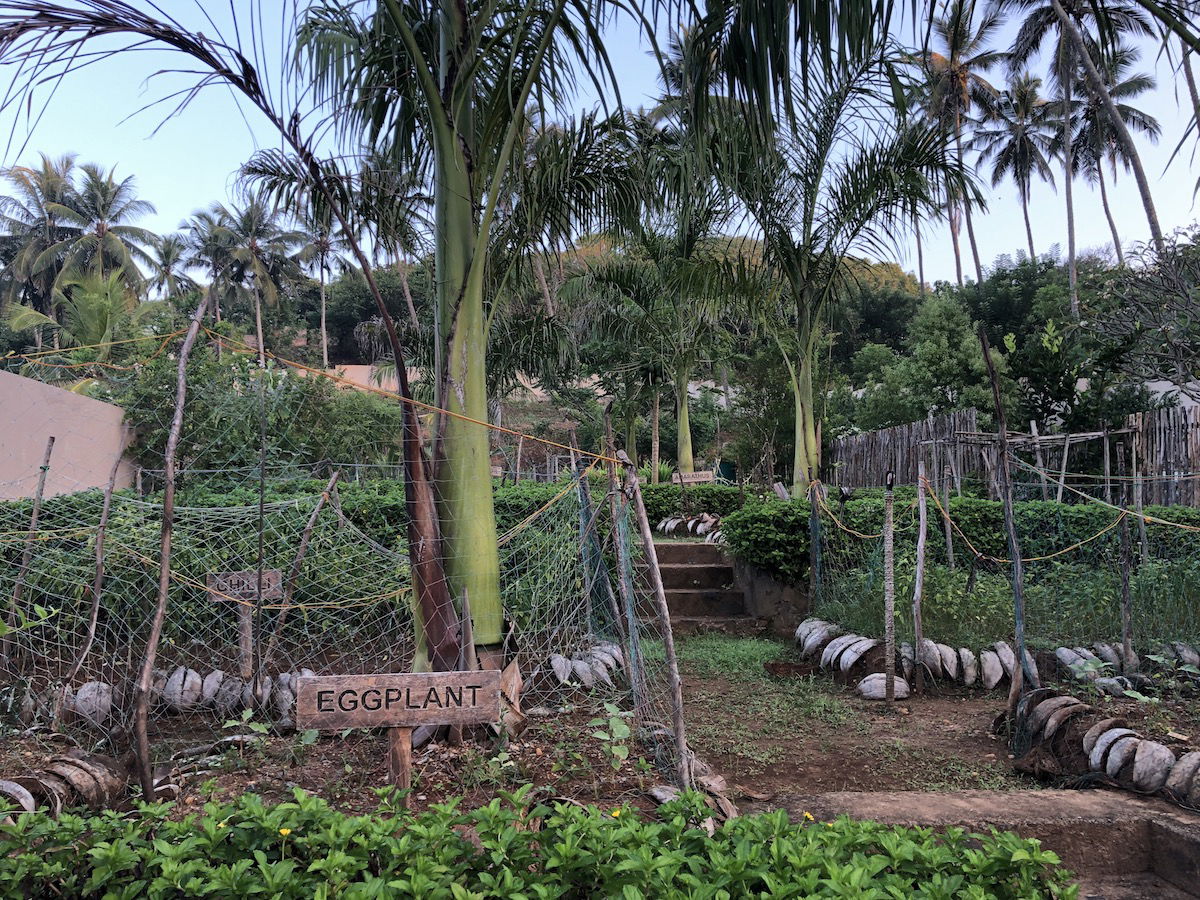 Handunugoda tea plantation
Aman usually does a great job curating experiences, so I was disappointed by the way they arranged this, and the lack of disclosure. They pretended like this tea plantation tour was a value-add experience arranged by the hotel, rather than something that's free for everyone. There were several tour buses at the plantation, so there were dozens of people taking this tour. I would have appreciated some warning that we were basically going to a tea timeshare presentation of sorts.
Amanwella room
Amanwella has a total of 27 rooms, and they're more or less identical. There are two categories of rooms — ocean hill pool suite and ocean pool suite, and the only difference is the view. We booked (and received) a standard room, which is the ocean hill pool suite.
The resort is mostly pretty walkable, though it is on a hill, so you may get a bit winded while walking to & from your room. The hotel does have super cute tuk tuks that you can be driven in, should you prefer not to walk.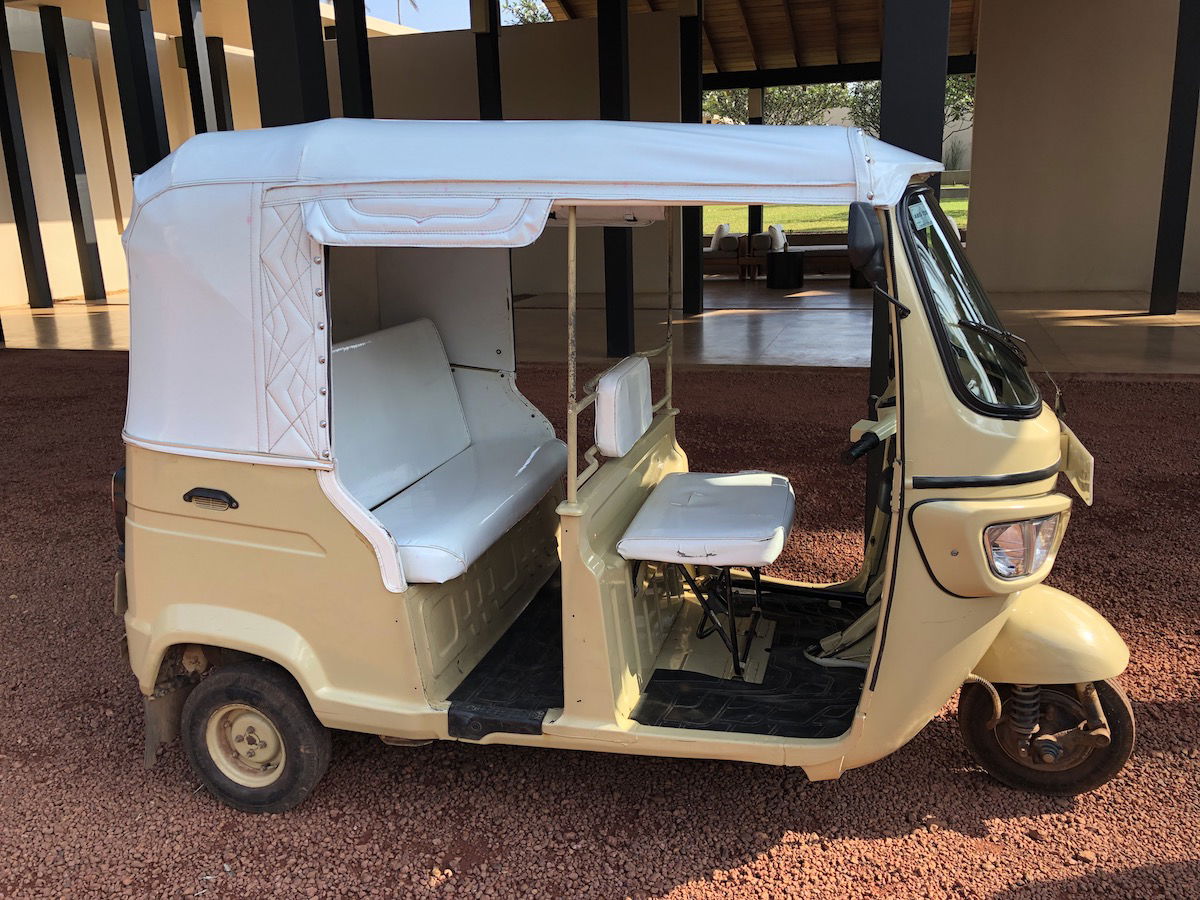 Amanwella tuk tuk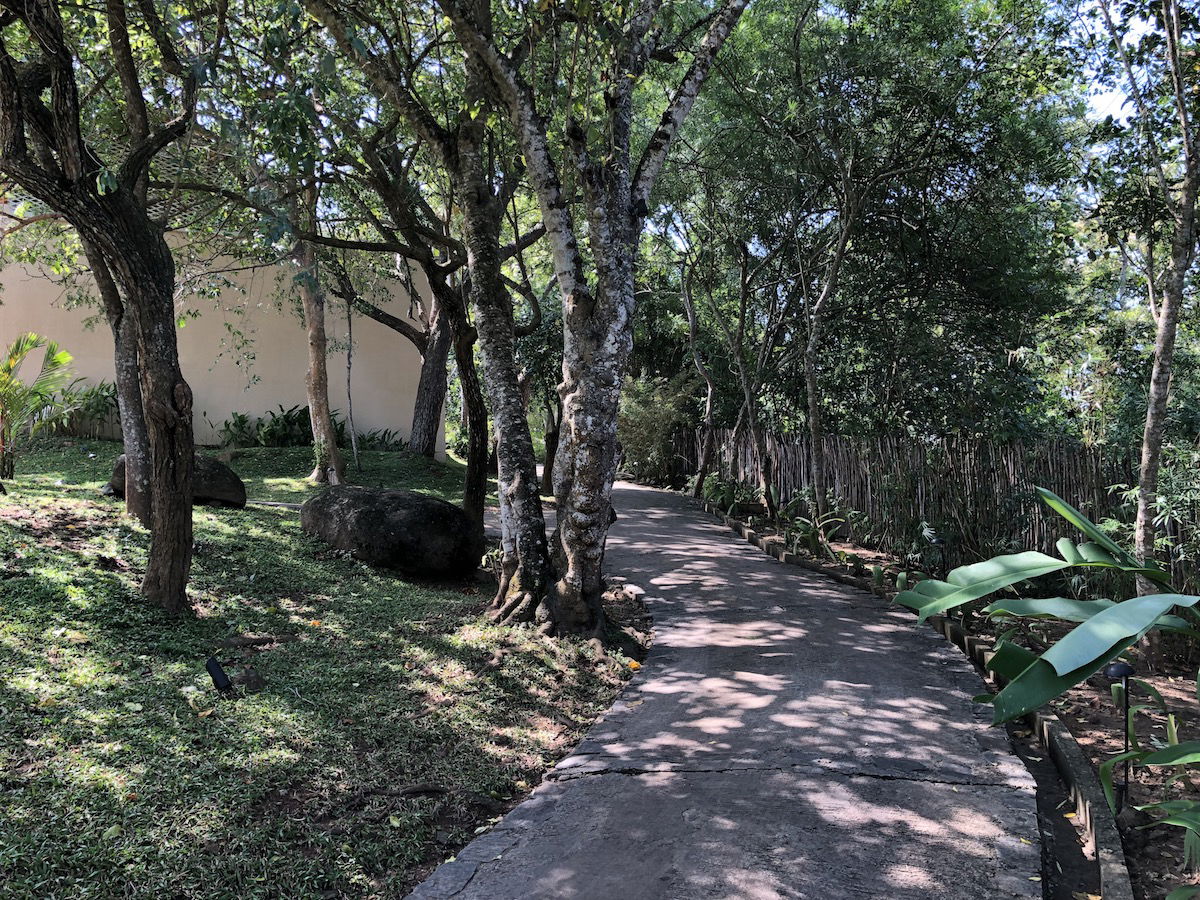 Amanwella resort walkways
We were assigned room 303.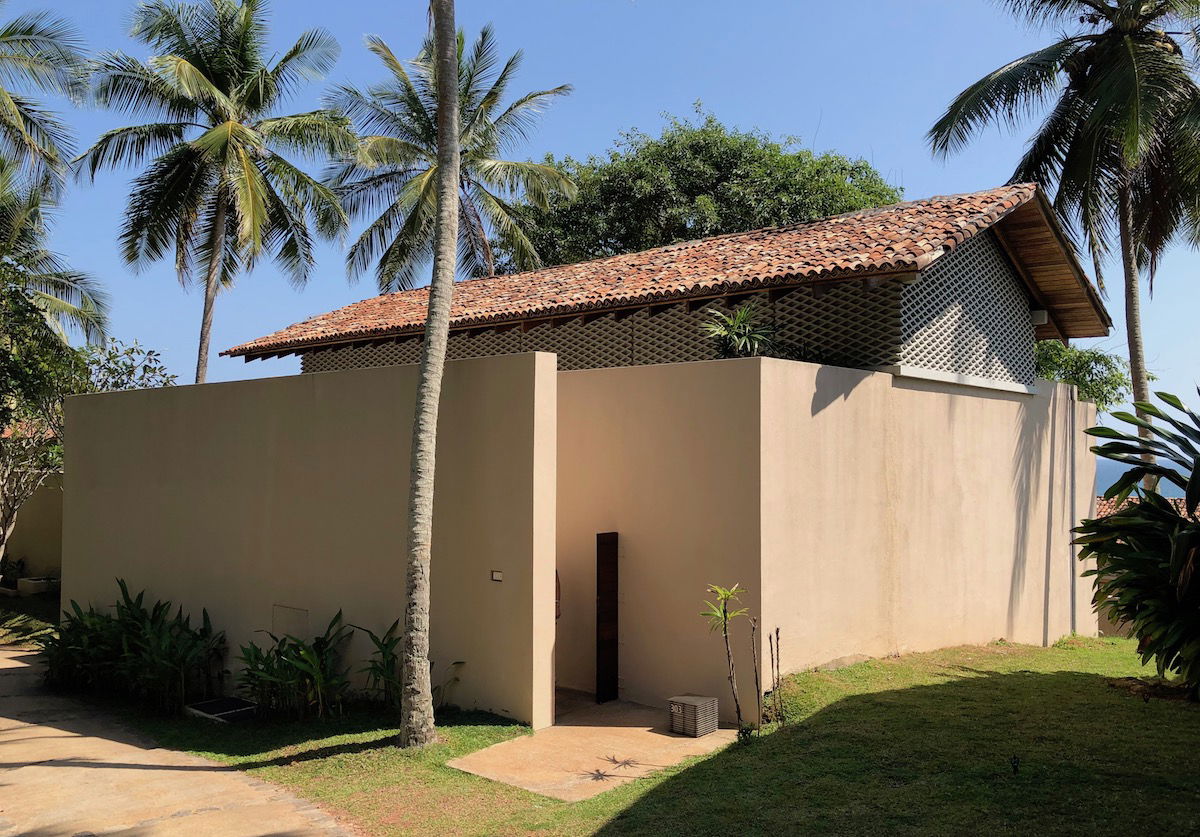 Amanwella villa exterior
The villas are described as being 100 square meters (1,076 square feet), though that might include the outdoor space.
Inside the villa and to the right was the bedroom and living area. There was a comfortable king size bed, as well as a small sitting area with a couple of chairs and a daybed.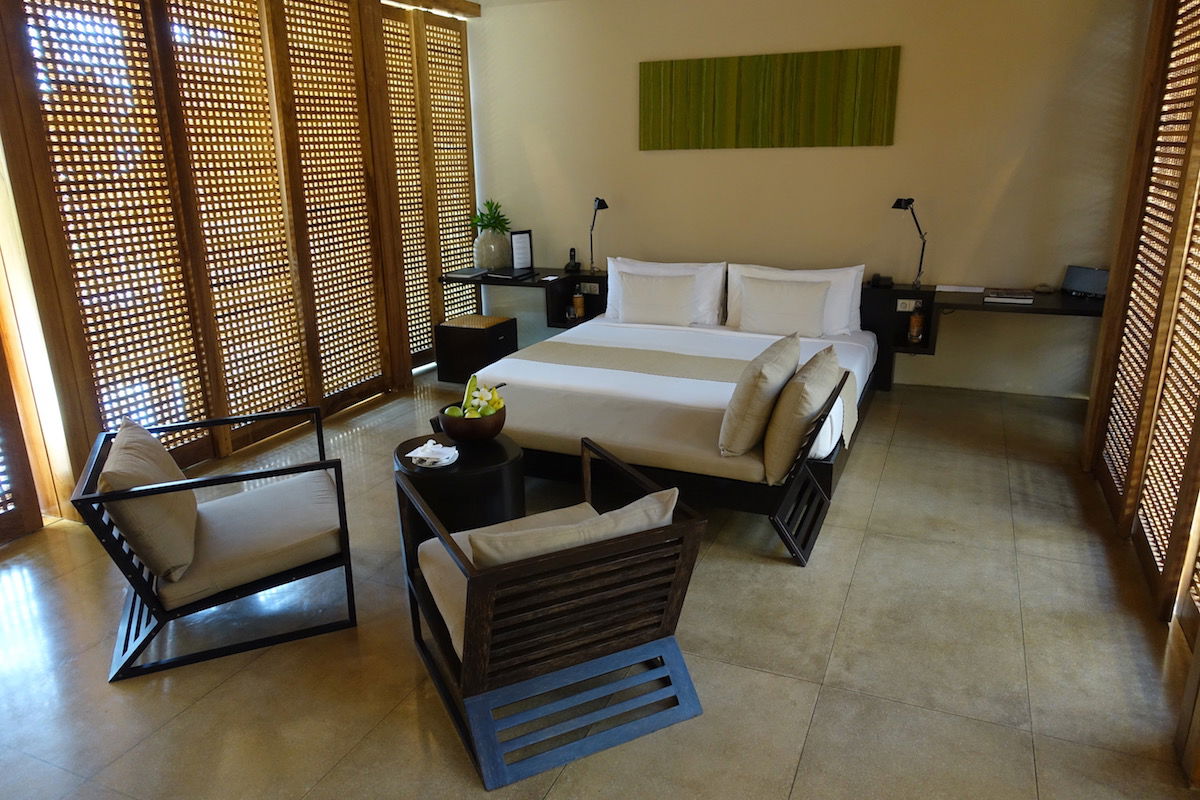 Amanwella villa bedroom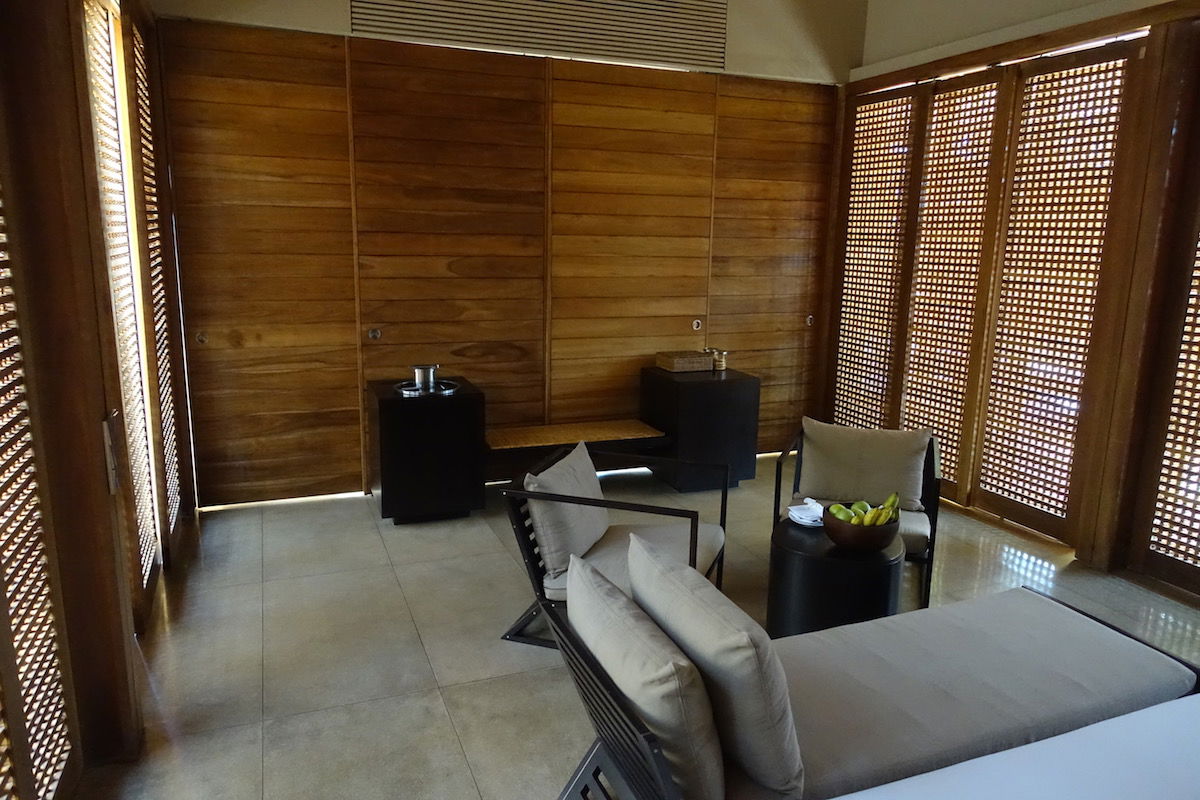 Amanwella villa living area
At the far end of the room was the minibar and coffee machine. All soft drinks and snacks are complimentary, while the alcoholic beverages are available for purchase, as is the norm at Amans.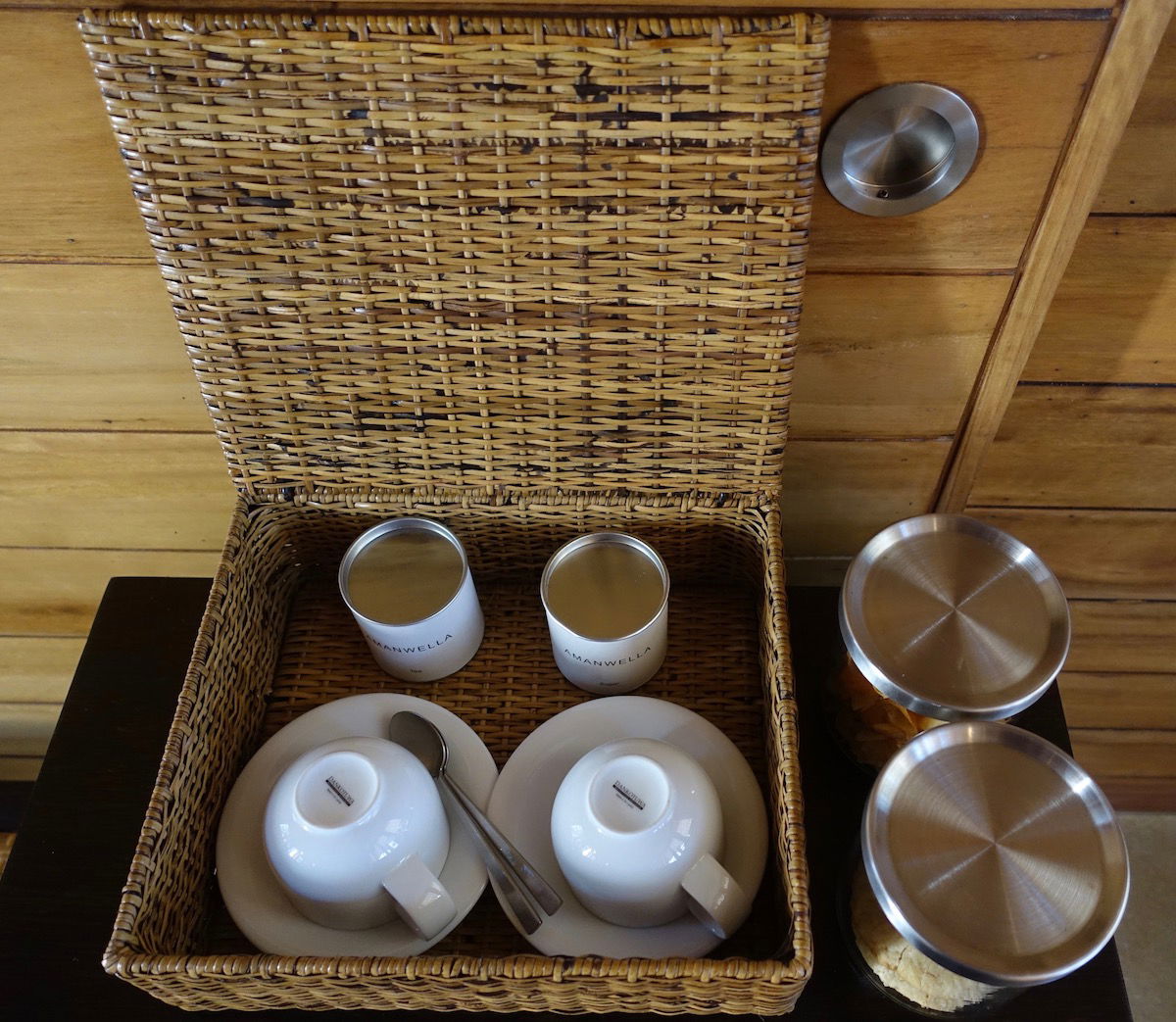 Amanwella complimentary snacks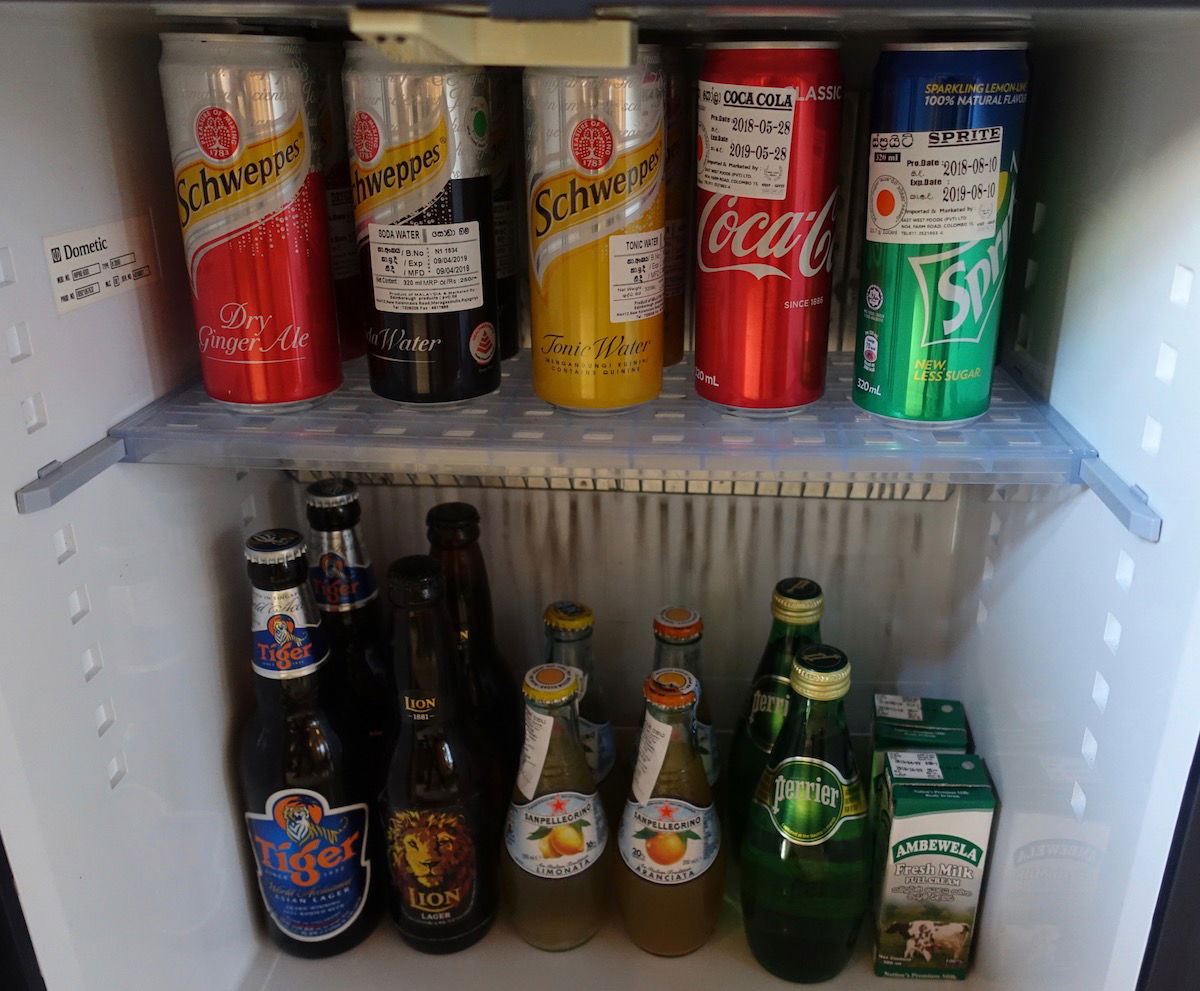 Amanwella complimentary minibar
Then there were double doors leading into the bathroom, which featured double sinks, a soaking tub, a walk-in shower, and a toilet.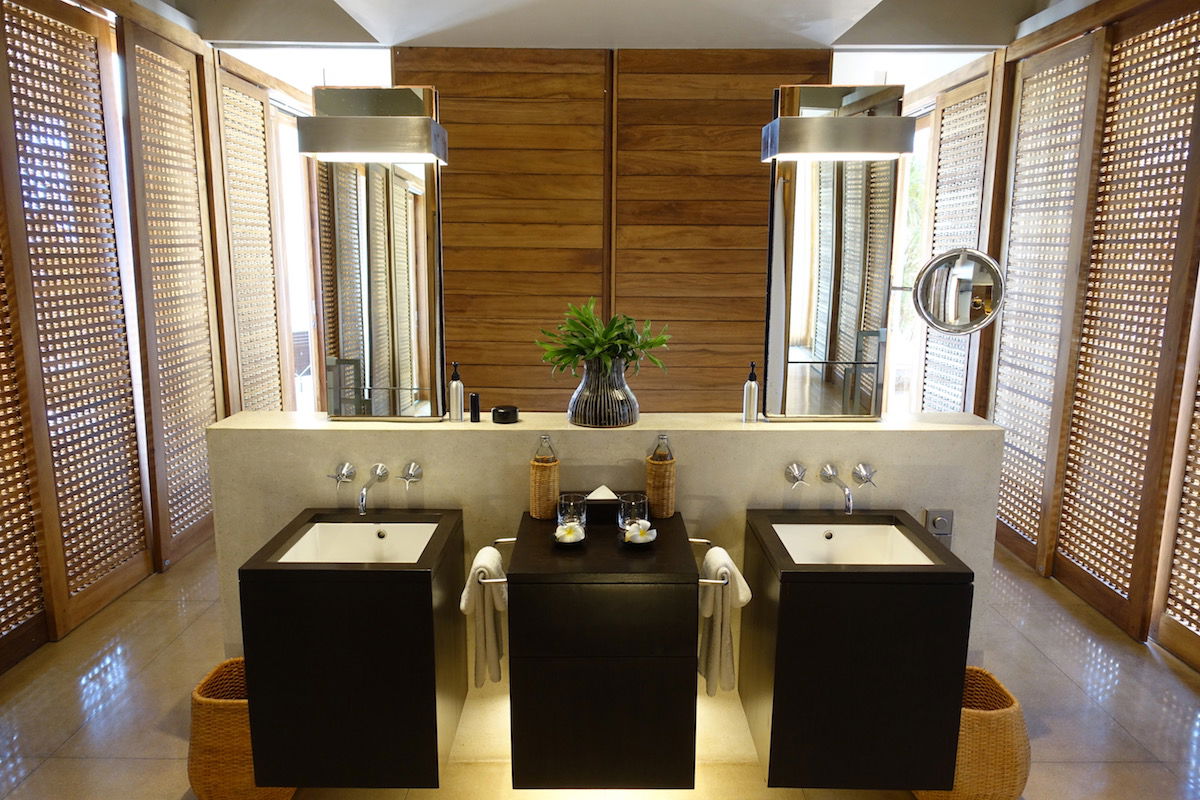 Amanwella villa bathroom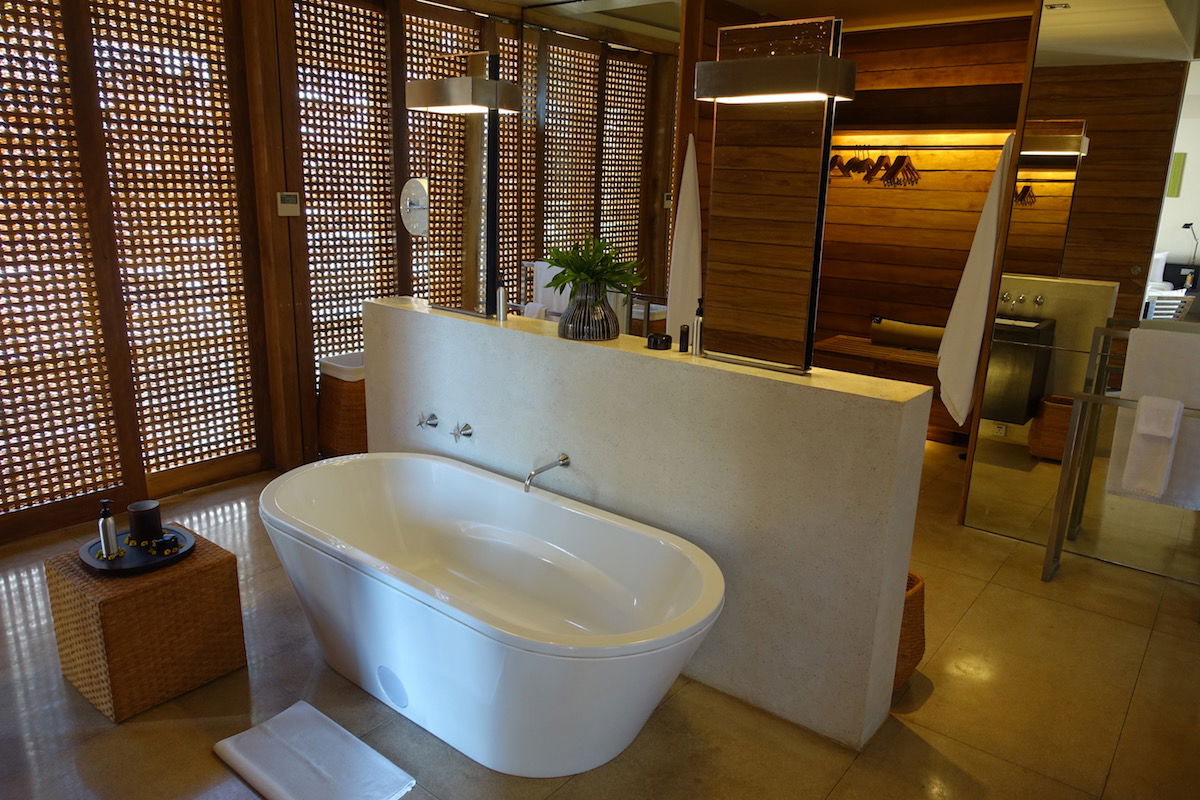 Amanwella villa bathroom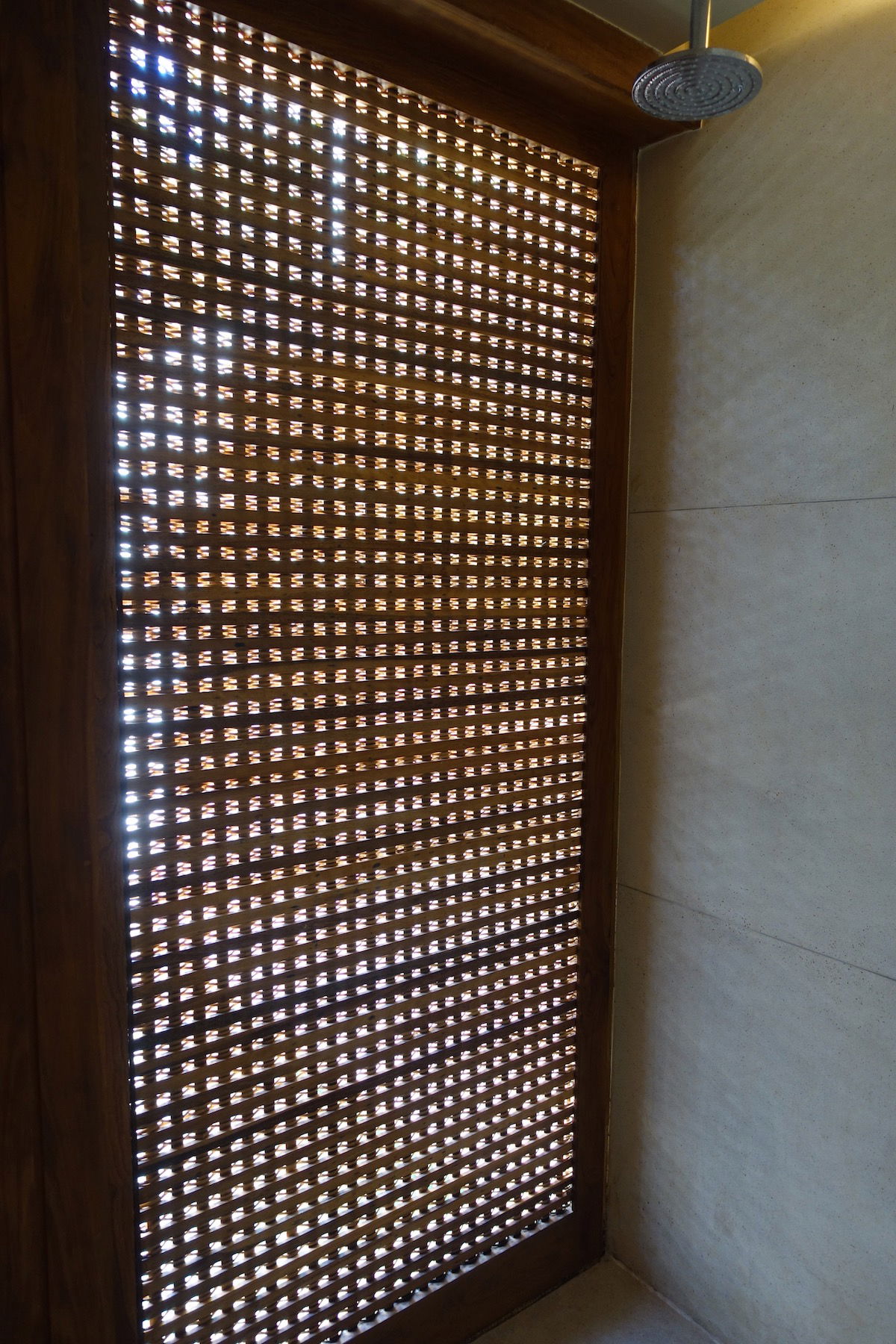 Amanwella villa shower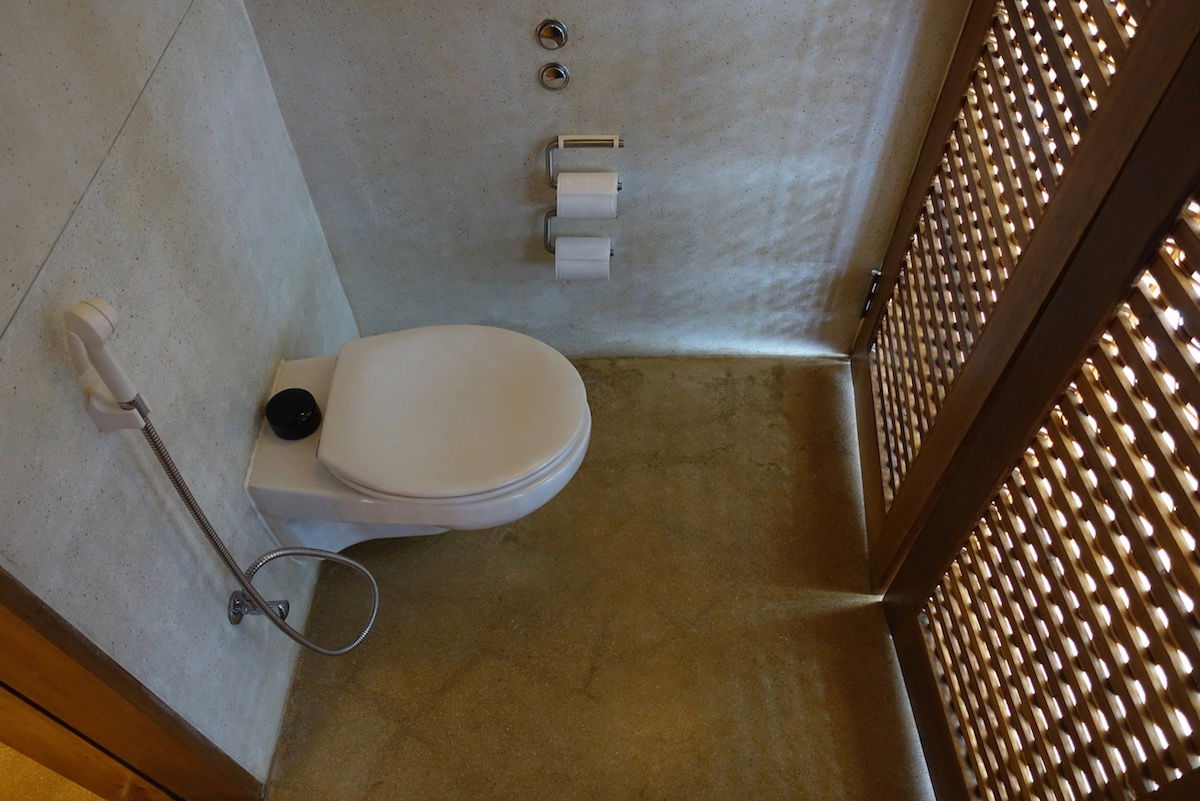 Amanwella villa toilet
There was also a large closet in the back of the room.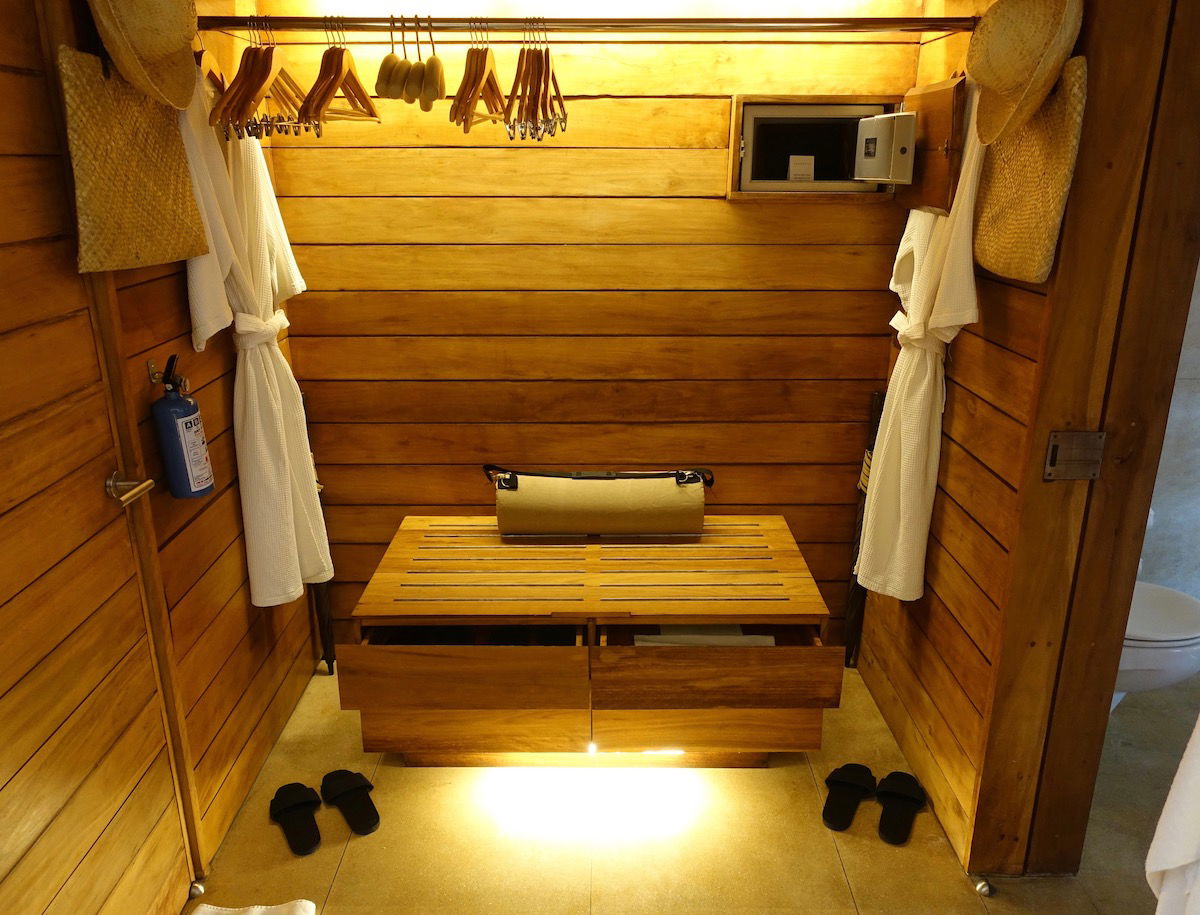 Amanwella villa closet
The room also had a lovely outdoor space. On the front side of the room was a daybed and a plunge pool. This area had no views but rather was "walled in," which is either good or bad, depending on how you look at it.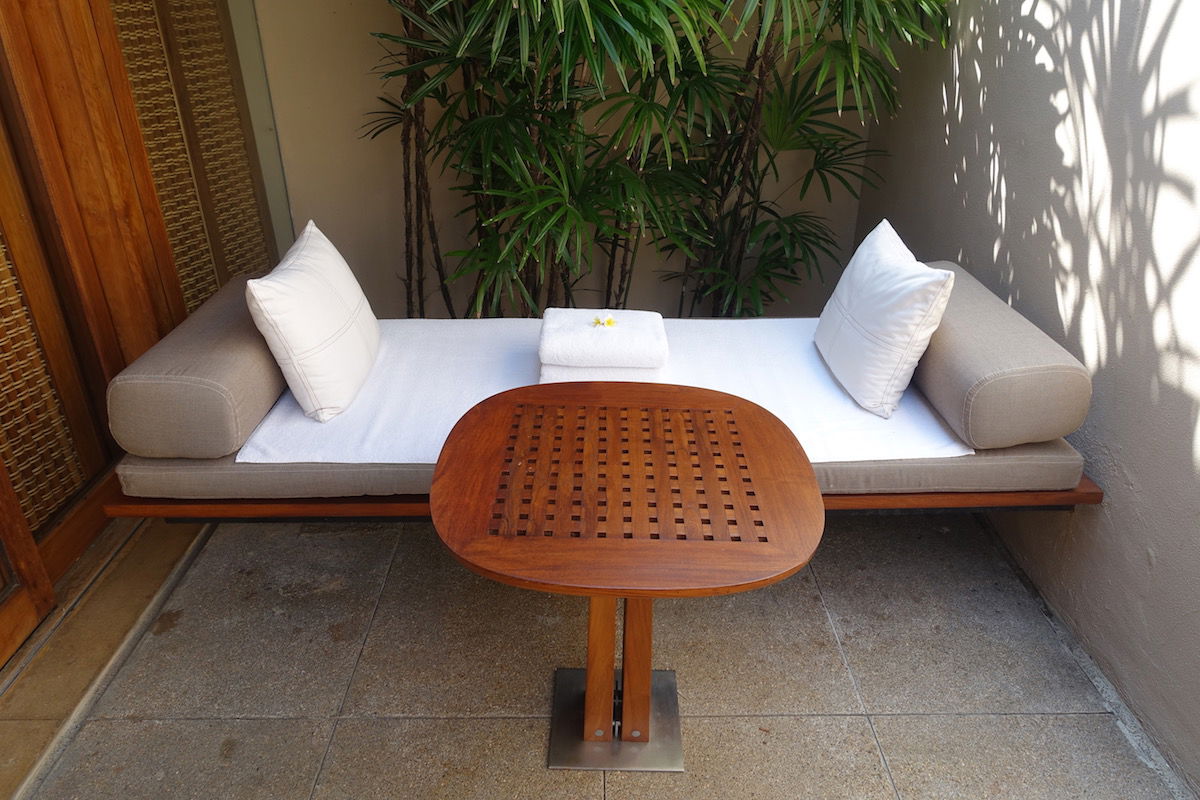 Amanwella villa outdoor seating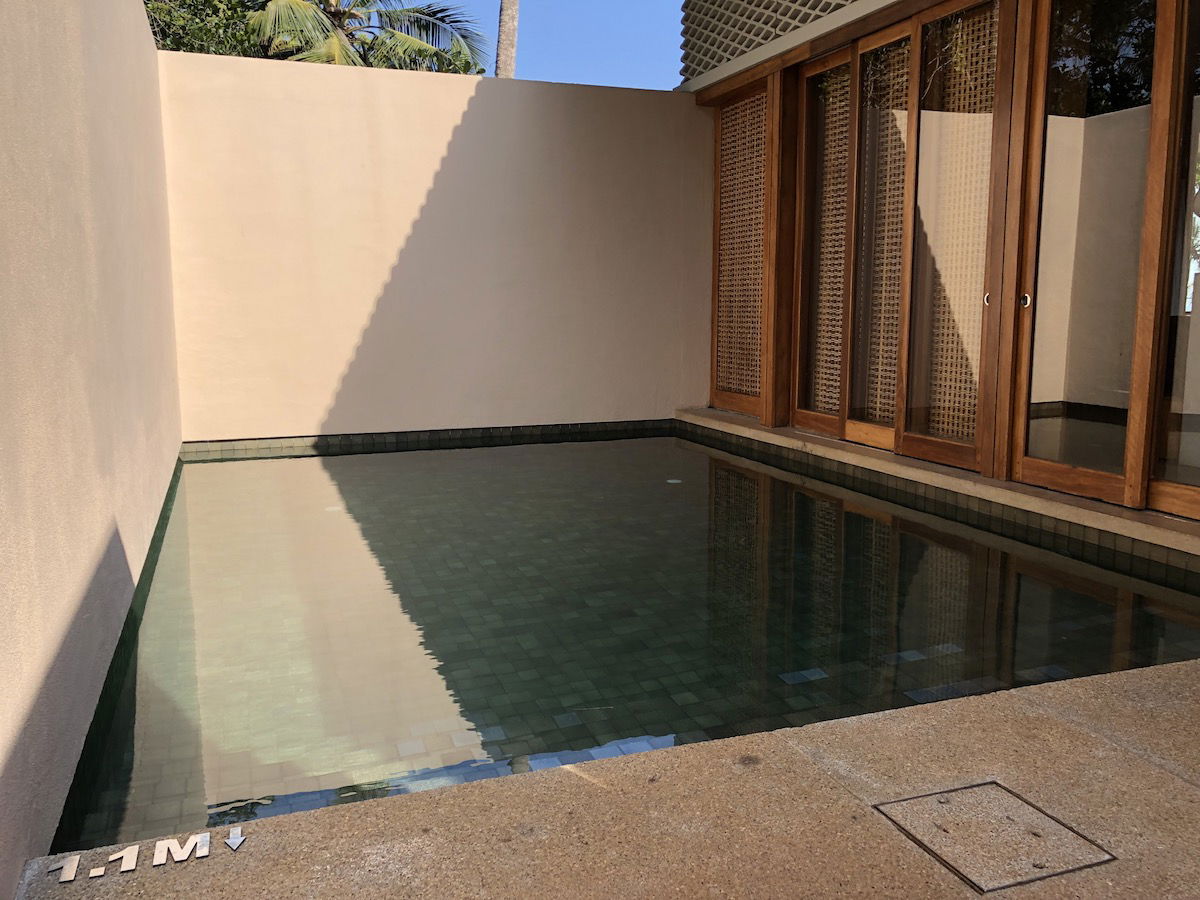 Amanwella villa plunge pool
The back side of the room had a large patio, which had a dining table with two chairs, as well as two loungers.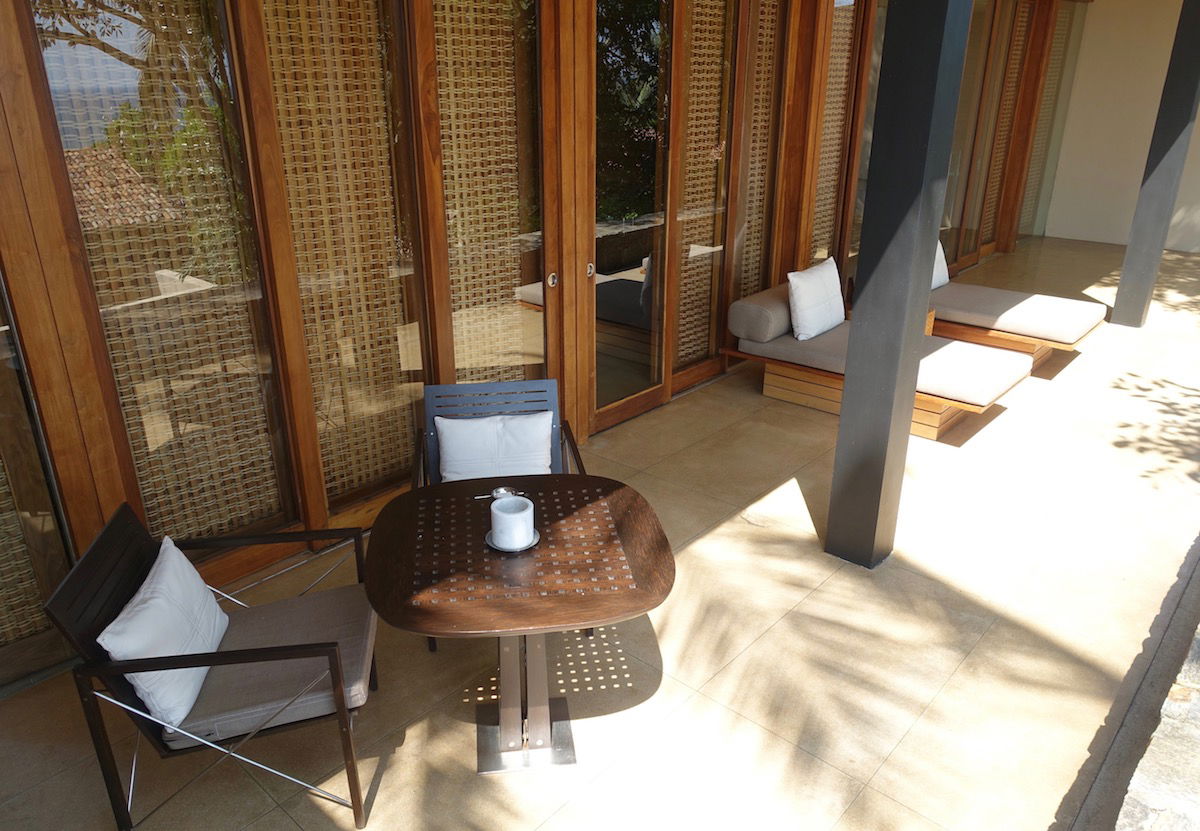 Amanwella villa outdoor area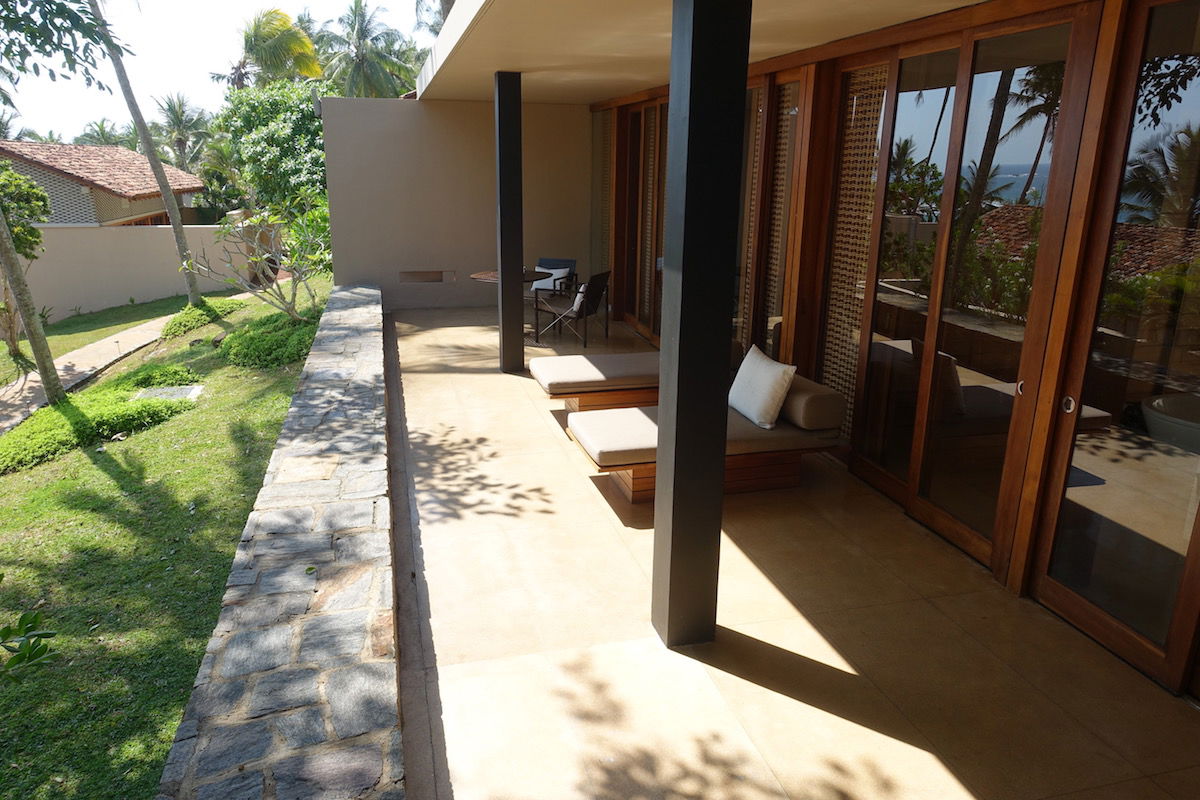 Amanwella villa outdoor area
As you can see, our room had a partial ocean view — you could see the ocean in the distance, but you can see how the set of villas beneath us had a better view.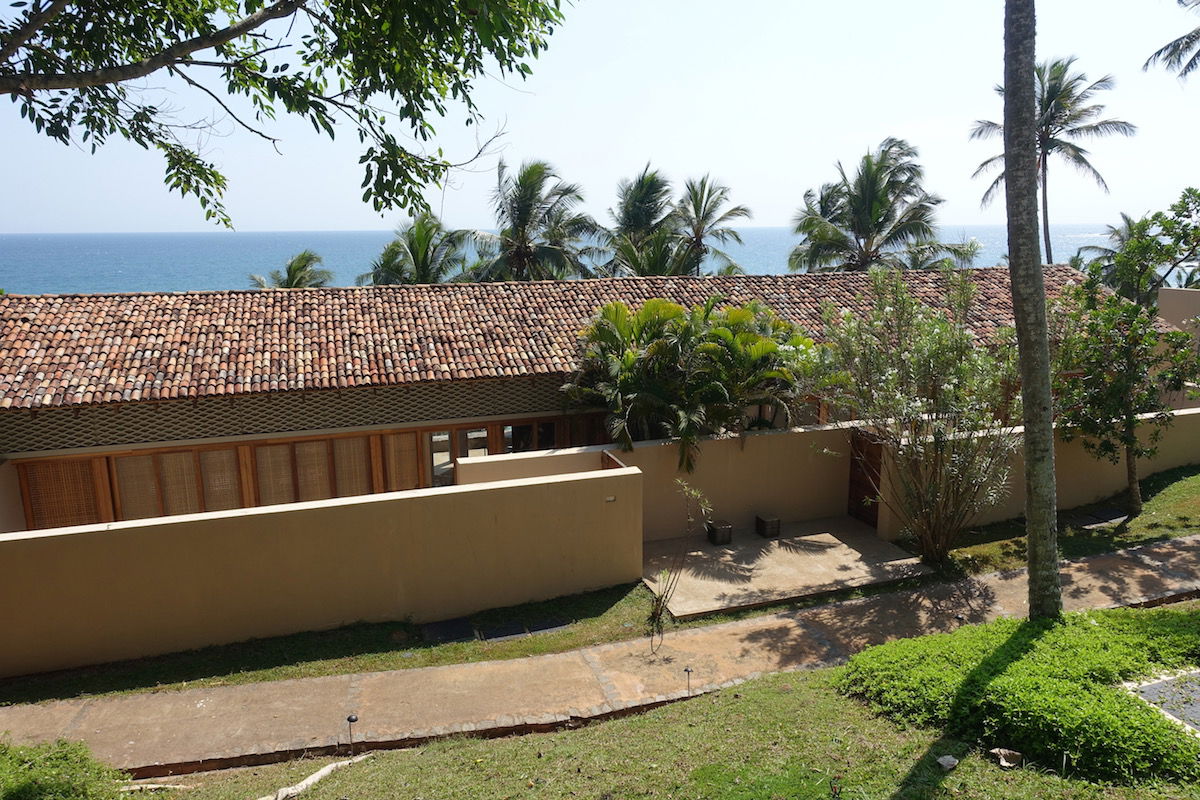 Amanwella villa view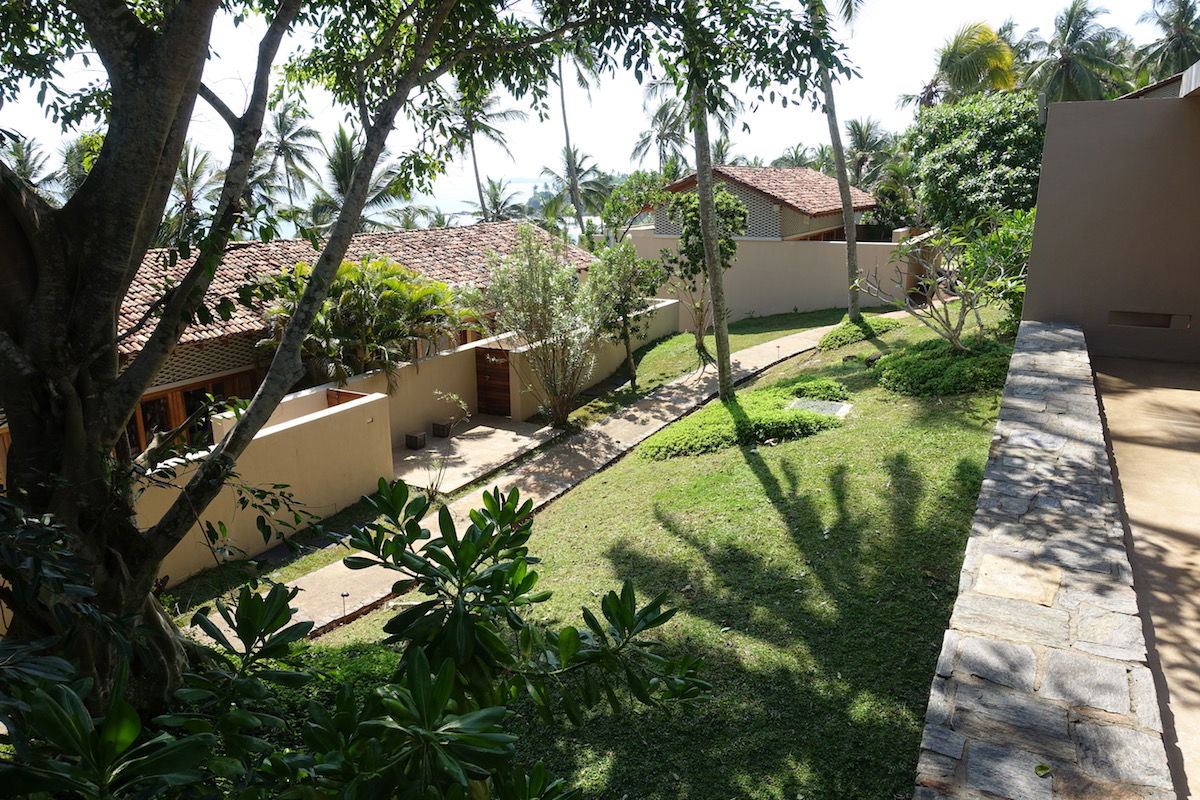 Amanwella villa outdoor area
All things considered I thought the villa was lovely, and nicely appointed. Wifi in the room (and throughout the hotel) was fast and free.
Amanwella resort layout
Most of Amanwella's facilities are located in the hillside, and then you can go down to the beach. I loved the layout of the resort's courtyard, which is also what you see when you first arrive.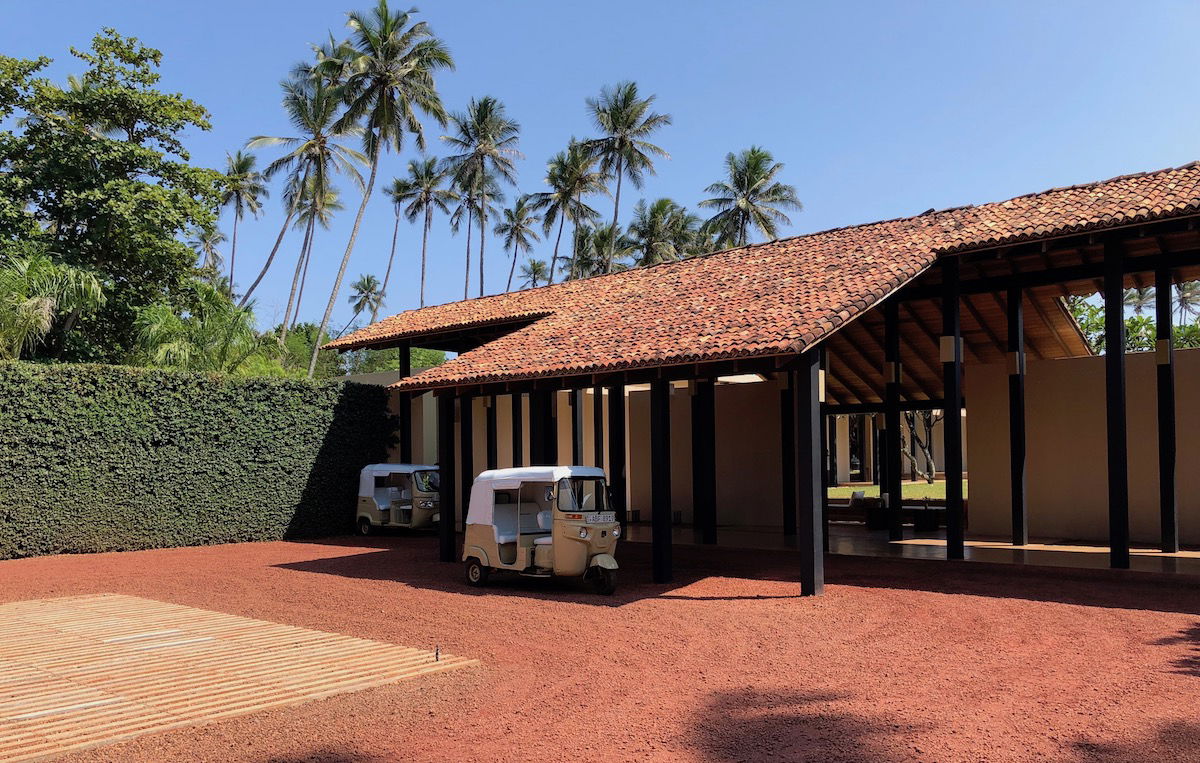 Amanwella entrance
When you walked along the courtyard the gift shop was to the left, and then the restaurant, bar, and library were to the right.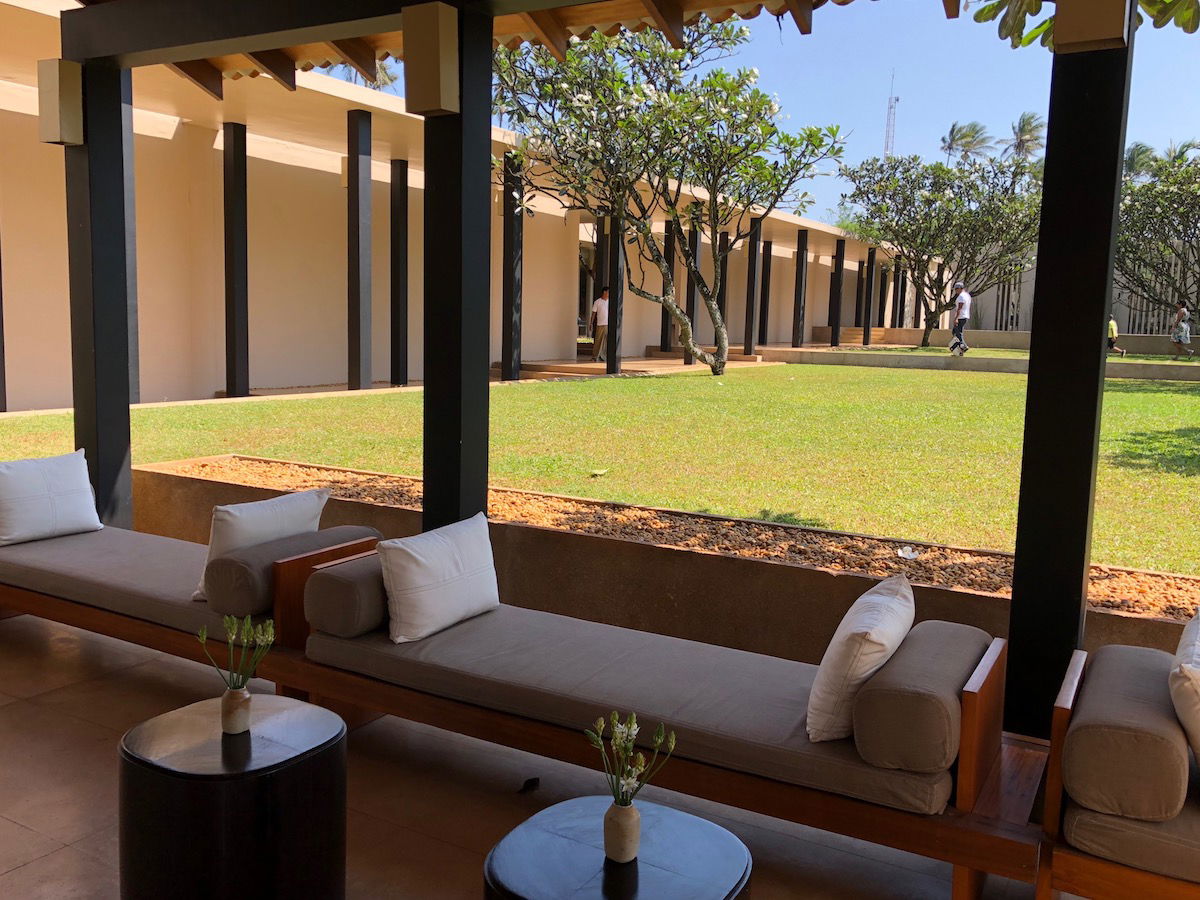 Amanwella courtyard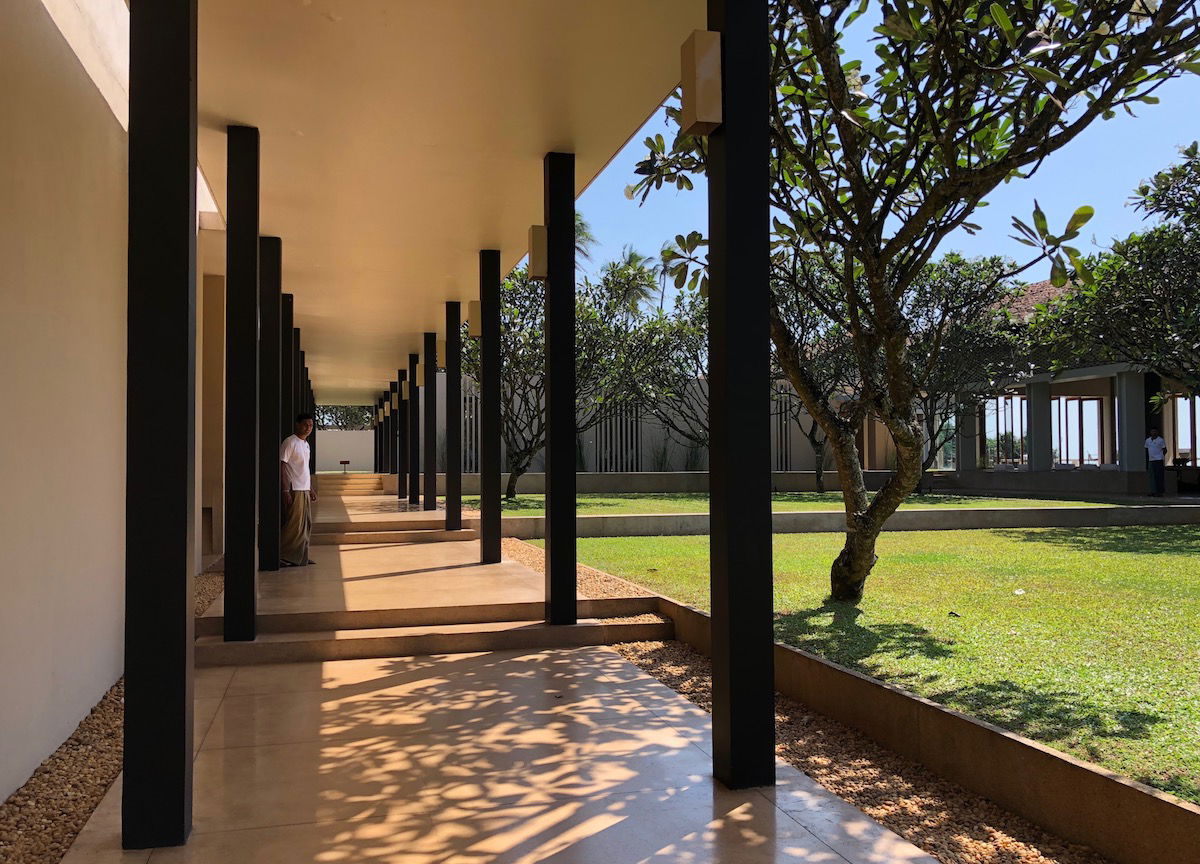 Amanwella courtyard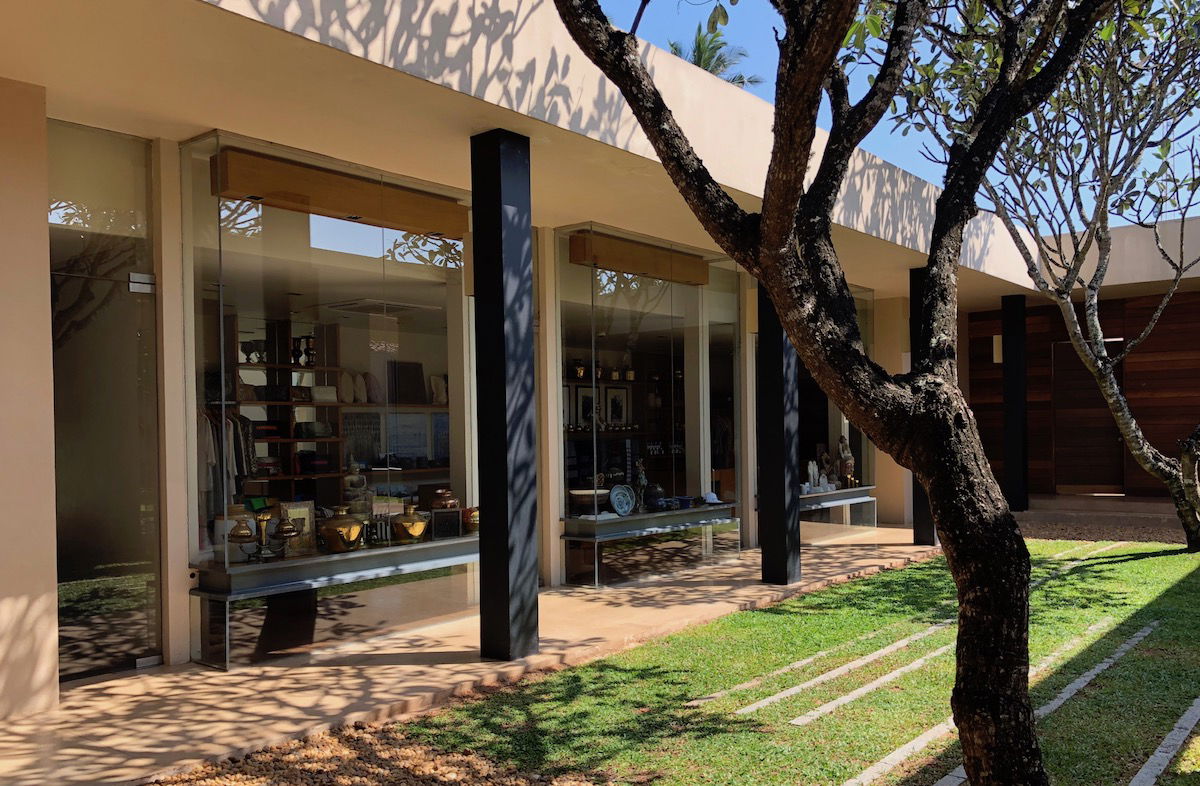 Amanwella gift shop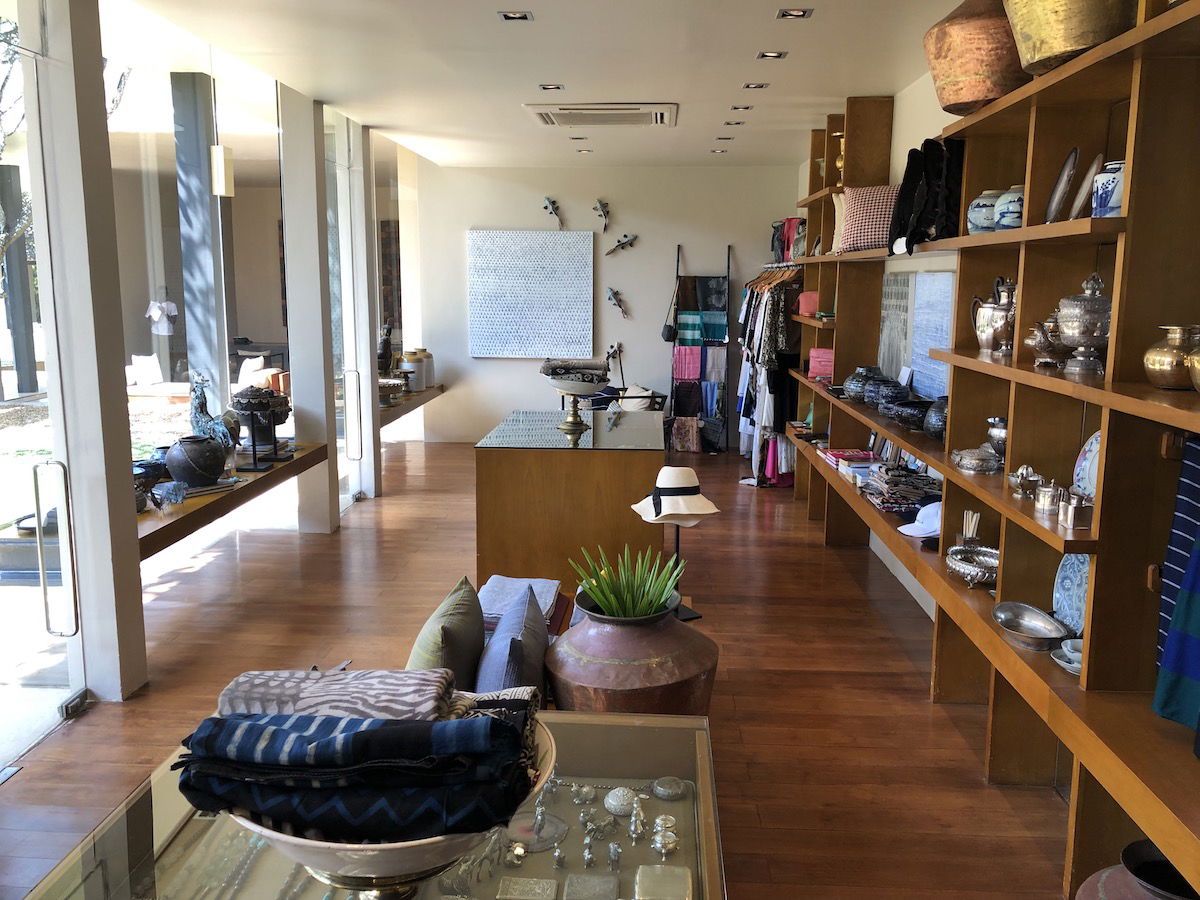 Amanwella gift shop
Amanwella library
One theme you'll see throughout this review is that I think aspects of this hotel are poorly designed. The library is a standard Aman feature, and it's intended to be a quiet place to relax.
The library is just past the courtyard, though what I find bizarre is that you have to walk through there in order to get to the restaurant or bar. A library is supposed to be a quiet space, so why would you also make it one of the parts of the hotel that gets the most foot traffic? Other than that it was pretty…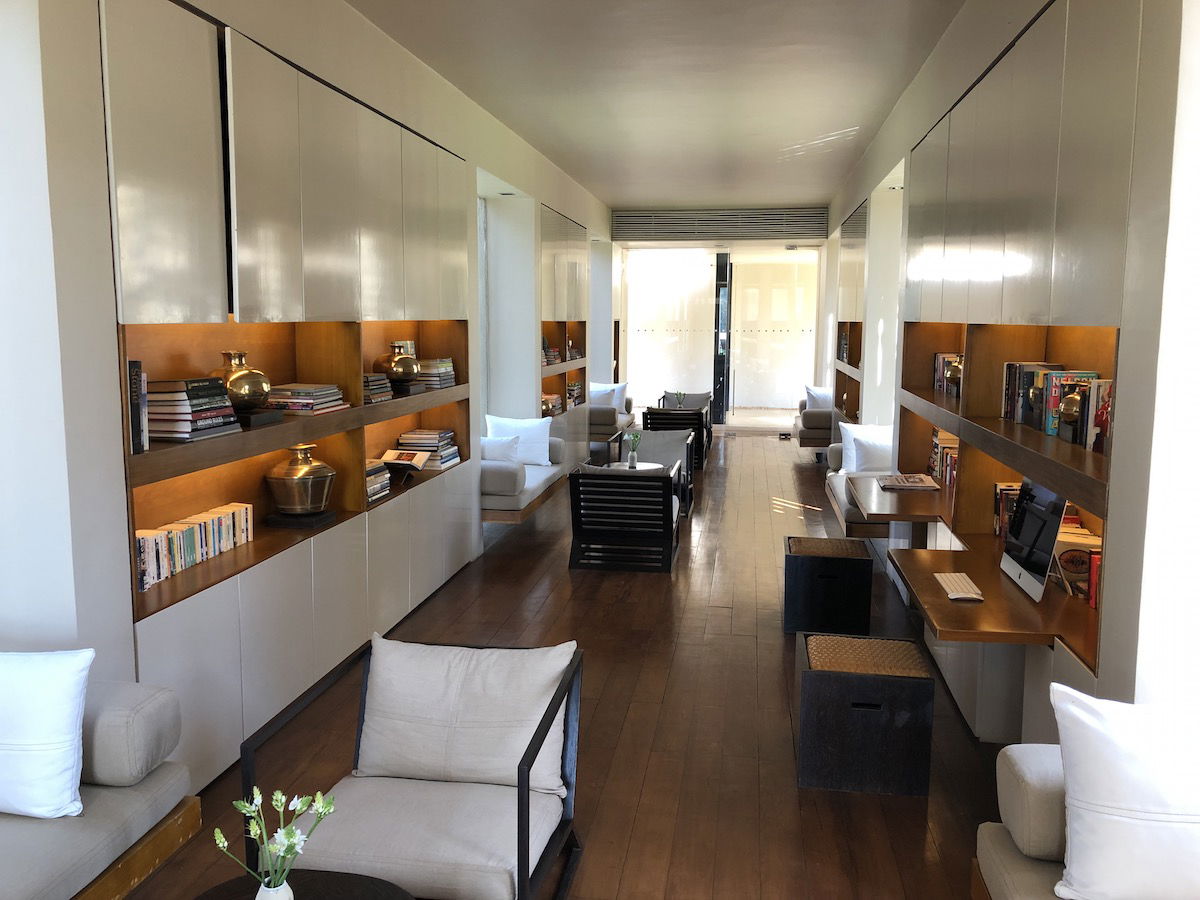 Amanwella library
Amanwella pool
I'll let the pictures of this stunning pool speak mostly for themselves. The views were even better at sunset. While there are a lot of pools with great views, the massive coconut trees really made this one unique.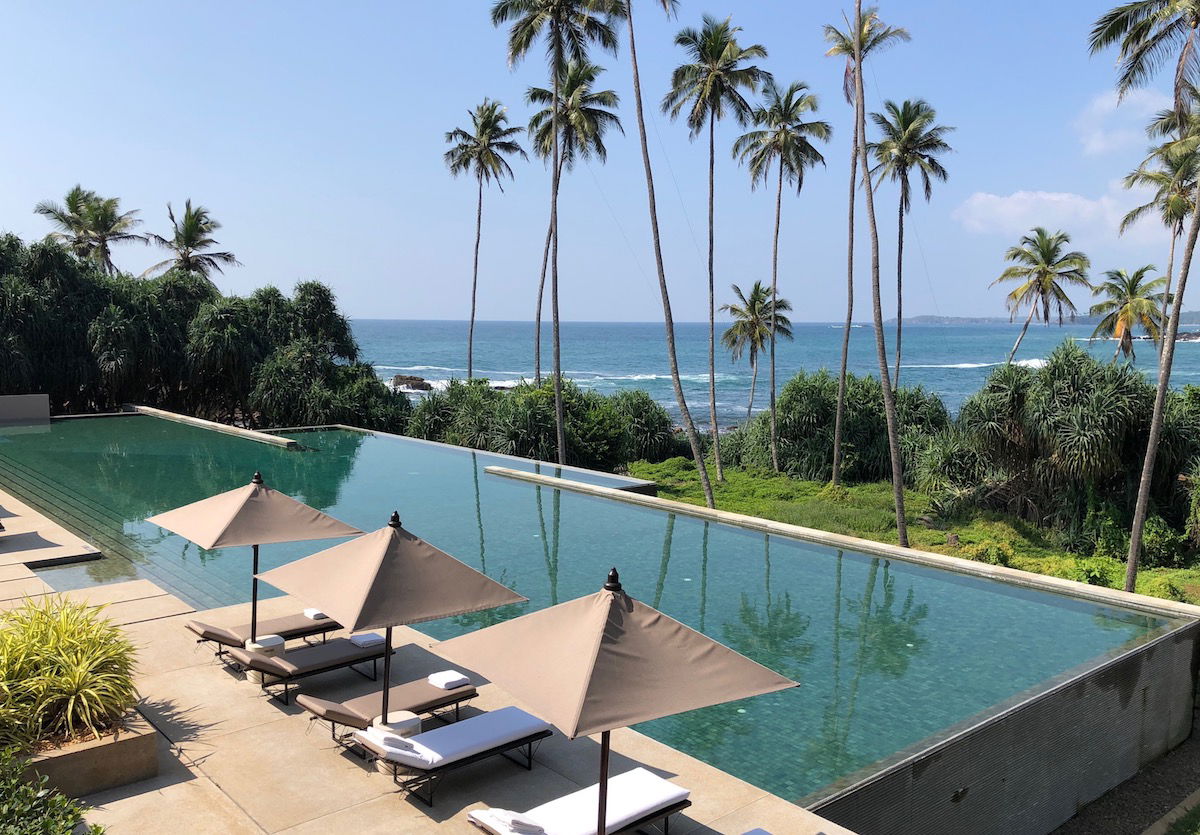 Amanwella pool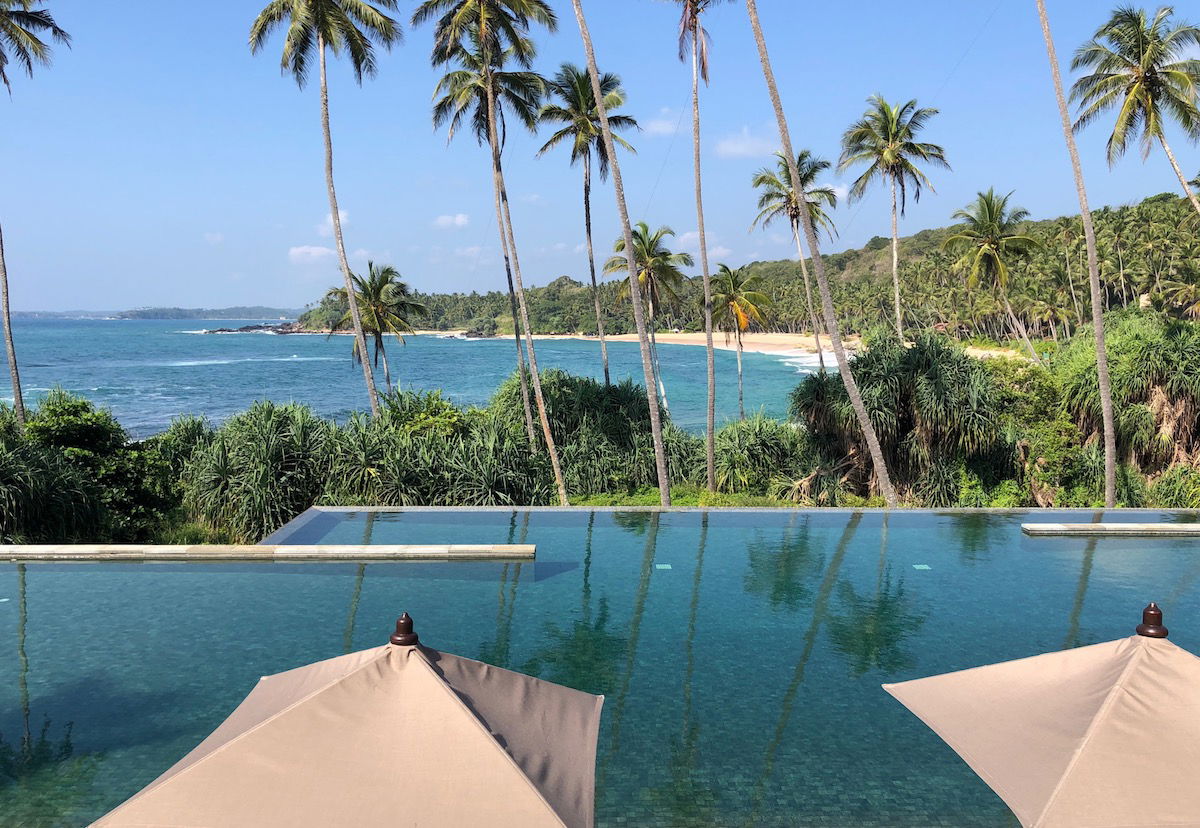 Amanwella pool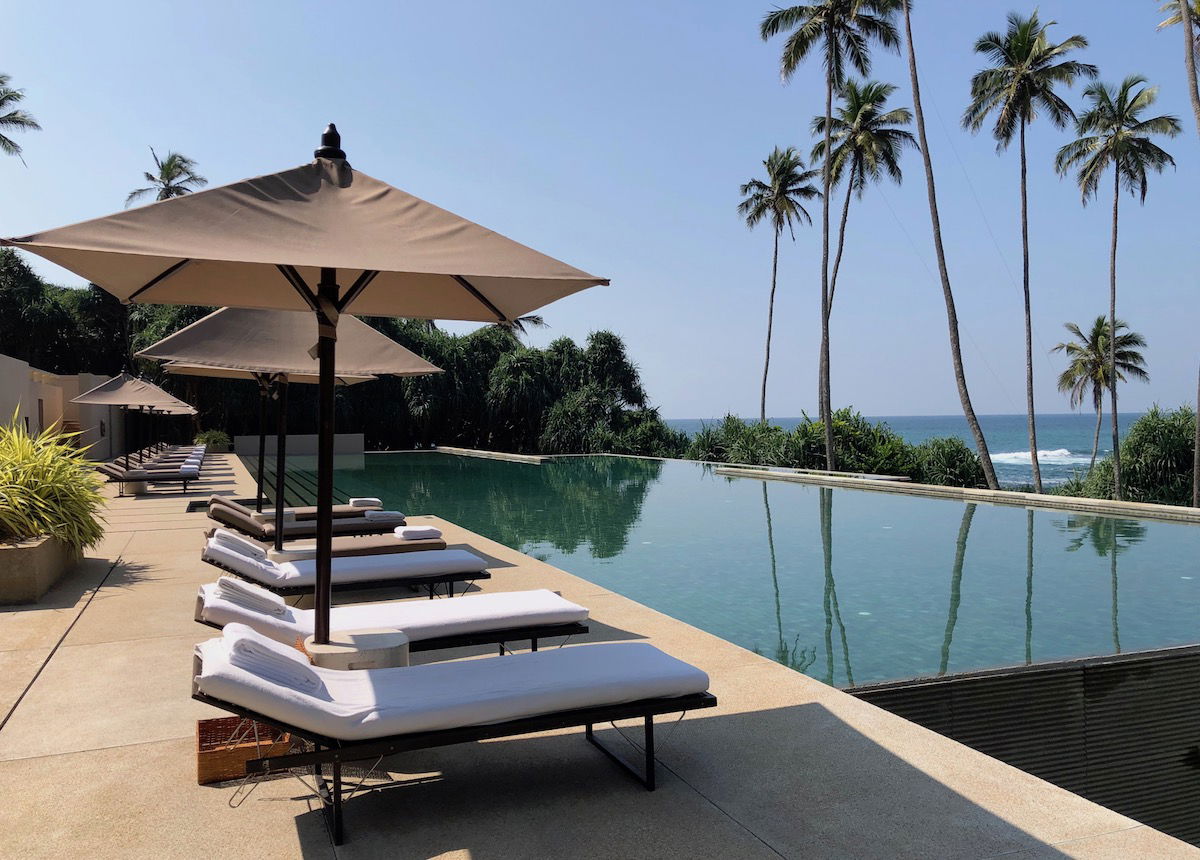 Amanwella pool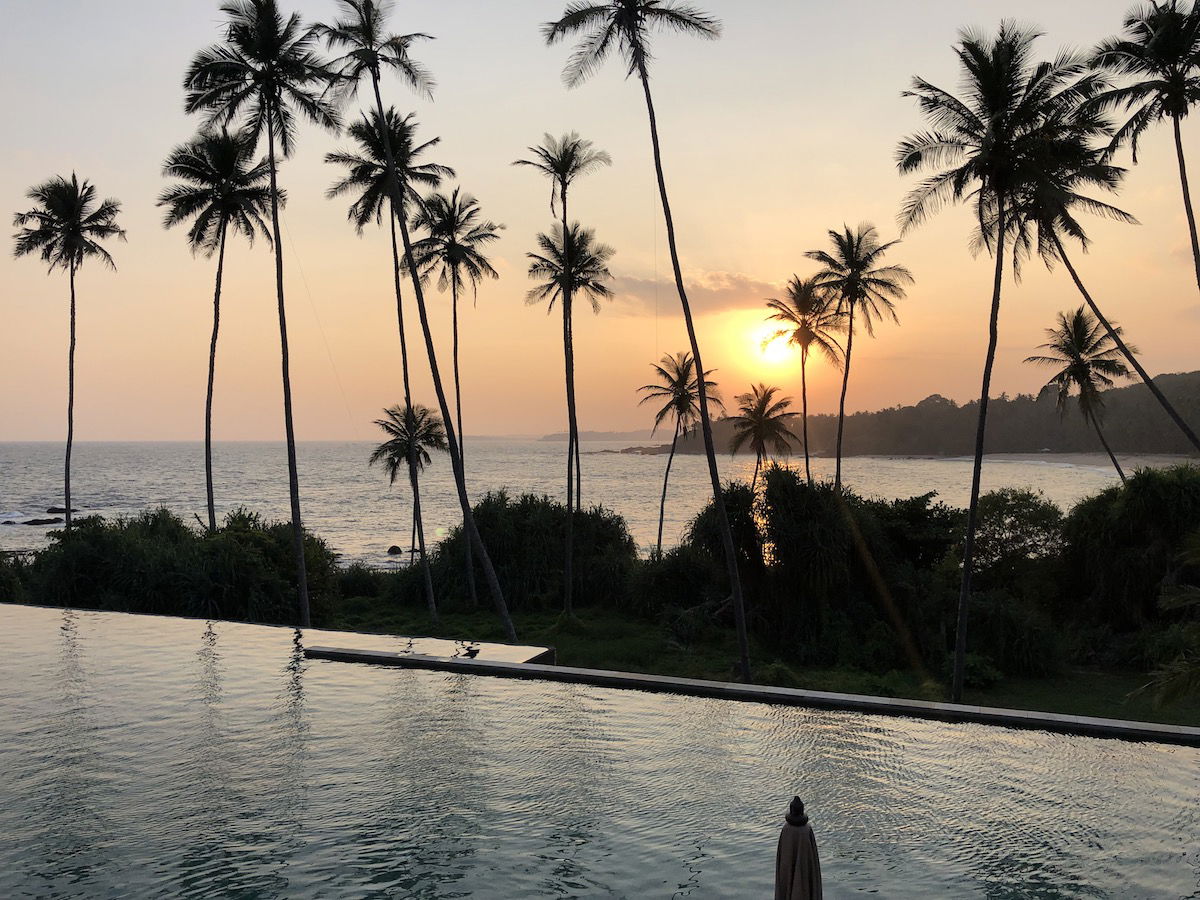 Amanwella pool at sunset
Amanwella beach & beach restaurant
While I wouldn't say that Amanwella's beach is the most picturesque in the world, it is really nice. The catch is that the water here is rough, so they recommend not swimming. So it's a nice beach for walking and lounging, but not so much for swimming.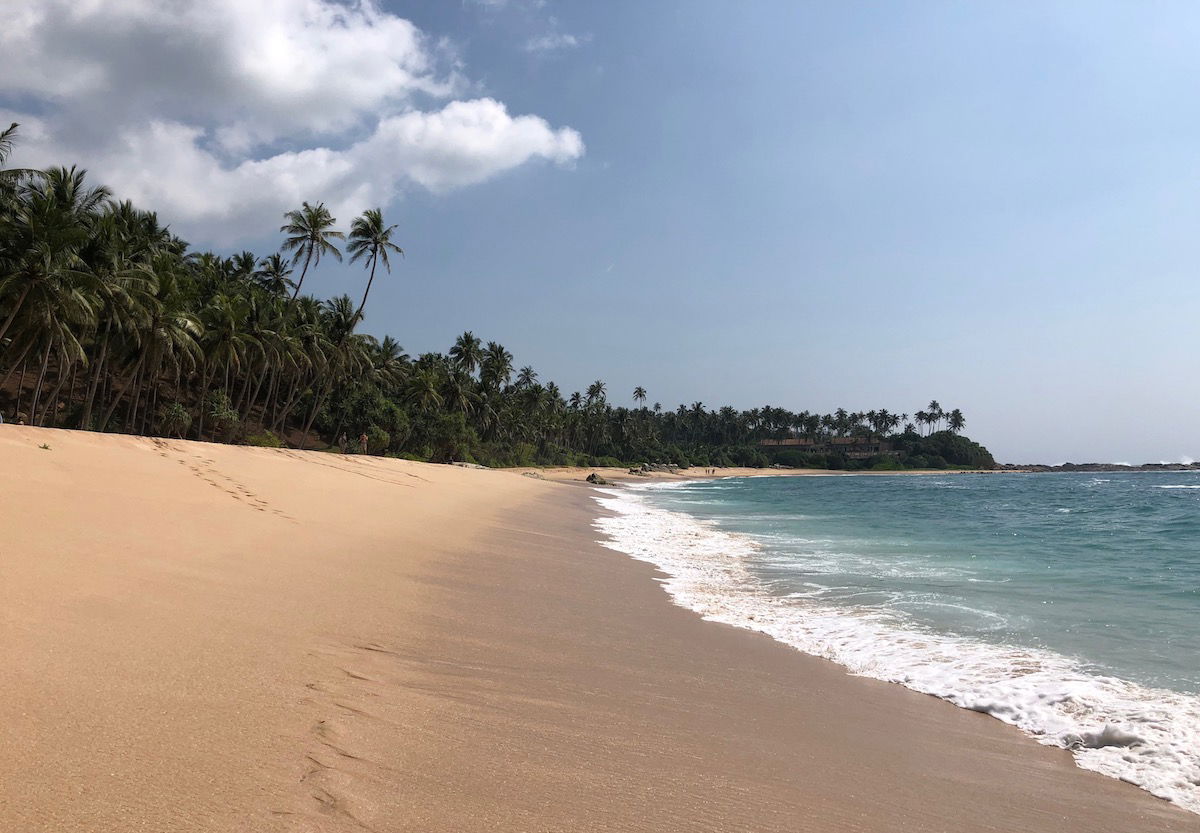 Amanwella beach
While the beach as such isn't technically private, the hotel does have security monitoring "their" area of the beach. As someone who doesn't actually like being in the sun, I loved the huge trees above the Aman's beach area, which provided some shade.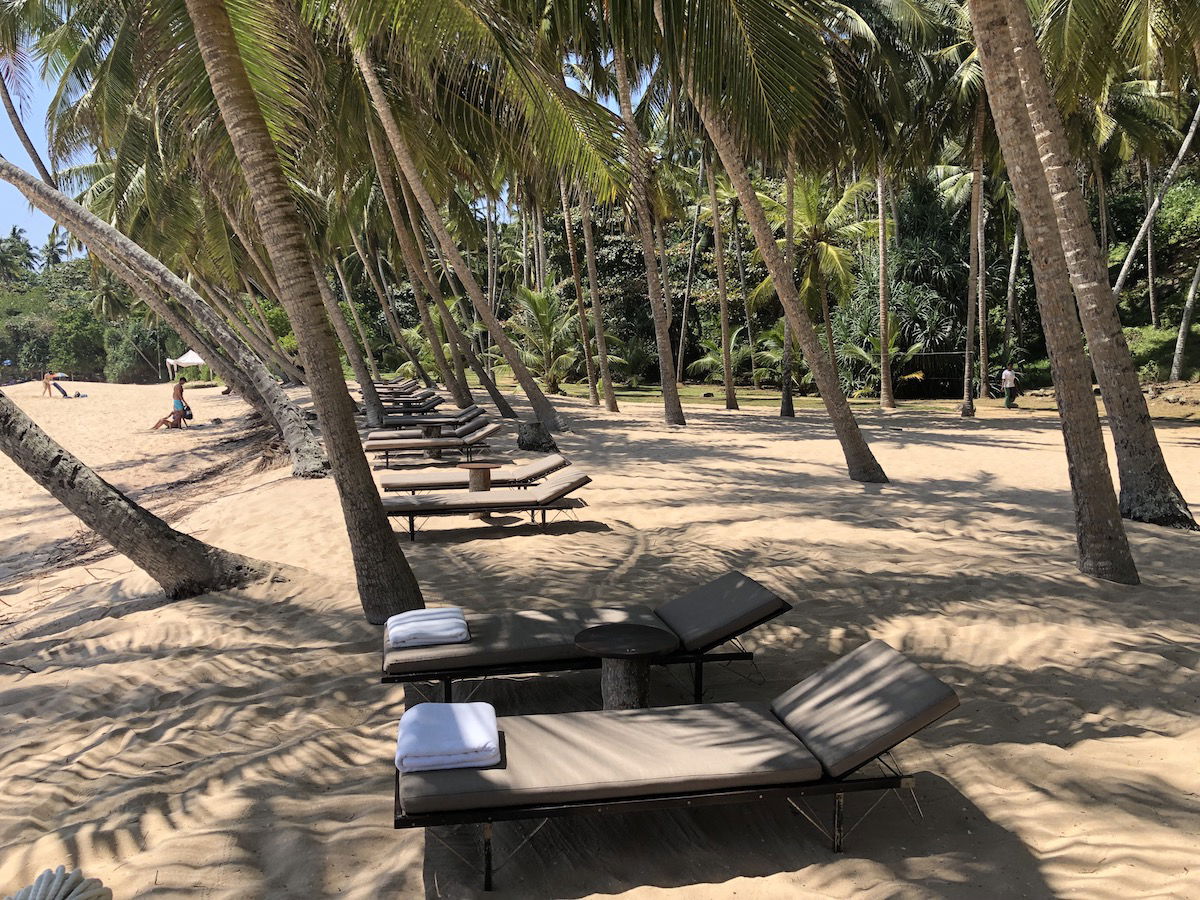 Amanwella beach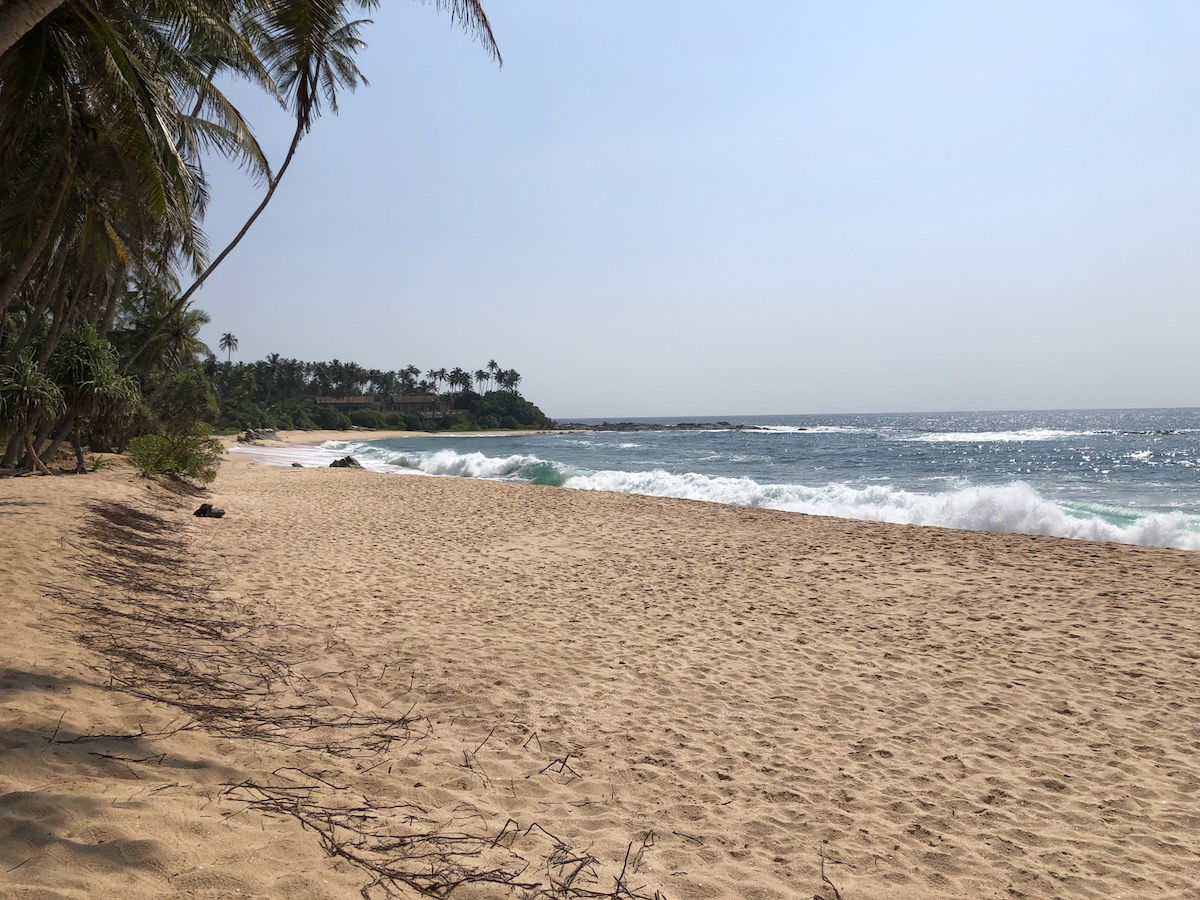 Amanwella beach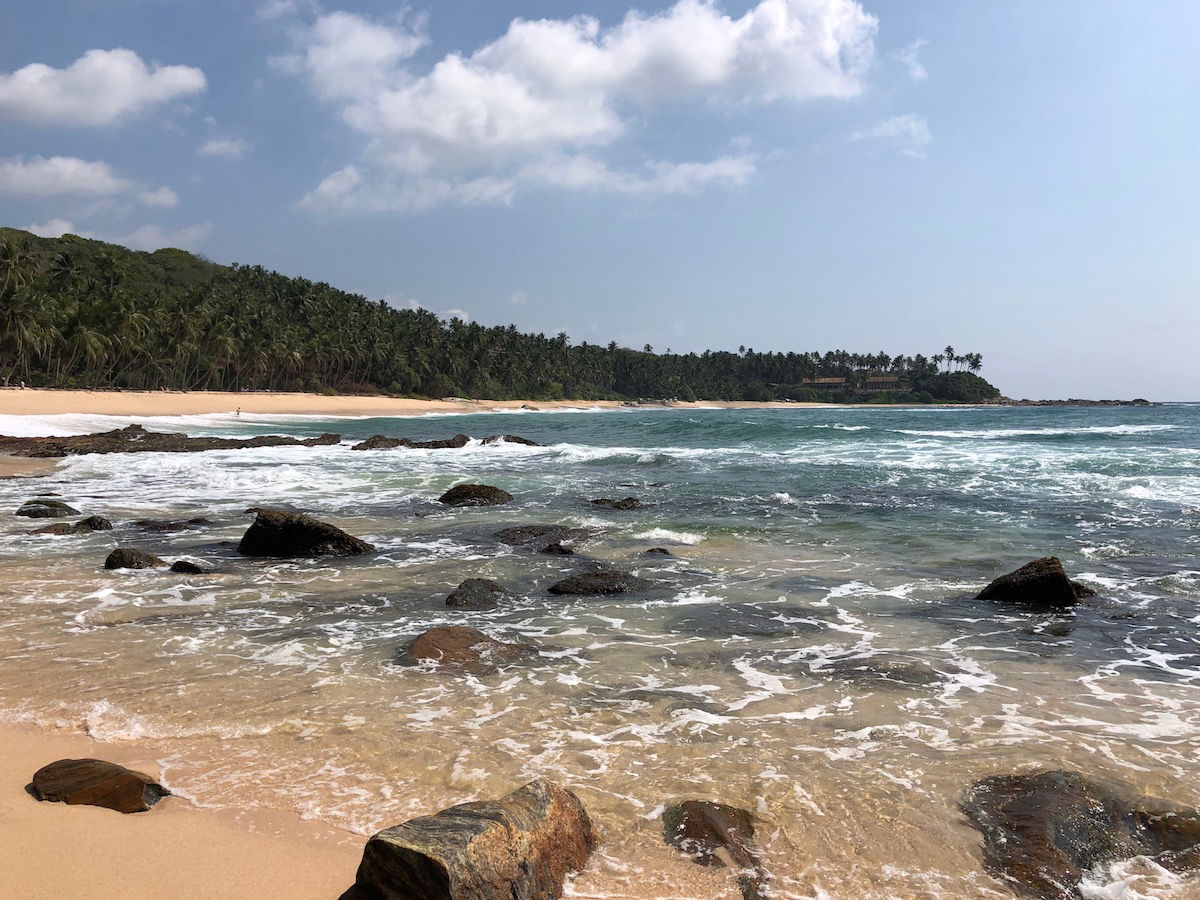 Amanwella beach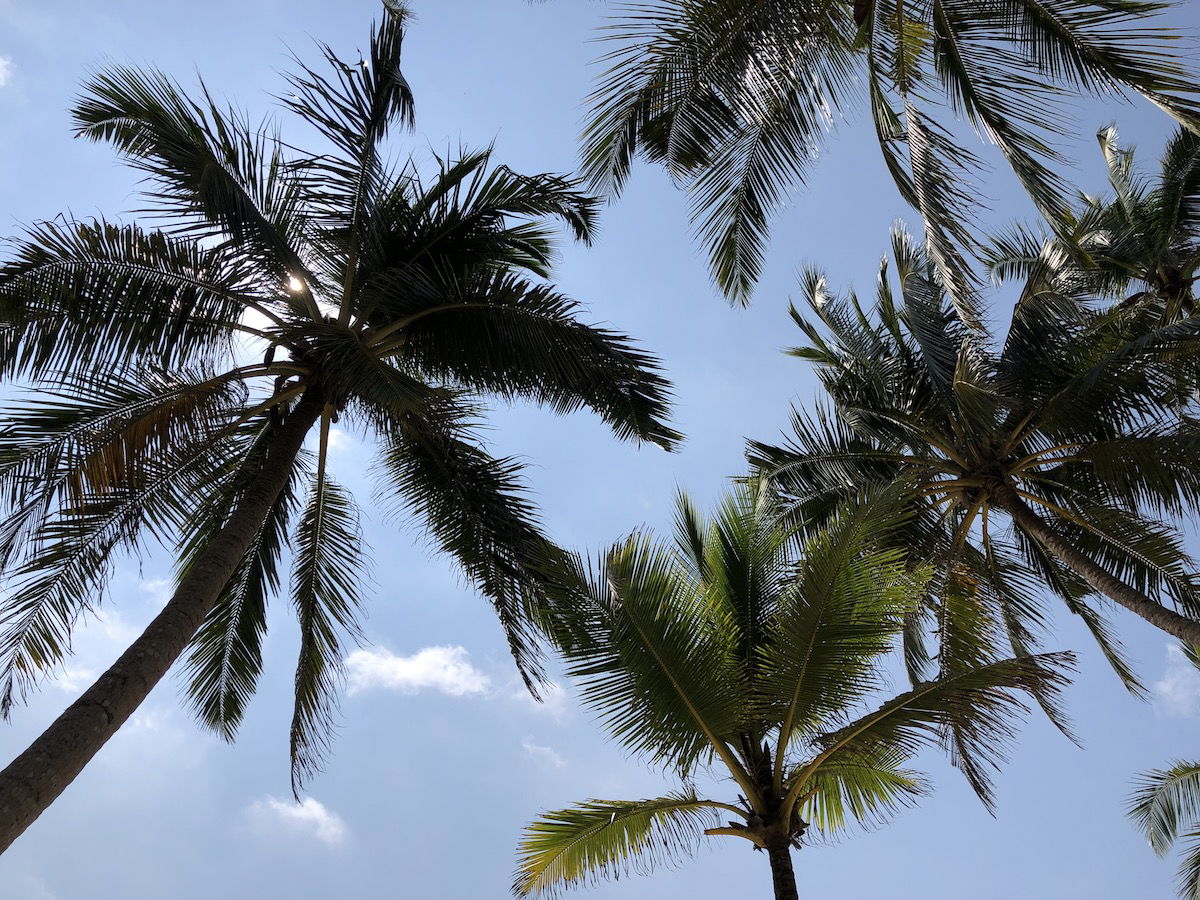 Amanwella beach
I'd note Amanwella doesn't offer complimentary sunscreen. So we had to buy some in the gift shop. The cost for a tiny 50ml bottle? 45USD. That's outrageous.
I get you pay a premium for things at luxury hotels, and I generally think I come in with realistic expectations regarding cost. But 45USD for sunscreen that would cost a tenth of that in the US is highway robbery, and leaves a bad taste in my mouth. That's extortion, and not a reasonable markup.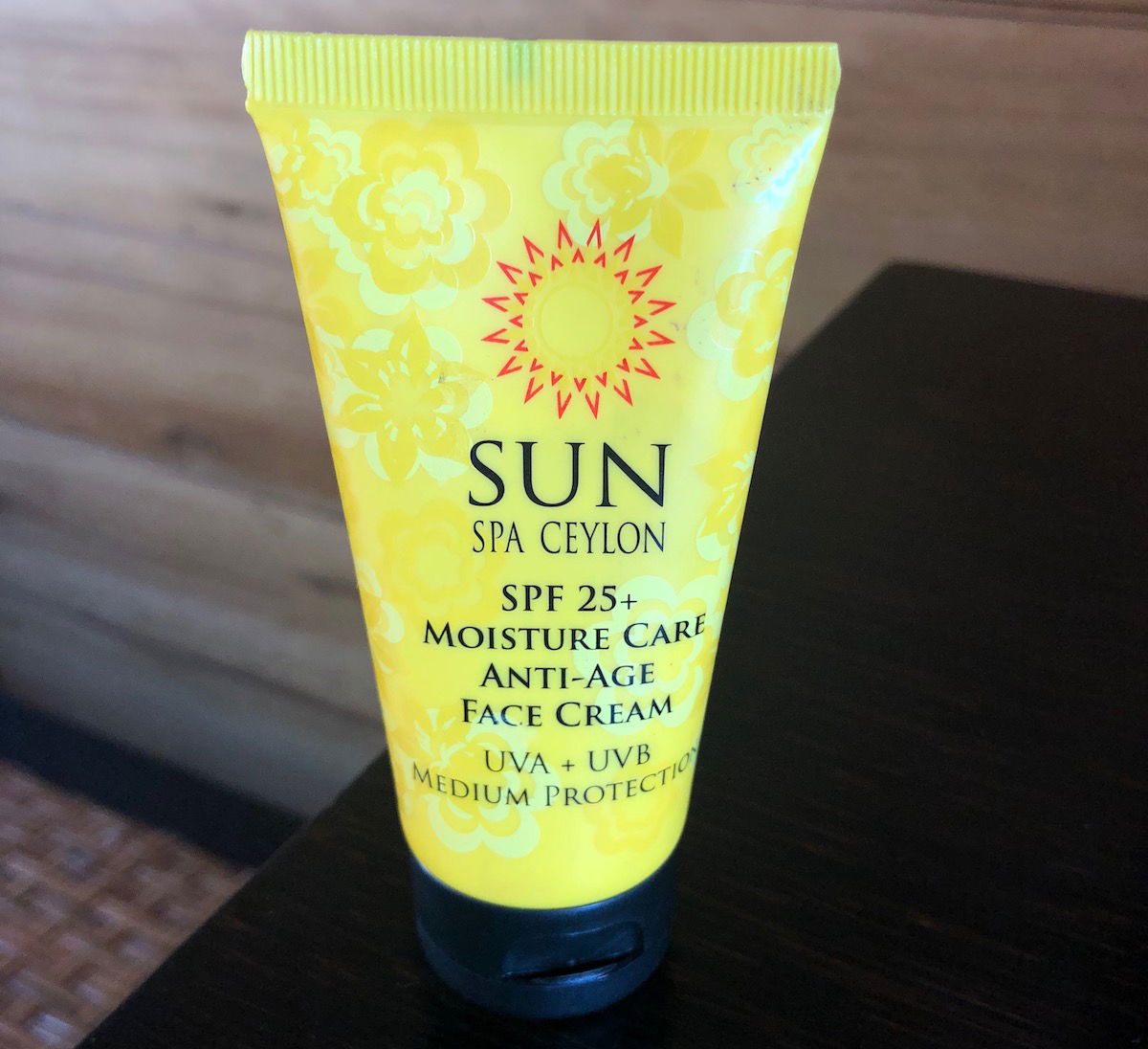 The hotel also has a restaurant at the beach, which is open for lunch and dinner.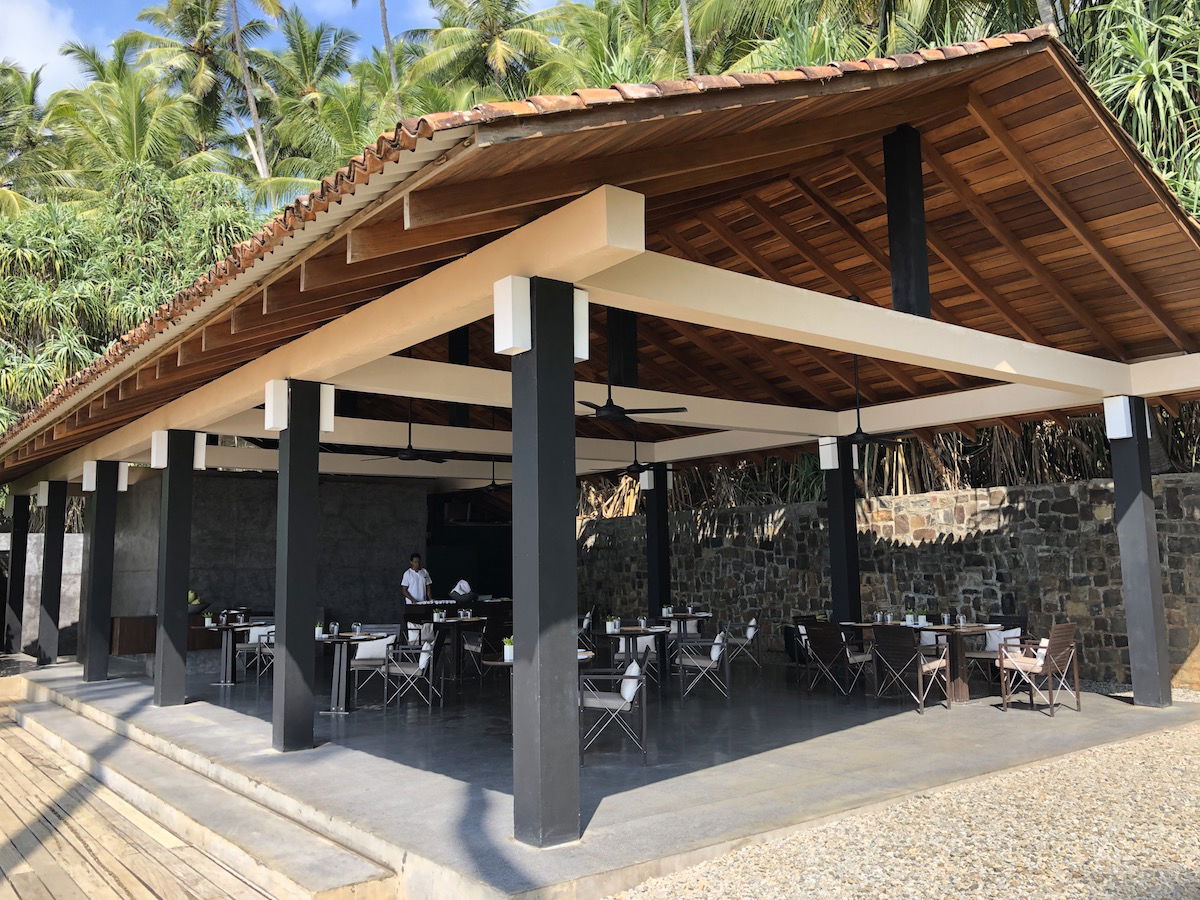 Amanwella beach restaurant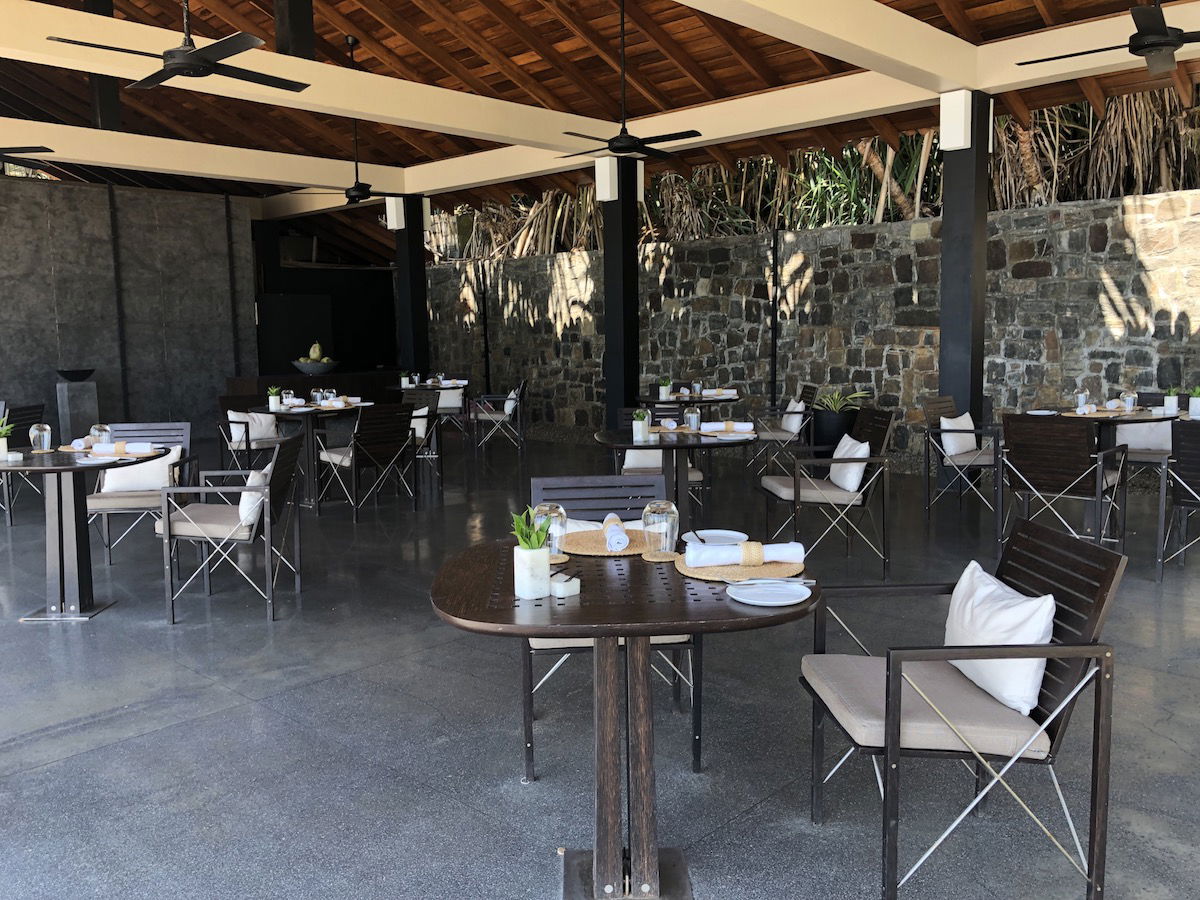 Amanwella beach restaurant
Amanwella spa
Amanwella is a secluded resort, so you'd think a spa would be something they put a lot of thought into when building the hotel. It has the potential to be a huge money maker, and it's something that draws people to resorts.
Oddly at Amanwella it's an afterthought. The spa is just a single converted guest room. This means they can only accommodate one treatment at a time (either for one person or a couple), and it also means that they don't have a steam room, sauna, or anything else.
Filling out your spa consultation form while sitting on a luggage rack isn't exactly what you'd expect at a hotel like this.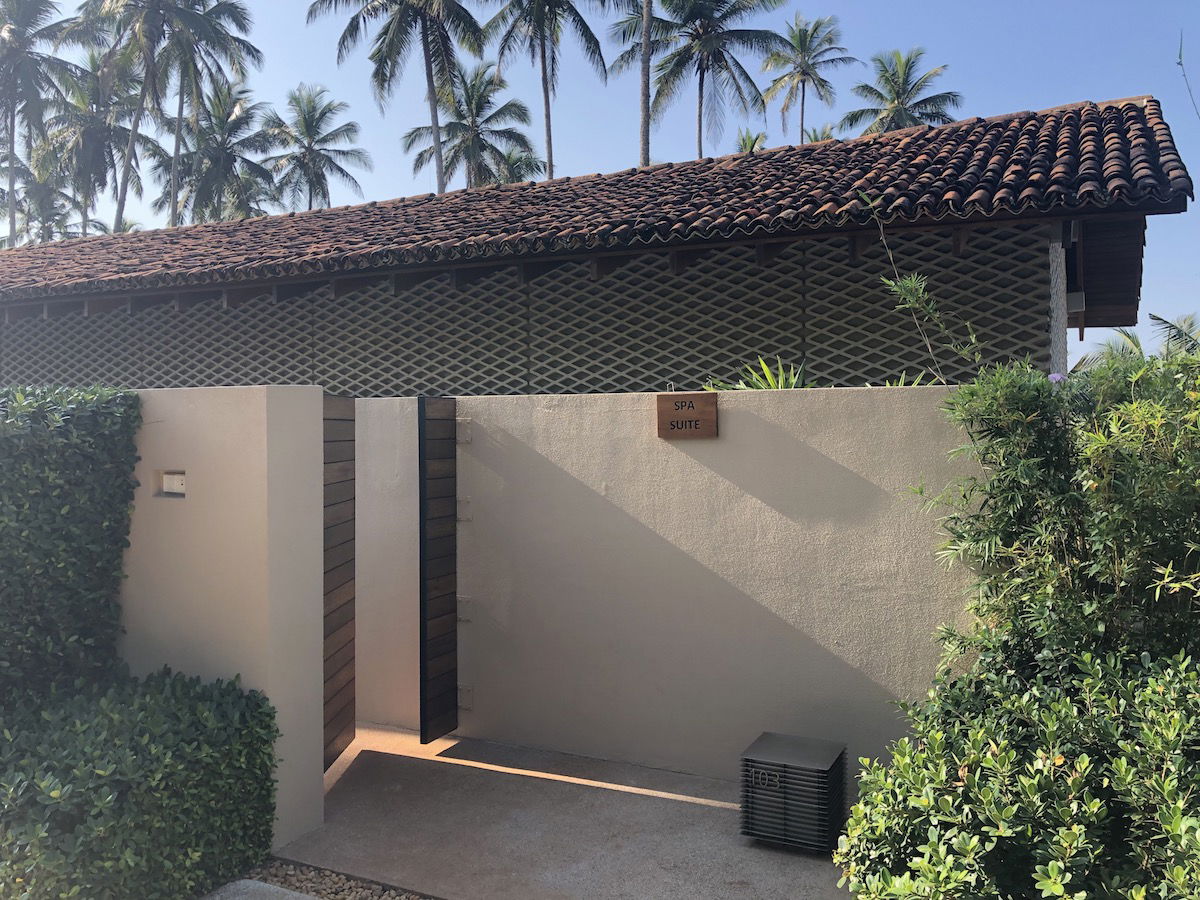 Amanwella spa exterior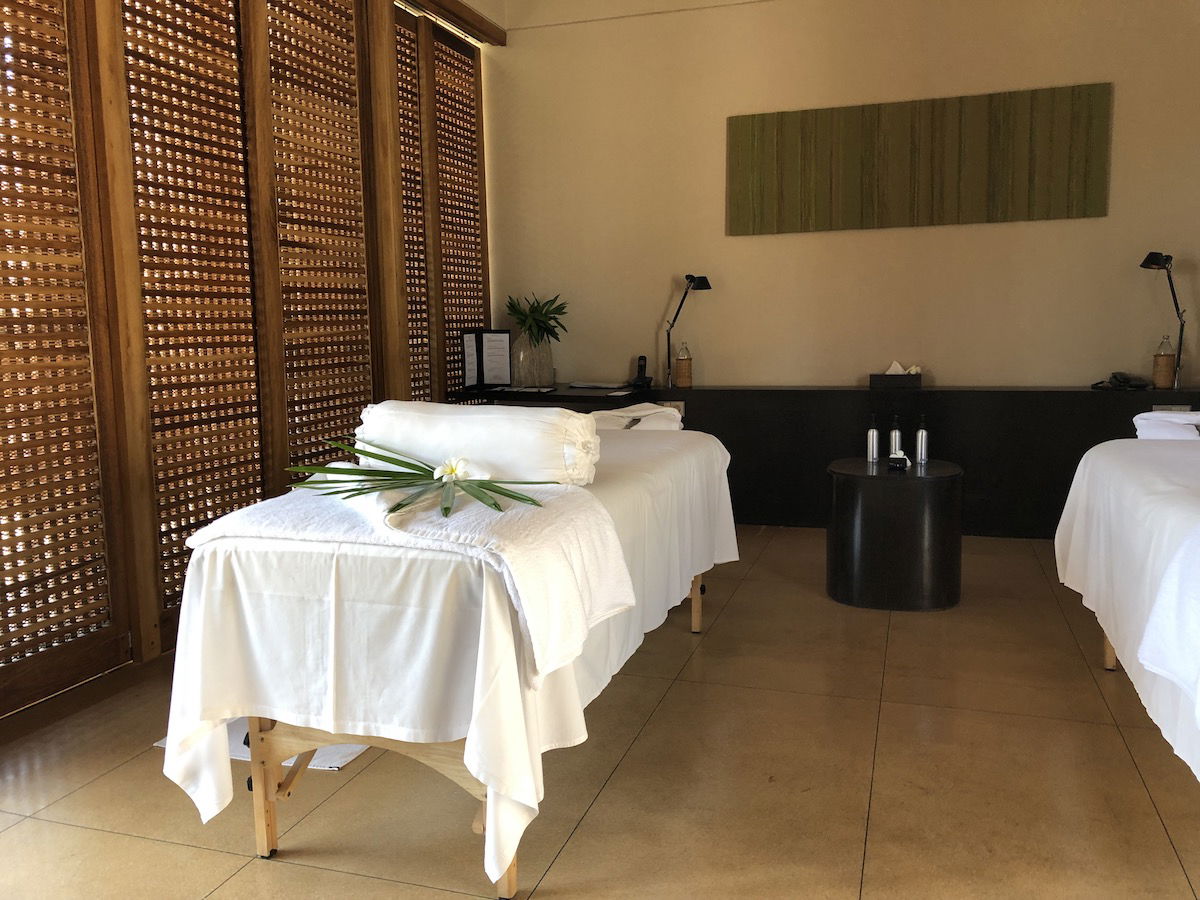 Amanwella spa room
On the plus side, the spa prices were quite reasonable by international five star hotel standards, especially when you consider that taxes and service fees were included. The treatments were also excellent. Here's the menu: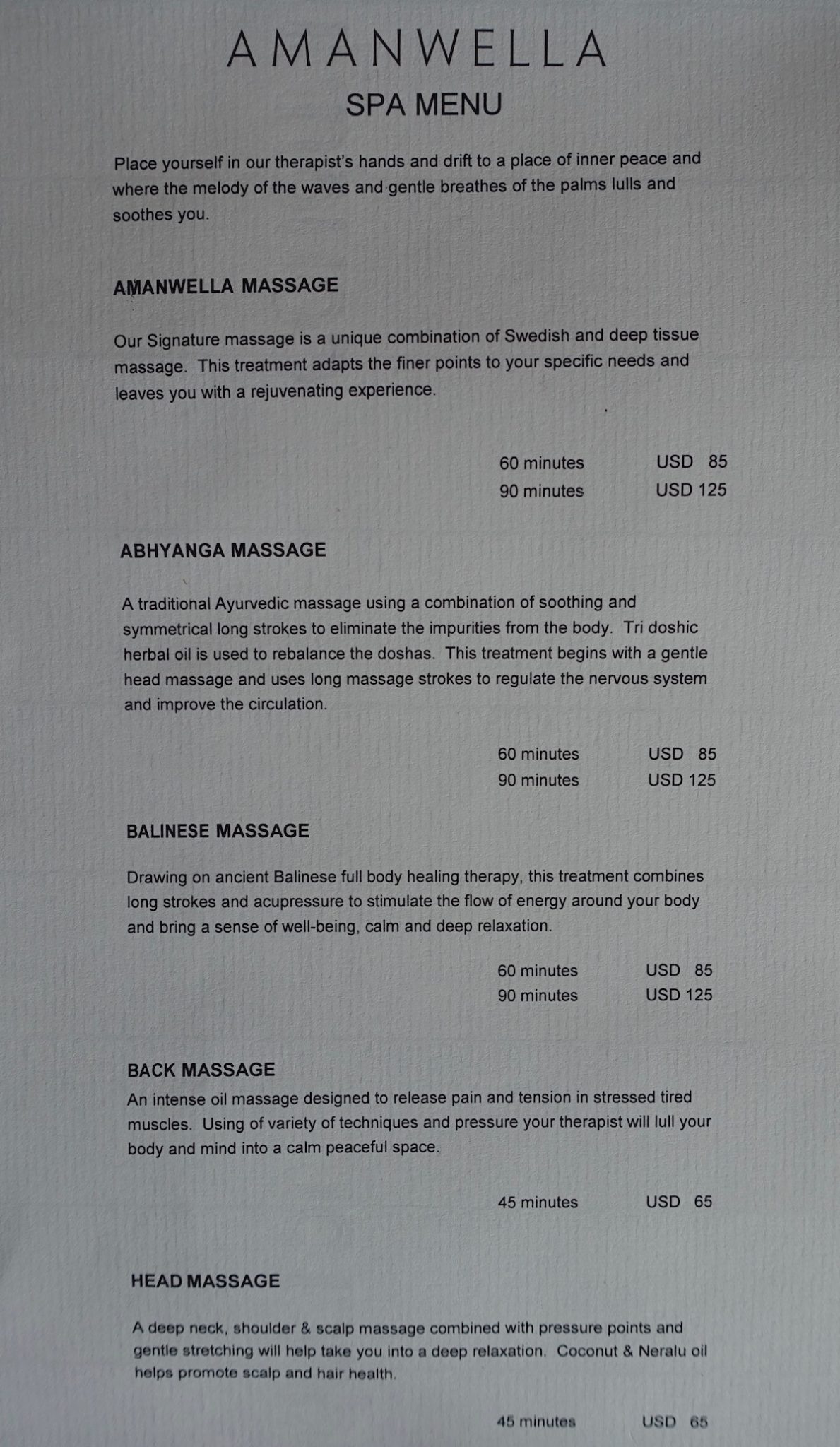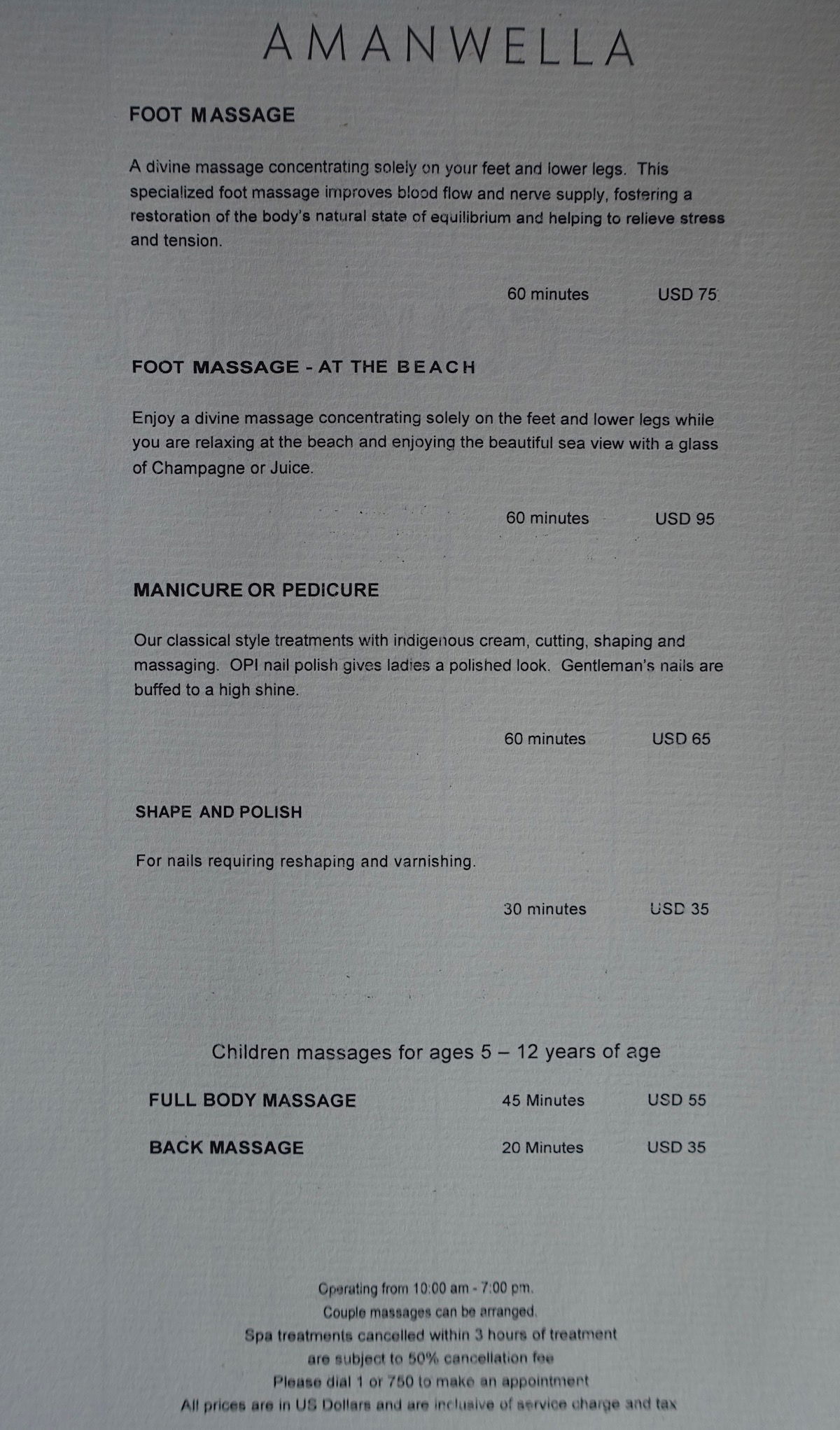 Amanwella gym
Ford and I were frustrated when Amangalla didn't have a gym, and when we got to Amanwella the first thing we were looking forward to was working out. So we were disappointed when we found out that Amanwella doesn't have a gym either.
WTF? We shared our frustration with the GM, and he acknowledged it but also pretended as if our frustration regarding this was a novel concept.
Fortunately they proposed a solution — we could use the gym at the nearby Anantara hotel. Unfortunately this was at the cost of 45USD per person per visit, which is outrageous. Having to pay 100USD for two people to go to a gym (including a tuk tuk) is obscene, especially given how much we were paying to stay at the Aman.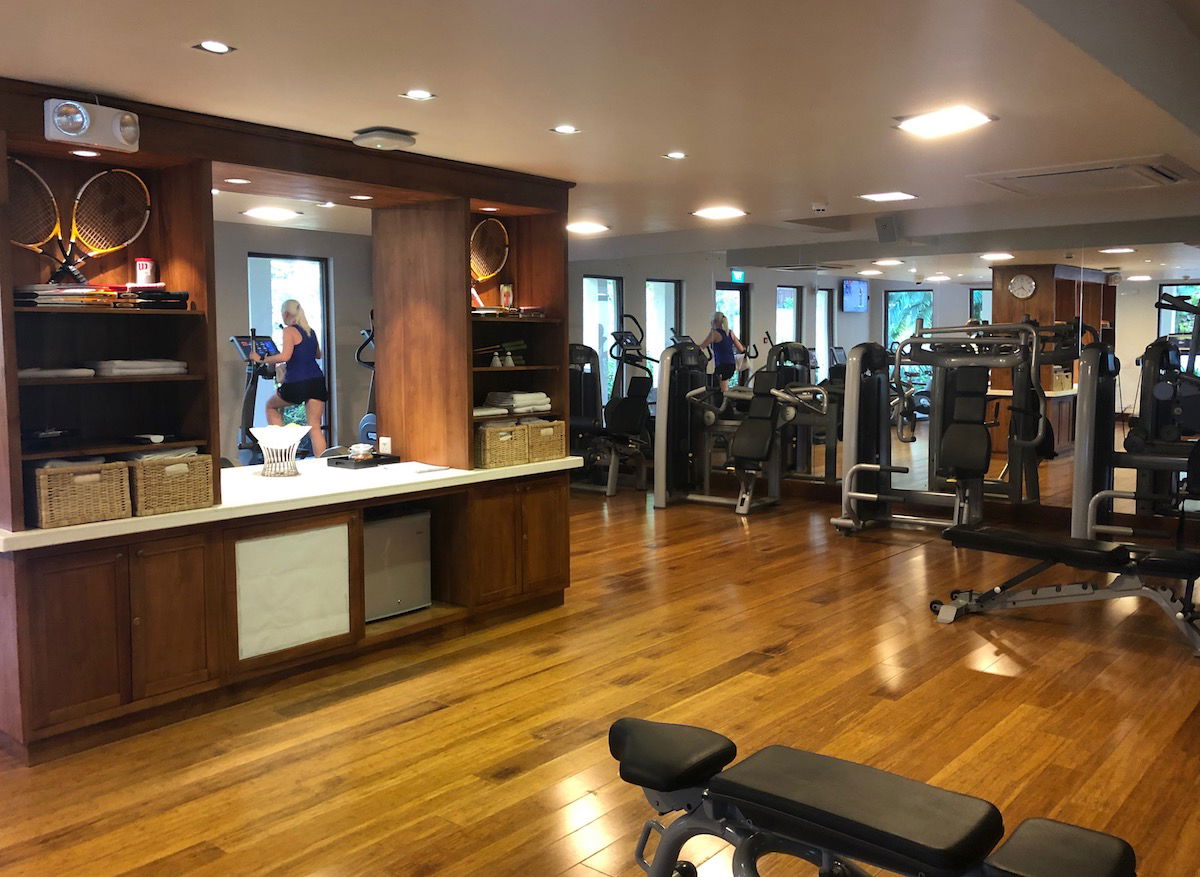 Gym at hotel next to Amanwella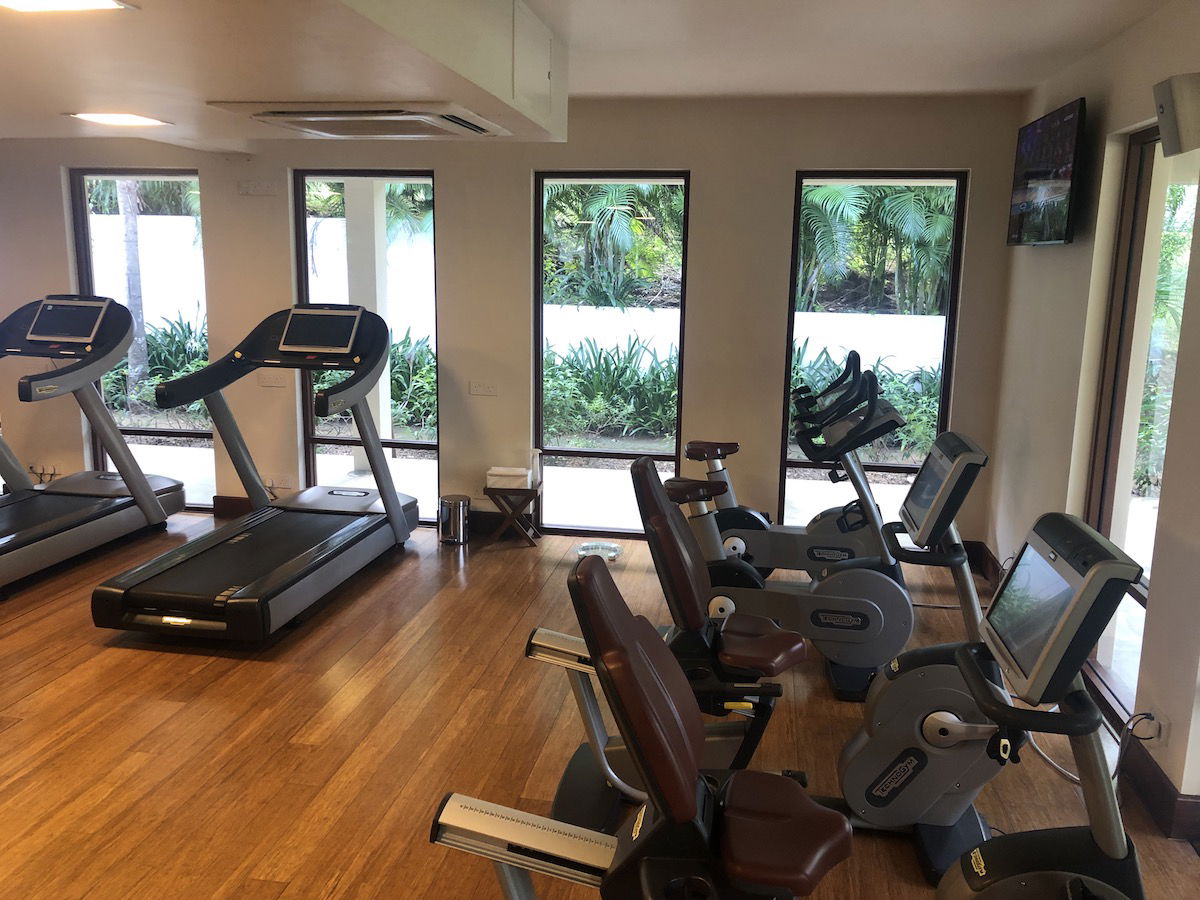 Gym at hotel next to Amanwella
Amanwella restaurant & bar
Amanwella's main restaurant and bar are located right above the pool and overlook the ocean.
The bar is located to the right, and has a variety of seating options. I love how the windows open, and thanks to the breeze it never got too hot.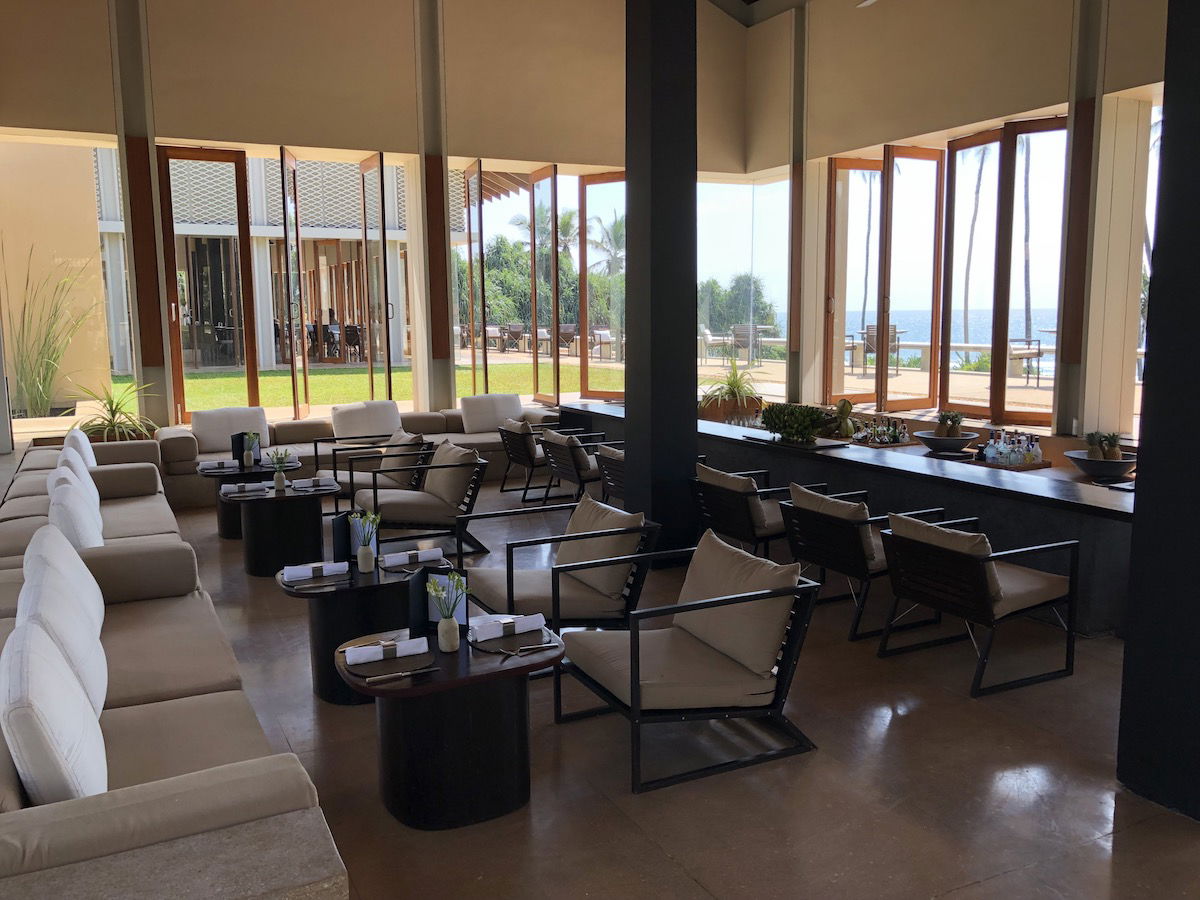 Amanwella bar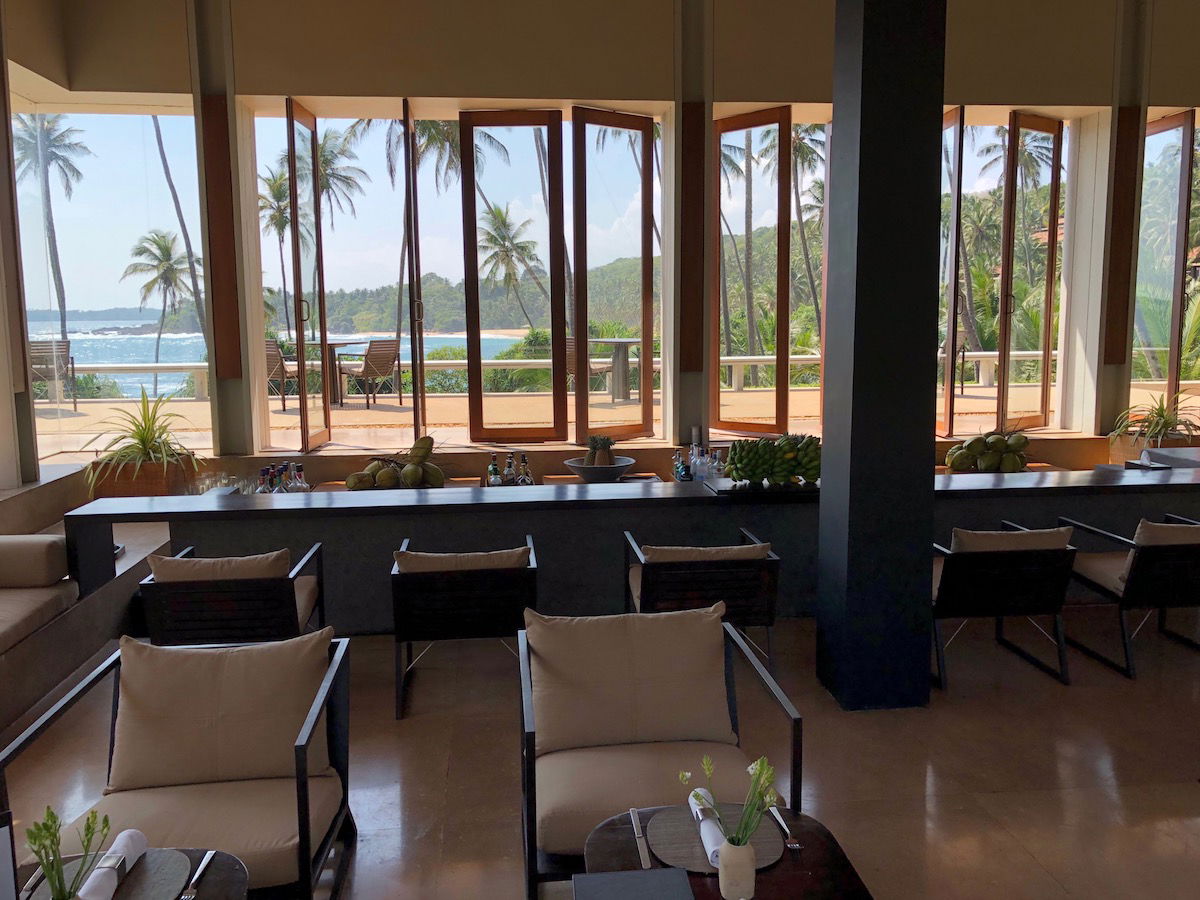 Amanwella bar view
The restaurant is right next door, and is intimate. It has about a dozen tables inside, and then a few more tables outside, overlooking the pool and ocean.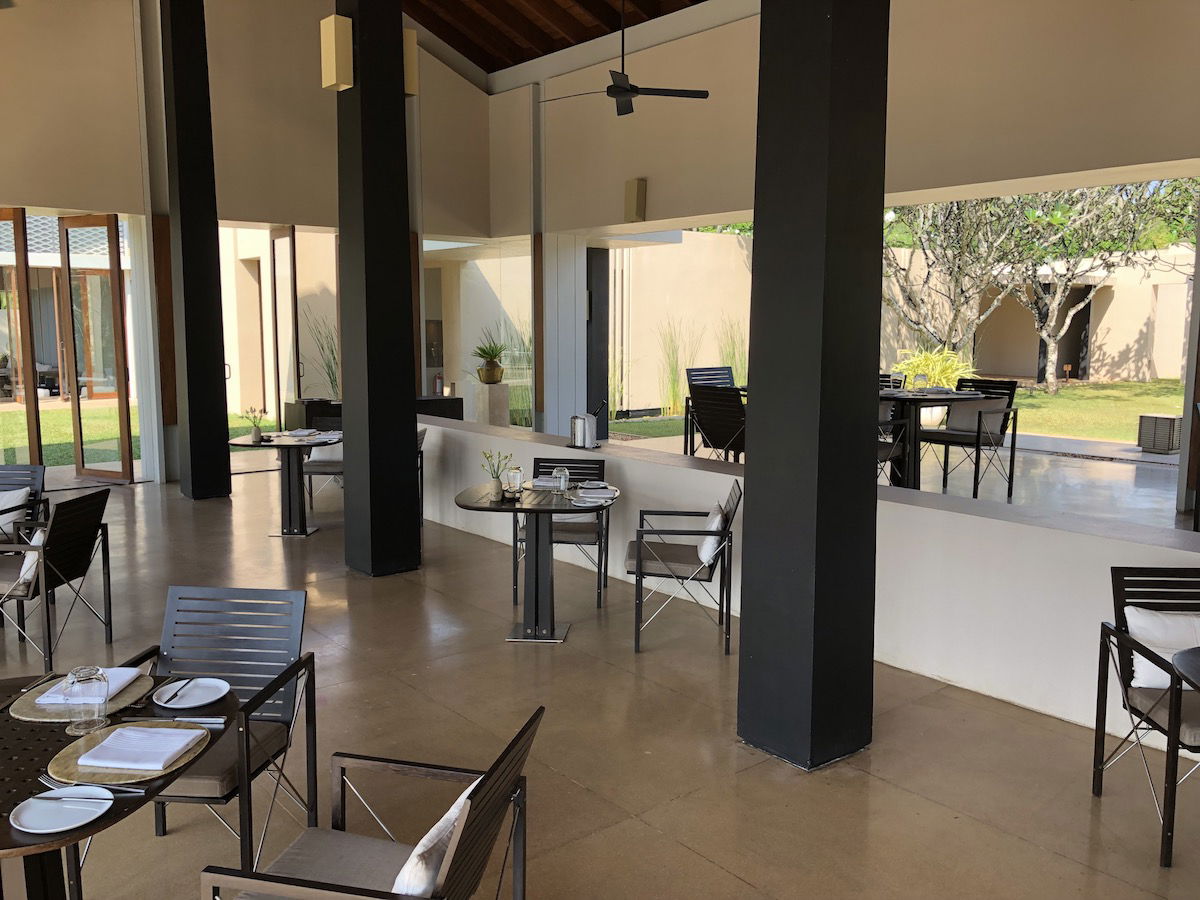 Amanwella restaurant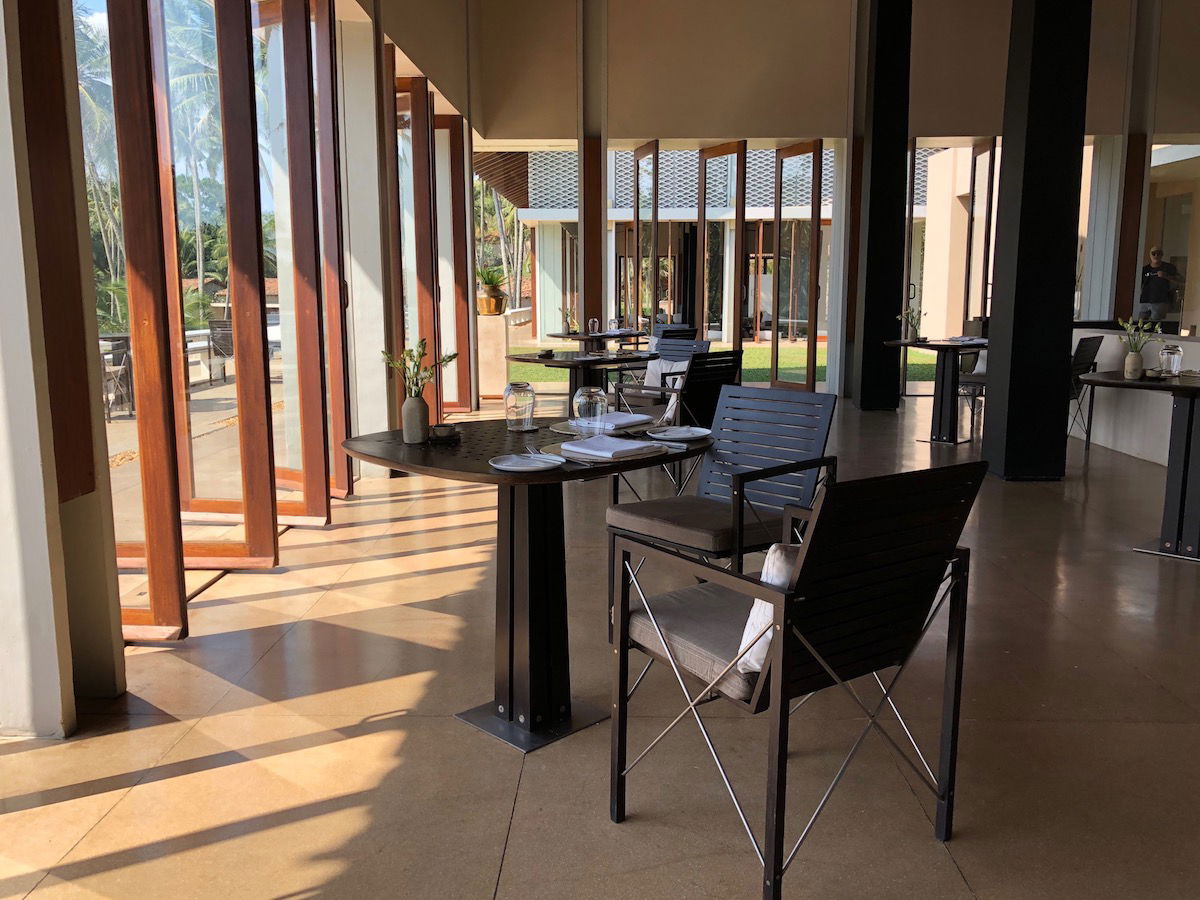 Amanwella restaurant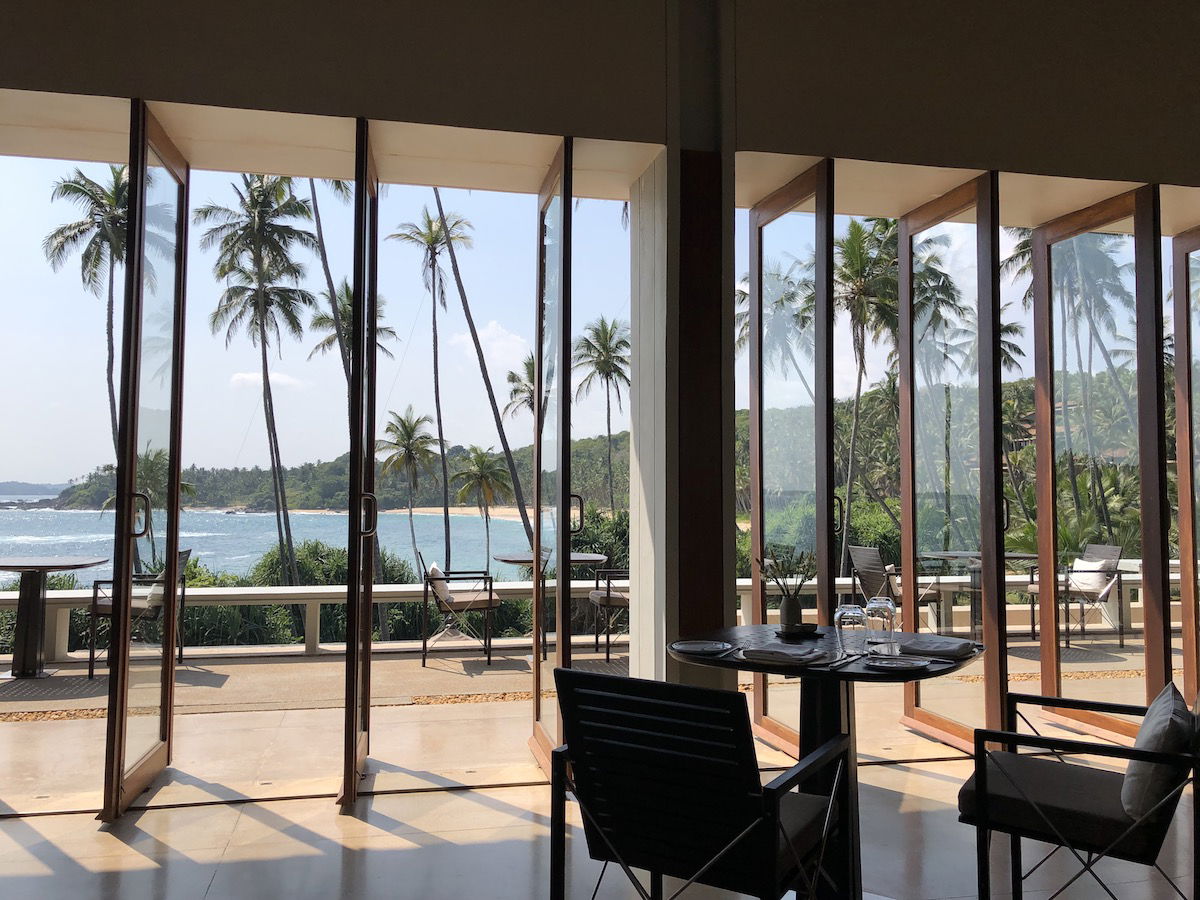 Amanwella restaurant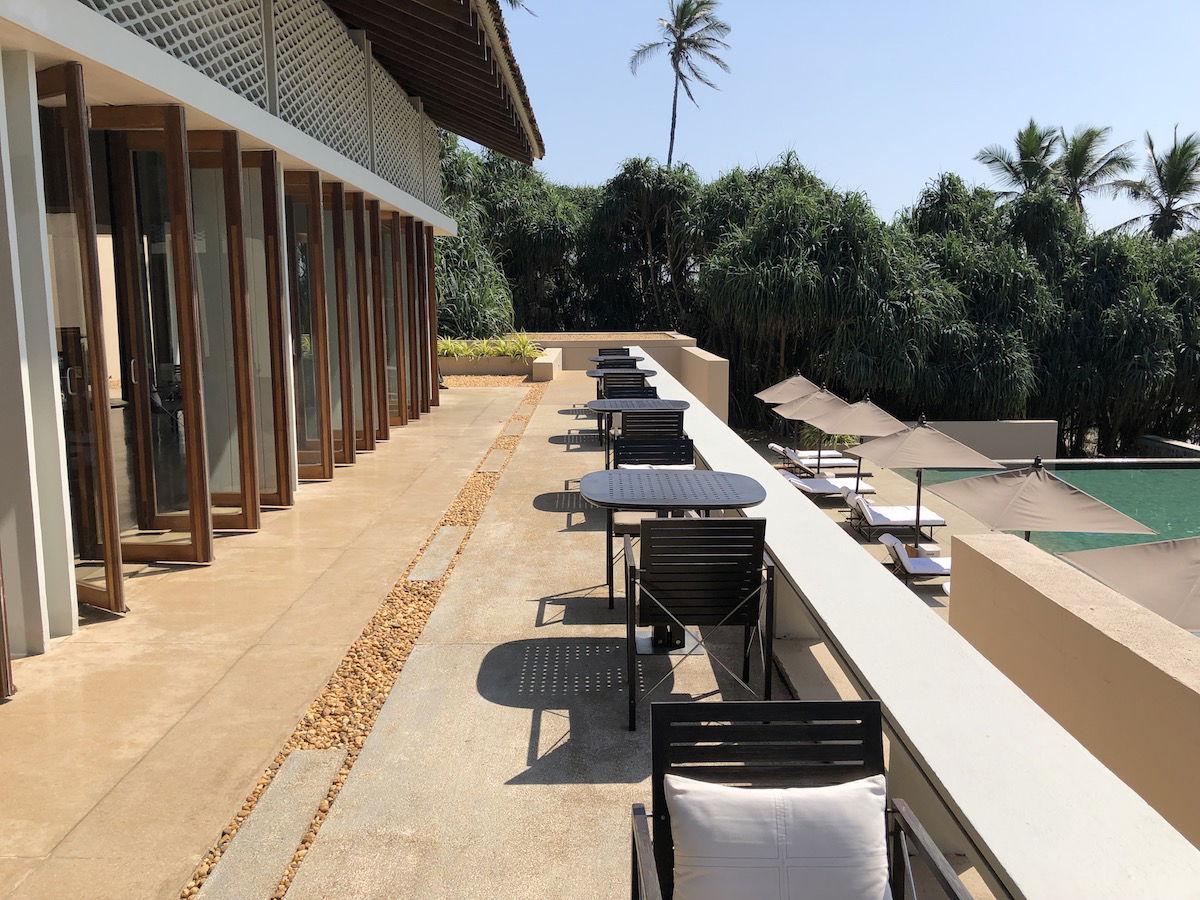 Amanwella restaurant
Amanwella breakfast
Breakfast was served daily at the hotel's main restaurant, and was excellent. The menu read as follows: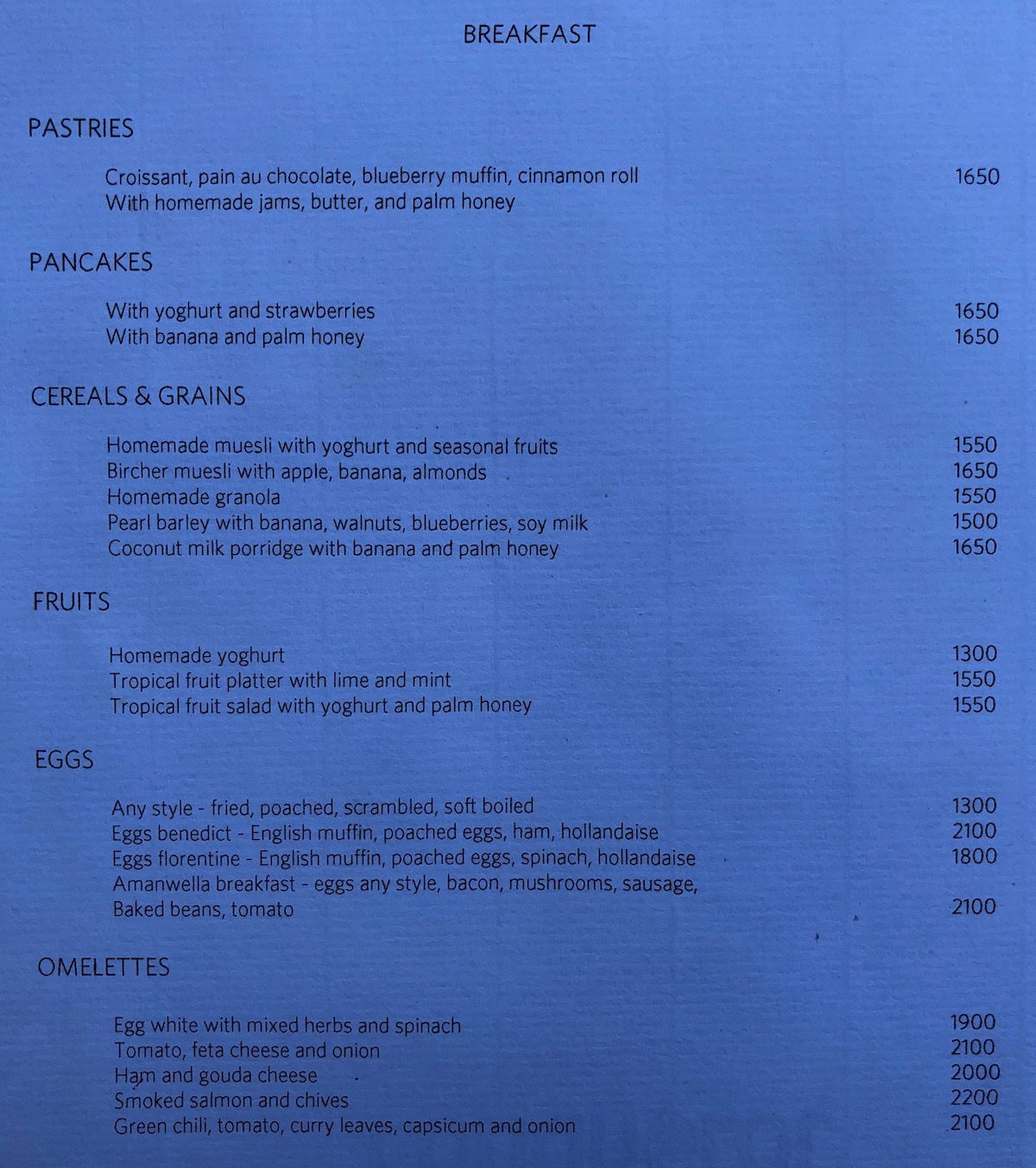 We started every morning with iced coffee, fresh mixed fruit juice, and fresh coconut juice.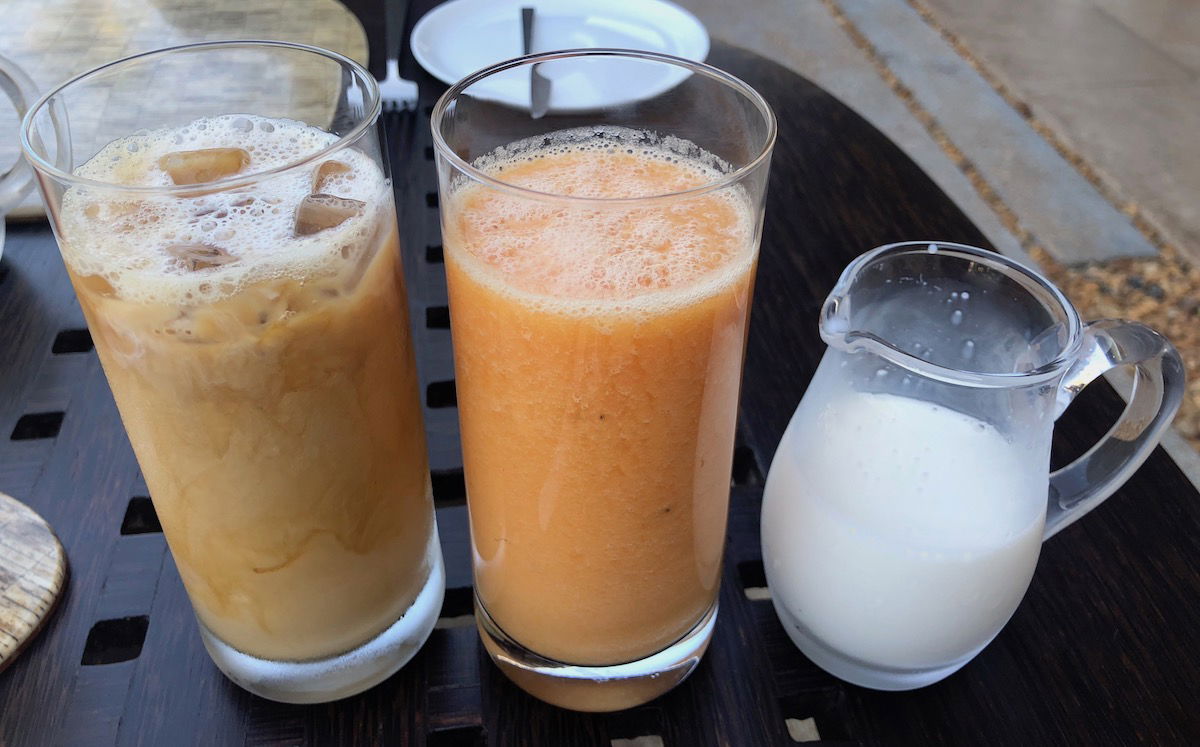 Amanwella breakfast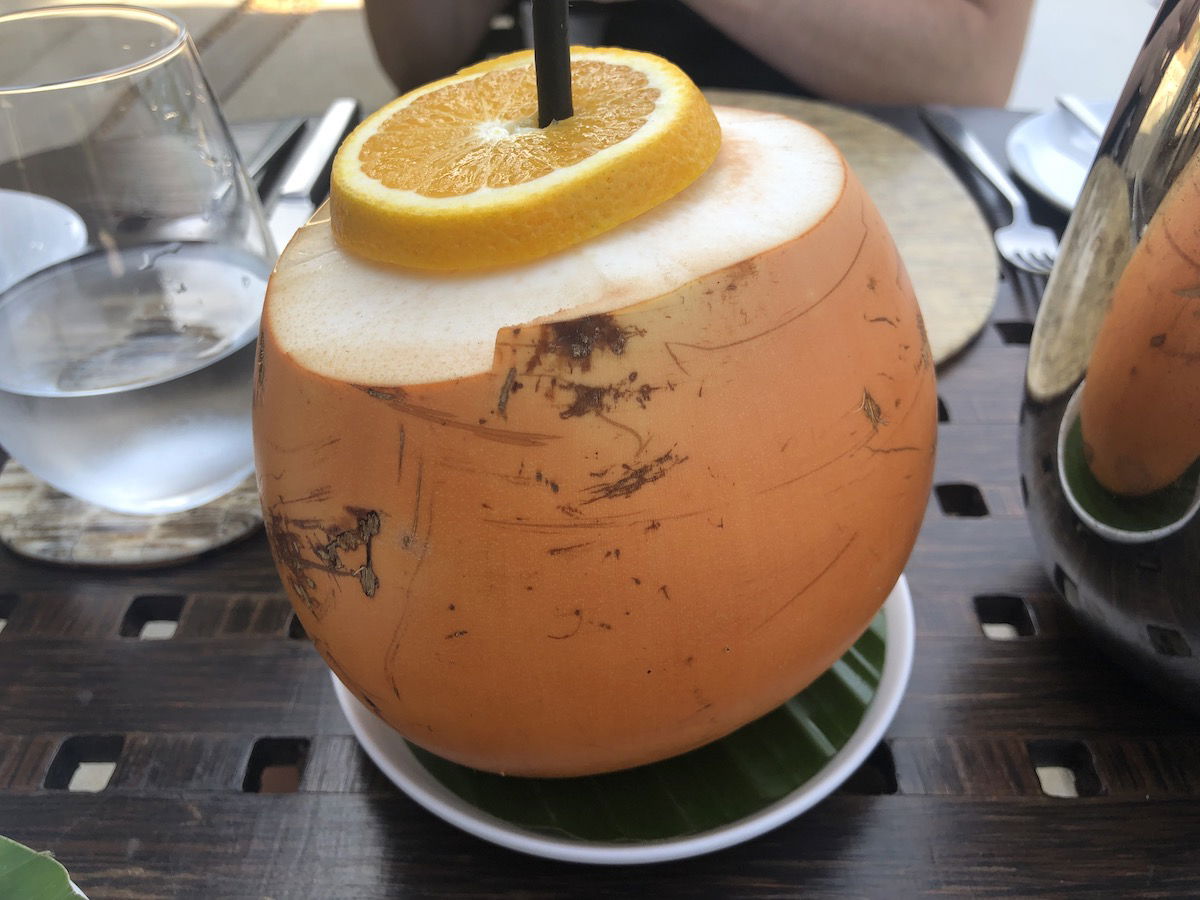 Amanwella breakfast
The food was delicious as well, including the Sri Lankan dishes as well as the western ones.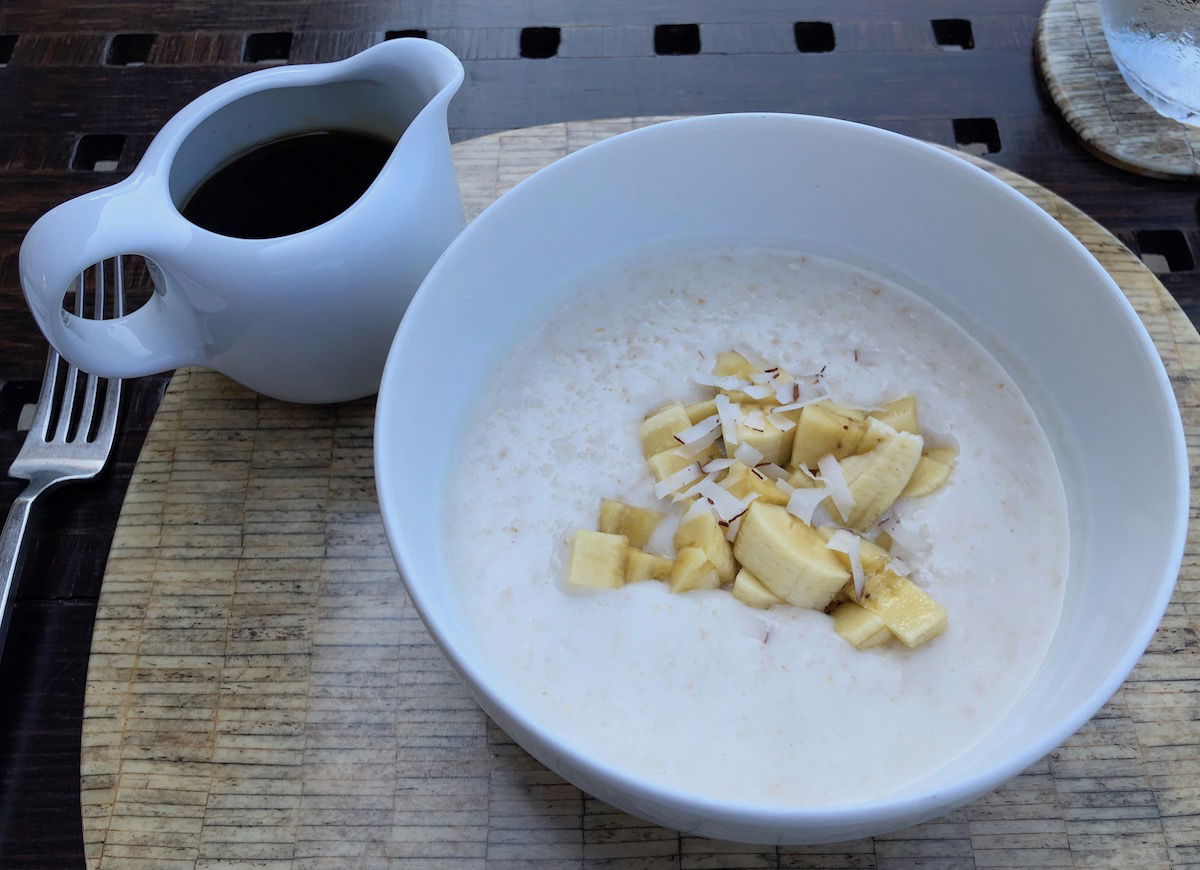 Amanwella breakfast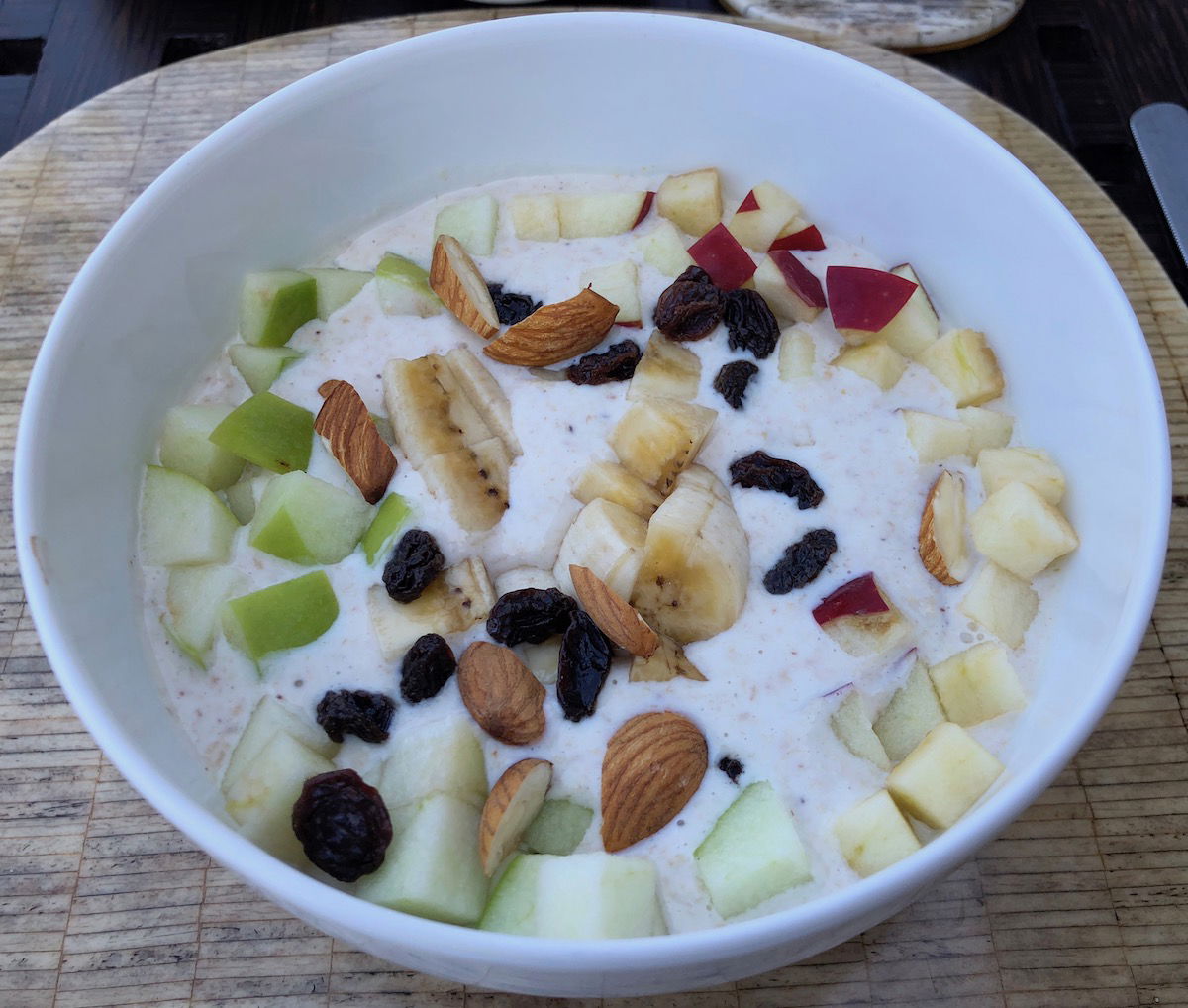 Amanwella breakfast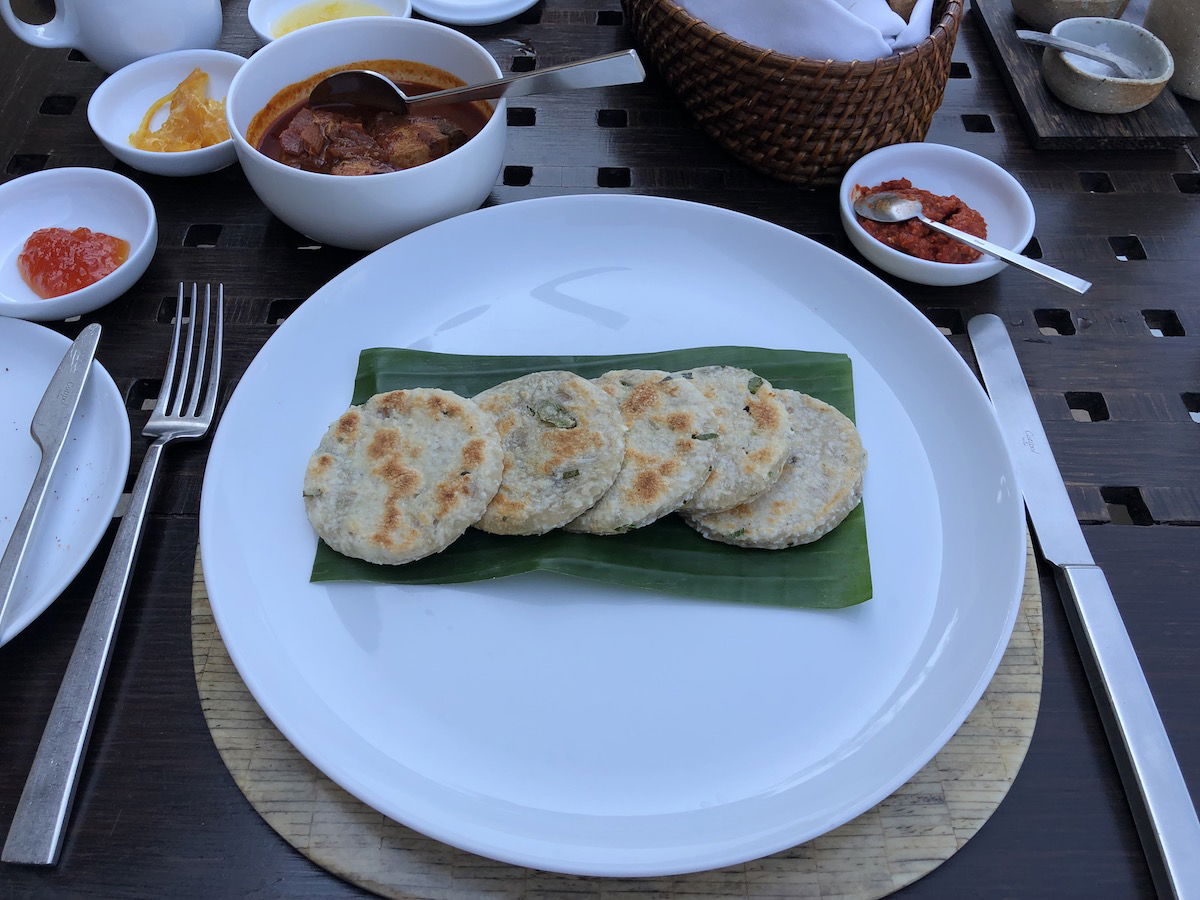 Amanwella breakfast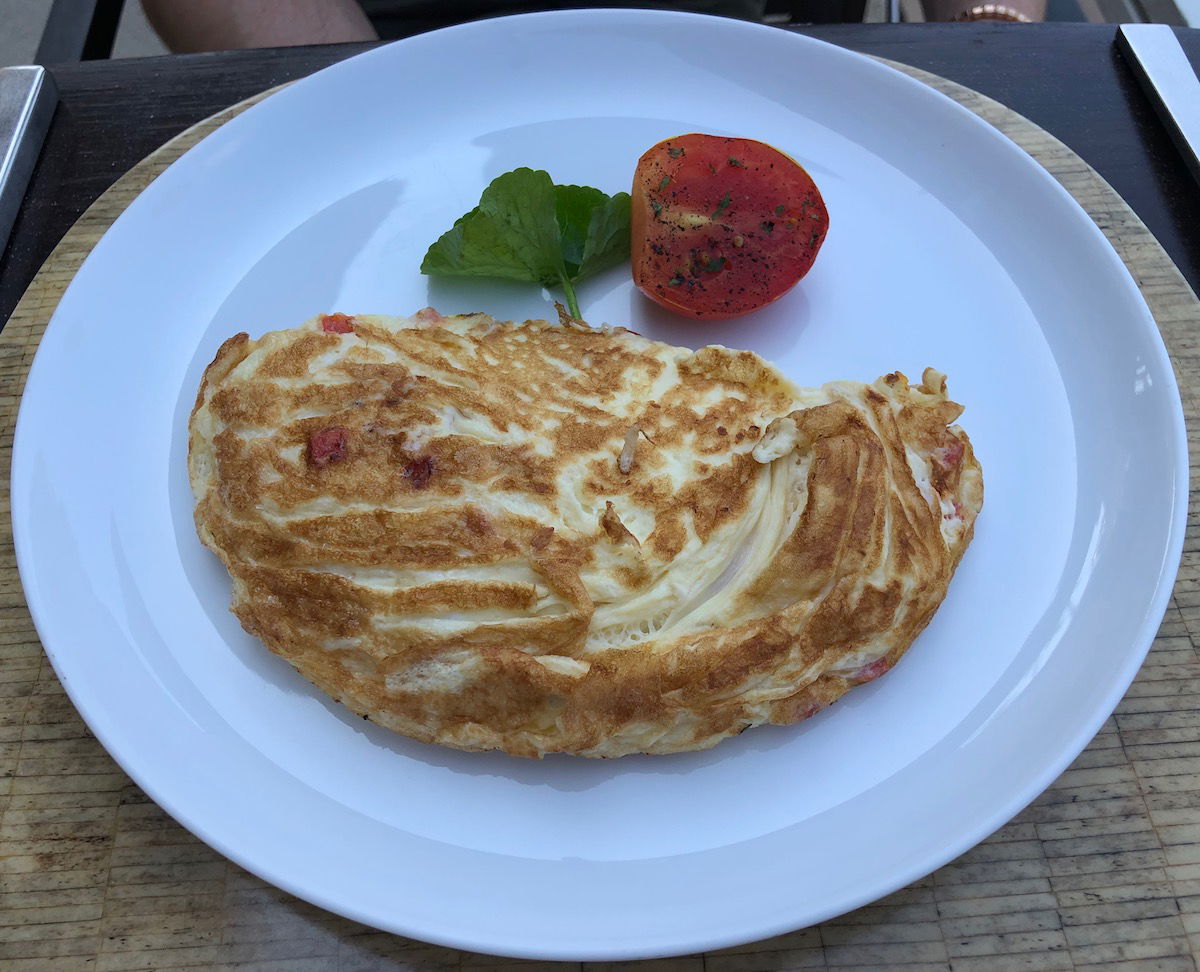 Amanwella breakfast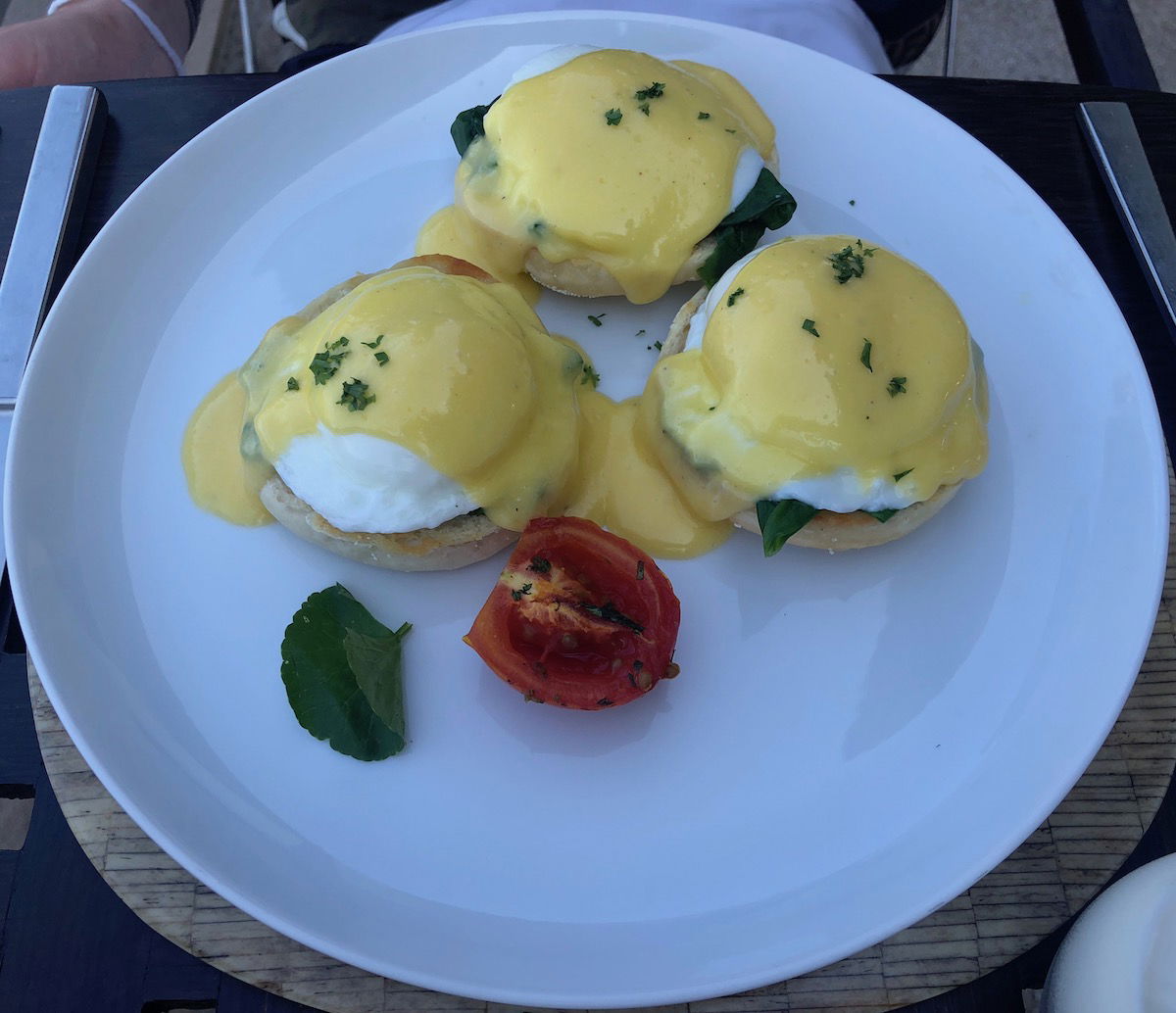 Amanwella breakfast
Service at breakfast was also quite good. For example, the first morning I ordered a side of avocado (I love avocado), and every subsequent morning they automatically brought me a plate of avocado.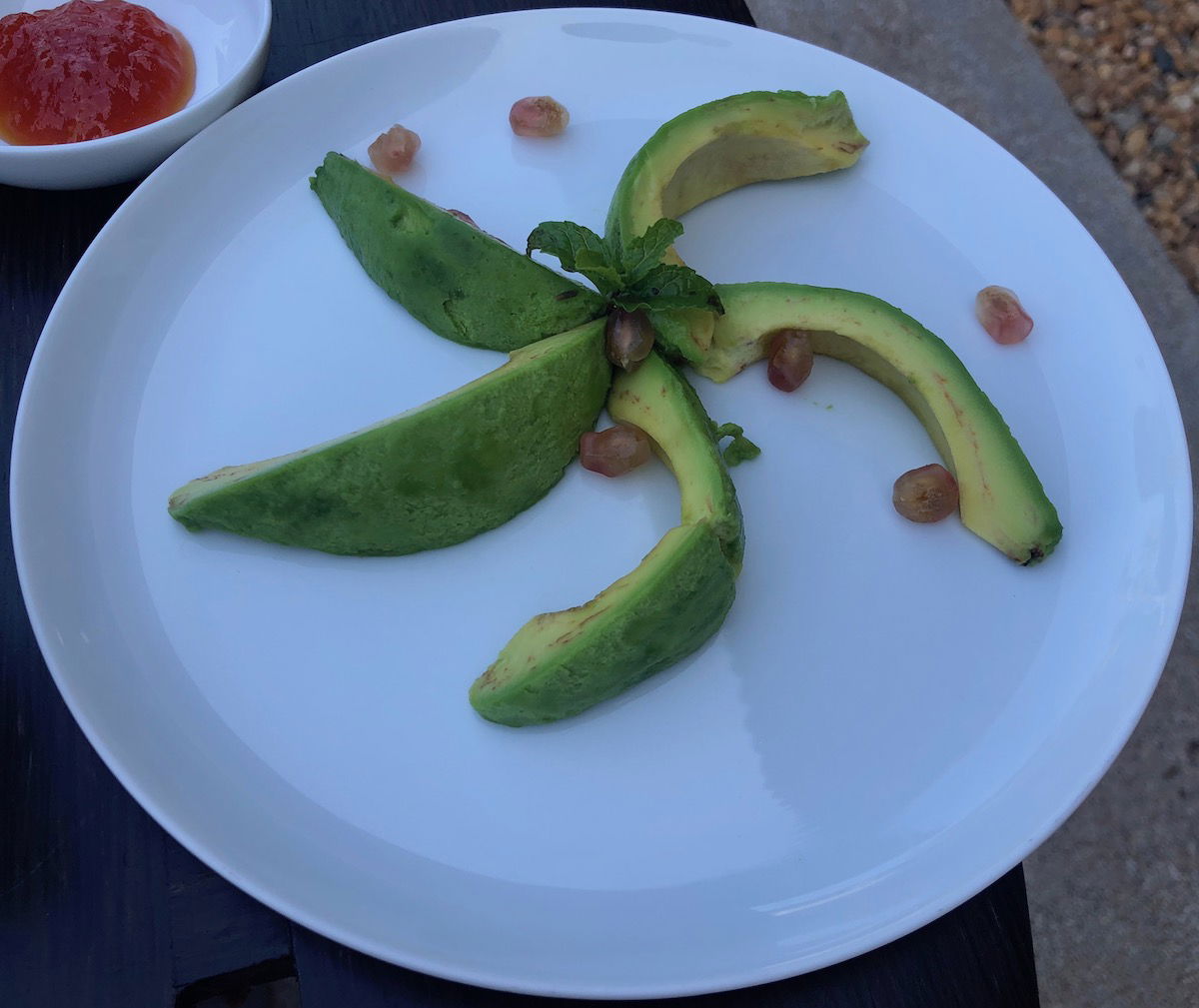 Amanwella breakfast
Amanwella lunch
For lunch there are two options — you can either eat the main restaurant (above the pool), or at the beach restaurant.
The lunch menu was extensive, including both Sri Lankan options and international ones. The menu read as follows: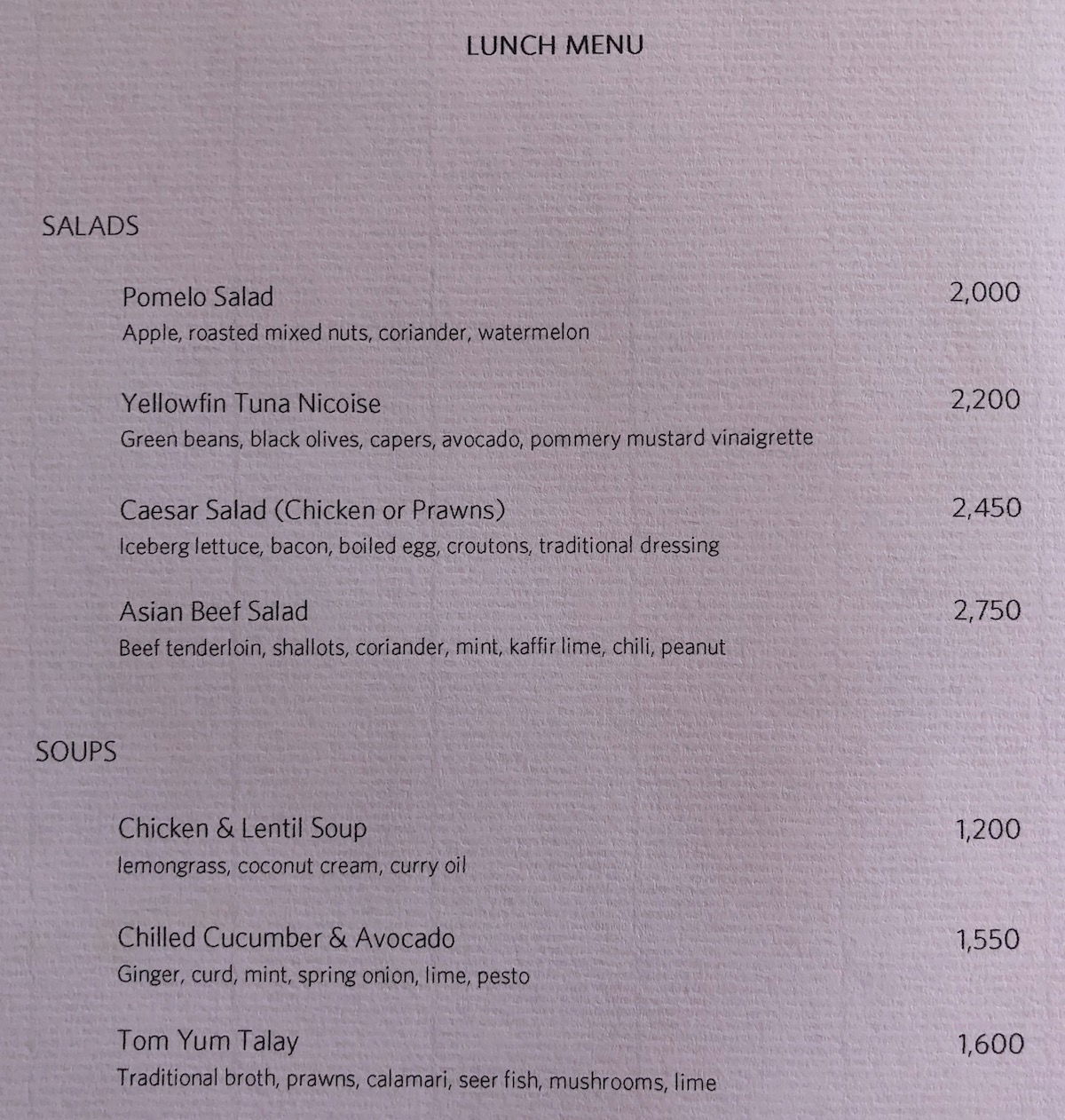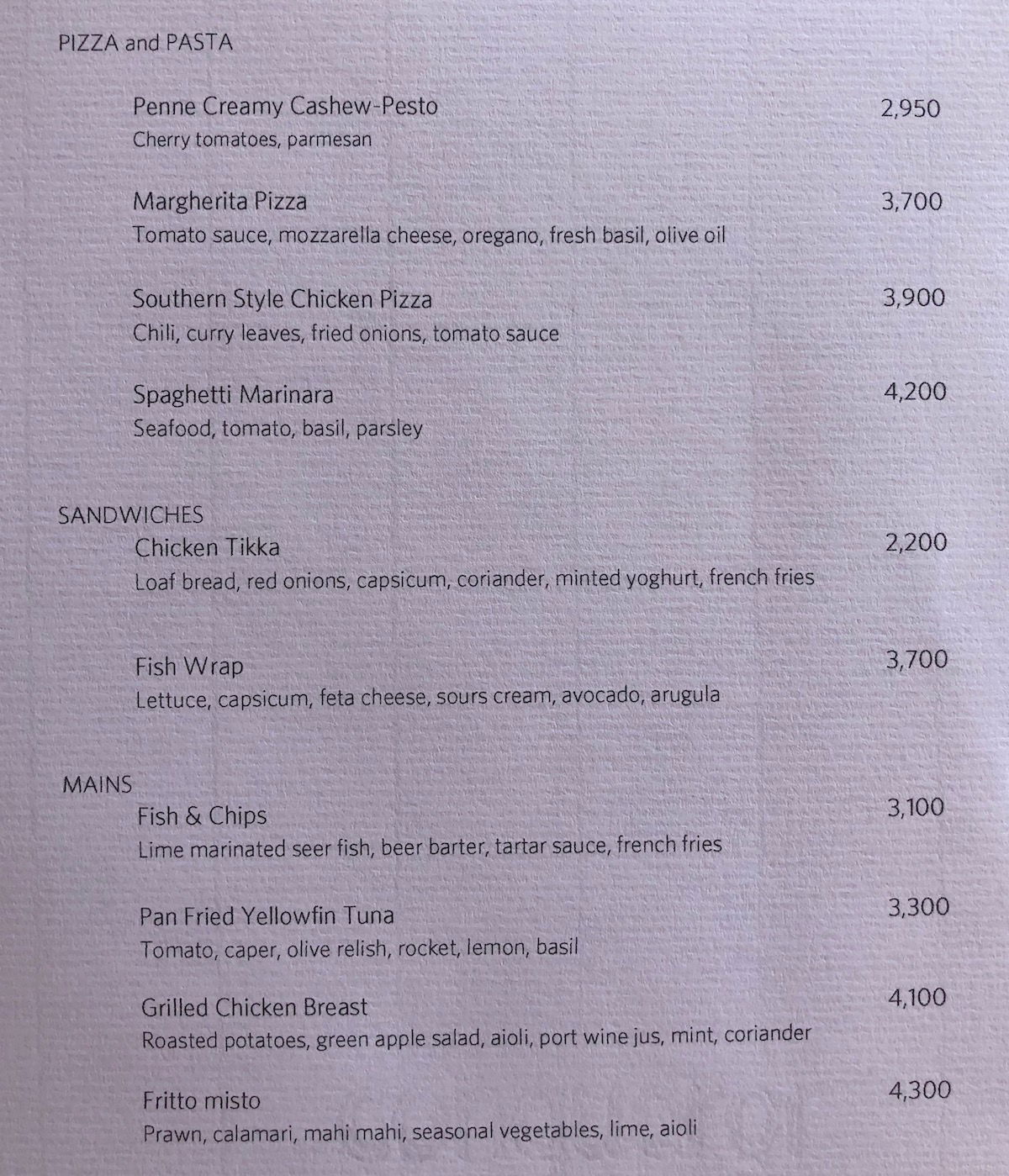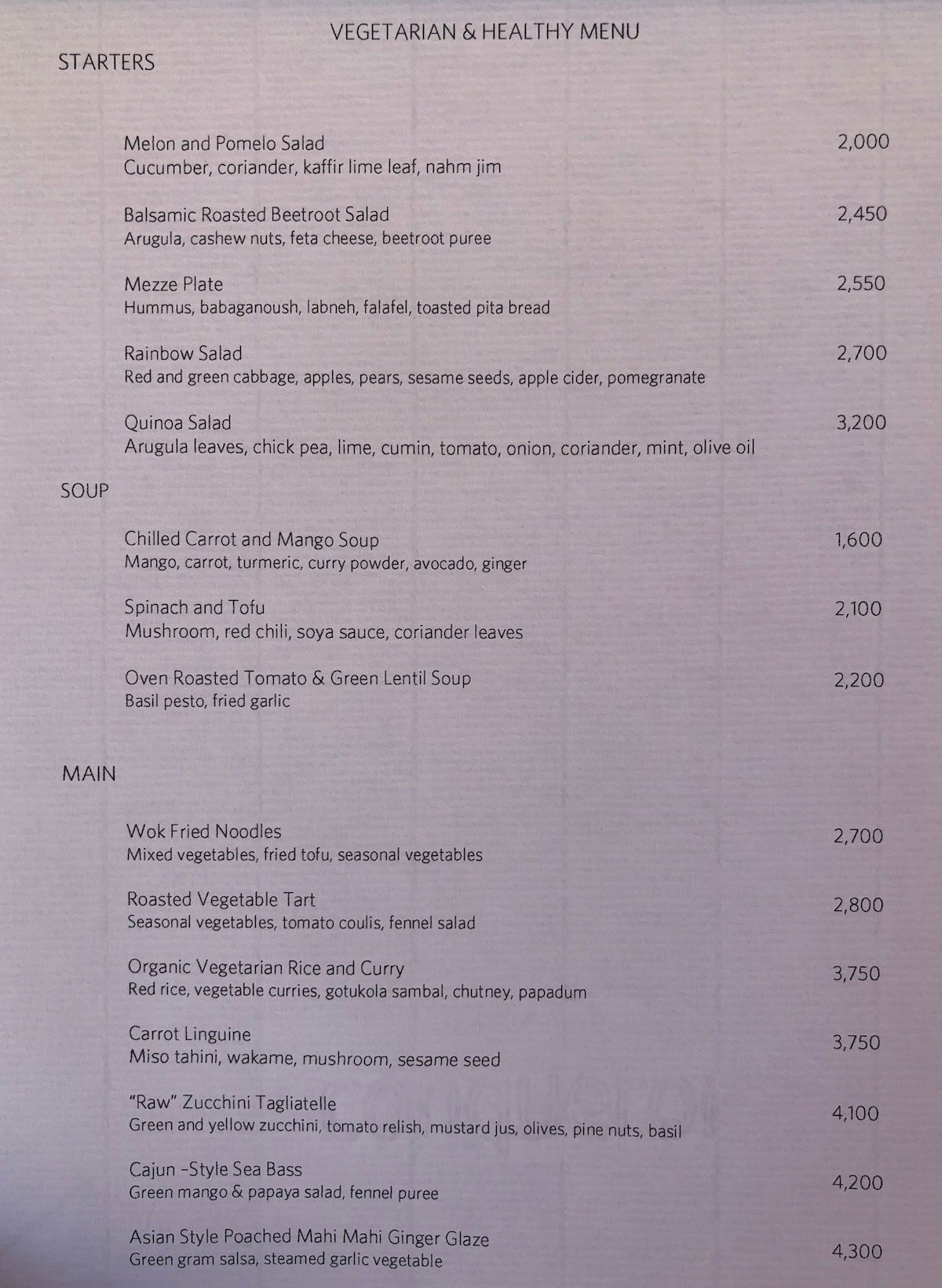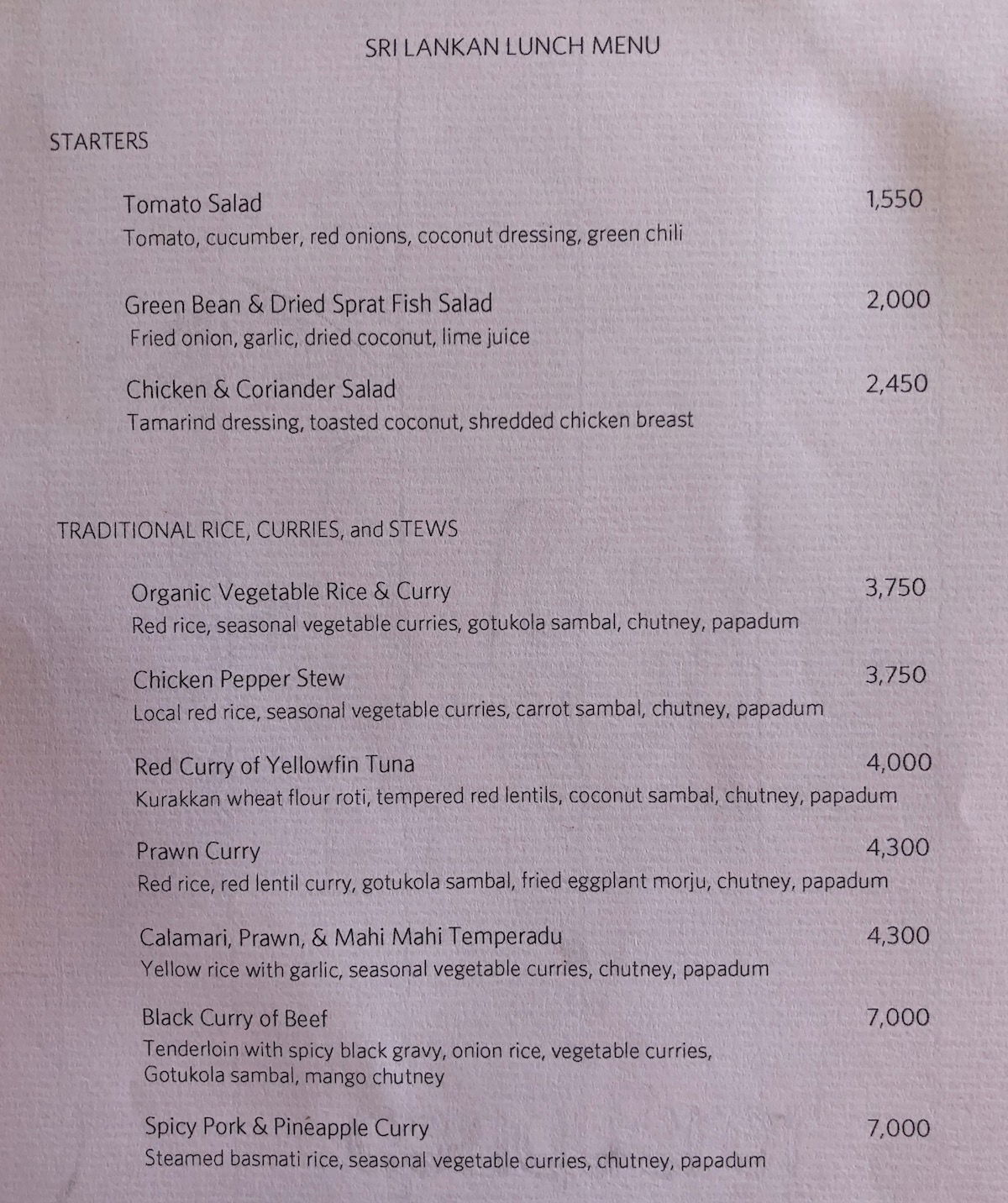 Below is a selection of the lunch we had while at Amanwella.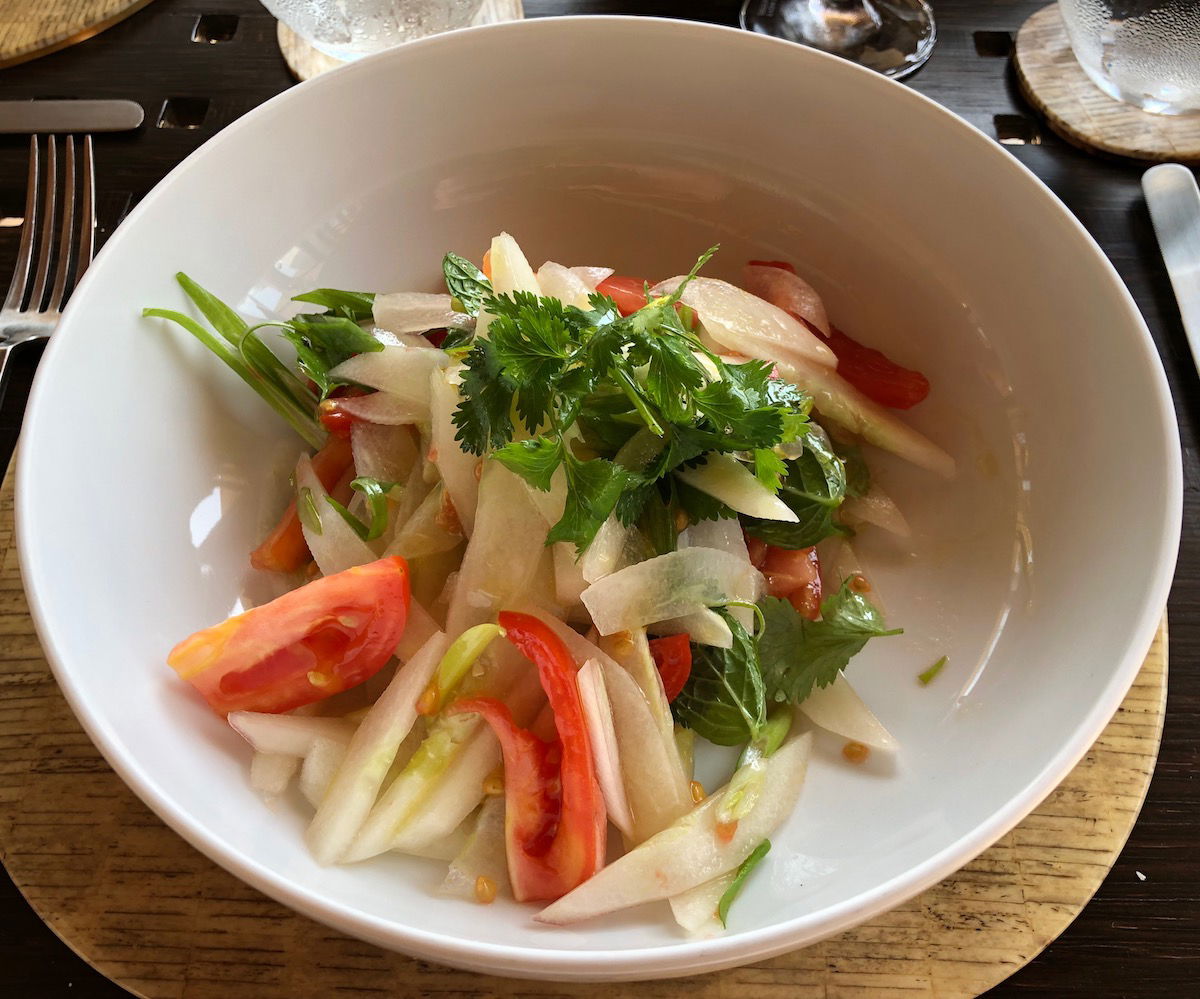 Amanwella lunch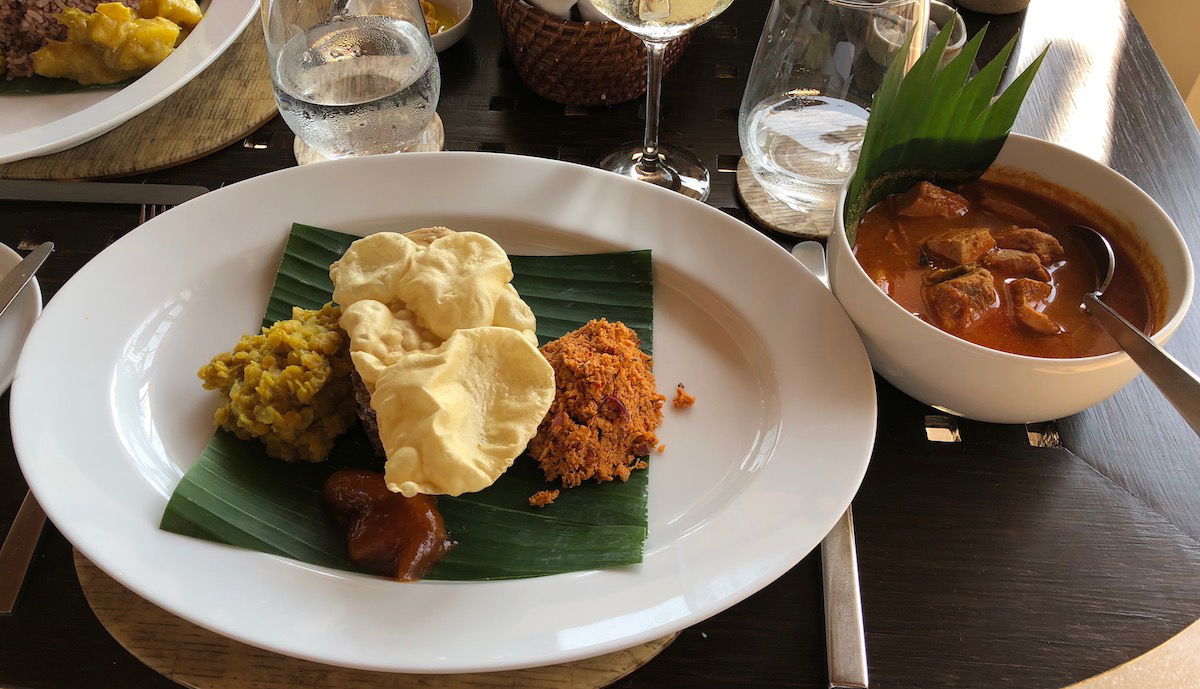 Amanwella lunch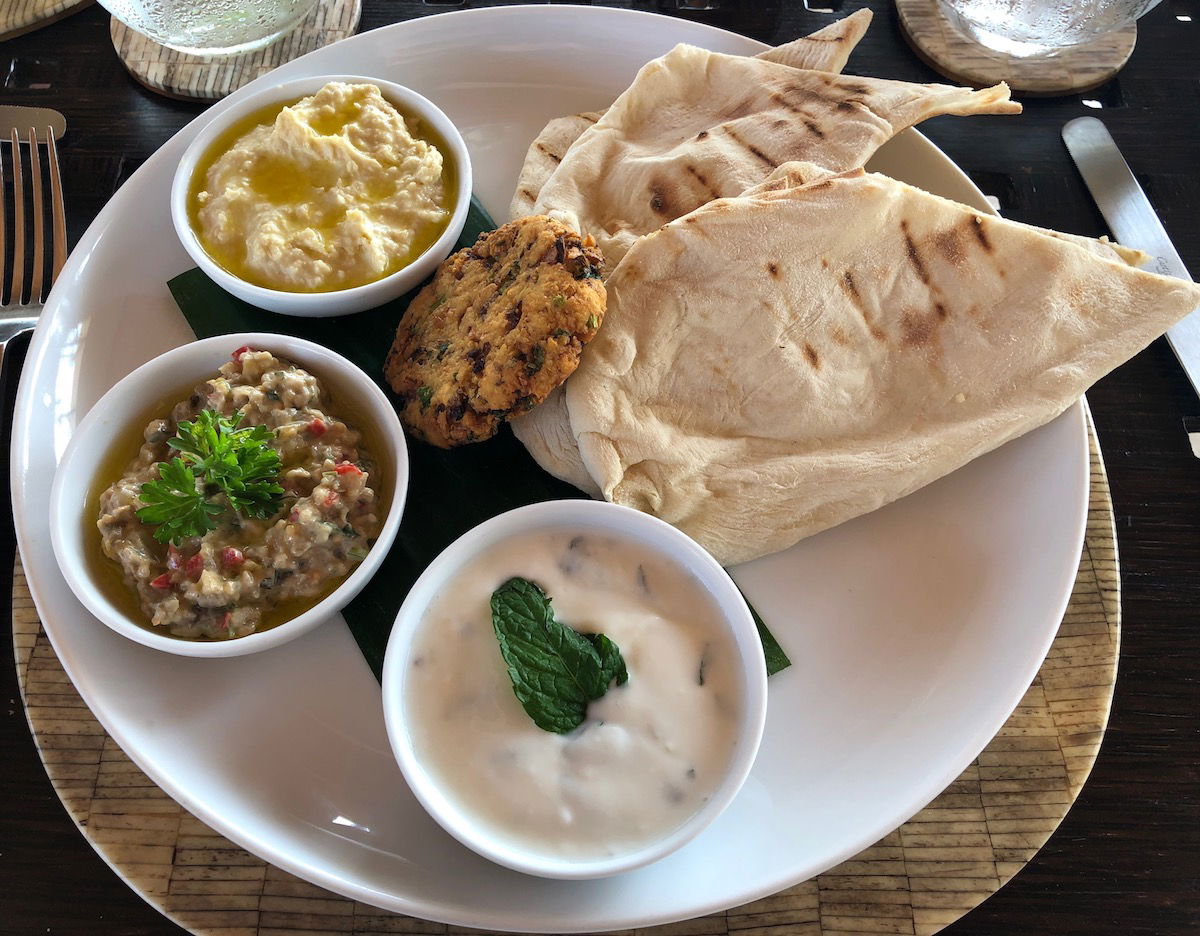 Amanwella lunch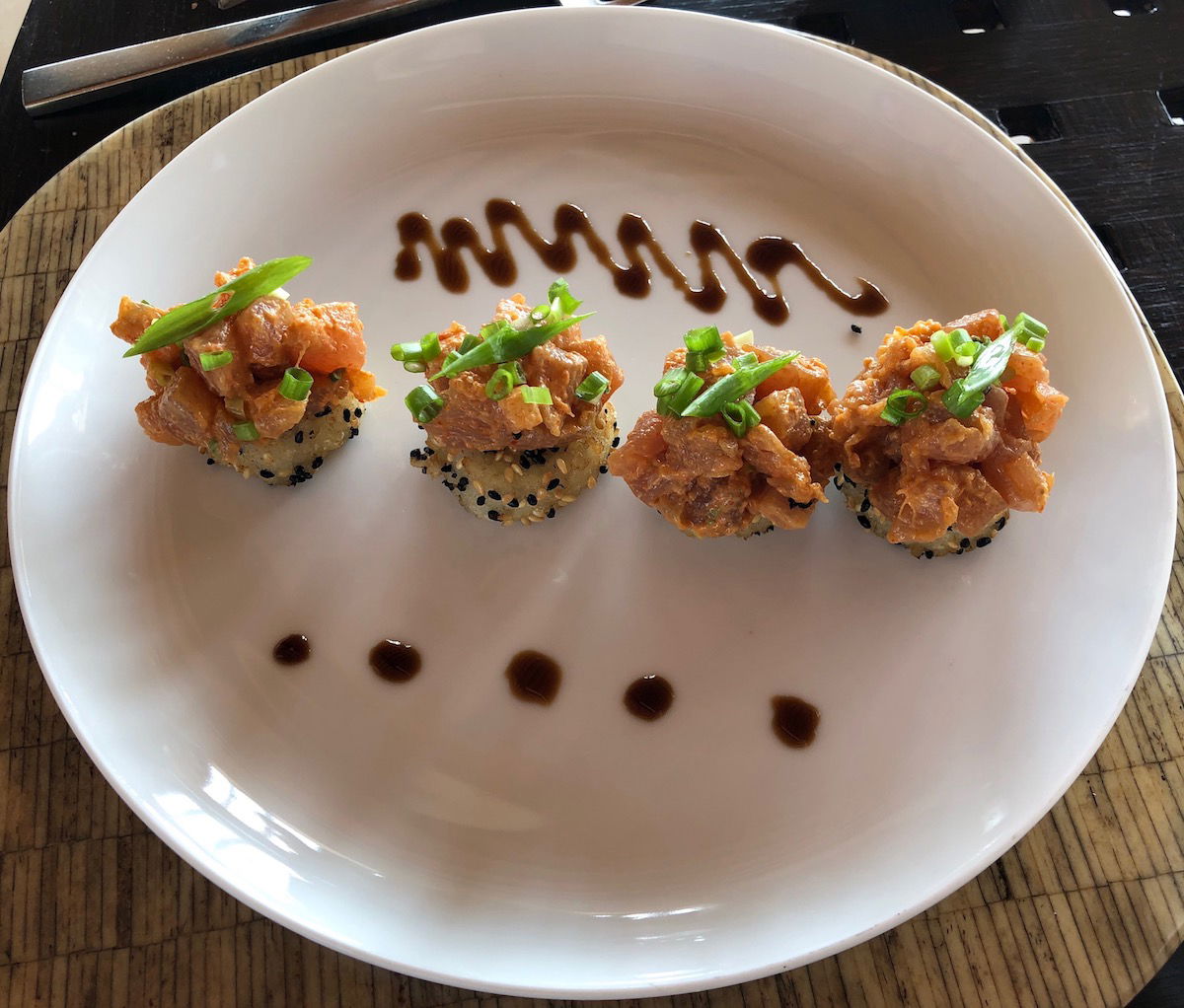 Amanwella lunch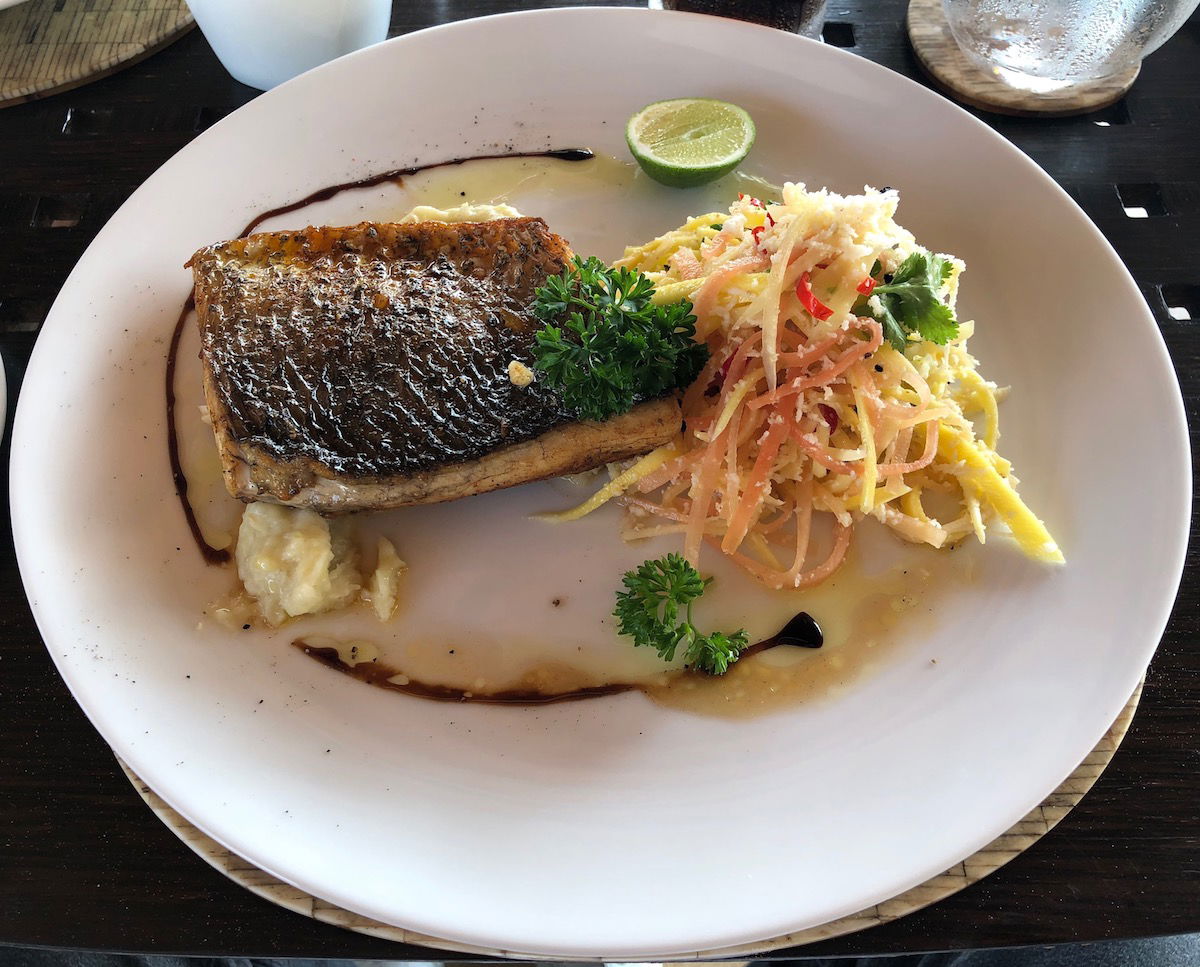 Amanwella lunch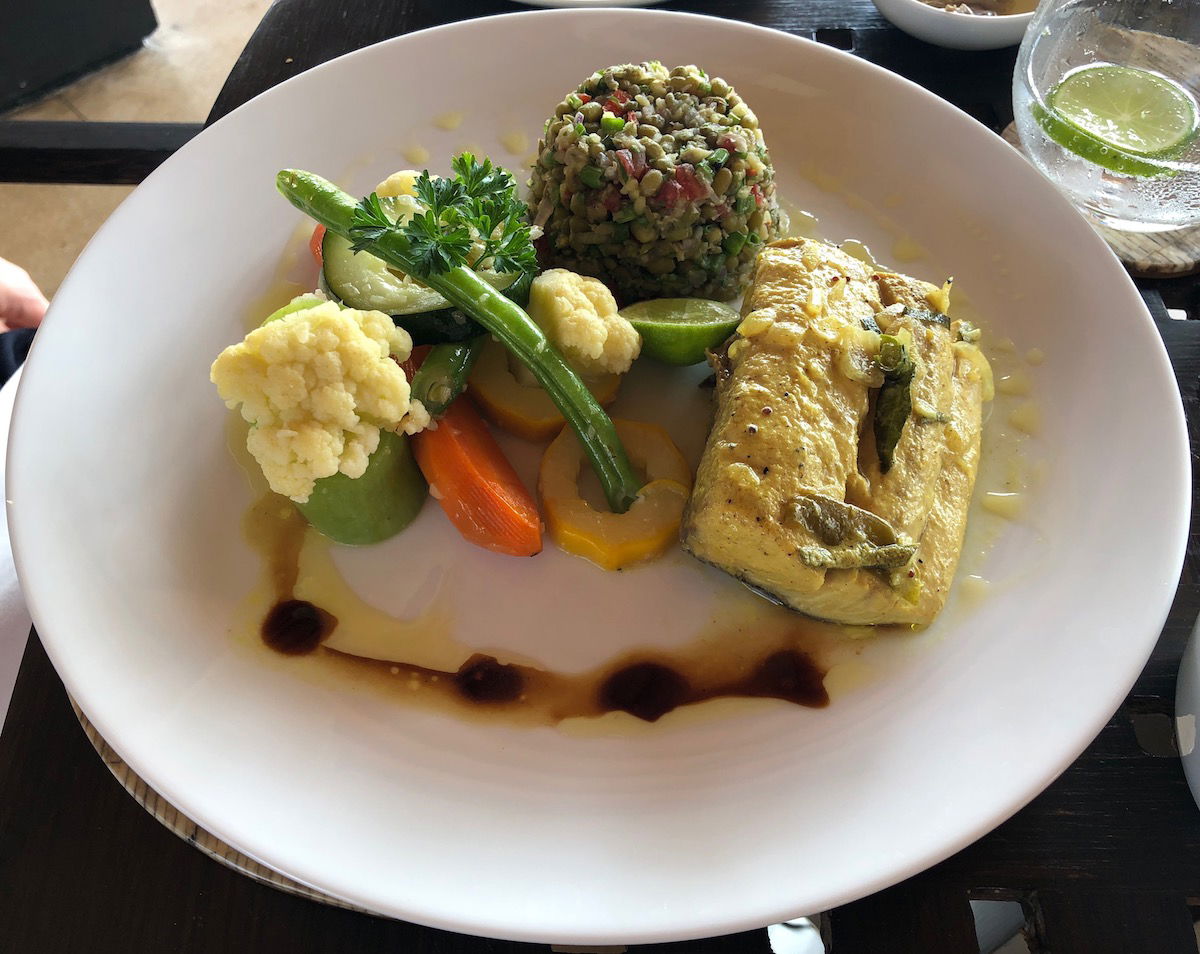 Amanwella lunch
Then here's the beach club menu, which is somewhat similar: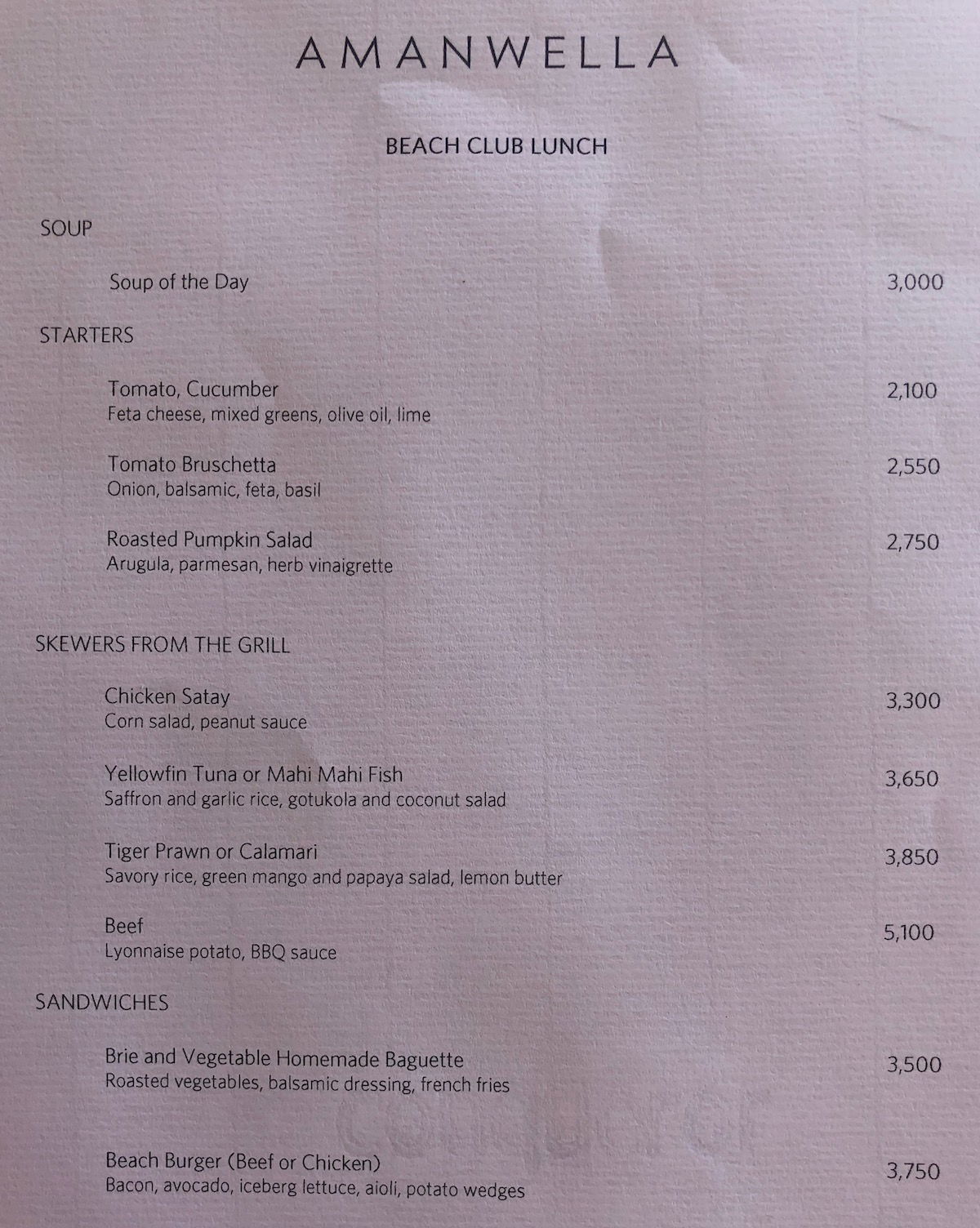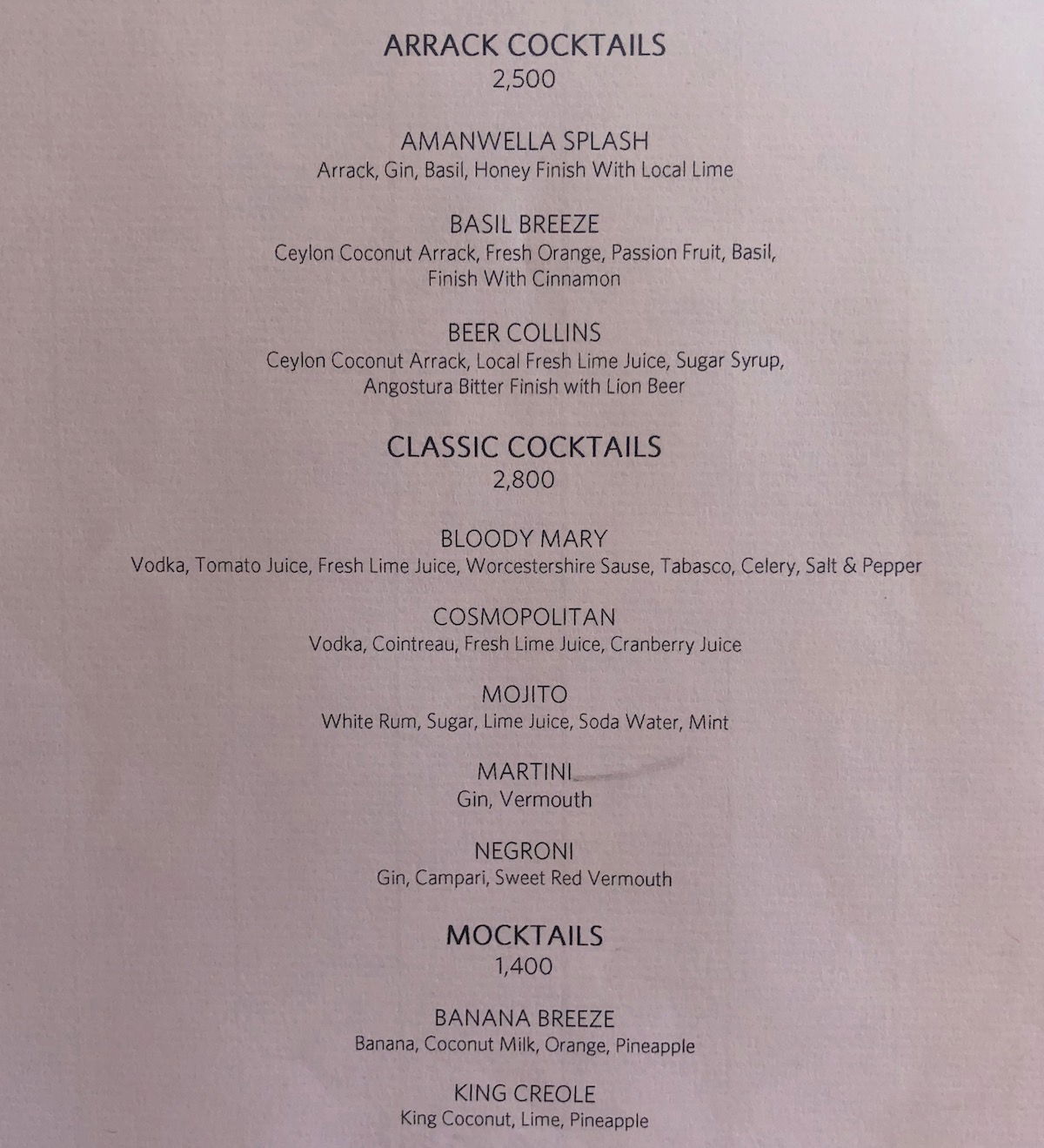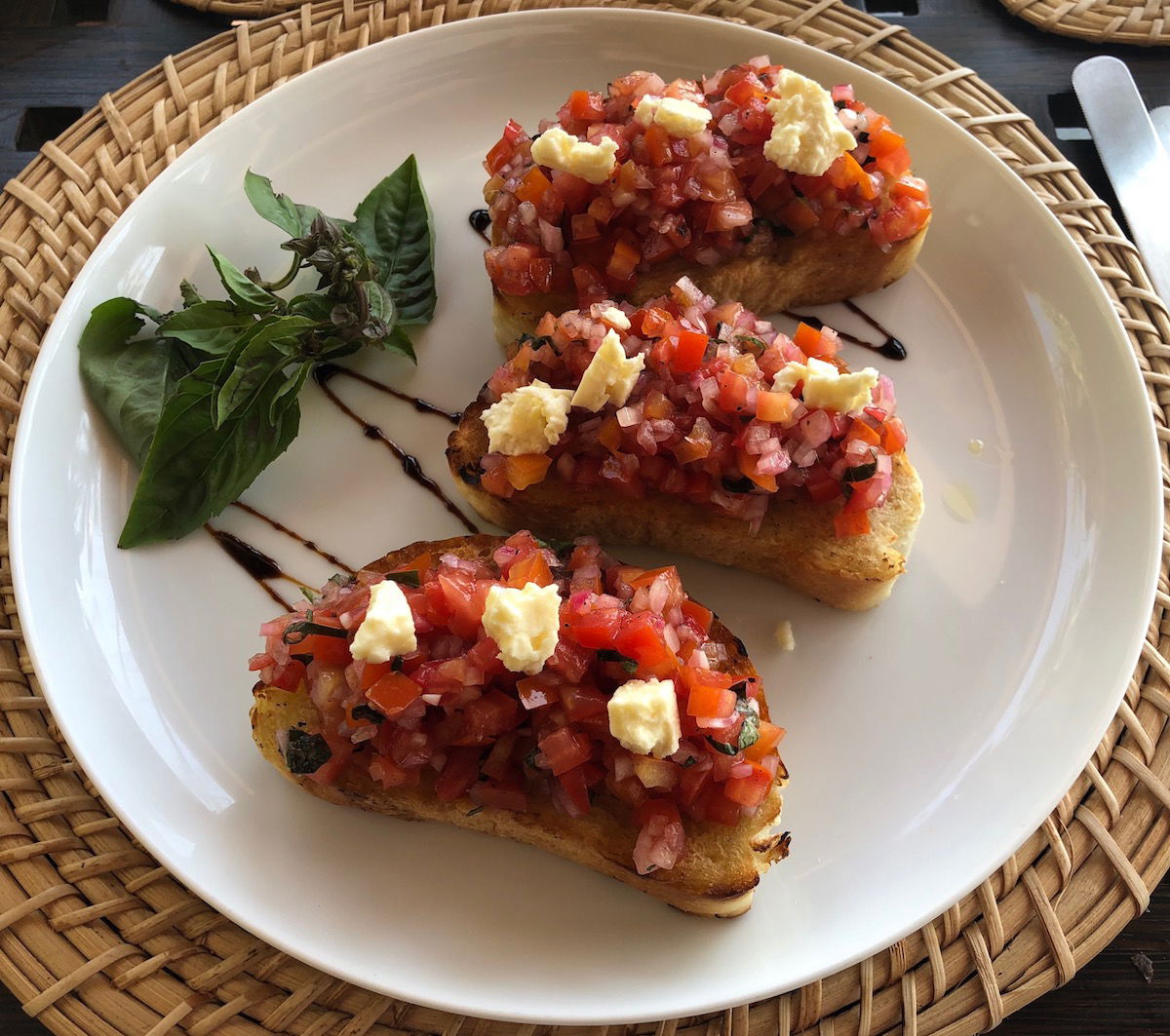 Amanwella lunch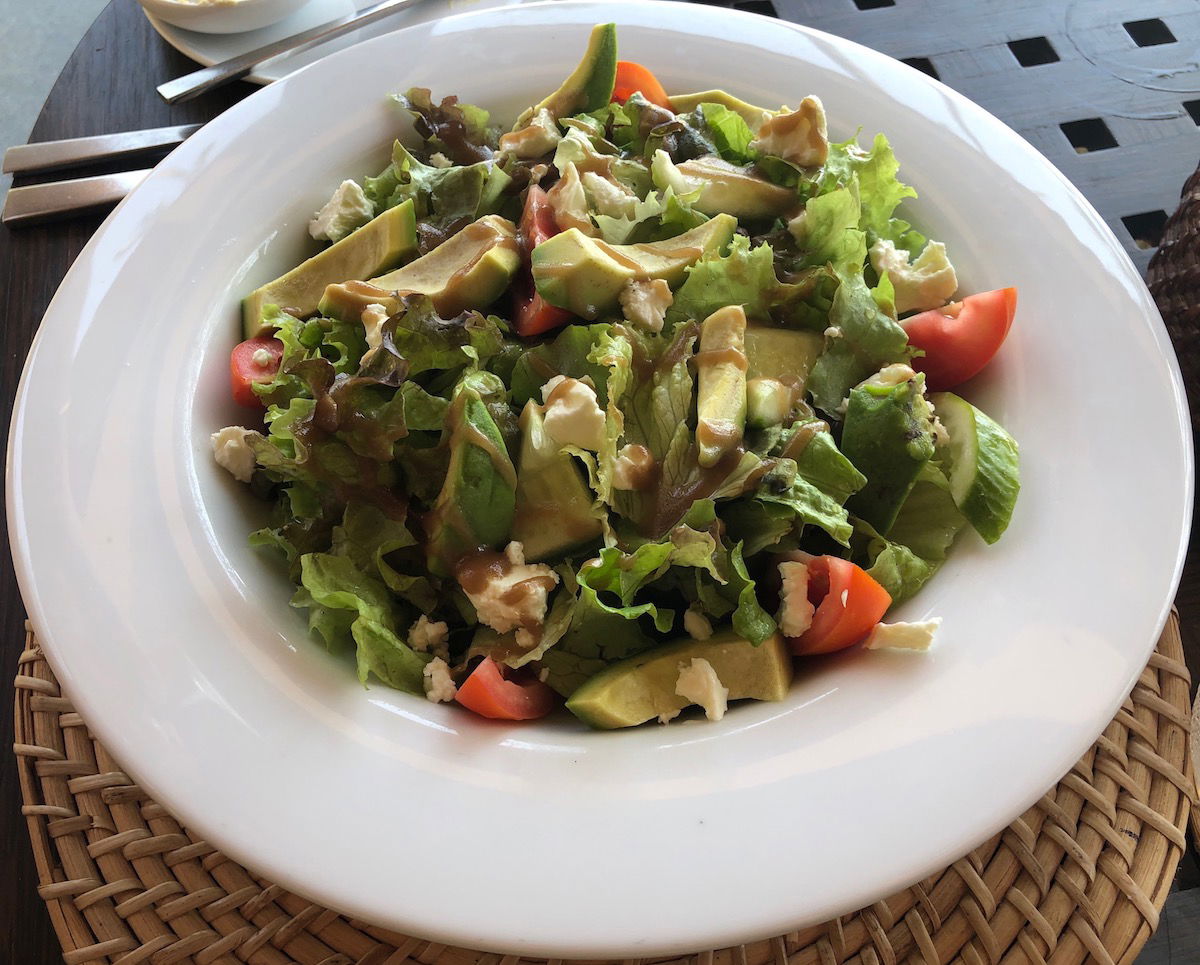 Amanwella lunch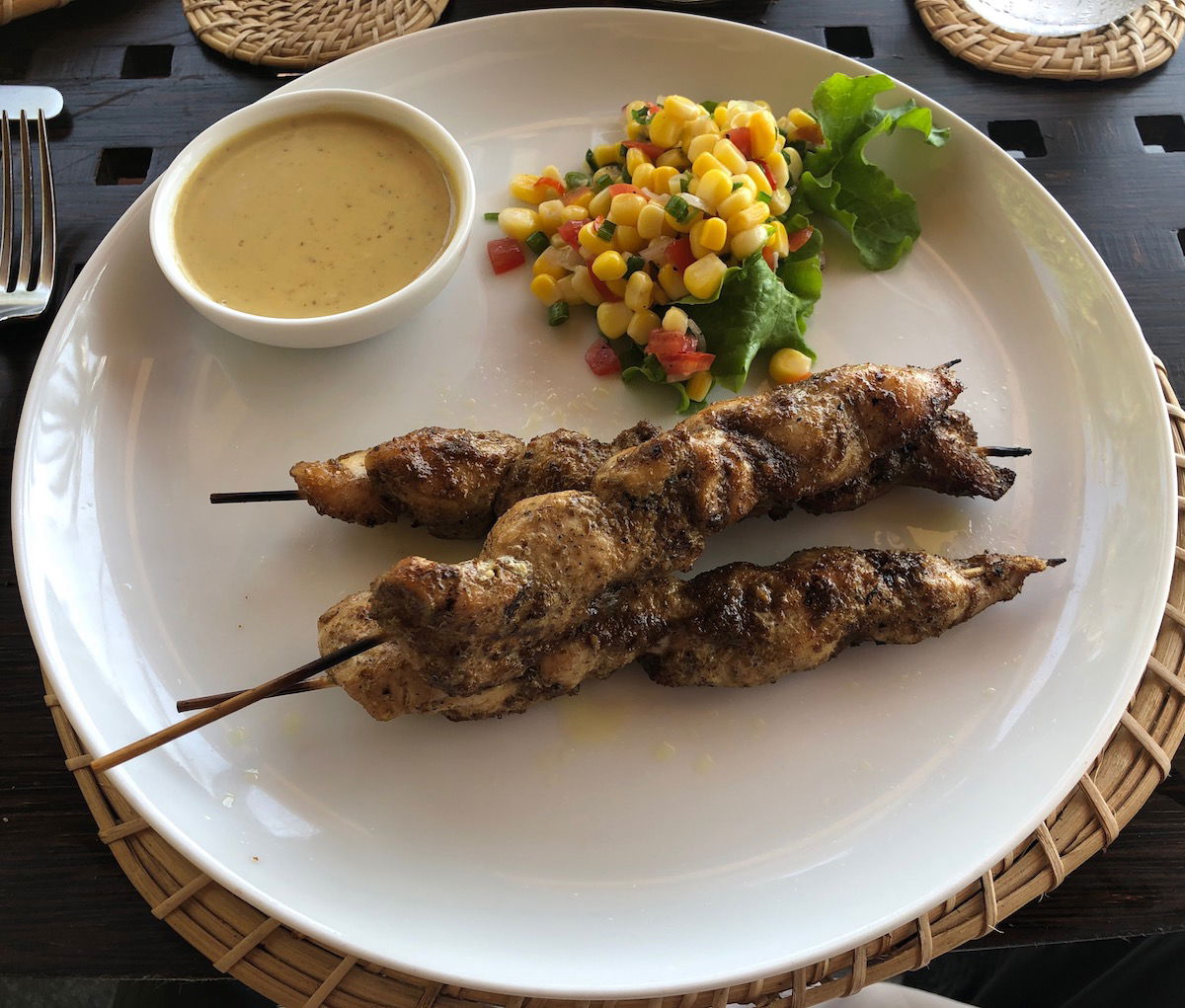 Amanwella lunch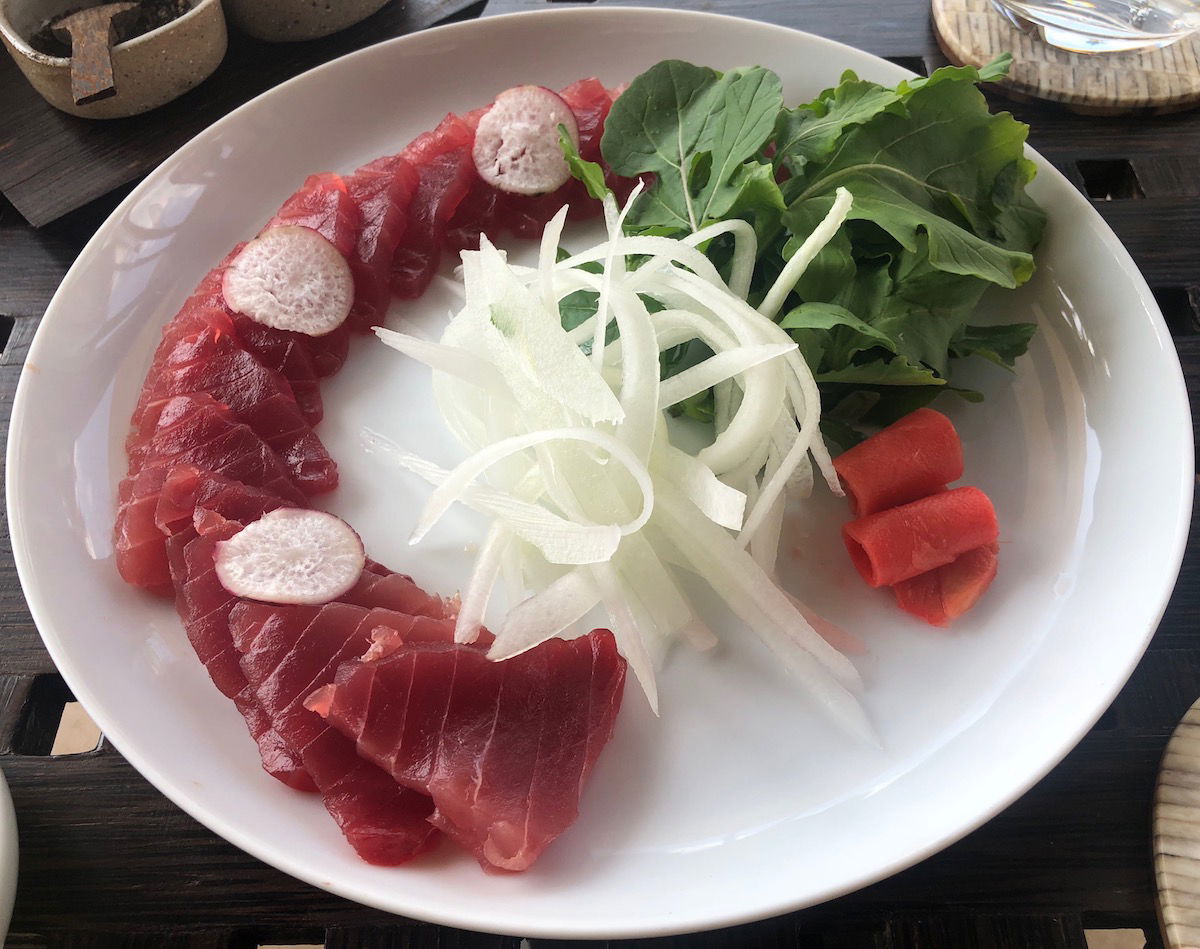 Amanwella lunch
Amanwella dinner
Dinner was only consistently served at the hotel's main restaurant, and the menu there read as follows: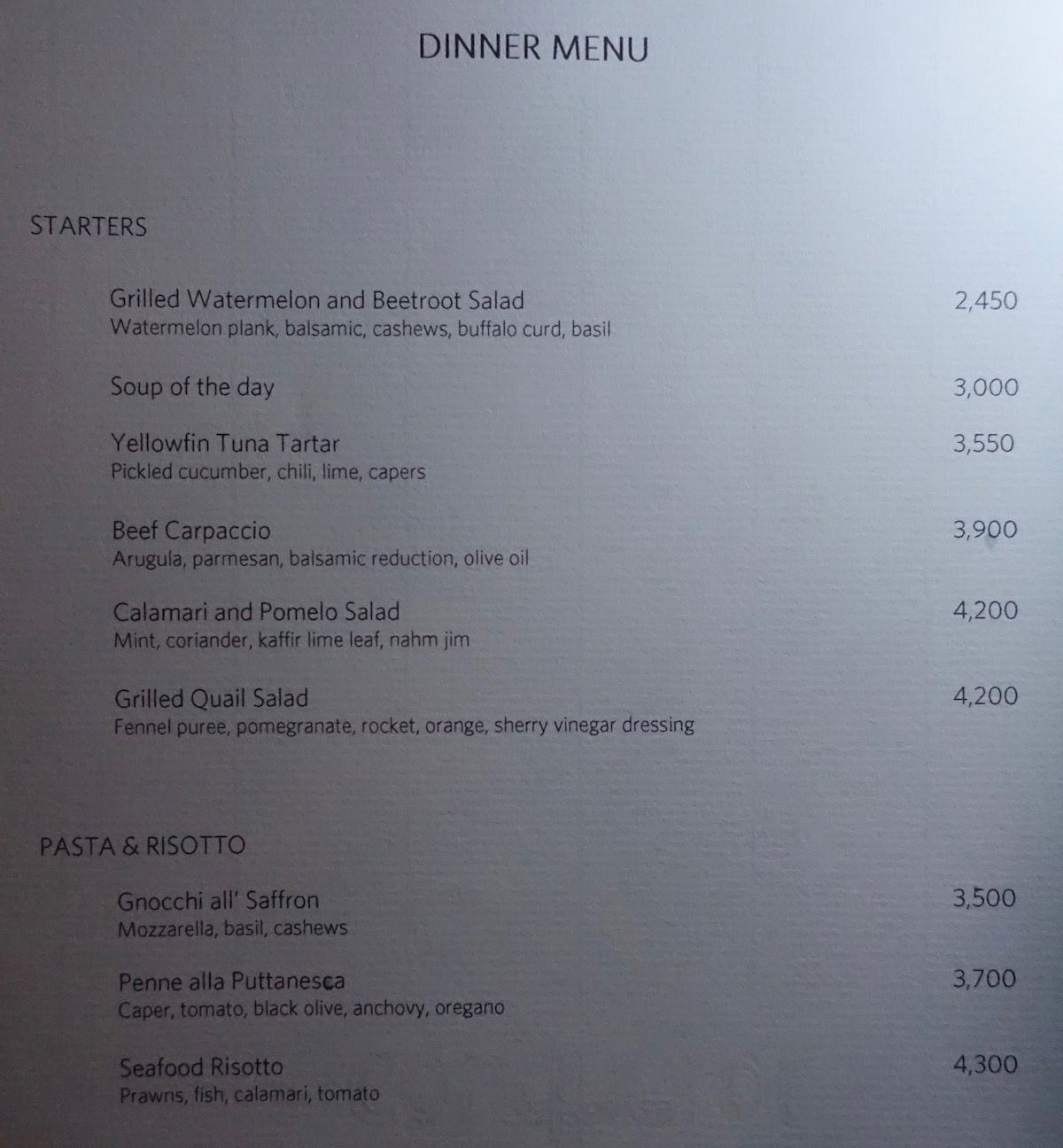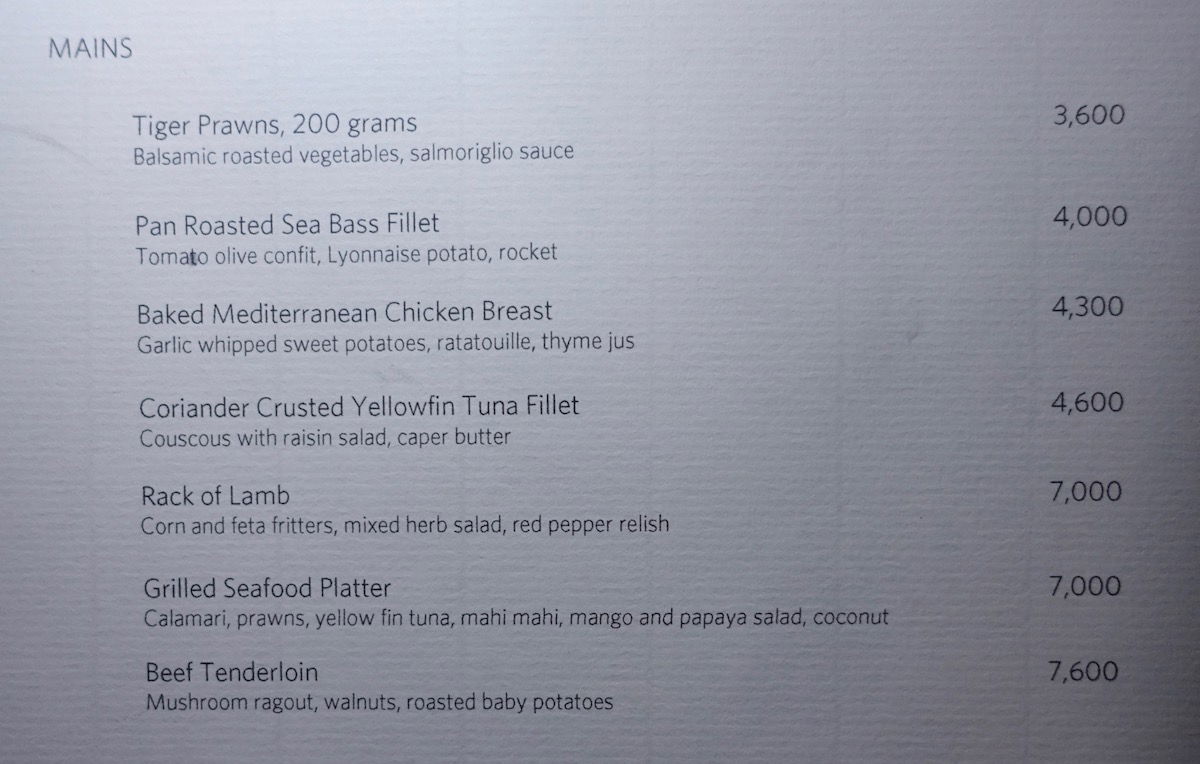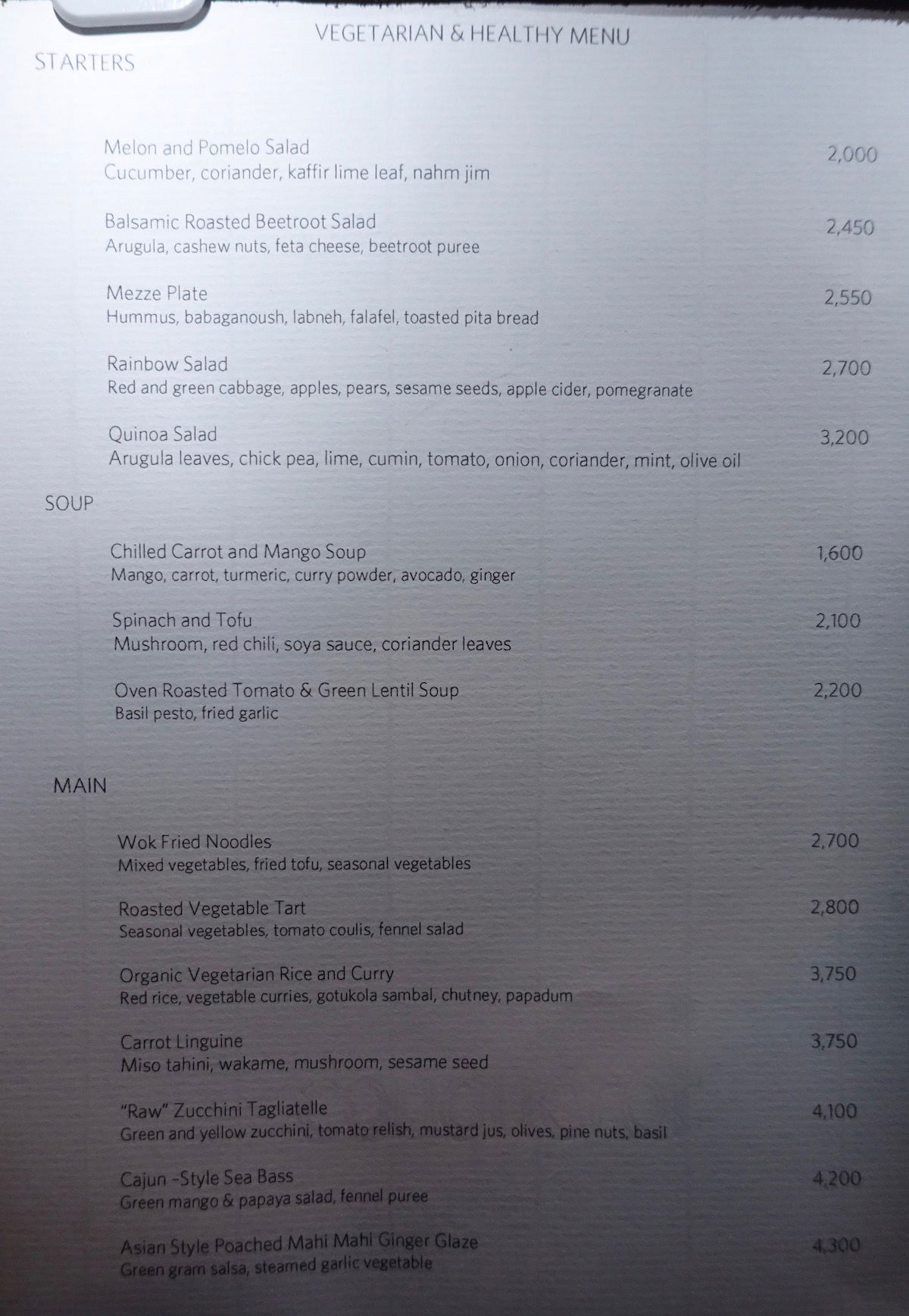 The food was also very good, and we mixed it up between the Sri Lankan and international options.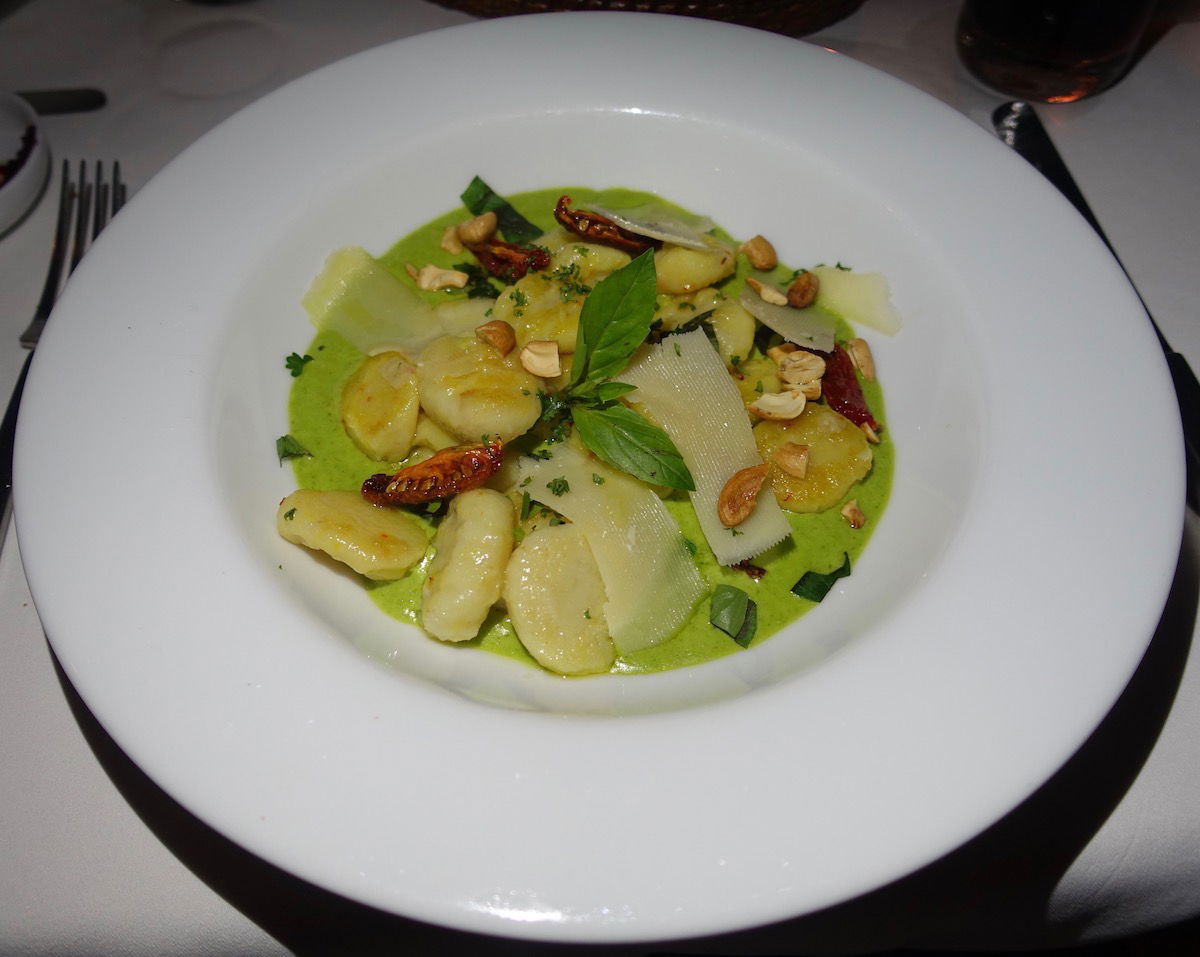 Amanwella dinner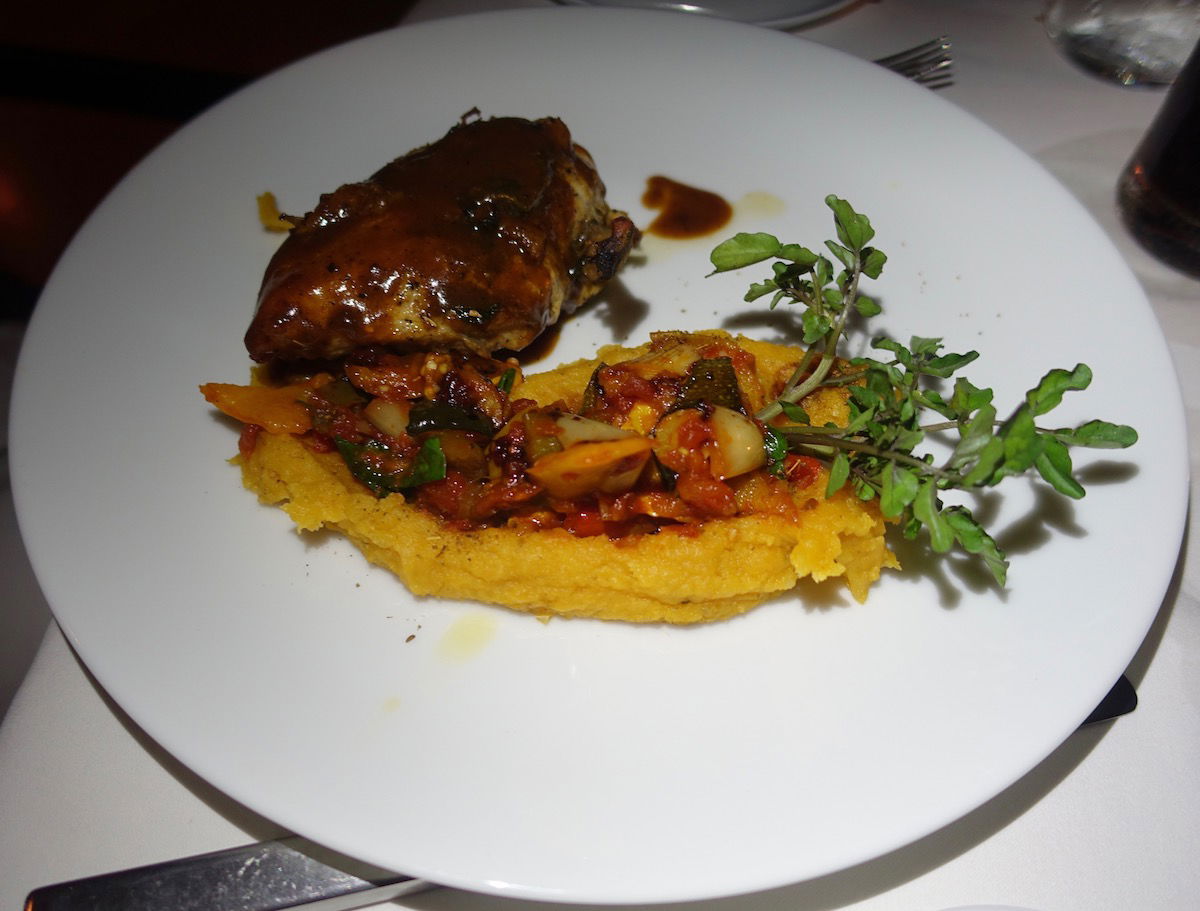 Amanwella dinner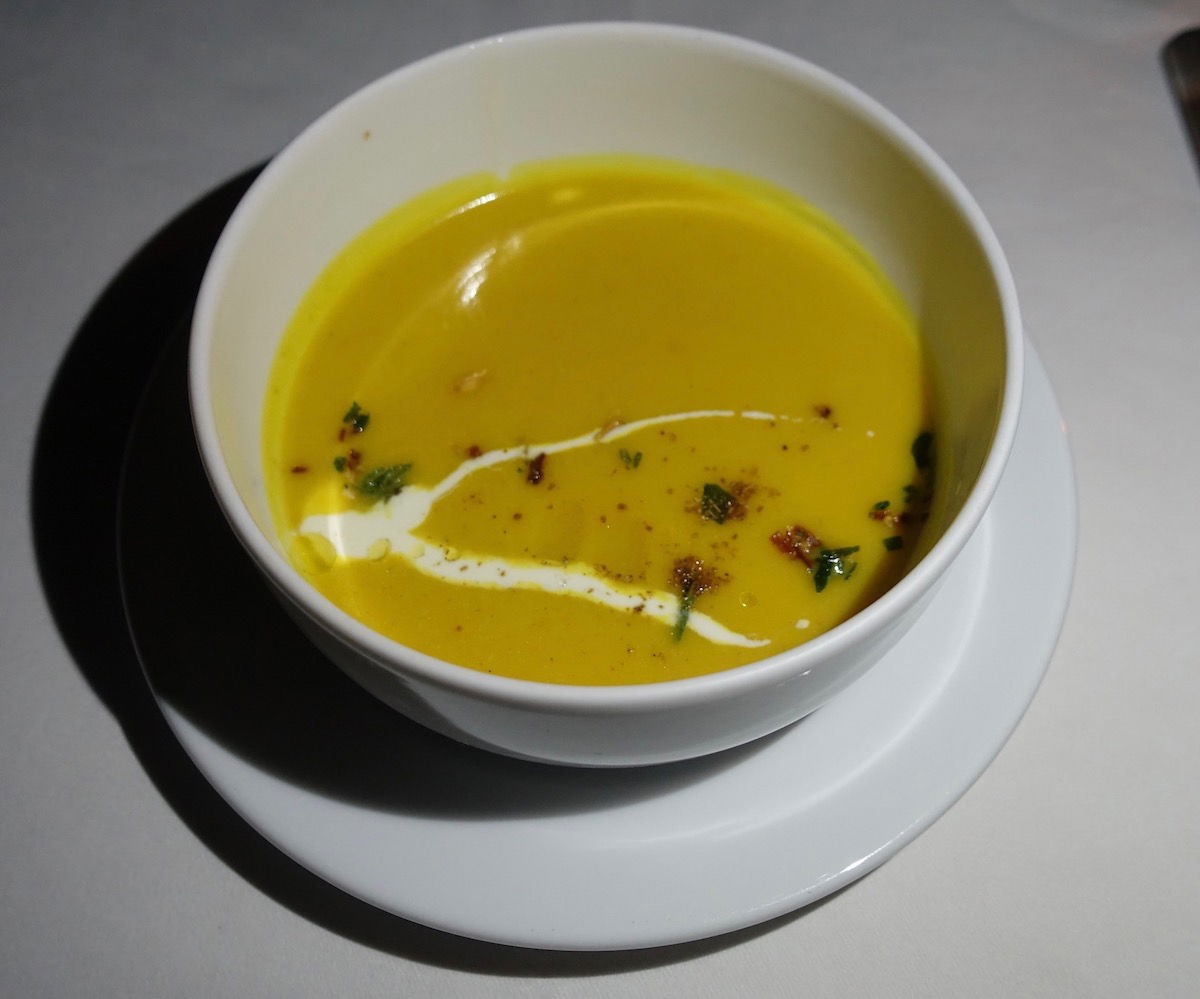 Amanwella dinner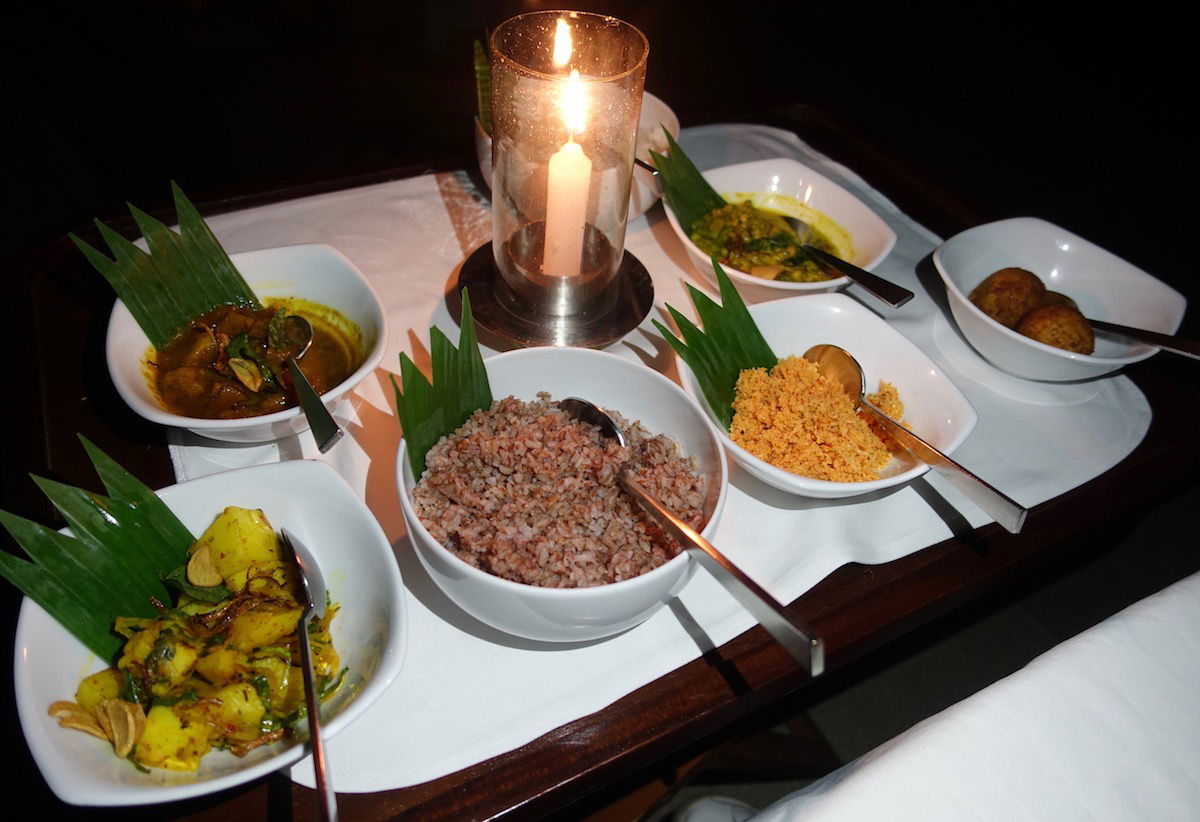 Amanwella dinner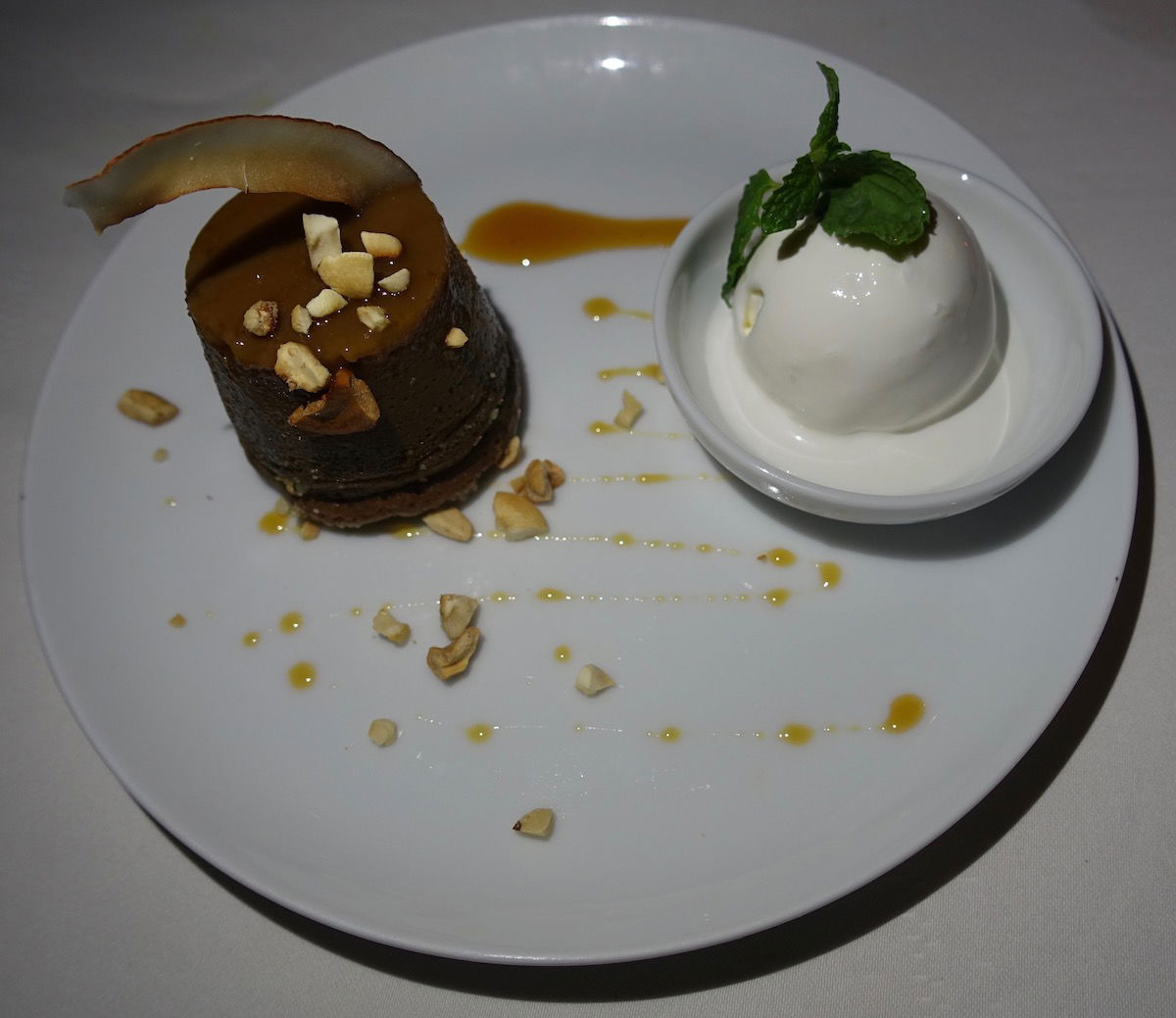 Amanwella dinner
The beach club had special "Ministry of Crab" dinners a couple of times during our stay, though we didn't partake in that. Here's the menu, though: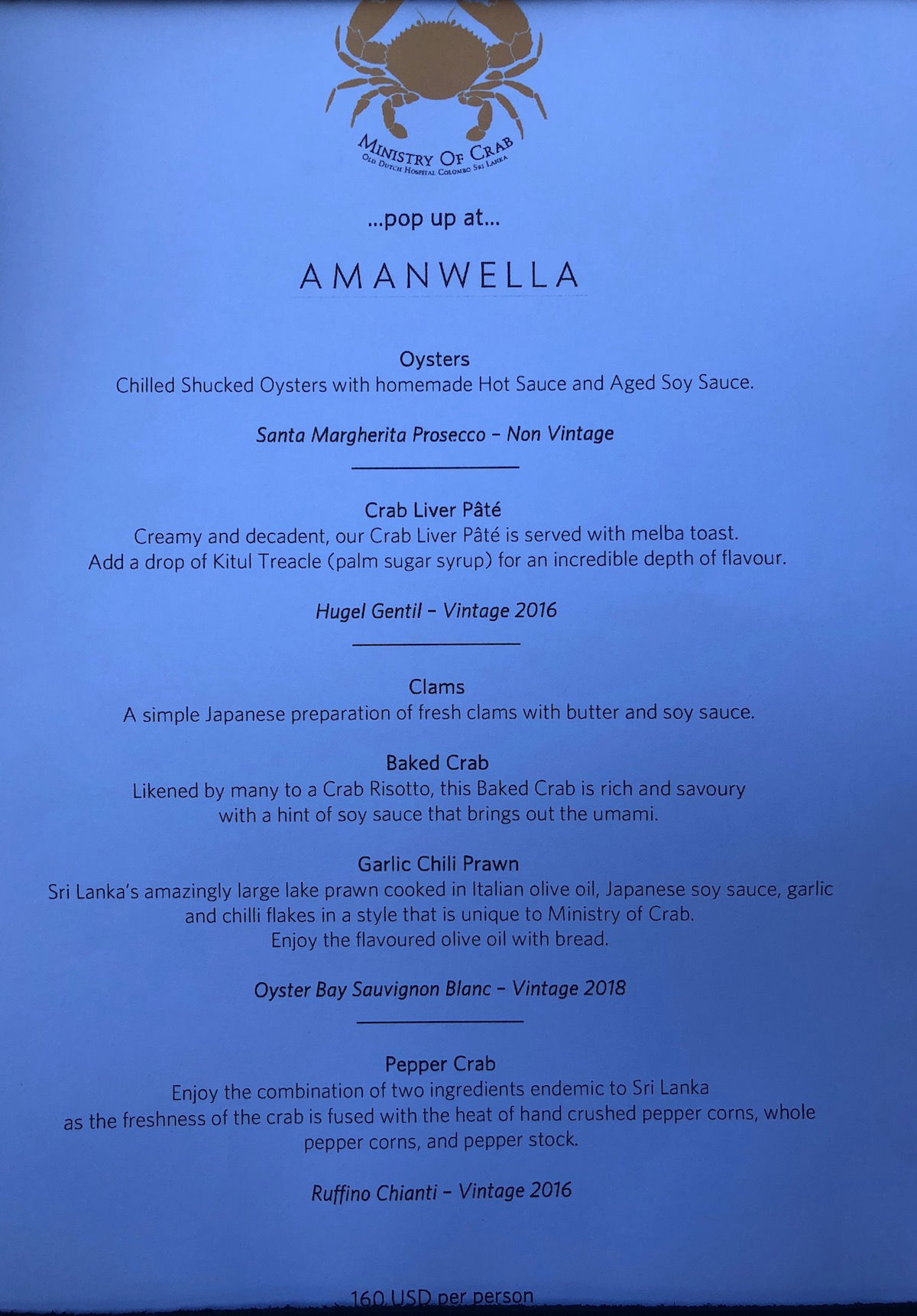 The food at Amanwella was good across the board, in my opinion.
Amanwella service
My impression of service at Amanwella is similar to my impression of service at Amangalla. Service was objectively quite good by absolute standards, but perhaps not amazing by Aman standards.
Everyone working at the hotel was friendly and well intentioned, but service generally was neither polished nor proactive. There were some exceptions — there were a couple of people in the restaurant who were awesome — but other than that I thought the service wasn't amazing.
I'd say the biggest area of improvement for the hotel was that a lot of things were unnecessarily complicated. For example, when we asked for milk or sweetener for coffee, it often took them 10 minutes to get it. Things that should have been very simple just often took longer than they should have.
Amanwella bottom line
I'm torn on Amanwella. If you happen to be in Sri Lanka and are looking for a beach resort to relax for a few days and can swing it, by all means go to Amanwella. The resort is beautiful, the food is great, and the service is good.
However, there were aspects of the hotel that frustrated me, like the lack of a gym and the lack of a proper spa, the outrageous 45USD price for a small bottle of sunscreen, and the way the plantation stop was handled on the way to Amanwella.
This trip also taught me something important — while I used to be a huge Amanjunkie, I'm done going out of my way to stay at Amans. I do think some of the top tier Amans are truly exceptional, and are worth going out of your way for. However, that's not true across the board.
We did Sri Lanka wrong. We should have done the tea trails, and maybe a couple of nights at Amangalle. While Amanwella is nice, we flew a long way to get here, and there are more beautiful beach resorts we could have stayed at.
Hopefully that's not too harsh…