Turks & Caicos On A Whim
For our trip to Turks & Caicos, I booked two separate tickets. I booked one ticket from Tampa to Fort Lauderdale on Silver Airways, and then separately I booked a roundtrip on JetBlue from Fort Lauderdale to Providenciales.
I was kind of excited about the JetBlue flight, since it was my first time flying a JetBlue Embraer E190, and it was also my first time flying with the airline since reciprocal AAdvantage elite perks were introduced.
How I booked our JetBlue flights
JetBlue's fares between Fort Lauderdale and Providenciales was quite reasonable. Even though we booked last minute, the roundtrip cost just over $200 per person, including all taxes & fees. Ford and I both had JetBlue Travel Bank credits, so we didn't even have to pay anything out of pocket.
For what it's worth, we booked the following flights:
02/05 B62015 Fort Lauderdale to Providenciales departing 3:54PM arriving 5:43PM
02/10 B62014 Providenciales to Fort Lauderdale departing 6:43PM arriving 8:42PM
JetBlue Mint & Mosaic check-in
I had a very long layover in Fort Lauderdale (nearly six hours, as flights between Tampa and Fort Lauderdale are limited). Upon arrival at Fort Lauderdale Airport I headed over to Terminal 3, where JetBlue departs from.
While the check-in area was busy, there was no wait at the JetBlue Mint & Mosaic counter, and it was well staffed. American AAdvantage elites can use the counter (despite the lack of signage indicating that), so that's great.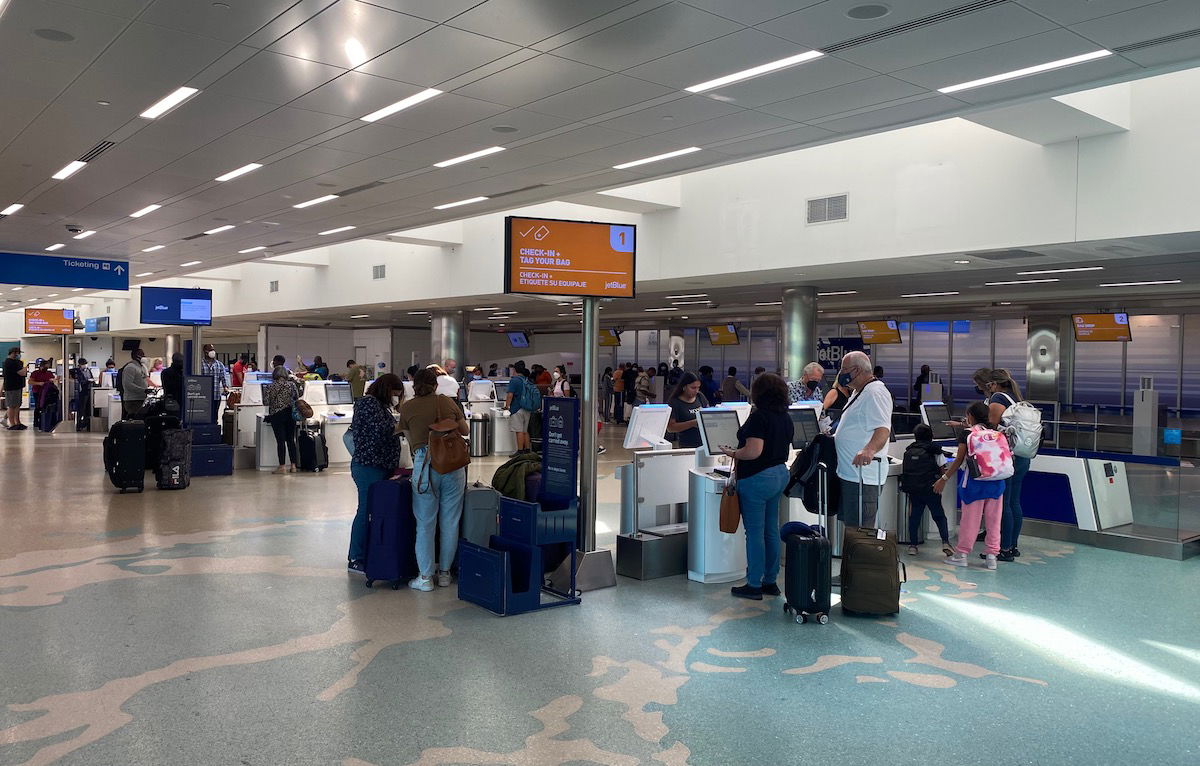 The check-in process was efficient, though it did take a few minutes for the agent to verify all my travel documents for Turks & Caicos (I'll outline my experience with that in a separate post).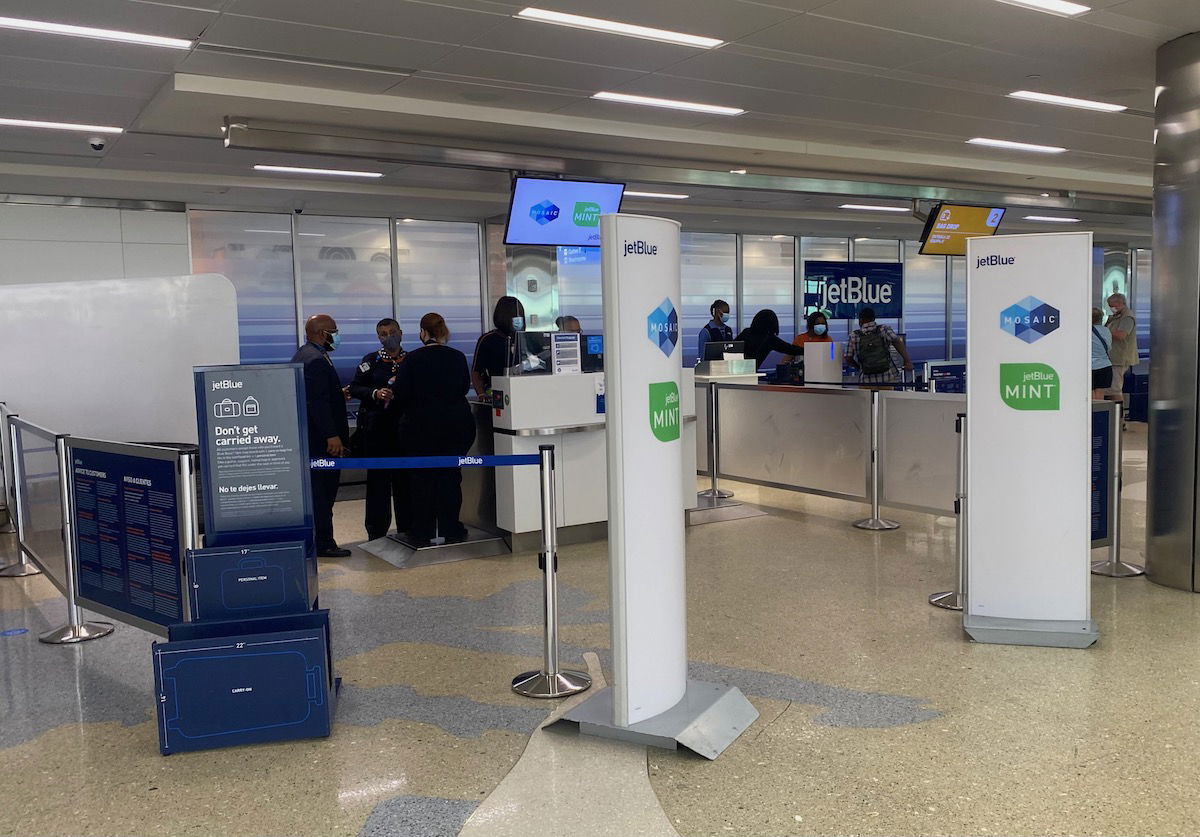 He also reminded me that I'd be allowed to board when Mosaic members were invited to board, regardless of whether or not AAdvantage elite members were specifically called.
Killing time at Fort Lauderdale Airport
I had roughly six hours at Fort Lauderdale Airport. I can work from anywhere, so I don't mind long layovers like this. I figured I'd share a few thoughts. Since Terminal 3 & 4 are connected airside, I split my time between them. Sadly neither terminal has a lounge.
I spent most of my layover in Terminal 4, which was super nice, especially compared to the terminals I've used at the airport in the past. It was bright, airy, and reasonably quiet, and the people watching was quite something.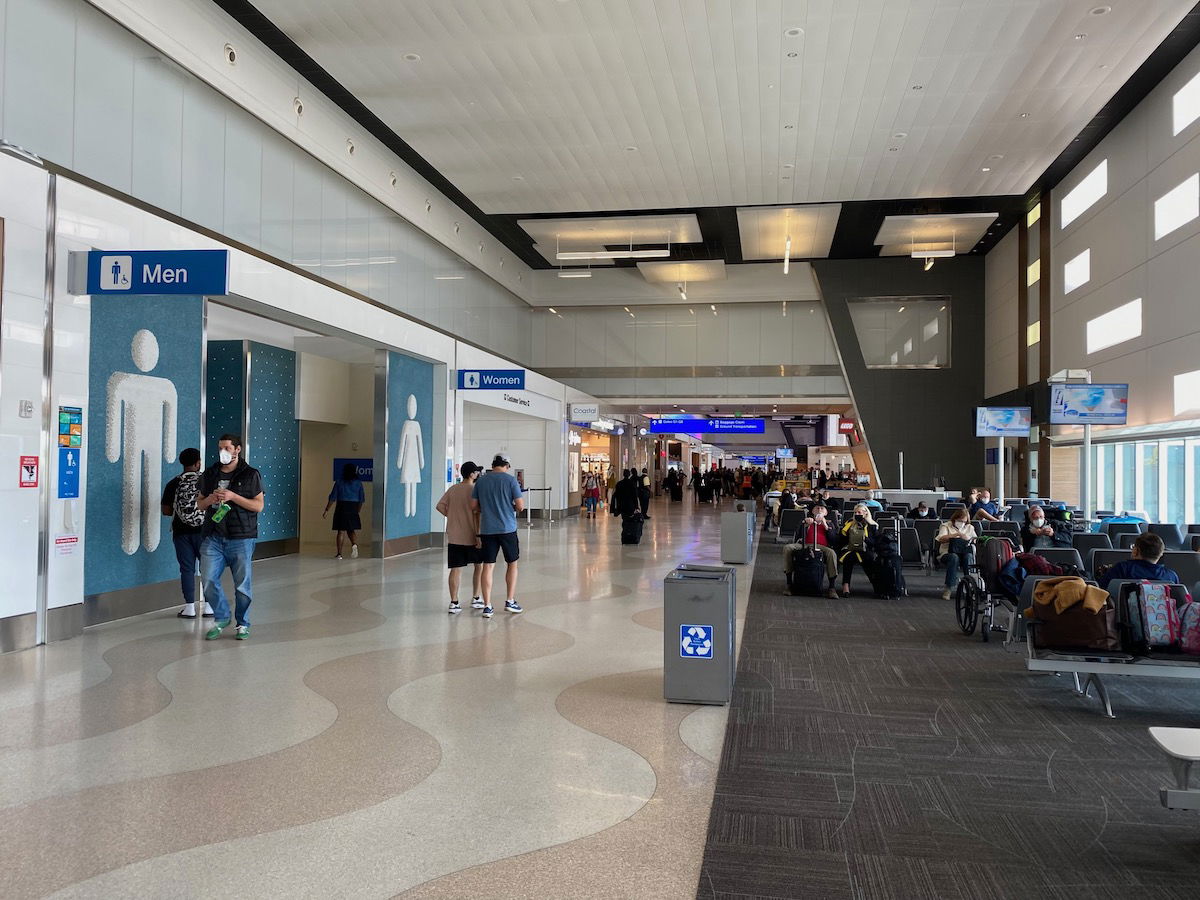 Like, seriously, there are some interesting people at Fort Lauderdale Airport.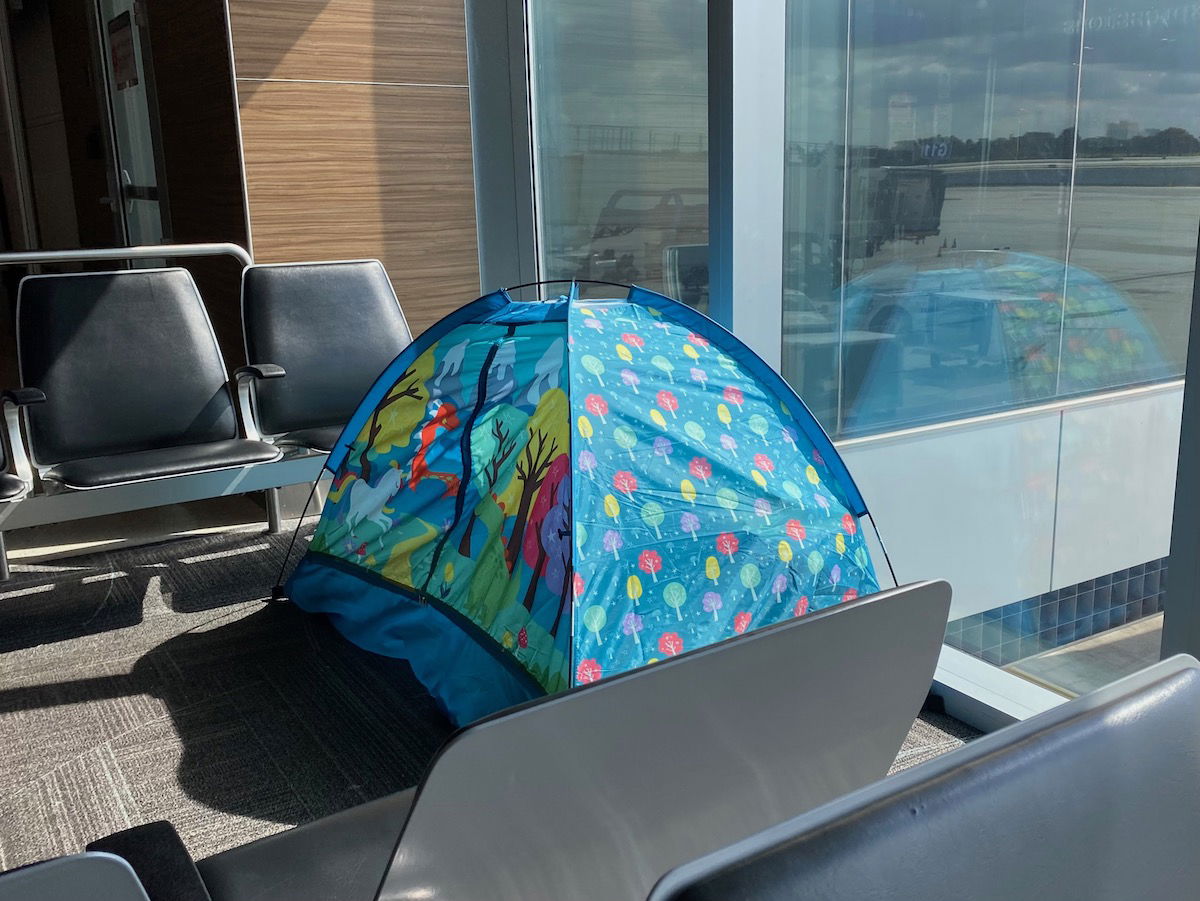 Terminal 4 also has a Priority Pass restaurant, Kafe Kalik, though the service was so bad that I didn't even bother dining there for free. I must have stood at the entrance for 10 minutes and no one came to seat me, despite several people looking at me, so I figured I was just better off sitting in the terminal.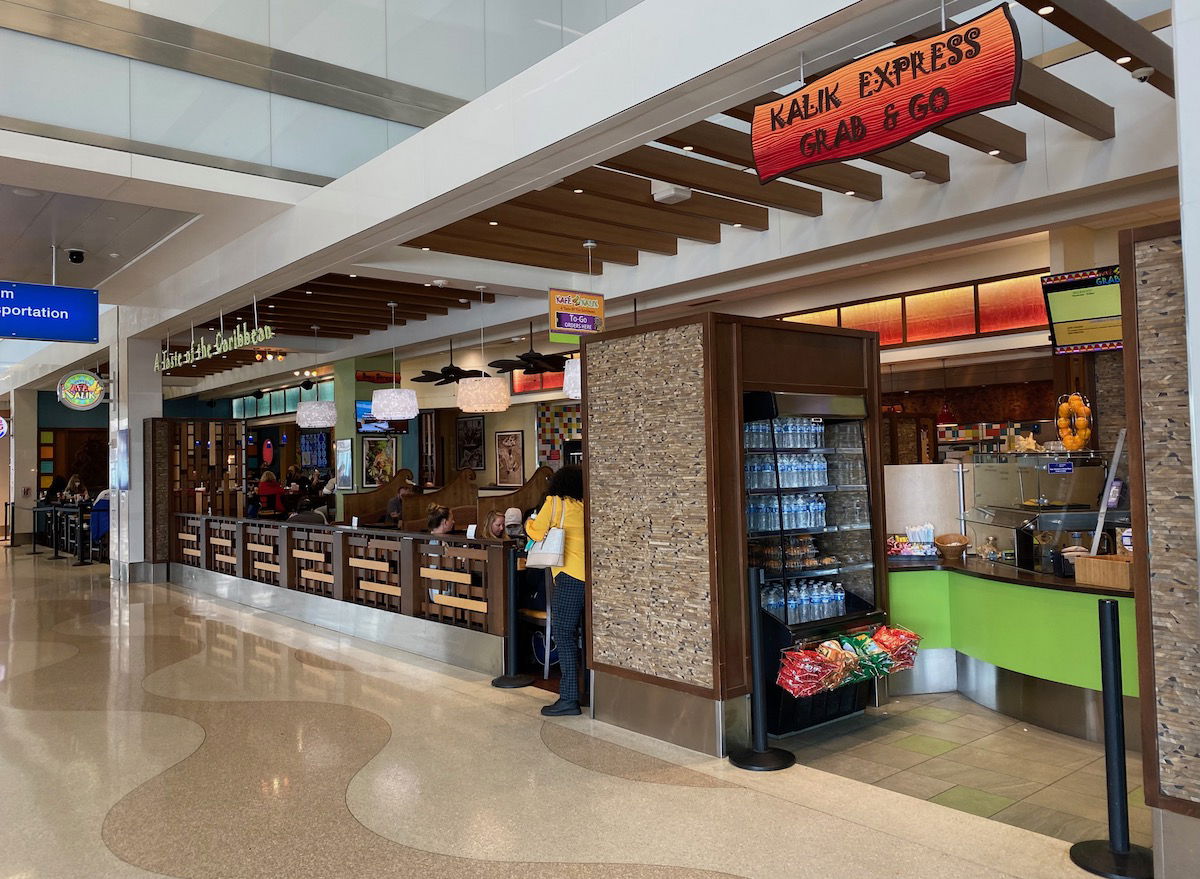 Eventually I headed back to Terminal 3 via the connector.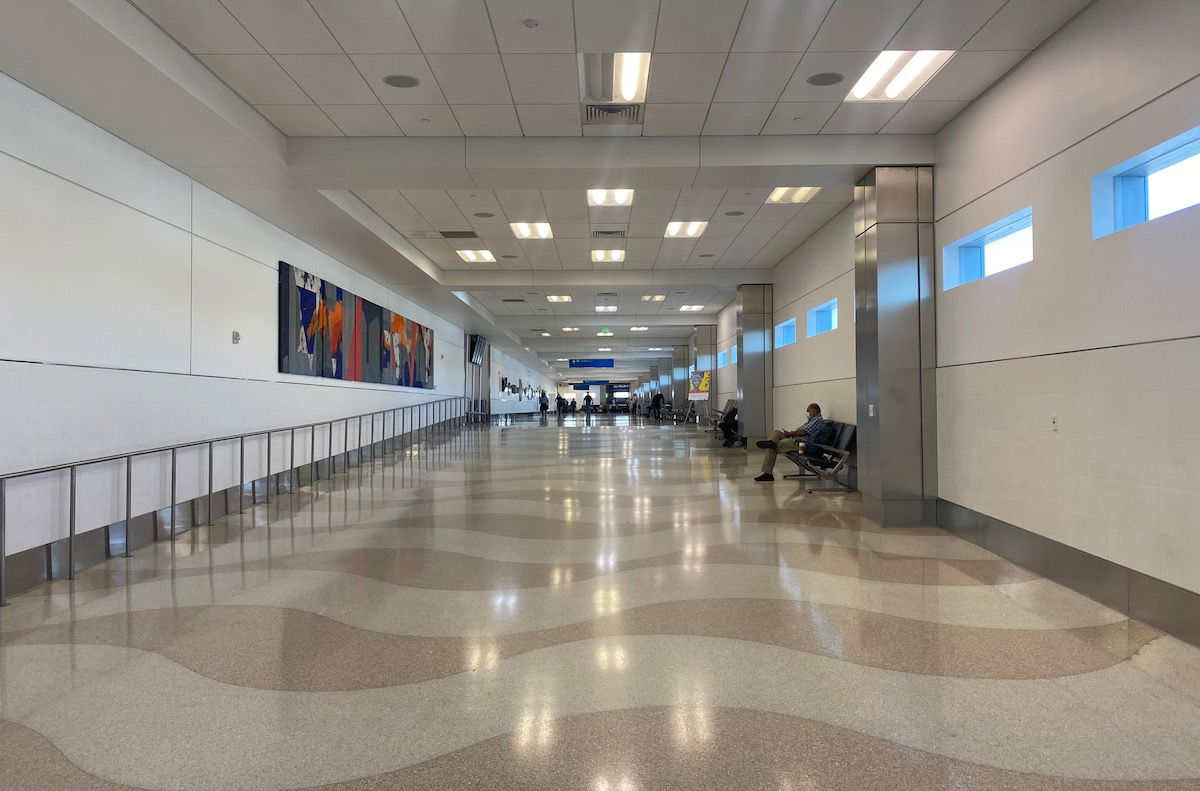 The terminal definitely isn't as nice, and also got much busier.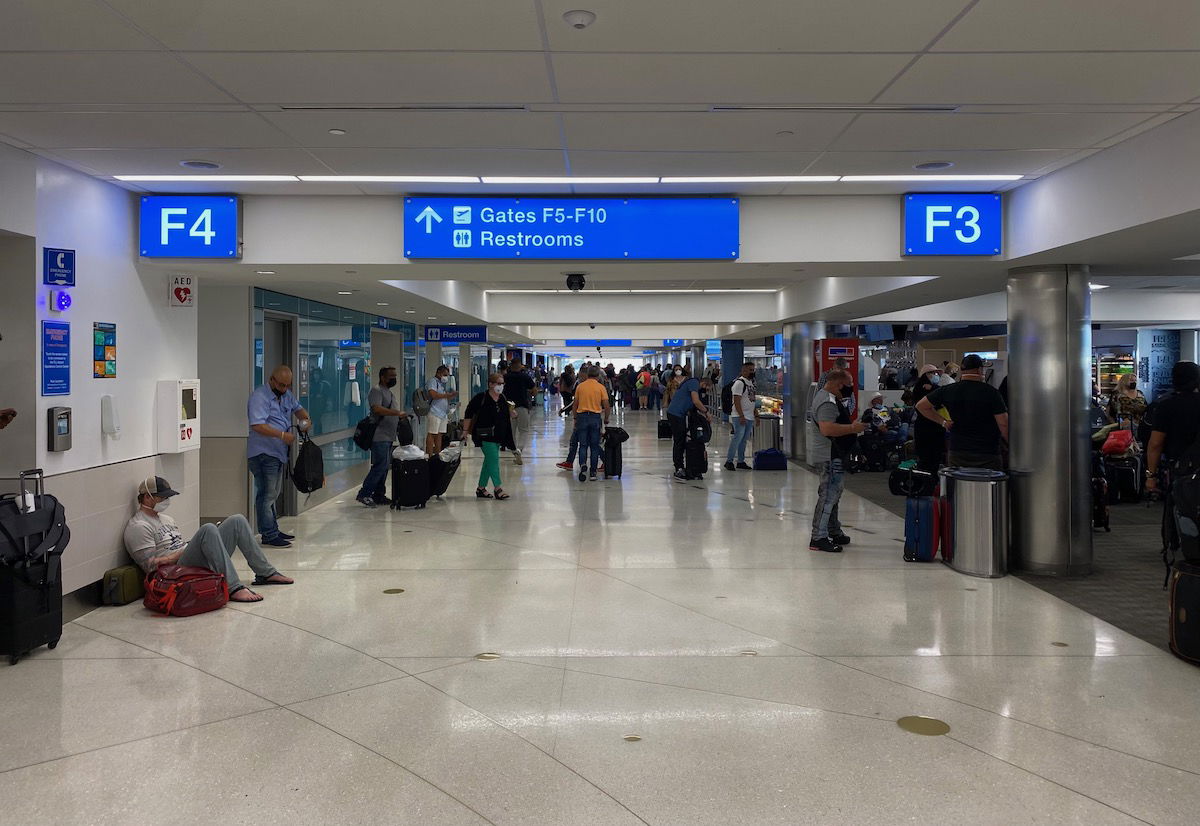 JetBlue Embraer E190 cabin & seats
Our flight was scheduled to depart from gate F7 at 3:54PM, and boarding was scheduled for 3:19PM, 35 minutes before departure. That time passed without any sort of update from the gate agent. Finally at 3:40PM boarding started, with TrueBlue Mosaic and AAdvantage elite members being invited to board first, along with those who needed extra time.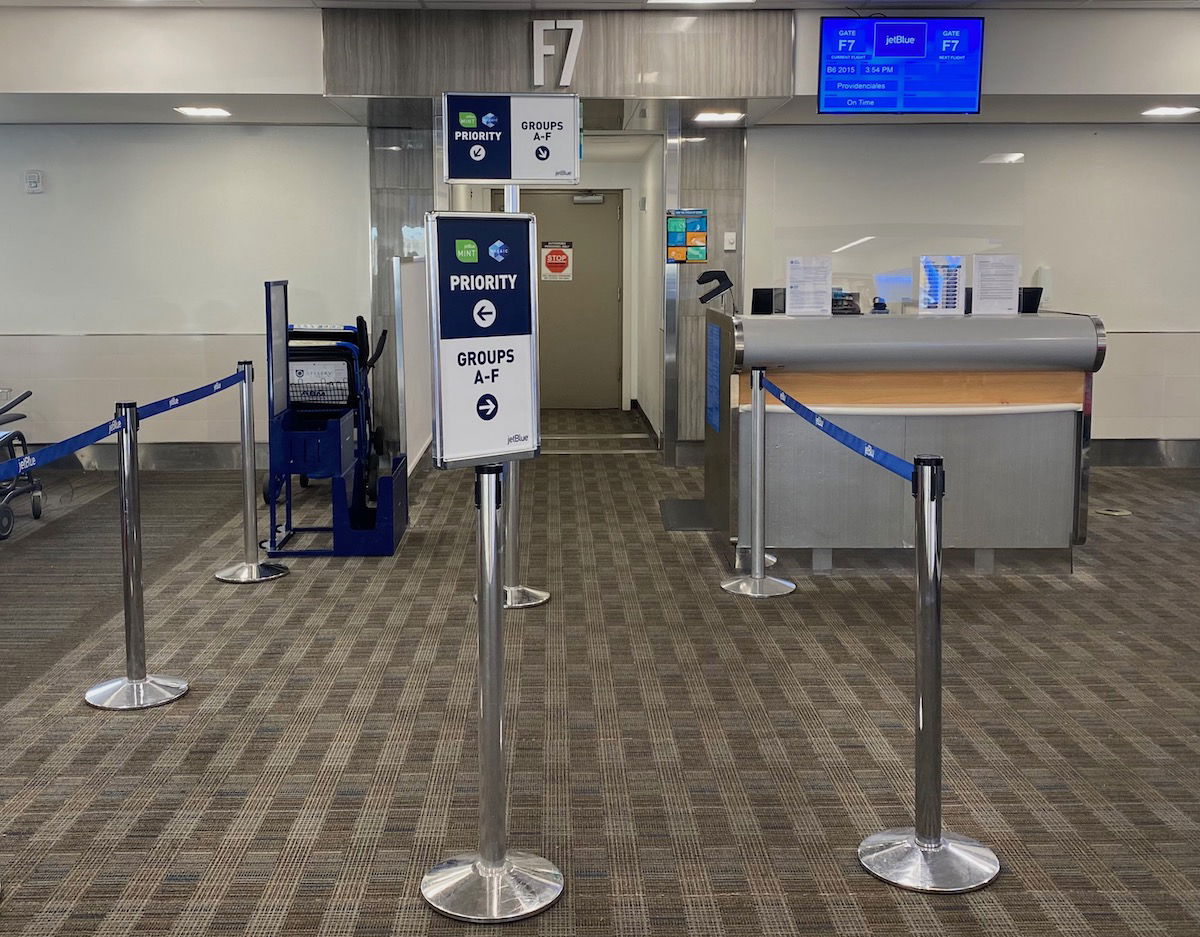 Unfortunately at the bottom of the jet bridge things weren't looking quite as good. The two friendly flight attendants were caught off guard, and said "wait, they started boarding? We don't have pilots. Just wait for me for a second." After a couple of minutes they said "well I guess we'll just board and see, welcome aboard!"
Anyway, this was my first time flying a JetBlue Embraer E190, which is JetBlue's only non-Airbus aircraft (I've reviewed the new style economy on the A320). This particular plane had the registration code N236JB, and it was a roughly 15 year old aircraft, making it one of JetBlue's older E190s.
In the era of slimline seats and bring your own entertainment, what an absolute delight this aircraft was. JetBlue's Embraer E190s feature a total of 100 seats, spread across 25 rows in a 2-2 configuration. You've gotta love that there are no middle seats, and this is especially awesome when you're traveling with a companion.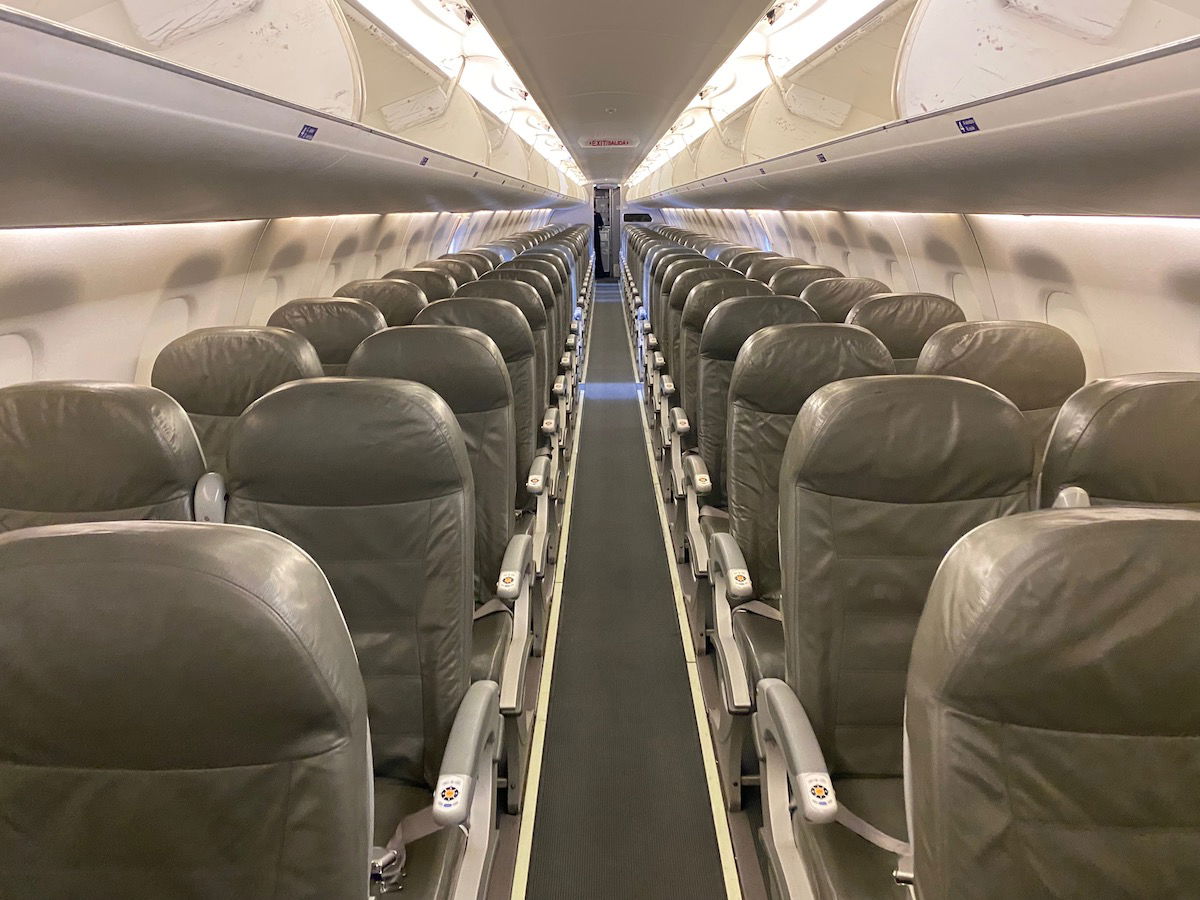 These seats were thick and well padded, so they were comfortable to sit in. JetBlue also has 32″ of pitch as the standard on the Embraer E190, which is excellent. Interestingly Even More Space seating just consists of the first row and a couple of rows around the exit row, and we decided not to pay for that. Instead we assigned ourselves seats 8A & 8B.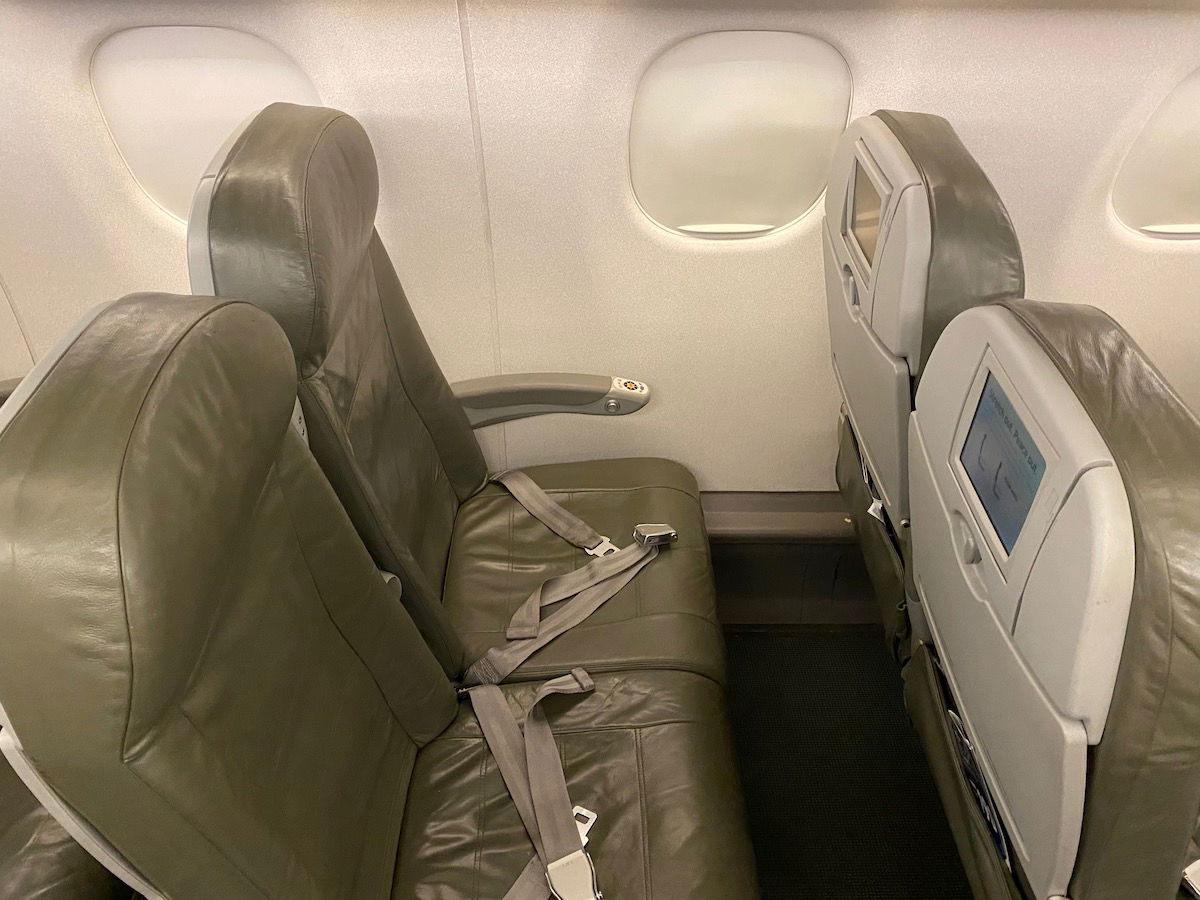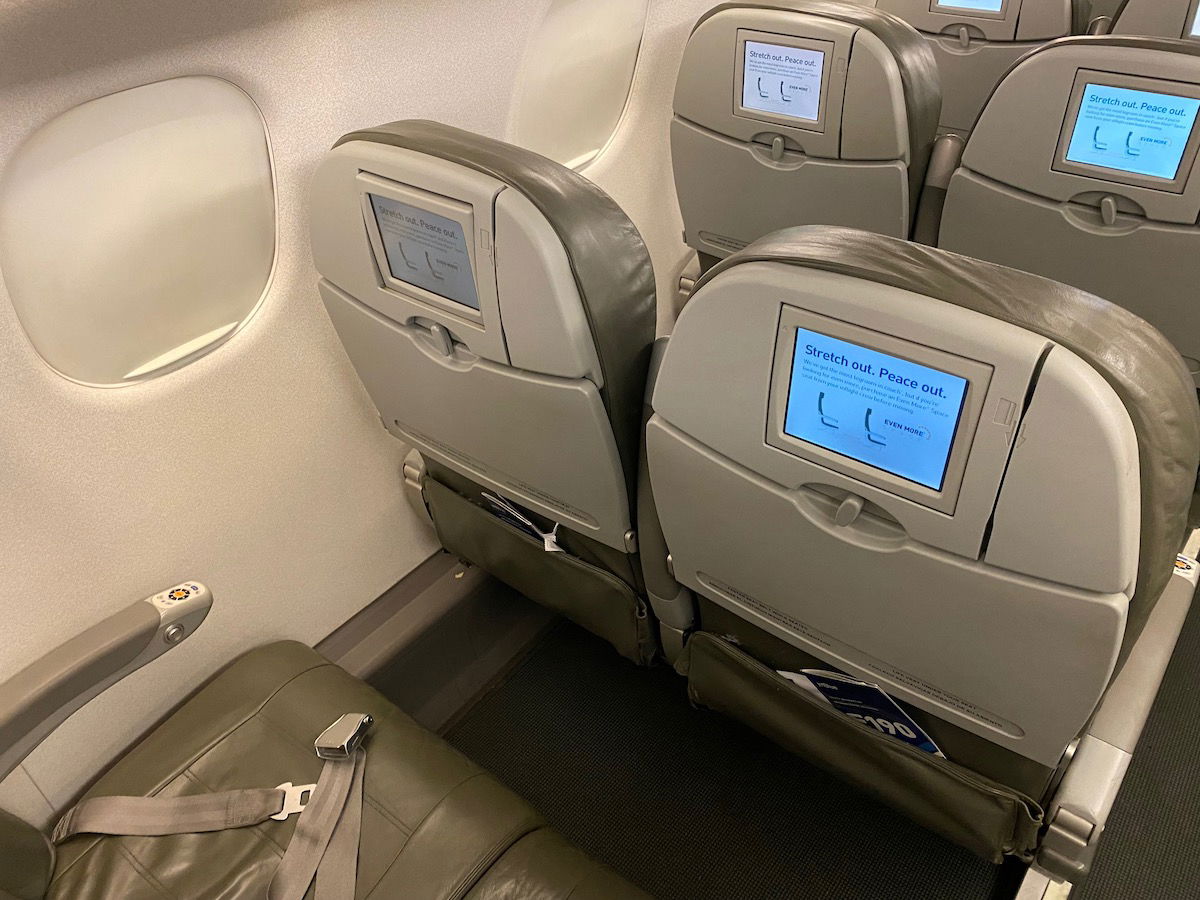 Each seat had a personal television, which you don't often find on an Embraer jet. Okay, the screens were fairly low quality and small, given that they've been there for 15 years, but still.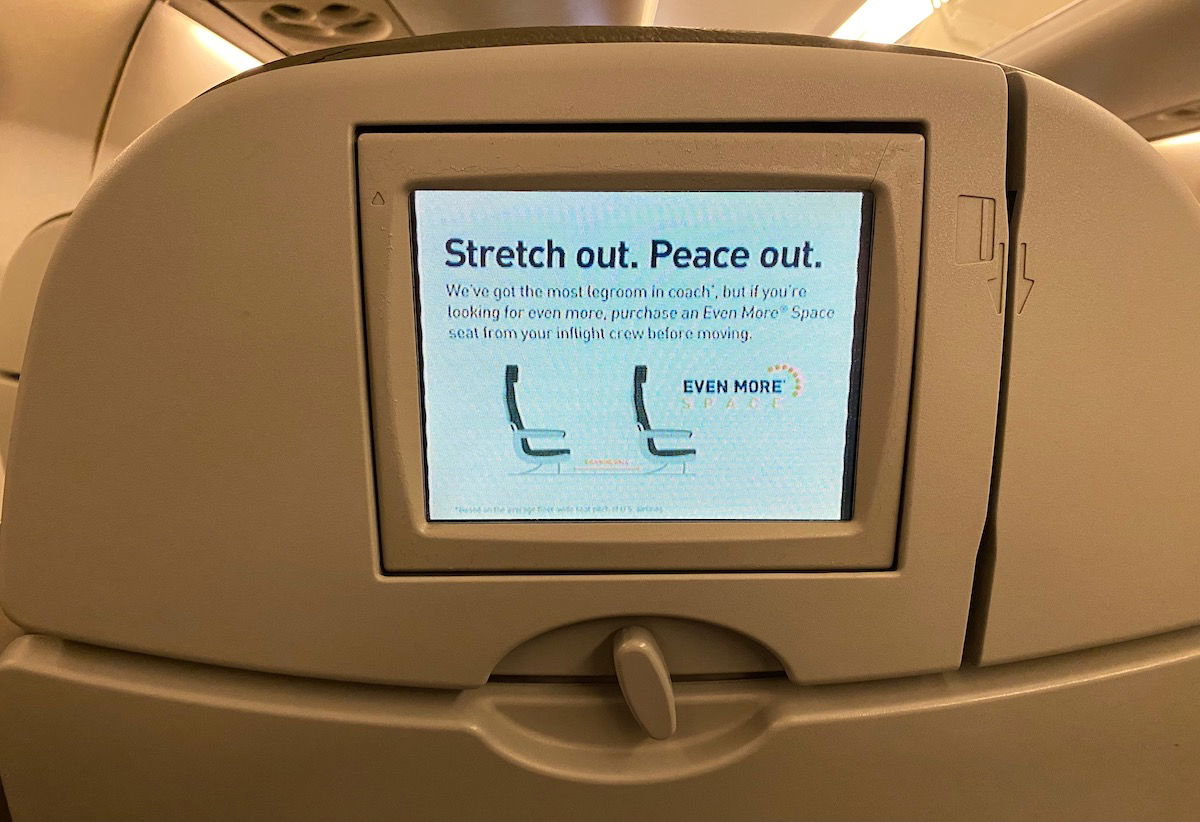 Personal entertainment functions could be controlled from buttons on the side armrest.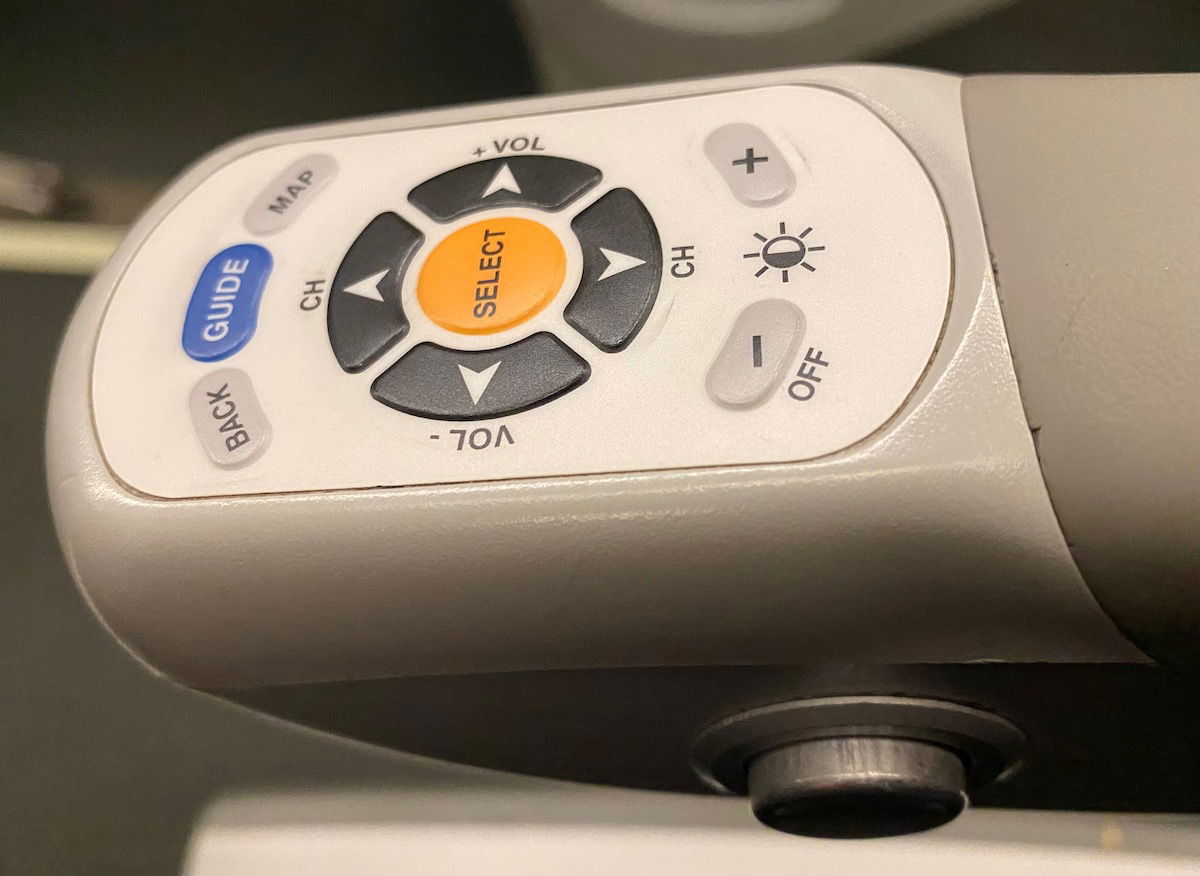 Each seat also had a seatback pocket and a tray table.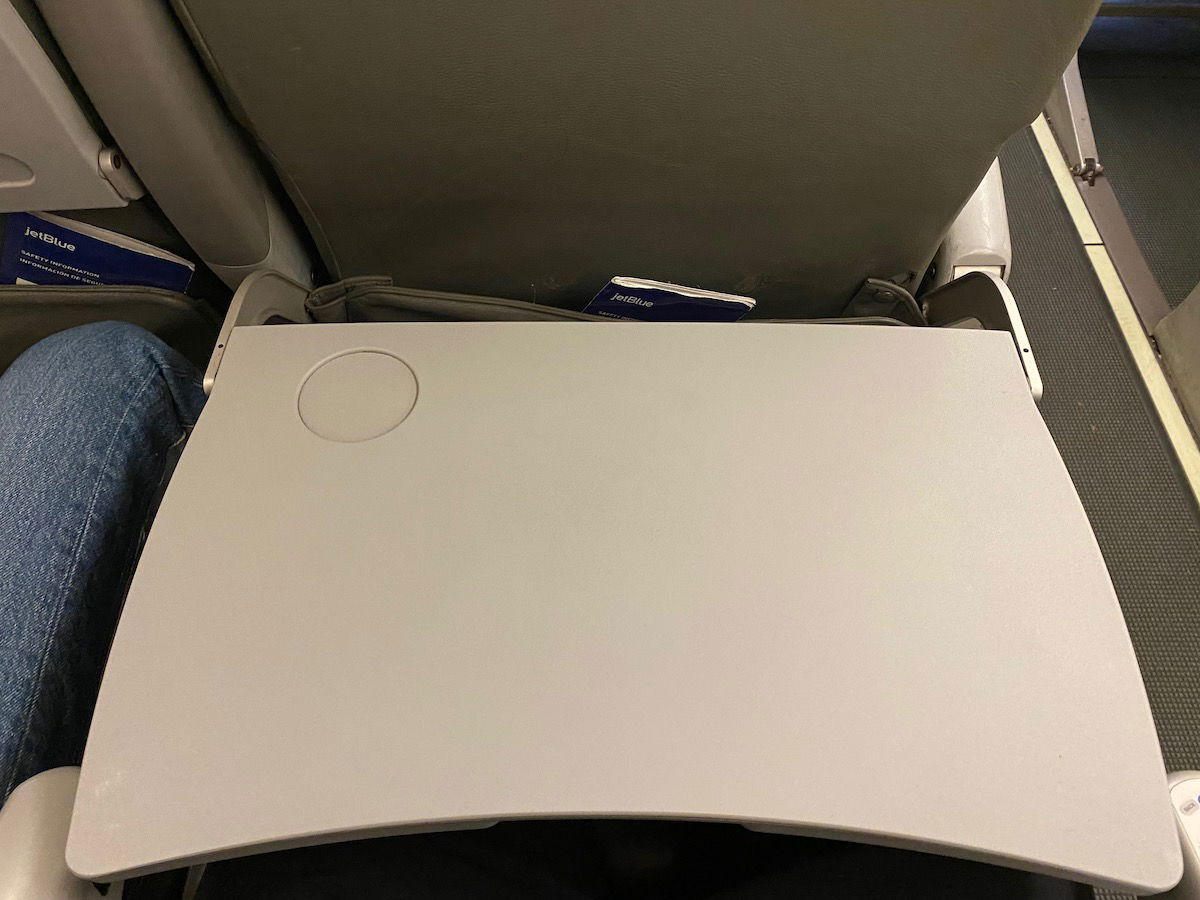 Then there were overhead consoles with reading lights and air nozzles.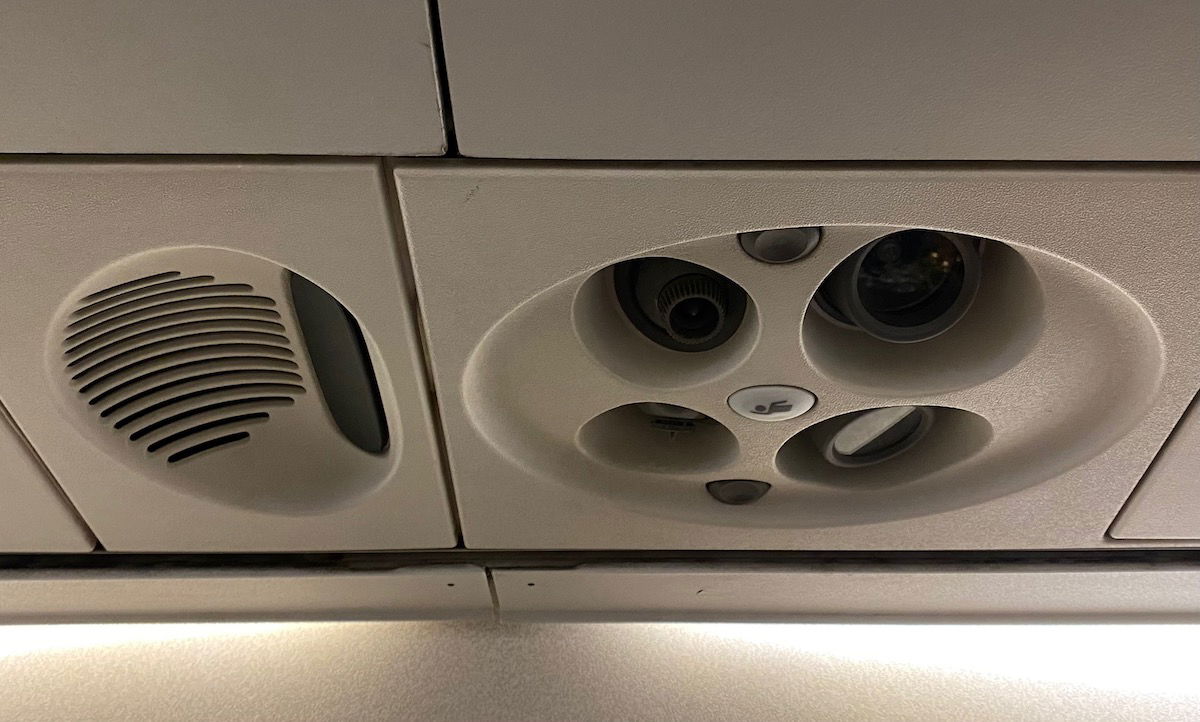 The JetBlue Embraer E190s also have large overhead bins, which can accommodate a standard size carry-on.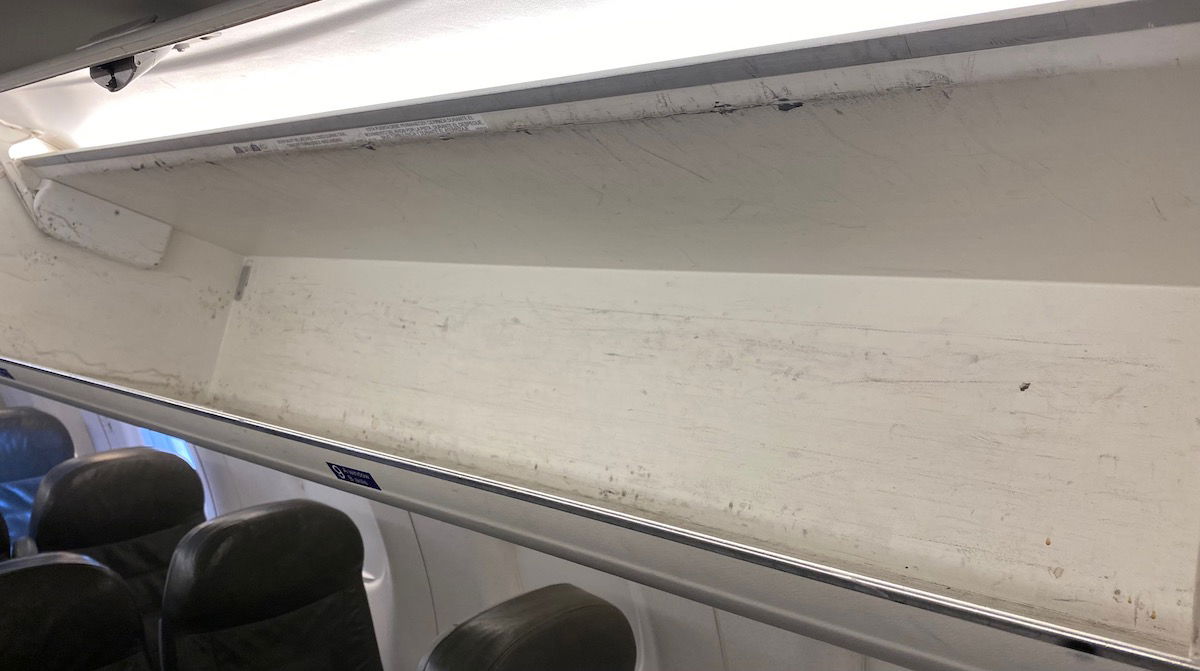 JetBlue departure delay due to missing pilots
The plane was only around one-third full, so everyone was boarded pretty quickly. Unfortunately we didn't have pilots, as they were apparently arriving shortly on another flight. Huge credit to the two flight attendants on this aircraft, who couldn't have been nicer or more professional.
They used humor during the delay, constantly checked on passengers, and were just generally friendly people who you couldn't possibly be mad at.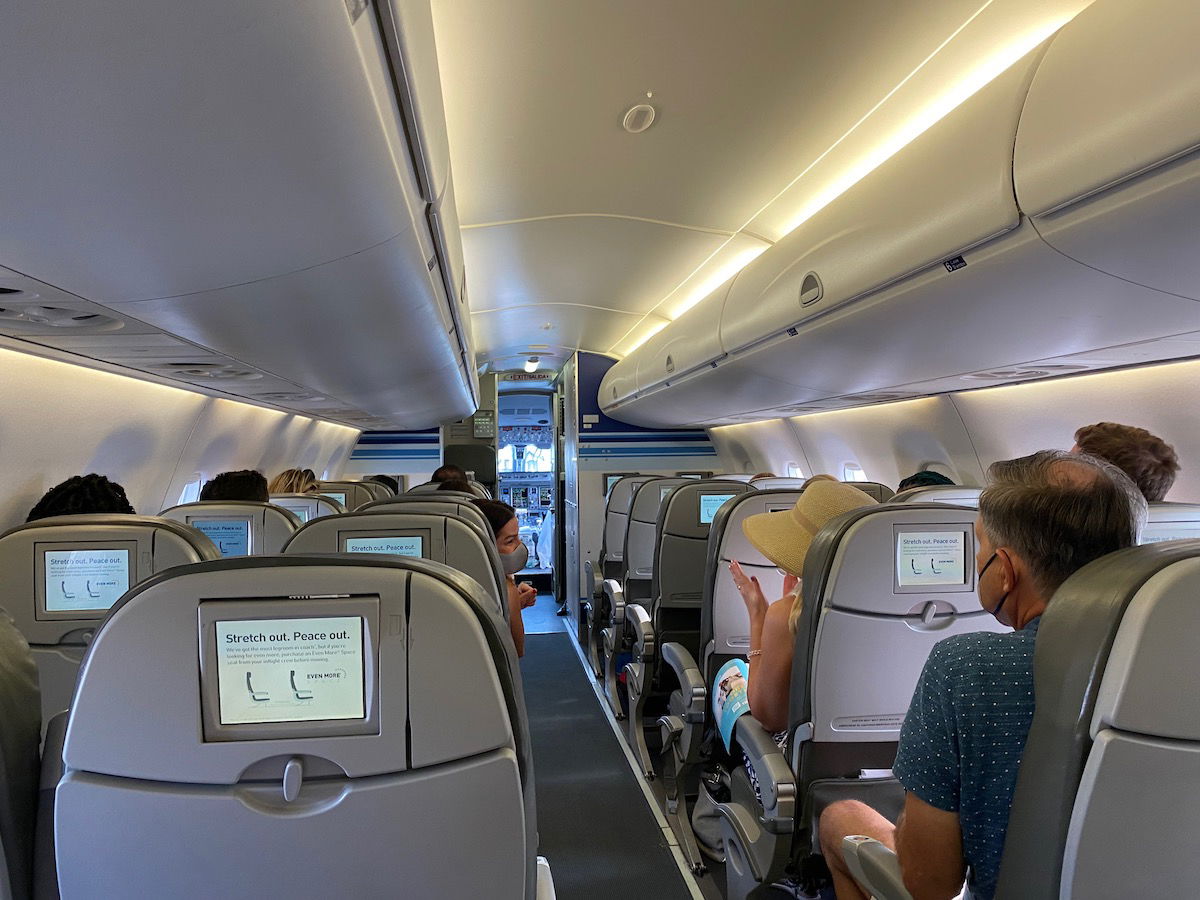 About 20 minutes into the delay they distributed immigration and customs forms for Turks & Caicos.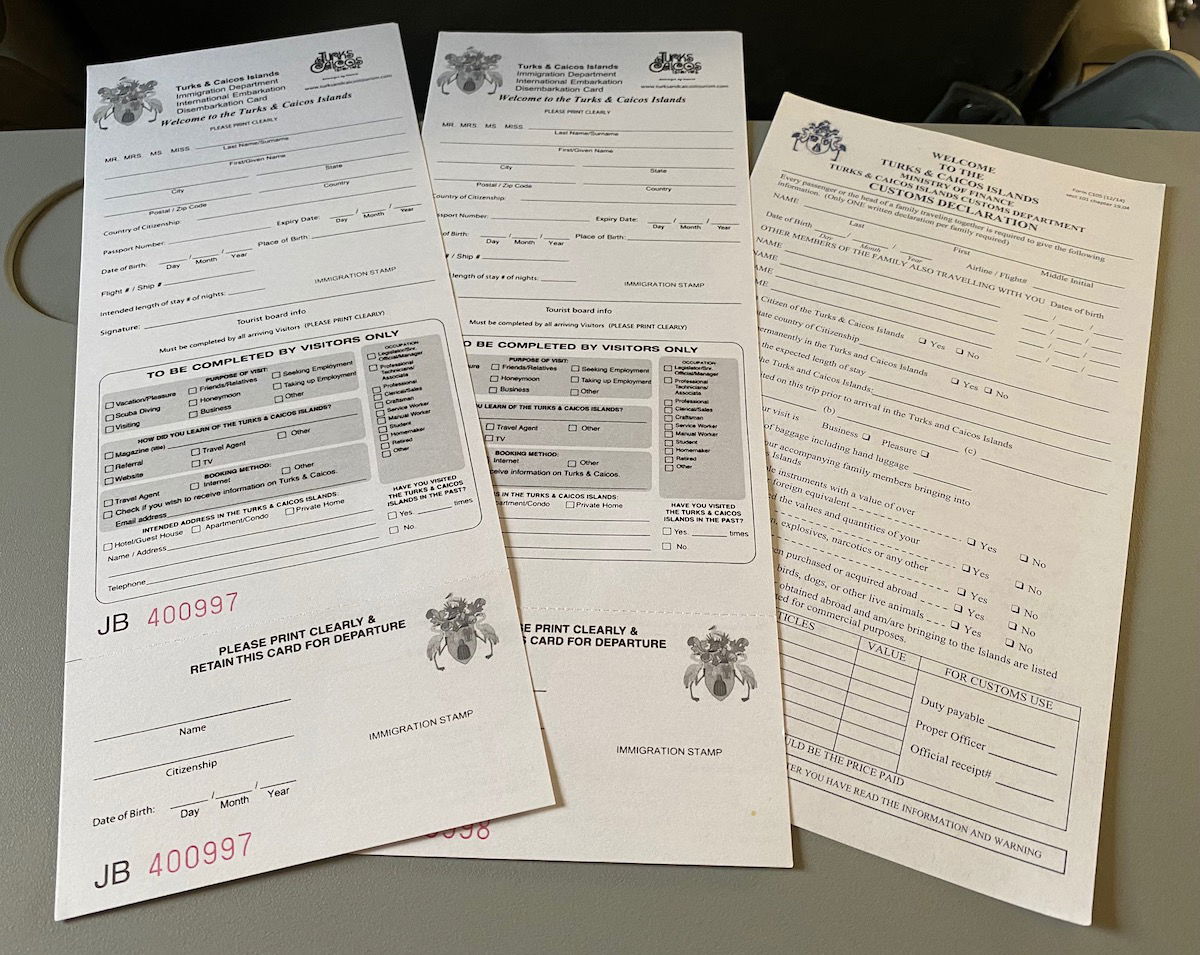 They also distributed complimentary snacks, with the choices being either cookies, popcorn, or Cheez-Its.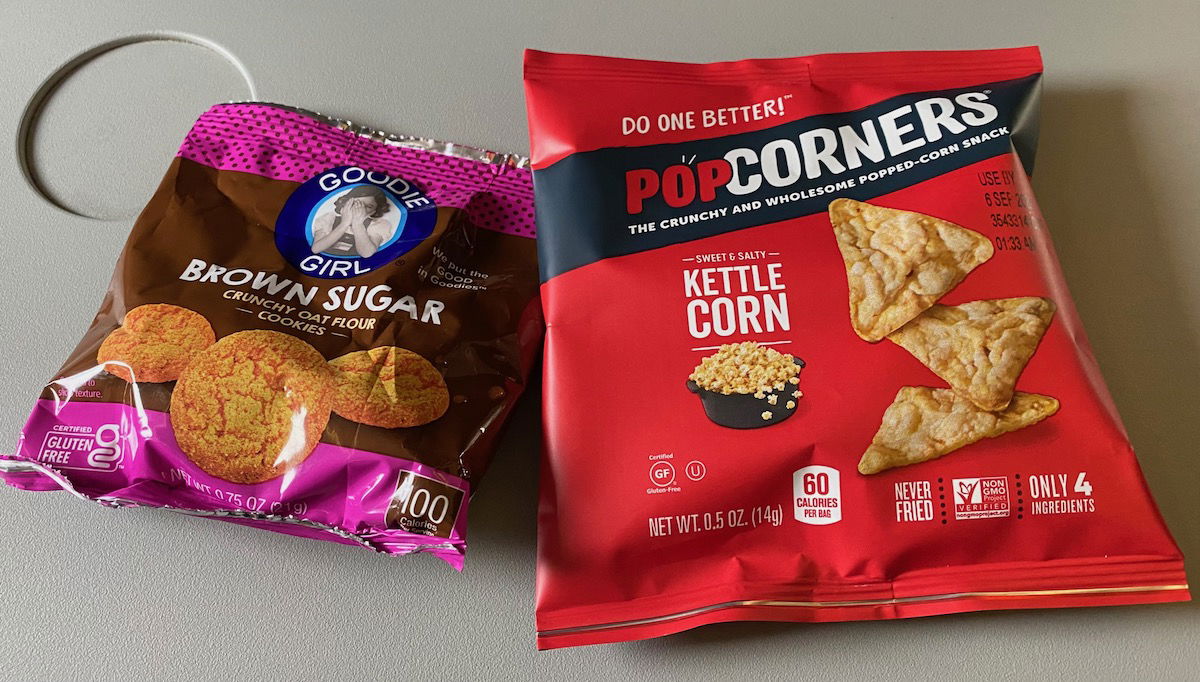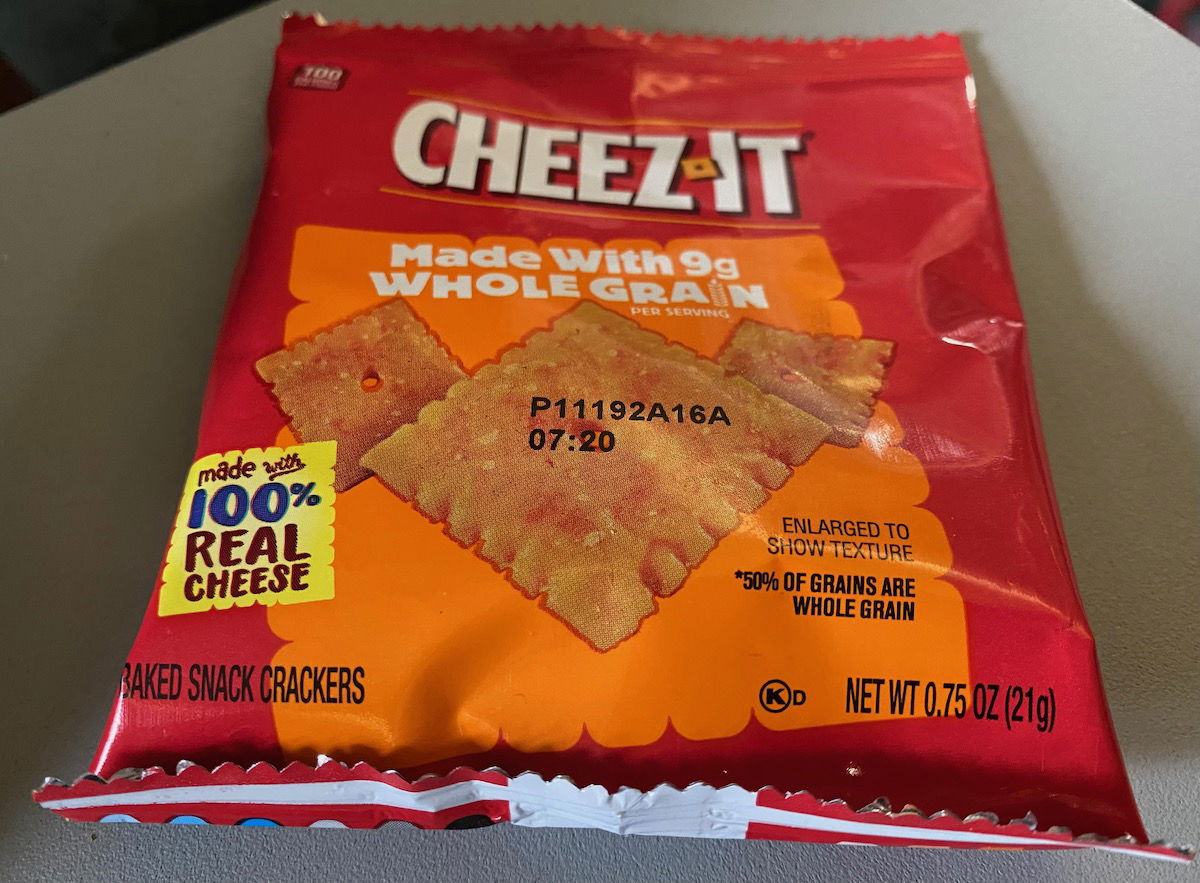 The pilots finally showed up around 4:20PM, 40 minutes after we boarded. They did their pre-flight checks, but then there was also some sort of a maintenance issue, so we had to wait for maintenance to sign off on something. The door finally closed at 4:50PM, just about an hour after schedule.
I of course can't in any way blame the crew for the delay, and as an isolated incident, delays of course happen. However, in general JetBlue really struggles to run a punctual operation.
Anyway, once the door was closed the captain advised us of our flight time of 79 minutes, and our cruising altitude of 37,000 feet. At 4:55PM we began our pushback, at which point the crew performed a safety demonstration.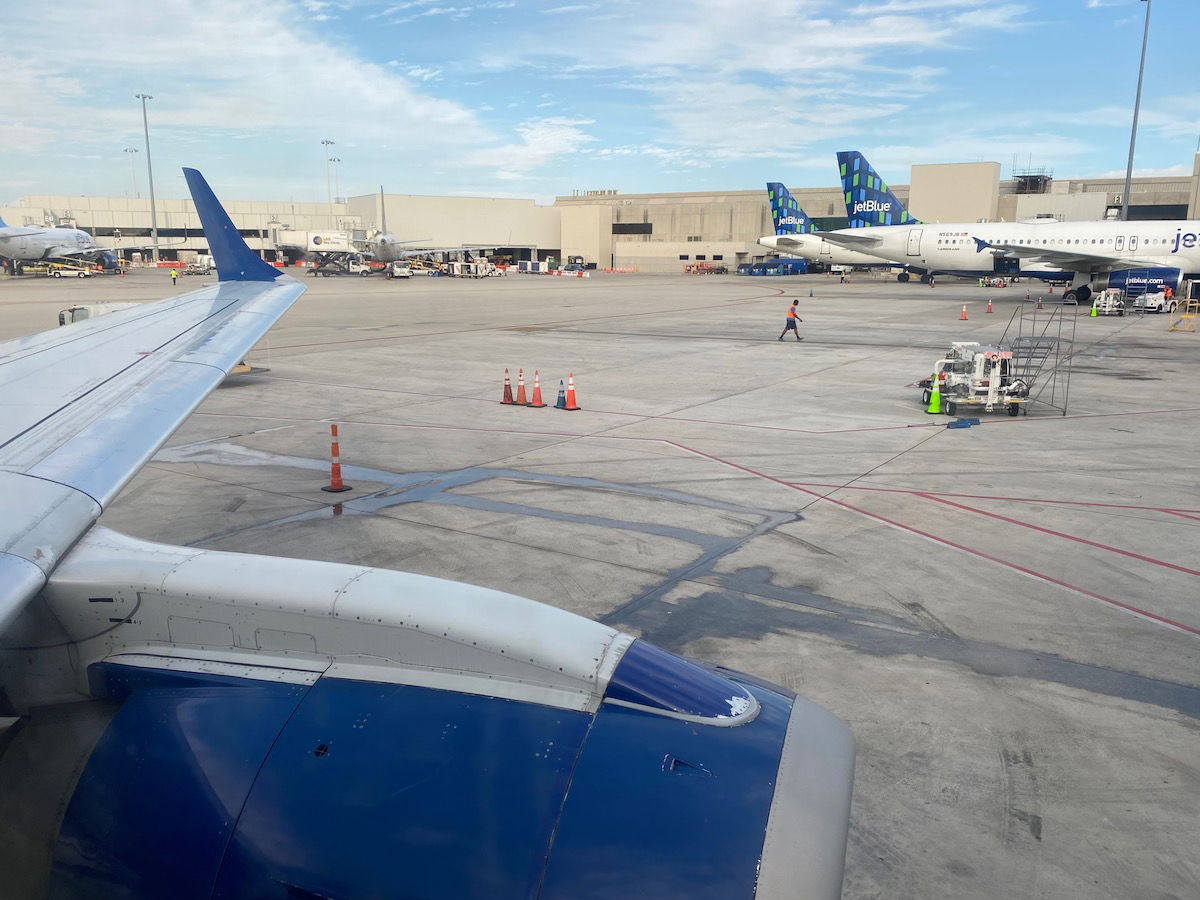 We had a quick taxi to runway 10R, where we were airborne at around 5:05PM.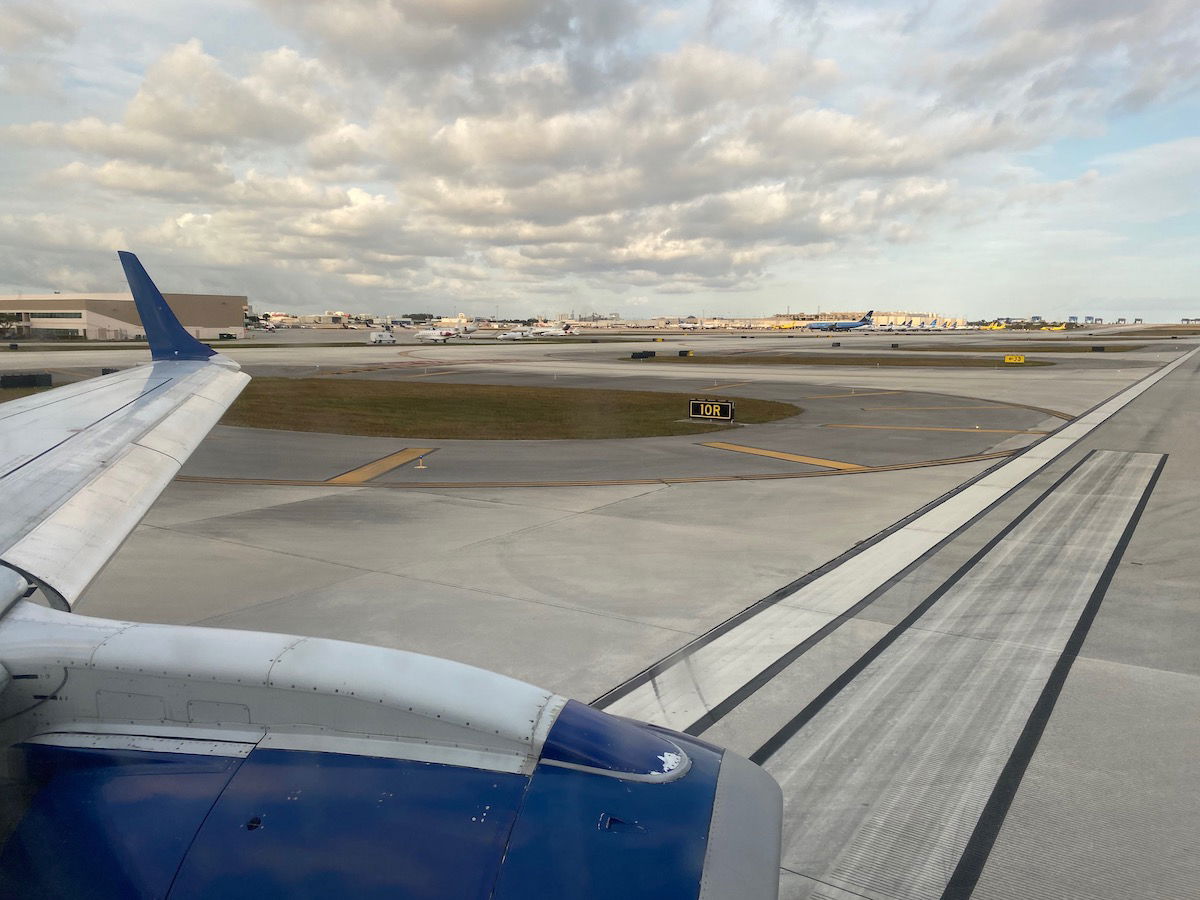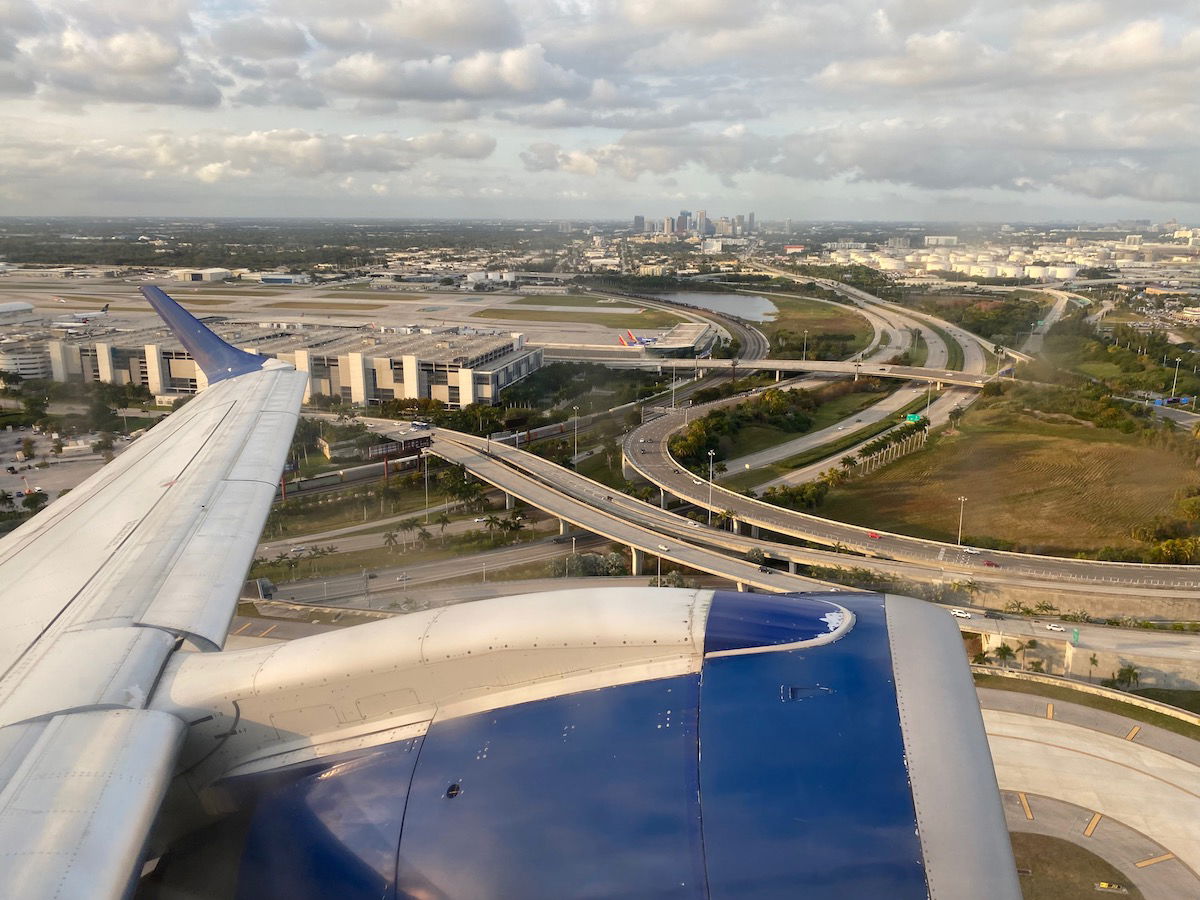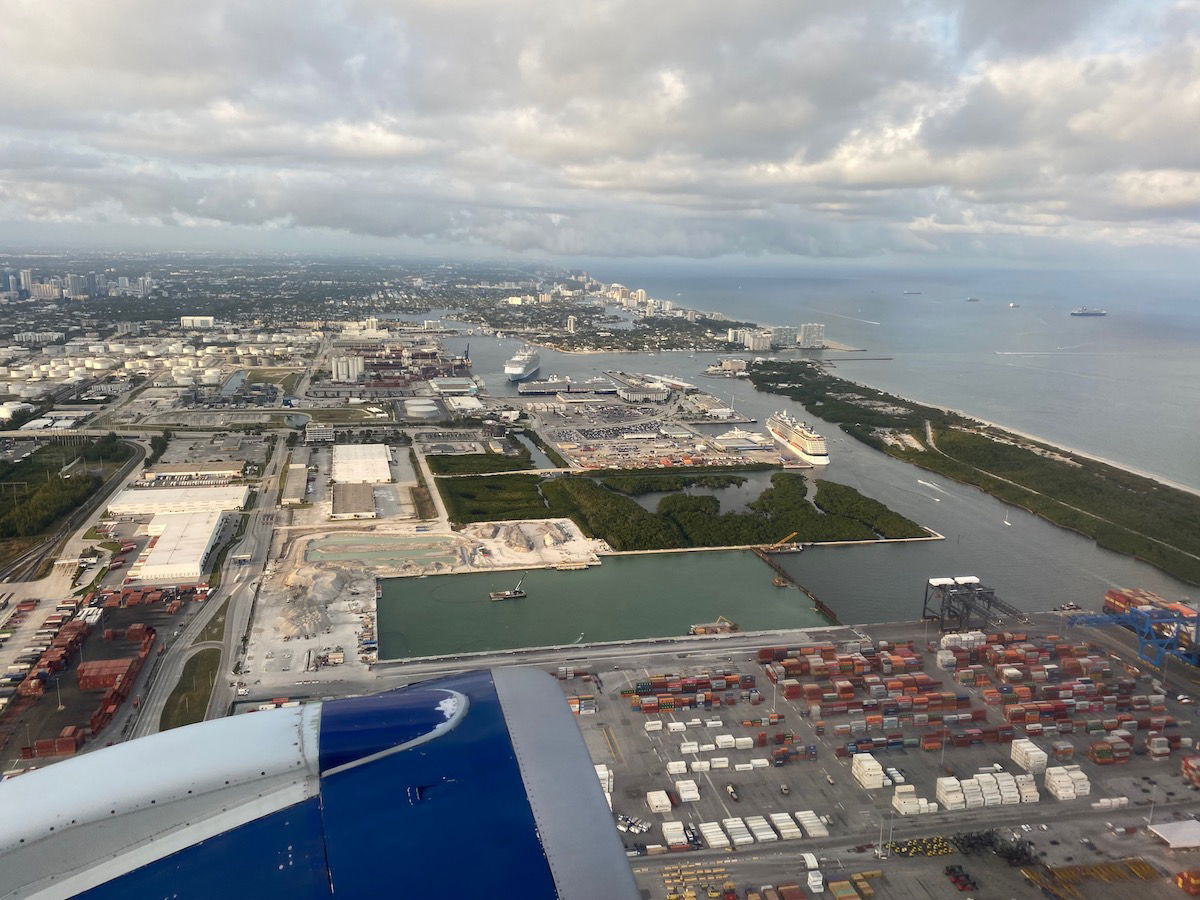 JetBlue Embraer E190 entertainment & Wi-Fi
As mentioned above, JetBlue's Embraer E190s feature entertainment at every seat, including 36 channels of DIRECTV, 100+ channels of SiriusXM, and a flight map. However, since this flight was over the water, most of the entertainment only worked for the first 20 minutes, which is fair.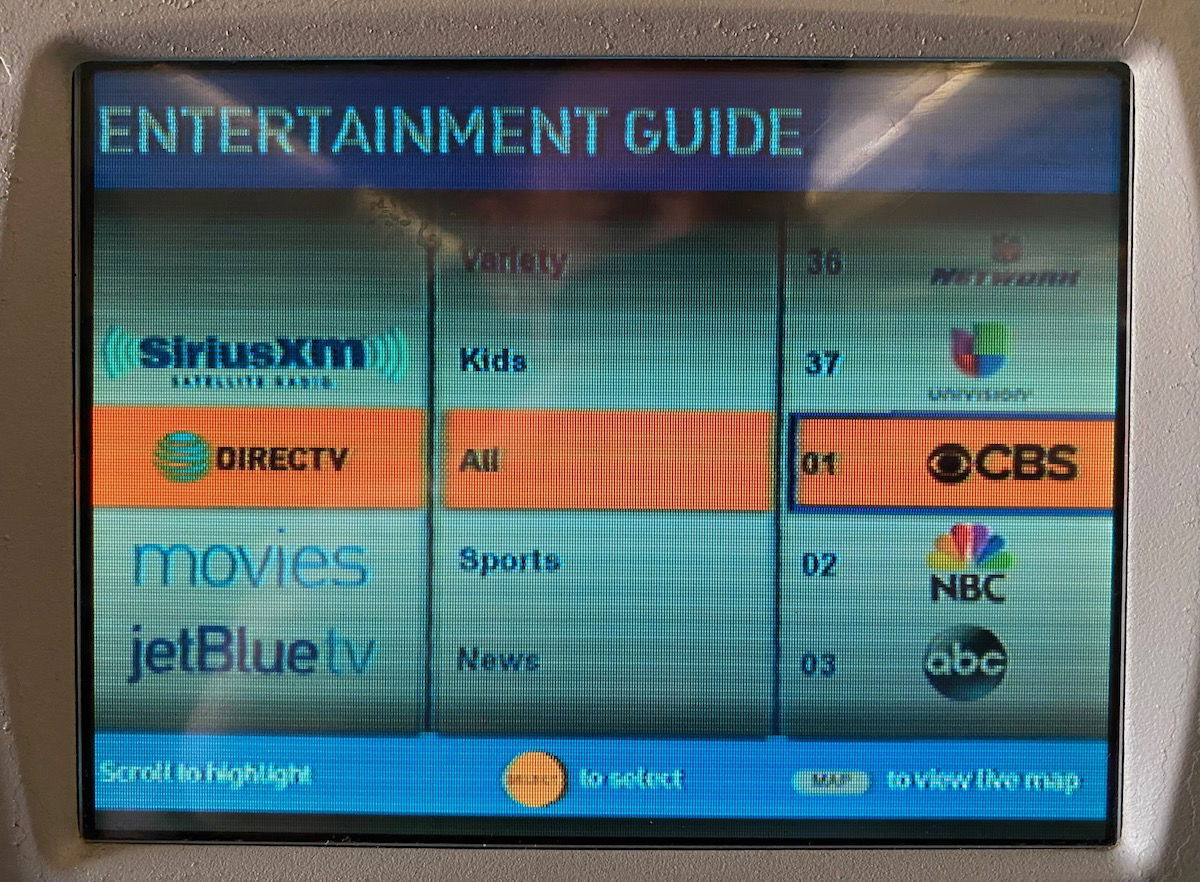 Fortunately the map worked throughout the flight.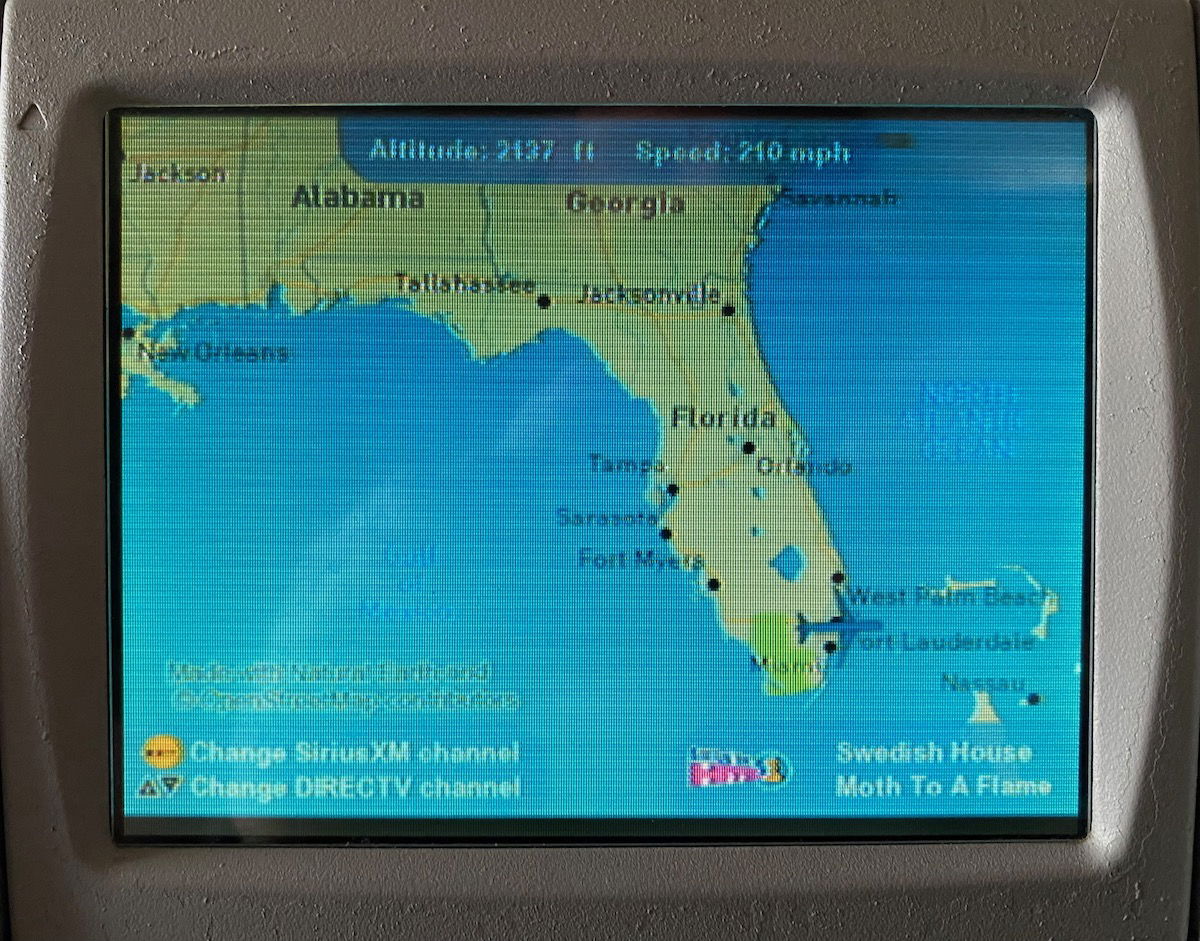 JetBlue also offers complimentary Wi-Fi through Viasat, which is an awesome feature. Just as is the case with the rest of the entertainment, this only worked for roughly the first 20 minutes.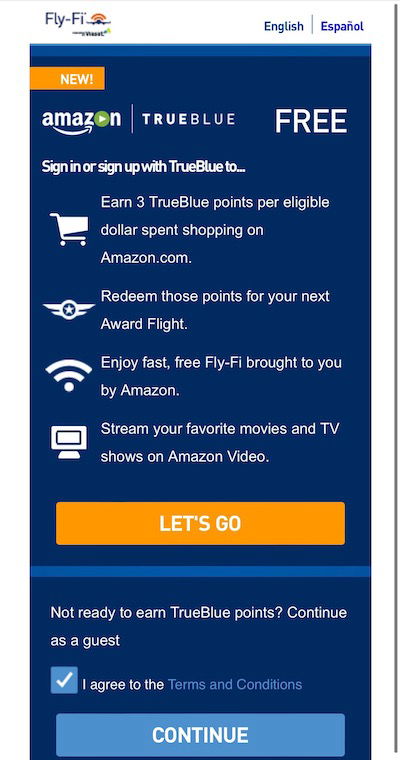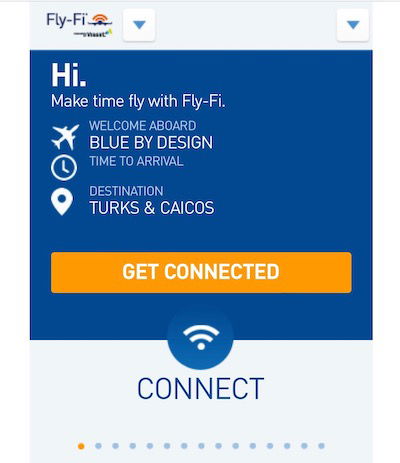 JetBlue inflight service
After takeoff the two flight attendants came through the cabin with a beverage service. I decided to order a cup of water plus a Truly Wild Berry Hard Seltzer ($8). We were offered more snacks, but had enough of those pre-departure during the delay.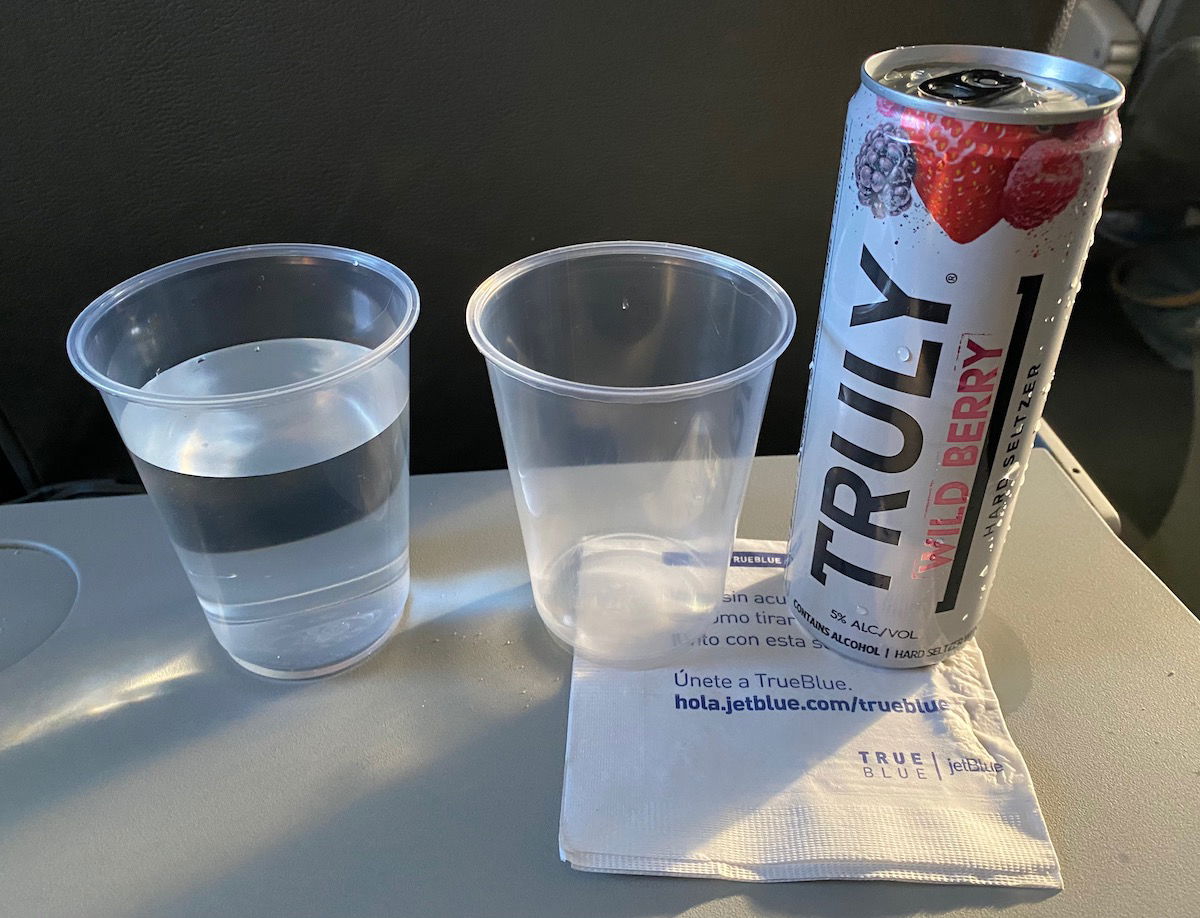 Toward the end of the flight I headed to the rear lavatory. The back half of the plane was almost completely empty (since bags are loaded in the back, for weight and balance they had most people sit in the front).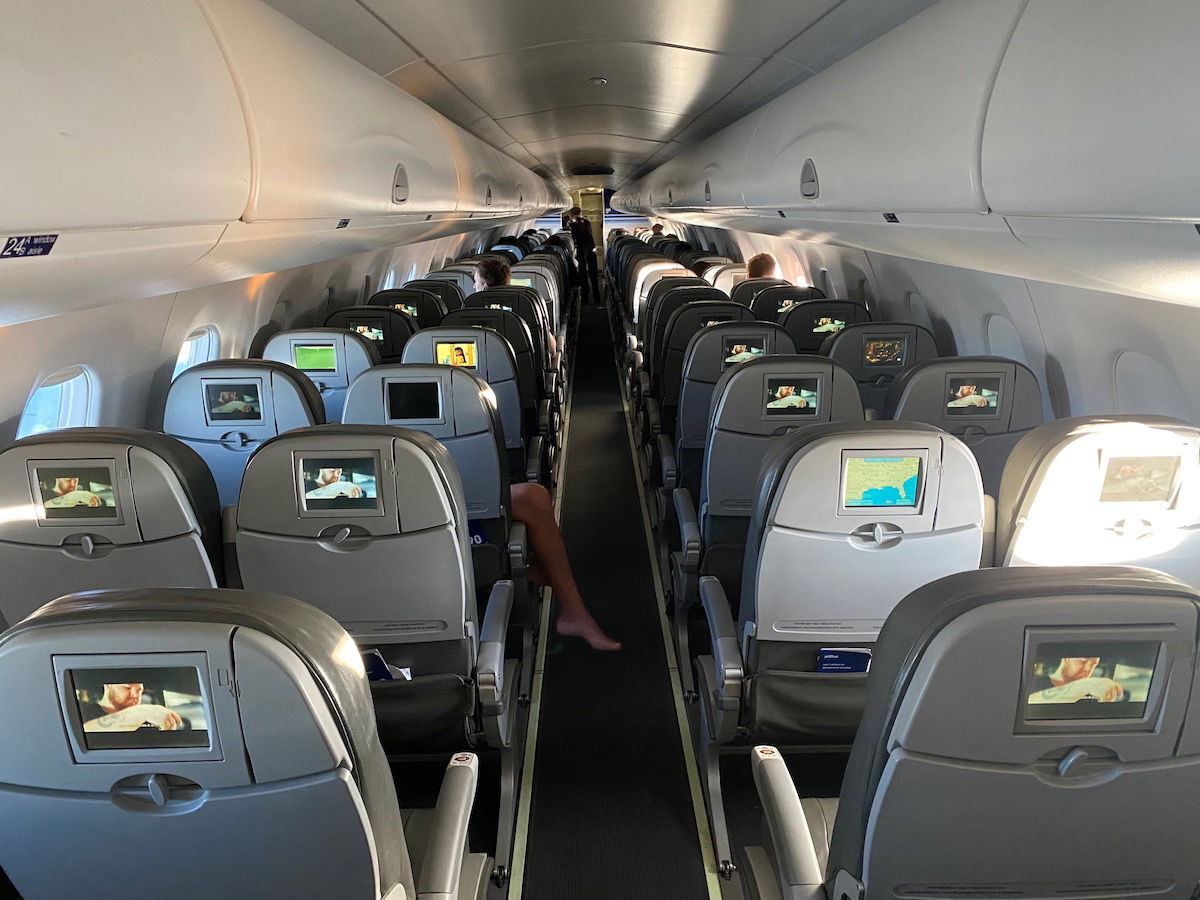 It was so empty that someone just had their leg sticking out into the aisle, and he seemed confused when someone passed him. I guess it was that quiet back there.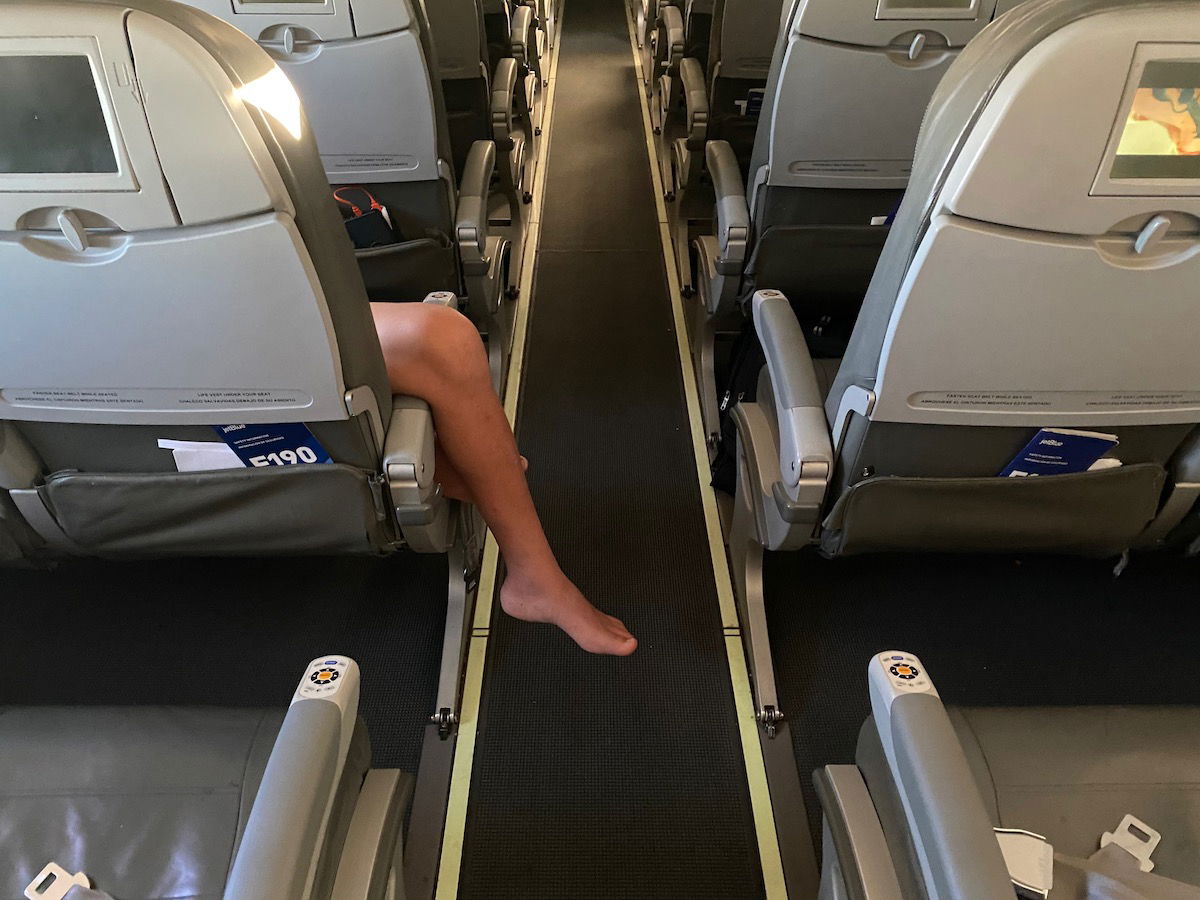 The lavatory was in good condition, but a bit small.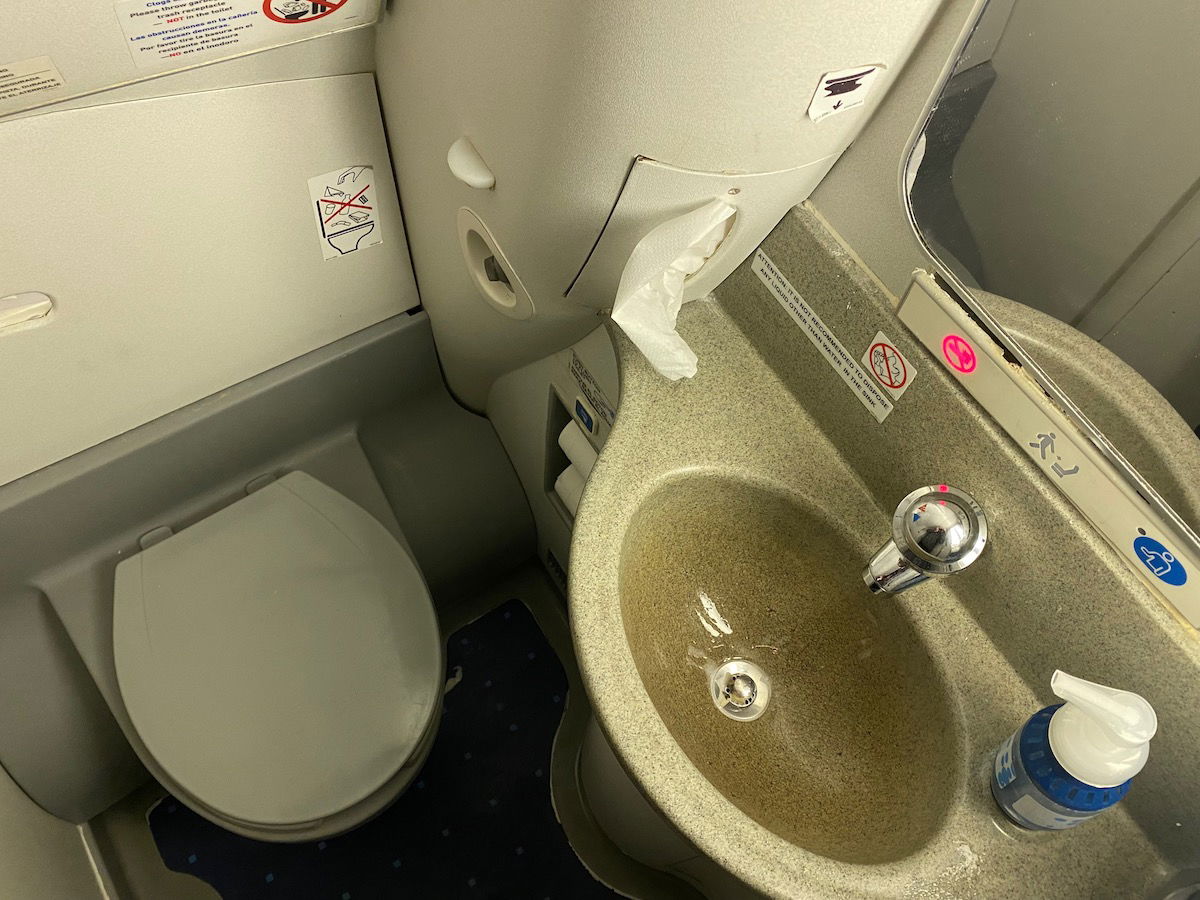 We were treated to a beautiful sunset enroute to Turks & Caicos.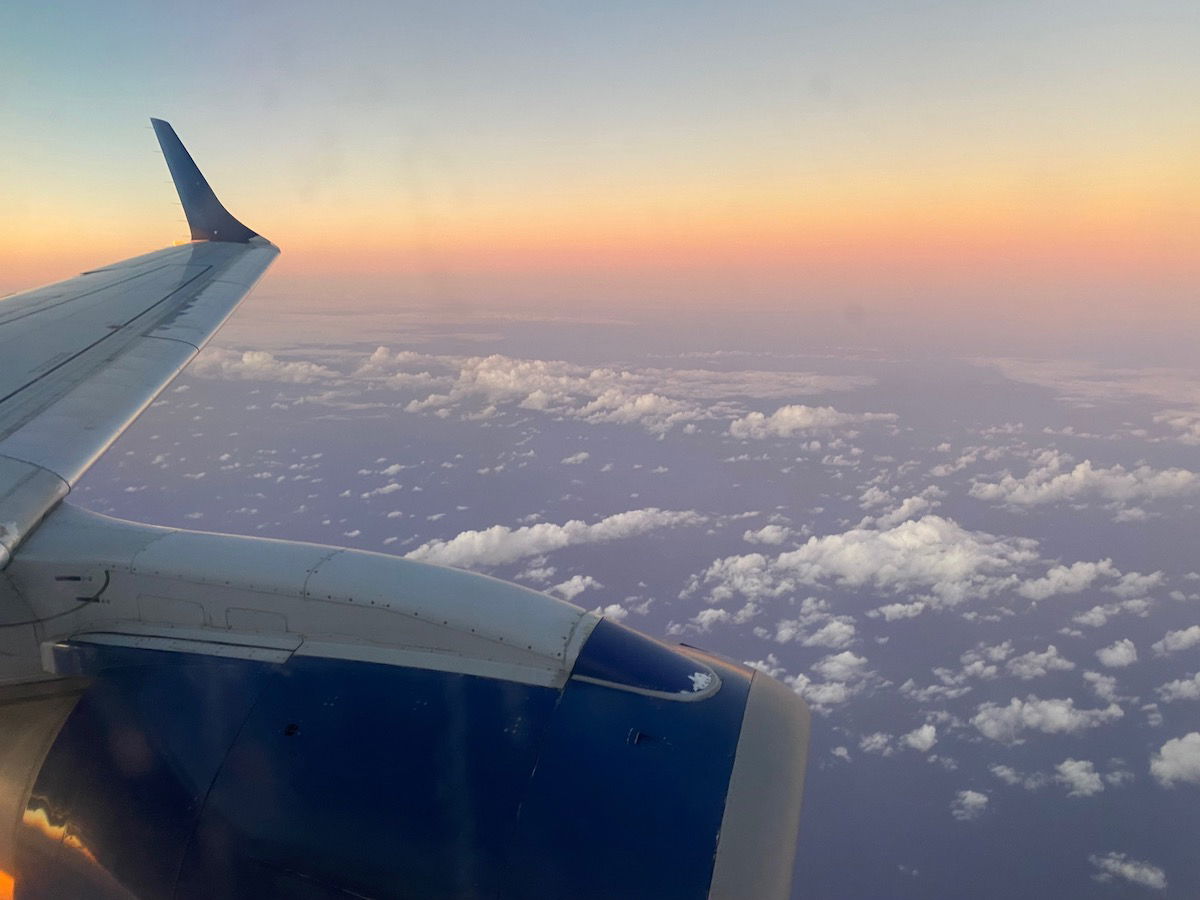 Before we knew it, we were on our descent.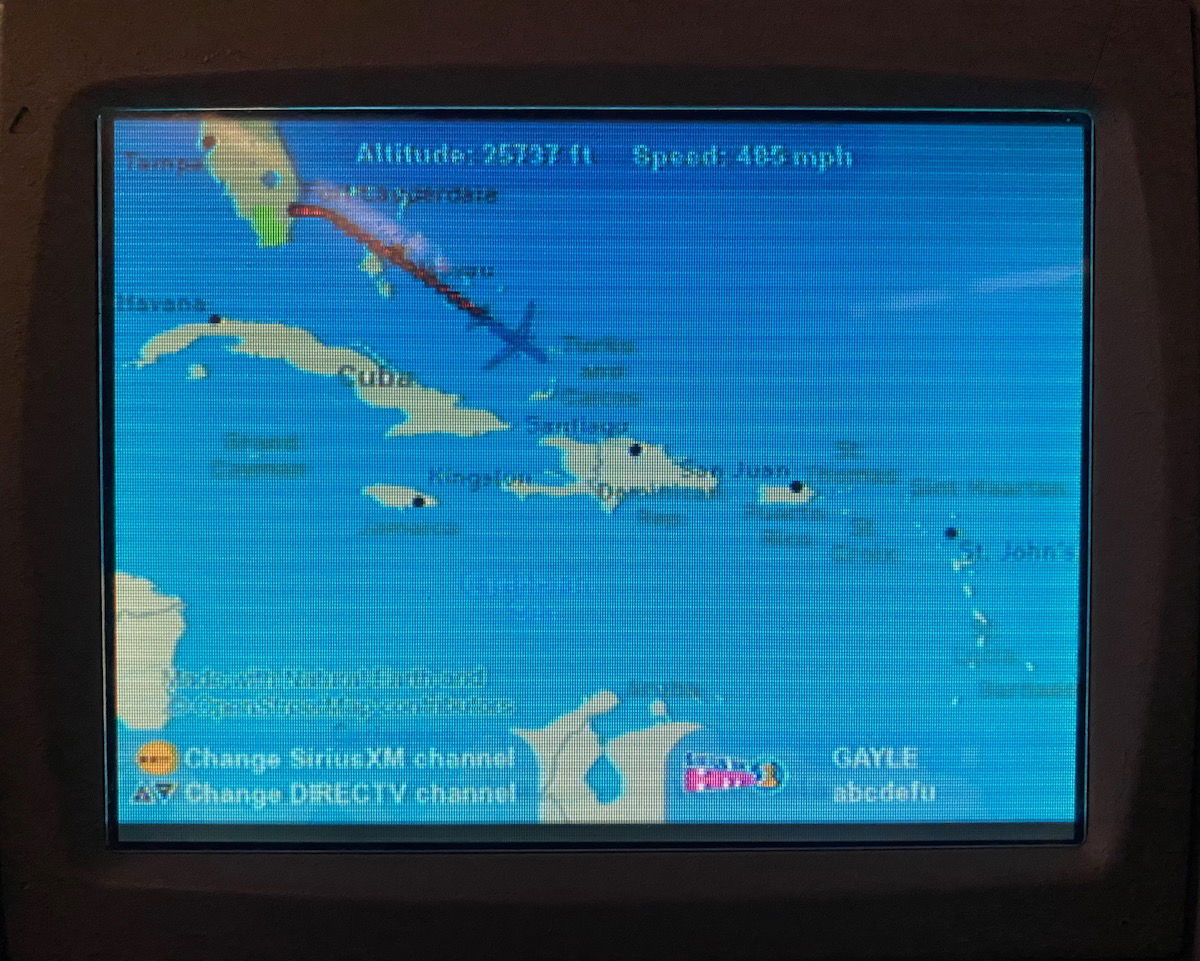 At this point the crew distributed sanitizing hand wipes, suggesting that these could be used after landing and passing through immigration. That's a nice touch.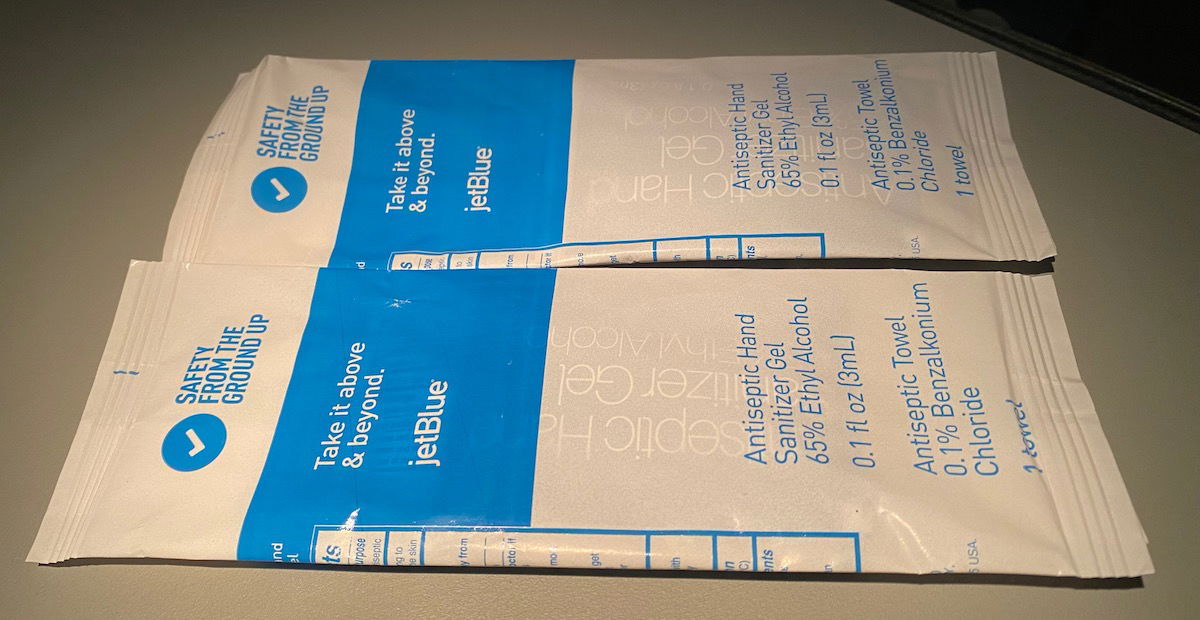 I have nothing but good things to say about the two flight attendants on this flight — they were both very friendly people who genuinely seemed to enjoy their jobs, and they were also hilarious.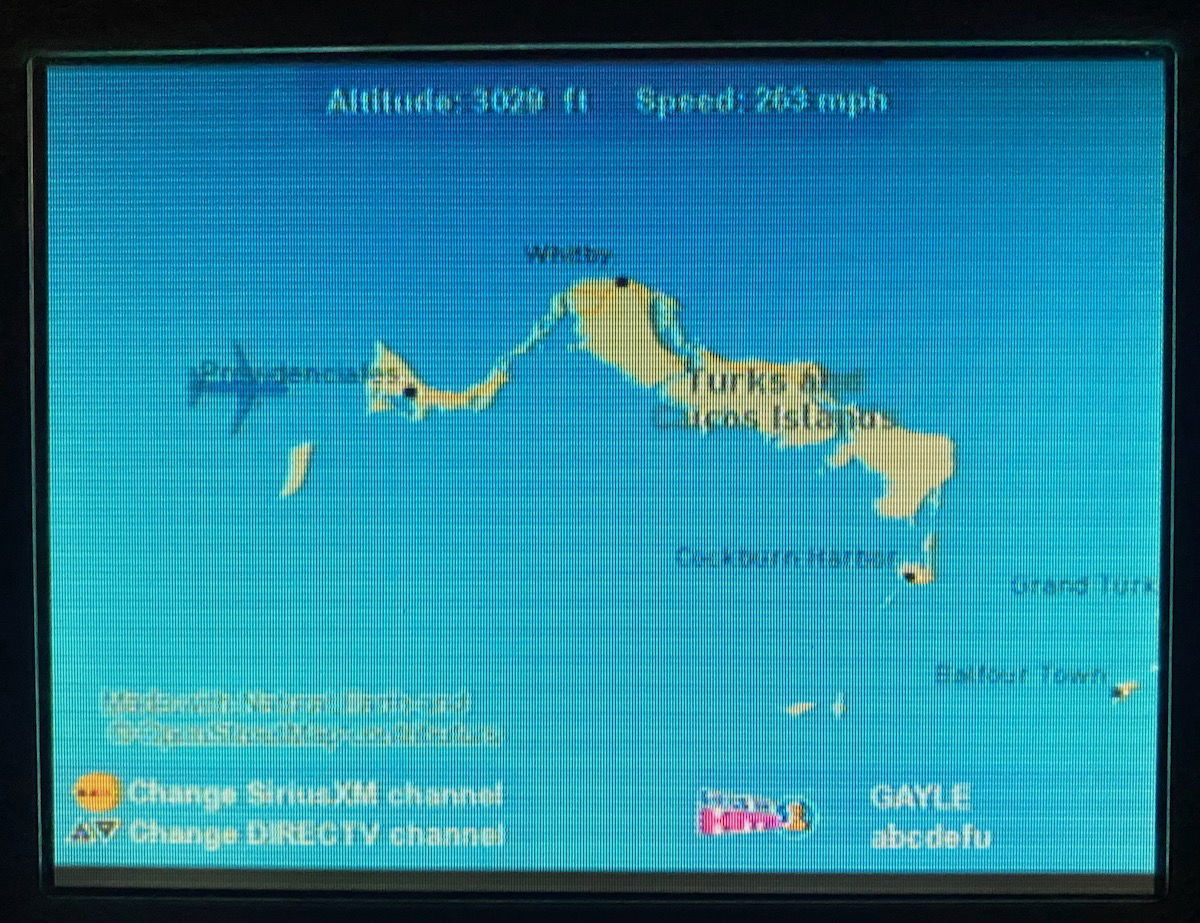 We ended up touching down in Turks & Caicos at 6:25PM, and had a very rough landing with a quick stop. Funny enough, people clapped as we landed. I'm not sure if that was because of the landing or the excitement of getting to paradise after the delay.
Two minutes after landing we were at our arrival stand, where we then deplaned via a ramp, as the airport doesn't have any jet bridges. In the next installment I'll share our arrival experience, and the overall entry requirements for Turks & Caicos.
Bottom line
JetBlue's passenger experience is so much better than what you'll find on most other airlines. The Embraer E190s in particular offer comfortable seats, good legroom, no middle seats, personal televisions, free Wi-Fi, and a nice cabin. As an American AAdvantage elite member, it's also great to receive priority check-in and boarding.
Specific to this flight, we had a very friendly crew, though unfortunately we also had a roughly hour-long delay due to late inbound pilots. Of course delays happen, especially during the pandemic, given all the staffing shortages. However, there's no denying that JetBlue struggles a bit more with punctuality than other airlines.
If you've flown JetBlue's Embraer E190, what was your experience like?