My travel has been fairly uneventful lately, in the sense that the last major delay/cancellation I recall having was enroute to Beijing last year (and I'd say I made lemonade out of lemons with that, by rerouting through London in British Airways first class). I figured I'd share the experience I've had over the past 24 hours, since a lot of people ask me about my thought process in the event of delays and cancellations.
Let me also add the disclaimer that this isn't at all a big deal, especially in light of the recent EgyptAir tragedy. I feel like that goes without saying, but the second I start talking about what went wrong with my travel day, people quickly chime in to say "well, you had a better travel day than the people on that EgyptAir flight." With that out of the way…
Yesterday I began my journey to South Africa on Air Canada and South African Airways, routing from Vancouver to Toronto to London to Johannesburg to Cape Town.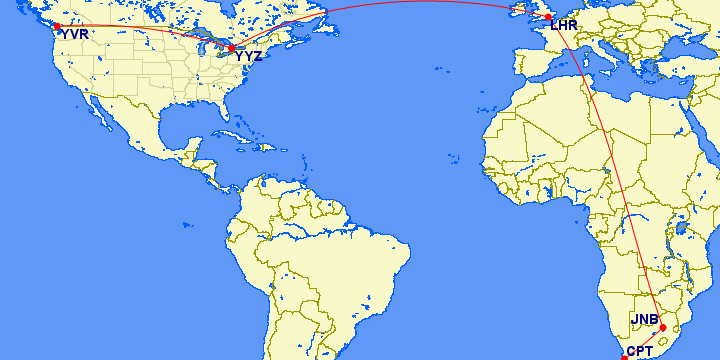 The routing I booked from Vancouver to Cape Town
I got to the Air Canada Maple Leaf Lounge in Vancouver at around 9:30AM for my 11:30AM flight to Toronto.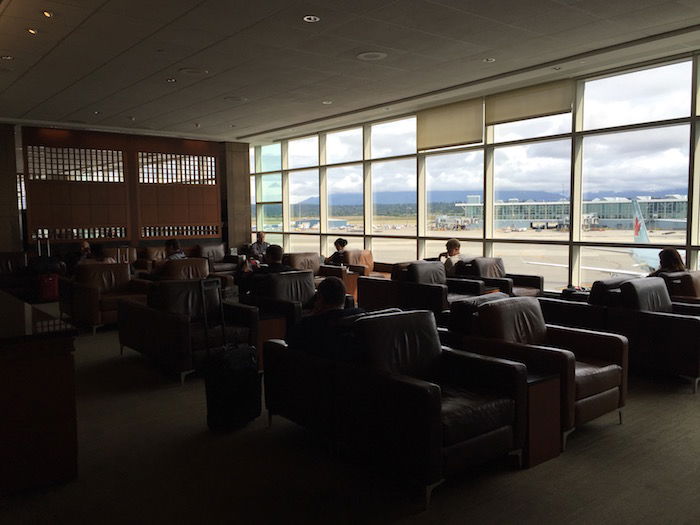 Air Canada Maple Leaf Lounge Vancouver Airport
About 30 minutes after arriving, the following announcement was made:
"Mr. Schlappig, please see the concierge at the reception desk for a message."
Being paged at an airport is rarely good news, unless it's at the gate for an upgrade. The last time being paged in a lounge was good news for me was back in 2012, when I received the most apologetic upgrade of my life on Japan Airlines.
I took a deep breath and walked to the desk.
As it turned out, South African Airways had canceled my flight from London to Johannesburg.

First of all, kudos to Air Canada for catching this before I did, and for being proactive. Air Canada has "concierges" who assist their top tier elites and business class passengers when things go wrong, so it was great to see that program in action. Air Canada really is in a different league than their North American counterparts.
The concierge was friendly, and explained that she'd try to have me rebooked on the London to Johannesburg flight which was scheduled to depart two hours later. Unfortunately by the time they got around to requesting it, all business class seats were gone.
When it comes to travel (or perhaps most things in life), I tend to think it always makes sense to do research on your own, even when you're dealing with a competent person, as I was in this instance.
The added wrinkle was that my Vancouver to Toronto flight was on a rolling mechanical delay. As I looked at options involving other routings, I didn't know how much of a buffer to leave in Toronto, since rolling mechanical delays have the tendency to go on and on.
After playing around on ExpertFlyer I narrowed down my options a bit, keeping in mind that they'd probably only want to rebook me on Star Alliance carriers. Here's what I concluded after my search:
I could take the same flights from Vancouver to Toronto to London, overnight, and then take the SAA flight from London to Johannesburg the following day
I could connect in Frankfurt instead of London, as there was one business class seat remaining on SAA from Frankfurt to Johannesburg, and plenty of space on Air Canada from Toronto to Frankfurt; in the event the one seat on SAA disappeared, there was a Lufthansa flight from Frankfurt to Johannesburg slightly later with business class space
In theory I could connect in Munich instead, as there was plenty of space from Munich to Johannesburg on SAA; the catch was that I wasn't sure I could make the Toronto to Munich flight, given the rolling mechanical delay in Vancouver
After looking at the options I spoke to the concierge and explained to her that the routing through Frankfurt seemed like the best option. I emphasized that there was exactly one seat left, and that I'd appreciate if they could grab it for me. I also explained that if that didn't work, there was a later Frankfurt to Johannesburg flight on Lufthansa which had space. She radioed her colleague right away to try and get it booked.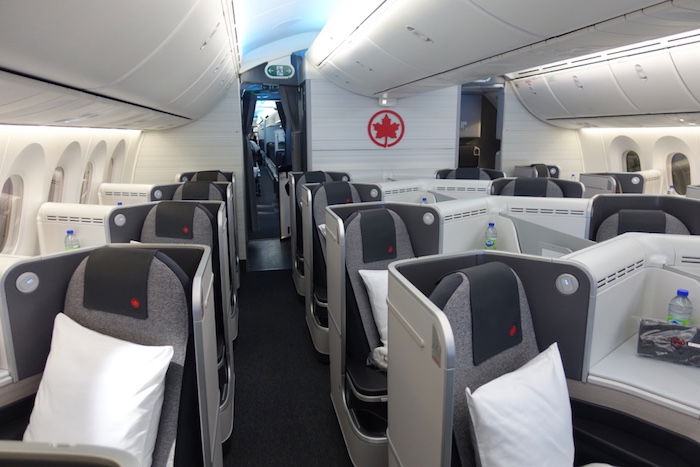 My ride from Toronto to Frankfurt on the Air Canada 787
I headed to the gate for the flight to Toronto, and just moments before boarding the concierge approached me to explain that they had the flights confirmed, and that someone would meet my flight upon arrival in Toronto with the updated boarding passes.
I was so impressed when I landed in Toronto and there was in fact someone waiting for me with the new boarding passes.
Even better, when I got to Frankfurt there was an Air Canada representative waiting with the South African Airways boarding passes, printed on SAA stock.
If all goes as planned I'll arrive in Cape Town at the same time as initially scheduled, simply swapping a day in London for a day in Frankfurt (which has been quite amusing, to say the least).
Bottom line
I'm quite happy with the end result, as it's rare you can have a cancellation on the most significant segment of a complicated itinerary and still make it to your destination at the originally scheduled time.
I'm also impressed by Air Canada's concierges, who look after premium passengers when things go wrong. I didn't have to queue forever, but rather they were proactive and competent, which is probably why the end result was as good as it was.