Last year I needed to fly from Johannesburg to London. I considered using miles to fly Etihad business class, but decided to try and find something more interesting and exotic.
Searching availability using LifeMiles, there was an option to fly Ethiopian Airlines to London via their hub in Addis Ababa, the Ethiopian capital. This involved a quick 3 hour connection. But given my love of a 24 stopover and the unlikeliness I would visit Ethiopia otherwise, I decided to try and give myself a full 24 hours there.
Fortunately this was possible if I booked Ethiopian to Addis, then EgyptAir on to London, via Cairo. I would arrive in Addis at 6am and then fly on to Cairo at 4am the next day. I was excited to visit a new country and also try two new airlines! So I booked the flights about 6 months in advance. The Ethiopian flight was scheduled to be operated by their 787 Dreamliner, and while it may not have had fully-flat seats, it would still provide a comfortable ride for the overnight flight from Johannesburg.
As can often happen in a six month period between booking and taking a flight, the aircraft type for the first flight changed from a 787 to a 767. I knew this had happened to Ben and thought there was a chance it could change back (even last minute).
Otherwise I would just suck it up and bear it, because I was becoming quite excited about visiting Ethiopia.
A vintage arrival
Unfortunately, the aircraft type didn't change and I boarded the flight in Johannesburg to find the same retro recliner seats as Ben had.
I settled into seat 1H and prepared for a long night ahead. The flight had originated in Cape Town and (I guess because it was a domestic stop in Johannesburg), those passengers continuing on to Addis were allowed to stay onboard the flight during the stop. Not only had they been allowed to stay onboard, as the stop was around midnight, they had been allowed the keep their seats fully reclined and remain fast asleep during the stop (and takeoff), so I boarded a dark cabin mostly full of reclined, fast-asleep passengers.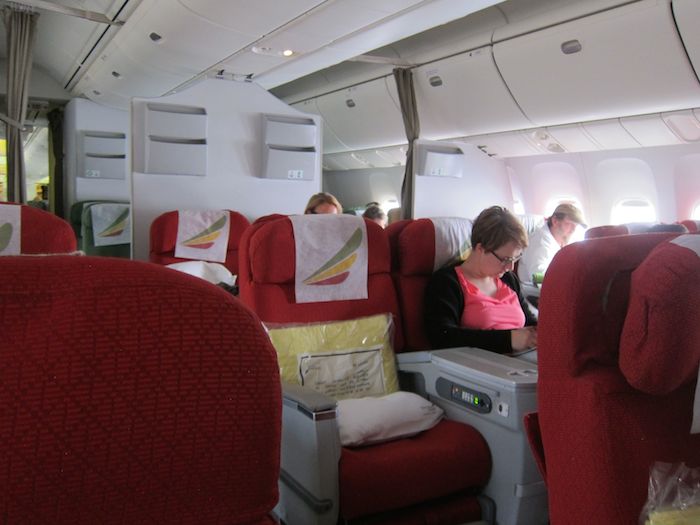 I had a brief discussion with the Ethiopian lady sitting next to me. I asked her something about the arrivals process in Addis. She asked me if I was visiting family there. I said no, it was just a 24 hour stopover. She looked at me oddly, but I thought nothing of it.
The flight wasn't actually that bad given the terribly outdated seating.
The crew did the best with what they could and I did manage to get a few hours sleep.
We arrived in Addis on time, and as I departed both crew members enthusiastically said 'Merry Christmas!' as I walked off the aircraft. As this was January 7th I thought it was a little odd to be wishing me a Merry Christmas two full weeks after I had celebrated Christmas but didn't really think anything of it.
The most wonderful time of the year
As I was arriving at 6am and departing at 4am the next day, I could have booked 2 nights in a hotel but wanted to find somewhere I could potentially stay with just a one night booking as I would be there for less than 24 hours.
I found a well-rated hotel in the city that offered free airport transfers, free breakfast, and many reviewers had noted that they had been able to check-in early. I had also emailed this request to the hotel when booking and they said if they had space, then I could check in early.
The hotel was by far the best thing about my entire time in Addis.
Everything there worked like clockwork. The hotel transfer was waiting for me, and a smiling driver welcomed me to Ethiopia. We got to talking as he drove me to the hotel and he also asked me if I was visiting family. I told him no, just doing some sightseeing for a day.
He then looked at me curiously and asked why I had picked January 7 to visit 'because everything would be closed.' I told him I was coming back from a new years trip to South Africa and this was the most logical day to have my stopover. I asked him why everything would be closed on a standard Saturday and he replied:
'Because today is Christmas Day here'
Suddenly the reaction of my seatmate on the flight, and the farewell from the cabin crew, made sense. Unbeknown to me, the one day of the year I had decided to visit Ethiopia was their Christmas Day.
And I knew exactly zero people there.
Seasons Greetings.
I hadn't even thought to check public holidays in Ethiopia and now it was a bit late to do anything about it!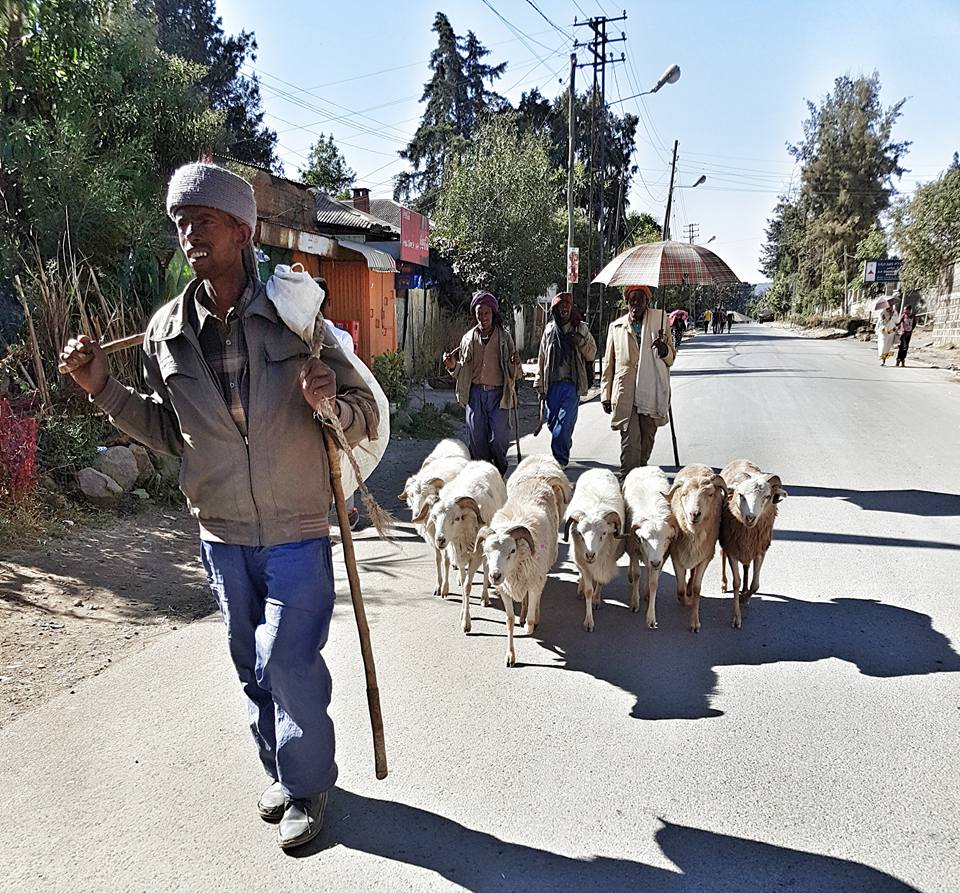 My private taxi tour
I arrived at the hotel where they graciously allowed me to check in at 7:30am, wished me a Merry Christmas, and I managed to catch up on a few hours sleep, before venturing out late morning and trying to work out what on earth to do in Ethiopia, by myself, on Christmas Day.
I had tried to book a very well-rated food tour for that afternoon however they advised me on that day only they were fully booked, whereas every single other day they had plenty of availability (I should have guessed why!).
My research had shown there was a nice lookout at Entoto Hill above the city, and that I would need a taxi to take me there. I also planned to visit the main museum in Addis afterwards, which the hotel concierge did assure me would be open on Christmas Day.
I asked the concierge if he could organize a taxi for me to take me to the lookout, and translate my wishes to the driver. He enthusiastically got on the phone and within a few minutes told me my taxi was outside.
Heading outside, I found a car that was almost as old as I was, and in a terrible condition, waiting for me. The concierge and driver conversed for several minutes and I asked the driver (via the concierge) how much it would cost to go up Entoto Hill, view the lookout, and then take me to the museum (as I guessed there would be no meter in the taxi!). I knew from Google Maps that the round trip would take about 40 minutes.
'$150 US Dollars'
was the answer from the Concierge.
No. Worries. Mate.
I started to laugh in disbelief at the absurdity of paying that much money in a (very) developing country to take this jalopy up a hill and back for that amount of money. The driver quickly realised I was not going to entertain that so the concierge asked me how much I was willing to pay.
I told him not to worry about the taxi – I was really not that desperate to see a lookout.
He asked me to name a price and I randomly picked '$50 US Dollars' thinking this would be such a low amount he wouldn't bother. The driver did speak some broken English, but immediately started shaking his head.
I thanked them both, told them not to worry about the trip and headed back inside the hotel. Before I got to the lift the concierge ran in calling my name, and said 'okay, okay, he do it for $50'.
So off we went up the hill. The driver was able to provide some basic commentary of the area which was somewhat interesting. The view from the top of the hill was pretty uninspiring, but I did meet these little dudes at the top who were very interested in my camera.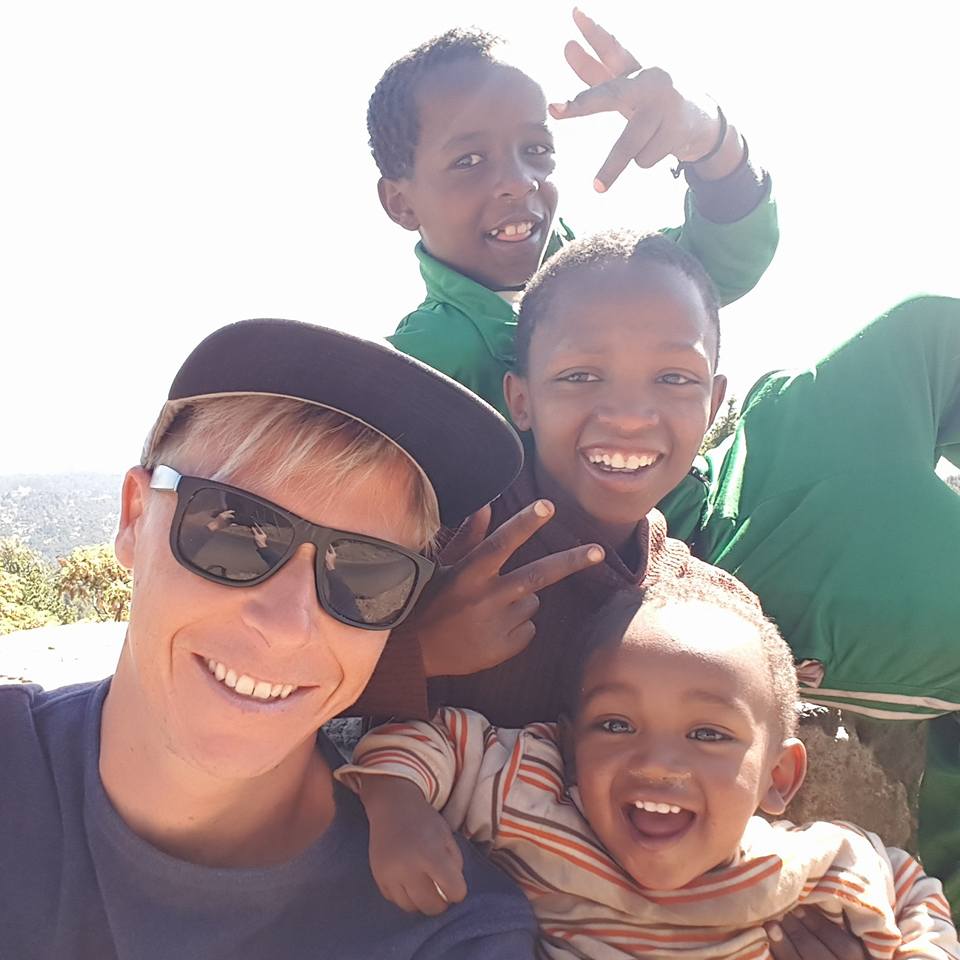 We headed down to the museum which was fortunately open. The driver offered his services for the rest of the day for a 'good price' but I knew everything else was walking distance so declined, paid him his $50 plus a small tip as a Christmas present, thanked him (and wished him a Merry Christmas!), and headed into the museum.
The museum was also pretty uninspiring and I was done in about 30 minutes.
Local delicacies
I knew Ethiopia was famous for its coffee and it had a well known, very well rated coffee shop that was covered in the food walking tour. I was excited to visit it and have some authentic Ethiopian coffee so headed there on foot.
It was closed for Christmas Day.
I also knew Ethiopia also had the largest open-air market in Africa right here in Addis, so headed there on foot.
It was closed for Christmas Day.
You say 'let's play a game', I say 'give it back'
It was a fairly sunny day so I decided just to wander around and have a look at the city. I was walking down the street, looking for a convenience store to buy some water at around 2pm. Most places were closed for Christmas Day but there were people around on the streets, going about their business.
I was approached on a fairly major street by two Ethiopian men who were around my age. I was the only non-Ethiopian person I saw outside of the airport and museum the entire time I was in Addis, so stuck out like a sore thumb and attracted plenty of interest from the locals.
The two men came up to me and started talking to me, with big smiles on their faces. One of them was holding a pullover rolled up in his hands. They started speaking to me in Amharic, the local language. I smiled, tried to tell them I didn't speak their language, and tried to keep walking.
They then got very close to me, one either side and kept talking quickly and excitedly and started to touch my waist on both sides. Instinct quickly took over and I quickly slid my hands into my shorts pockets to check my belongings, to find that my mobile phone had gone.
Something in me just snapped.
And I lost it.
I panicked and started screaming at them about where my phone was. They pointed down the street indicating that someone had grabbed it and run off. Unfortunately for them there was no one within 50 metres and this was 4 seconds after it happened. I got very upset and the rage in my face must have been so great that one of them promptly reached into his rolled up pullover and gave me my phone right back still with big smiles on their faces.
I was still seething but made the smart decision to walk off rather than face any further confrontation.
To this day I don't know whether they were trying to steal it or just trying to play a game with me. We didn't speak a word of each others language so couldn't communicate with each other, and they had big smiles on their faces the entire time and the entire thing happened so quickly that it was over in 30 seconds.
I have not been that angry for a long time.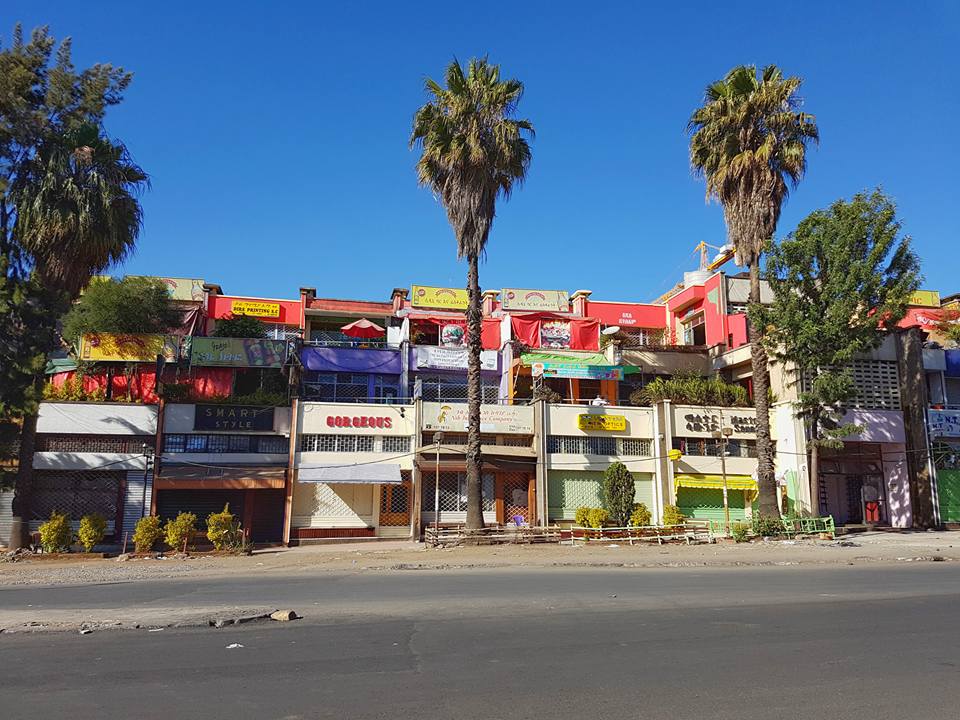 My sunset procession
By this stage I realised my Ethiopian stopover was not going to get much better.
There was one more sight, Meskel Square, that I wanted to check out. I decided after the phone incident that I should head back to the hotel before it got dark and have dinner there rather than being on the streets by myself at night.
I found the square, which was not remotely interesting to view, and then headed back to the hotel. It was a good 30 minute walk, and the sun was starting to set earlier than I had anticipated.
Addis Ababa has a large homeless population. I'm very used to being around homeless people — I see them in London every day and they are just a part of life in a large city.
I walked past plenty on the way back to the hotel in Addis and several tried to stop me and ask for money. There were no small notes to give them and I tried to communicate this my shaking my head gently. I started to walk off but several of them started to follow me. I was the only non-Ethiopian person in sight, and must have looked out of place with my blonde hair, sunglasses and nervous expression.
Each person I walked past and said 'no' to started to follow me as well, about 10-20 metres behind and as it got dark I realised the precariousness of my situation. I was in a foreign city where I didn't speak the language, had only a vague idea of where I was, had valuables on me and was being followed by an increasing procession of homeless locals in fading light.
Merry Christmas.
It got to the point where I started to physically run back to the hotel as my anxiety rose. Fortunately they did not pick up their pace and I was able to reach the hotel safely. I headed straight to the hotel restaurant and had dinner there, which was delicious. I love Ethiopian food.
After dinner I looked back at the comedy of errors that was my day, cut my losses, headed to bed to sleep for a few hours, then went to the airport at 2am.
The flights back to London were uneventful and while Cairo was a disaster of an airport to transit, EgyptAir was much better than I was expecting.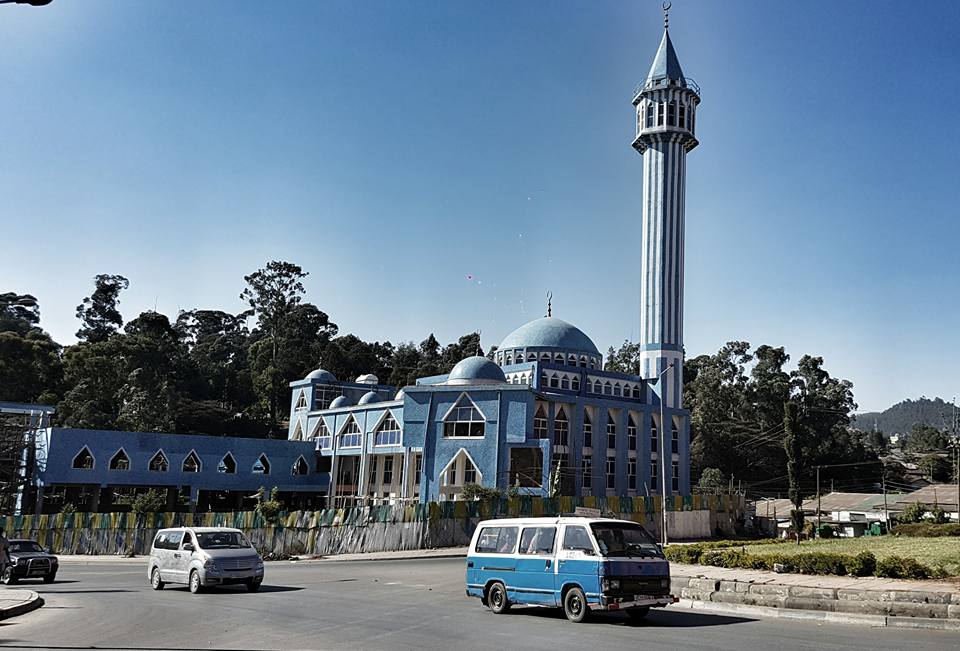 Bottom line
I don't regret visiting Addis Ababa, as I do look back at this and laugh at my misfortune now. This post is meant as no more than a series of humorous anecdotes about how badly your plans can go while traveling.
I have no doubt it's a wonderful country with plenty to offer. I just had exceedingly bad luck while I was there, especially picking their Christmas Day as the one day to visit. It is my own fault for not knowing or checking this beforehand, and thinking I could manage everything myself.
I might head back one day, but only as a part of an organized tour where I don't have to organize anything myself.
Have you had any stopovers that just haven't worked out?