I love Japan. It's the only place in the world where someone does something nice for you and apologizes for it.
After landing from the Los Angeles to Narita flight yesterday, we headed over to the domestic terminal for our Narita to Nagoya flight on Japan Airlines. The domestic lounge is pretty simple, and I got caught up on email for a couple of hours. About 15 minutes before we were scheduled to board, my travel companion and I (or at least names slightly resembling ours') were paged in the lounge. My friend was on a call, so I went to the desk for both of us, and was rather concerned about what might be wrong, since the flight still showed on time when I checked a few minutes earlier.
There were three agents standing there with frowns on their faces — "Mr. Lucky, I'm so very sorry, but is it okay if we give you a better seat?" I looked a bit surprised, though they had a laminated piece of paper with the aircraft's seatmap. "Mr. Lucky, I'm so sorry, may I put you in 1K, this is a first class seat?" I said "that would be great, and where would my friend sit, in 2K or 1G?"
All three of them covered their mouths and let out a collective gasp. "I'm so sorry, you are traveling together?!" I said "yes," and they said he would be in 1G, which is immediately across the aisle. I said I'm sure that would be just fine (given that the plane's configuration is 1-1-1), and all three of them thanked me profusely and apologized once again, concerned this arrangement might not be okay since we would be seated so far apart.
The first class seats on this aircraft were JAL's older model first class seats, the same one I flew in from Narita to New York a few years ago.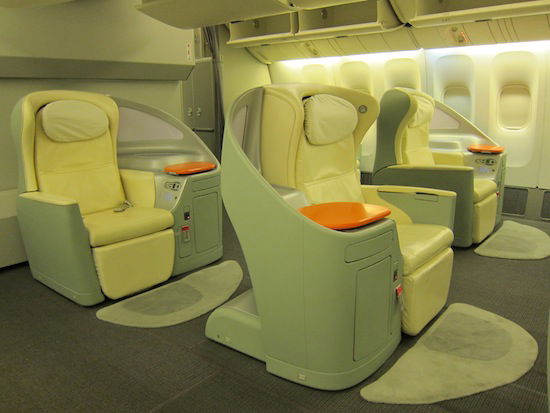 Since there's still a trip report on the way, let me just hit on four points about the flight:
Boarding signs
What are we, pre-boarding the cast from Dora the Explorer?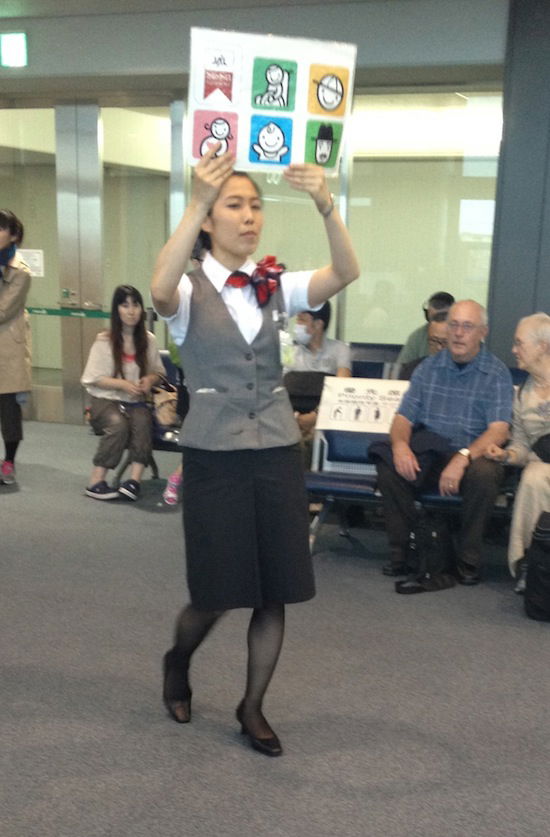 Here's a close-up of who they're actually trying to pre-board (cause obviously anyone under seven and over 65 wears a hat).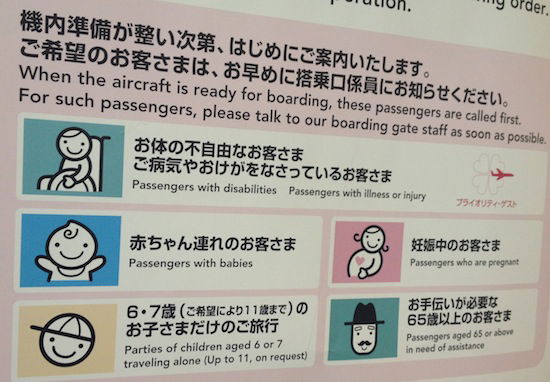 Mt. Fuji
We flew right next to Mt. Fuji. Holy wow!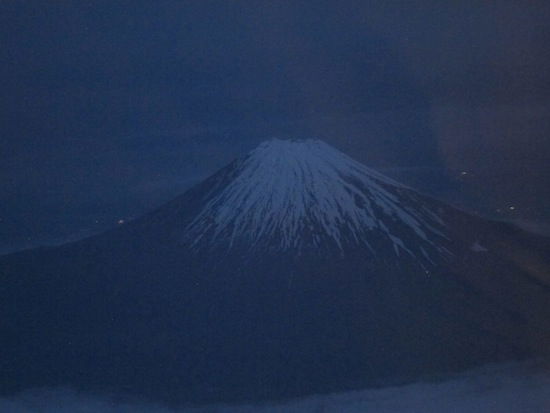 Onboard service
While the flight attendants were super-friendly, they make in-flight service at US airlines look impressive. The service onboard consisted exclusively of a beverage served in a small plastic cup with a lid.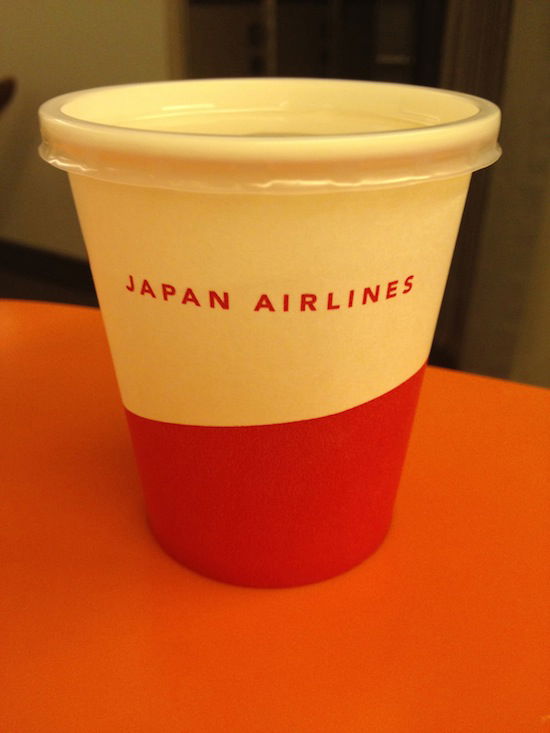 Turbulence and announcements
The flight was bumpy as could be. We were rocking and rolling the whole way. The funny thing is that the seatbelt sign stayed off for the entire flight, until we began our descent. When the seatbelt sign was turned on the purser said "ladies and gentlemen, we are expecting a little bit of turbulence, so the captain has turned on the seatbelt sign." So, what have we been experiencing for the past 30 minutes? Funny enough there wasn't a single bump for the rest of the flight once the seatbelt sign was turned on.
An all around enjoyable experience, and now I'm in Kyoto.