On Saturday I flew from Beijing to Washington via Chicago. On Sunday I was scheduled to fly from Washington to Beijing via Dallas.
I intentionally booked the 5:30AM flight out of Washington National, which seemed cruelly early, but then again I'd be jetlagged, so I figured it wouldn't be too bad.
All was well. I was up at 3:30AM, on my way to the airport by 4:15AM, and checked in by 4:30AM. At 5AM boarding began, and we promptly pushed back at 5:30AM.
The first 2.5 hours of the flight were as you'd expect. At that point the captain came on the PA and explained that there was some weather in Dallas, and that they had a ground stop. Based on the fuel situation he decided it was best to divert to Houston so we could refuel and regroup. So we diverted to Houston, where we landed shortly before 8AM.
There we had a remote stand, and even though Houston is a United hub, it quickly started to look like an American one. One by one, more American planes pulled onto the tarmac next to us.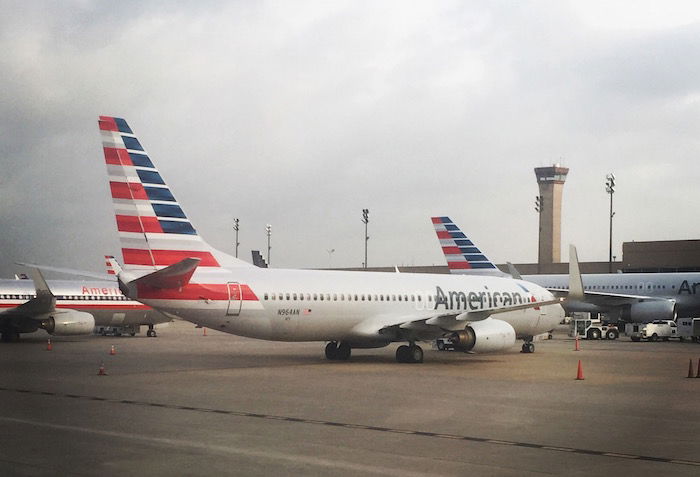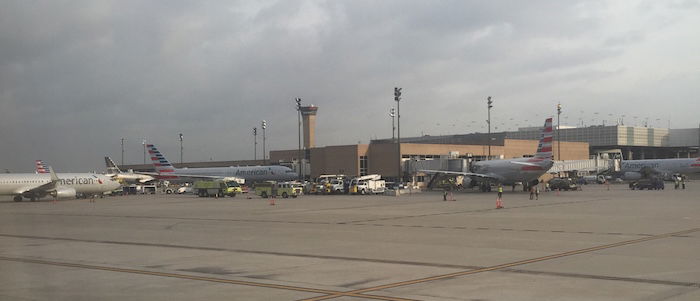 The captain was awesome about keeping us updated, and explained the situation. DFW Airport had a ground hold, so we'd refuel, and hopefully shortly after it was lifted we'd get clearance to continue our flight.
First one hour passed. Then two. The crew was phenomenal. The flight attendants were in great spirits, and the captain provided constant updates about the situation, even if the news wasn't good.
Unfortunately I can't say the same about the passengers. The flight attendants announced that they had no connection information and weren't sure when we would leave. Despite that, every minute someone would totally flip out on them over the lack of information they had.
The funny thing is that three quarters of the first class passengers were headed to Beijing, so they were very concerned about whether they'd make the connection or not.
After nearly three hours the door closed again so that we could taxi to the runway, because apparently things were looking better.
We queued at the runway for close to an hour, at which point the captain came on the PA to deliver more bad news — DFW Airport was closed again. So it was back to our remote stand to once again top off on fuel and wait.
At this point they had to give passengers the option to get off the plane, per the DOT rules limiting tarmac delays. They were very clear in their announcements — "we are legally required to let you off the plane, but please understand that this may delay our departure time, because we could get clearance any minute, but if everyone isn't aboard we can't leave. So at least please stay close to the gate if you do deplane."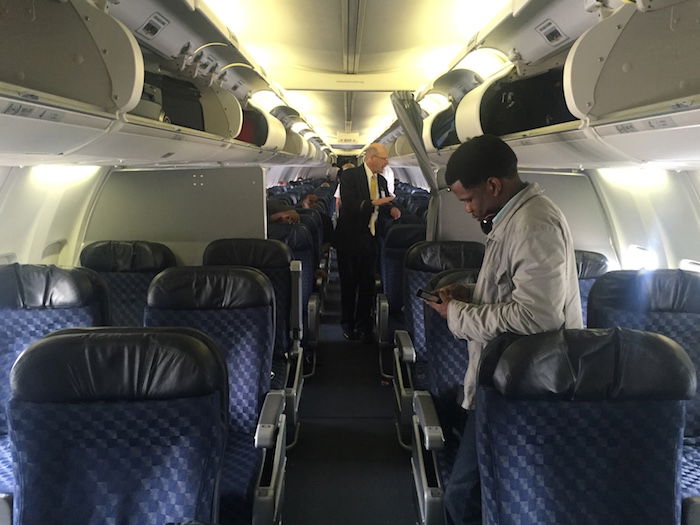 Probably 80% of passengers deplaned, despite the very clear announcements. Literally five minutes after all those passengers deplaned they announced that we had received our departure clearance, but we couldn't take it due to people choosing to deplane. So within about 30 minutes they got everyone back aboard.
While the passengers on the whole were irritating as hell, I nearly lost it on a guy who chewed out the flight attendant — "why would you tell us to get off the plane when we would get clearance a few minutes later?" Seriously, dingbat?
At that point it was a quick 45 minute flight to Dallas.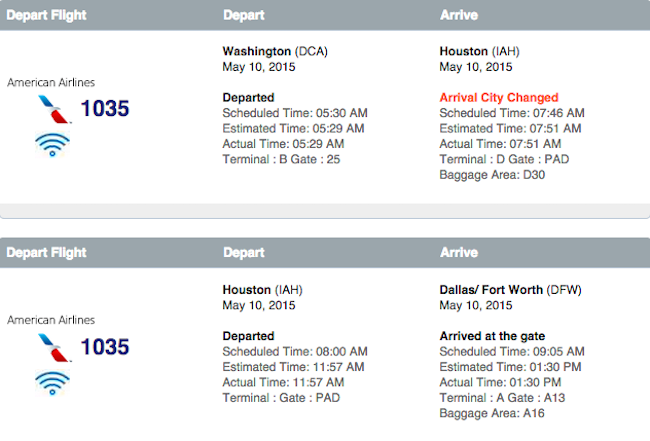 All-in-all, it was a nine hour flight from Washington to Dallas, and including boarding time, we spent nearly ten hours on the plane.
Upon landing DFW Airport was a mess. I don't think I've ever seen such chaos. Below is a picture of the line snaking around the terminal for the customer service desk, which two agents were staffing.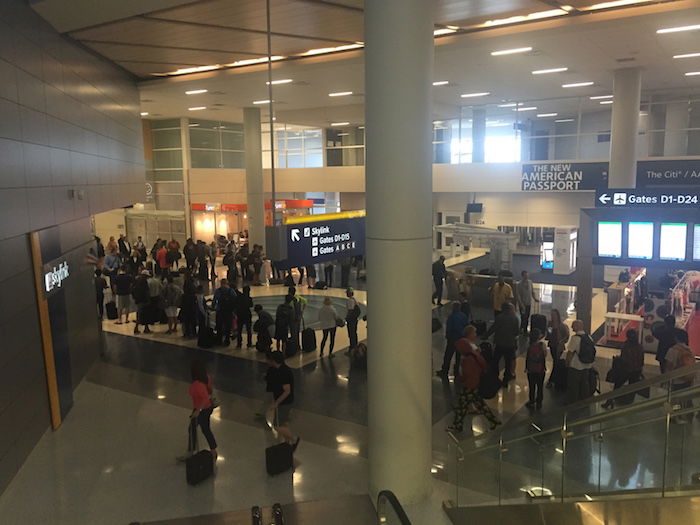 So of course we missed our connection to Beijing, along with the 10 other people in first class headed there. While the other passengers were much more concerned with their connections and one guy even kept probing the flight attendants about connecting information — citing that he was a travel agent — oddly they didn't actually seem to put any time into researching alternatives or even calling American to see what they could be protected on.
We, on the other hand… well, stay tuned for that… but let's just say flying via Europe in British Airways first class on an American business class ticket doesn't suck!
Bottom line
In my over four million miles of flying I've had a lot of crazy things happen, though this was actually the first diversion I can remember. While nobody likes sitting on a 737 for nearly 10 hours, the crew was spectacular, and I was sure to thank all the flight attendants and the pilots for their excellent communication and good spirits.
My biggest irritation was that we diverted to Texas on a Sunday morning, as they can't legally serve alcohol before noon. That made for a very long delay. Though the second the clock struck noon, the flight attendants were generous with minis, to put it mildly. 😉
Flying isn't always fun, but you've gotta make the best of it!
Was anyone else impacted by DFW Airport weather on Sunday?