After flying Bamboo Airways' A321neo business class from Ho Chi Minh City to Hanoi, I flew Bamboo Airways' Boeing 787-9 business class from Hanoi to Frankfurt, and it was… delightfully interesting! Like, it wasn't amazing, it wasn't terrible, and it also wasn't boring. For better or worse, I won't be able to make any puns involving pandemonium or getting bamboozled. 😉
I actually got off the flight with an overall positive impression. While there are some oddities, this is an overall professional airline. Let me share a few highlights, and then soon I'll have a full trip review of this flight.
Bamboo Airways business class is quirky
Flying Bamboo Airways' 787 business class to Frankfurt was more than just a flight. Why? Well, because the airline keeps telling you it is. When the (Dutch) captain welcomed us onboard, he said "welcome aboard Bamboo Airways… more than just a flight."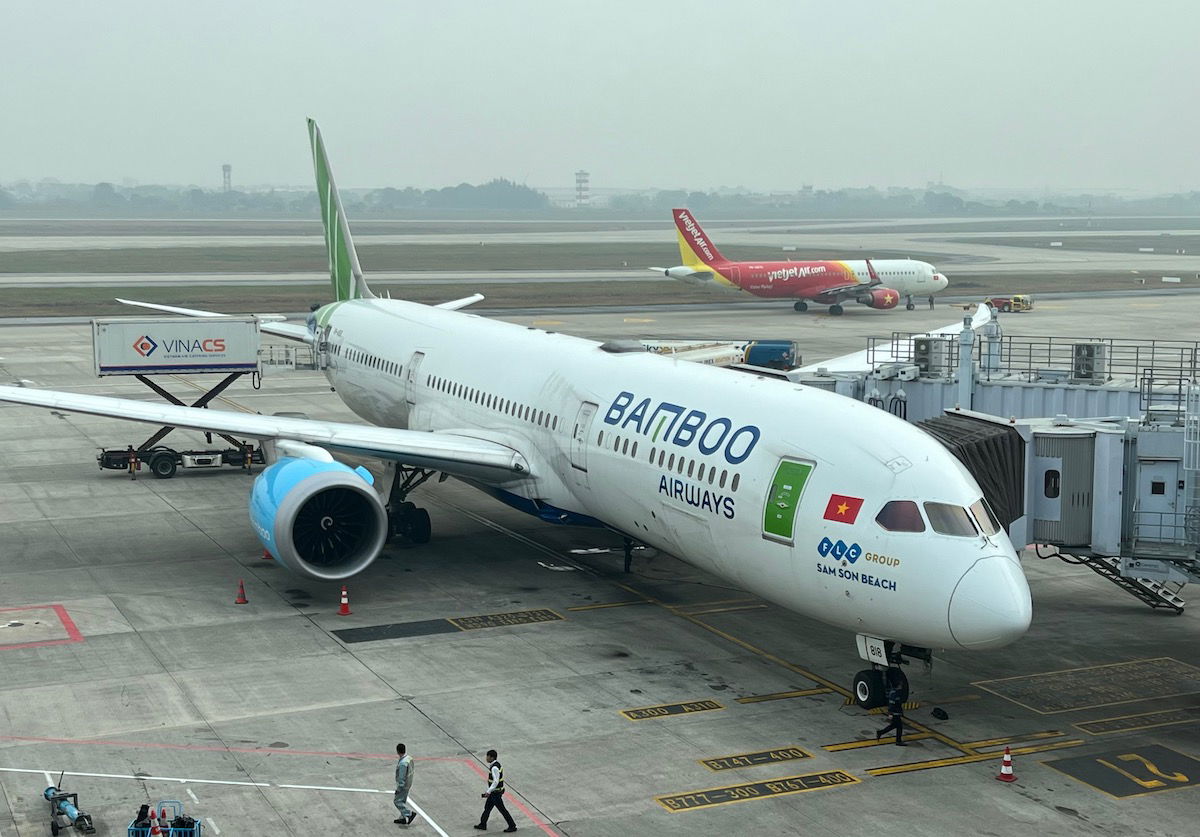 When the chief flight attendant welcomed us aboard, he also reminded us it was "more than just a flight." Heck, there's even a poster at the back of the cabin telling us that flying with Bamboo Airways is "more than just a flight."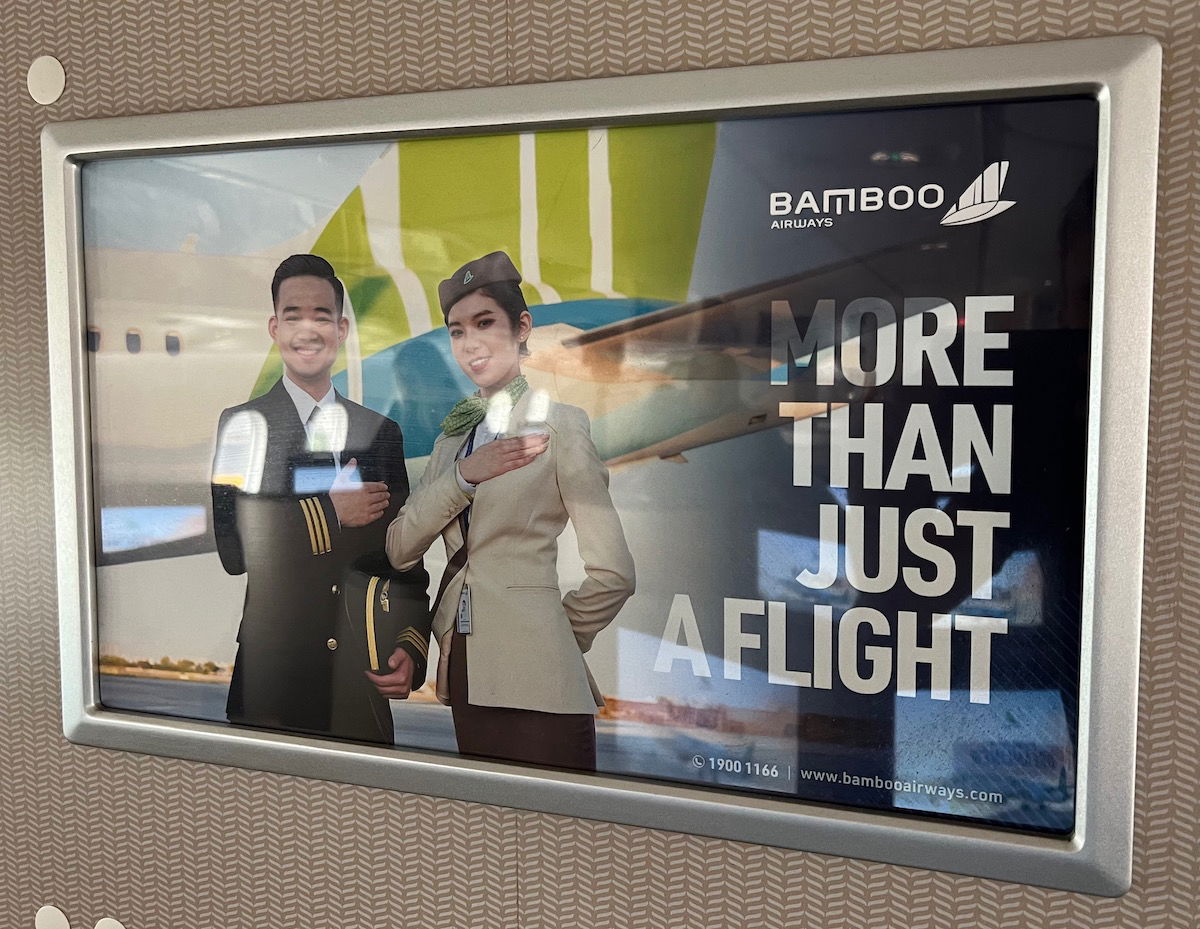 And they really aren't wrong. Flying with Bamboo Airways sure is an experience. For example, the boarding music consisted of ABBA's "Happy New Year" on repeat, which I totally loved and now can't get out of my head.
The song is fitting not just because it's the new year, but also because of the lyrics. The first three words of the song are "no more champagne," which is appropriate, because Bamboo Airways doesn't serve champagne.
That's kind of strange as well, because Bamboo Airways' marketing video heavily features champagne.
There were some super cute cabin details, like the massive orchid in the bathroom, which was so big that you kind of had to reposition yourself to use the bathroom. I would've rather seen bamboo, but…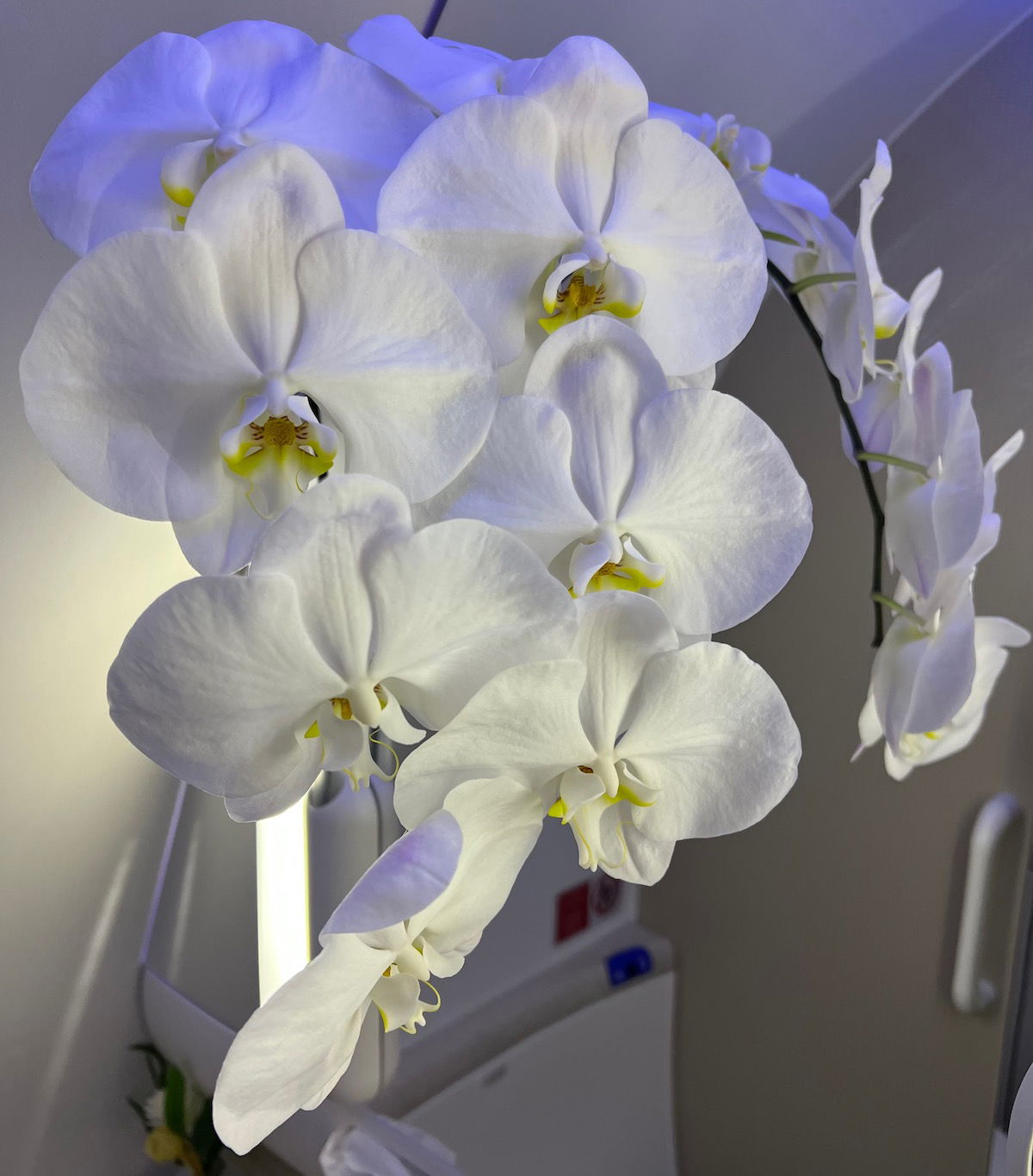 While other airlines still aren't offering warm towels in business class, with my second meal I was offered a towel on four separate occasions. I'm not sure if coordination between the crew was just lacking, or if they just wanted to make sure my hands were really clean. Regardless, I didn't mind.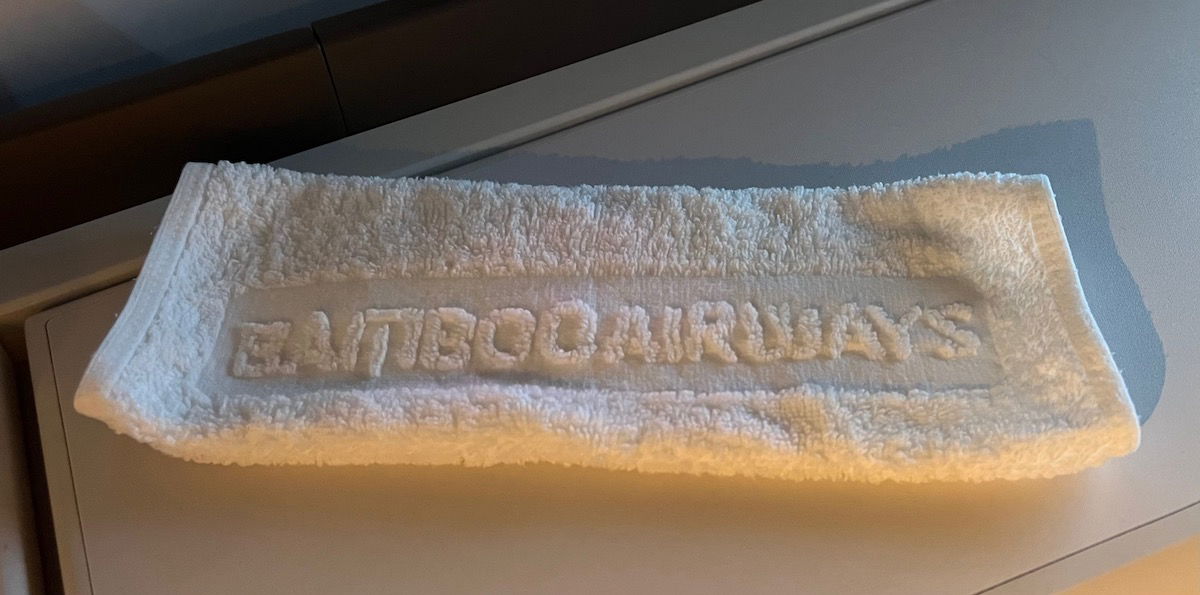 Bamboo Airways' 787 business class hard product
Bamboo Airways' Boeing 787s have reverse herringbone seats, which will be familiar to most. I quite liked the cabin finishes, and found the seat padding to be excellent.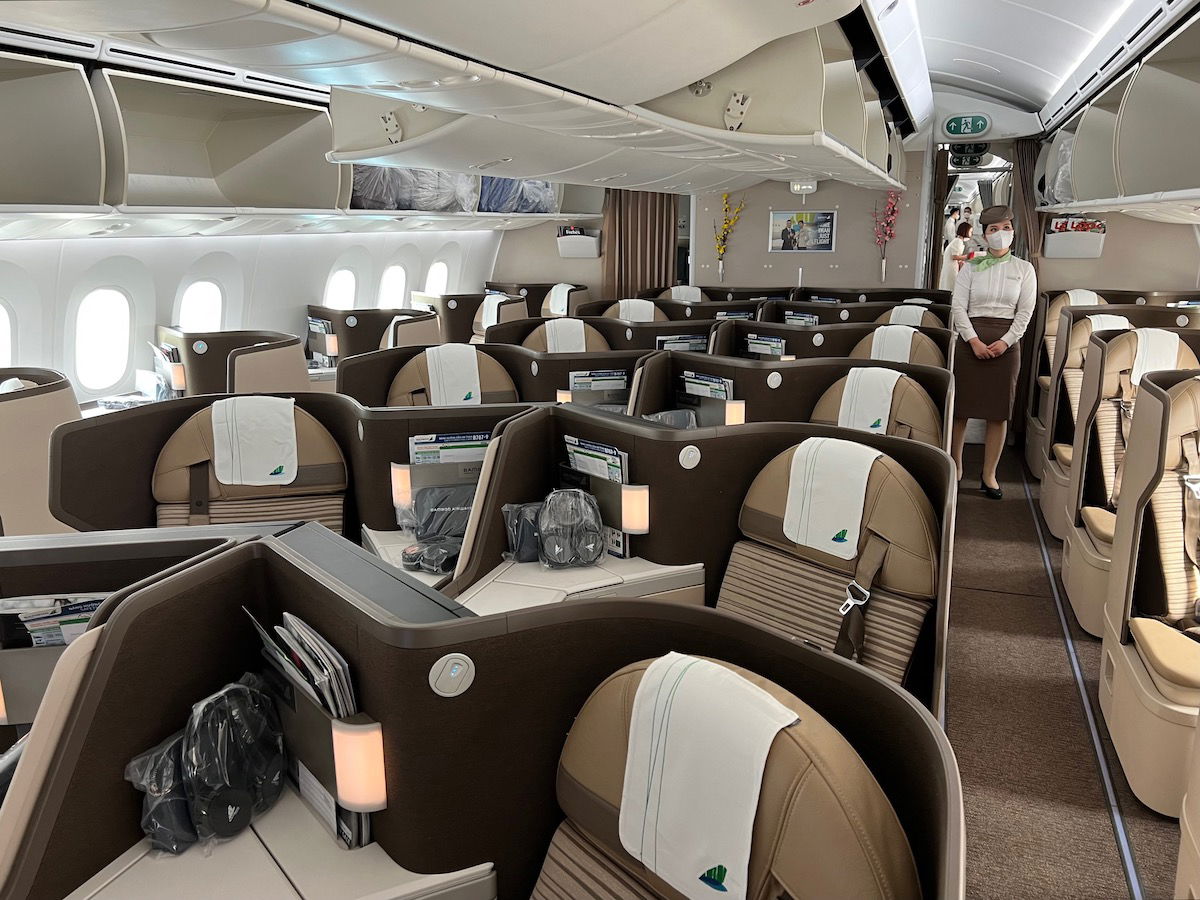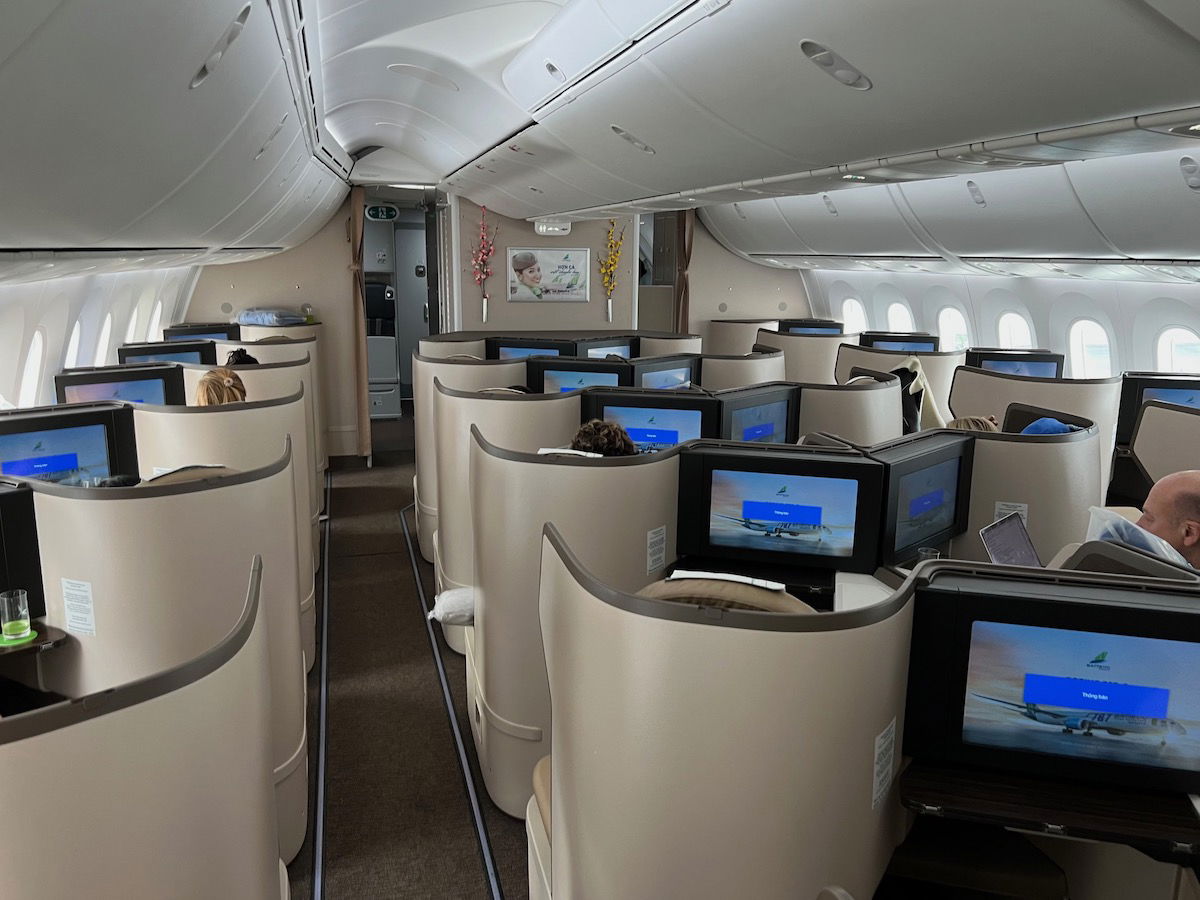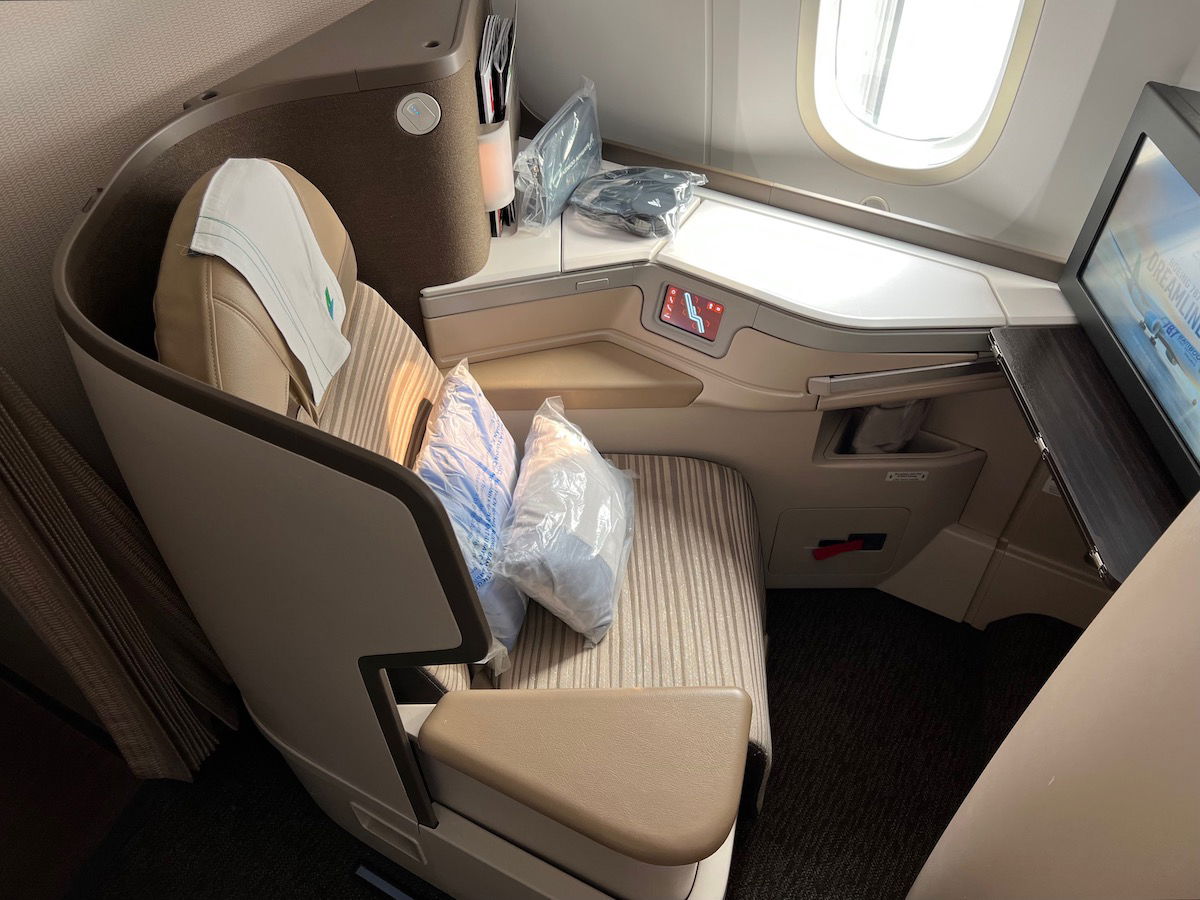 While Bamboo Airways' 787s have the Wi-Fi "domes" installed, it's not turned on, so there isn't any Wi-Fi.
I was worried the entertainment would be awful, though to my surprise it wasn't too bad. No, it wasn't like what you'd find on Emirates or Qatar Airways, but there was a decent selection of movies and sitcoms.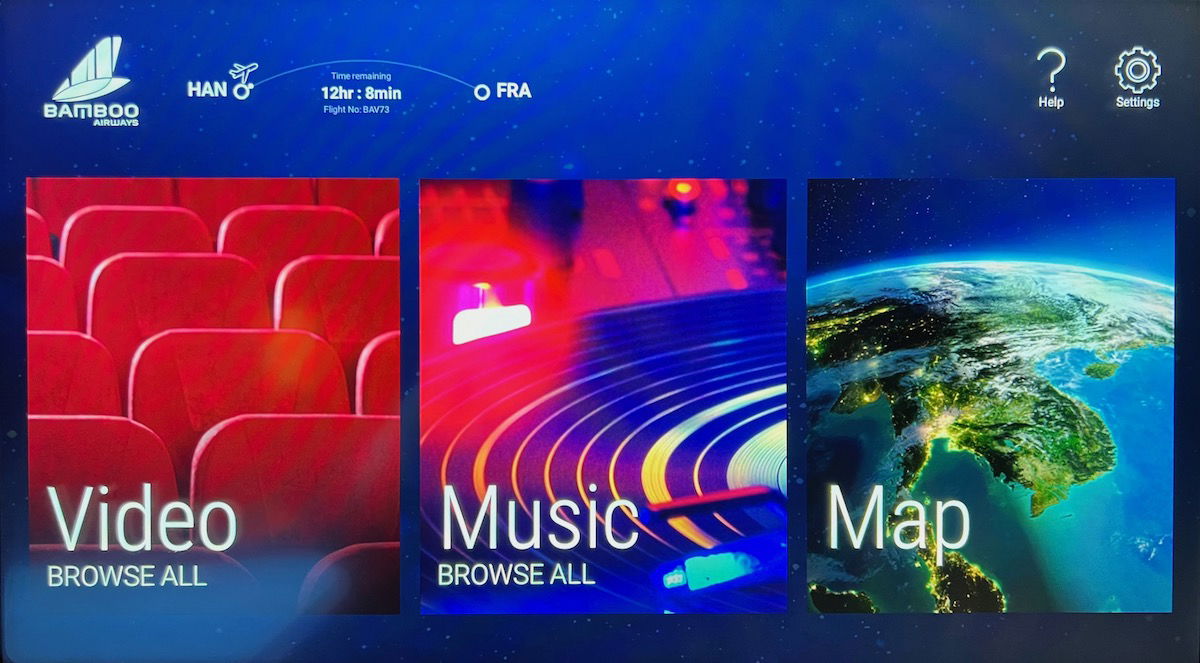 There were also some Vietnamese options, as you'd expect. I tried to watch "The Cougar Queen 2," though eventually got tired of reading subtitles.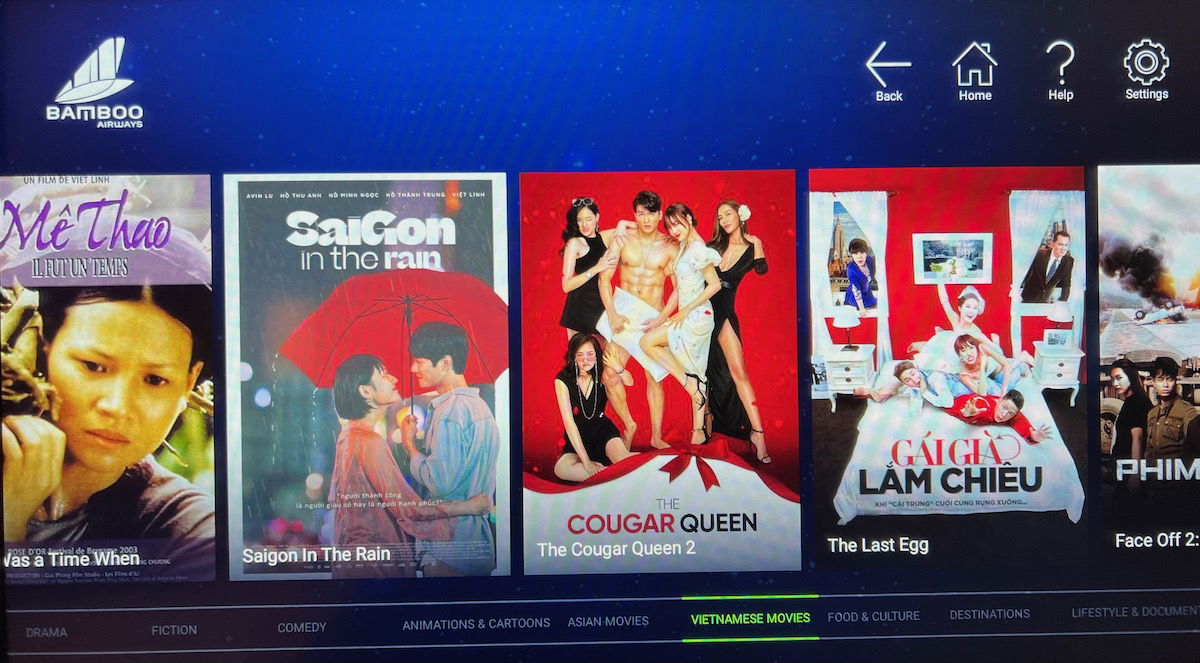 As far as I was concerned, just tracking the flight's course was sufficient entertainment. You've gotta love the routings many flights take between Asia and Europe.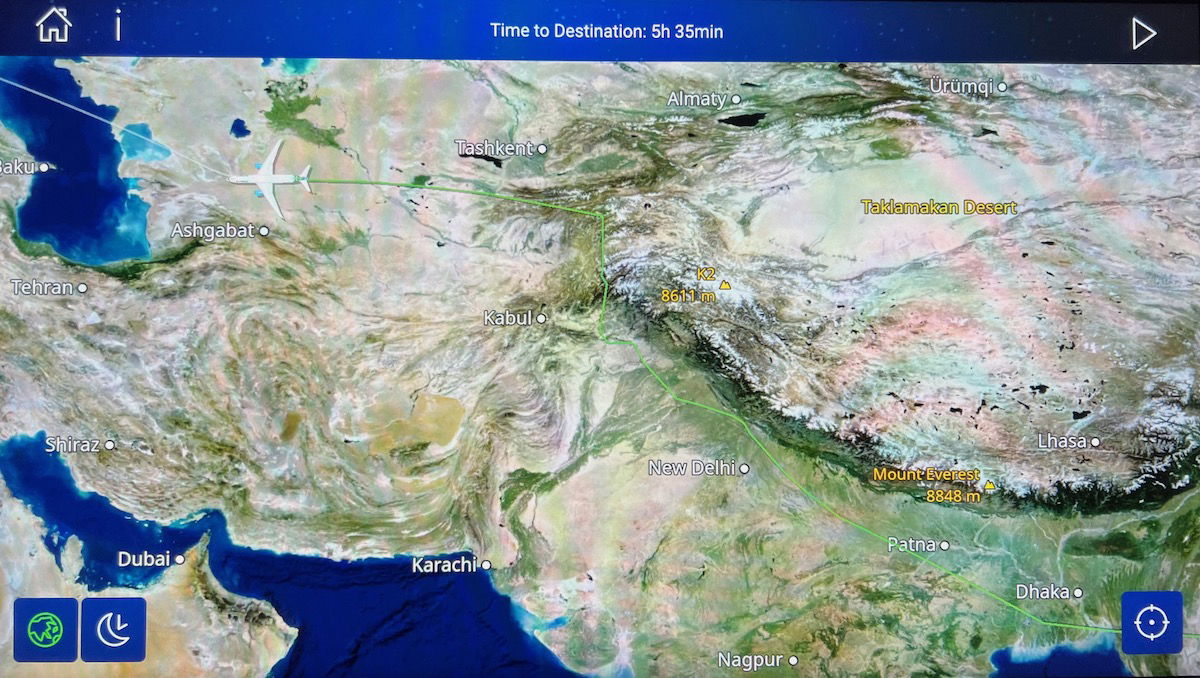 All-in-all, it was a solid and competitive hard product.
Bamboo Airways' business class soft product
There were some highs and lows to Bamboo Airways' business class soft product. Let's start with the positives. The food was actually quite good, and certainly plentiful. The first meal began with mixed nuts and drinks.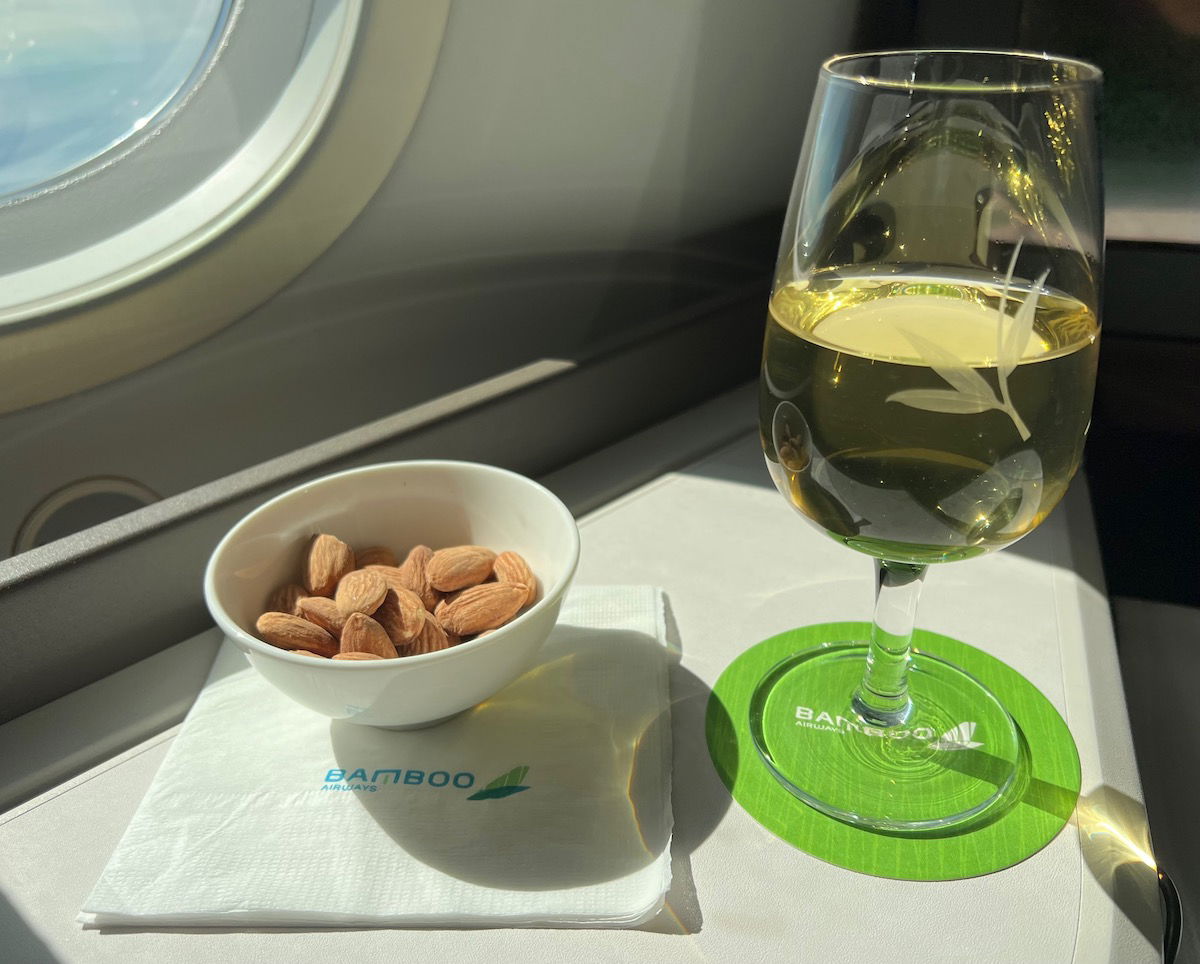 There were a couple of starters and several mains to choose from. To start, I enjoyed the lemongrass grilled chicken and Asian style green salad. Bamboo Airways sure knows how to brand its service items — I spot seven Bamboo Airways logos on a single tray.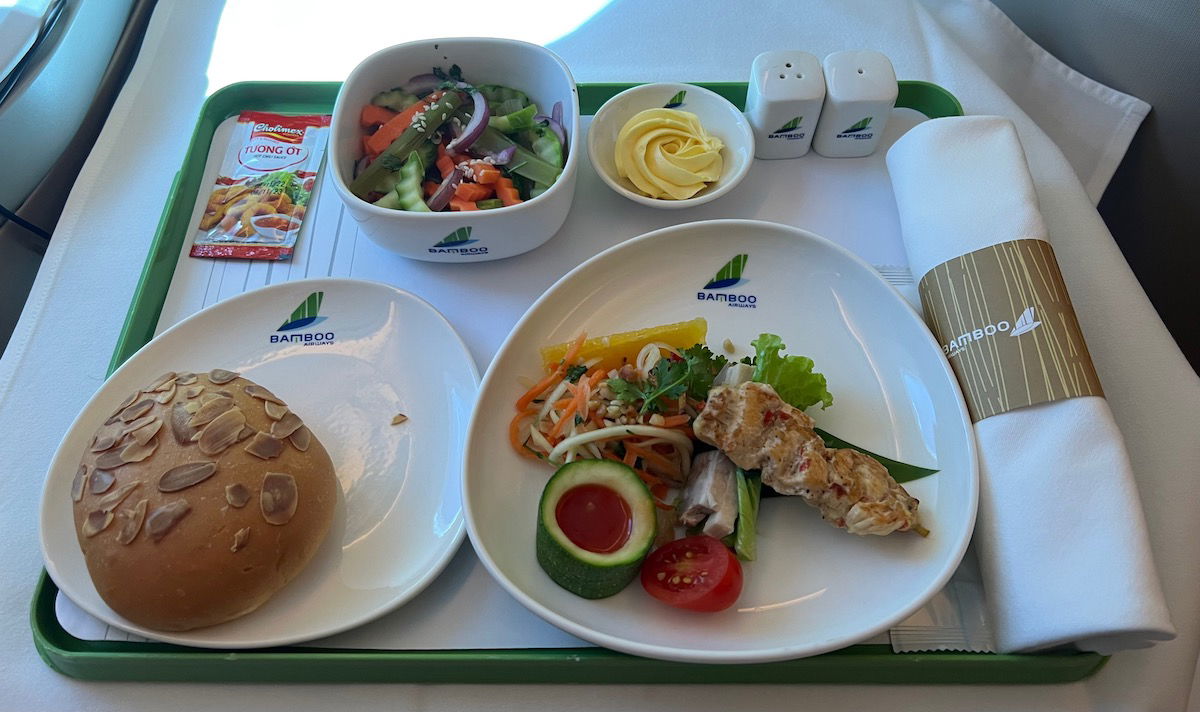 For the main course I had the snapper with ginger rice and braised vegetables.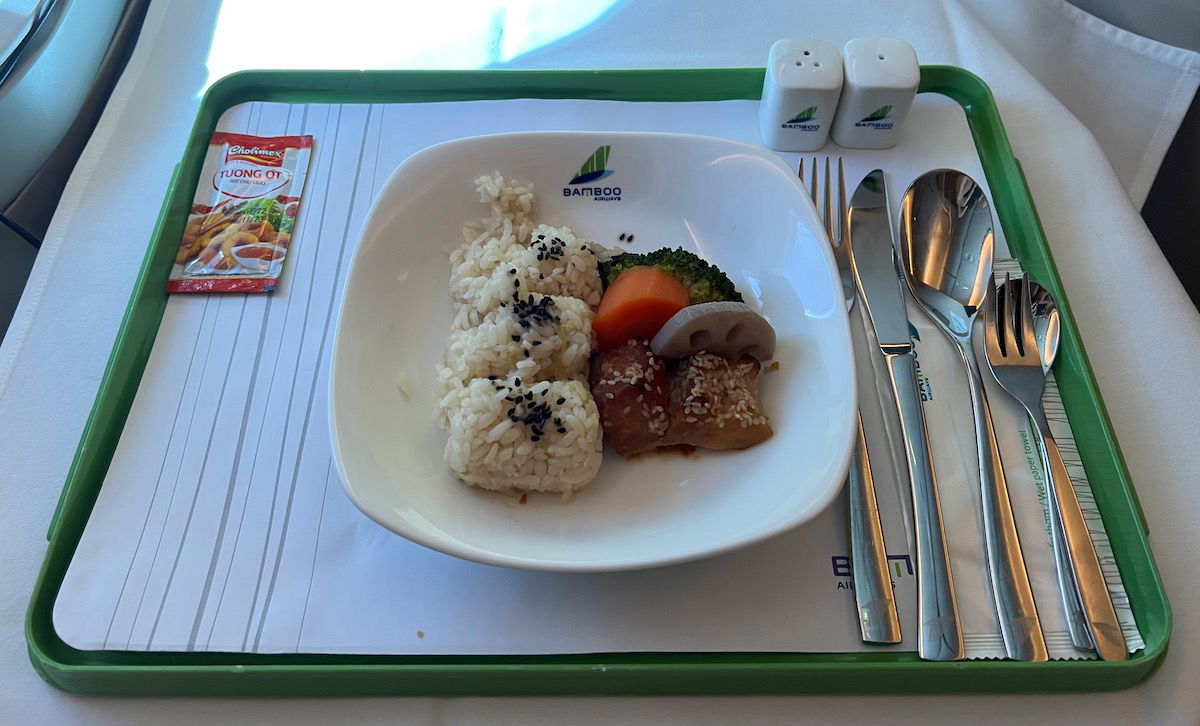 Then there was a huge trolley with cheese, fruit, and dessert, which was plated at each seat.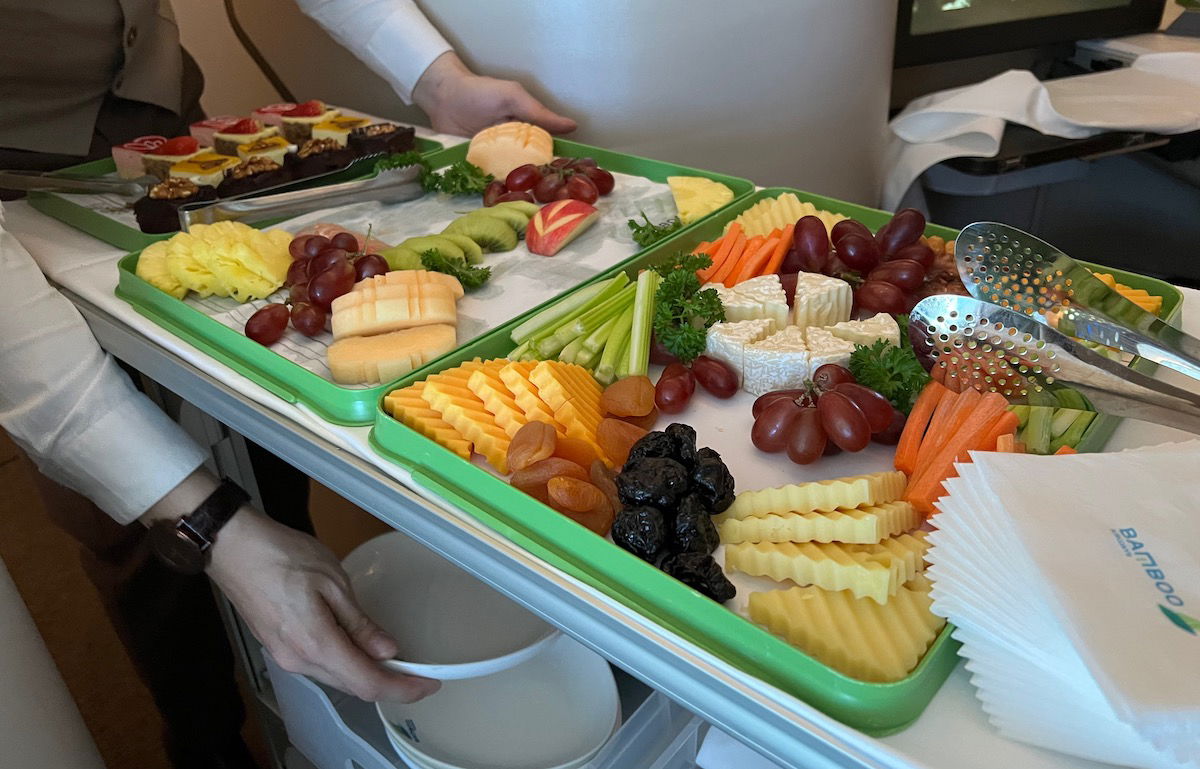 Before landing there was also a substantial meal, consisting of seafood soup, grilled chicken salad, stir fried noodles with vegetables and prawns, and blueberry mousse.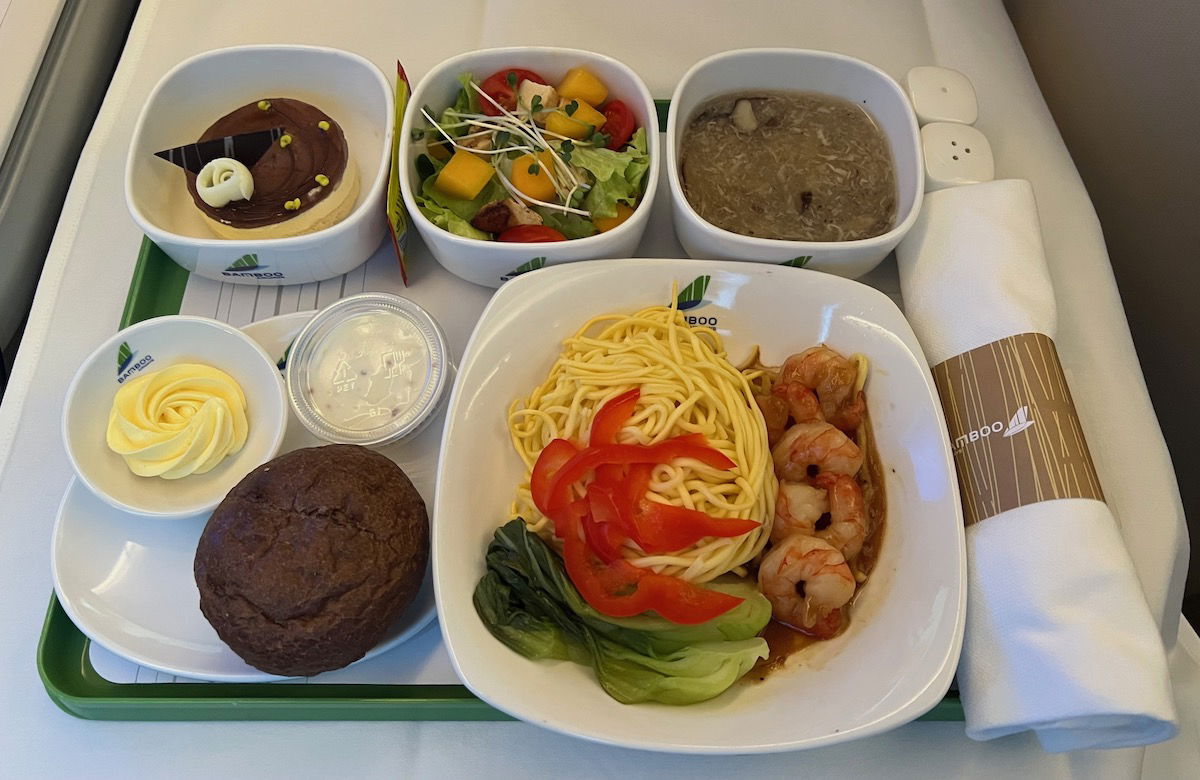 I also thought the amenity kit was pretty cute. As an avgeek, you can bet that I'll be putting that pouch to good use, thanks to the huge Bamboo Airways logo. It'll be great for storing cables.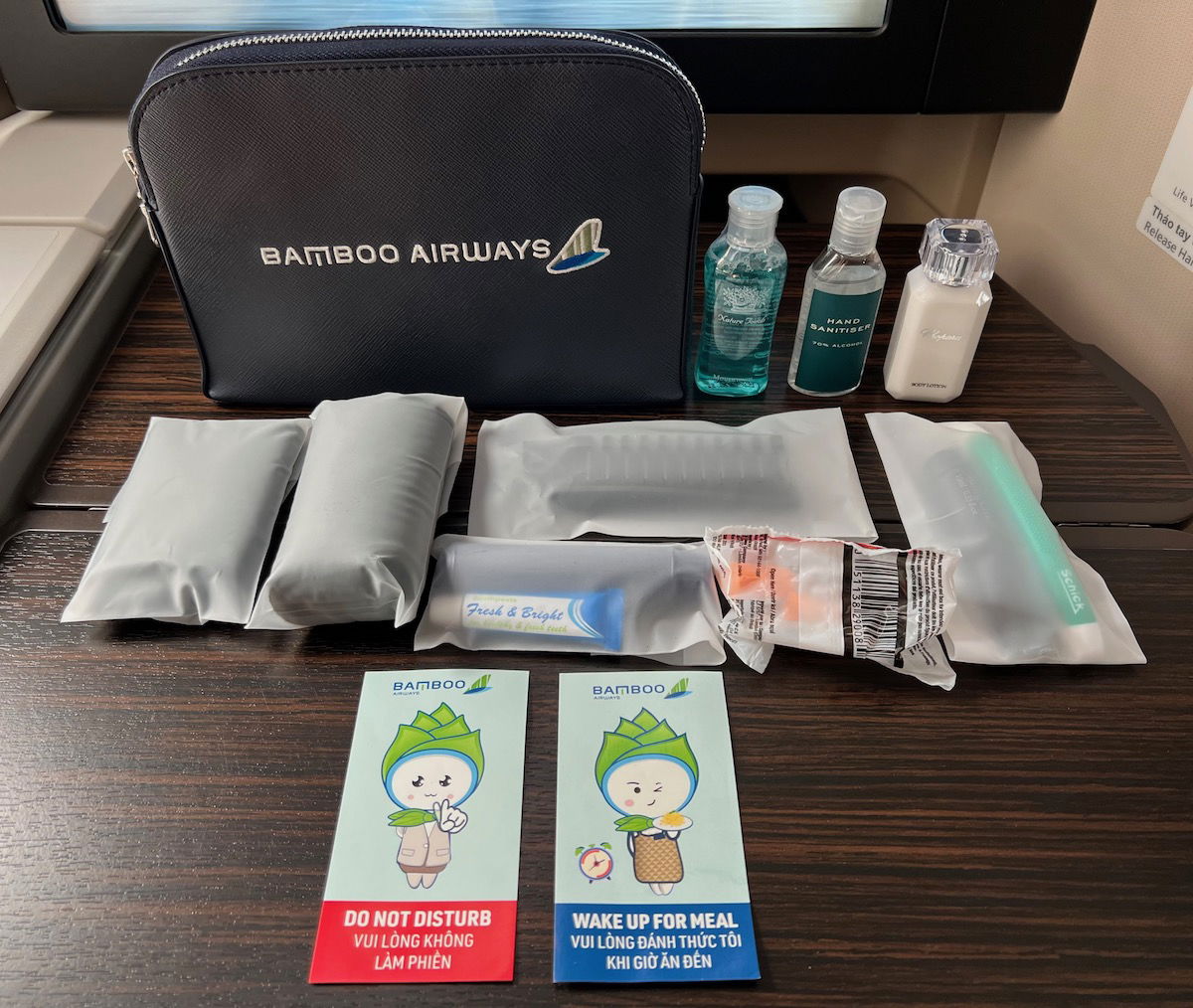 Some aspects of the soft product left a bit to be desired. For example, the bedding wasn't good at all, with a warm and scratchy blanket, and a tiny pillow.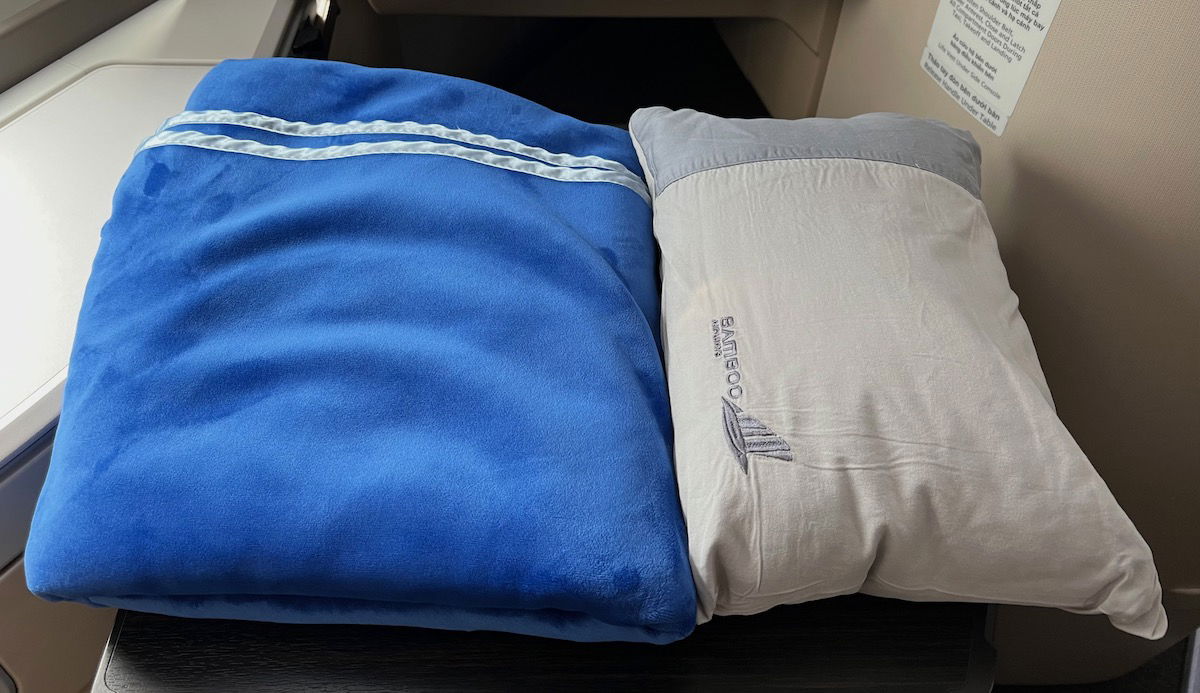 I asked for a second pillow, though the flight attendant apologized that there were no extra business class pillows. She was able to grab me an economy pillow, though. It looked kind of familiar… hmmm.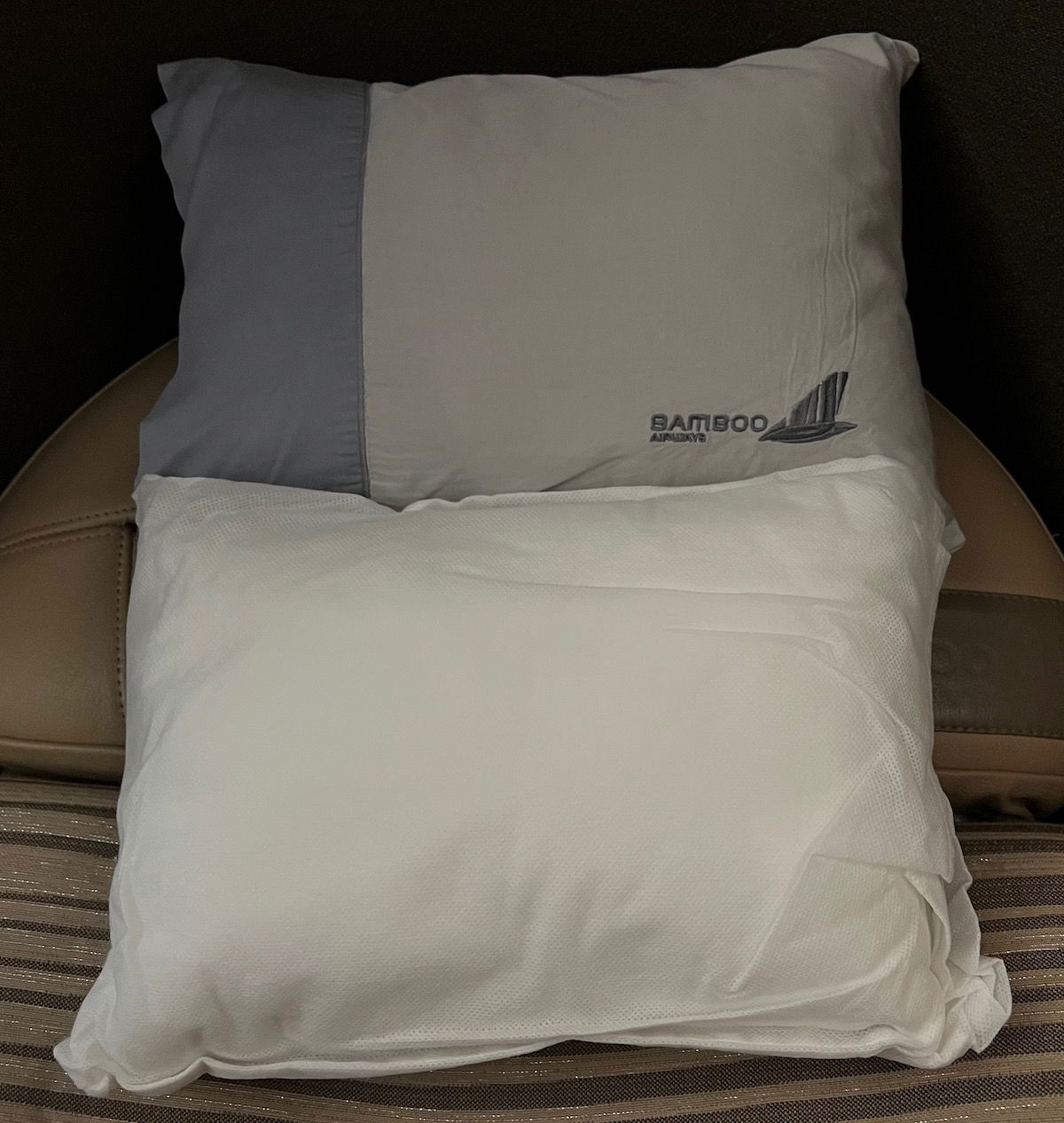 While there were printed menus, they weren't actually handed out to passengers. Rather while taking meal orders, the flight attendant just briefly showed the menu to each passenger to ask for their selection.
It would have been nice to have a menu, because at times communication was a challenge. I tried to order a coffee with milk (which was specifically listed on the menu), but the flight attendant couldn't understand me. I asked repeatedly, speaking slowly and enunciating clearly, but it was lost in translation. It wasn't until I pointed to it on the menu that she understood.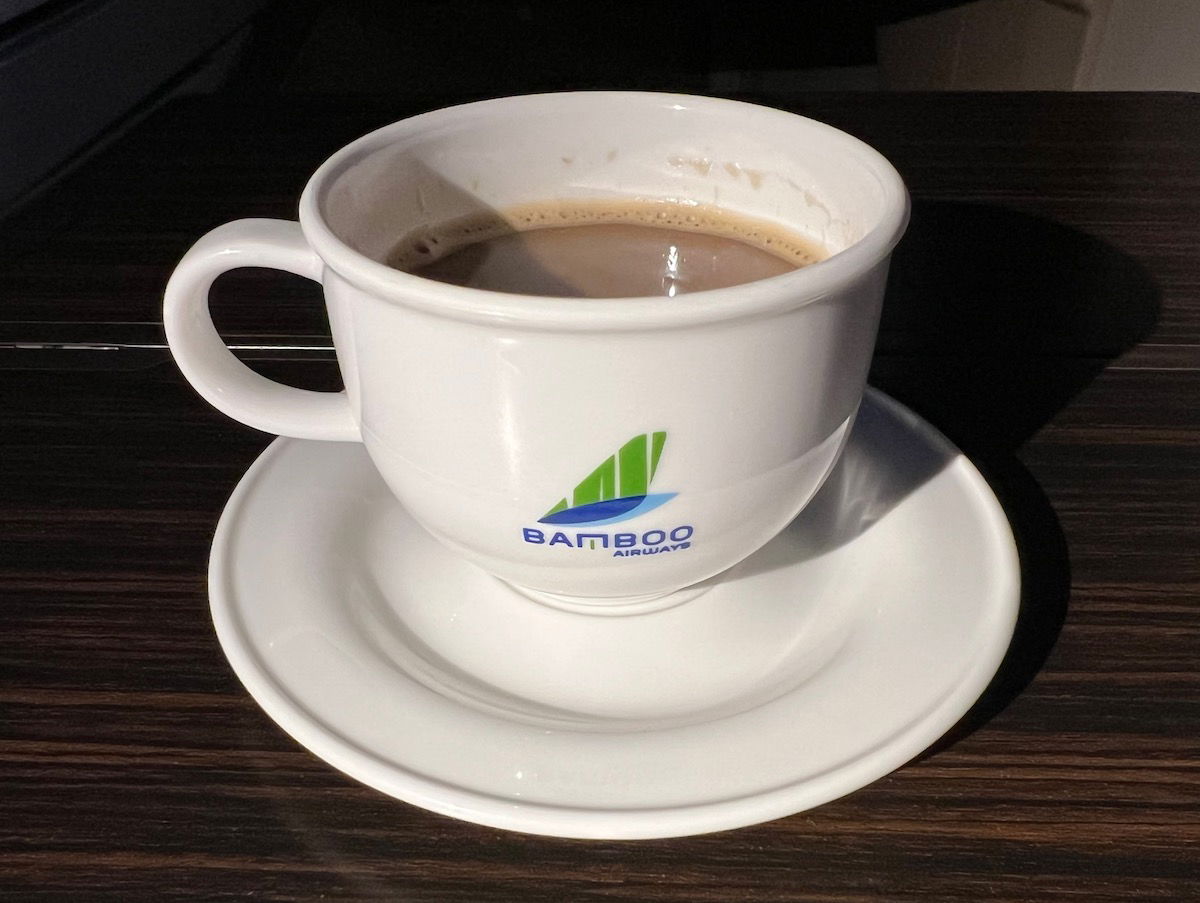 The alcohol selection was also quite limited. There was no champagne, and there was one white wine and one red wine.
Bottom line
I'm so happy I finally had the chance to fly Bamboo Airways on a long haul route. As longtime OMAAT readers know, I love flying exotic and lesser flown airlines, and Bamboo Airways certainly fits the bill (and thanks to Aeroplan for making this available with points).
While Bamboo Airways isn't yet offering a world class product, frankly the experience exceeded my expectations, especially for an airline startup. Bamboo Airways has comfortable seats, pretty good entertainment, and well intentioned and friendly service.
There are definitely some easy areas for improvement, like much better bedding, actually handing out menus, and expanding the drink selection. I think with a bit of effort, Bamboo Airways could offer a competitive product between Asia and Europe.
What do you make of Bamboo Airways' Boeing 787 business class?