While I doubt all that many people are going to be rushing to take advantage of this opportunity, I still think it's worth covering.
Air France first class is amazing & exclusive
Air France first class, also known as La Premiere, is an absolutely incredible product. It's only available on key routes on select Boeing 777-300ER aircraft. The cabin features just four seats, in a 1-2-1 configuration, with each seat having a floor-to-ceiling curtain around it.
Personally I rank Air France first class as the world's single most well-rounded first class product: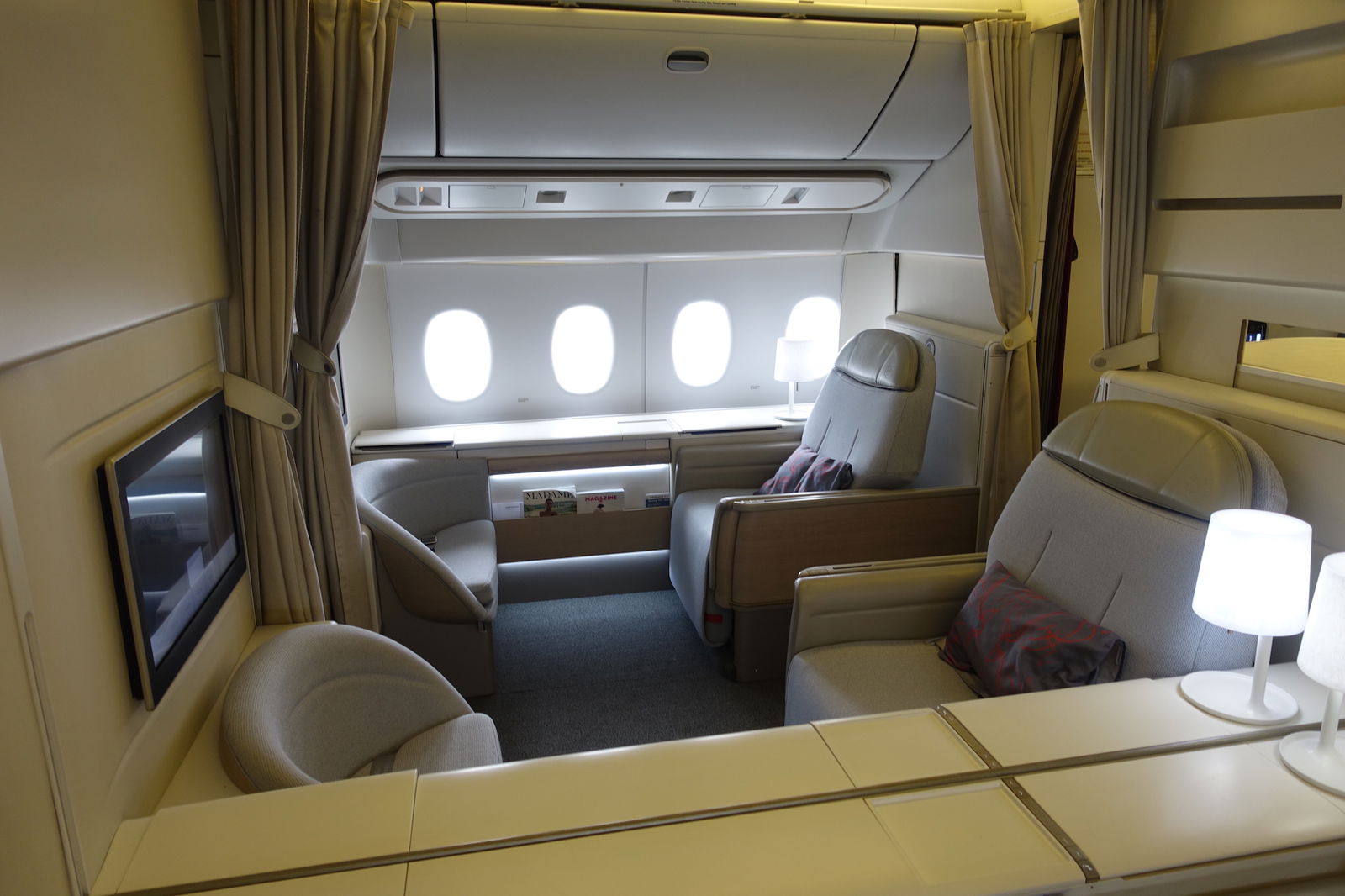 The catch is that actually booking Air France first class is costly:
Only Flying Blue Gold and Platinum members can redeem miles for first class, and the redemption rates are extremely high (well over 200K miles one-way)
Air France sometimes has reasonable first class fares when paying cash, though not as consistently as in the past; add in that there are just four first class seats on select aircraft, and there aren't all that many ways to try this product
Air France sells first class upgrades at check-in
If you're looking to fly Air France first class without outright paying for it, there's one best way to do so. Specifically, Air France will sometimes try to sell first class upgrades either at check-in, or even sometimes a little bit before that. Even those who booked an award ticket could be eligible for this.
For example, I recently booked a family member in Air France business class from New York to Paris, using Flying Blue miles. During the check-in invitation email, there was a note about how there was "an upgrade offer just for you." The email stated that upgrades were available starting at $2,204.50 per person.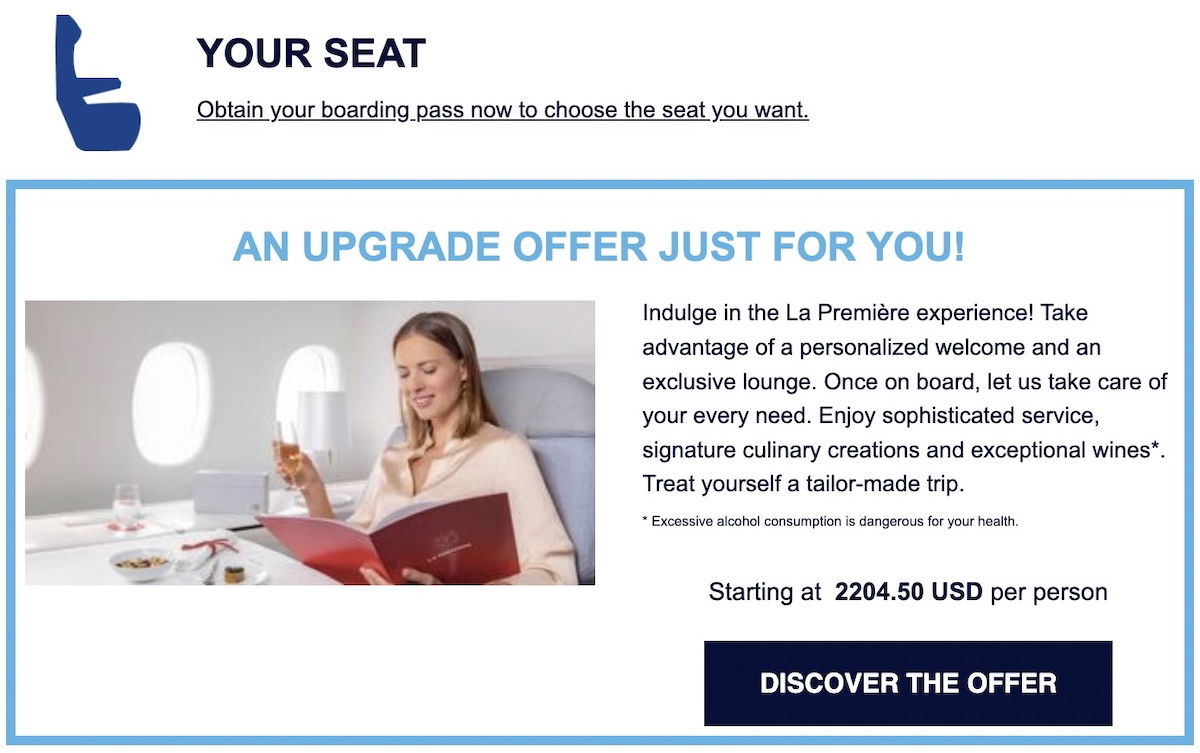 Interestingly when I clicked through, that price increased by $15.50, to $2,220.

When you go through the upgrade process, you can also immediately select your seat. As you can see, in this case three of the four first class seats were unoccupied at the time of check-in.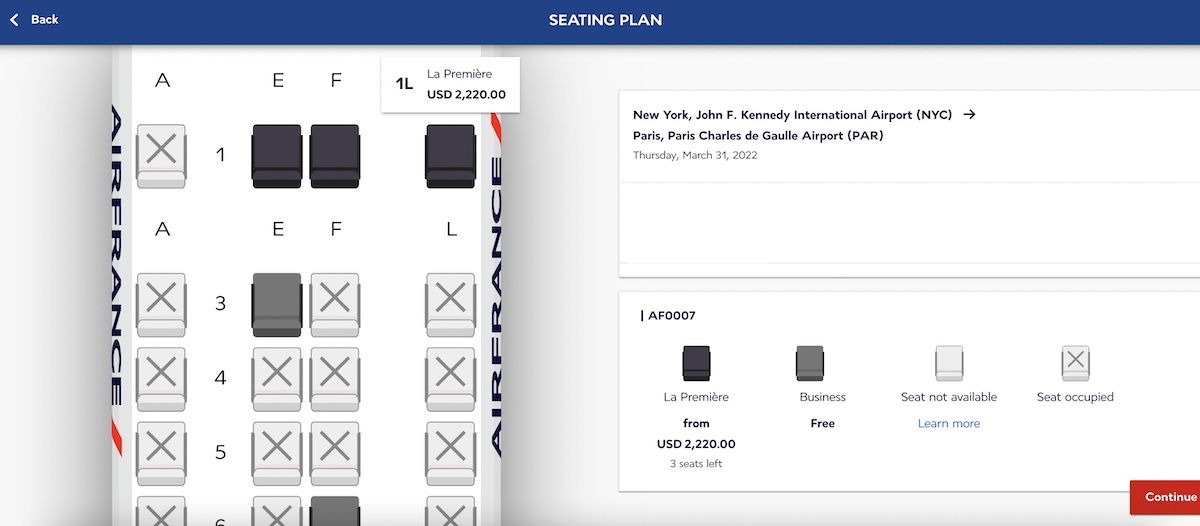 We didn't end up taking advantage of the offer, but I thought it was an interesting data point. I'd love if OMAAT readers could share any upgrade offers they receive during check-in in the comments section, and ideally also share the route and type of fare that was booked.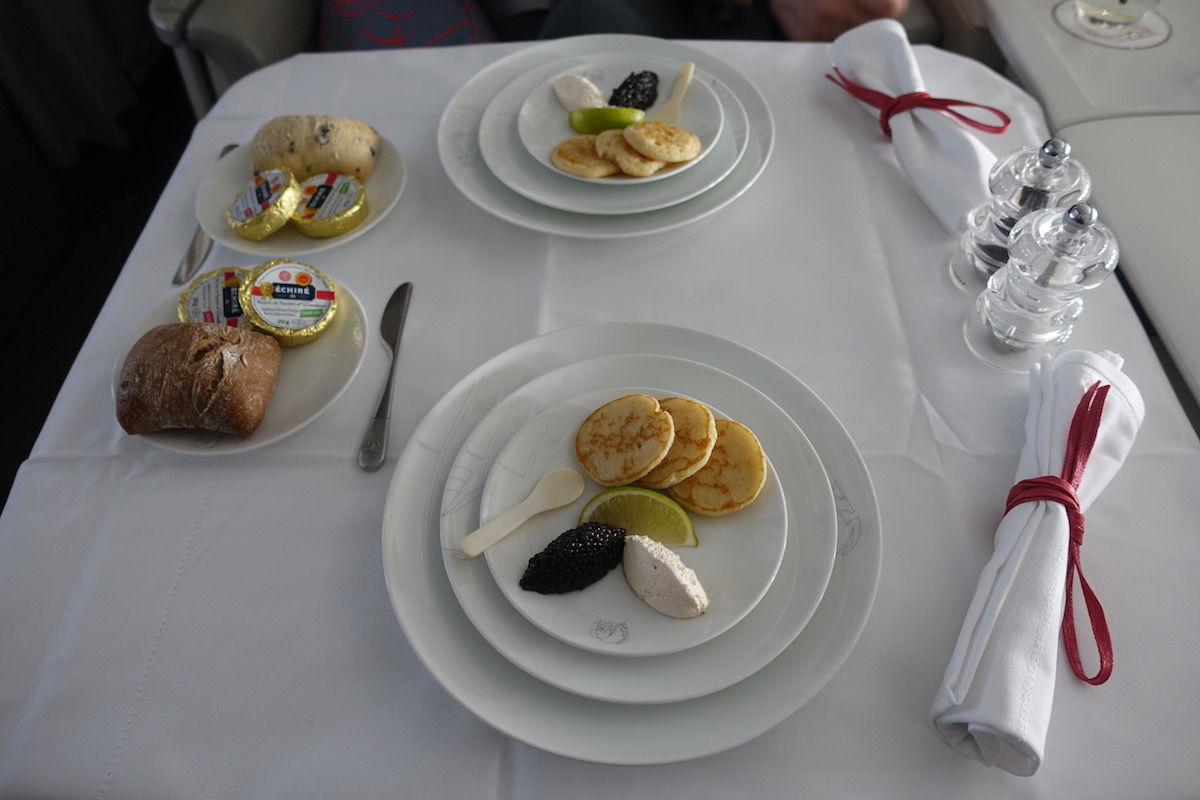 Is an Air France first class upgrade worth it?
It goes without saying that $2,220 is a huge amount to spend on a first class upgrade on a seven hour overnight flight, especially when Air France's 777 business class is already very good. I'm by no means suggesting that this should somehow interest everyone, or that there will be widespread appeal to this.
That being said, a few thoughts:
If you're an airline product geek and want to experience Air France La Premiere on one segment as economically as possible, a paid upgrade on a one-way award ticket is probably the best way to do this
In general there's more value to this if you're either originating in Paris, or flying to Paris and connecting same day, so that you can use the Air France La Premiere Lounge in Paris, which is half of the experience
Since Air France has flat beds with direct aisle access on 777s, I'd be more interested in this on a daytime flight than an overnight flight, since I'd be more likely to stay up and "party" on the latter
Since Air France only has four first class seats in a cabin, expect that these upgrade offers often won't be available, as Air France often sells out first class in advance (especially to Los Angeles and New York); I suspect these upgrade offers don't get last seat availability either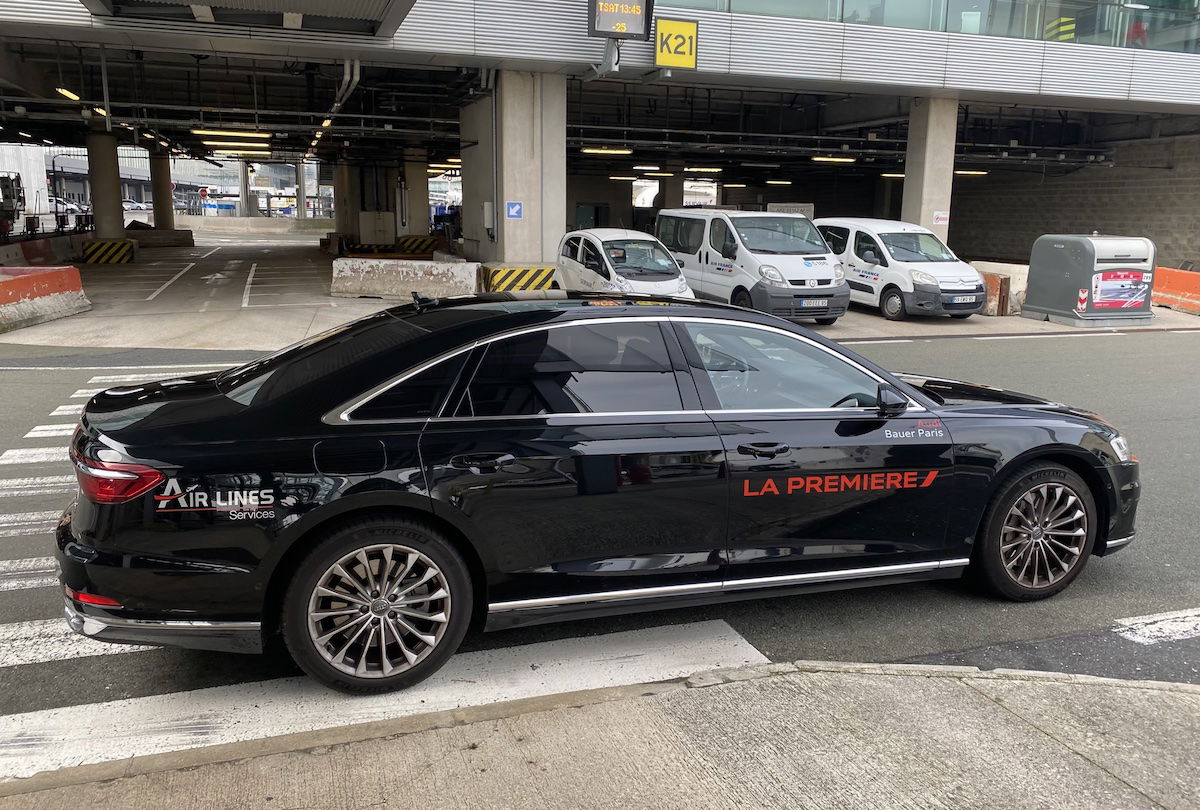 Bottom line
Air France sometimes offers paid upgrades from business class to first class, including on award tickets. This is most commonly available at check-in, though expect it to be pricey. On a recent flight from New York to Paris, a family member was offered a $2,220 upgrade from business class to first class.
While upgrades aren't cheap, I think it's at least worth being aware of this option, if you're a huge airline product geek, or want to spoil yourself for a special occasion and experience one of the world's best first class products.
At what price would you take advantage of a paid upgrade to Air France first class? And if you've been offered a paid upgrade, please report back with what the offer was, as I imagine others will appreciate these data points!